This super fun smoothie is from my Green Smoothie Challenge. I wanted a way to help others start the healthy habit of adding 1 green smoothie a day, and this challenge is a great starting point. If you are new to green smoothies, or just need a boost, then this challenge is for you! Now, let's get blending this Vegan Tropical Smoothie!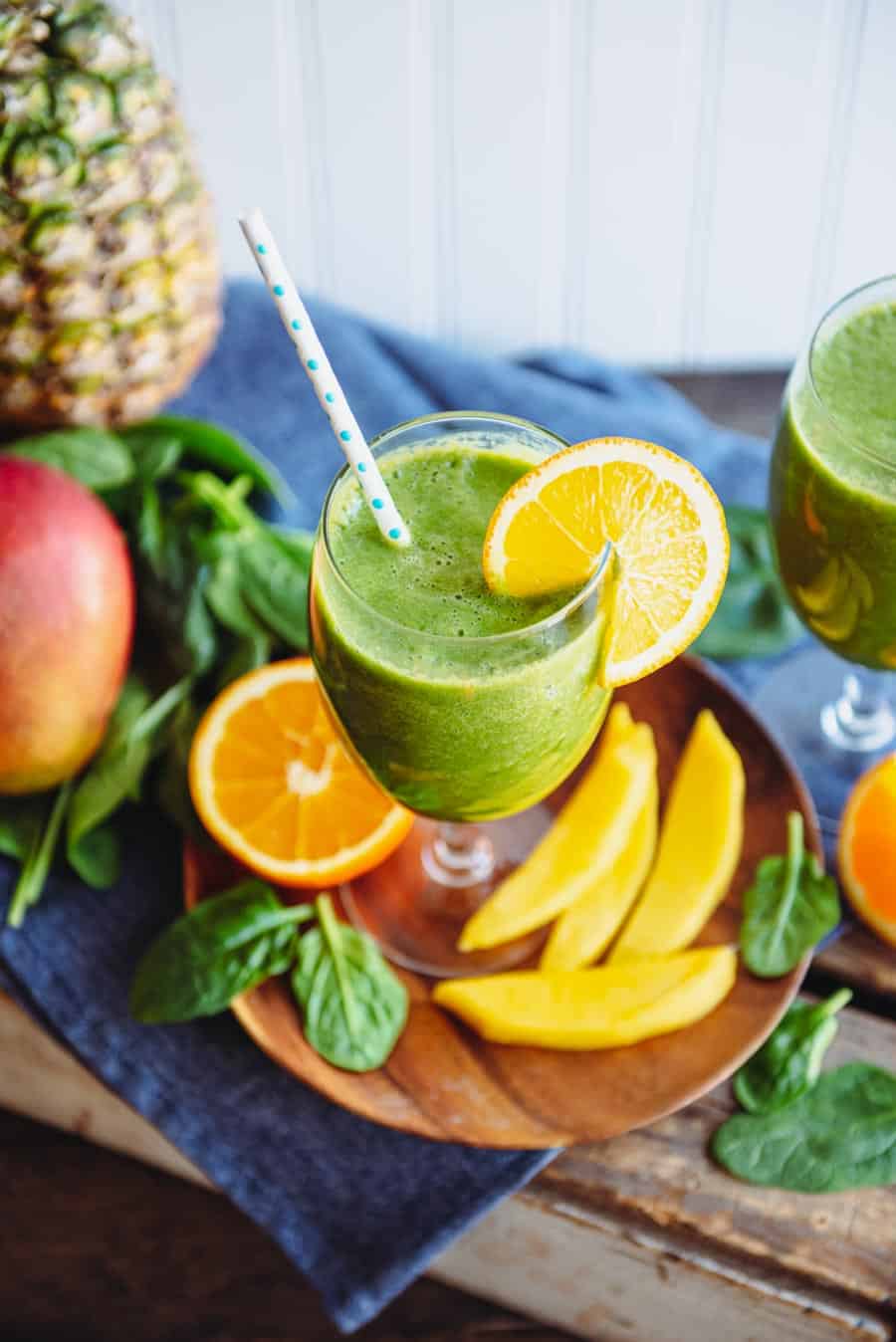 Table of Contents
Blending a Vegan Tropical Smoothie
Smoothies are super quick n' easy to make, and don't require fancy equipment. I blended many smoothies with my $40 Hamilton Beach blender before making the commitment to a Vitamix. Here's my no-fail blending formula:
Blend spinach, orange, and water. You should blend until there are no leafy chunks swirling around, which might take a bit depending on your blender.
Add the remaining ingredients and blend again. Blend until no chunks remain. If you're using all frozen fruit, thaw it a bit before adding so that your blender doesn't have to work as hard.
If you're using a high-powered blender, then I recommend leaving as much of the white-pith around the orange as possible because that pith contains oh so many nutrients. Yet if you are using a non-high powered blender, then the pith might not fully break down.
Using at least 1 frozen fruit will give you a refreshingly cold vegan tropical smoothie. I don't recommend freezing the orange for this smoothie since it acts as part of the liquid as well. If you do freeze the orange, then just add a bit more water to break down the ingredients.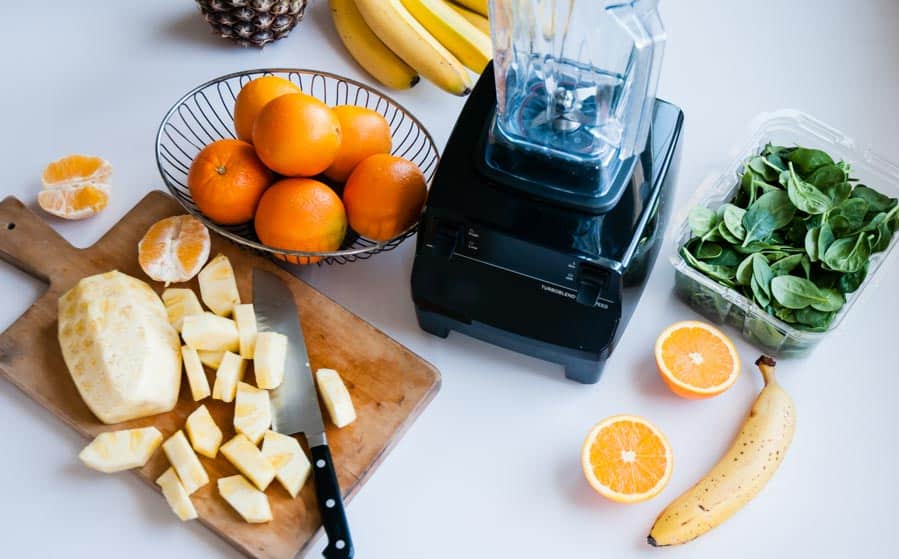 Health Benefits
Vitamin C
This smoothie contains over 100% of the recommended daily value of Vitamin C. This is an antioxidant that fights free radicals, which cause all kinds of chronic conditions. The CDC states 45% of adults in the US have hypertension, which can put us at risk for stroke or heart disease.
Potassium
This electrolyte lowers blood pressure, boosts energy, and fights fatigue. It also assists the body with digestion. Studies by the National Institute of Health show that daily consumption of potassium can improve bone health.
Vitamin B6
Our bodies need this vitamin to help metabolize protein, carbs, and fat. It also helps regulate our mood (read: happiness levels!), to help combat depression. The National Library of Medicine shows B6 may also aid in combating Alzheimer's disease.
Folate
Folate is vital in mood regulation as well, so it is used to combat depression. It also aids in heart health. Pregnant women are encouraged to up their intake of folate to assist in fetal brain development. This vegan tropical smoothie will take that baby's brain to genius level.
How to make a Vegan Smoothie
Many smoothies you buy from a restaurant contain dairy in some form. Whether the liquid is milk, the chocolate contains dairy, yogurt is added or whey protein powder, something in that smoothie probably contains dairy. Yet they don't have to!
My homemade smoothies have 3 components: leafy greens, fruit, and liquid. I typically use water or a plant-based milk (almond milk, oat milk and coconut milk are my go-tos). Try swapping your dairy milk with plant milk.
Look for a plant-based protein powder that is vegan (not whey). If you like adding in yogurt, then look for a non-dairy variety.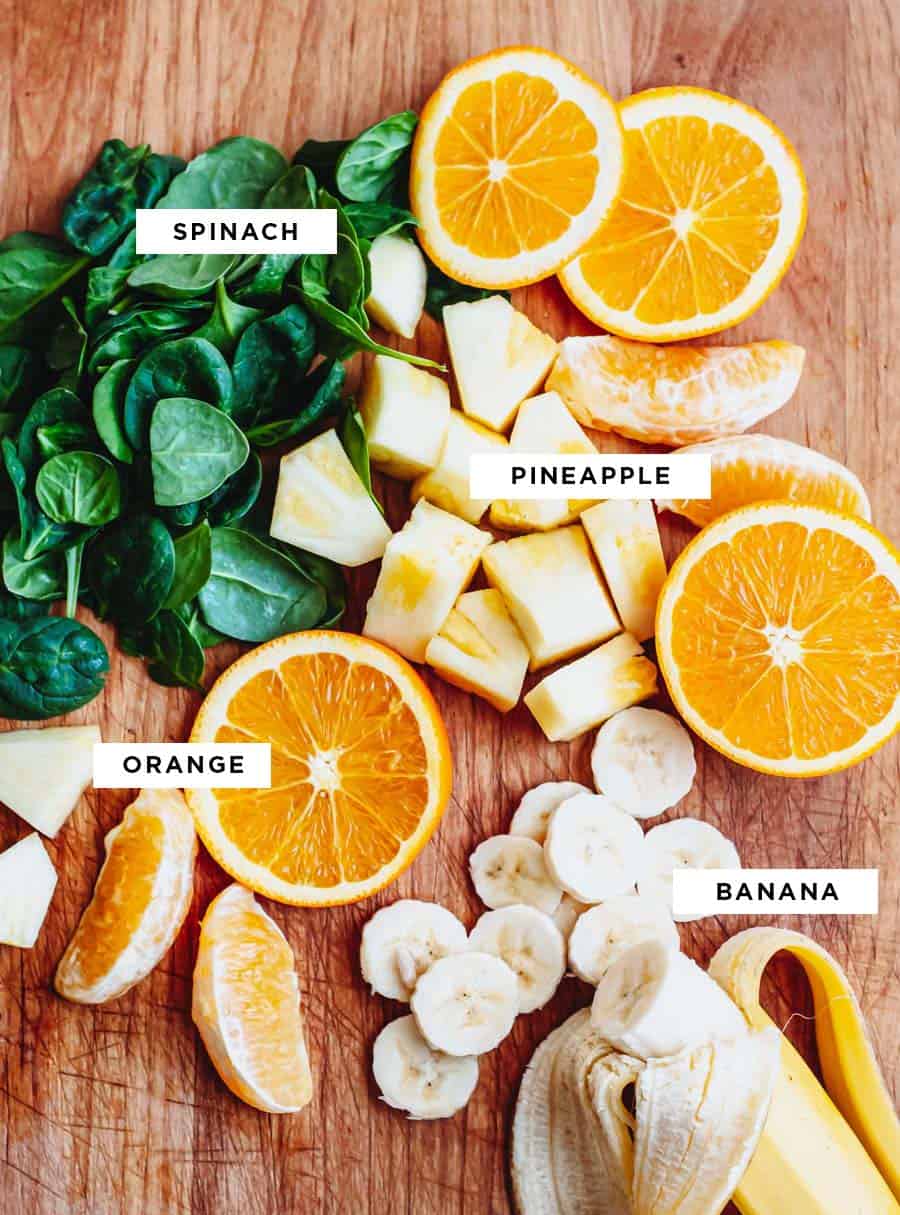 Smoothie FAQs
Is there dairy in a typical smoothie?
Lots of smoothies ordered at restaurants contain dairy in the smoothie mix, protein powder, or boosters. If you want a true vegan smoothie, stick to a plant based milk (or water), real fruit, and leafy greens. Use vegan protein powder and dairy free yogurt to boost.
How do I get rid of chunks in my smoothie?
I recommend blending your smoothies in 2 steps. First, blend the leafy greens + liquid. Once there are no leafy bits remaining, then add in the remaining ingredients and blend until smooth. Thaw frozen ingredients slightly to make them easy to blend.
What kind of blender makes the best smoothies?
While a Vitamix is going to give you a smooth beverage every time, they are also expensive! If you're a smoothie lovin' newbie, then I recommend getting a NutriBullet (not sponsored, just tested and approved!). They make great machines for a variety of budgets. Yet if you've been blending a long time and going through blender after blender (been there!) then I recommend saving up for a Vitamix. You will get years and years of use, and beautifully blended smoothies every single time.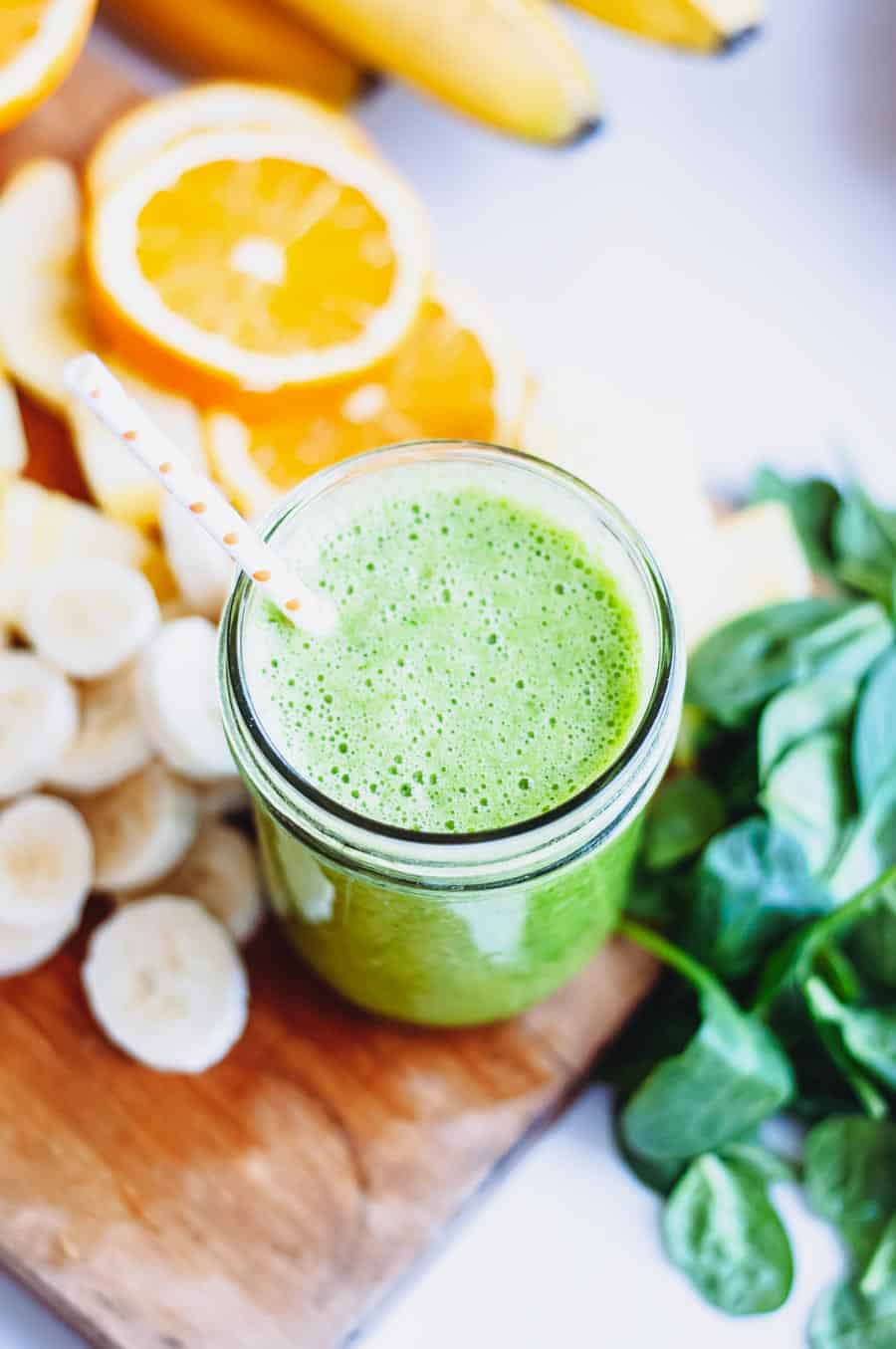 More Tropical Smoothie Recipes
Tropical smoothies are delicious and easy to make. Here are a few of my fav recipes:
Which one sounds fabulous to you? Leave a comment once you blend these and let me know how they turned out! And once you blend the vegan tropical smoothie recipe below, don't forget to leave a rating 🙂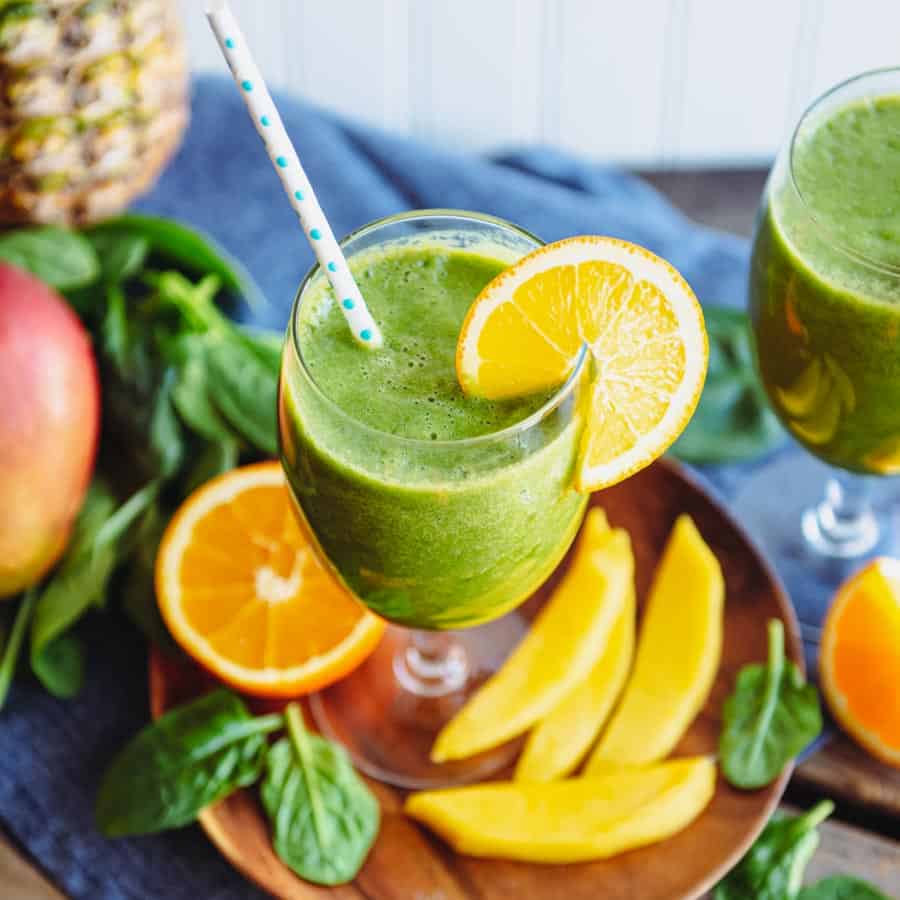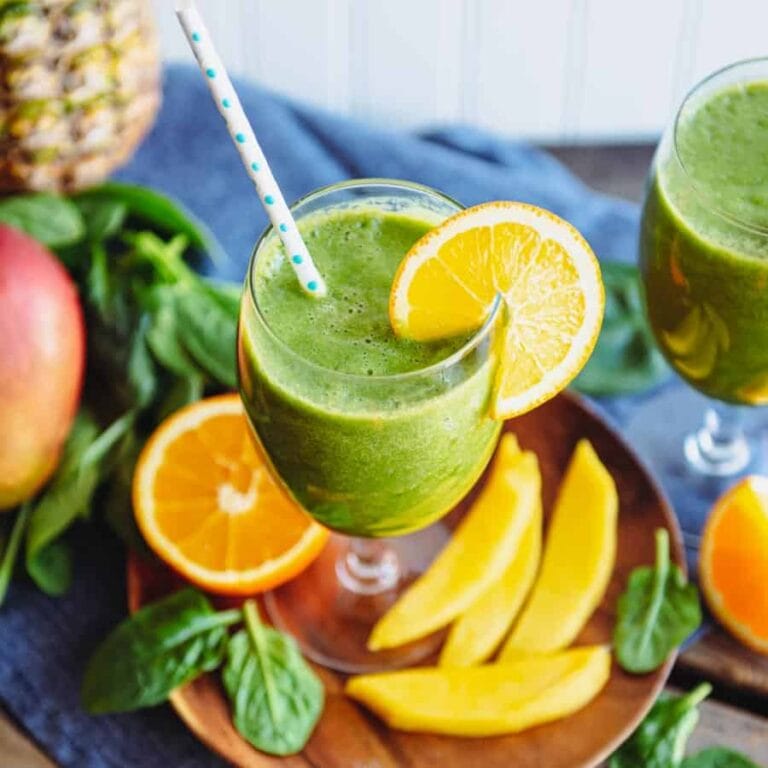 Vegan Tropical Smoothie
Sit back and relax with this tropical smoothie, that will leave you feeling like you're laying on the beach in the sun.
Instructions
Blend spinach orange, and water until smooth.

Add remaining ingredients and blend until smooth. 
Notes
Use at least 1 frozen fruit for a refreshingly cold smoothie
Use coconut water instead of regular water for an electrolyte boost
Note that this recipe uses less water than normal smoothies because the orange acts like fruit AND liquid. If your orange is extra watery, don't be afraid to lessen the amount of water to start.
Feel free to swap spinach with any leafy green you have on hand (kale works great in this recipe too!)
Nutrition
Calories:
131
kcal
,
Carbohydrates:
33
g
,
Protein:
3
g
,
Fat:
1
g
,
Saturated Fat:
1
g
,
Polyunsaturated Fat:
1
g
,
Monounsaturated Fat:
1
g
,
Sodium:
34
mg
,
Potassium:
587
mg
,
Fiber:
5
g
,
Sugar:
22
g
,
Vitamin A:
3046
IU
,
Vitamin C:
88
mg
,
Calcium:
75
mg
,
Iron:
1
mg