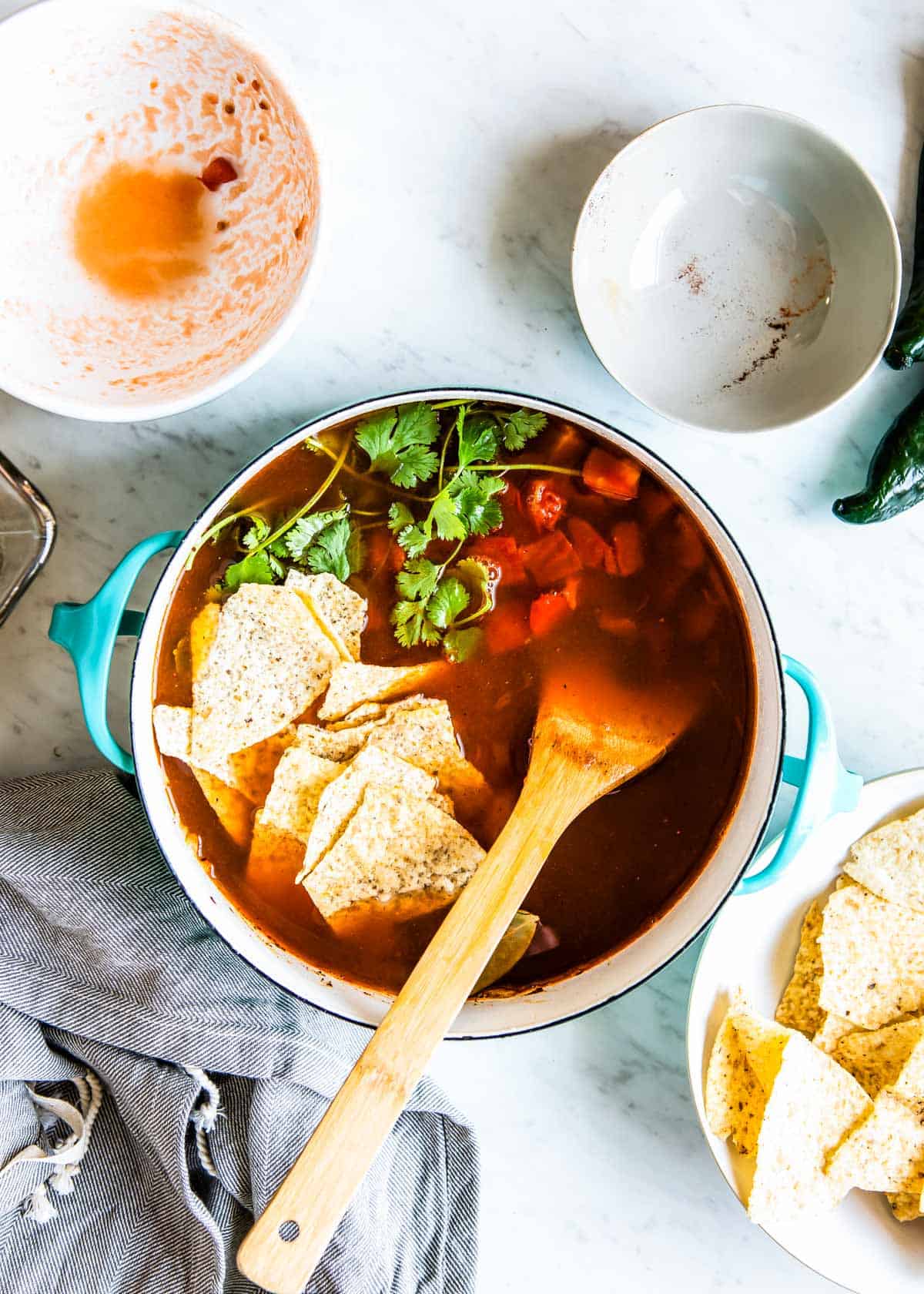 Tacos are my favorite food, so when I was introduced to this vegetarian tortilla soup, I had to dive right into it! Between the spice blend, the slight kick from the peppers, and the freedom to top how I choose, I was hooked at first bite. A vegan tortilla soup recipe that will bring the whole family to the table? Let's get cookin'!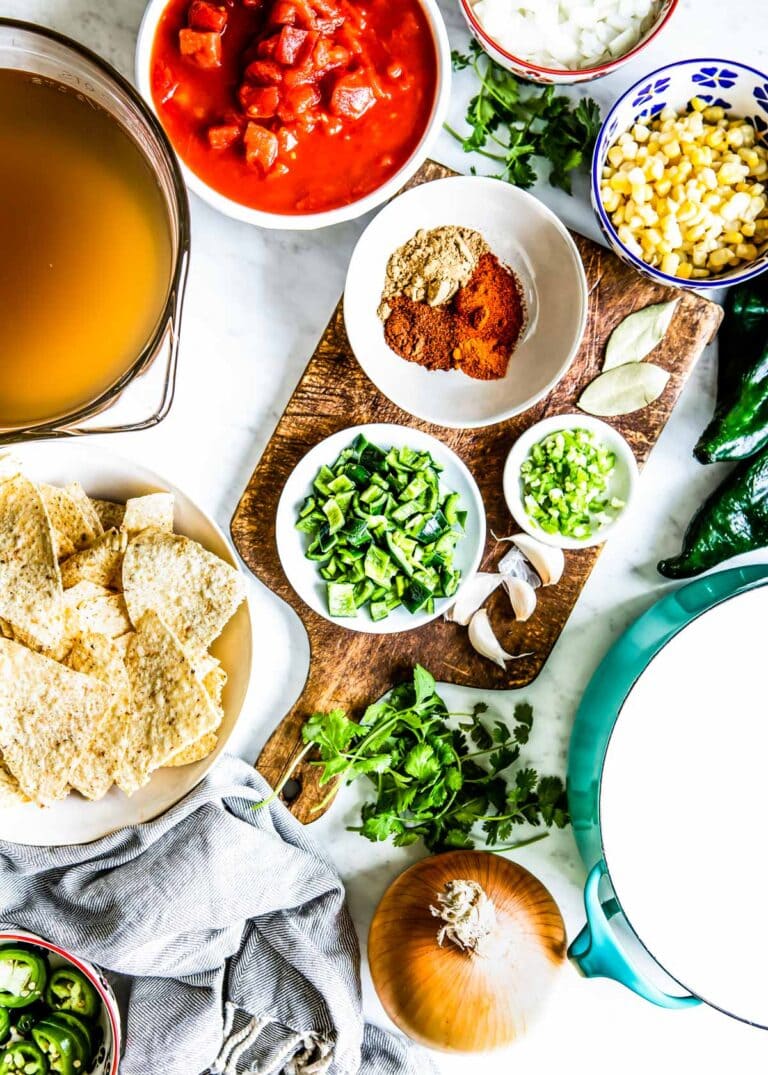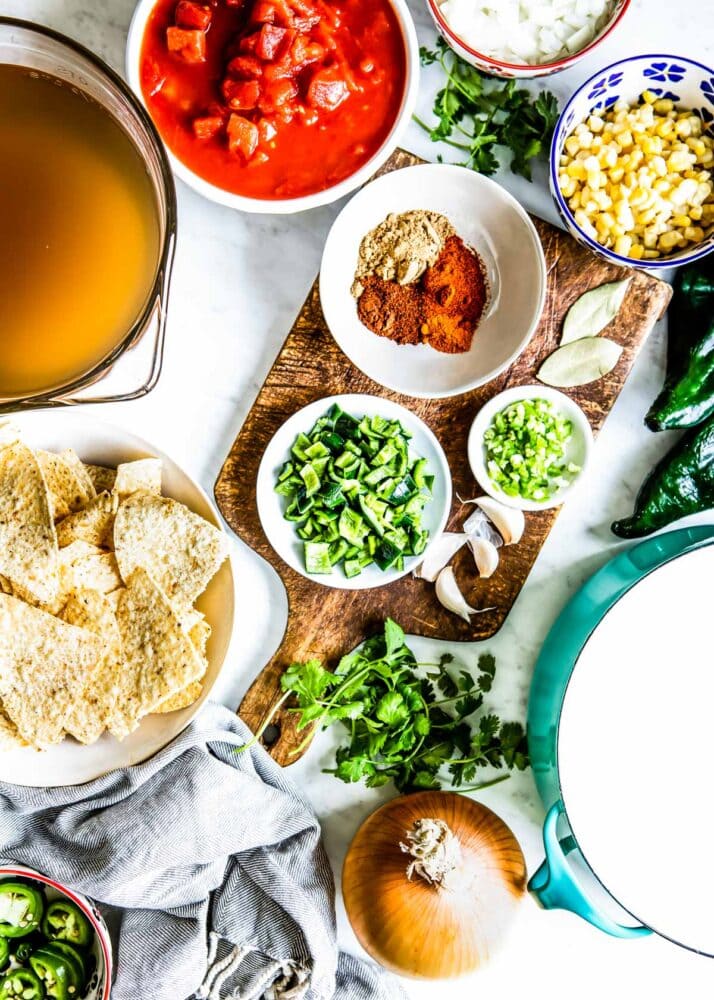 What makes this tortilla soup vegan?
Many tortilla soups use a meat based broth/stock, because they bring a lot of flavor. Honestly, I find that a good, organic vegetable broth is loaded with flavor too! I've started making my own, and it's even better than store bought. Even though the tortilla soup from my childhood always had chicken in it, I find I don't miss it in this vegetarian version. If your family loves meat, then having a ground beef topping is a great option for those that want to add it.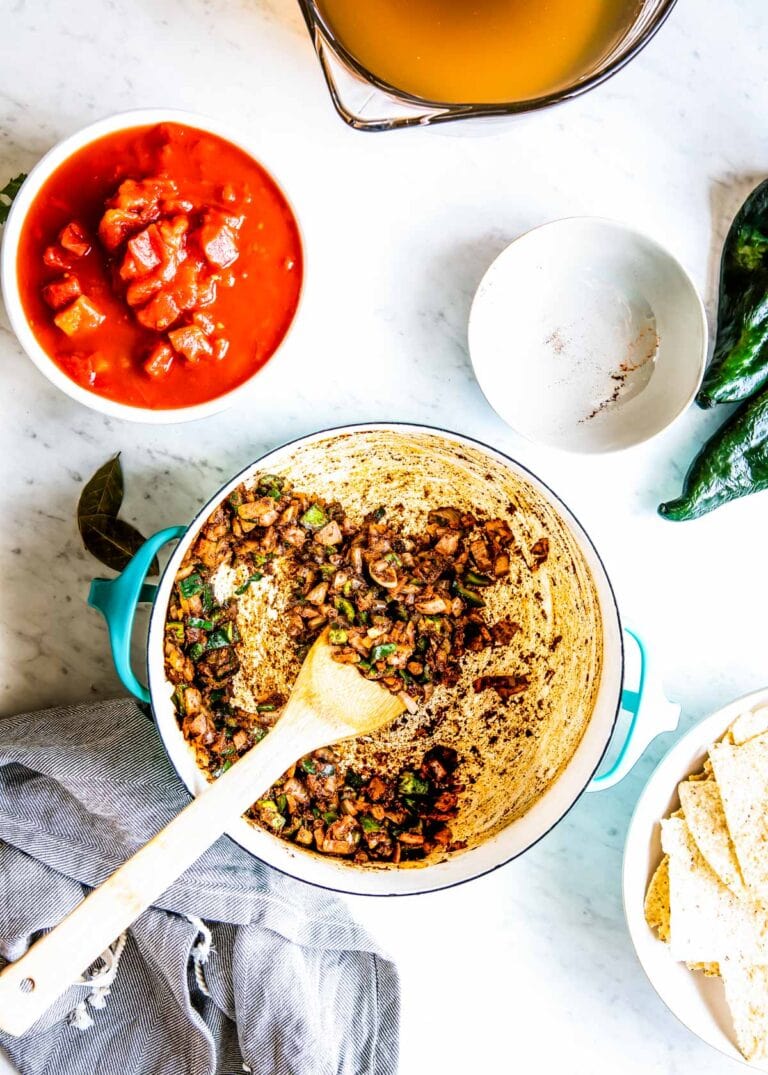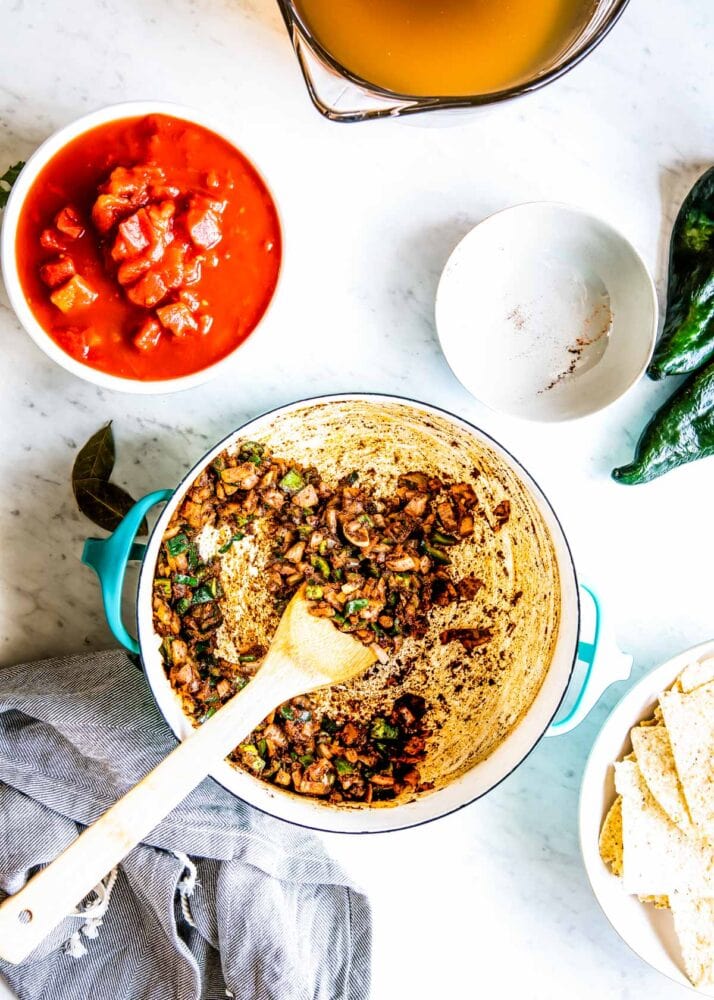 Tortilla soup recipe
Now, if you skipped ahead to the recipe and saw tortilla chips as part of this vegetarian tortilla soup and not just a topping, then you're not wrong! This soup is cooked, then blended using an immersion blender (or in a heat-safe blender container). So no soggy chips, just a delicious, creamy soup when done. Rawkstar Amanda swears by this addition, and she's got it right! It adds a good texture to the soup, as well as brightens up the color of the finished soup.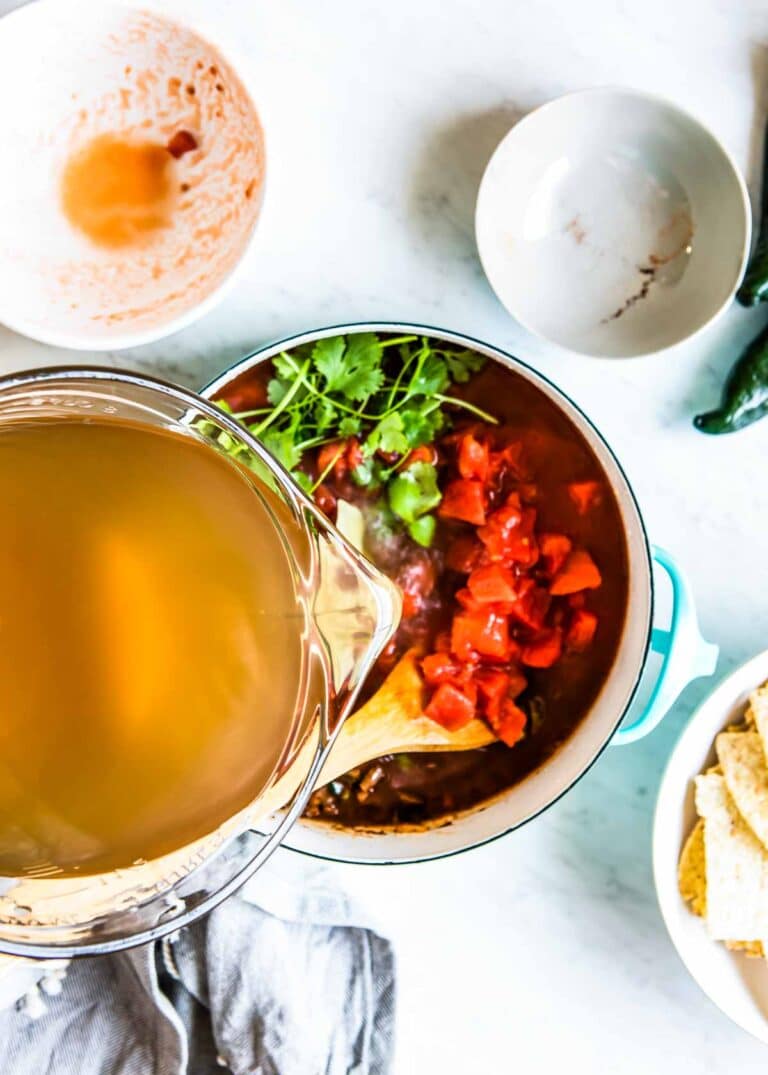 Vegetarian tortilla soup toppings
One reason soup makes a great family meal is that it's super easy to customize with toppings. If you've got a kid who needs cheese on everything, then use this vegetarian tortilla soup as the base and let them go wild! This soup is perfect for the chip lover too, just grab your fav chips then dip away. Here are some recommended toppings for this vegetarian tortilla soup:
Fresh squeezed lime juice
Diced jalepeños or another spicy pepper
Crumbled tortilla chips or plantain chips
Cilantro
Hot sauce
Diced avocados
Really, the possibilities are endless. If you like it on your tacos, then you'll probably like it in this vegetarian tortilla soup.
Vegan tortilla soup swaps
Because soup is so easy to customize, you know I've got you covered with some helpful ingredient swaps! If onions aren't your thing, then swap the onion out for 1 cup of leeks. If you don't want any spicy peppers, swap the 2 peppers out for ½ red or orange bell pepper. You can also cut back on the spices as you taste, to find the perfect amount of spice for you. I roll with the spice train, so I often add a bit more than this vegetarian tortilla soup recipe recommends, yet you can add less too! If you don't want the corn tortilla chips, or need to cut back on the sodium they bring, opt for a salt-free chip, or a good plantain chip. Trader Joe's has a wide variety of plantain chips that I've been working through, and they're all good!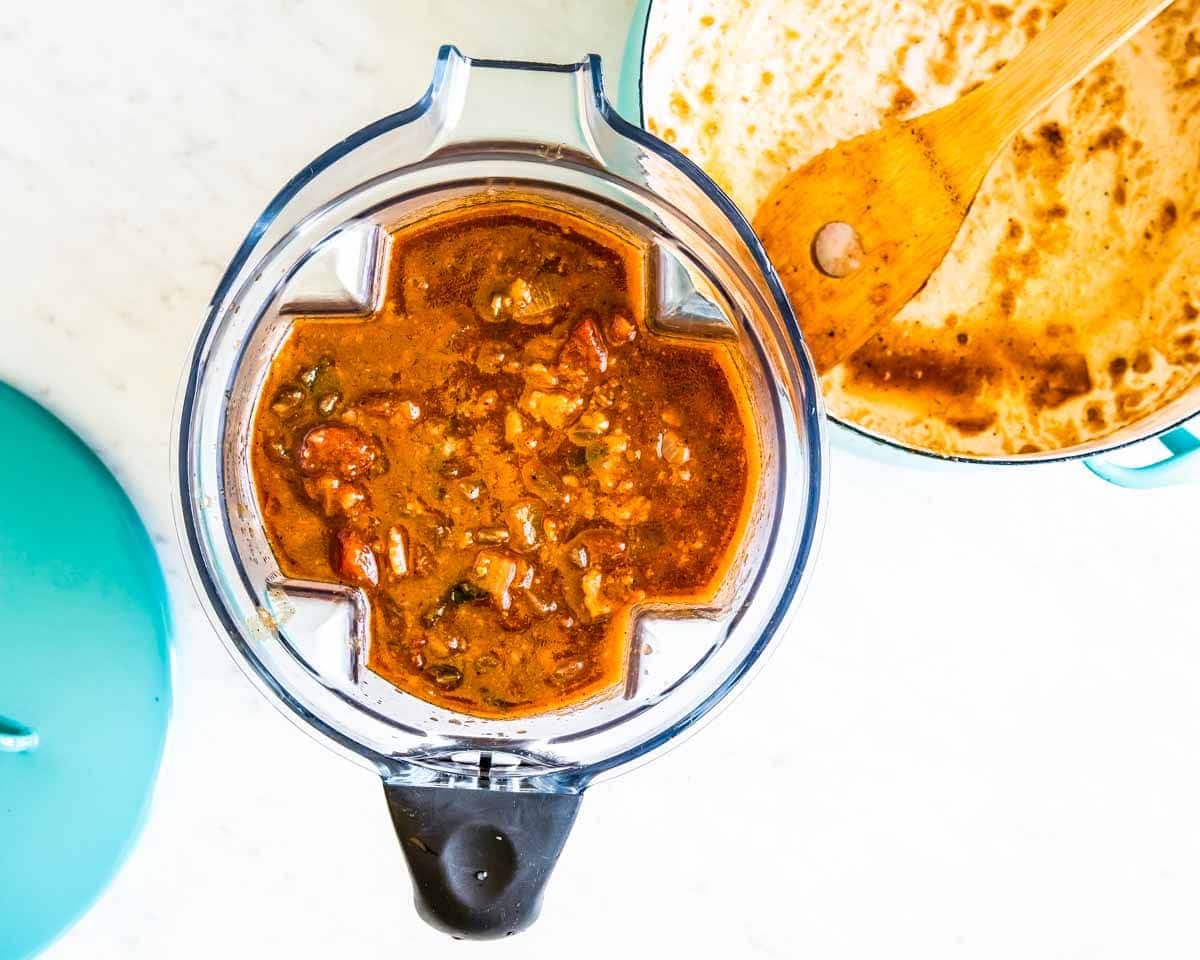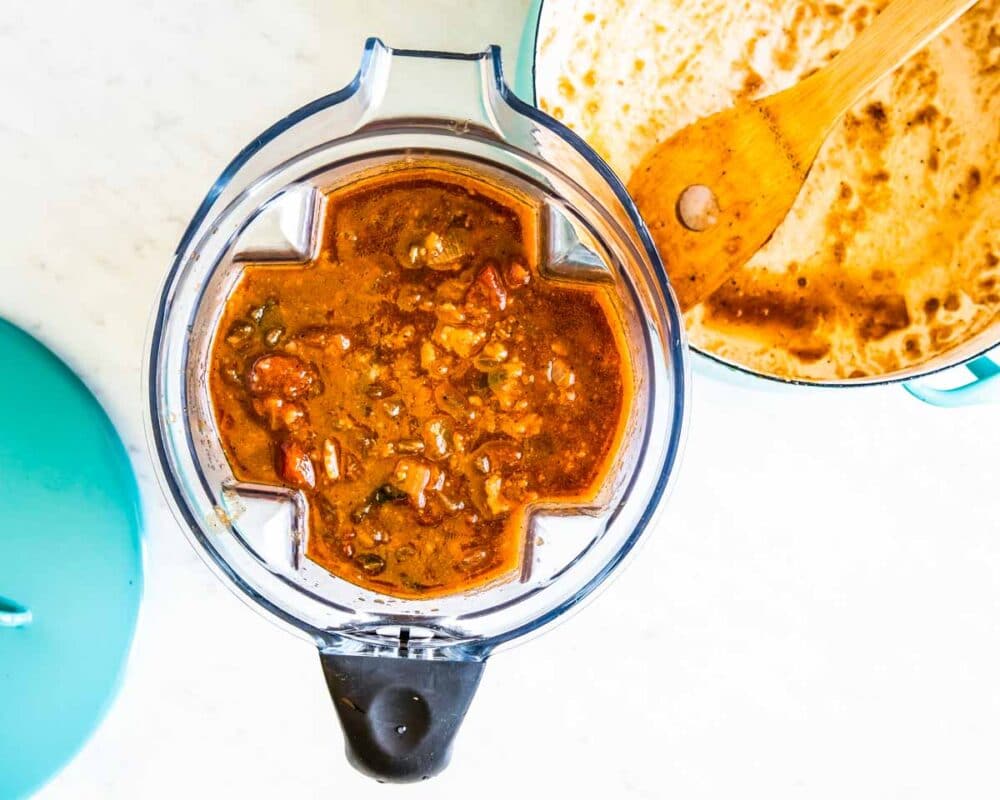 More great soup recipes
I super love soup, and these chilly nights have me whipping up loads of different recipes. Soup doesn't have to be boring, and it doesn't need meat to be flavorful! Here are my top soup recipes:
Seriously, it's hard for me to find a soup I don't love. What is your fav soup recipe? I'd love for you to leave a comment to let me know; and don't forget to rate this fun vegetarian tortilla soup recipe after you've tried it!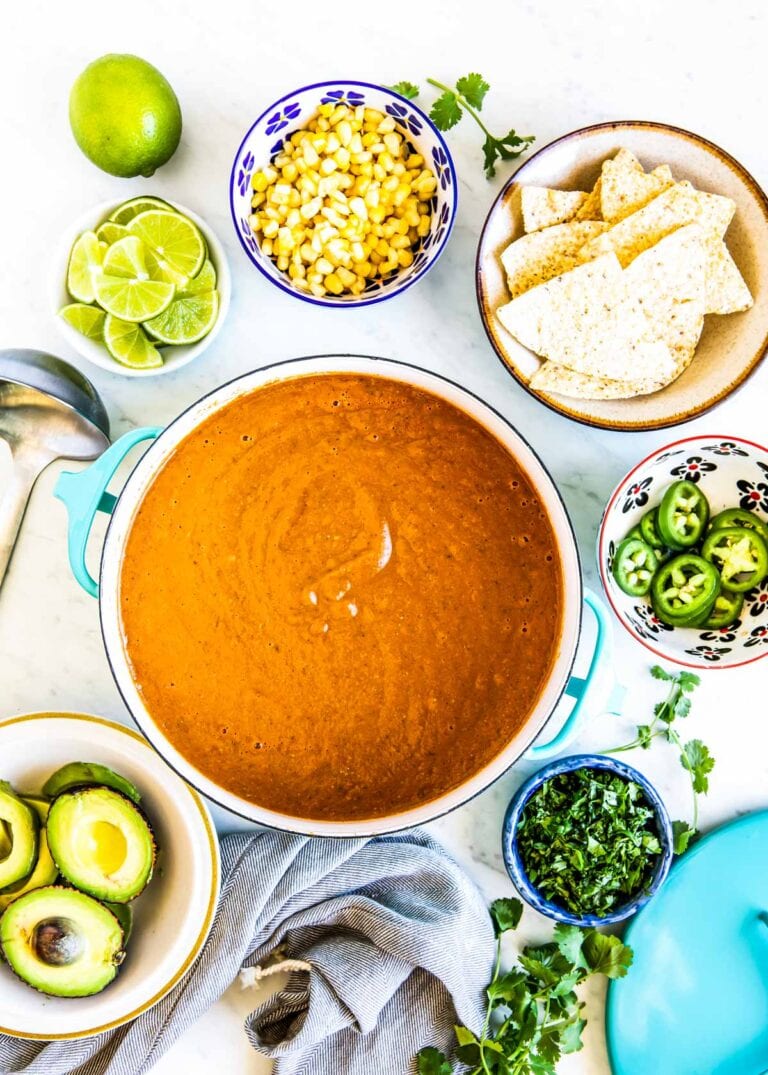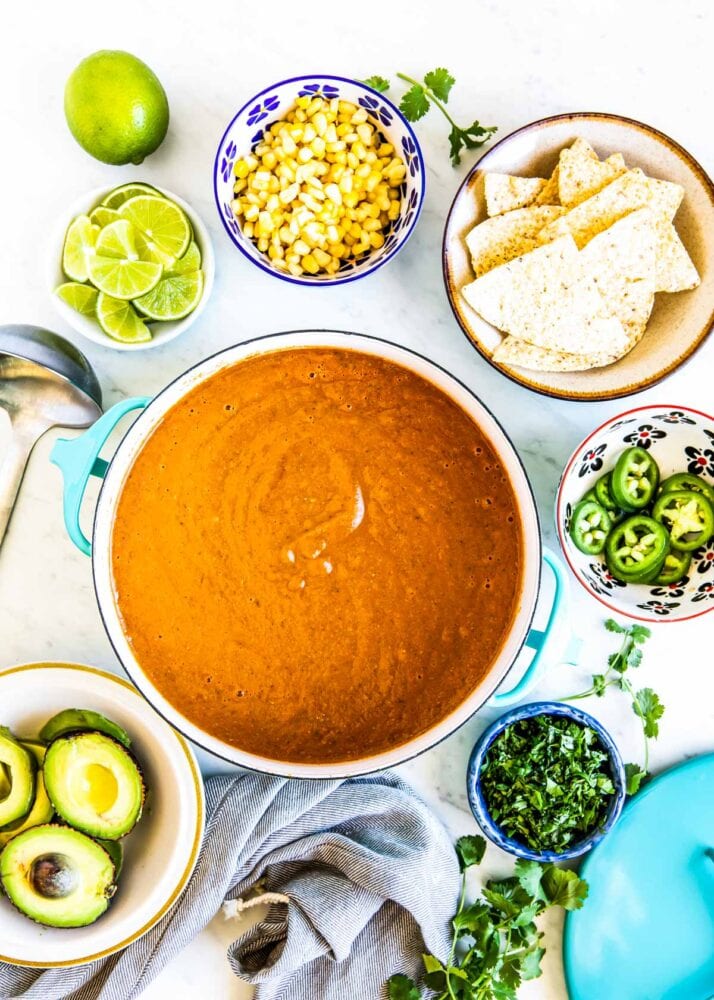 Batch cooking soup
Because soup often takes a lot of ingredients + cook time to make, I almost always make extra. I then freeze the left overs in single serving containers (usually a mason jar). This way, I can easily grab a nutritious, hot lunch in the days and weeks to come. Depending on your family size, double or triple this tortilla soup recipe. You're future self will thank you for the pre-prepped meal!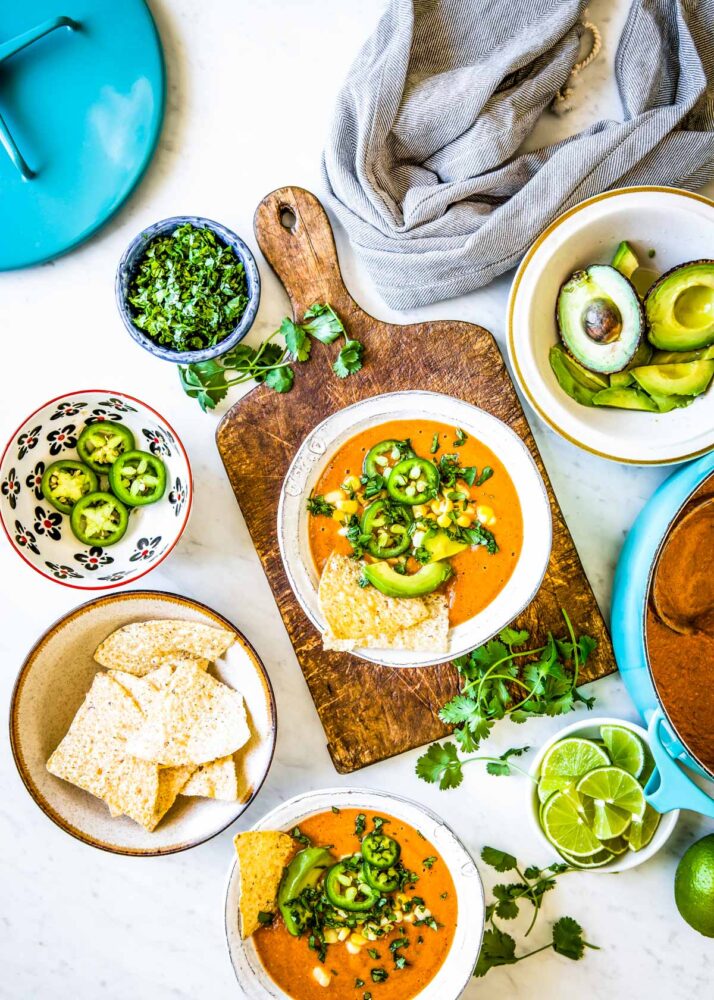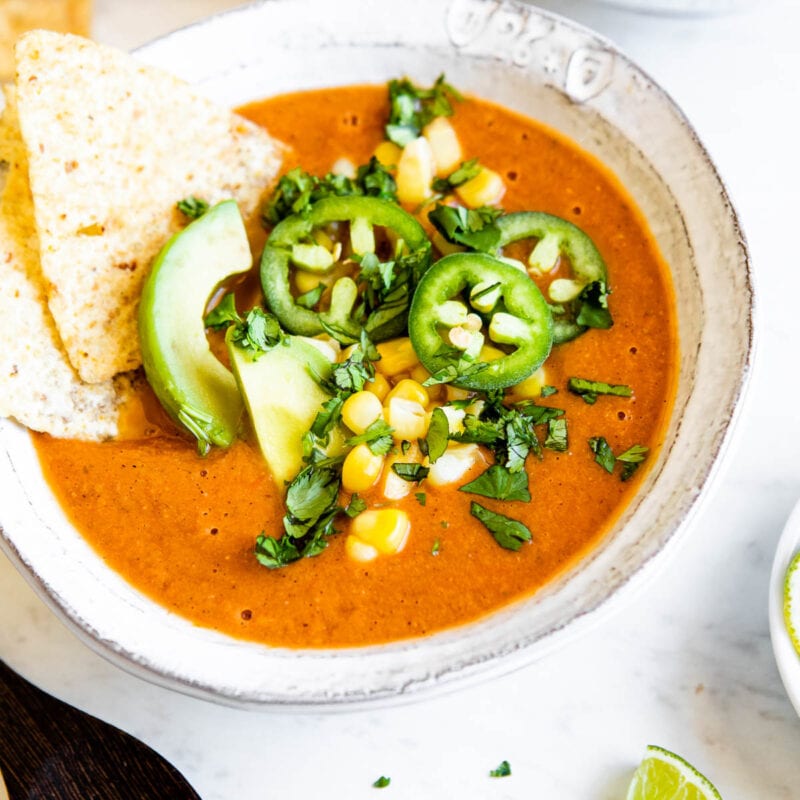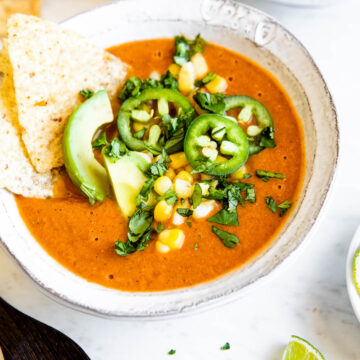 Vegetarian Tortilla Soup
Rate this Recipe
Print Recipe
Dive into this warmly spiced vegetarian tortilla soup made with whole food ingredients. It's so delicious, I dare you to have just one serving!
Ingredients
2

cups

tortilla chips

2

tbsps

avocado oil

1

yellow onion

(diced)

1

poblano pepper

(diced)

½

jalapeño pepper

4

cloves

garlic

(crushed and chopped)

1

tablespoon

smoked paprika

2

tsps

cumin

(ground)

1

teaspoon

chili powder

¼

teaspoon

cayenne pepper

6

cups

vegetable stock

28

oz can

diced tomatoes

(canned)

2

bay leaves

2

tbsps

cilantro

2 ½

tsps

sea salt
Instructions
In a large stock pot, heat two tablespoons of oil to medium/low. Add the onion, garlic, poblano pepper, and jalapeño pepper, and cook for five minutes. After five minutes, add spices and cook for another five.

Add stock, tomatoes, bay leaves, salt, cilantro leaves, and  ¼ of the tortilla strips. Bring to a simmer. Cook, uncovered, for 30 minutes then remove bay leaves.

Puree the soup with an immersion blender. If you want your soup to be thicker, you can always add more tortilla strips. And then you're ready to serve! I usually serve the soup with lime, corn, cilantro, jalapeno peppers, avocado, and the remaining tortilla.
Notes
You can also use a regular blender, and just carefully puree in batches.
Serve with the toppings of your choice.
To tone down the spice, omit the jalapeño.
Make a day ahead for even better flavor.
Cool completely then freeze in mason jars to enjoy in the weeks to come.
Nutrition (estimated)
Calories:
282
kcal
(14%)
Carbohydrates:
37
g
(12%)
Protein:
5
g
(10%)
Fat:
14
g
(22%)
Saturated Fat:
2
g
(13%)
Polyunsaturated Fat:
5
g
Monounsaturated Fat:
6
g
Trans Fat:
1
g
Sodium:
2092
mg
(91%)
Potassium:
426
mg
(12%)
Fiber:
4
g
(17%)
Sugar:
7
g
(8%)
Vitamin A:
910
IU
(18%)
Vitamin C:
34
mg
(41%)
Calcium:
126
mg
(13%)
Iron:
3
mg
(17%)