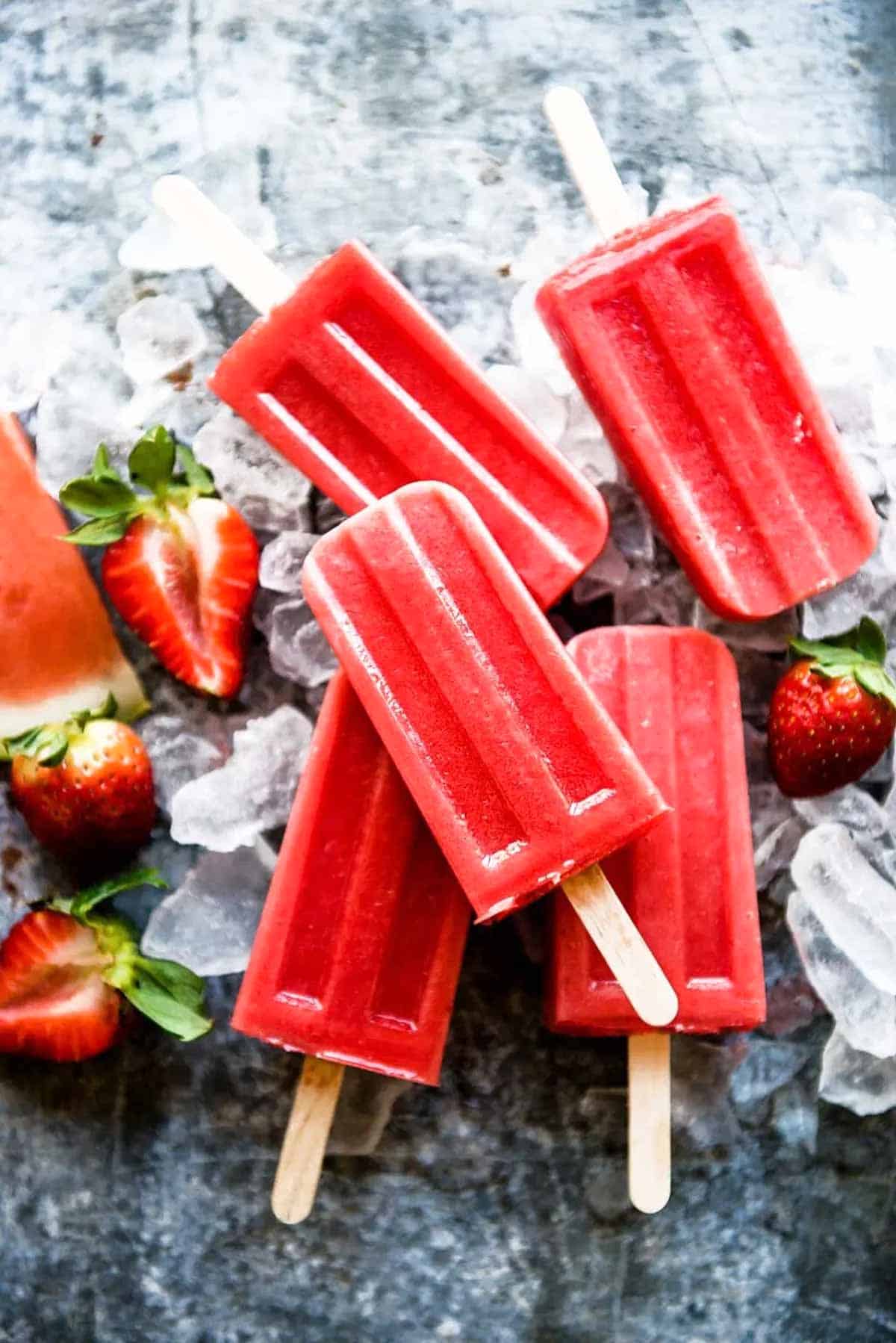 This super simple, healthy watermelon popsicle recipe is perfect for summer. It doesn't get much more sun-shiny, bare feet in the sand, summer barbecue than homemade fruit popsicles.
Summertime in Florida is hot, so I don't wanna be stuck in the kitchen. Yet, I need foods that keep me hydrated and energized. This 2-ingredient healthy popsicle recipe is a summer favorite!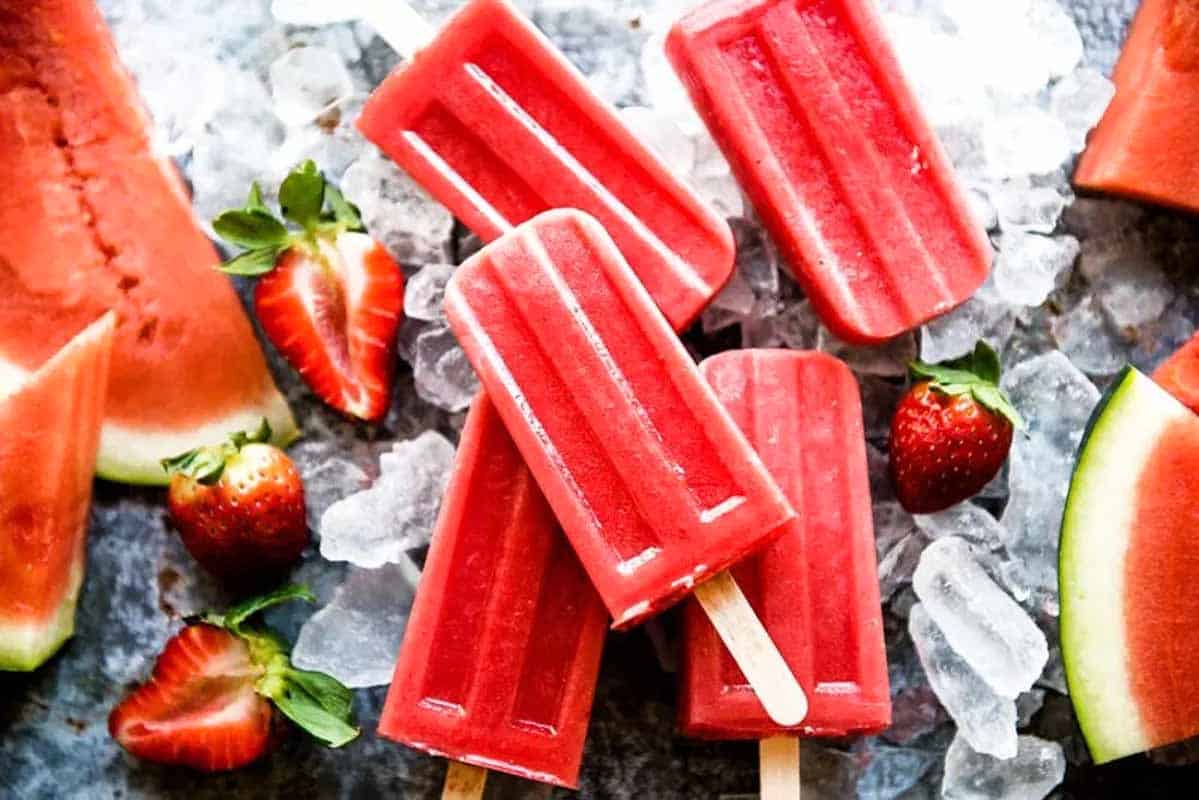 Nutrition in Watermelon Popsicles
Most grocery store popsicles contain added sugar, weird syrups, dyes, and preservatives. I've discovered that none of these ingredients are necessary to make vibrant, delicious frozen treats that my kids will actually eat.
These watermelon popsicles have just 2 simple ingredients: watermelon and strawberries. It only takes 2 ingredients to produce a crave-able snack because they're supercharged with nutrition and flavor:
Watermelon Nutrition
Low in calories: 100 grams contains 30 calories.
Great source of Potassium: which helps control blood pressure and keep the heart healthy.
Contains Beta Carotene: turned into Vitamin A in the body, which helps with proper eye function.
May reduce muscle soreness: A study by the US National Library of Medicine found that consuming watermelon juice after a workout can reduce muscle soreness after 24 hours.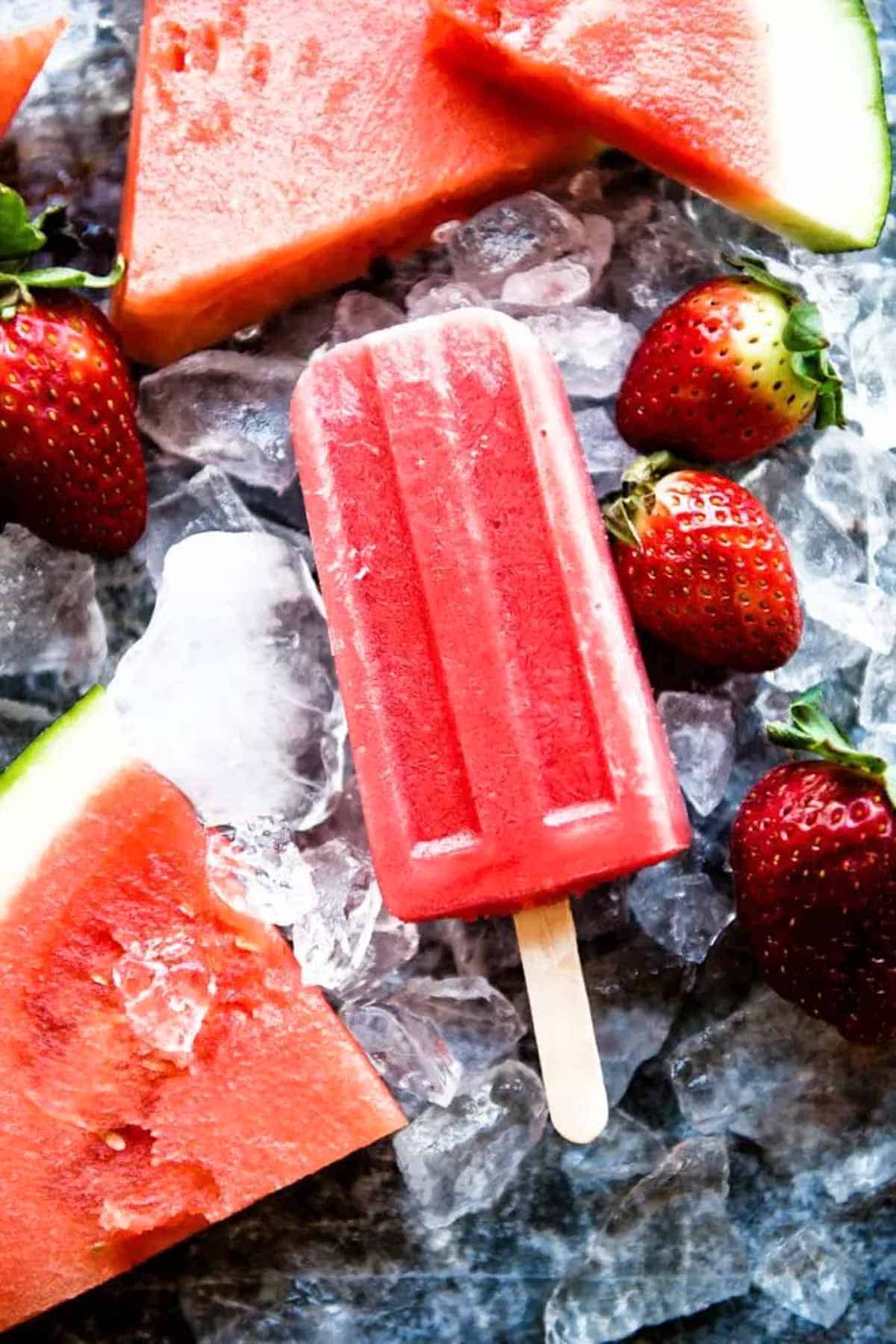 Strawberry Nutrition
Low glycemic index: strawberries are incredible sweet, yet have a GI score of 40 (this popsicle recipe is sweet AND healthy!).
Low in calories: 100 grams have only 32 calories.
High in fiber: 100 grams of these berries contains 2 grams of fiber.
Full of folate (vitamin B9): an essential nutrient for pregnant women, and deficiencies in folate can cause abnormalities in both pregnant women and their baby, according to the US National Library of Medicine.
Loaded with antioxidants: strawberries specifically contain up to 11x more antioxidants than other fruits and veggies, which promote heart health and fight cancer.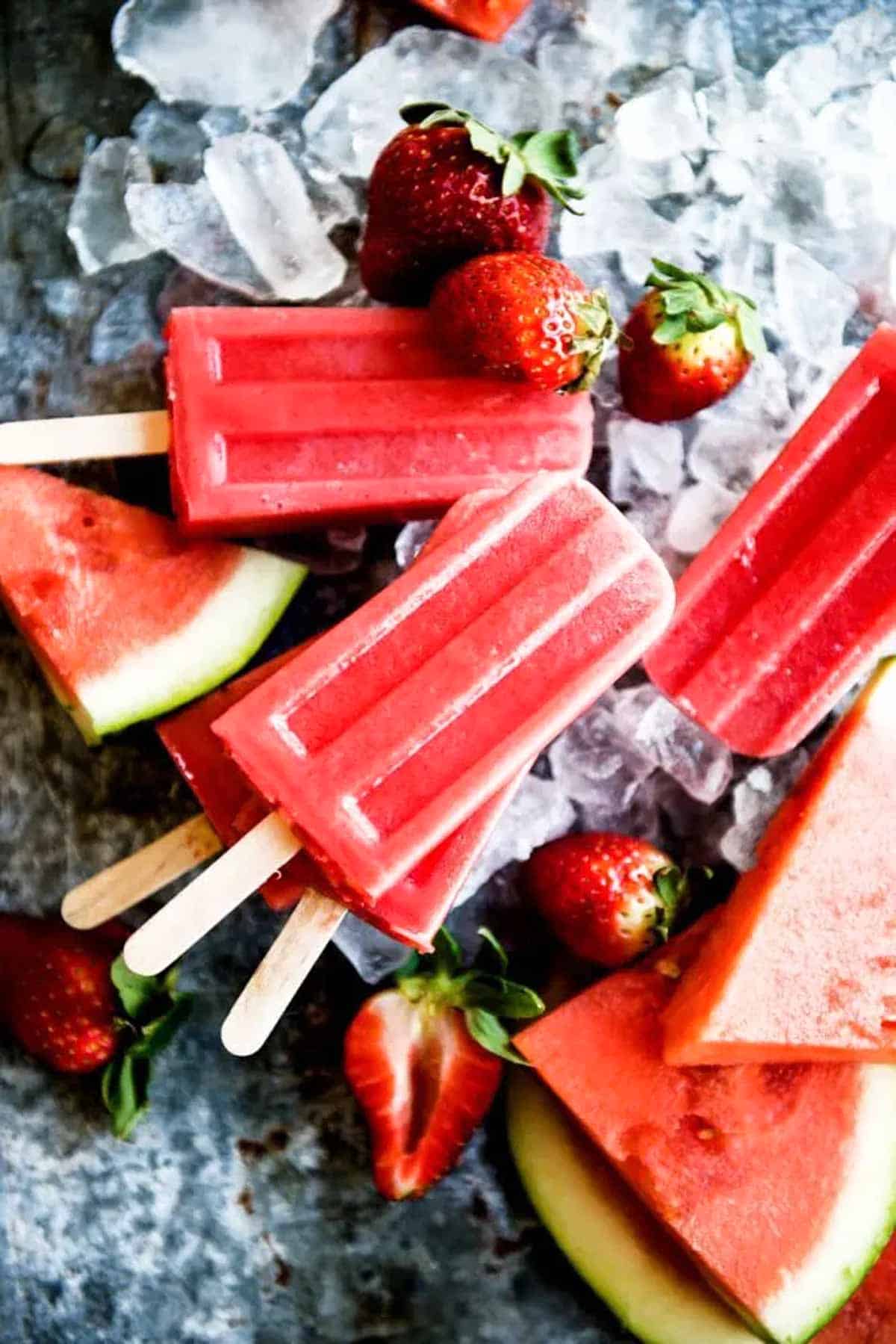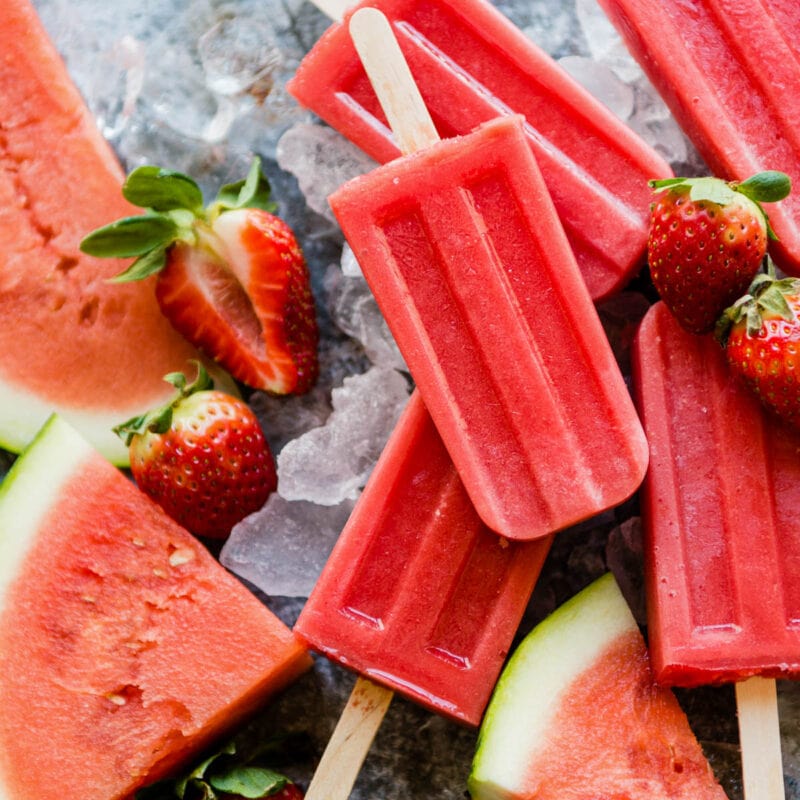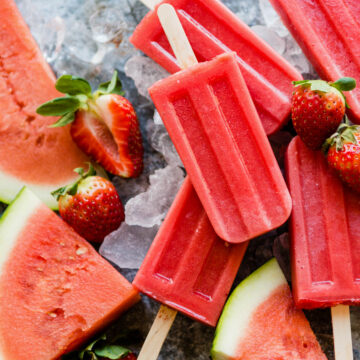 Watermelon Popsicles
Rate this Recipe
Print Recipe
Two simple ingredients is all it takes to make watermelon popsicles sweet enough to fall in love. Ask your kids to join in making this refreshing summer treat.
Ingredients
2

cups

watermelon

(seeded and cubed)

1

cup

strawberries
Instructions
Place watermelon and strawberries in blender or food processor. Puree until smooth.

Pour the mixture into popsicle molds and insert popsicle sticks.

Freeze several hours or preferably overnight before eating.
Notes
Popsicle molds differ in capacity. For this recipe, we used ¾ cup (6oz) molds. Paper of silicone cups can be used in place of the popsicle molds.
Use the whole fruit instead of fruit juice. That way you keep the fiber that helps breakdown the natural sugar. 
Feel free to toss in some leafy greens to up the healthy benefits of these fruity popsicles! Add ½ cup leafy greens (spinach is a great option) and enjoy.
Nutrition (estimated)
Calories:
23
kcal
(1%)
Carbohydrates:
6
g
(2%)
Protein:
1
g
(2%)
Fat:
1
g
(2%)
Saturated Fat:
1
g
(6%)
Polyunsaturated Fat:
1
g
Monounsaturated Fat:
1
g
Sodium:
1
mg
Potassium:
93
mg
(3%)
Fiber:
1
g
(4%)
Sugar:
4
g
(4%)
Vitamin A:
291
IU
(6%)
Vitamin C:
18
mg
(22%)
Calcium:
7
mg
(1%)
Iron:
1
mg
(6%)
More Homemade Popsicle Recipes
Popsicles are a staple snack in my household, so I'm always on the lookout for healthy popsicle recipes. I've discovered some real gems that are delicious and provide a host of health benefits. These cold snacks can be messy (which is part of the fun, right?!), yet can be made in on the go sleeves and tossed into a day pack for a great adventure snack. Read on for some of my favs.