The very first green smoothie recipe I ever tried was this one, the Very Berry Smoothie– and it changed my life. At that time, my husband and I were financially struggling as he transitioned to a new job as a pastor.
We had no health insurance and our kids were at that age when all they did was pass colds back and forth (and they almost always turned into an ear infection). This berry smoothie recipe gave us the immunity boost we needed to stay healthy, as well as caused us to fall in love with green smoothies.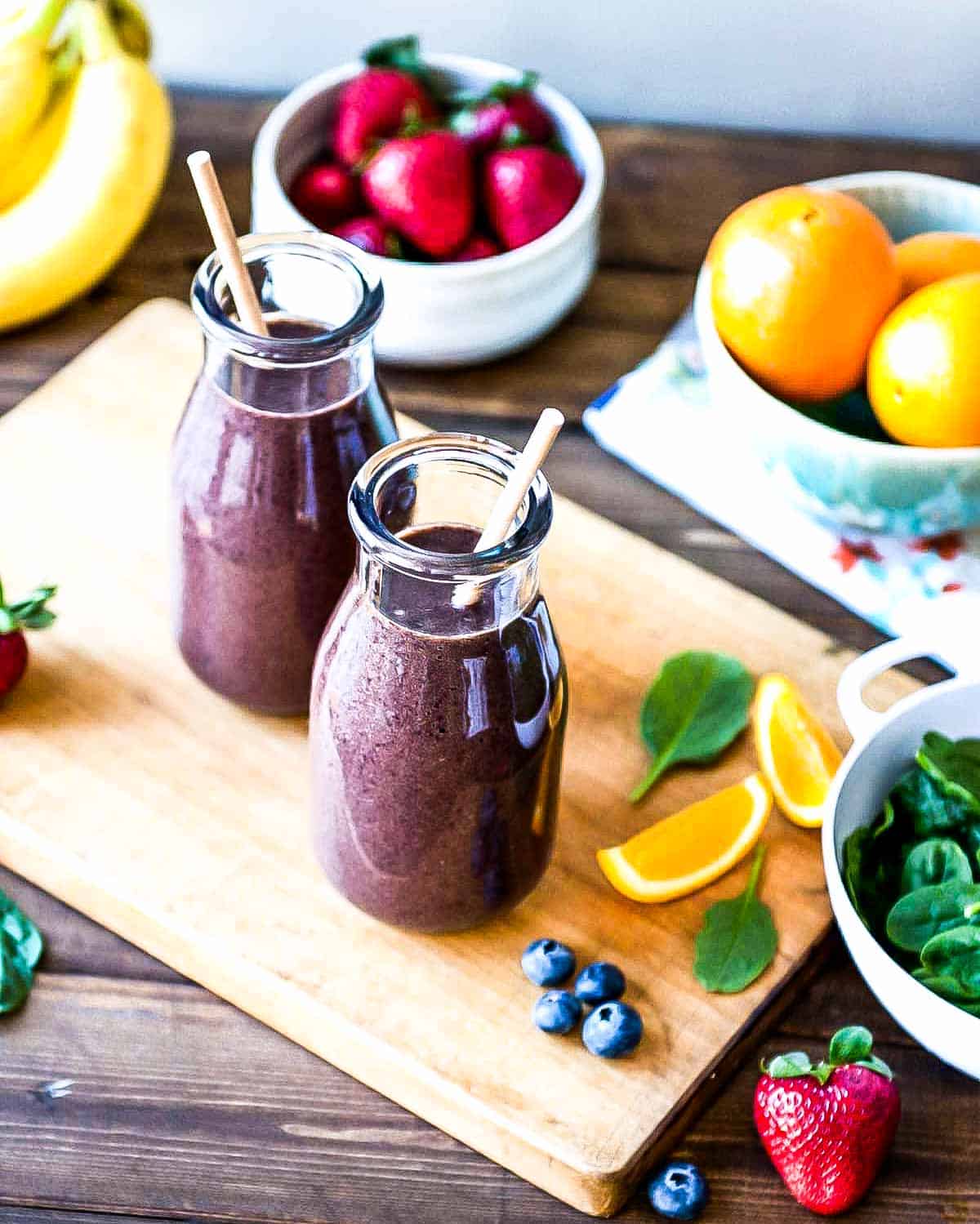 Table of Contents
Berry Smoothie Recipe for Immune Boost
For the past 8 years, I've sipped green smoothies with my family, and used real, whole food to keep us healthy. We also use natural remedies to heal our body. We haven't needed any prescriptions (or over the counter meds) since starting green smoothies, so that's proof enough for me that real food heals!
Specifically, this berry smoothie's got over 100% of the recommended daily value of vitamin C. It also boasts 8 grams of fiber, which keeps the body regular. Fiber is often overlooked, yet getting enough fiber daily can combat Type II Diabetes, obesity, certain types of cancer, and cardiovascular disease. That makes it an important ingredient in my opinion!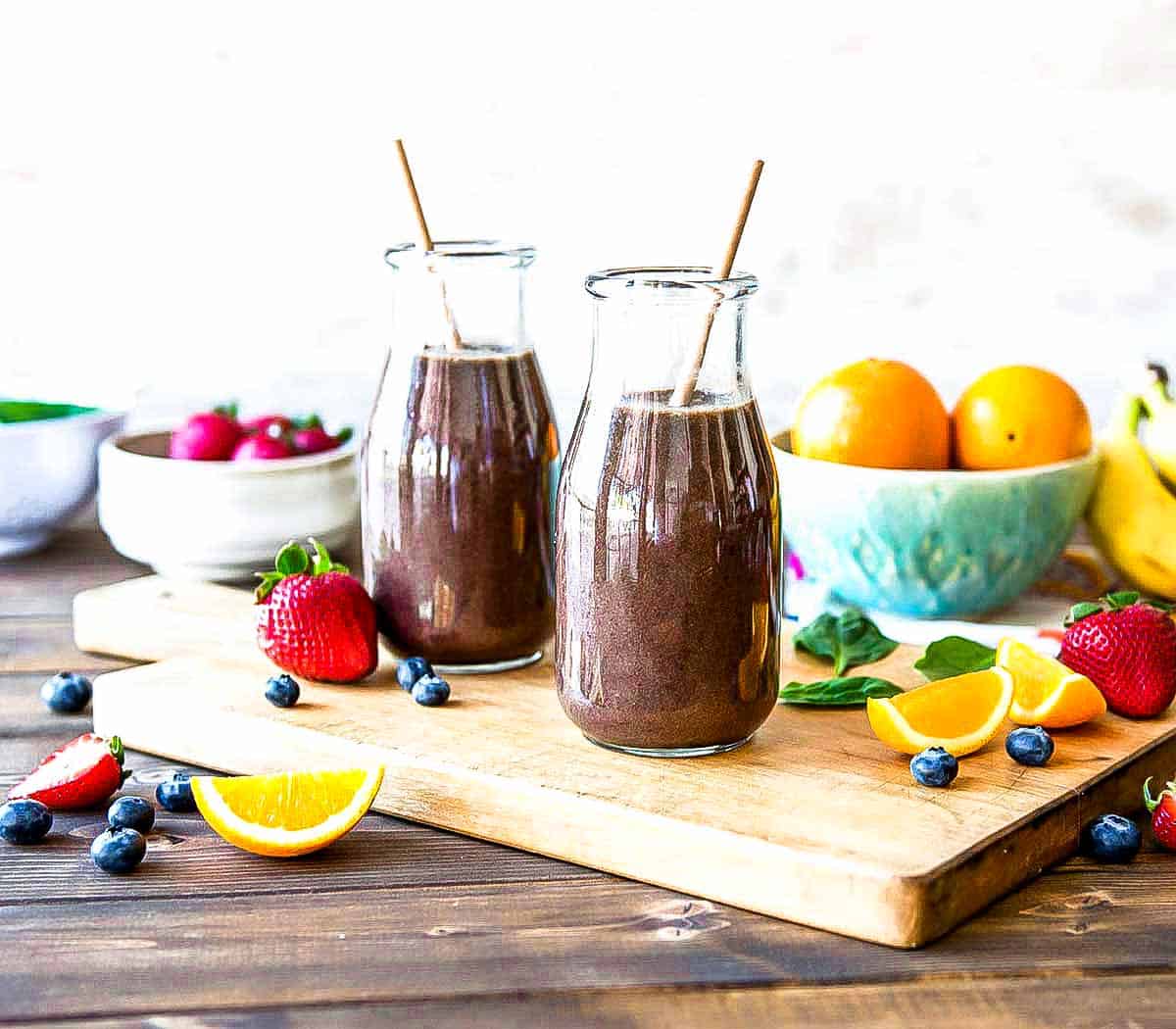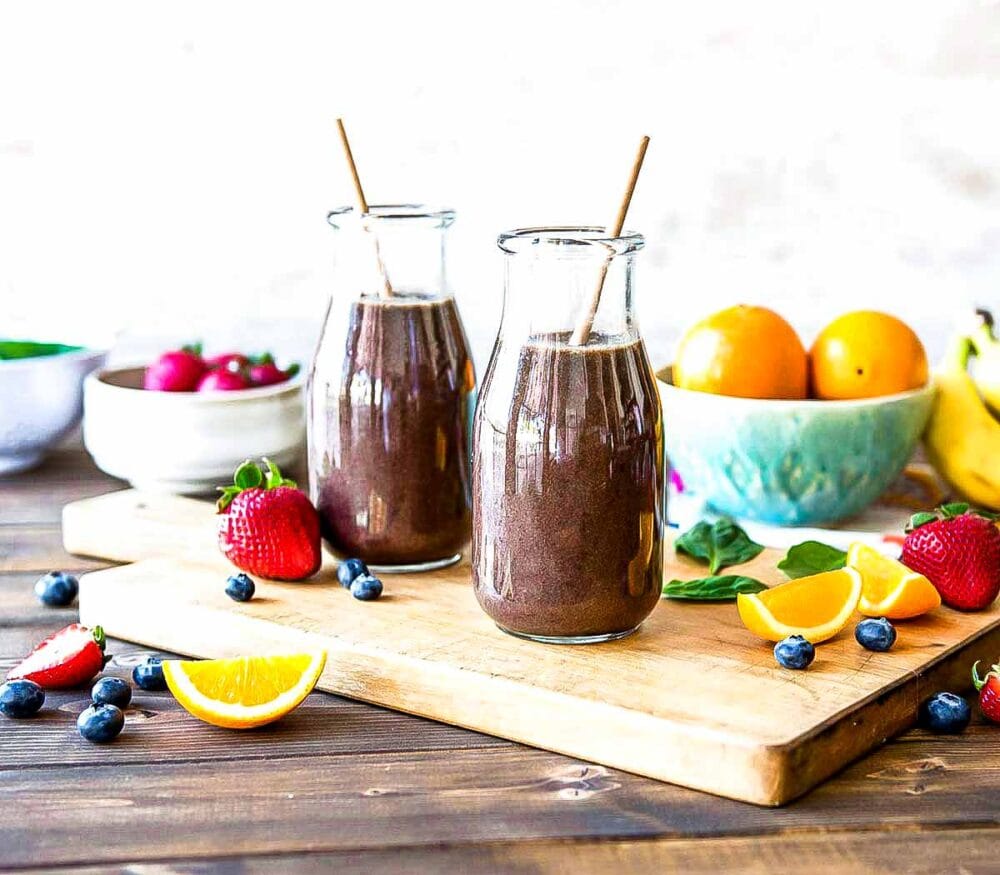 Blend a Quality Smoothie EVERY Time
Follow these steps to a perfectly blended smoothie, no matter the blender! First, make sure you start with a mix of fresh + frozen ingredients. I recommend at least 1 frozen fruit in each smoothie, so that it is nicely chilled.
I also follow the 1 1/2 + 1 + 1 rule: 1 1/2 cups of fruit, 1 cup of leafy greens, and 1 cup of liquid in every smoothie. Finally, if you are blending with a non-high powered blender, then make sure to blend your liquid + leafy greens first. This will minimize the leafy chunks at the end, and also help your blender break down the ingredients better.
Note: this berry smoothie recipe has a little less water in it, because oranges act as a liquid and a fruit, they're so juicy!
How to measure leafy greens
I often get the question, "How do you measure leafy greens?!" It's a great question, yet the answer varies depending on the person. If you are new to green smoothies, I recommend a lightly packed 1 cup serving of spinach. If you're a #greensmoothiequeen, then stuff those greens in as much as you can!
Seriously though, if you need to start with 2 spinach leaves and work your way to more, then that's great. I know that you'll be adding more greens to each smoothie in no time, just like I did! These days, I just grab a few *big* handfuls of spinach for my smoothie, and skip the measuring cup.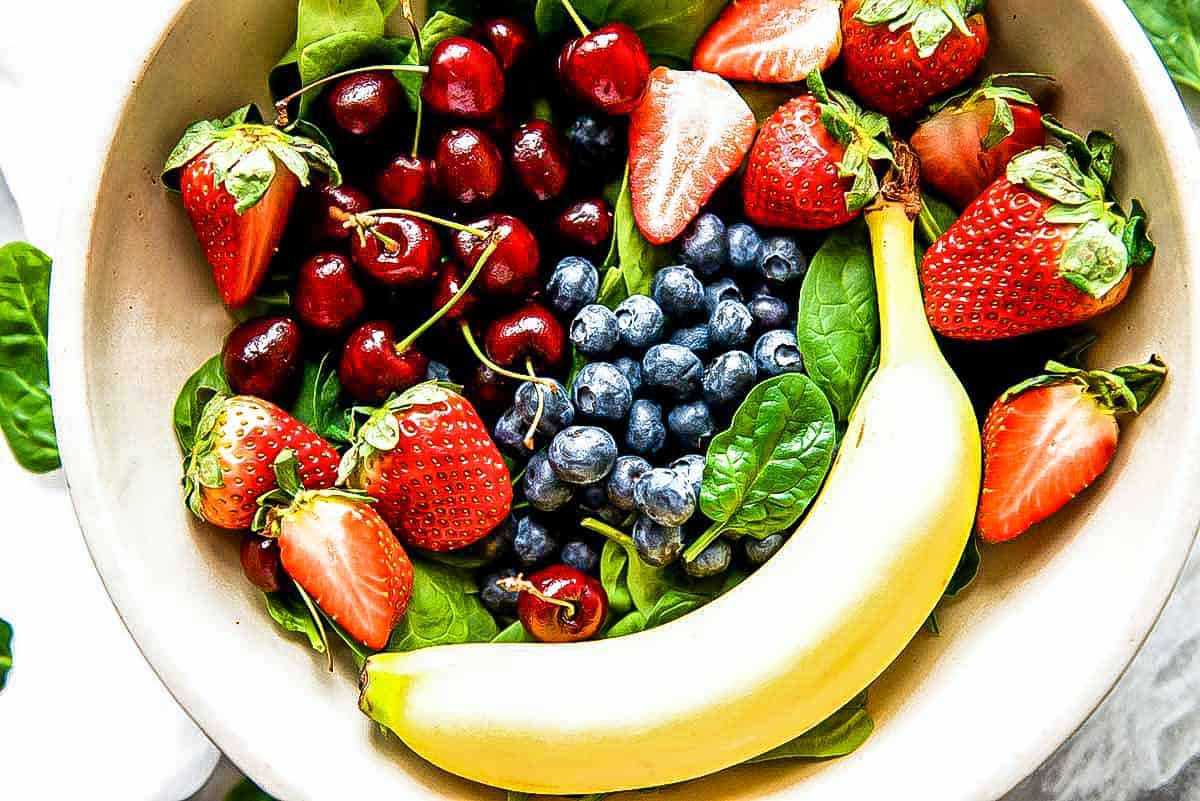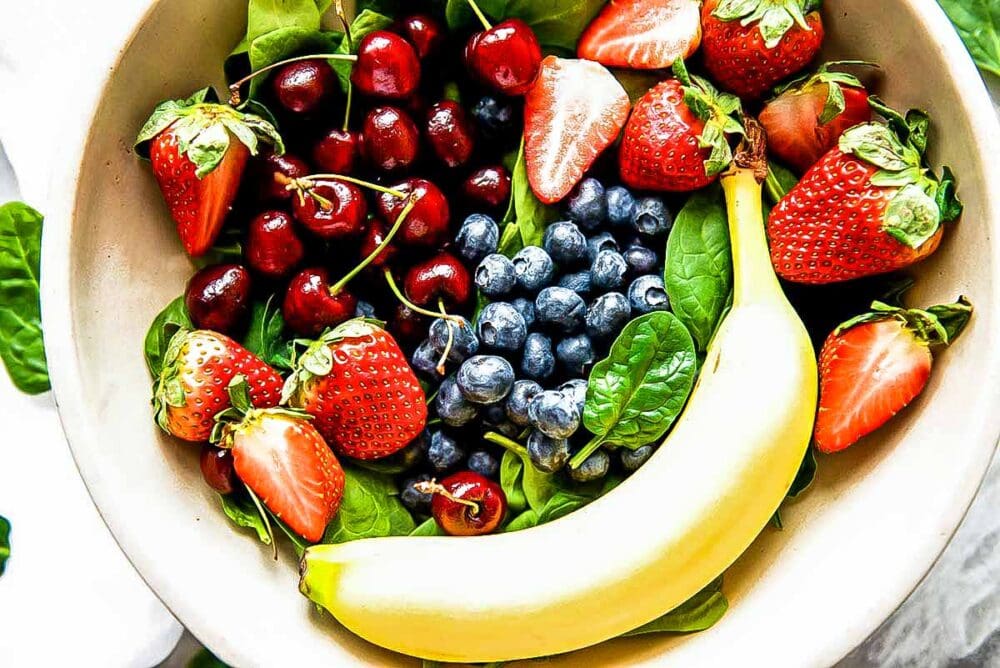 Ingredient Swaps
Green smoothies are super versatile, so don't be afraid to make these recipes fit your pantry, as well as your tastebuds. I like the strawberry/blueberry combo in this berry smoothie, yet choose the berries you like best. Cherries + raspberries are also a great combo.
If you need to cut down on the sugar, swap the banana with 1/2 cup cauliflower, or 1/2 avocado. That way your smoothie stays creamy and your blood sugar stays happy. If fresh oranges aren't easy to find, you can sub in 1/2 cup 100% orange juice, just make sure it's the kind with lots of pulp!
More Berry Smoothies
Berries are easy to add to smoothies, so I've got a whole list of recipes for you berry lovers to try:
What berry combos are your fav? Leave a comment and let me know! Let's keep that antioxidant love going.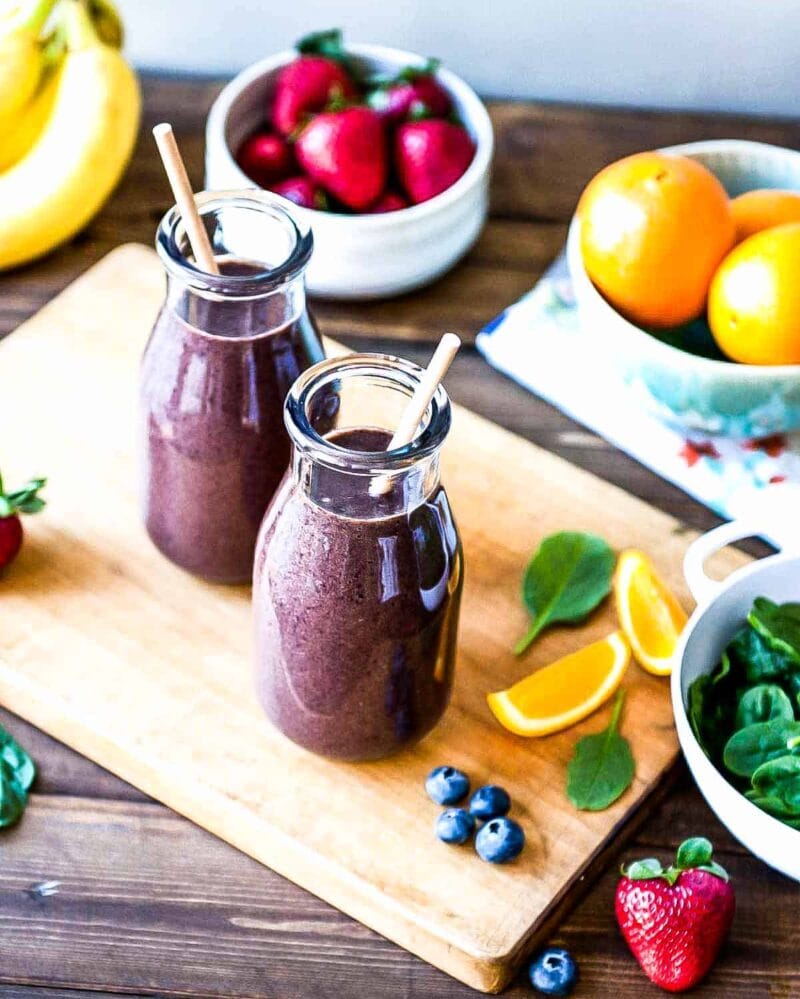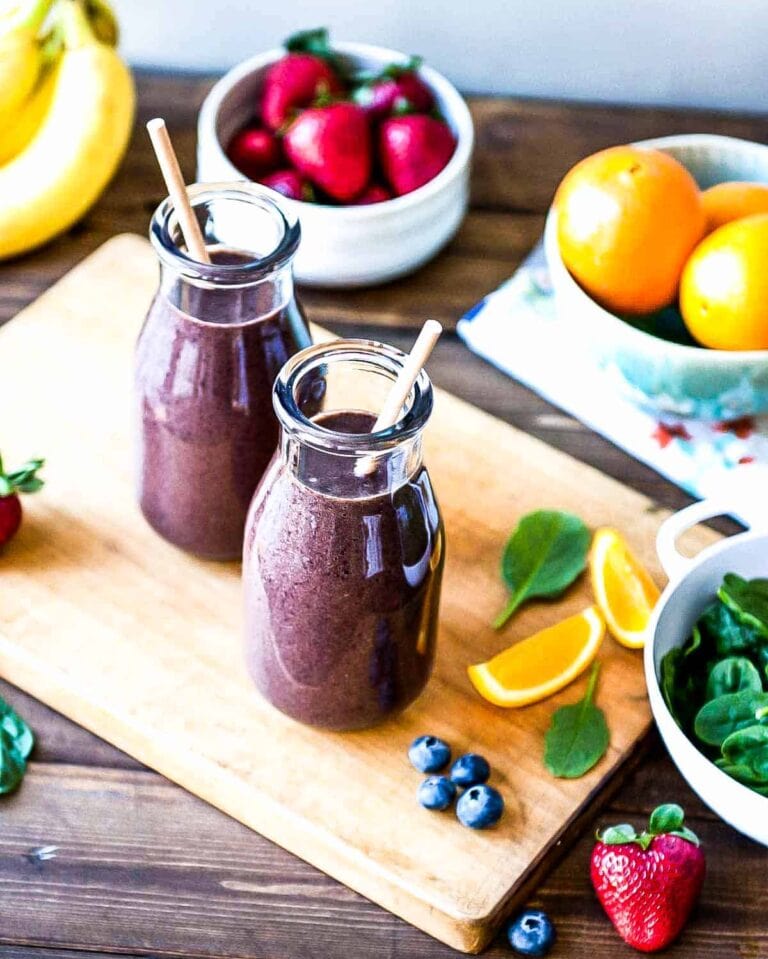 Citrus Berry Smoothie
Taste the very first citrus berry smoothie recipe that I ever made… and immediately fell in love with. It's loaded with vitamins and flavors, making it a great kid-friendly immune booster. 
Ingredients
1

cup

spinach

⅓

cup

water

1

orange

⅓

cup

strawberries

frozen

⅓

cup

blueberries

frozen

½

banana

1

serving

homemade protein powder

optional
Instructions
Blend spinach, water & orange until smooth.

Add fruit and blend again.
Notes
You can swap the orange for 1/2 cup of orange juice with lots of pulp. Remember— fiber is our friend! 
Use at least 1 frozen fruit for a refreshingly cool smoothie.
Swap in any leafy green you want.
Nutrition
Calories:
164
kcal
,
Carbohydrates:
41
g
,
Protein:
3
g
,
Fat:
1
g
,
Saturated Fat:
1
g
,
Polyunsaturated Fat:
1
g
,
Monounsaturated Fat:
1
g
,
Sodium:
29
mg
,
Potassium:
727
mg
,
Fiber:
7
g
,
Sugar:
27
g
,
Vitamin A:
3178
IU
,
Vitamin C:
116
mg
,
Calcium:
98
mg
,
Iron:
1
mg