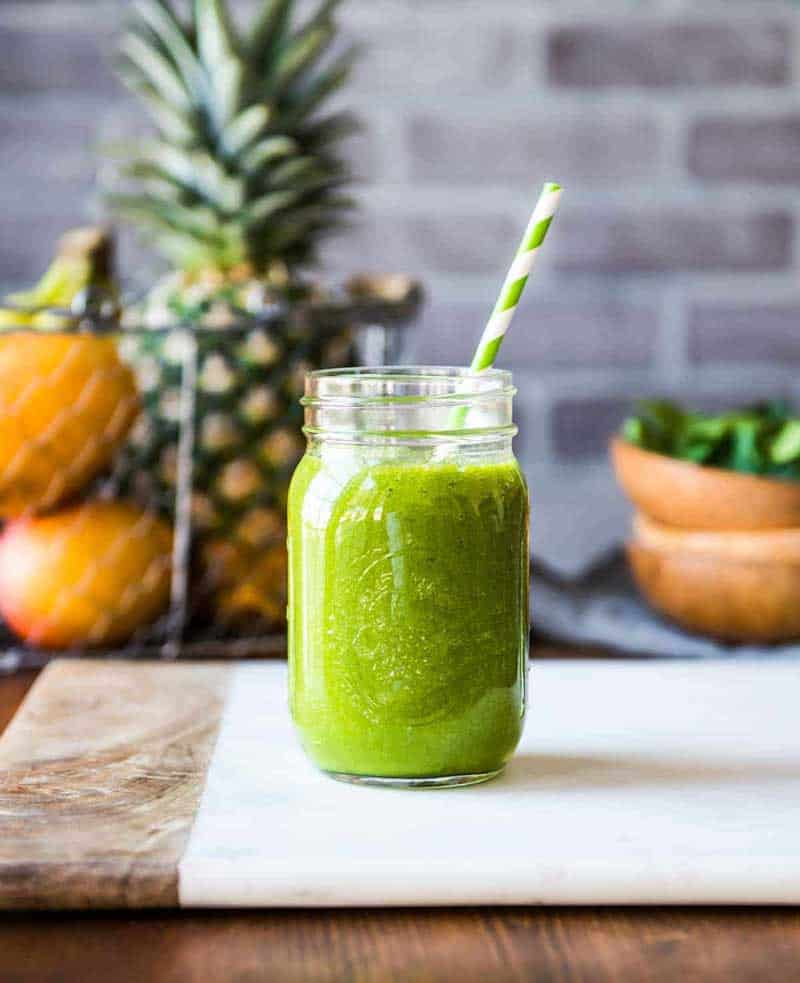 Sure, I know a spinach smoothie doesn't sound that appealing, but when made right it can be beyond delicious. With hundreds of 5-star reviews, it's time for you to see why this is the best green smoothie recipe.
Are you wondering why anyone would be excited to drink something as green as this? I hear ya— I've been right where you are. And so have 1 million+ others who've blended this smoothie in our Free Smoothie Challenge. You should join!
Drinking a daily smoothie is what helped me get the body and energy to do some incredible things, such as run 47 miles of the Grand Canyon, ride motorcycles through Morocco, publish two best-selling recipe books and create a backyard garden for my kids. This daily habit has kept my kids healthy when we didn't have health insurance, energized us in between school and sports and nourished us so we rarely get sick. And when we do, we can usually bounce back with some of my own natural remedies.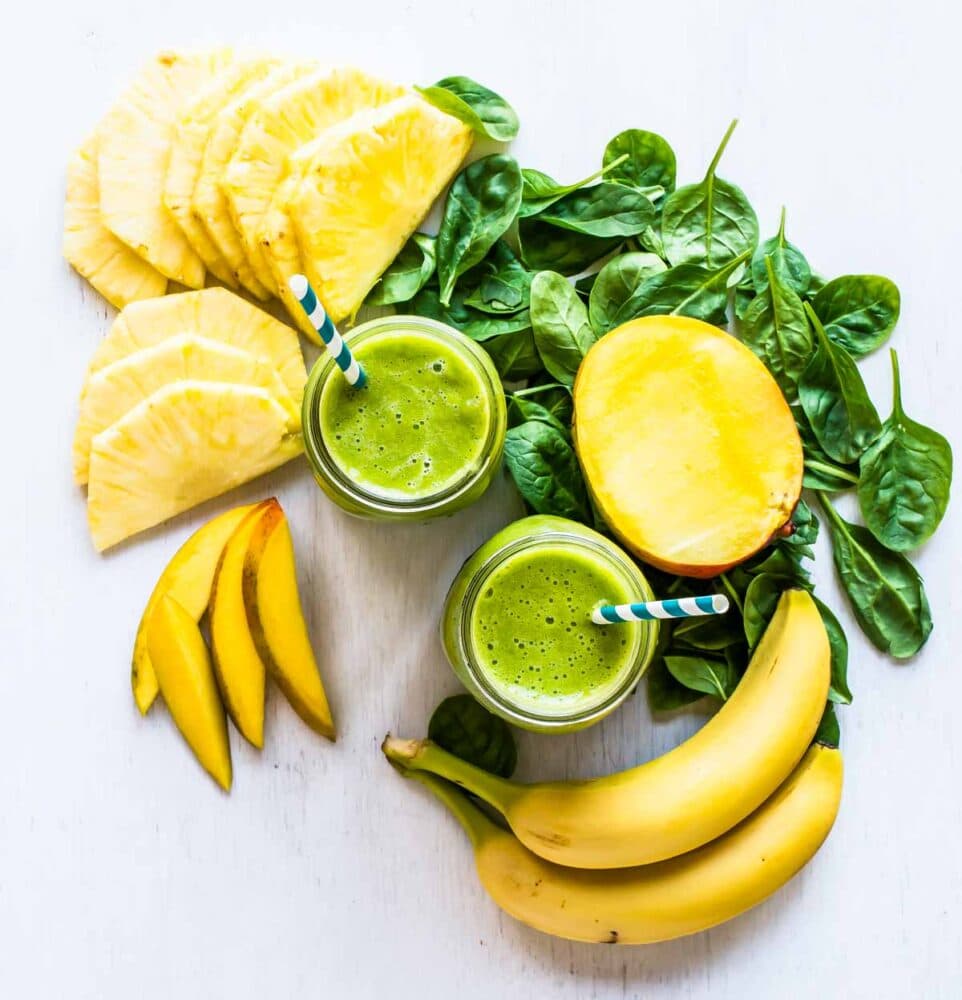 When I created this green smoothie recipe...it changed my life in more ways than I ever imagine. It was love at first sip for me, my two kids and over 1 million others who were scared of spinach smoothies.
I've published an entire recipe book on Simple Green Smoothies, and then went on The Doctors to blend a few green smoothie recipes live on stage! I was nervous with all the cameras and lights, but I knew I had to share green smoothies with the world! They truly are magical for your health.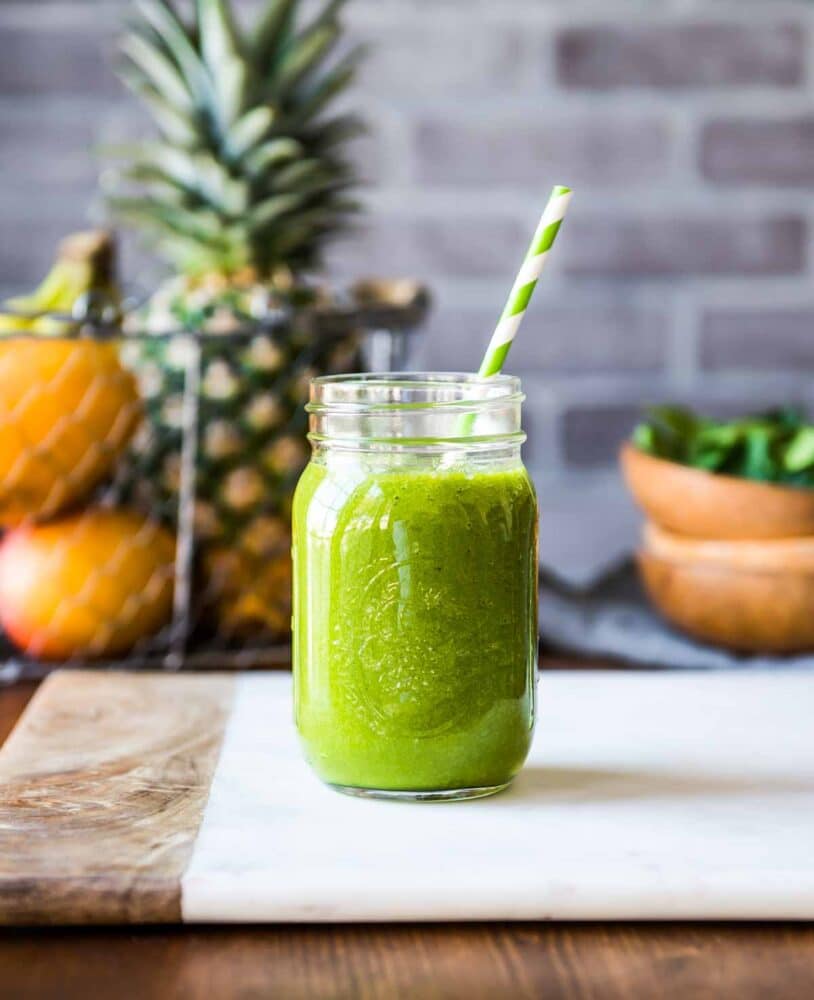 Are green smoothie recipes healthy?
What we eat can truly transform our bodies and our lives in powerful ways. Especially with this smoothie recipe as I've seen in the lives of so many of my friends, family and community online. Blending spinach into a fruit smoothie is a great way to boost your immune system, as well as naturally energize you.
Most smoothies are made with just fruit and liquid, which is high in sugar and can cause inflammation. A green smoothie, on the other hand, is made with fruit, plant-based liquids and leafy greens.
This recipe is full of iron, potassium and vitamins galore— and tastes like a tropical treat from all the island fruit. Yet the best part is how simple as well as quick it is to make! You only need 4 ingredients and all of them can be found at your local grocery store (they don't cost a fortune either!). As I say all the time— I'm all for making healthy eating affordable so it's sustainable.
A green smoothie can taste just as good as a regular smoothie, and also have incredible health benefits.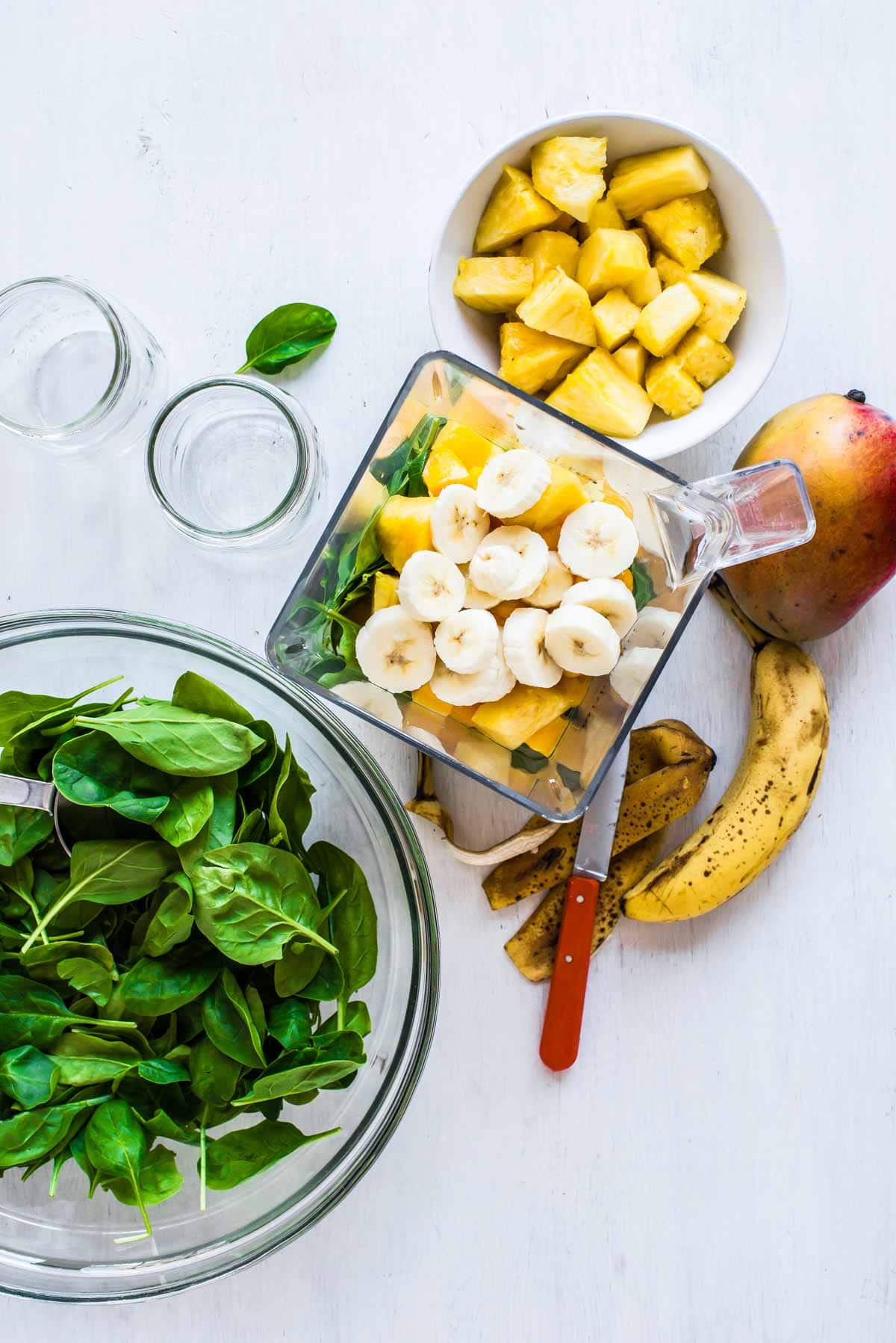 How to make a spinach smoothie
All you need to make a tasty green smoothie is a blender, fruit and leafy greens. The right ratio of spinach to fruit makes it sweet, as well as helps you reap all the health benefits of a green smoothie. The key is to use recipes that actually taste good and follow my simple tips below.
Ingredients you'll need:
fresh spinach
frozen pineapple
frozen mango
fresh banana
Blend 1 cup of spinach (or another leafy greens of your choice) in a blender. Adding leafy greens to your smoothie boosts the phytonutrients and fiber, which then slows down the absorption of sugars into your body.
Next, add 1 cup of liquid and blend well (until all leafy chunks are gone).
Toss in fruit, such as frozen mango, pineapple and bananas in the blender.
Next, blend again until smooth and creamy.
Serve smoothie immediately for maximum nourishment.
Looking to turn your smoothie into a meal replacement? Adding clean protein + healthy fat does the trick. I realized that none of the protein powders on the market were what I wanted when it came to pure protein with no weird gums or fillers. So I made my own! The result is my Protein Smoothie Boost -with only organic hemp + chia + flax seeds, in a perfectly smooth, smoothie worthy powder. Give it a blend and see what you think!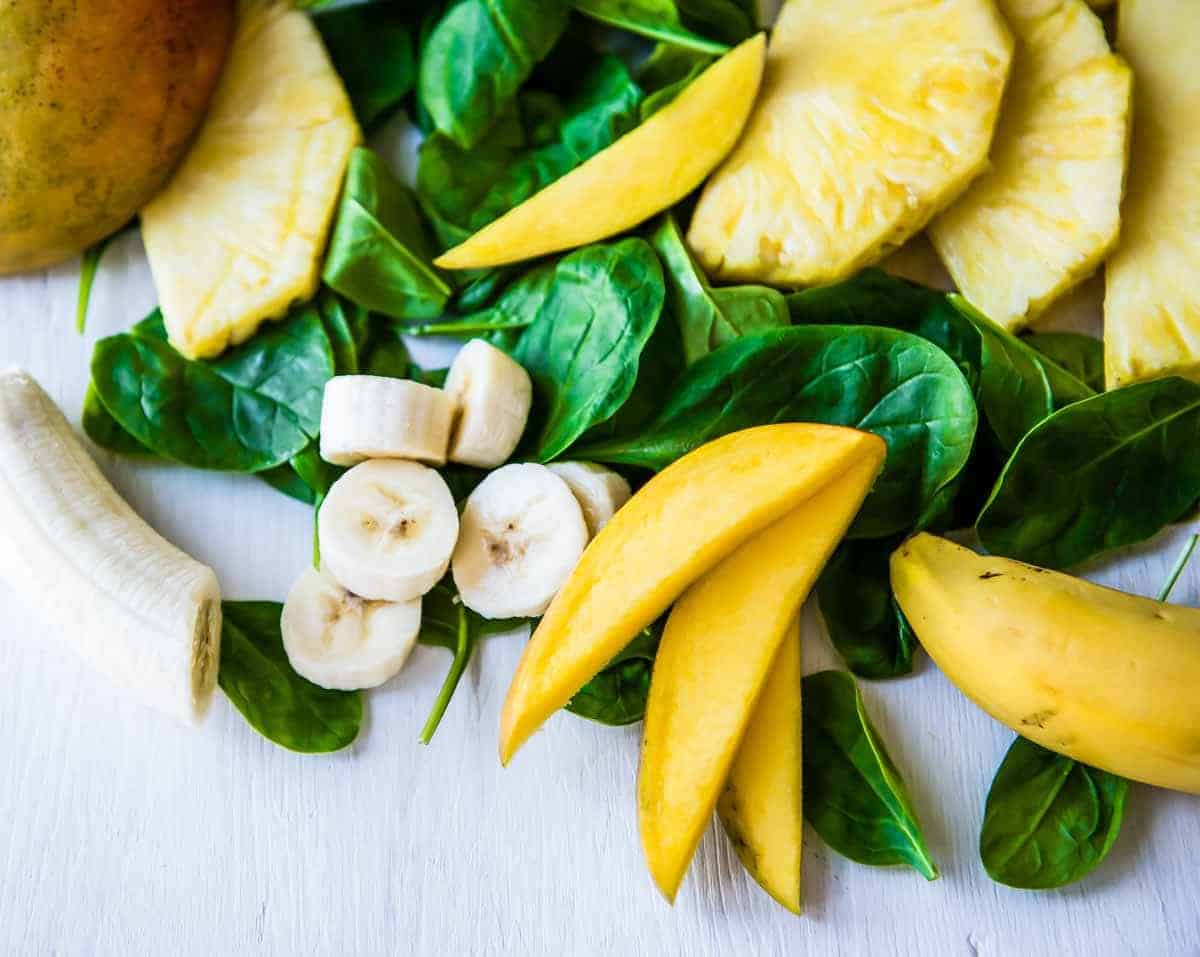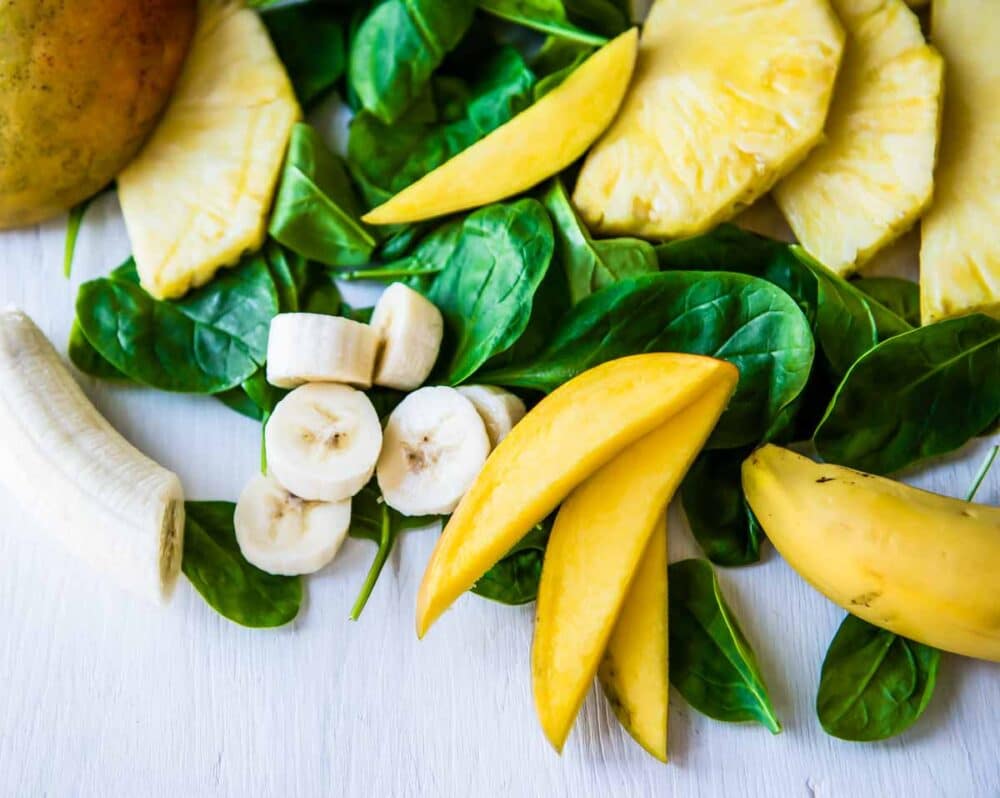 Can you taste spinach in a green smoothie?
You wouldn't be the first to look at this recipe and say "No way!" Green! Spinach! Yuck! Yet don't walk away! These bright green smoothie recipes will actually delight your taste buds. You'll even have an extra pep in your step when you realize how great you feel!
Even kids LOVE this spinach smoothie recipe! I started blending this recipe in my daughter Clare's kindergarten class four years ago. Now every year, I visit her school to blend this recipe with each new class. That's how delicious this recipe is!
Not sure if your blender can handle the greens? I've created The Ultimate Blender Guide, where I reviewed countless blenders to find the best ones for green smoothies. The key is to get rid of leafy chunks, blend quickly and provide tons of value for the price. Hint: not all of them cost $400+. 🙂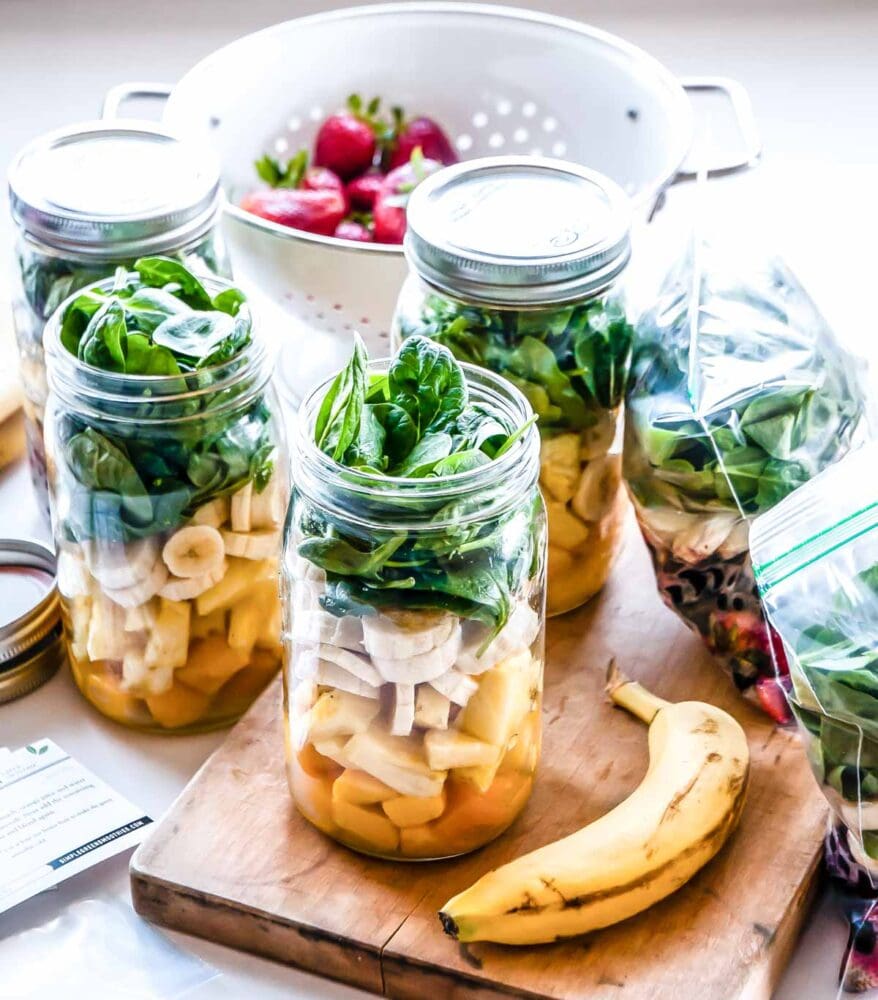 Top 5 Smoothie Blending Tips
Follow the 60/40 formula. When you're making your first few green smoothies, don't just throw things in the blender. Chances are, it'll taste nasty if you wing it right out of the gate. To save you a few smoothie-fails, bust out those cute lil' measuring cups to learn how to make your own green smoothie.
Blend in stages to avoid leafy chunks. Chewing your green smoothie is no fun! To get a "smooth" spinach smoothie experience, blend up your leafy greens and liquid-base first. Then add your remaining fruits and blend again.
Ditch the ice and freeze some fruits. Want your green smoothie to be extra chilly? Freeze your favorite fruits like ripe bananas, grapes, pineapple or berries. You can also freeze your leafy greens in a freezer-safe bag. Just make sure to add your frozen greens straight to the blender.
Use raw natural sweeteners. Add naturally sweet fruits to any smoothie that tastes bitter or a bit too "green." My favorite naturally sweet fruits are bananas, mango, apples, pears or pitted dates.
Make smoothies ahead for the perfect fast food. Life is crazy busy— especially in the morning. That's why we think green smoothies are the healthiest fast food for people who are constantly on the go. You can smoothie prep, or even blend the night before and store it in your fridge.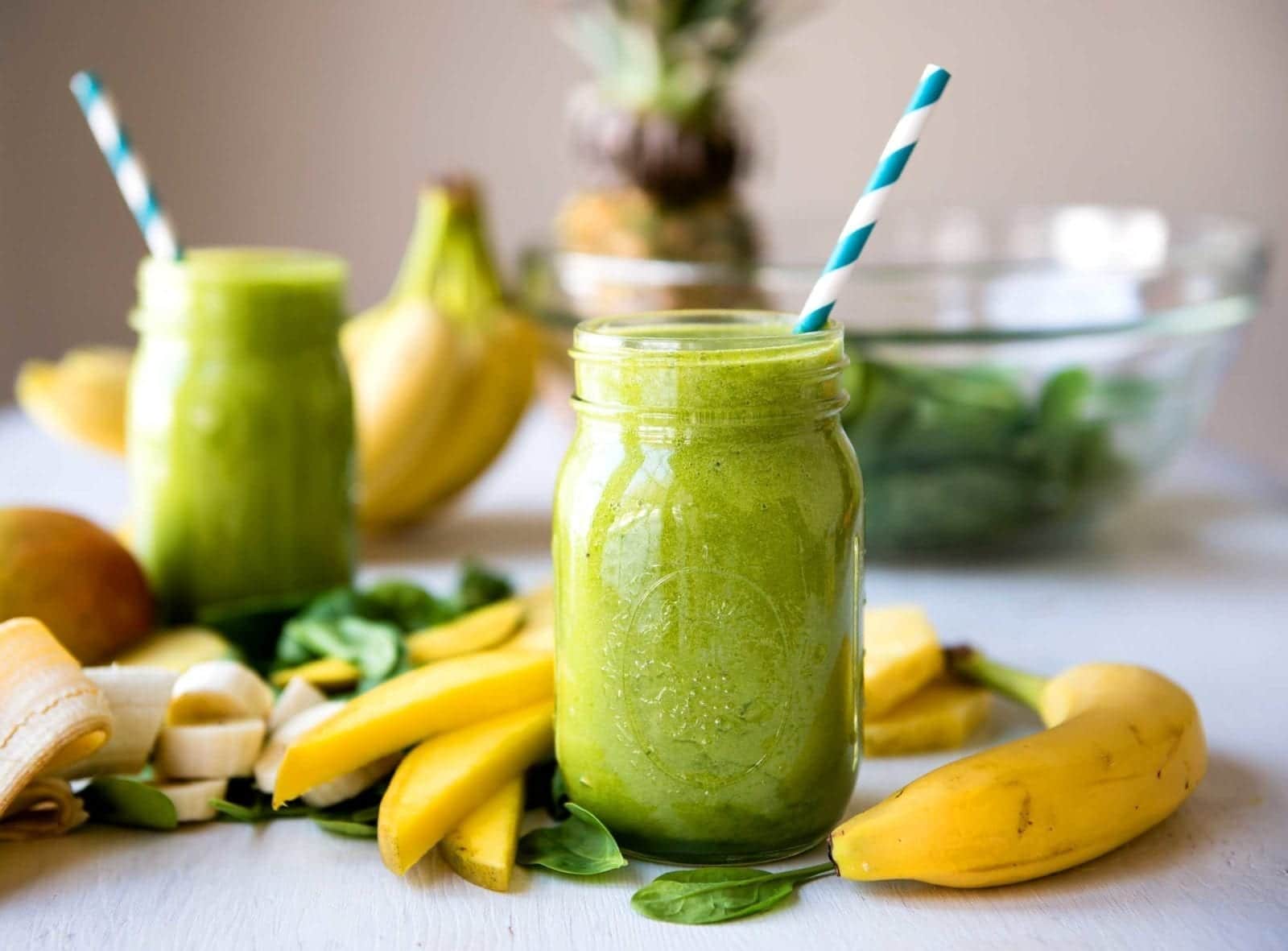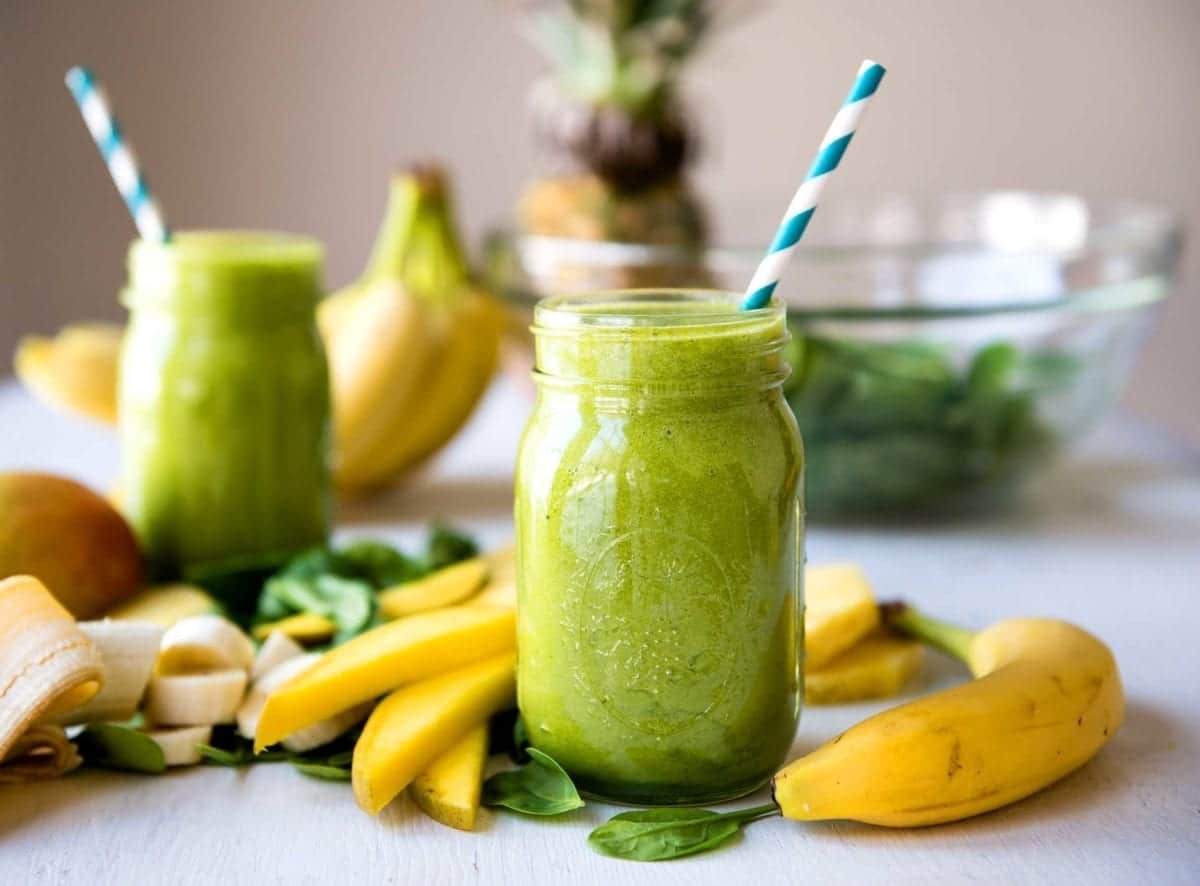 More spinach smoothie recipes
If you have any questions about the green smoothie world, feel free to join my Free Smoothie Challenge and get an incredible guidebook with 10 spinach smoothie recipes and access to my support group.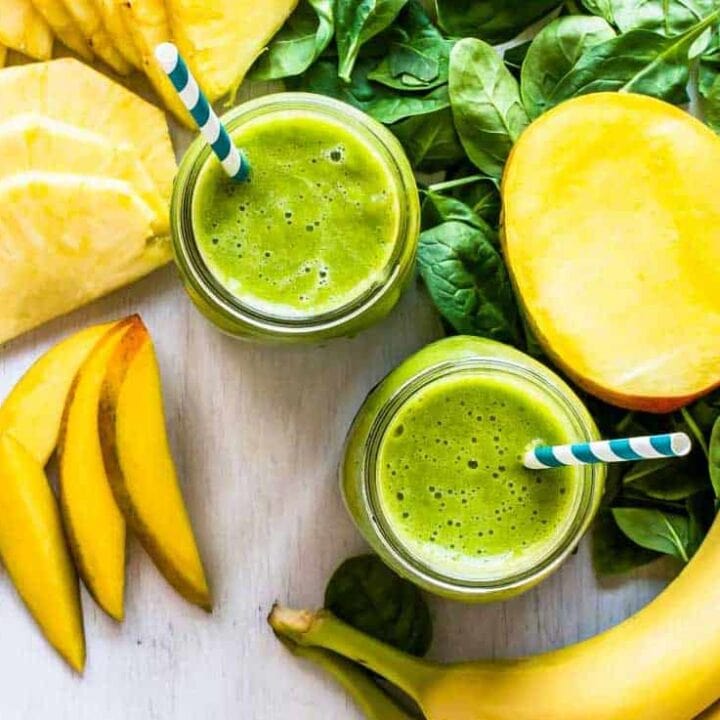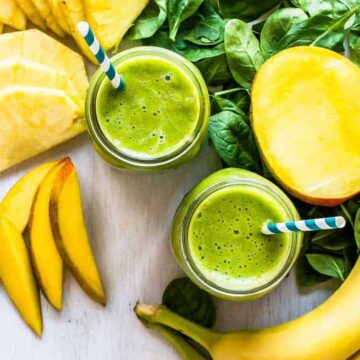 Best Green Smoothie Recipe
Rate this Recipe
Print Recipe
The best green smoothie recipes are full of iron, potassium and vitamins galore AND tastes like a tropical treat from all the island fruit. There's no need to be scared of a spinach smoothie when it tastes like this— just read the reviews to see what I mean.
Ingredients
1

cup

spinach

1

cup

water

½

cup

pineapple

(frozen )

½

cup

mango

(frozen)

1

banana

1

serving

Protein Smoothie Boost

(optional)
Instructions
Measure: Tightly pack spinach in a measuring cup.

Add: Put spinach to blender with water. Blend together until all chunks are gone. (Should resemble green water when blended well).

Toss: Pineapple, mango and banana to blender. I like to use frozen pineapple and mangos to chill the smoothie down and save time cutting and prepping. It's a win-win!

Blend: It all together until smooth and creamy. Depending on your blender, this could take as little as 30 seconds or as long as 2 minutes.

Pour: Into a glass and serve immediately.

Store: In the fridge with a lid until ready to drink.
Notes
Not a fan of bananas? Swap it for ¼ avocado, additional ½ cup mango or ½ cup peaches.
You can use 1 cup pineapple if you're out of mango.
Frozen fruit is recommended because it's easy and chills the smoothie.
Nutrition (estimated)
Calories:
203
kcal
(10%)
Carbohydrates:
51
g
(17%)
Protein:
3
g
(6%)
Fat:
1
g
(2%)
Saturated Fat:
1
g
(6%)
Polyunsaturated Fat:
1
g
Monounsaturated Fat:
1
g
Sodium:
38
mg
(2%)
Potassium:
818
mg
(23%)
Fiber:
6
g
(25%)
Sugar:
34
g
(38%)
Vitamin A:
3829
IU
(77%)
Vitamin C:
88
mg
(107%)
Calcium:
63
mg
(6%)
Iron:
1
mg
(6%)