A post workout smoothie for recovery should have a good amount of plant-based protein, healthy carbs, and liquid for rehydration. This smoothie hits checks all of the boxes.
Enjoying a smoothie after a workout is honestly one of my favorite things. I usually don't have much of an appetite after a long run or a spinning class, so a smoothie is perfect. Yet not any smoothie will work post work, it's important you use ingredient that'll heal your body and enhance the results.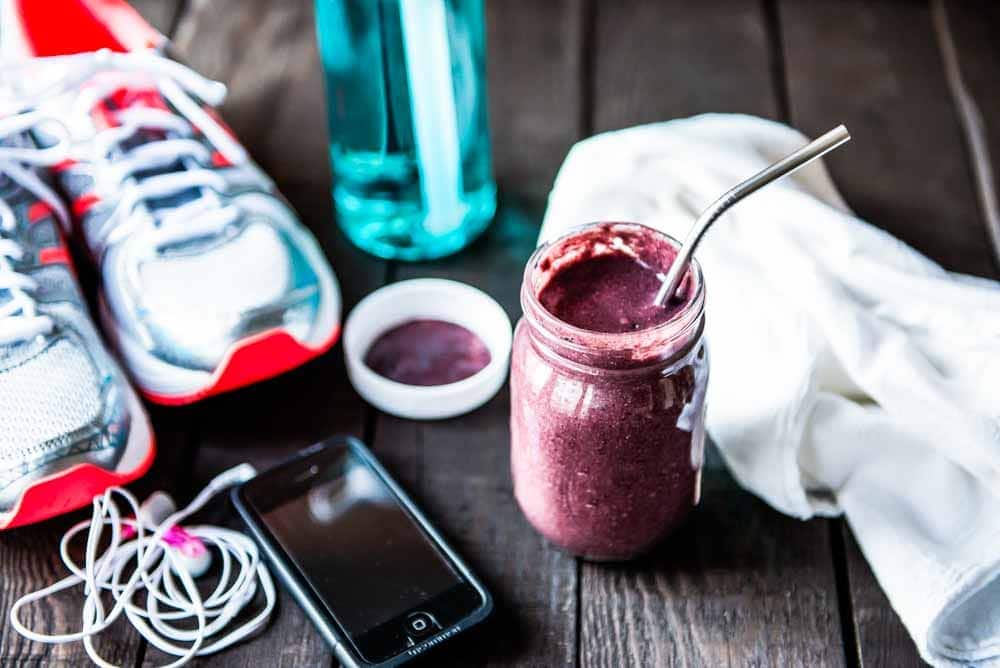 After Workout Smoothie Ingredient Combos
Each nutrient-dense ingredient was specially selected to help your body recover and rehydrate. Here's how I pick ingredients for a powerful post workout smoothie:
plant-based protein: seeds, powders, nuts
antioxidant-rich berries: blueberries, cherries
lots of liquid: hydration, hydration, hydration!
Now get ready to help your body recover after a grueling (or not-so-grueling) workout. Just for you, we've created the perfect smoothie for recovery!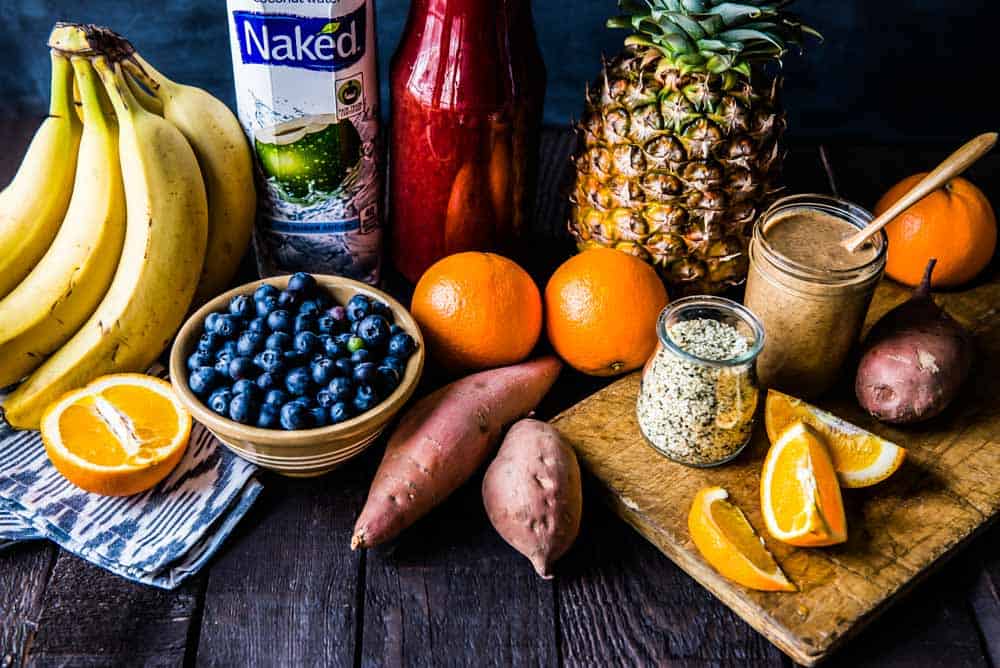 Post Workout Ingredients
It's essential to fuel your body with post workout smoothie ingredients that'll actually do your body some good. When you push your body hard during a workout, your heart rate goes up, your muscles break down, and you sweat a lot.
Before a workout, you need to eat foods that will give you sustainable energy (find the best ingredients for pre-workout smoothies here). After a workout, you need to eat foods that will replenish lost nutrients and help your body rebuild your muscles to be even stronger.
You'll want to include 10-20 grams of protein, good carbohydrates, and liquids to rehydrate. Here's ten ingredients you should consider adding to your smoothie to help your body recover from a good workout.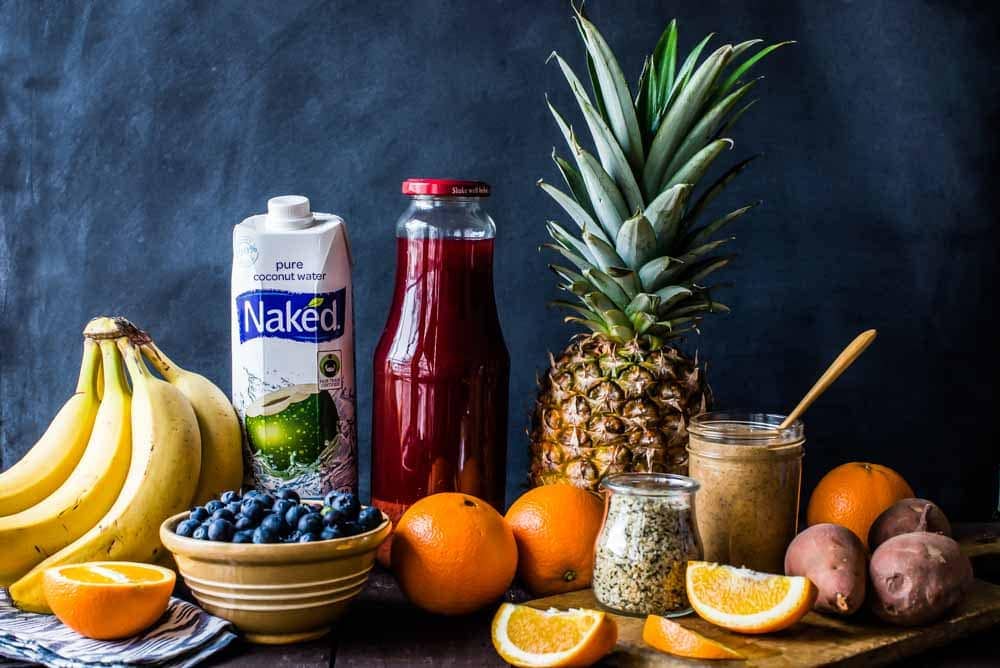 Superfoods to add to your smoothie
Nut Butter: Getting enough protein after a workout is crucial for proper recovery. Since nut butter is high in protein, it's a great addition to your post-workout meal or smoothie!
Hemp hearts are also a great source of protein and fiber, which makes them perfect for an after-workout snack. They're also well known for their role in repairing muscles.
Coconut water is great for replenishing electrolytes lost during your workout. It's lower in calories than most sports drinks, which makes it a much better option.
Tart red cherry juice has also been found to support healing and recovery. The antioxidants in the juice help fight against inflammation and muscle damage. The bottom line: tart red cherry juice can help you recover quicker, so you can hit the gym even harder next time.
Orange juice is a great addition to a post-workout smoothie. Like kiwi, orange juice has a lot of Vitamin C and potassium, which are really important nutrients to replenish after a workout.
Fresh Fruit to add to a post workout shake
Bananas contain good carbohydrates, which the body quickly and easily converts into energy after a workout. By eating a banana after workout, you help your body recover quickly and rebuild muscles faster.
Blueberries are chock full of antioxidants—specifically the kind that help prevent exercise-induced muscle damage. This is great news for you! Eat some blueberries after your workout and you'll avoid extra muscle pain and help your muscles recover up to three times faster than normal!
Pineapple is another fruit that is loaded with antioxidants that help you recover from your workout quicker and build muscles faster. Add in the bonus of bromelain, an enzyme that helps keep injury inflammation in check, and you can see why we're so sweet on this tasty fruit!
Kiwi falls into the same category as pineapple and blueberries. It's full of sore-muscle fighting antioxidants. It's also loaded with lots of Vitamin C and potassium, which help replenish nutrients lost during a workout.
Like bananas, sweet potatoes are packed with carbohydrates the body needs to recover from a tough workout. They're also rich in fiber, Vitamin E, and potassium—all nutrients that aid in quick recovery.
If you want to take the guesswork out of workout snacks, then check out my post on my fav workout snacks!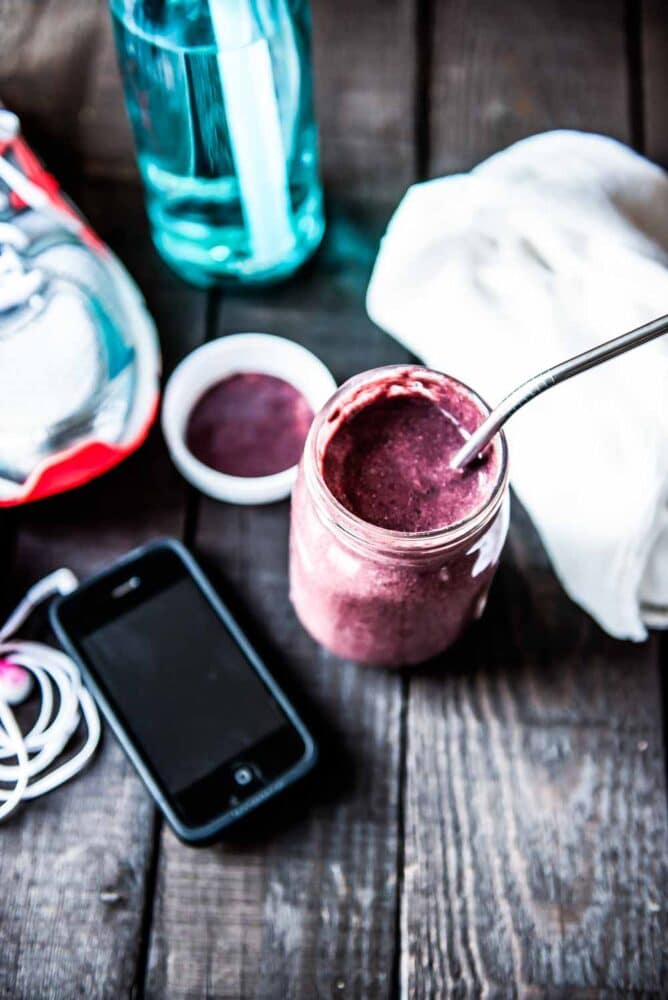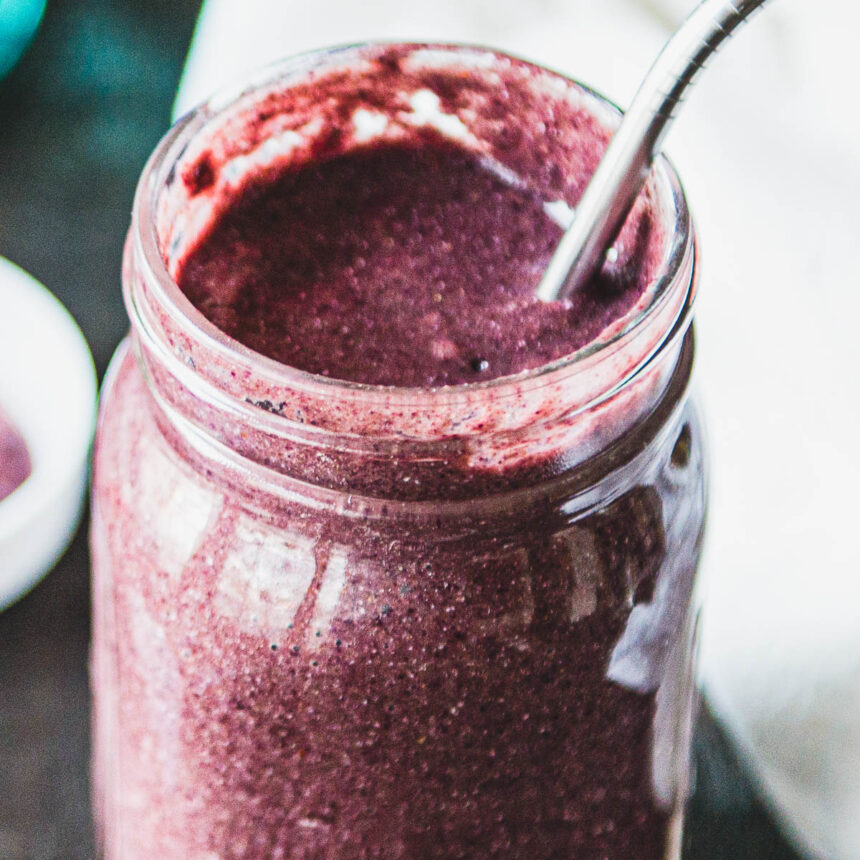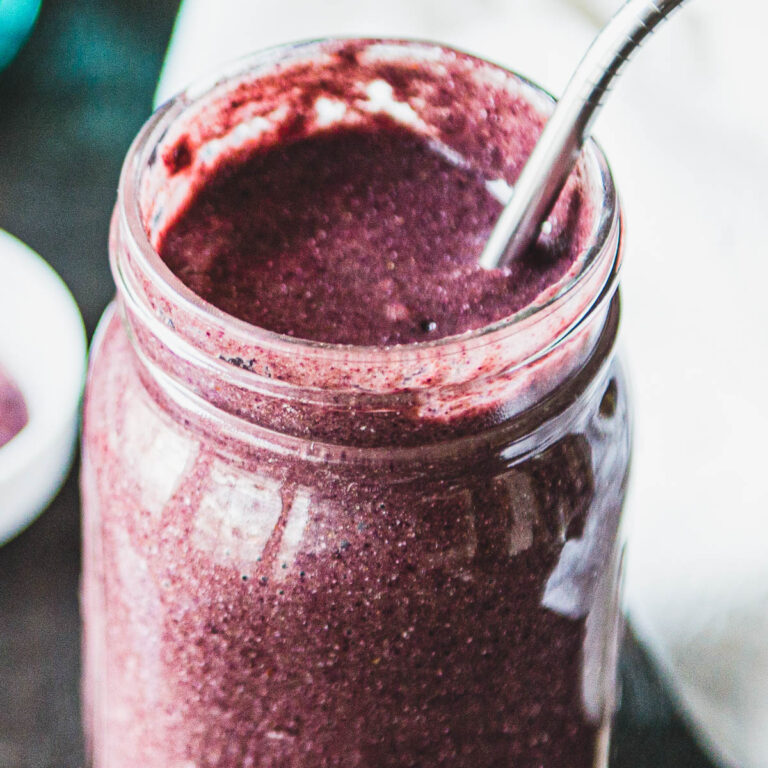 Post Workout Smoothie
This post-workout smoothie has a good amount of plant protein, healthy carbs, and liquid for rehydration. Include chia seeds for protein + healthy fats and coconut water ("nature's gatorade"), but you can get by with regular h2o. Go ahead and enjoy this smoothie… you've earned it!
Instructions
Blend kale and liquid until smooth.

Add remaining ingredients, and blend until smooth.
Notes
Use at least one frozen fruit for a refreshingly cool smoothie. 
Swap kale with the leafy greens of your choice.
Add 1 serving of homemade protein powder to boost this smoothie by 10 grams of protein as well as healthy fat.
Swap coconut water for regular water. 
Nutrition
Calories:
286
kcal
,
Carbohydrates:
50
g
,
Protein:
9
g
,
Fat:
9
g
,
Saturated Fat:
1
g
,
Polyunsaturated Fat:
6
g
,
Monounsaturated Fat:
1
g
,
Trans Fat:
1
g
,
Sodium:
157
mg
,
Potassium:
992
mg
,
Fiber:
14
g
,
Sugar:
25
g
,
Vitamin A:
6941
IU
,
Vitamin C:
165
mg
,
Calcium:
322
mg
,
Iron:
4
mg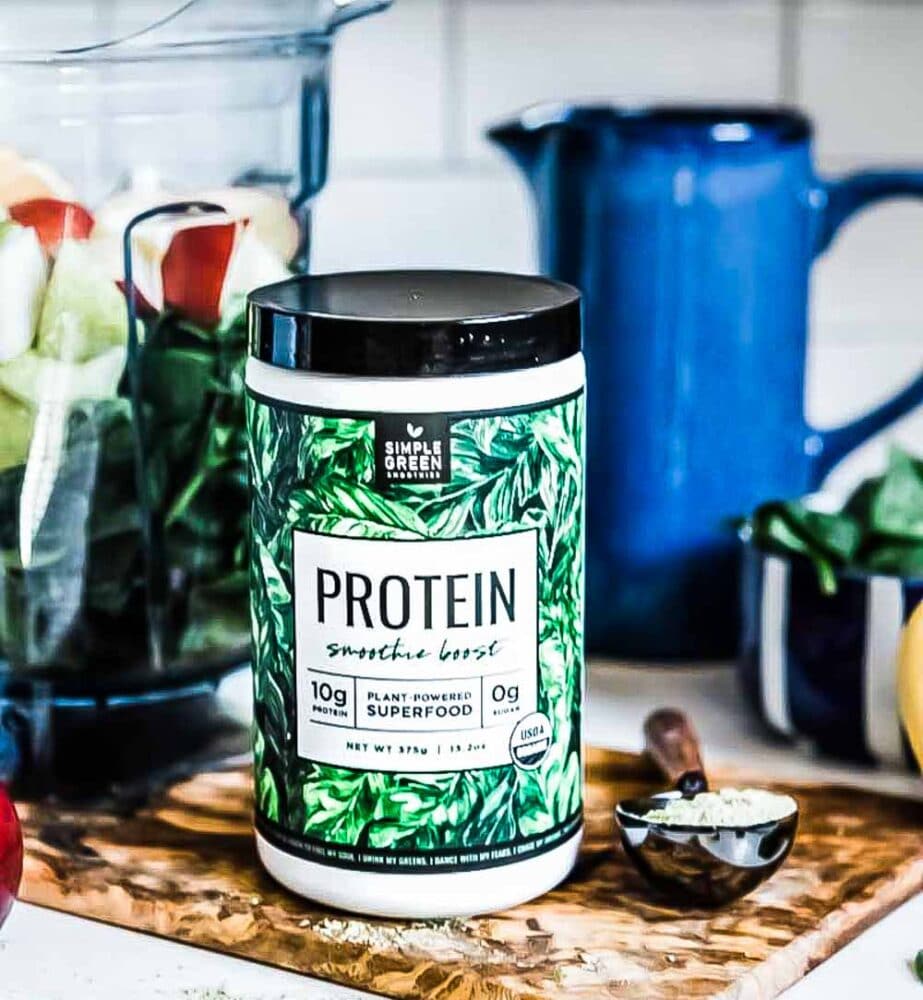 homemade protein powder
To make sure you're getting in enough protein and healthy fats after a great workout, try my organic plant-based homemade protein powder. It's a super clean protein powder that leaves no grit or flavor in your favorite smoothie recipes. But most importantly, it promotes muscle rebuilding to make that workout worth it!
My Top 4 Post Workout Smoothies
If you love this recipe, be sure to check out our other pre- and post workout smoothie recipes: