Take your love for melon to the next level with this cantelope smoothie. Summer fresh ingredients makes this snack an oh-so-sweet treat.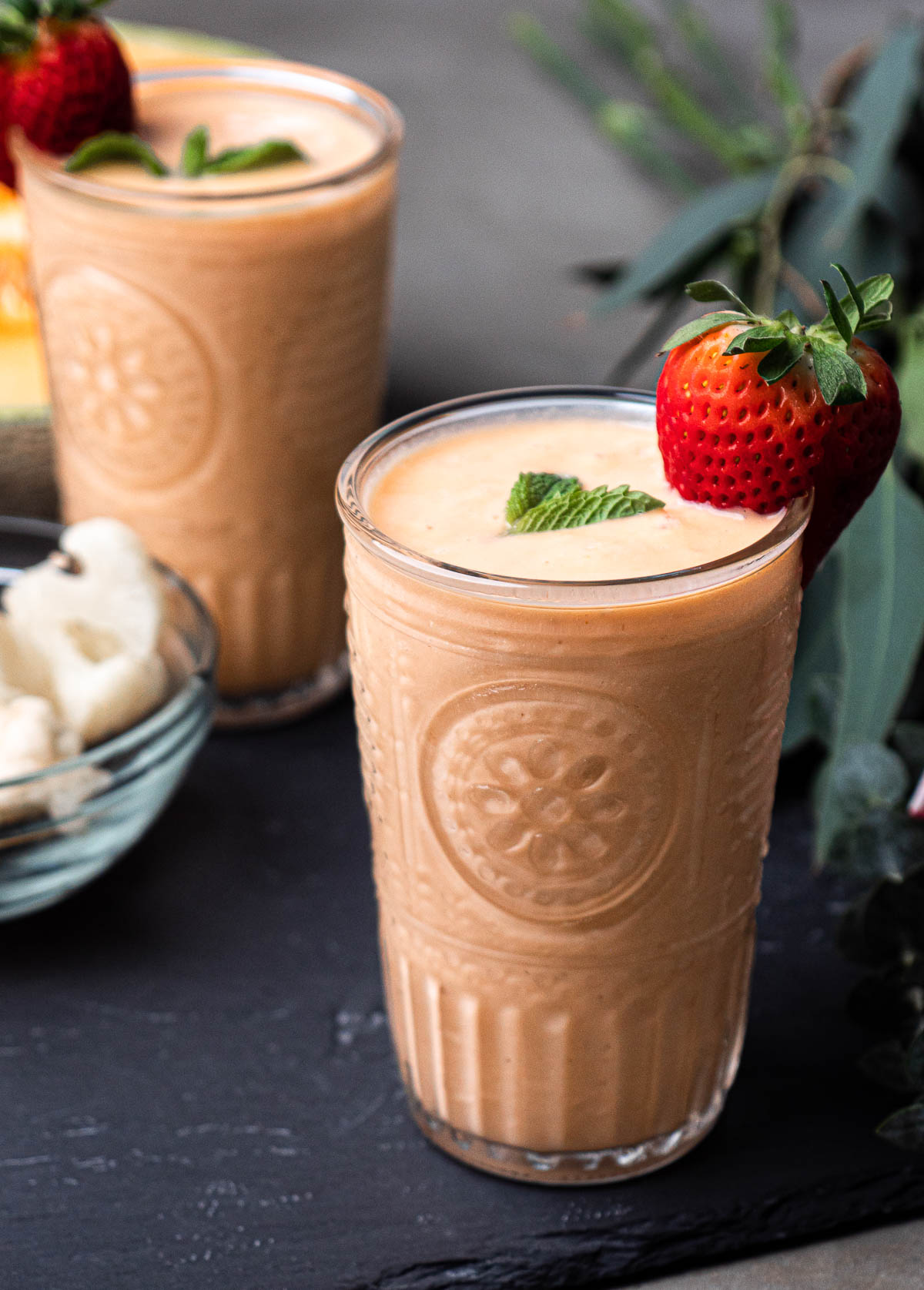 I have to say, this is such a fun smoothie to sip! My cantaloupe smoothie is a great way to shake up your normal smoothie routine with a new summer fresh favorite. I'm pairing cantaloupe with cashew milk, banana, cauliflower (for real!) and raw cashews for a creamy dreamy treat. This cantaloupe banana smoothie looks like a creamsicle and is a breath of fresh fruit.
Table of Contents
Cantaloupe Smoothie Ingredients
This may not be a green smoothie, yet it's still got a rawkstar list of fruit and veggies (that you won't even taste!):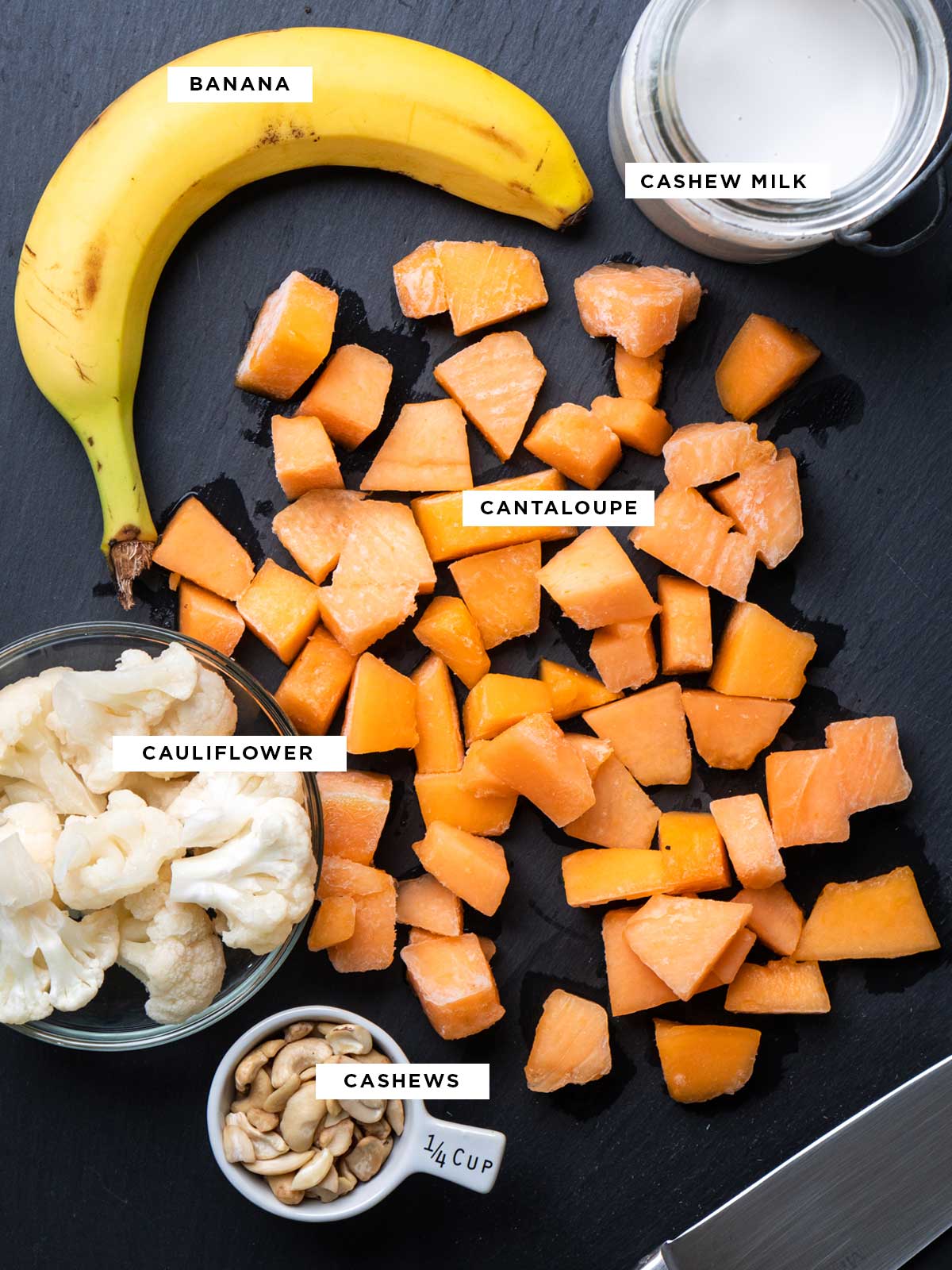 Cantaloupe: Loaded with beta-carotene and vitamin C, you'll love this naturally sweet summer melon.
Cashew Milk: I chose this specific plant milk for its creaminess.
Banana: Just 1/2 banana is needed for the perfect level of sweetness in this smoothie.
Cauliflower: Use frozen, riced cauliflower for easy blending. Using frozen also neutralizes the taste so you can reap the benefits without the flavor.
Raw Cashews: An extra helping of healthy fat, raw cashews are softer and blend easily. If you're blender is high-powered, try soaking the cashews for 30 minutes before blending.
Easy Ingredient Swaps
Swap cashew milk with the dairy-free milk of your choice. You can also swap the raw cashews with two tablespoons of the nut or seed of your choice (hemp hearts are a great choice). While my cantaloupe smoothie is naturally low in sugar, you can omit the banana for an even less-sweet version.
Cauliflower is an easy way to thicken smoothies and add in nutrients, yet I know it's not for everyone. You can omit and just up the banana to one whole, or use half an avocado (this will change the color). A quarter cup of zucchini is another great veggie swap for cauliflower.
How to Cut a Cantaloupe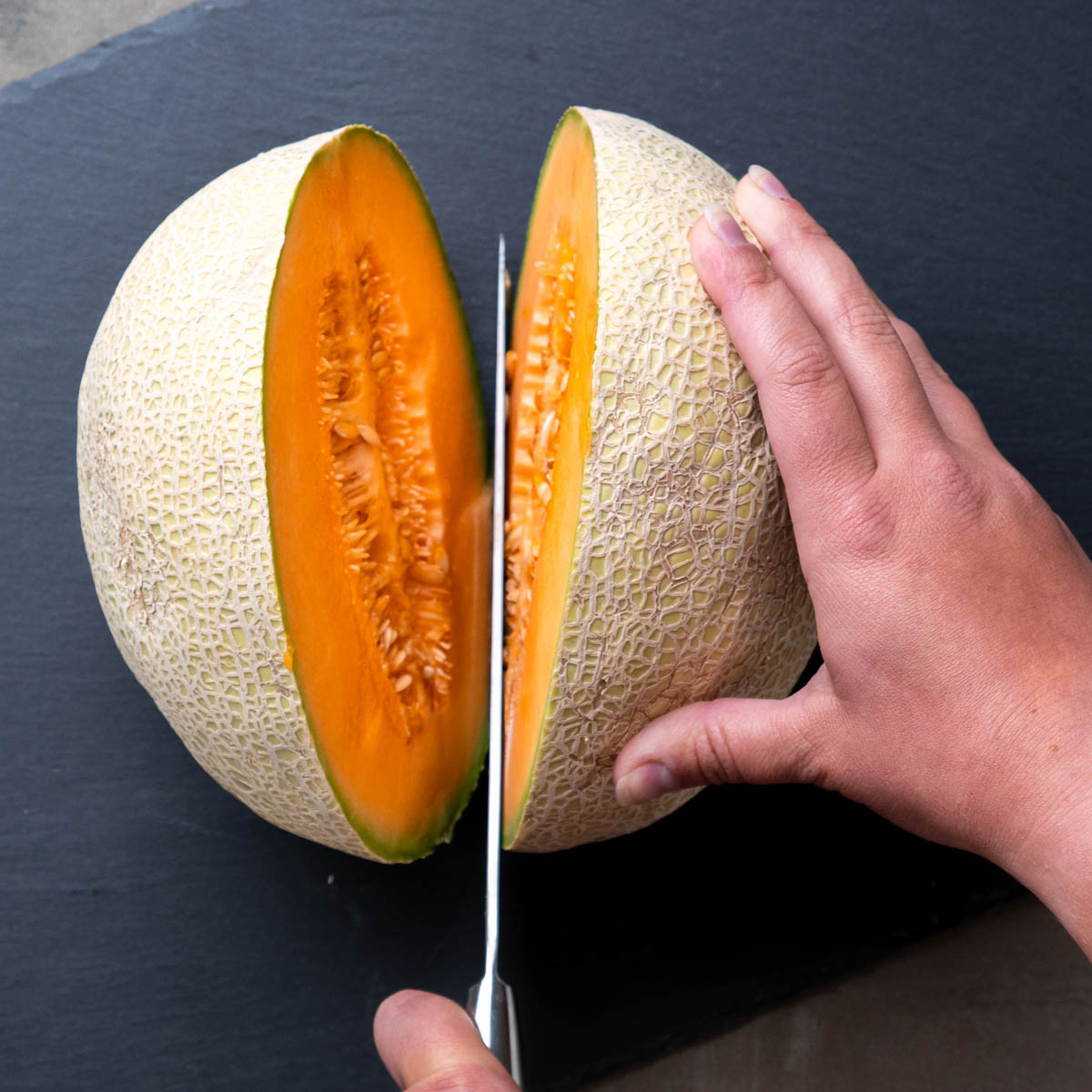 Step 1: Use a large, sharp knife and cut it in half.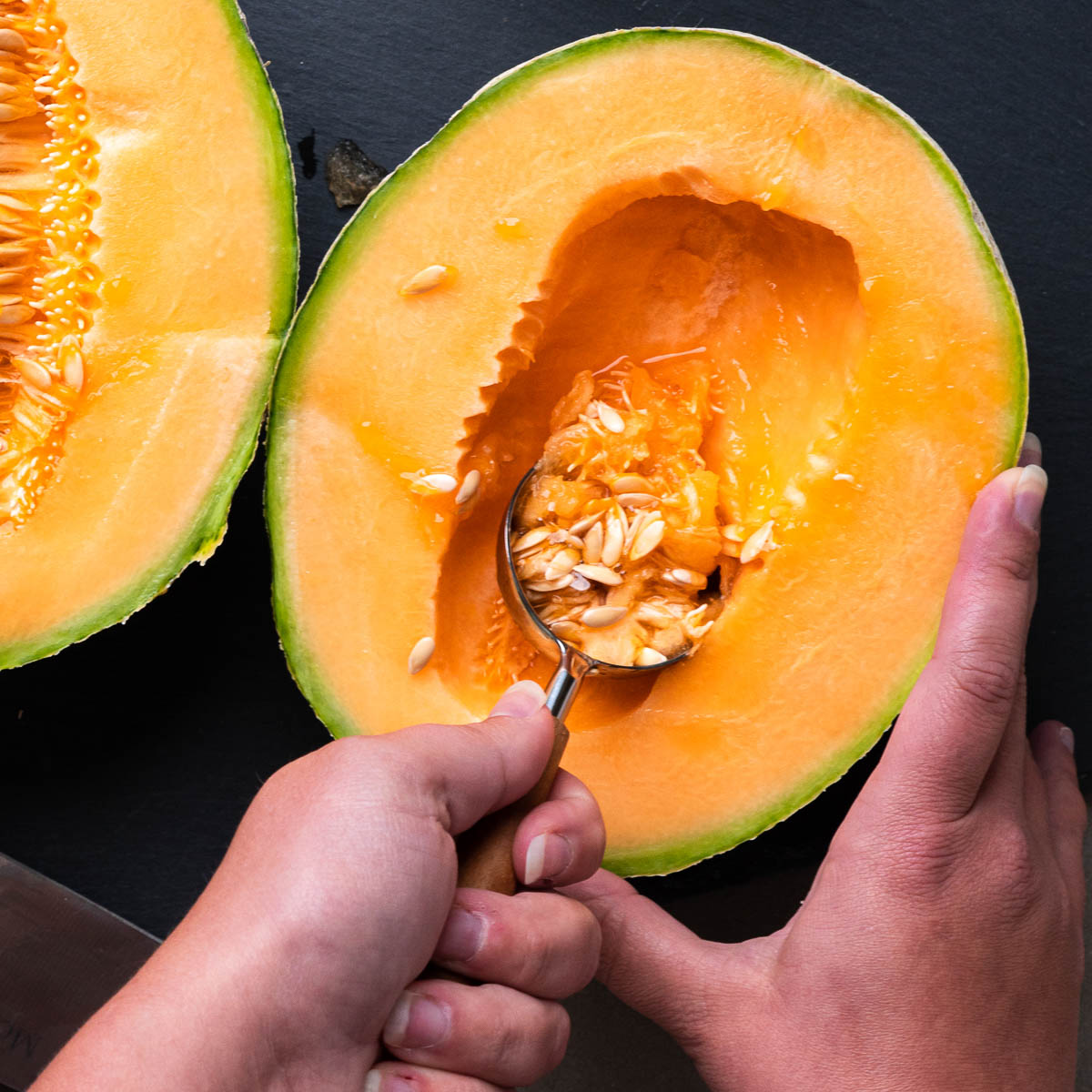 Step 2: Scoop out the seeds.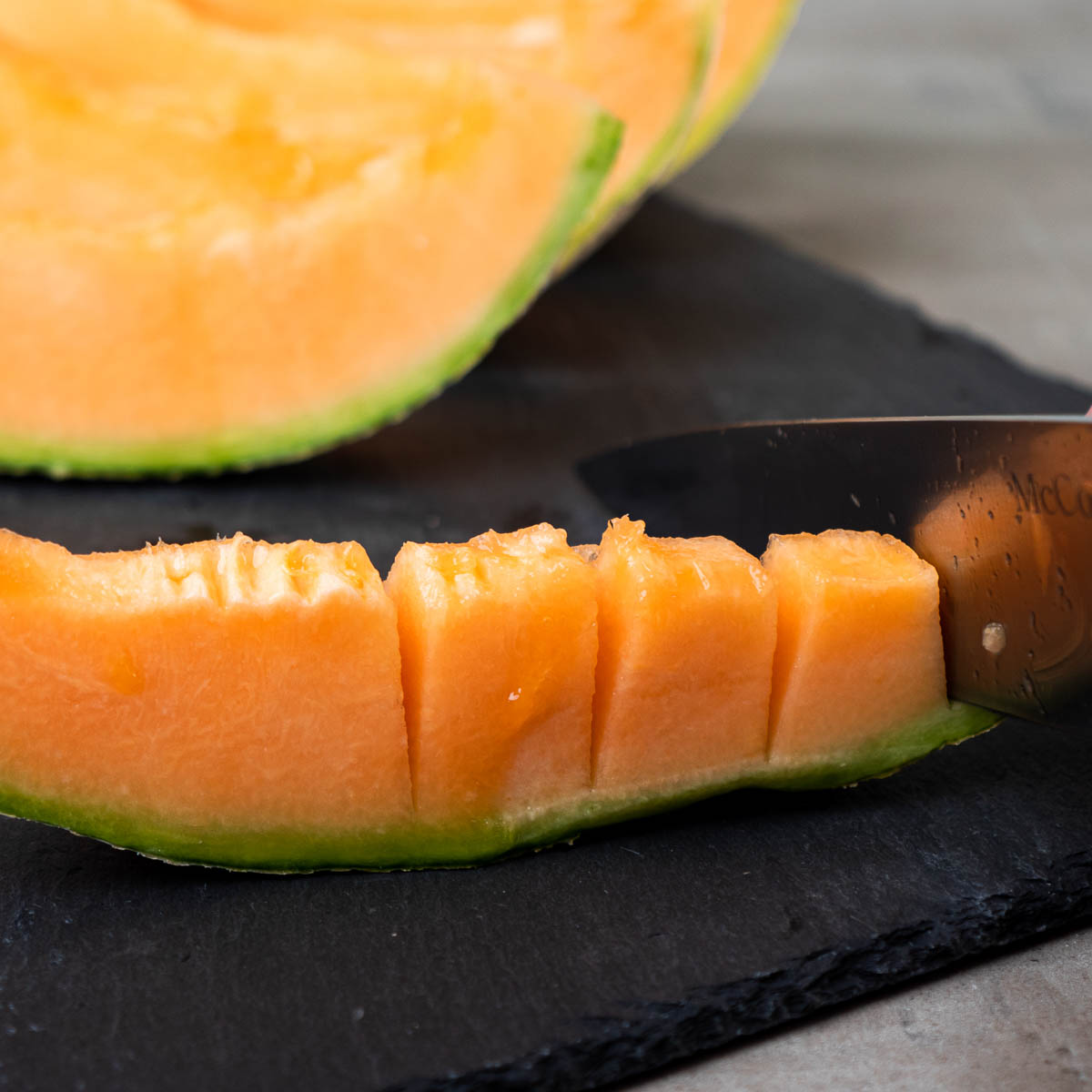 Step 3: Slice out sections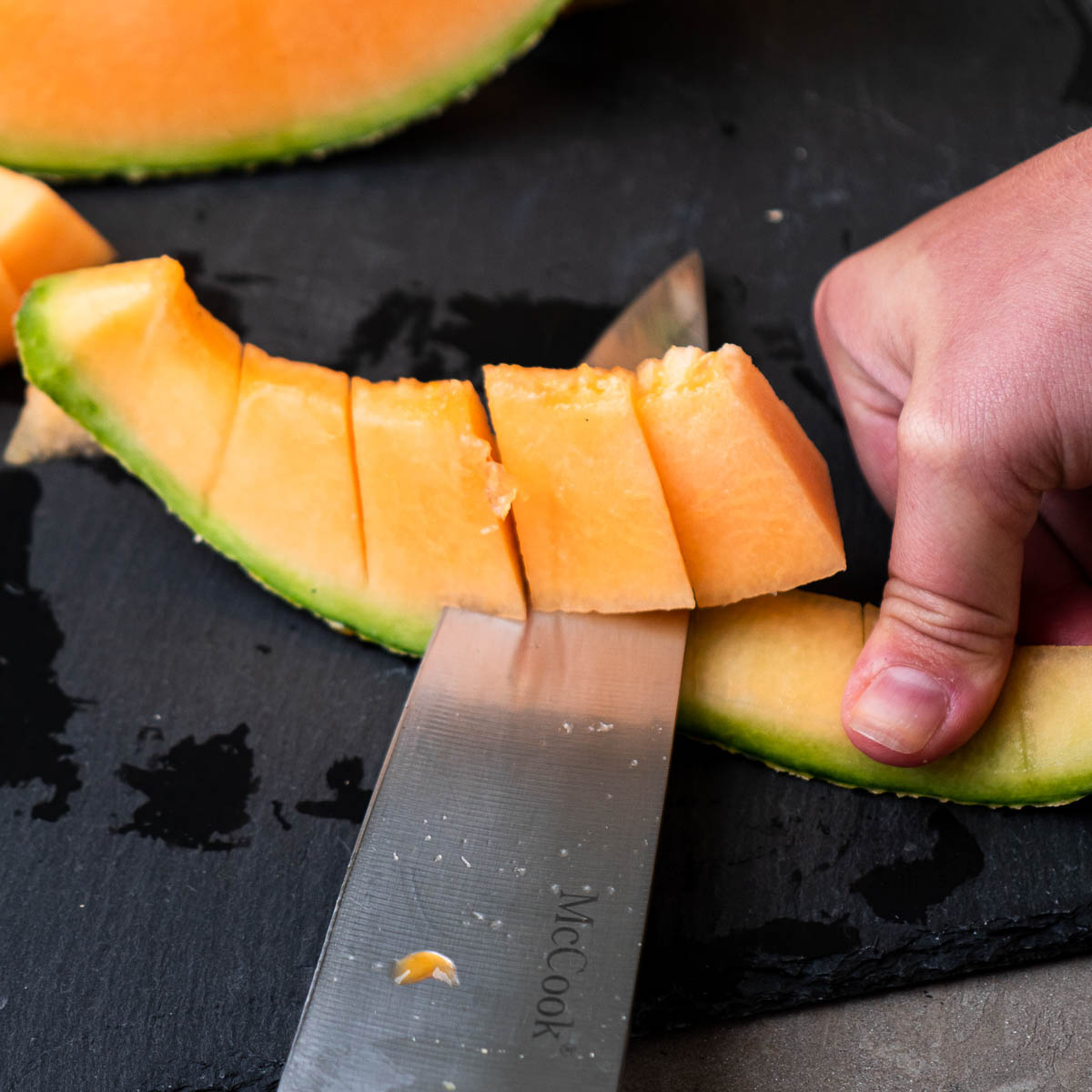 Step 4: Carve away the orange flesh from the skin.
Check out my cantaloupe smoothie video for a visual!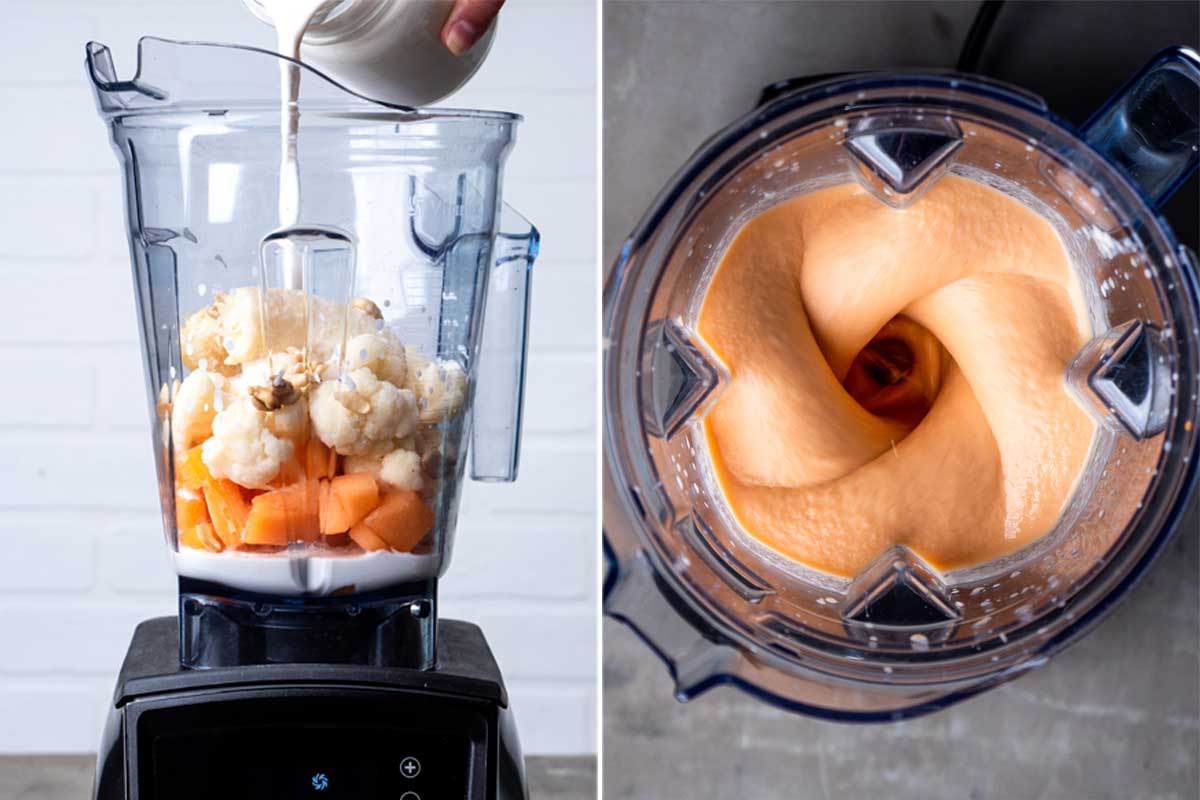 Cantaloupe Banana Smoothie FAQs
What fruit goes well with cantaloupe?
I pair cantaloupe with banana in this sweet smoothie recipe, but you can easily pair cantaloupe with grapes, berries and more! It's a versatile ingredient.
How do you make a fruit smoothie with cantaloupe?
I blend cantaloupe, cashew milk (or the plant milk of your choice), banana, frozen cauliflower and raw cashews for a creamy dreamy smoothie. It's the color of a creamsicle that lets the flavor of the ripe cantaloupe shine through.
Is cantaloupe anti-inflammatory?
Cantaloupe is full of beta-carotene, vitamin C and folate. It isn't a top anti-inflammatory fruit yet does contain some anti-inflammatory properties.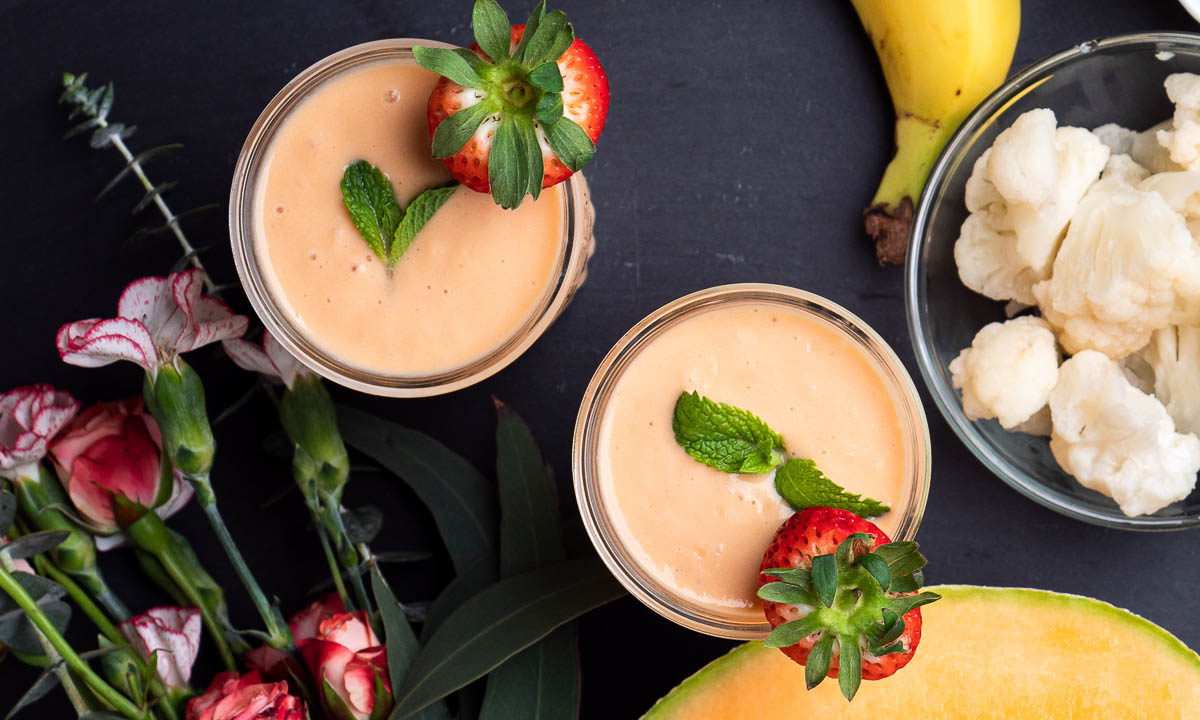 More Melon Recipes for Summer
We are currently at the height of melon season here in the US, so I've got some great recipes to help you make the most of those bright fruits:
Will you rate this smoothie once you've made it? And if you have any feedback, don't forget to share in the comments!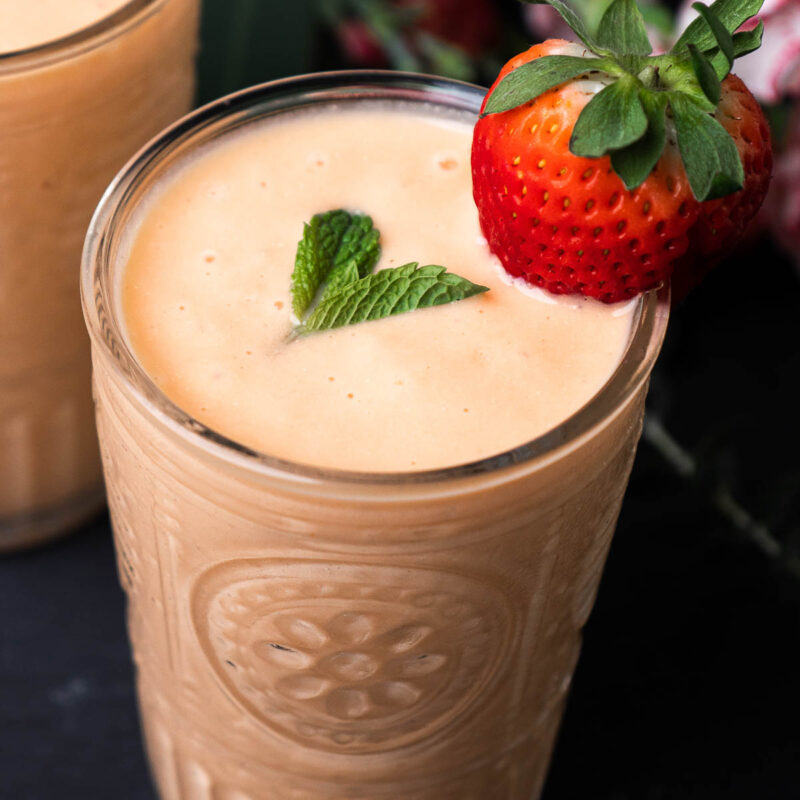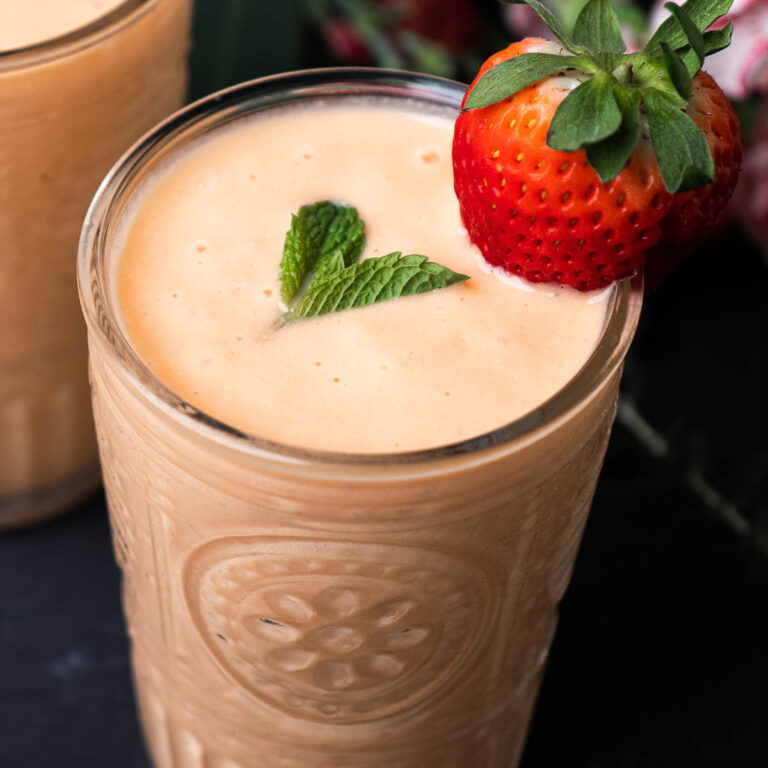 Sweet Cantaloupe Smoothie
Sip this summertime cantaloupe smoothie for a bright skin glow. Full of vitamin C, low in sugar and gorgeously orange when blended, this is the smoothie of your sweet summer dreams.
Instructions
Blend all ingredients until smooth.

Pour into a glass and enjoy!
Notes
Use at least 1 frozen fruit for a refreshingly cool smoothie.
Swap in the plant milk of your choice.
If you can't do cashews, swap with hemp hearts, chia seeds or flaxseed.
Add 1 cup leafy greens for even more fiber + nutrients.
Nutrition
Calories:
249
kcal
,
Carbohydrates:
35
g
,
Protein:
6
g
,
Fat:
11
g
,
Saturated Fat:
2
g
,
Polyunsaturated Fat:
2
g
,
Monounsaturated Fat:
6
g
,
Sodium:
219
mg
,
Potassium:
669
mg
,
Fiber:
4
g
,
Sugar:
21
g
,
Vitamin A:
5449
IU
,
Vitamin C:
35
mg
,
Calcium:
30
mg
,
Iron:
2
mg