I'm about to share a recipe that's a staple in my house, in my cleanses, and in Simple Green Meals. I don't mess around when it comes to sauce. It's gotta be a winner for me to share it—and this cashew cream is exactly that. A cashew sauce that acts like a vegan sour cream in a variety of recipes… as well as replaces yogurt, mayonnaise and even sweet cream.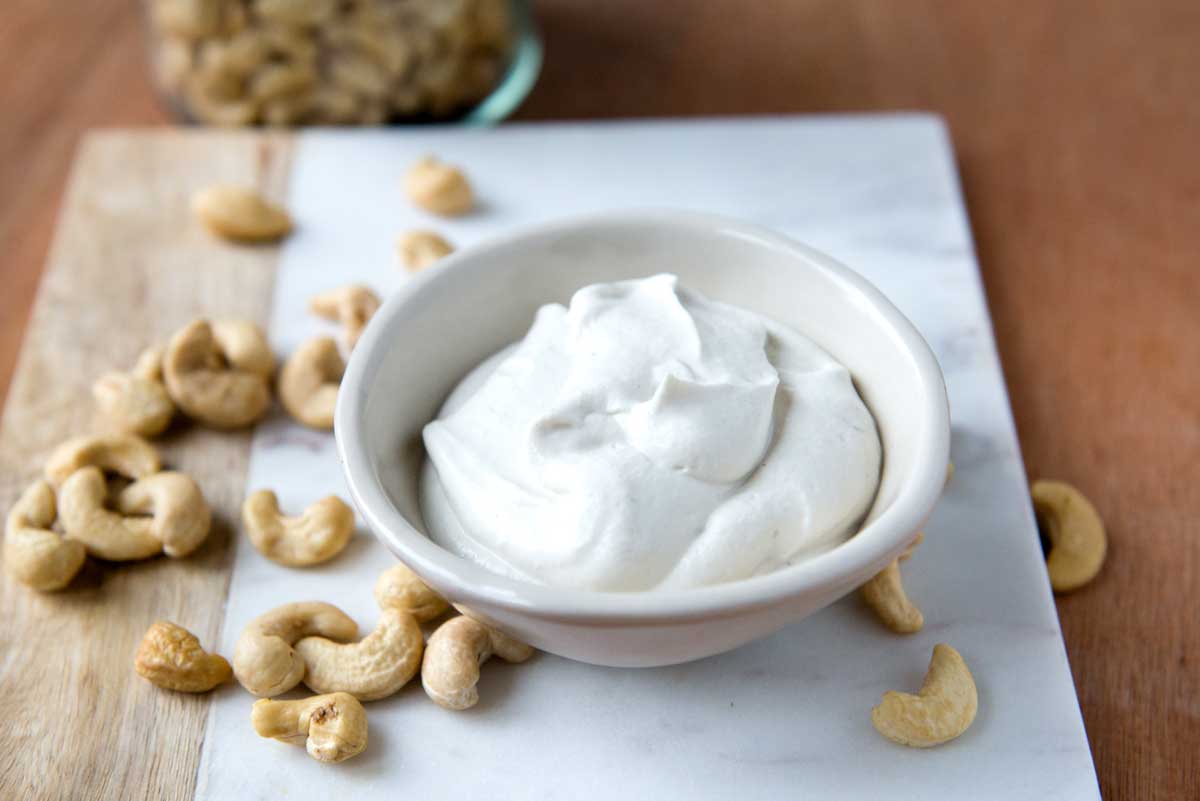 It can be frozen for later, or refrigerated and used within a week— the possibilities are pretty much endless with cashew cream. Now, don't get me wrong: I do like dairy. Yet whenever I eat it my body gets sluggish, I've gotta stick close to the bathroom, and I break out with acne. That's where this equally creamy, tasty, versatile recipe steals the show… and I'm all-in for the win here.
Table of Contents
How to Make Cashew Cream
Just 3 ingredients will create the vegan cream of your dreams:
Raw cashews: are the creamiest and most nutrient dense
Water: filtered water is best
Fresh lemon juice: helps neutralizes the enzyme inhibitors found in cashews to make them more digestible
1. Soak the cashews
Place the cashews in a medium container and pour lemon juice over the top. Add enough water to cover the cashews by a few inches and allow them to soak for 2 hours. Rinse and drain well.
If you don't have time, you can "flash soak" by using boiling water and soak for 10 minutes. This method does remove some of the nutrients in the nuts, but does save you in a pinch.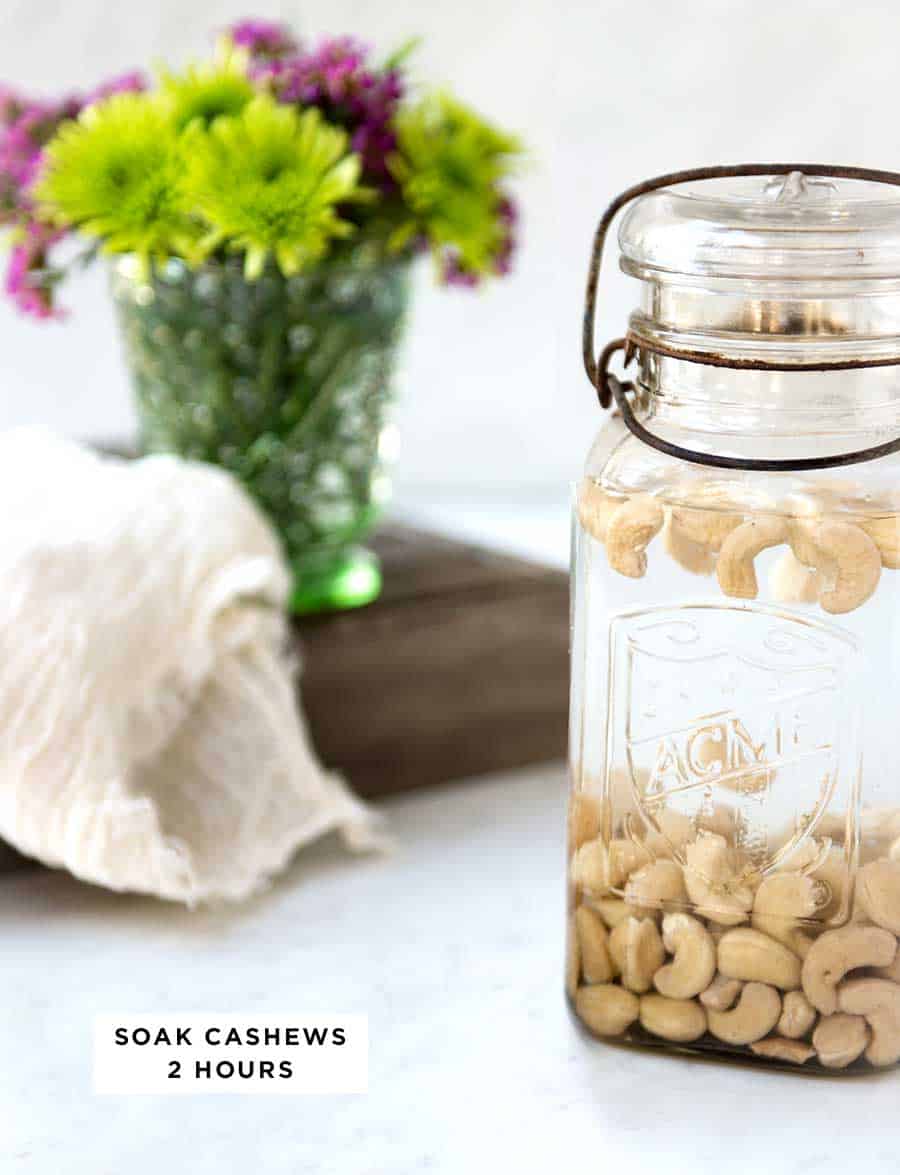 2. Blend the cashews
Combine the cashews with 1/2 cup water in a blender (you can also use a food processor, but it won't get the super creamy texture that you can achieve in a blender). A high-speed blender like a Vitamix or Blendtec will get you the best results.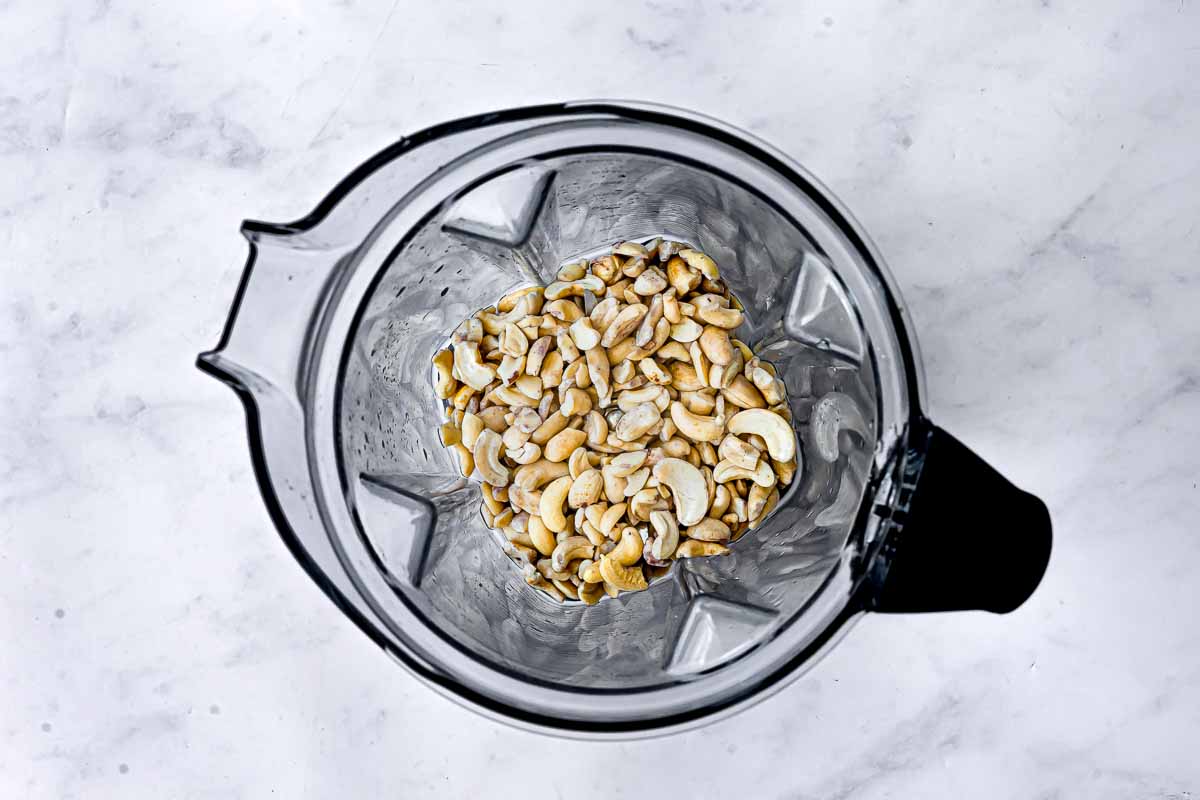 Pulse the cashews lightly and increase speed to high. If mixture is not blending, slowly add more water (1-2 tbsp at a time) and try again. You want just enough water for it to blend nicely, yet not too much for it to get watery. Take your time and know this is gonna be worth it!
If you can still see some gritty texture like below, blend longer and higher speed with more water to help it puree.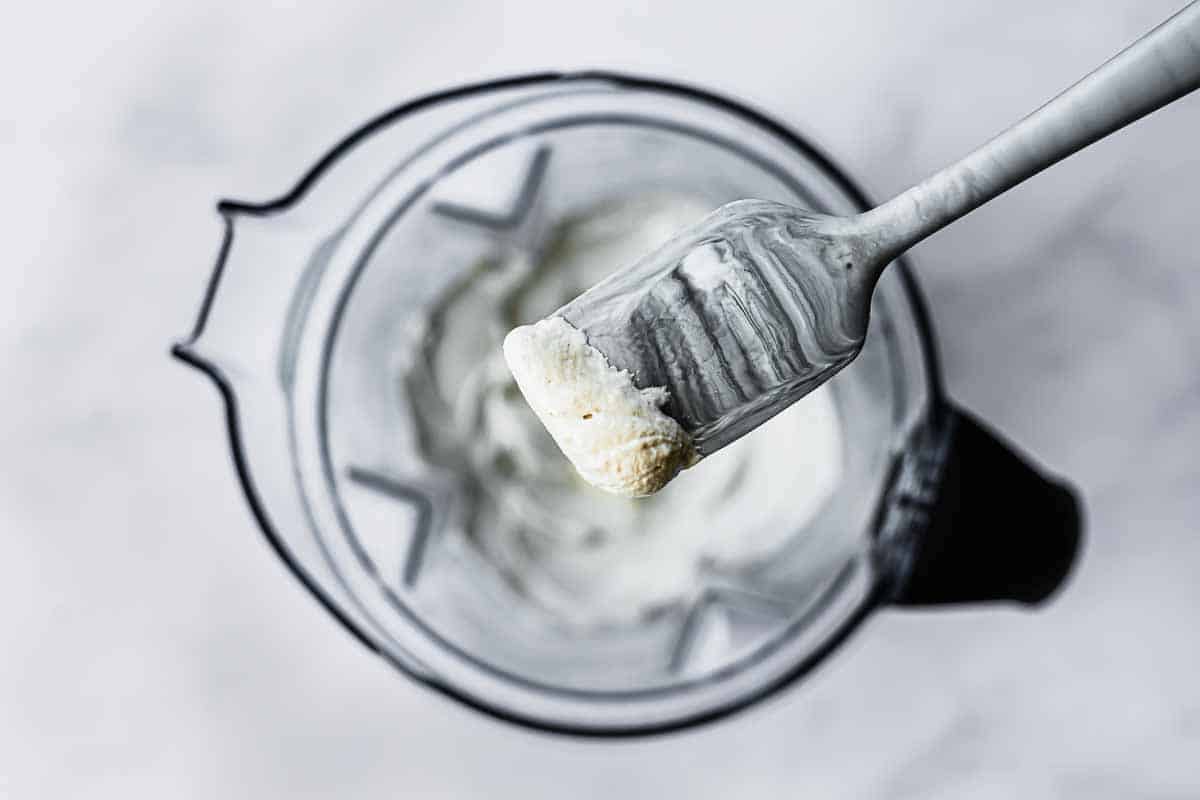 3. Store your cashew sauce
Transfer the cashew cream to a bowl (it will make about 2 cups). I suggest you measure 1/2 cup to use for now and Store in an airtight container in the refrigerator for up to 1 week.
Divide the rest into 1/2 cup portions and store in freezer safe containers. Store in freezer until ready to use. It will freeze up to 6 months. When you're ready to use it, thaw in the refrigerator and use within a 1 week.
Add the desired flavor add-ins to the cashew cream that is fresh or defrosted.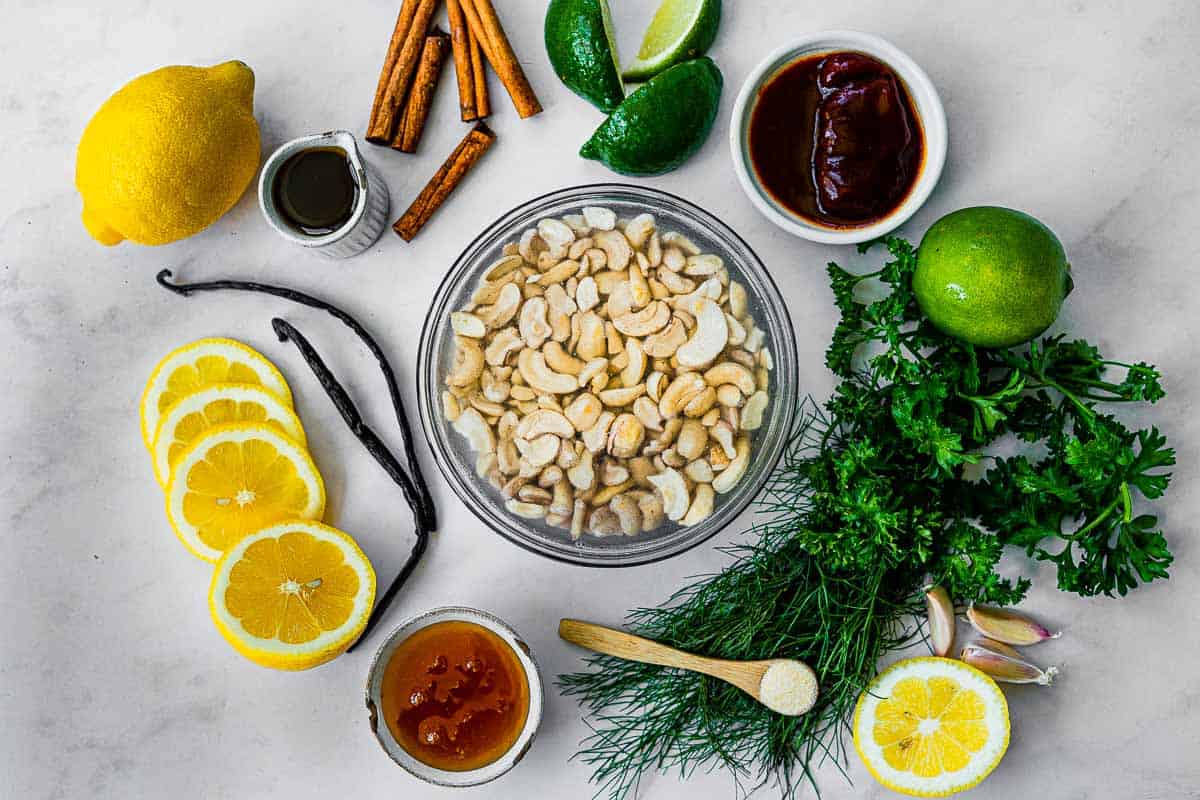 Recipe Variations
While the flavorful variations are incredible, you don't wanna miss out on all that this basic recipe can do too! I most often use plain cashew cream— it's the best swap for sour cream. Yet when I need something a little more robust and recipe enhancing, these combinations are incredible.
The basic vegan sour cream recipe can easily turn into ranch sauce or sandwich spread, a sweet cream to top pancakes or pie, or a lovely filling for cookies. I love dressing it up and using it as a dip in my vegan charcuterie board as well!
1. Maple Cinnamon
Mix in maple syrup + cinnamon. This goes great with apples, on top of crisps and pies (blueberry and apple crisp are my go-tos!), mixed in with my healthy granola, and more.
2. Dill Ranch
Mix in lemon juice and zest + garlic + onion powder + fresh dill and parsley + salt and pepper. I love using this as a dipping sauce with my cauliflower buffalo wings, fresh veggies, healthy pizza recipes… wherever you like to use ranch sauce. My cashew sauce becomes an instant fav whenever I bring it to parties.
3. Lemon Vanilla
Mix in agave syrup (or maple syrup) + vanilla extract + lemon zest. Dip berries in it, use it as a curd, topping for pancakes, or in granola.
4. Chipotle
Mix in chipotle peppers + lime zest + lime juice + salt and pepper. I love adding this to a great sandwich spread or as a veggie dip. Add to tacos for an extra special topping.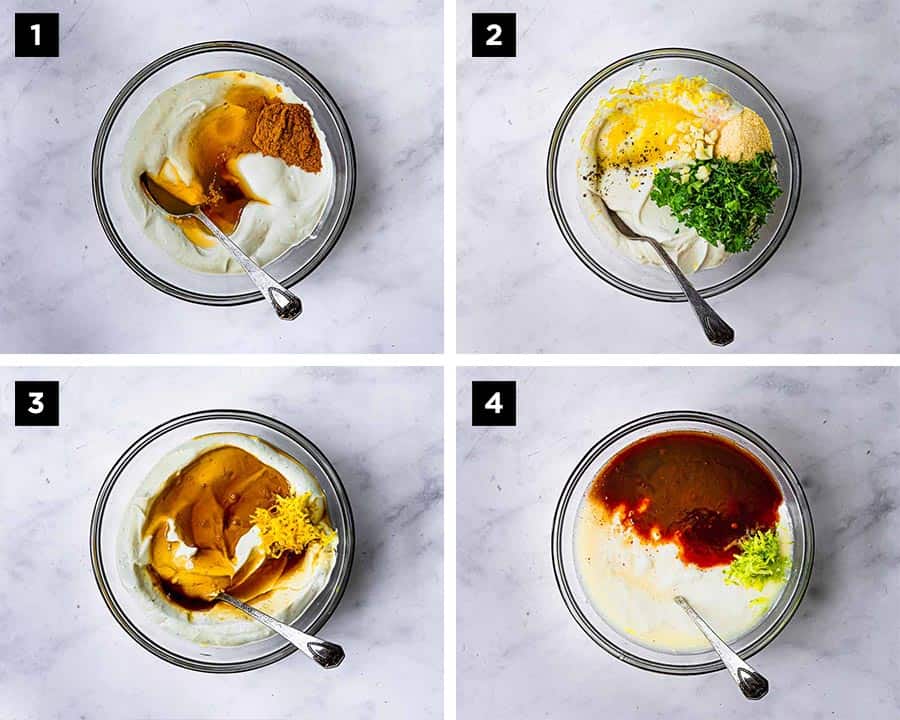 Vegan Cream FAQs
What's in plant based sour cream?
Store-bought vegan sour cream has a whole lot of ingredients. My recipe has 3: cashews, water, and lemon juice.
Can I substitute vegan yogurt for sour cream?
Sure. Yet vegan yogurt also has a multitude of ingredients. My vegan sour cream recipe has 3 ingredients that are all pronounceable and common.
Why is sour cream not vegan?
Sour cream is considered vegetarian because while it has no meat products in it, sour cream does contain dairy which is an animal byproduct. It also contains additives + preservatives that often have animal byproducts in them as well. If you want a truly vegan option, my cashew cream recipe gives you the creaminess, texture, and sourness of traditional sour cream without the dairy.
Tips for a Creamy Sauce
If you've tried this recipe in the past and didn't get a silky smooth finish, then read on! I can help 🙂
First, there is a big difference in using a food processor vs a high-powered blender. If I need to make a quick batch or want a more ricotta-like texture, then the original recipe in a food processor works. Yet if I want to recreate sour cream in all its smooth glory, then follow my recipe because I quadrupled what most people recommend so that it blends in the Vitamix.
I use my 48-oz stainless steel Vitamix container, yet lots of rawkstars use the 64-oz container just fine. Make sure you've got the tamper ready. Place 2 cups of soaked cashews and 4 tbsp of water into the blender, attach the lid with the tamper in place, then blend on the lowest setting. Starting on low helps break up the cashews better than going immediately to high speed.
Once the blender blades aren't moving, turn off the blender and add 2 tbsp more water. Start blending again, turning up the speed slowly. It will blend like a smoothie bowl, so use the tamper to keep the sides scraped down. Add water 1 tbsp at a time until the mixture is just blending on its own. Adding too much water will make this soupy instead of dip-like. Then blend your heart out until your cashew cream is silky.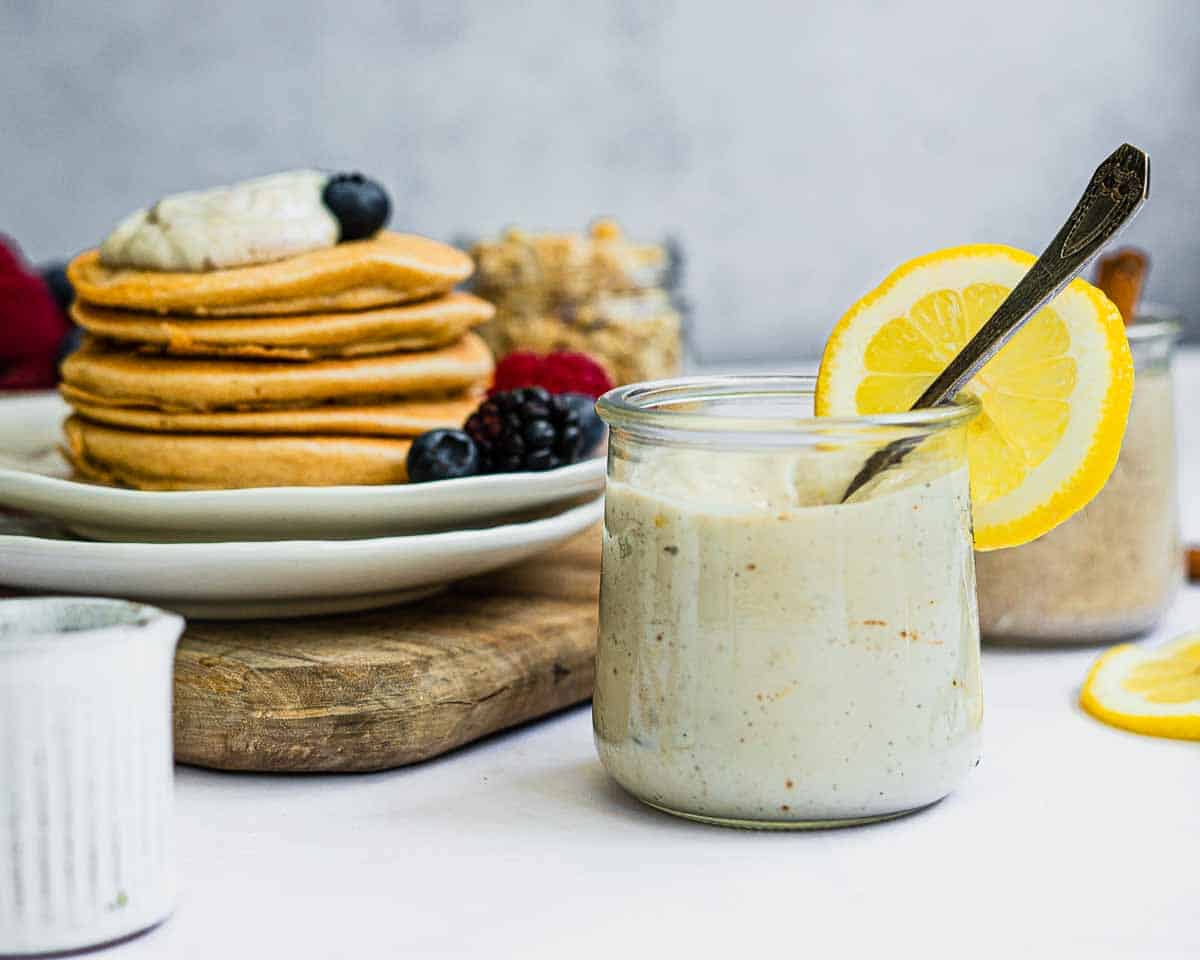 Recipes that Use Cashew Cream
I use this cashew sauce on pies, crisps, cobbler, baked potatoes, fruit salad, smoothie bowls, lettuce wraps… I'm not joking when I say it can be used on everything. Whenever a recipe calls for sour cream, you can swap it for this vegan sour cream option.
The following recipes from the blog would be amazing with cashew cream. You can even build a custom meal plan with any of them using Rawk the Year.
Cookbooks & cleanses
I wasn't joking when I said I use this cashew sauce on everything #delicious. Do you have any recipes that use yogurt, sour cream, ricotta, whipped cream, etc. that you still wanna make but need a dairy-free version? Try using this cashew cream recipe!
Winter Cleanse: warm apple crisp, winter ambrosia salad, rosemary cauliflower rice bowl, mushroom-stuffed sweet potato
our Seasonal Cleanse Cleanse: raw berry crisp, vegan Waldorf salad, simple kale slaw, black bean tacos, veggie quinoa pizza
21-Day Cleanse: rawesome tacos
Simple Green Meals: Tex-Mex breakfast bowl, kale caesar salad, grilled veggie kabobs, simple cashew slaw, black bean dippers, cacao chili, poblano enchiladas
I can't wait for you to try this recipe! Make sure to leave a rating + review to let me know how yours turns out. If you have any questions, leave a comment with those too; I want you to experience all the magic of cashew cream.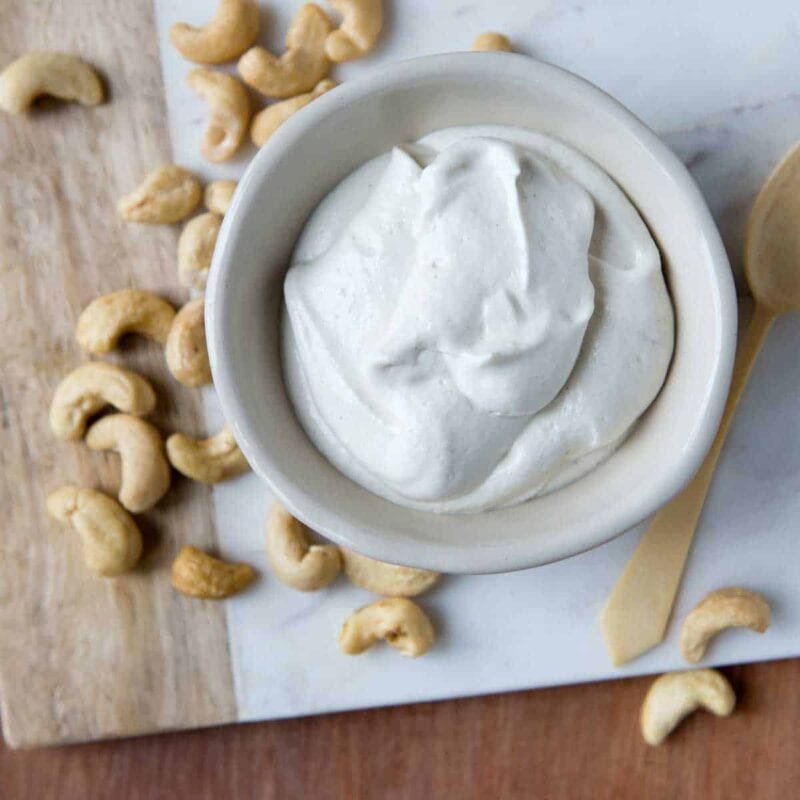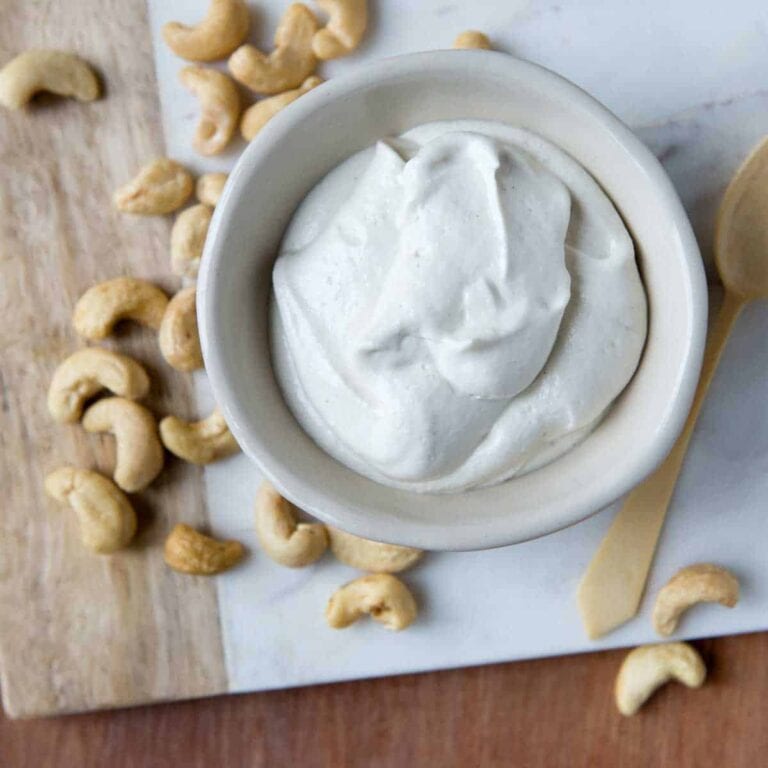 Simple Cashew Cream
Cashew cream is a deliciously creamy way to take your meals to a new level! This recipe highlights how easy it is to make cashew cream multiple ways. Each variation uses 1/2 cup cashews, but depending on your blender or food processor, it may be easier to make one large batch then flavor individually!
Ingredients
Instructions
Place the cashews in a medium bowl and pour lemon juice over the top. Add enough water to cover the cashews by a few inches.

Soak for 2 hours then drain and rinse well.

Combine the cashews w/ additional water in a blender or food processor. Pulse to break up the cashews lightly and blend on low. Add water by the tablespoon, blending until smooth.

Transfer the blended cashews to air tight container and store in fridge until ready to use.
For flavor variations
Stir in the suggested ingredients to 1/2 cup cashew cream.

Store in an airtight container in the refrigerator for up to 1 week.
Notes
I strongly suggest using 2 cups of cashews like the recipe to get the creamiest result in a high-speed blender.
You can soak the cashews up to 12 hours before blending, to soften.
If you don't have time to soak, heat up water like you would for tea, then soak the cashews in hot water for 10-15 minutes to soften.
Feel free to use the cashew cream as-is with no flavor add-ins if you want to use it like sour cream. 
If you can't use cashews, then swap for soaked almonds.
Nutrition
Calories:
90
kcal
,
Carbohydrates:
5
g
,
Protein:
3
g
,
Fat:
7
g
,
Saturated Fat:
1
g
,
Polyunsaturated Fat:
1
g
,
Monounsaturated Fat:
4
g
,
Sodium:
2
mg
,
Potassium:
108
mg
,
Fiber:
1
g
,
Sugar:
1
g
,
Vitamin A:
1
IU
,
Vitamin C:
1
mg
,
Calcium:
6
mg
,
Iron:
1
mg