This chia fresca is truly a natural energy drink if there ever was one! Coconut water is hydrating as well as full of electrolytes. The chia seeds add protein for a burst of energy, but also aid in digestion.
Give this chia drink recipe a quick stir before drinking to distribute the seeds, or drink through a straw and enjoy the little "pop" from the chia seeds.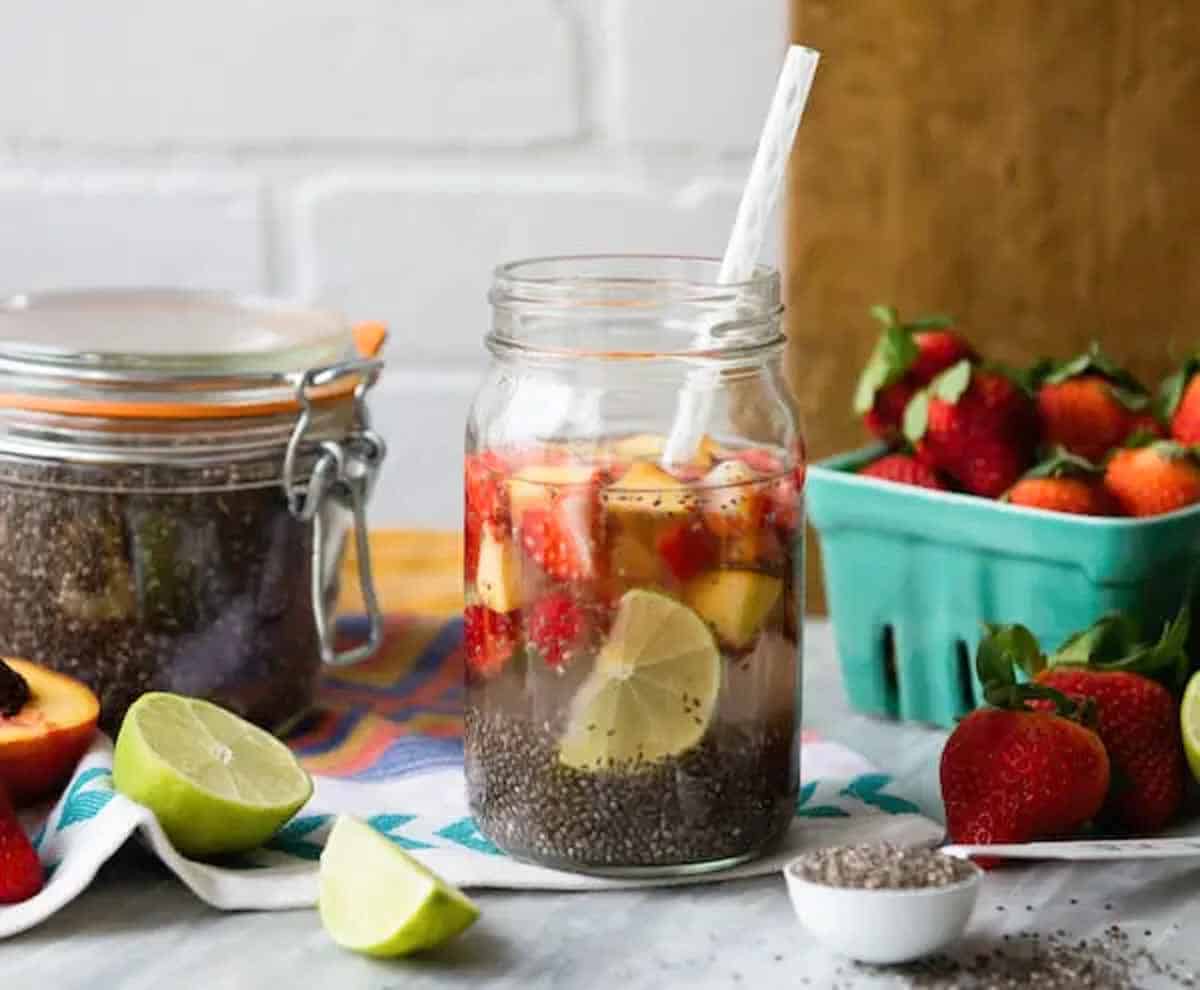 Table of Contents
What is Chia Fresca?
I first learned about this powerful natural energy drink from one of my favorite books, Born to Run. The Tarahumara use chia fresca for fuel when traveling far distances through the Copper Canyons of Mexico. This book is SUPER inspiring and is actually the reason I ran my first 50k trail run.
This chia fresca recipe has gotten me through some loooong hot runs out here in Florida— you should try it! I love that it's created with plant-powered ingredients, rather than formulated in a lab.
When I'm using it for a running fuel, I don't add in the chopped fruits. Yet if I'm serving it at a party, I like to dress it up with some fruits to add color. Make it your own!
Hydrating coconut water
High in electrolytes, potassium, calcium, magnesium, and antioxidants, and low in carbs + no sugar. Need I say more?! Seriously, coconut water can go toe to toe with your fav sports drink any day. It's a completely natural way to replenish the body after a workout. If the taste is a little strong for you in the chia fresca, then try half coconut water and half regular water.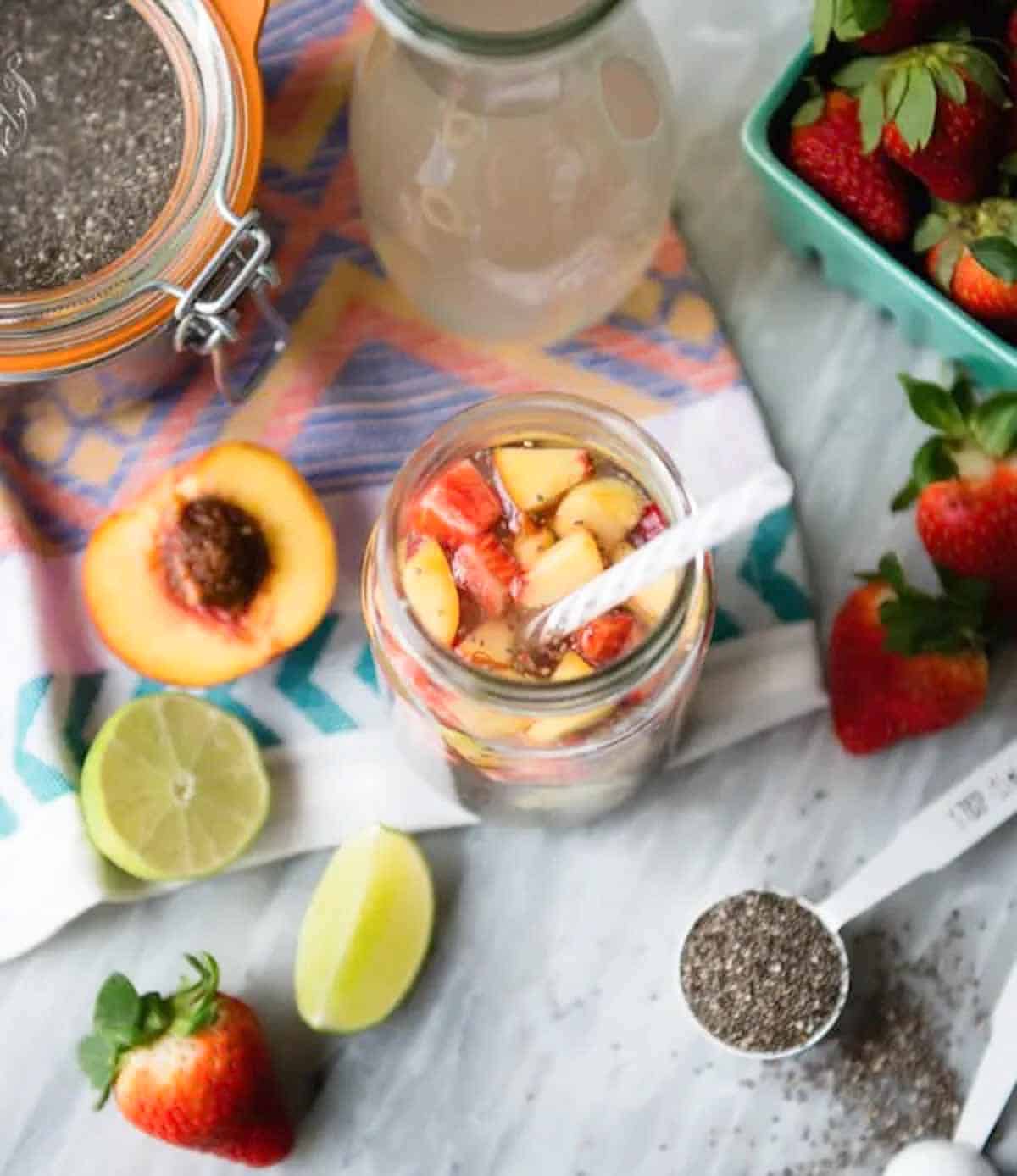 FAQs
Is drinking chia seeds in water good for you?
Yes! Chia seeds contain omega-3 fatty acids, which are great for heart health.
Do chia seeds burn belly fat?
Chia seeds have both protein and healthy fat, which are needed to break down carbs. So while it seems counter productive to eat fat to burn fat, your body does need good fat to turn food into useable energy.
Has anyone lost weight with chia seeds?
While chia seeds on their own are unlikely to cause weight loss, incorporating them into a healthy diet can help you stay full longer, as well as process carbs better.
Hopefully you can find a recipe or several that can help you maximize your workout. Powered with a protein-filled smoothie and a chia drink recipe, you'll ROCK that next run or gym session!
How to Make a Chia Drink
As I said above, all you really need for a refreshing chia fresca is coconut water + chia seeds. Yet dressing it up with fruits as well as maple syrup adds more flavor and flare.
When making this recipe, I refrigerate the coconut water the night before. This is purely because I live in Florida, and am always in search for something cold after working hard.
Feel free to switch up the fruit to fit your preferences. If berries are more your jam, then raspberries are a delicious addition. Of you just want the citrus, then leave out the peaches and strawberries. Watermelon is also a great addition.
More Natural Energy Drinks
After learning about coconut water, my eyes were opened to the world of replacing many of my old workout beverages with more natural options, like this chia fresca. If you're looking for a plant based approach to physical performance, then I've got several recipes for you:
No matter how you make this, give it a try for your next day in the yard or yoga session, and let me know how you liked it!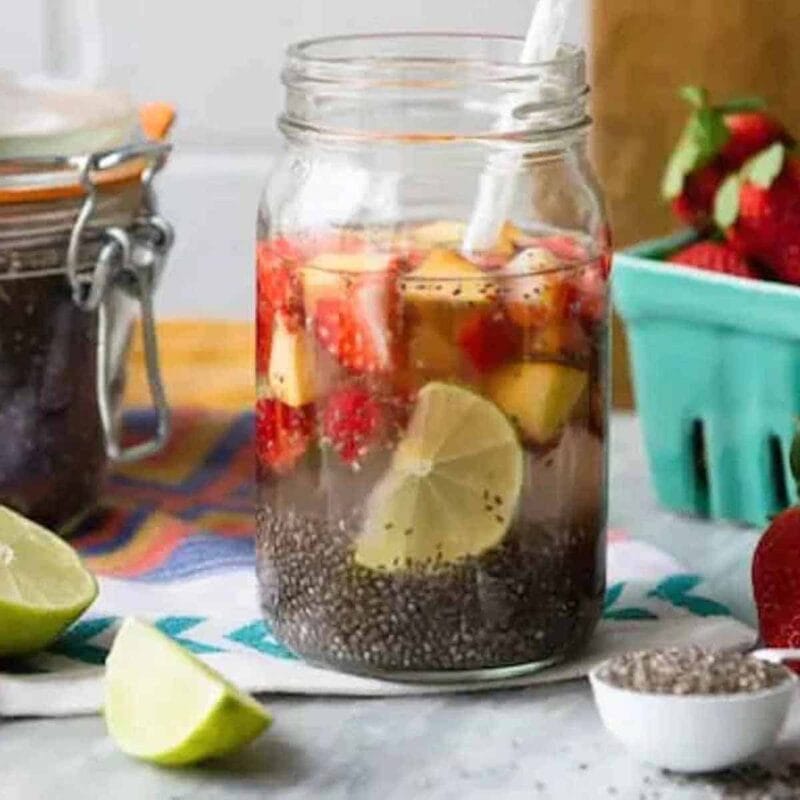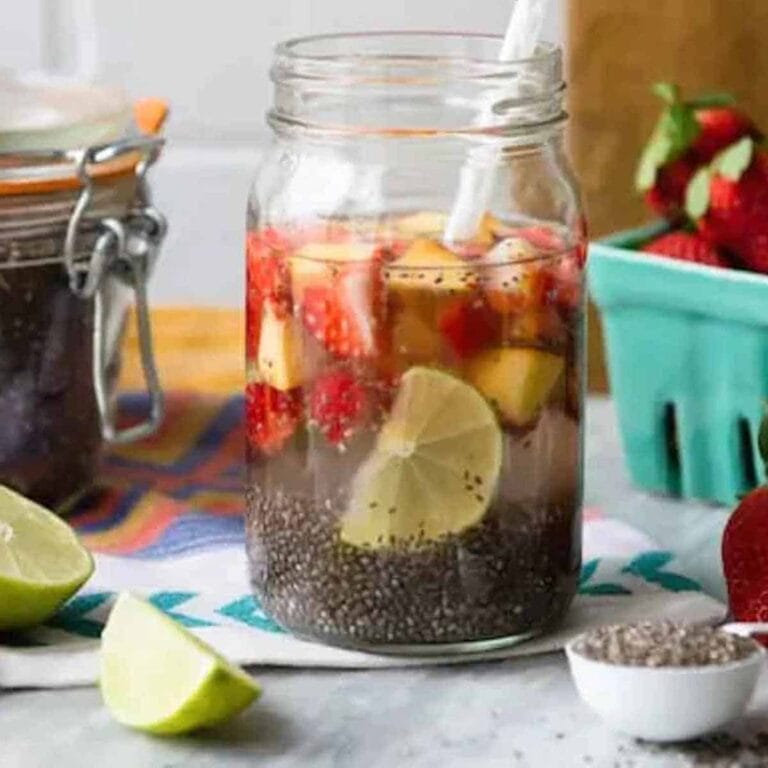 Chia Fresca Drink
Try this refreshing chia fresca drink if you're spending a long time outside doing strenuous work. I like to pack it when I'm on a long trail run, doing a day in my garden or hiking the Grand Canyon.
Ingredients
1

cup

coconut water

unsweetened

1

tbsp

chia seeds

2

tbsp

lime

juice

½

tsp

maple syrup

to sweeten

¼

cup

peach

optional

¼

cup

strawberries

optional
Instructions
Combine all of the ingredients in a glass or jar.

Let stand for 5-10 minutes to allow the chia seeds to absorb some of the liquid.

Refrigerate until ready to drink.
Notes
This can be made ahead of time and will last an entire week if properly refrigerated. Add the fruit a few hours before serving. The flavors will infuse nicely, but it won't spoil in the week's whole batch.
Filtered water can be used in place of the coconut water.
Maple water is another great, hydrating alternative.
Nutrition
Calories:
121
kcal
,
Carbohydrates:
19
g
,
Protein:
4
g
,
Fat:
4
g
,
Saturated Fat:
1
g
,
Polyunsaturated Fat:
3
g
,
Monounsaturated Fat:
1
g
,
Trans Fat:
1
g
,
Sodium:
255
mg
,
Potassium:
692
mg
,
Fiber:
7
g
,
Sugar:
9
g
,
Vitamin A:
21
IU
,
Vitamin C:
15
mg
,
Calcium:
141
mg
,
Iron:
2
mg