I've got the perfect use for those leftover cranberries this holiday season: a Cranberry Smoothie! If you've never tried cranberry in a smoothie then you need to blend this recipe. It's tart, creamy, tangy and has that classic orange and cranberry pairing.
It's also a no-banana smoothie that's dairy-free and can easily turn into a healthy breakfast smoothie or snack.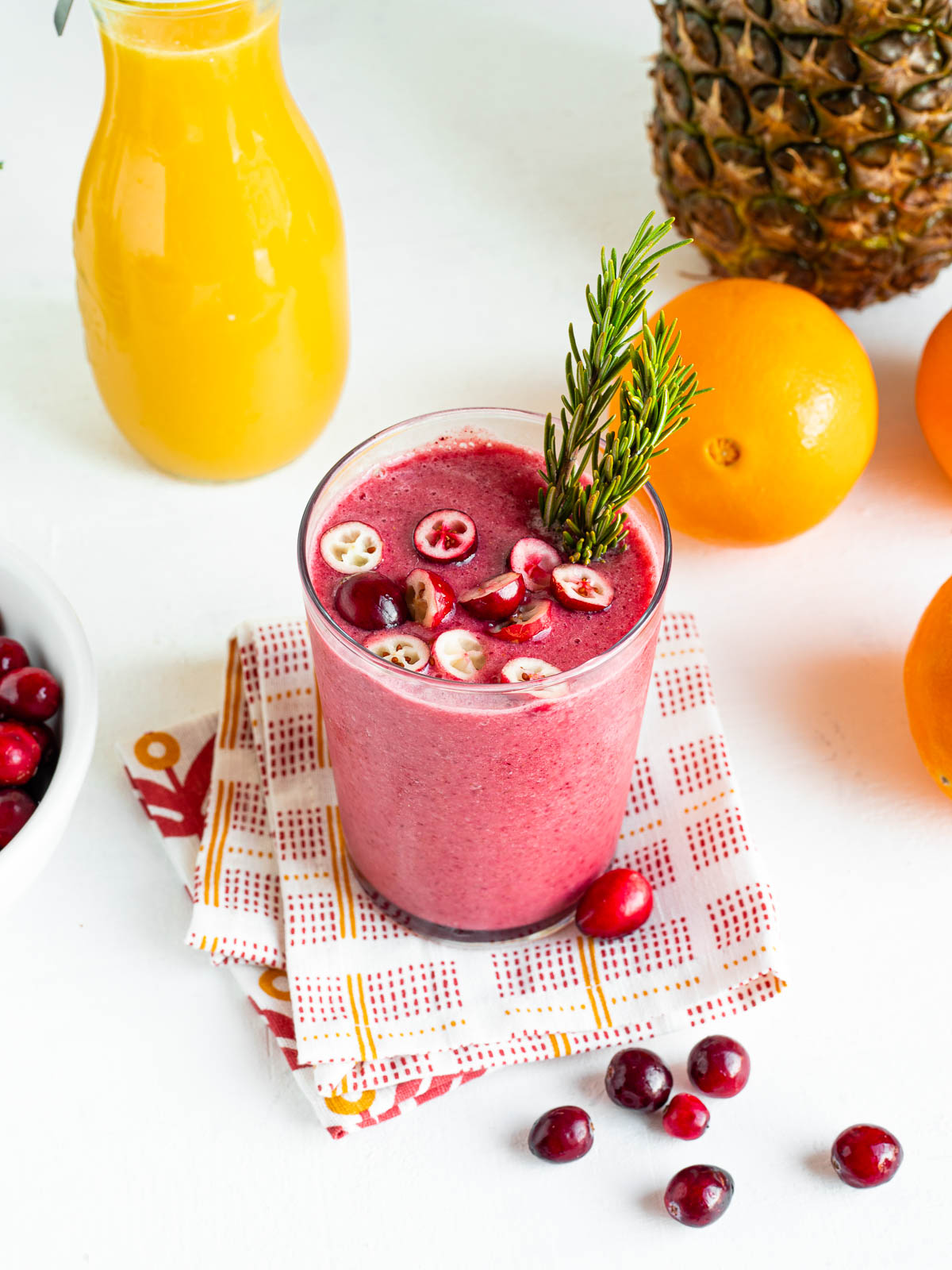 Once you've finished prepping for your Vegan Thanksgiving Recipes or next holiday party, instead of losing those leftover cranberries in the back of the refrigerator put them in the freezer! Then you'll be ready to enjoy this gorgeous pink berry smoothie whenever the mood strikes, especially if you need something to balance out that pan of Gluten-Free Brownies.
Table of Contents
Ingredients for a Cranberry Smoothie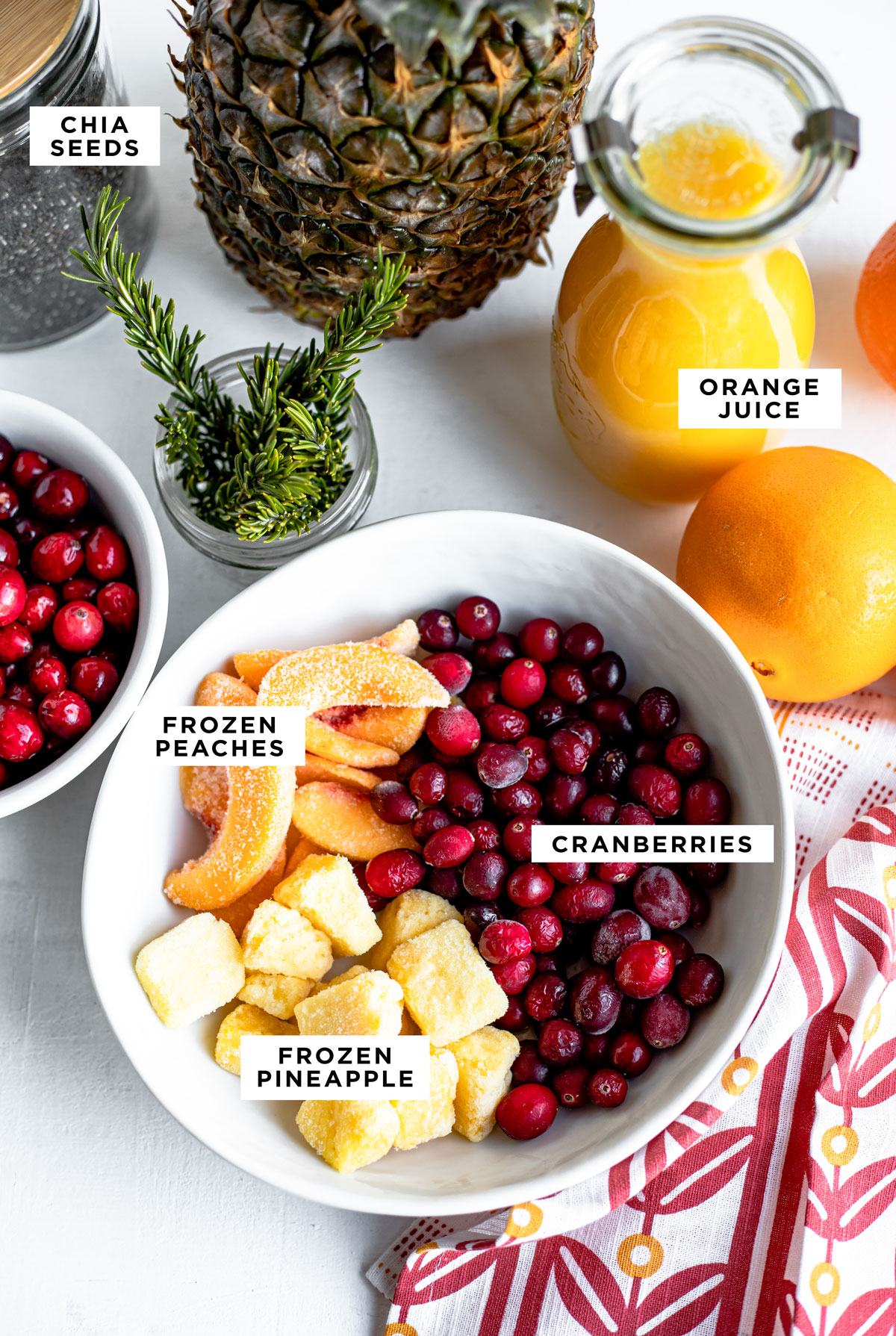 This fruit smoothie is a party of flavors and hits just right for those of us who like a bit of sharpness. Here's what I'm putting in the blender:
Orange juice: Use high pulp (more fiber!) and find one with no added sugar.
Cranberries: When this berry starts showing up in my grocery store I often grab more than one bag and freeze them to use in my Cranberry Green Smoothie as well as mixed into Steel Cut Oats and more.
Frozen pineapple: This is a staple in my freezer drawer since it goes in so many smoothies. It's a great way to get more vitamin C into this smoothie as well as natural sweetness.
Frozen peaches: I'm adding peaches for added creaminess. Frozen ones work best, and should be easy to find in the freezer section of the grocery store.
Chia seeds: Since this fruit smoothie is high in natural sugar and a little on the thin side I'm tossing in chia seeds right from the get-go. Chia seeds add protein and healthy fats and turn into a gel that thickens up a smoothie easily.
Cranberries come from the same family as blueberries and have all the superfood powers, too. They have super special plant compounds that can help prevent stomach cancer as well as urinary tract infections.
Easy Swaps in your Cranberry Smoothie
Smoothies are great because you can customize them depending on your taste preferences and the time of day you're blending. Here are a few easy swaps for this fun recipe to make it fit your nutritional needs:
If you don't have orange juice on hand then use 1 orange (peeled) + 1/4 cup water.
To turn this smoothie into a meal replacement add Greek yogurt, vegan yogurt or homemade protein powder. Look for yogurt that is sugar-free or has a low sugar content.
Swap peaches with frozen mango. Use fresh or frozen cranberries. If you've got a cup of leftover cranberry sauce then you can use that, too!
How to Control the Level of Sweetness
We all have very different taste preferences, and that's okay! People take the same smoothie and bump up the sweetness or tone it down to make sure it's just the way they like it. Here are a few tricks to get the sweetness levels in this beverage perfect for you.
If this smoothie isn't sweet enough for you then add in honey or maple syrup, really any natural sweetener you want. If it's too sweet then you can swap the fresh orange juice with a whole orange instead or use 1/2 cup orange juice + 1/2 cup dairy-free milk or water.
You can also swap the orange juice with unsweetened cranberry juice and one orange (peeled). It will change the flavor yet still taste great.
How to Make a Cranberry Smoothie
This smoothie is super simple to make since it doesn't have leafy greens.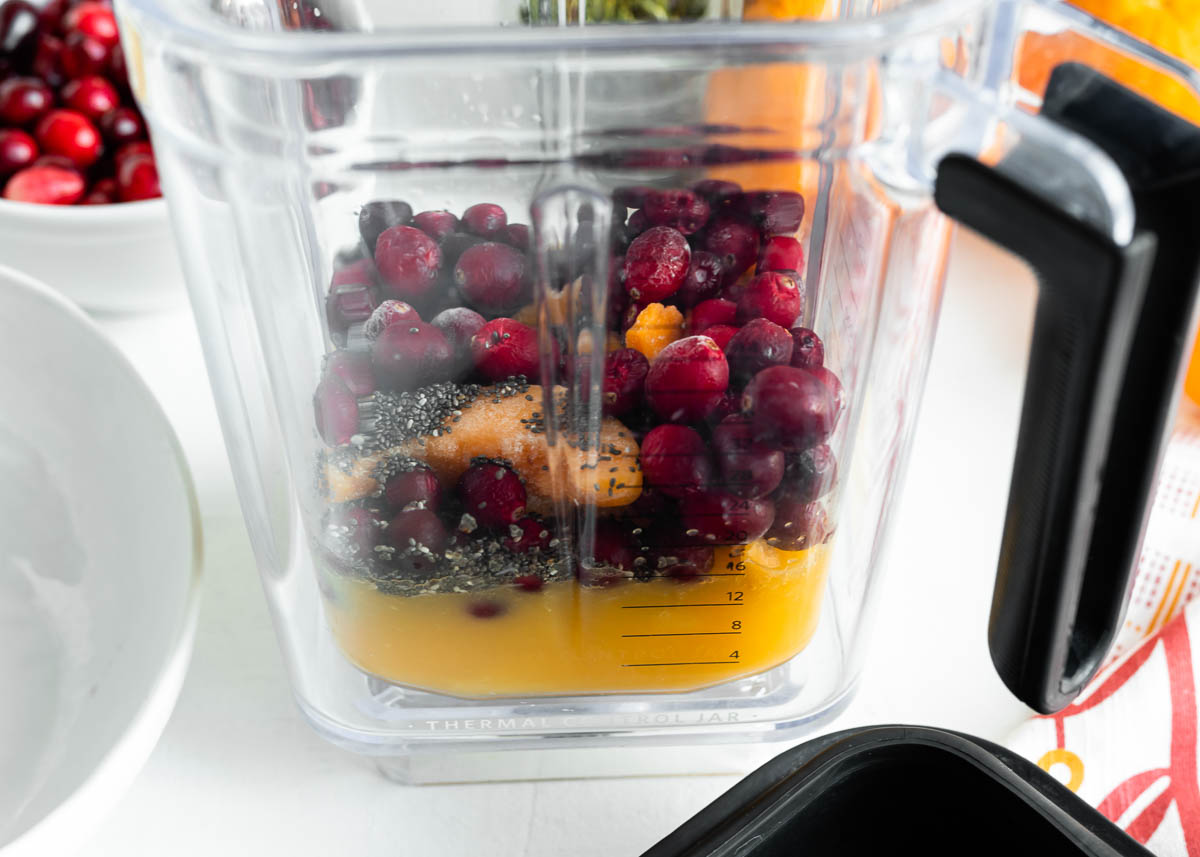 Step 1: Add all ingredients to a blender and blend until smooth. Stop and scrape down the sides as needed to ensure all ingredients are fully pureed.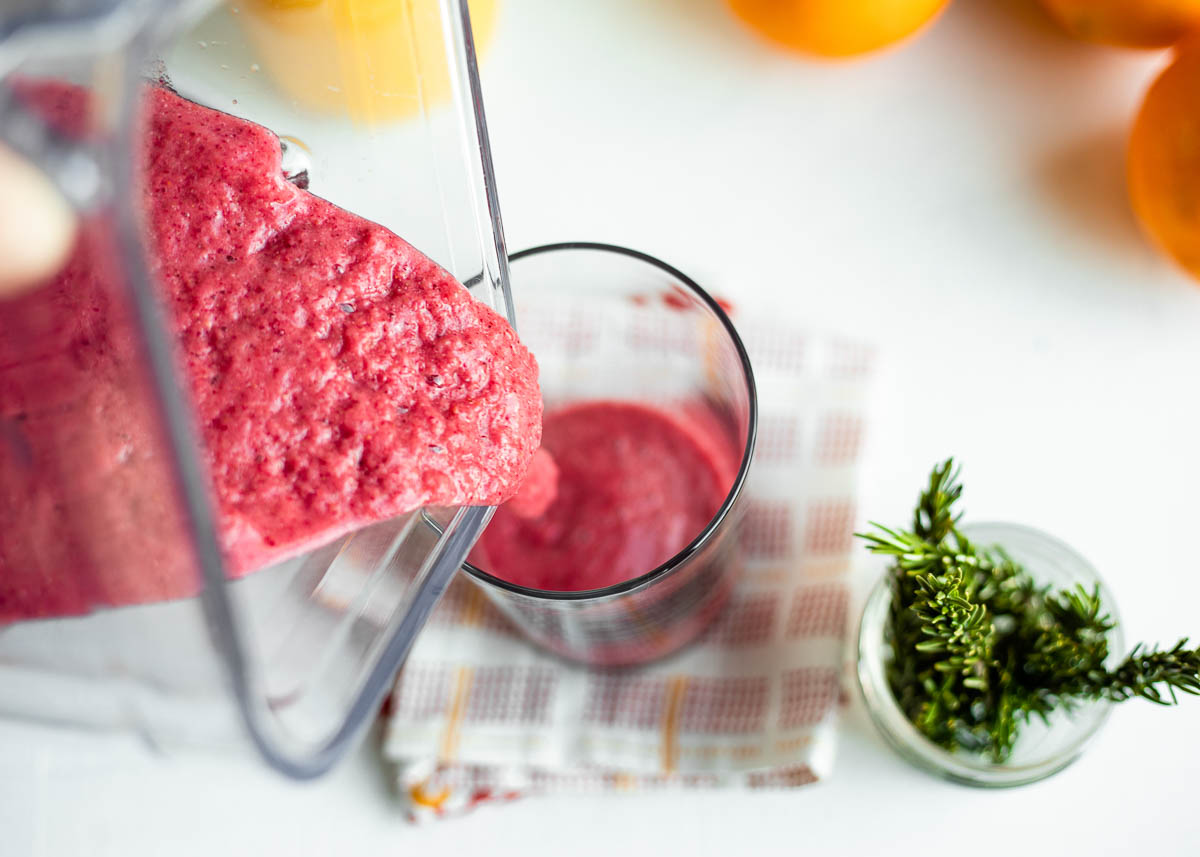 Step 2: Pour into your favorite glass and enjoy!
Depending on the type of blender you have, you may not need to stop and scrape down the sides. If you see some ingredients not getting fully integrated, feel free to take this step. No one wants to drink a chunky smoothie.
Cranberry Smoothie FAQs
Can you eat raw cranberries in smoothies?
Raw cranberries are great in smoothies! Since they are pretty tart, pair them with sweeter fruits like oranges or bananas to help balance out the sharpness. I like to freeze leftover cranberries and then toss them in by the handful into any mixed berry smoothie I'm making.
What are the benefits of cranberries in smoothies?
Cranberries are loaded with antioxidants and plant compounds that can help fight cancer, UTIs and heart disease. Adding some to your next smoothie will benefit your body in a wide variety of ways. Plus if you want to enjoy them during their fresh season, they are an inexpensive fruit to buy!
Are cranberries good for you?
Yes, cranberries are a great source of fiber, vitamin C, manganese and vitamin E, among other vitamins and minerals. They actually have unique plant compounds that help them prevent urinary tract infections. Other antioxidants and nutrients in cranberries can help prevent various cancers.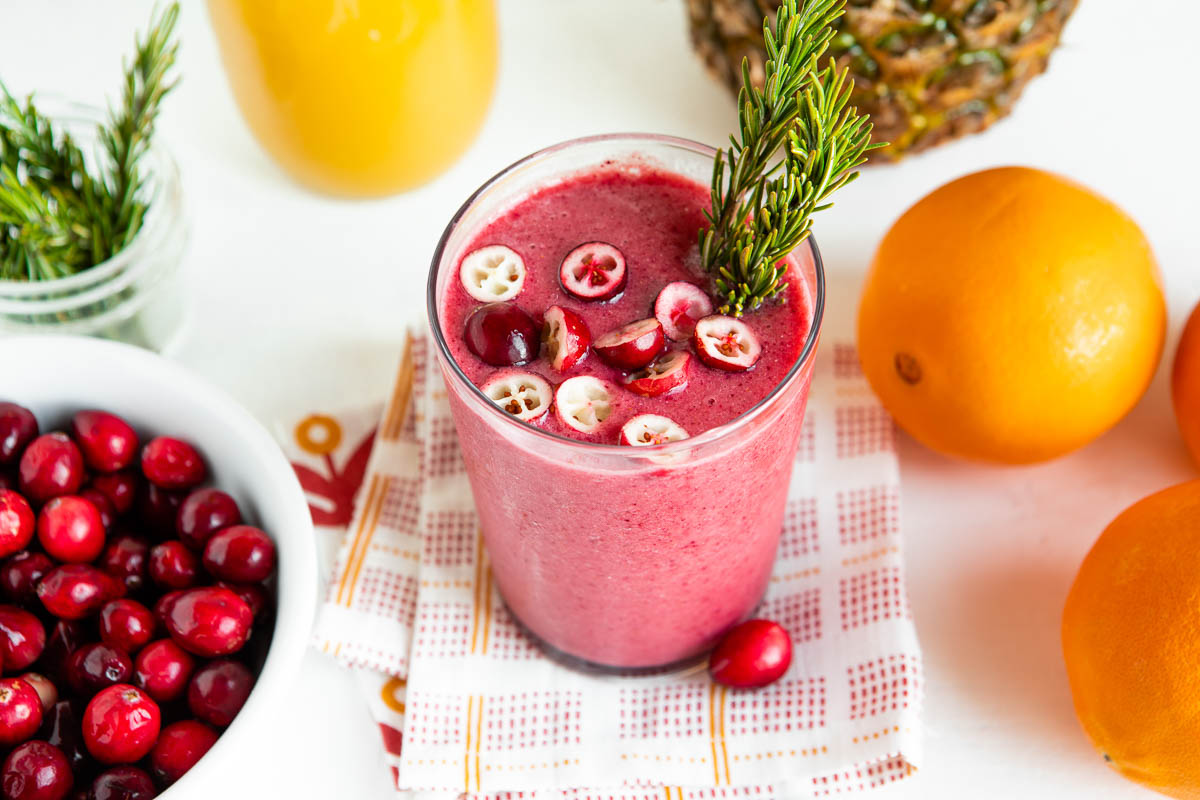 More Holiday Smoothie Recipes
Using seasonal produce means leaning into what is already available. If you haven't noticed, it's hard to find cranberries outside of Autumn/Winter! So don't be afraid to dive into some new flavors and try a Fig Smoothie or Pomegranate Smoothie, depending on what's available at the grocery store.
If cold smoothies are hard to sip during cooler months then you can also turn to warm smoothies! My warm Apple Pie Smoothie is a welcome hug while this warm Hot Chocolate Smoothie is a great snack for the family after a chilly day outside.
If you find yourself making sweet potatoes on repeat this time of year, then use the leftovers for a Sweet Potato Smoothie. Sometimes the most unique ingredients make the best smoothies.
Will you rate + review this Cranberry Smoothie once you try it? And let me know if you make any swaps!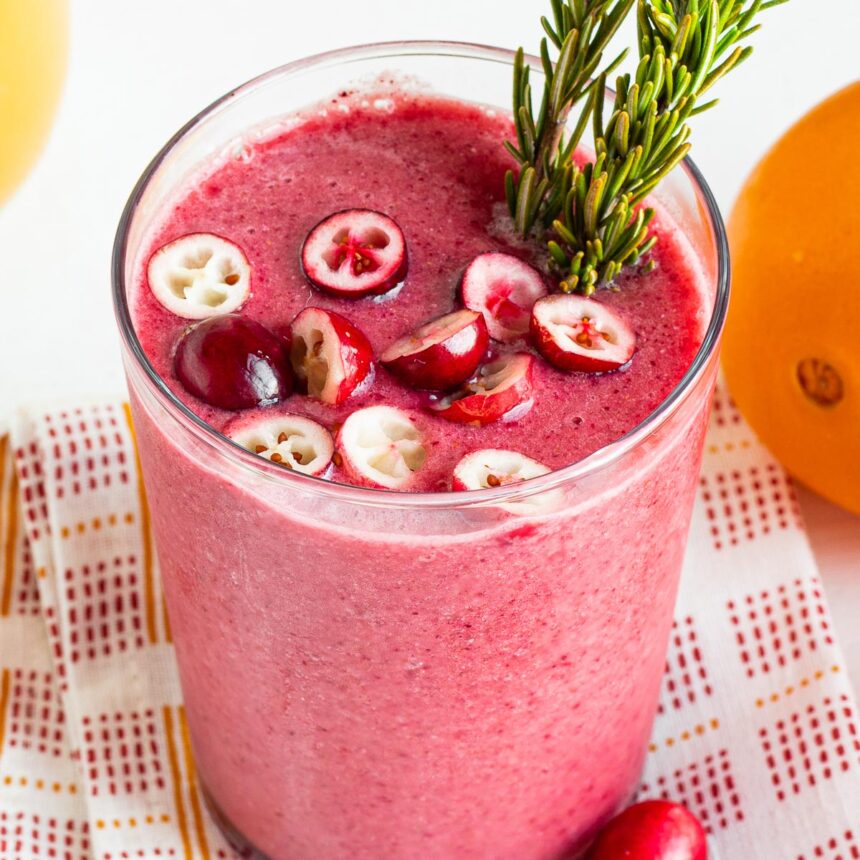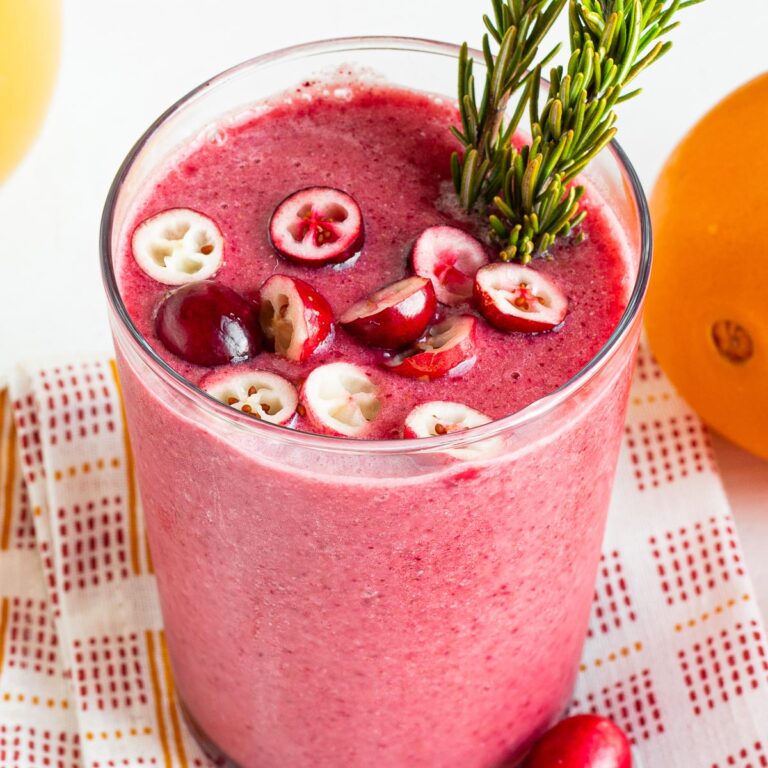 Orange Cranberry Smoothie
This Cranberry Smoothie is bursting with citrus flavor. It's got cranberries, pineapple and peaches and uses fresh orange juice as the liquid base, creating the perfect blend of tart, sweet and delicious. Try this refreshing smoothie as is, or jazz it up with a sprig of rosemary + slices of cranberry and pineapple.
Ingredients
1

cup

orange juice

high pulp, no added sugar

1

cup

cranberries

frozen

½

cup

pineapple

frozen

½

cup

peaches

frozen

1

tbsp

chia seeds
For Garnish:
1

sprig

fresh rosemary

cranberries

sliced

pineapple

sliced
Instructions
Add all ingredients to blender and blend until smooth. Stop and scrape down the sides of the blender as needed.

Pour into a glass and enjoy! Top with any ingredients you want for a more elevated finish.
Notes
For lower natural sugar, use 1/2 cup orange juice, 1/2 cup water or sparkling water. 
Swap peaches with nectarines or mango.
Use at least 1 frozen fruit for a refreshingly cool smoothie.
Feel free to add 1 cup of leafy greens per serving.
Swap chia seeds with hemp hearts or homemade protein powder.
Nutrition
Calories:
290
kcal
,
Carbohydrates:
61
g
,
Protein:
5
g
,
Fat:
5
g
,
Saturated Fat:
0.5
g
,
Polyunsaturated Fat:
3
g
,
Monounsaturated Fat:
0.5
g
,
Trans Fat:
0.02
g
,
Sodium:
17
mg
,
Potassium:
809
mg
,
Fiber:
11
g
,
Sugar:
40
g
,
Vitamin A:
861
IU
,
Vitamin C:
181
mg
,
Calcium:
125
mg
,
Iron:
2
mg