If frozen piña coladas are your jam, then this green smoothie popsicle recipe will keep you refreshed all summer long. The best part about these is they're virgin, so your kids can munch on them too! Yet if you add a little something extra and make them 'adult only,' I won't judge :-).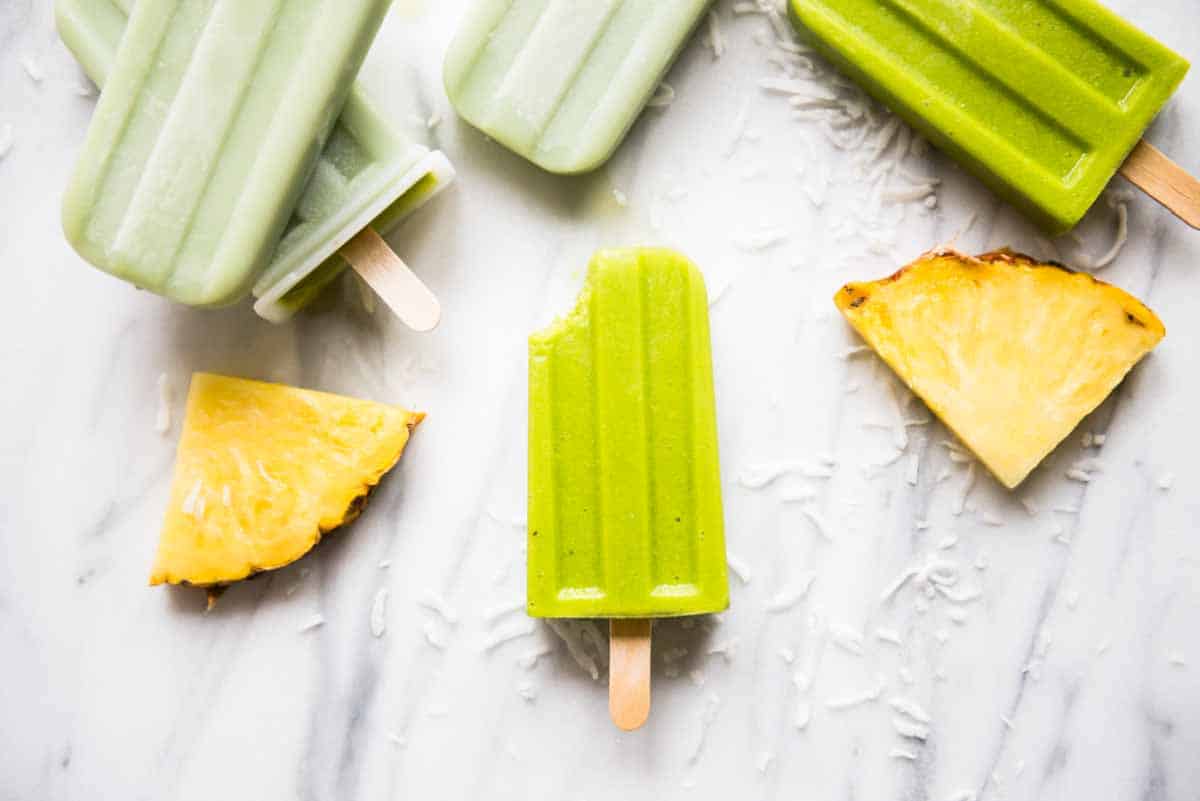 Table of Contents
How to Turn a Green Smoothie into a Popsicle
While I've got some great popsicle recipes, did you know you can turn any green smoothie into a popsicle? If I've got some leftover smoothie in my blender, I'll toss it into a popsicle mold and freeze. I just made a great snack for later, and didn't waste any ingredients!
You can also make any green smoothie recipe, then freeze it in popsicle molds immediately for a whole batch of smoothie pops. If you're doing this and you didn't add any healthy fats to your smoothie then add 2 tablespoons of coconut oil while blending. This why that popsicle isn't an ice brick when you're ready to eat it.
Smoothie Popsicles for Kids
Summertime means ad after commercial for bright fruity popsicles. Yet those are often filled with refined sugar, food dyes, and chemicals… just not the summer fun I'm lookin' for. So here are my go-to recipes for some fun summer smoothie pops:
Making your own green smoothie popsicles is super easy, and you don't even need fancy molds to make them (though fun popsicle molds make for a good summer splurge!).
Easy homemade popsicle molds
All you need to make your own molds is a set of paper cups and popsicle sticks. Fill each cup 3/4 full of smoothie, then stick a wooden stick in the middle. Place the filled cups on a cookie sheet and put them in the freezer… make sure they stay flat!
Freeze for at least 2 hours before taking out. Then pull them out of the freezer, and tear off the paper cup 'wrappers.' Now enjoy that green smoothie popsicle and share… or don't… with your hungry crew.
More Refreshing Summer Recipes
Summers were made for smoothies, and I've got the recipes to prove it:
Staying hydrated never tasted so good. Check out local produce stands, farms, CSAs, and your neighbor's kitchen garden for the best ingredients to use this summer in green smoothies and green smoothie popsicles.
Protein Boost for Smoothies
These smoothie recipes make great snacks as is, yet if you're looking to turn them into a delicious + nutritious meal, then boosting them with protein and healthy fat is a must. My protein powder recipe does this with 100% organic hemp, chia, and flax. Easily add 10 grams of protein as well as 4 grams of healthy fat to turn any smoothie into a filling meal.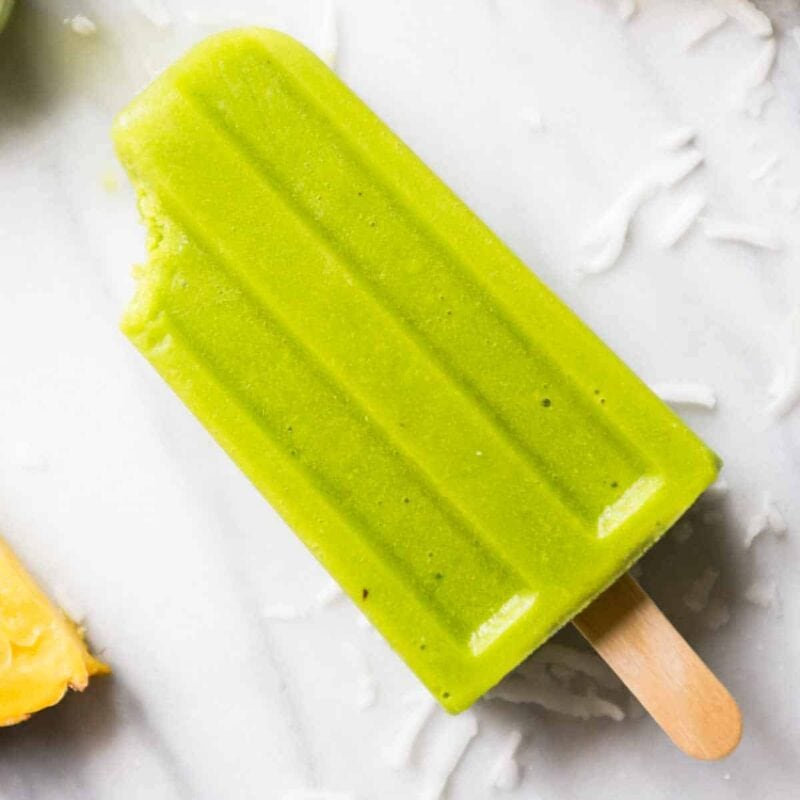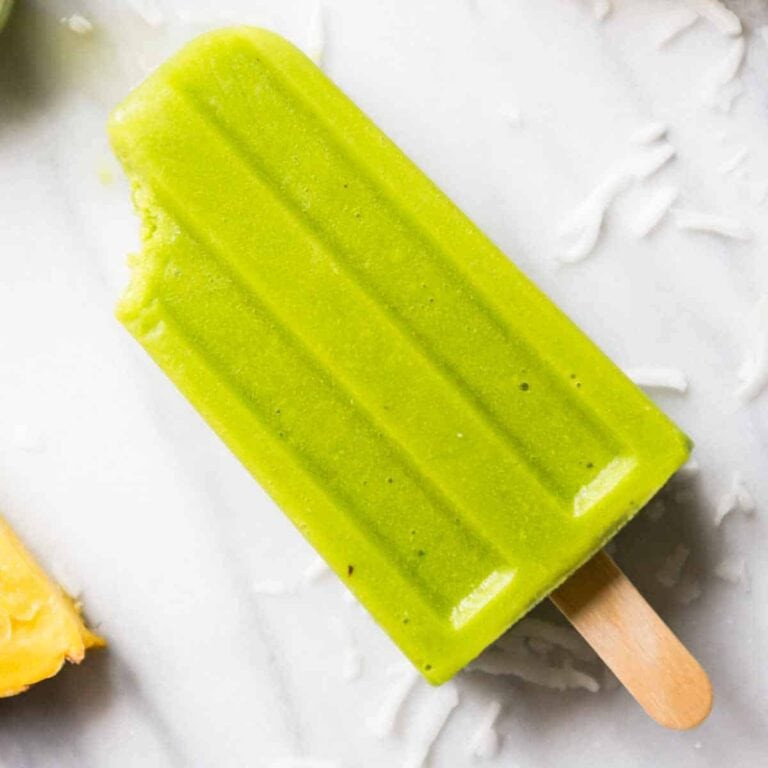 Green Smoothie Popsicle
Thanks to the nutrients found in pineapple and coconut, this pina colada popsicle recipe can hardly be categorized as a treat! Coconut is packed with vitamins, minerals, antioxidants, and fiber. And pineapple is chock full of Vitamin C.
Ingredients
1 ½

cups

spinach

¼

cup

coconut milk

2 ½

cups

pineapple

2

tbsp

coconut flakes
Instructions
Blend all ingredients until smooth.

Pour into a popsicle mold.

Freeze until firm, at least 3 hours or overnight.
Notes
Dip the popsicle molds in warm water for easier removal when ready to eat.
Nutrition
Calories:
54
kcal
,
Carbohydrates:
10
g
,
Protein:
1
g
,
Fat:
2
g
,
Saturated Fat:
2
g
,
Polyunsaturated Fat:
1
g
,
Monounsaturated Fat:
1
g
,
Sodium:
14
mg
,
Potassium:
126
mg
,
Fiber:
1
g
,
Sugar:
7
g
,
Vitamin A:
743
IU
,
Vitamin C:
35
mg
,
Calcium:
17
mg
,
Iron:
1
mg