Seasonal eating helps you keep fresh produce in your diet year-round. Check out my healthy winter recipes to eat fresh and clean this year. I've got you covered with winter breakfast ideas, easy sides and tasty winter dinners that use seasonal ingredients to keep costs down and flavor at an all-time high.
Winter is definitely my food rut. Between all the specialty meals of the holidays, crazy evenings with football and volleyball practices and games and our other family activities, I have a hard time wanting to get creative in the kitchen.
These healthy winter recipes keep me from falling into convenience food and help me know I'm keeping my family fueled the best way possible throughout the winter months.
Table of Contents
Breakfast Ideas
When you wake up to a chill in the air, the last thing you want to do is toss frozen fruit into a blender. Whipping up an icy cold smoothie does not get me ready for an icy cold day! Instead, I turn to these filling, plant-powered winter breakfast ideas to warm me up and give me energy. From warm smoothies to nourishing baked oatmeal, let's make our breakfasts count.
Simple Sides
Focusing on simpler sides makes winter meals easier. I still want to include as many veggies as I can, yet they have to be easy for me to make when it's dark outside by 6 pm. Here are the healthy winter sides my family will actually eat and enjoy throughout the winter.
Easy Dinners
Now for the main event. Winter is the perfect time to make healthy winter recipes for dinner then heat up the leftovers for lunch the next day. Prep once, eat twice! These easy winter dinners are filling and plant powered without skimping on the hearty produce that is ripe during colder months.
Winter Desserts
Winter is a great time to look for sweet treats that don't go crazy with the sugar and the frosting and the heaviness. I've got a few lighter dessert-style recipes that totally fit in with the ingredients of the season, yet aren't the heavier treats you'll find around those holiday party tables.
Seasonal Produce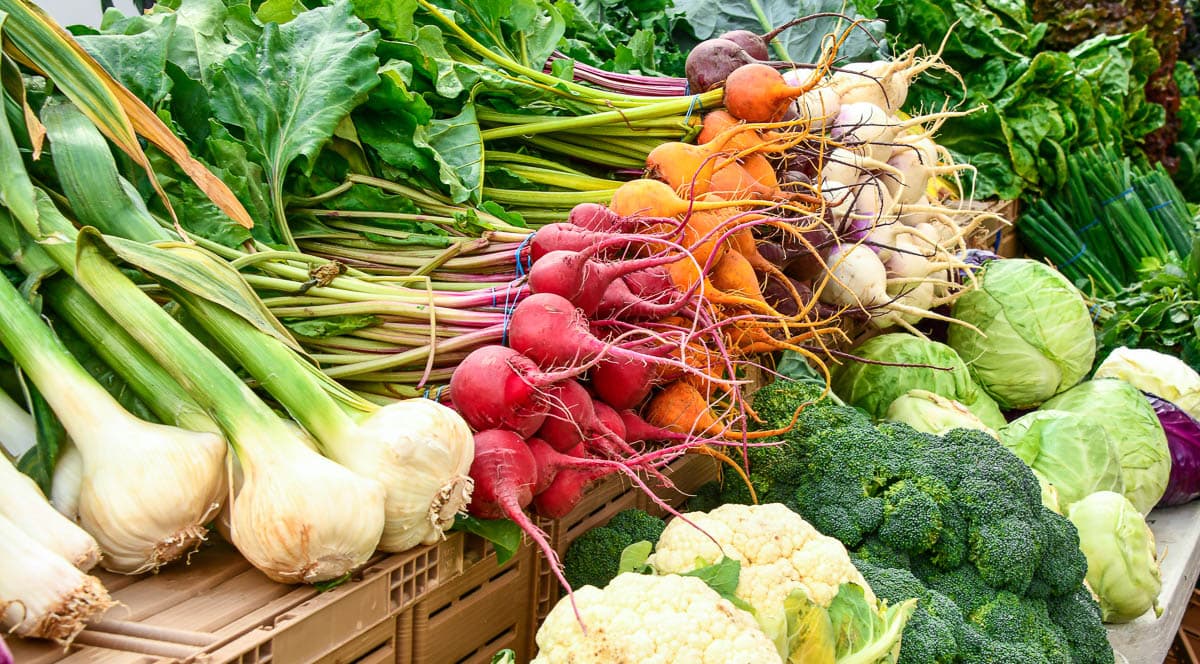 Eating seasonally not only tastes better, but it's also better for your wallet too. Produce eaten when it should be harvested naturally has better flavor, more nutrients and is prettier. Plus, seasonal produce is way cheaper than those strawberries you're eyeballing in February.
Check out what's fresh in your area during winter and focus on recipes that use those fruits and veggies.
Here's what is typically fresh in the United States during winter months (and what I use in many of these healthy winter recipes!).
Winter produces focuses on fruits high in Vitamin C and hearty, filling root vegetables to get us all through the colder months.
Eat Fresh this Year
If I'm gonna eat healthily I need a plan. Relying on my 4:30 pm brain is not going to produce a well-rounded dinner for my family.
So instead I turn to my Rawk the Year meal planner that's loaded with healthy winter recipes my kids will actually eat. I can choose recipes based on what I have on hand, or create a shopping list to meal prep on the weekend and set myself up for success.
What are your go-to recipes this season? Leave a comment and let me know!