A simple way to eat more vegetables is to add in a dip. Yet not all dips are created the same! I need my snacks to be filling as well as delicious, so I pair my carrot sticks and bell peppers with this homemade hummus recipe. It's got healthy fat, which works with veggies to fuel me through the day. Plus, a healthy hummus recipe can be used in so many different ways!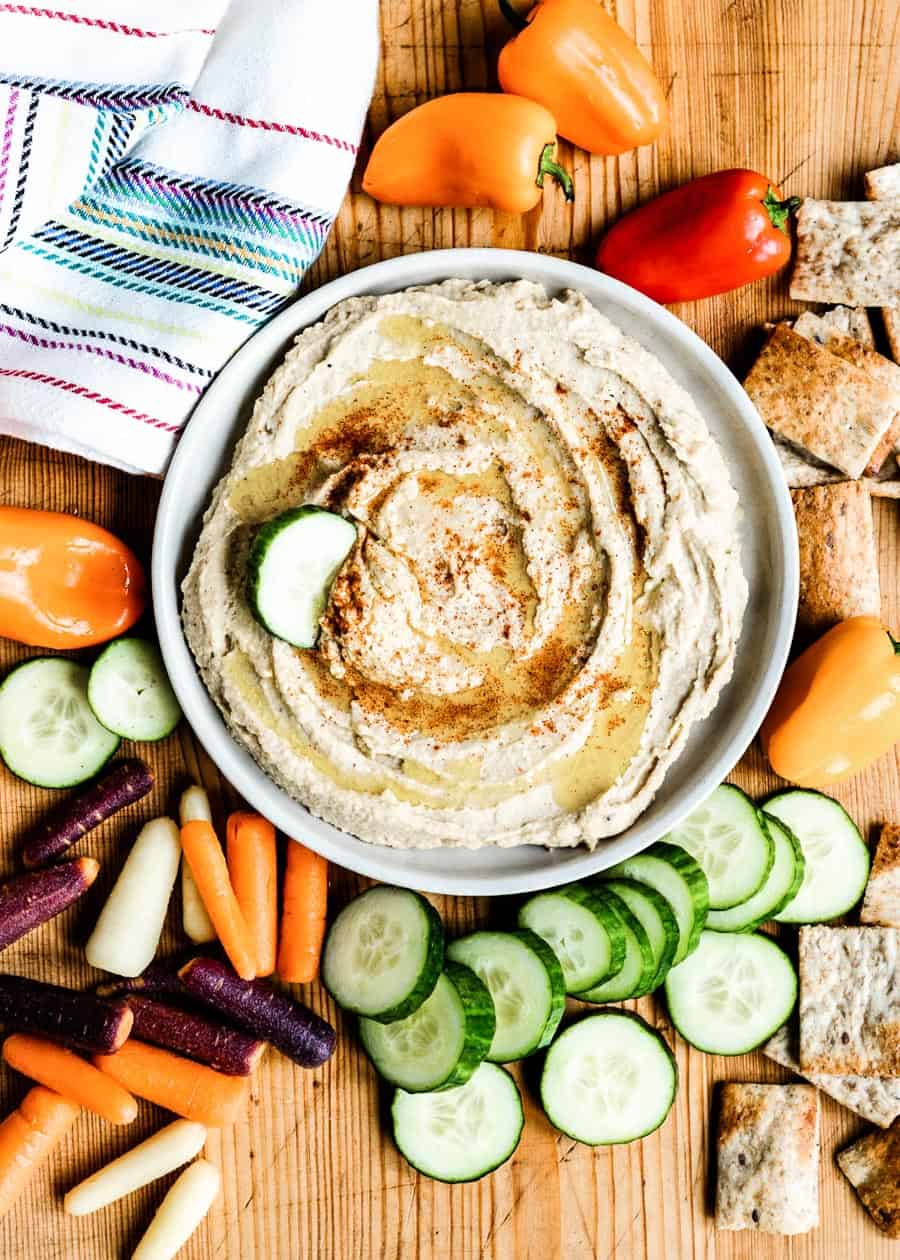 I obviously use hummus as a dip with fresh veggies. Yet I also use it as a spread on a good piece of ciabatta bread piled with grilled vegetables. It works great on vegan pizza crust, lettuce wraps, or in a rice bowl. I love using it as a dip for a charcuterie board as well or in a layered Greek dip.
Table of Contents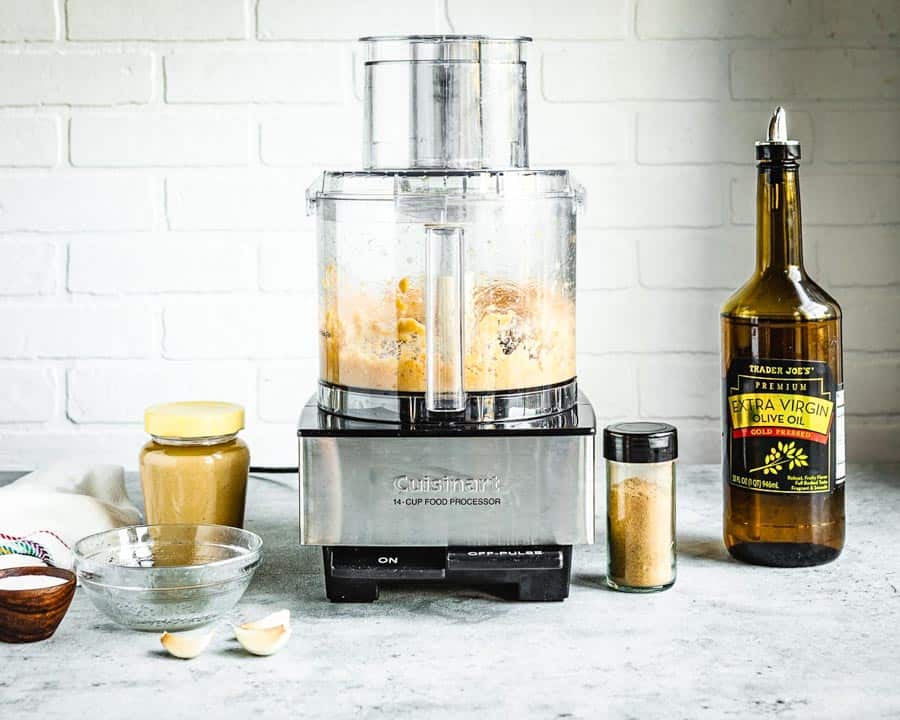 Simply Healthy Hummus Recipe
Create a flavorful snack in just 5 minutes; are you ready?!
Place the chickpeas into a food processor or blender, then pulse to chop.
Add the remaining ingredients, process or blend until smooth. Stop and scrape down the sides as needed. If you choose one of the variations I suggest below, then add those ingredients in at this step as well.
Transfer to a bowl, drizzle with a little extra olive oil and sprinkle with a little more paprika.
If you wanna keep this homemade hummus super easy, then baby carrots, pre-cut celery or those adorable baby sweet peppers make great additions. Publix has a whole section of pre-cut vegetables I love grabbing if I need a snack while shopping.
Don't forget to leave a comment and let me know how this turned out for you! What fun ingredients did you add?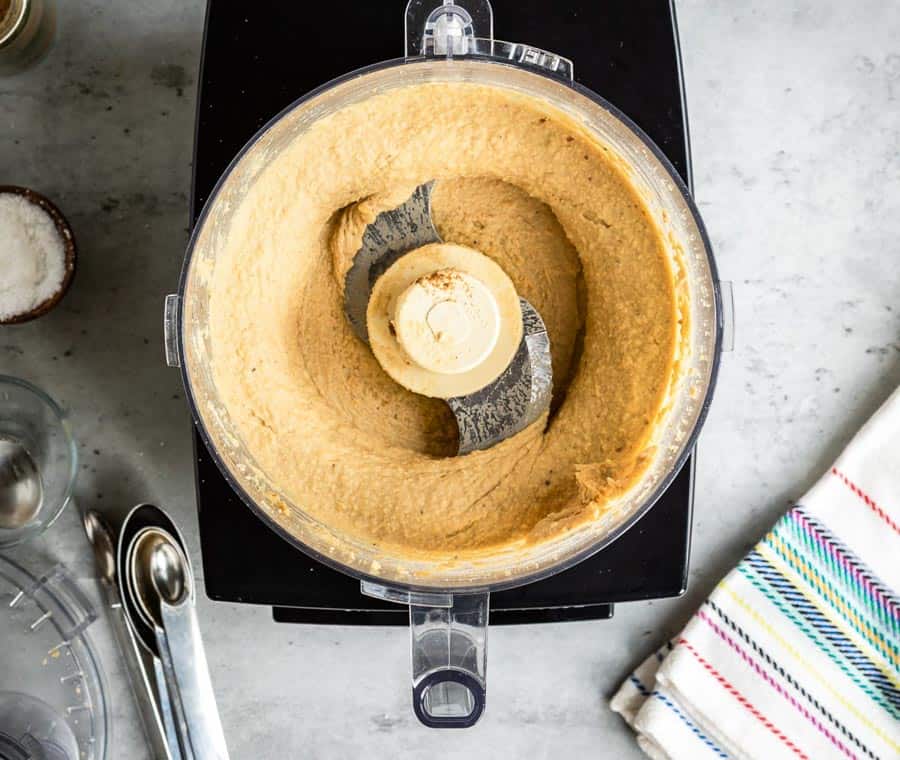 Homemade hummus FAQs
Is homemade hummus bad for you?
No! Our bodies need healthy fat and protein to thrive, which hummus provides in a delicious package. My homemade hummus recipe is made from 100% real plant ingredients with no weird additives. You can customize it to your taste preferences and turn this into a weekly snack recipe.
What can I use instead of tahini in hummus?
Tahini is sesame seeds ground into a paste. If you need a swap, then I suggest using cashew butter or almond butter. Sunbutter is also a great alternative. Make sure whatever nut butter you choose is super smooth.
Is homemade hummus healthier than store bought?
It definitely can be. Homemade hummus is actually pretty quick to make (my recipe takes 5 minutes!) and you know exactly what's in it. Store bought brands often contain additives, preservatives, and flavor enhancers that aren't whole food ingredients. Always read labels when buying from the store, so you know what you're putting in your body.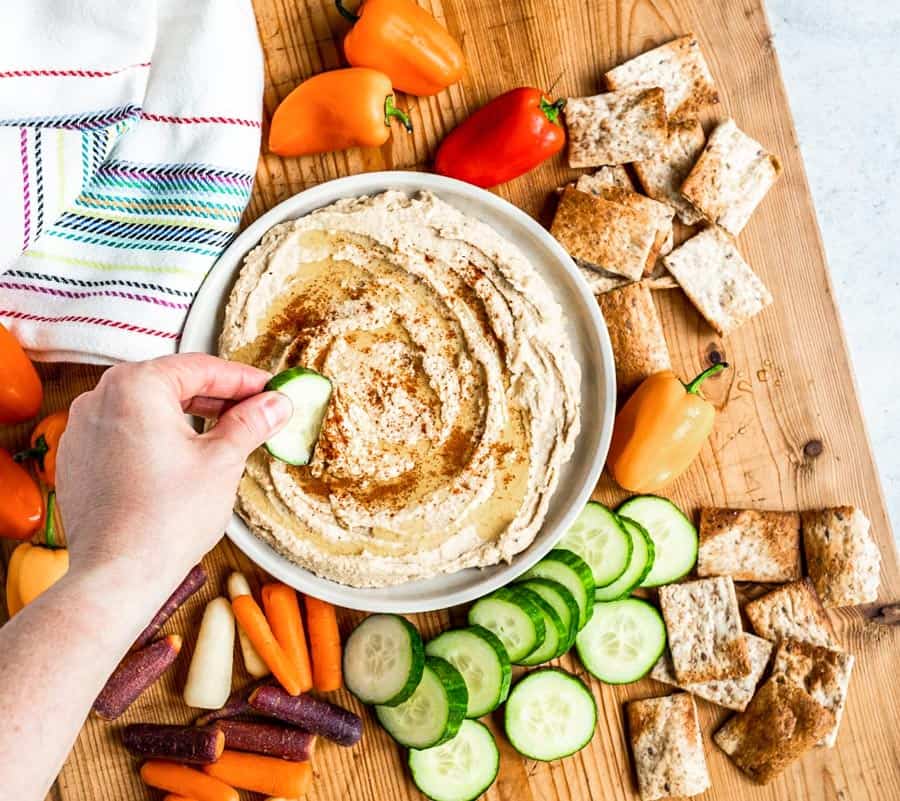 4 Easy Variations
I love how this homemade hummus recipe can be the base of a few different taste variations. Feel free to doctor this up! I love the following options (add in step 2):
Roasted Red Pepper – add 1/2 roasted red pepper (jarred or fresh), 1 teaspoon chili powder, and 1 teaspoon paprika
Pesto – add 1/4 cup pesto
Artichoke and Spinach – add 1/4 cup marinated artichoke hearts, drained, and 1/4 cup spinach
Sun-dried Tomato – add 1/2 cup softened sun-dried tomatoes plus 1 teaspoon dried basil
I'm all about snacks that I can easily change based on what's in my pantry. If you've got a fav store bought brand with certain ingredients, then use this recipe as the base to recreate your preferred version at home.
Hummus origins
It's safe to say hummus originated in the Middle East… yet many different countries lay claim to inventing this savory snack. Though it's not certain exactly where and when this snack was created, we agree that traditional hummus contains chickpeas, tahini, garlic and lemon. And depending on where you try it, the combination of these ingredients, amounts and local flavors create a unique dish every time.
Healthy Snacks To-Go
Snacking is a way of life for many people. Instead of 3 large meals a day, many Americans eat smaller 'meals' throughout the day. Yet have you ever noticed that you eat a snack, feel satisfied, then 30 minutes later you're just as hungry as you were before the snack? I make sure my snacks are balanced with protein, healthy fat, and whole food carbs so that my body can breakdown, then use that snack as energy.
A few tips— When I eat a granola bar, I often top it with almond butter for healthy fat. My smoothies are boosted with homemade protein powder to provide healthy fat + protein. I often combine 2 snacks to ensure I get a good balance of macros and fill up :-).
Make snacking fun + filling. Use the snacks like this healthy hummus recipe to fuel your body the right way, then chase your passions. You'll notice a big difference in your energy, conquering the dreaded 'mid-day slump' without caffeine, and sleeping better when you are constantly refueling with foods that help you instead of harm you.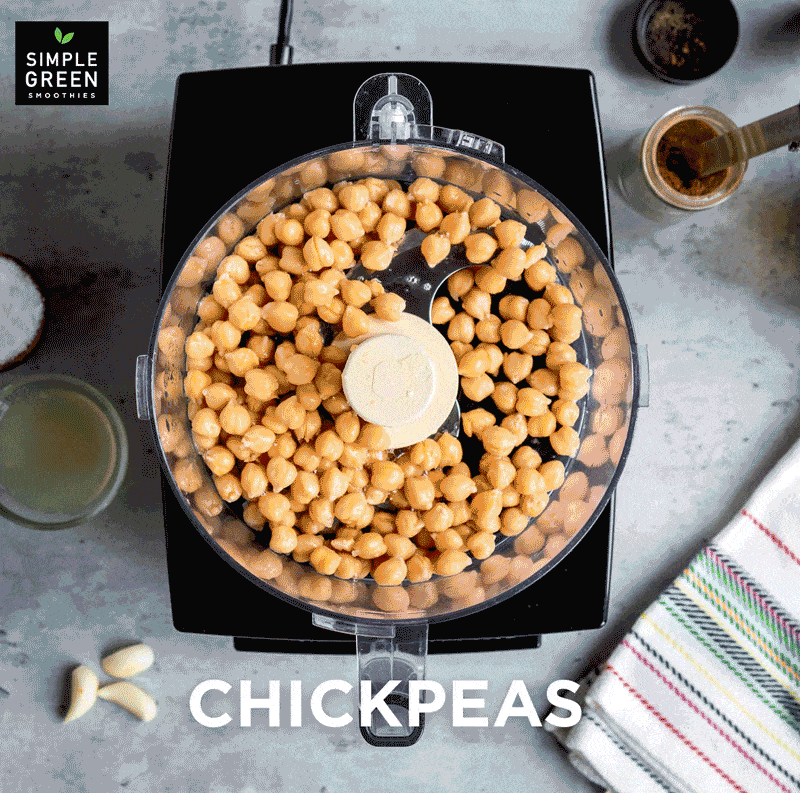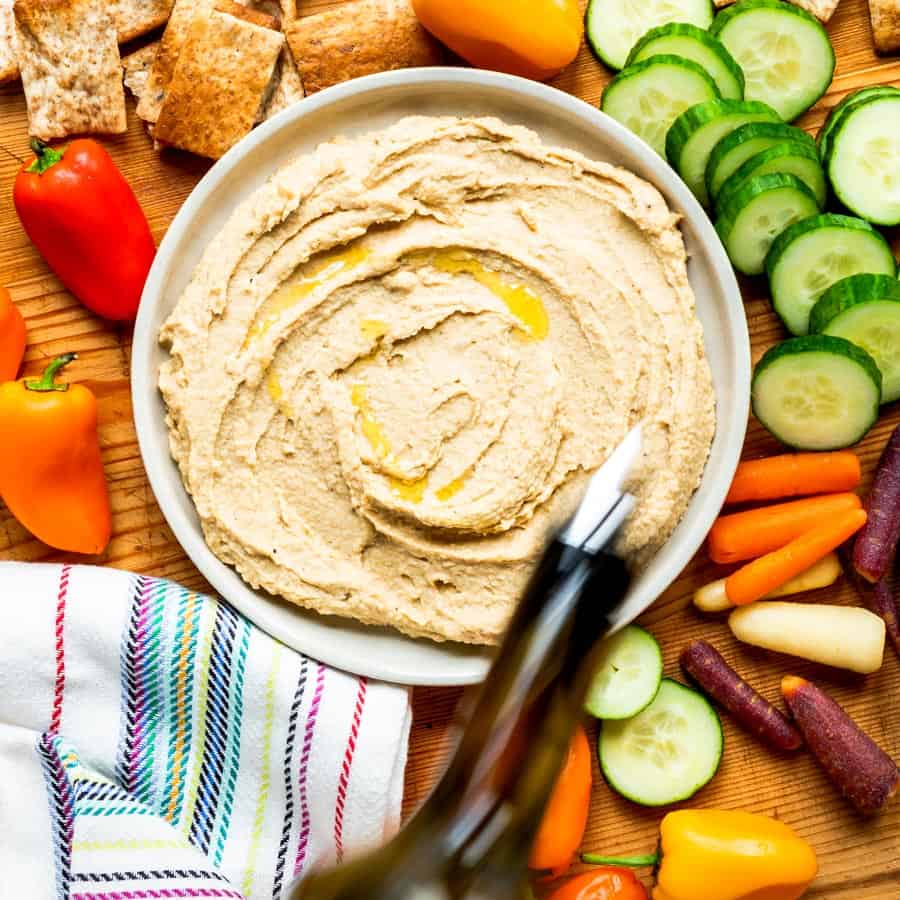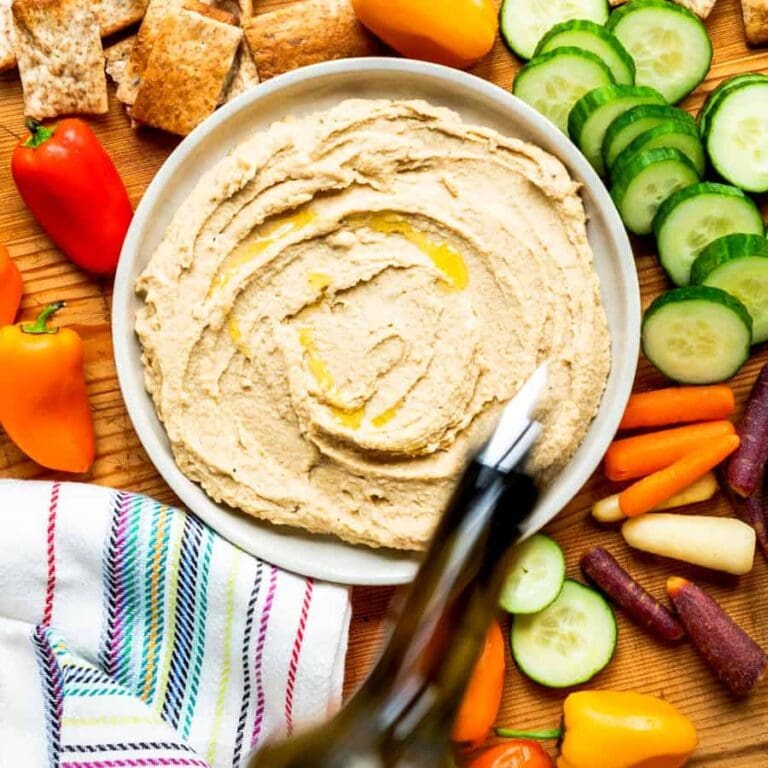 Homemade Hummus
With this recipe on hand, you'll never need store-bought hummus again! Along with iron-rich chickpeas, we've included loads of fresh, vibrant herbs to add extra vitamins, minerals to this herb hummus.
Ingredients
1

15-oz can

chickpeas

drained and rinsed

3

garlic cloves

3

tbsp

lemon

juiced

½

cup

olive oil

plus more for drizzling

2-4

tbsp

tahini

to taste

½

tsp

sea salt

1

tsp

cumin

ground

⅛

tsp

smoked paprika

everything bagel sprinkle

optional

fresh vegetables of your choice: carrots, bell peppers, radishes, celery, broccoli, cauliflower, etc.
Instructions
Place chickpeas into a food processor or blender then pulse to chop.

Add the remaining ingredients and process or blend until smooth. Scrape down the sides as needed.

Transfer to a bowl, drizzle with a little olive oil and sprinkle with everything bagel seasoning
Notes
Variations:
Roasted red pepper- add 1/2 roasted red pepper (jarred or fresh), 1 tsp chili powder, and 1 tsp paprika in step 2.
Pesto- add 1/4 cup pesto in step 2.
Artichoke and spinach- add 1/4 cup marinated artichoke hearts, drained, and 1/4 cup spinach in step 2.
Sun-dried Tomato- add 1/2 cup softened sun-dried tomatoes plus 1 tsp dried basil in step 2.
Other Notes:
Tahini can be a little bitter or strongly flavored. Start with 2 tbsps and add more to taste. 
Freeze hummus in 1/4 or 1/2 cup portions and take out + thaw a bit before enjoying.
Swap tahini with a nut or seed butter of your choice. Note that this will change the flavor/consistency slightly depending on what you use. 
Nutrition
Calories:
291
kcal
,
Carbohydrates:
3
g
,
Protein:
2
g
,
Fat:
31
g
,
Saturated Fat:
4
g
,
Polyunsaturated Fat:
5
g
,
Monounsaturated Fat:
21
g
,
Sodium:
295
mg
,
Potassium:
65
mg
,
Fiber:
1
g
,
Sugar:
1
g
,
Vitamin A:
17
IU
,
Vitamin C:
6
mg
,
Calcium:
21
mg
,
Iron:
1
mg