Pucker up and sip on this lovely lemon smoothie. Learn how to make a lemon smoothie with ease and enjoy all the brightness these vibrant fruits have to offer.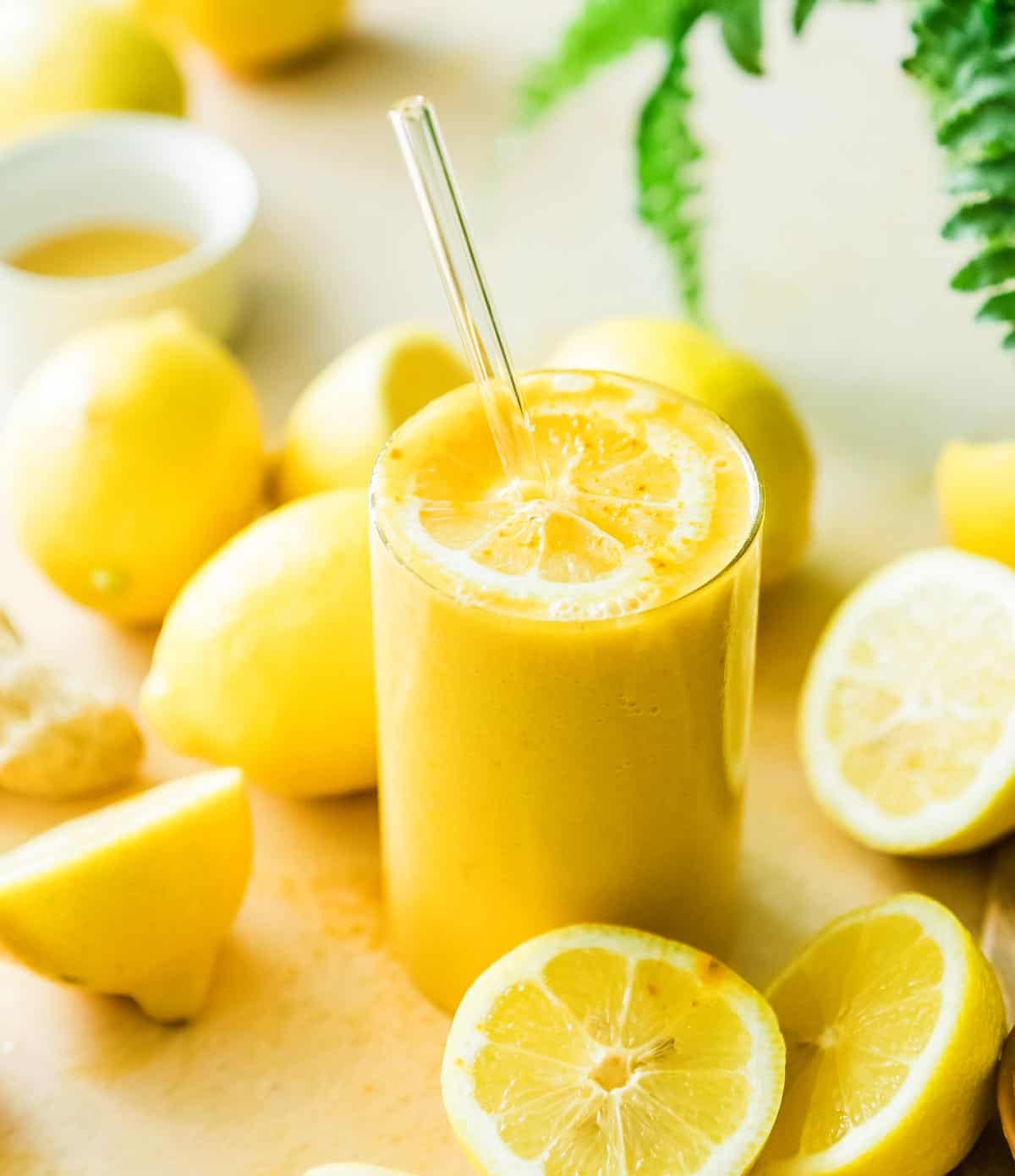 This vibrant and refreshing smoothie is just what your body needs to stay energized and healthy. Frozen peaches, lemon and honey as well as ginger and turmeric are blended into a nutritious drink. It even tastes like a blast of citrusy sunshine. Just 5 wholesome ingredients (plus water) are needed to learn how to make a lemon smoothie, and drink to your health.
Table of Contents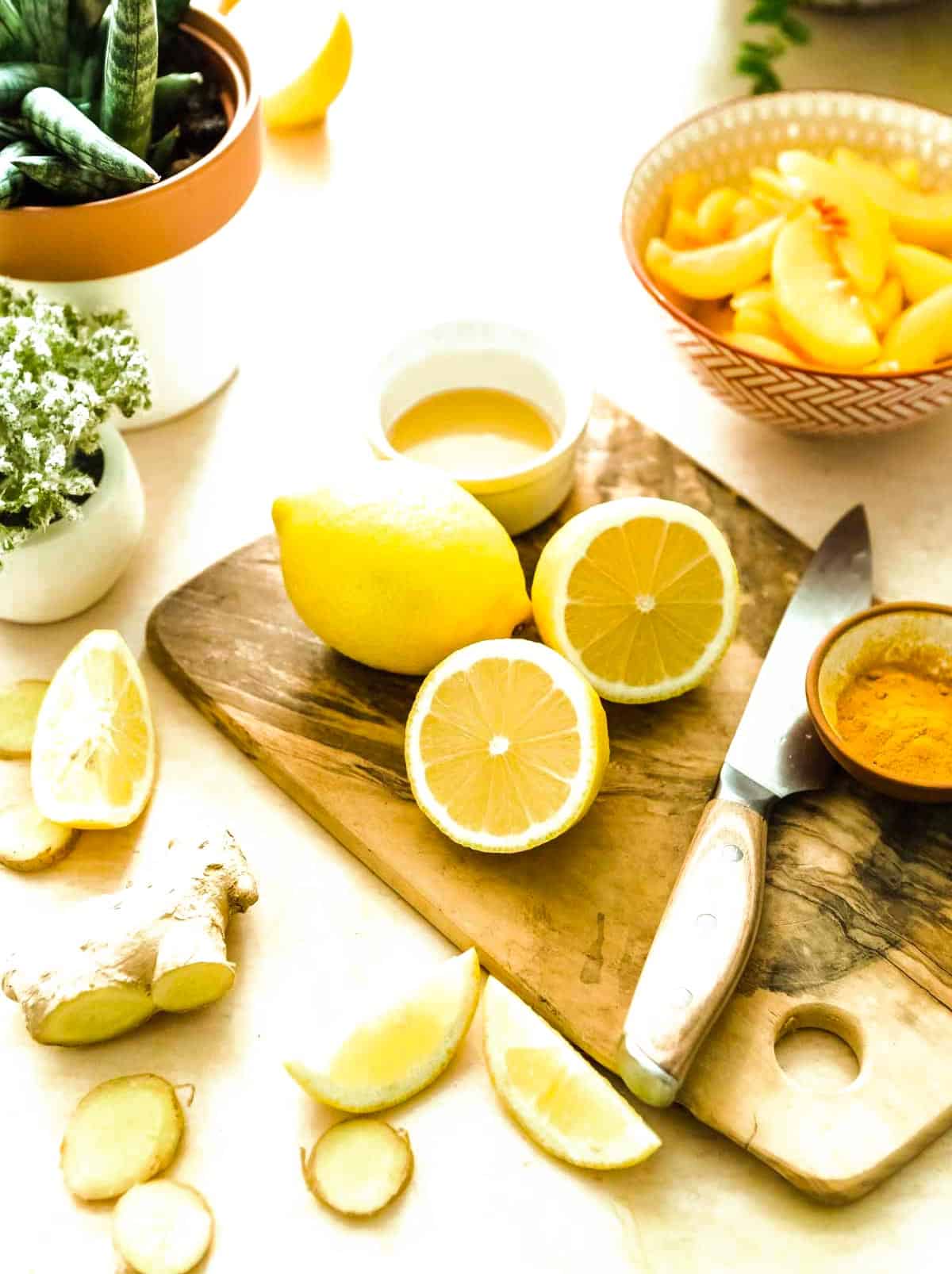 Health Benefits of a Lemon Peach Smoothie
Lemon: This smoothie calls for a whole lemon without the rind. Lemon flesh provides fiber to help you feel full longer. Lemons also give this smoothie a dose of vitamin C, which is just what your body needs to fend off both cold and flu viruses.
Peaches: Peaches are in the stone fruit family, and stone fruit gets its name from the hard, inner seed. They are an excellent source of vitamin C to support a healthy immune system. Peaches may also prevent certain types of cancer and aid in digestion.
Honey: Honey not only adds natural sweetness to this lemon smoothie, it's also a natural energy booster. Look for raw honey in the baking aisle of your grocery store. Unlike pasteurized honey, Raw honey does not undergo the heating process, and all of the nutrients are preserved. Raw honey has antioxidant and natural anti-bacterial properties that can help improve digestive system as well as help you stay healthy.
Ginger: Ginger contains the anti-inflammatory compound gingerol. Ginger also helps promote healthy digestion, lower blood pressure, and increased immunity. Peel the skin from the ginger with a sharp paring knife before grating the flesh.
Turmeric: Turmeric contains curcumin, a powerful anti-inflammatory compound. The medicinal effects of turmeric work at the molecular level to tame inflammation that leads to diseases like heart disease, cancer, metabolic syndrome, and Alzheimer's. Turmeric delivers antioxidants for boosting your immune system. If you don't have access to fresh turmeric for your lemon smoothie, then you can swap in dried powdered turmeric. If using fresh, then use about a ½ tablespoon-sized knob. Peel the turmeric first, then grate before adding to the blender.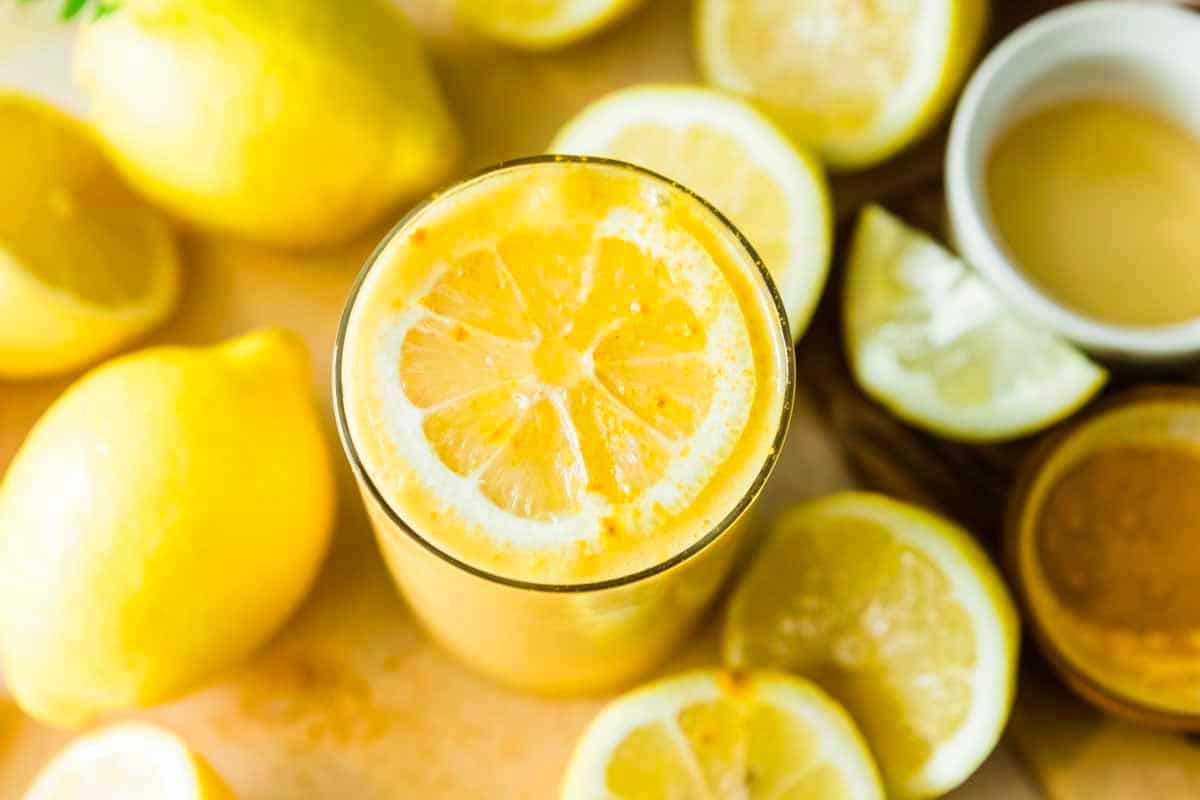 How to remove the rind from a lemon
Wash and dry the lemon before cutting.
Lay the lemon lengthwise on the cutting board. Hold the lemon with one hand and cut the top end off the lemon, removing about ¼"- ½". Repeat with the bottom end.
Sit the lemon on one of its freshly cut flat ends on the cutting board. The lemon will now stay upright as you cut the peel from the sides.
Carefully cut the rind from the lemon in strips from the top to the bottom, following the curve of the lemon. Cut as close to the lemon flesh as you possibly can, removing the white pith along with the rind. Discard the rind and cut the lemon flesh into quarters. This fleshy part of the lemon contains the fiber, and adding this to your smoothie will keep you feeling full longer.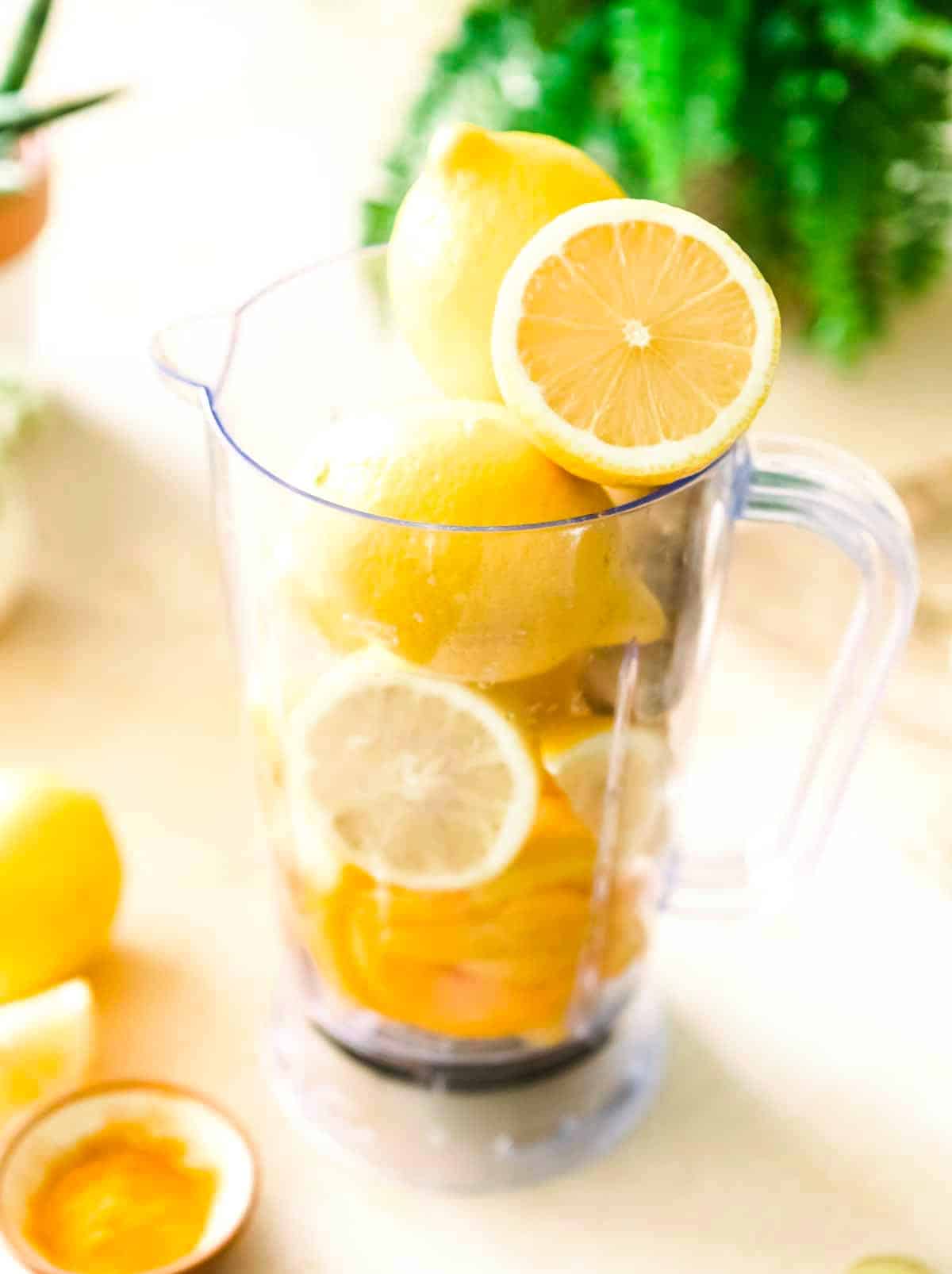 How to Make a Lemon Smoothie
Combine the frozen peaches, lemon, honey, ginger and turmeric in a high-power blender. Blend until creamy and smooth. Add water for a thinner consistency.
Make this immune-boosting lemon peach smoothie part of your weekly breakfast routine. Get healthy and energized as you sip on this delicious and wholesome smoothie.
Boosting with protein
If you're looking to turn this smoothie into a meal, then I recommending boosting it with a plant-based protein powder. My protein powder recipe offers 10 grams of plant based protein, along with 4 grams of healthy fat and 7 grams of fiber.
Boosting smoothies like this lemon smoothie helps keep you full longer, as well as helps the body turn the natural sugar from this smoothie into useable energy.
More Lemon Smoothie Recipes
I love adding lemon to my smoothies so I have some more fun recipes to share with you!
If you blended a smoothie that tastes less than great, then try adding a squeeze of fresh lemon juice to it. Lemon can help brighten up that smoothie a bit, as well as bring the other flavors together.
If you find lemons a bit too tart for a smoothie, then try buying Meyer lemons. I can seriously eat these lemons by themselves, they are so sweet and juicy.
Would you please rate + review this smoothie once you make it? Your reviews help so much!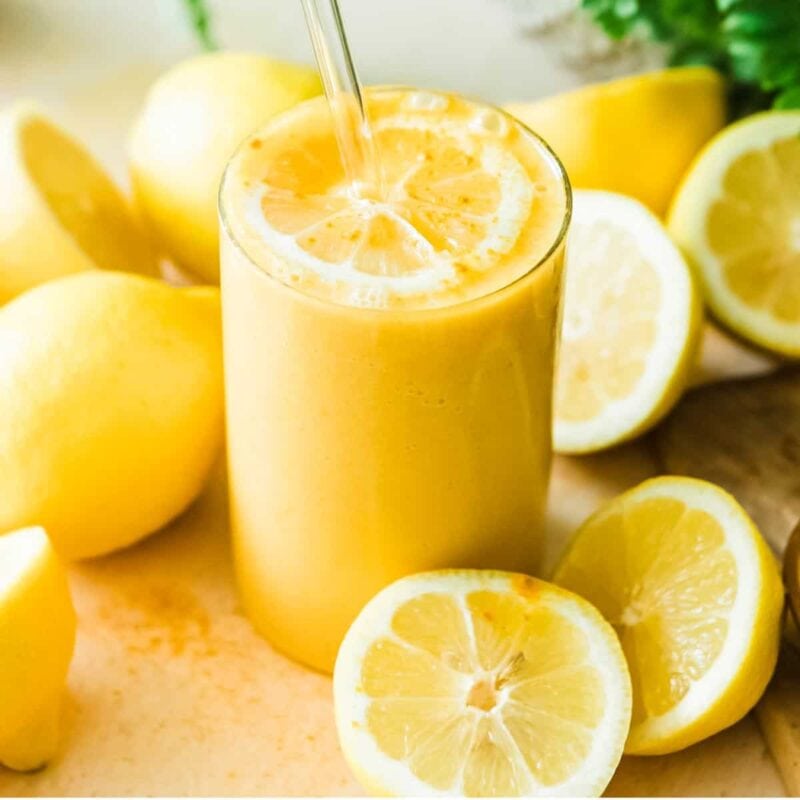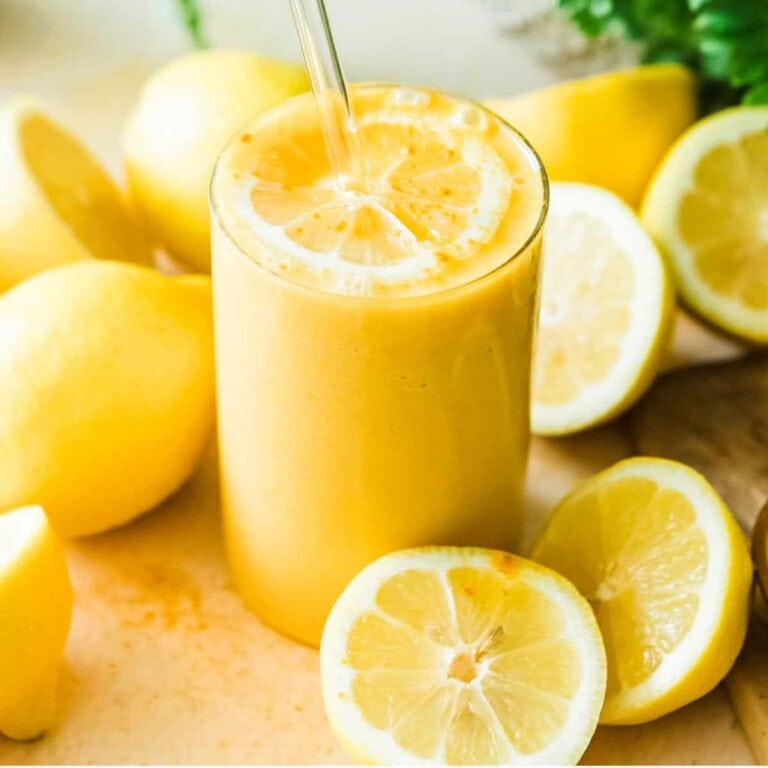 Perfect Lemon Smoothie
Light, refreshing, and perfect for warm weather, this lemon smoothie is a great start to summer. The sweet peaches offset the tart lemon, while the fresh ginger brings out a bit of tang. 
Ingredients
1

lemon

peeled

½

cup

water

1

tbsp

honey

½

inch

ginger root

fresh

1

cup

peach

frozen

½

tsp

ground turmeric

1

serving

homemade protein powder

optional
Instructions
Blend all ingredients until smooth.

Pour into a tall glass and enjoy.
Notes
To make this smoothie vegan, replace honey with maple syrup.
Meyer lemons are slightly sweeter than traditional lemons, which can help if you don't love the pucker or a lemon.
Use at least 1 frozen fruit for a refreshingly cool smoothie.
Nutrition
Serving:
16
oz
,
Calories:
137
kcal
,
Carbohydrates:
35
g
,
Protein:
2
g
,
Fat:
1
g
,
Saturated Fat:
1
g
,
Polyunsaturated Fat:
1
g
,
Monounsaturated Fat:
1
g
,
Sodium:
8
mg
,
Potassium:
374
mg
,
Fiber:
3
g
,
Sugar:
31
g
,
Vitamin A:
504
IU
,
Vitamin C:
22
mg
,
Calcium:
18
mg
,
Iron:
1
mg