I'm back with another 7-day FREE meal plan to help you eat to a better life. This Mediterranean diet meal plan focuses on Mediterranean-inspired recipes as many people in this area of the world have historically lived longer, healthier lives. In studying why this is so, food is a big part of it!
My Mediterranean diet 7-day meal plan features whole food recipes that will help you naturally gain energy.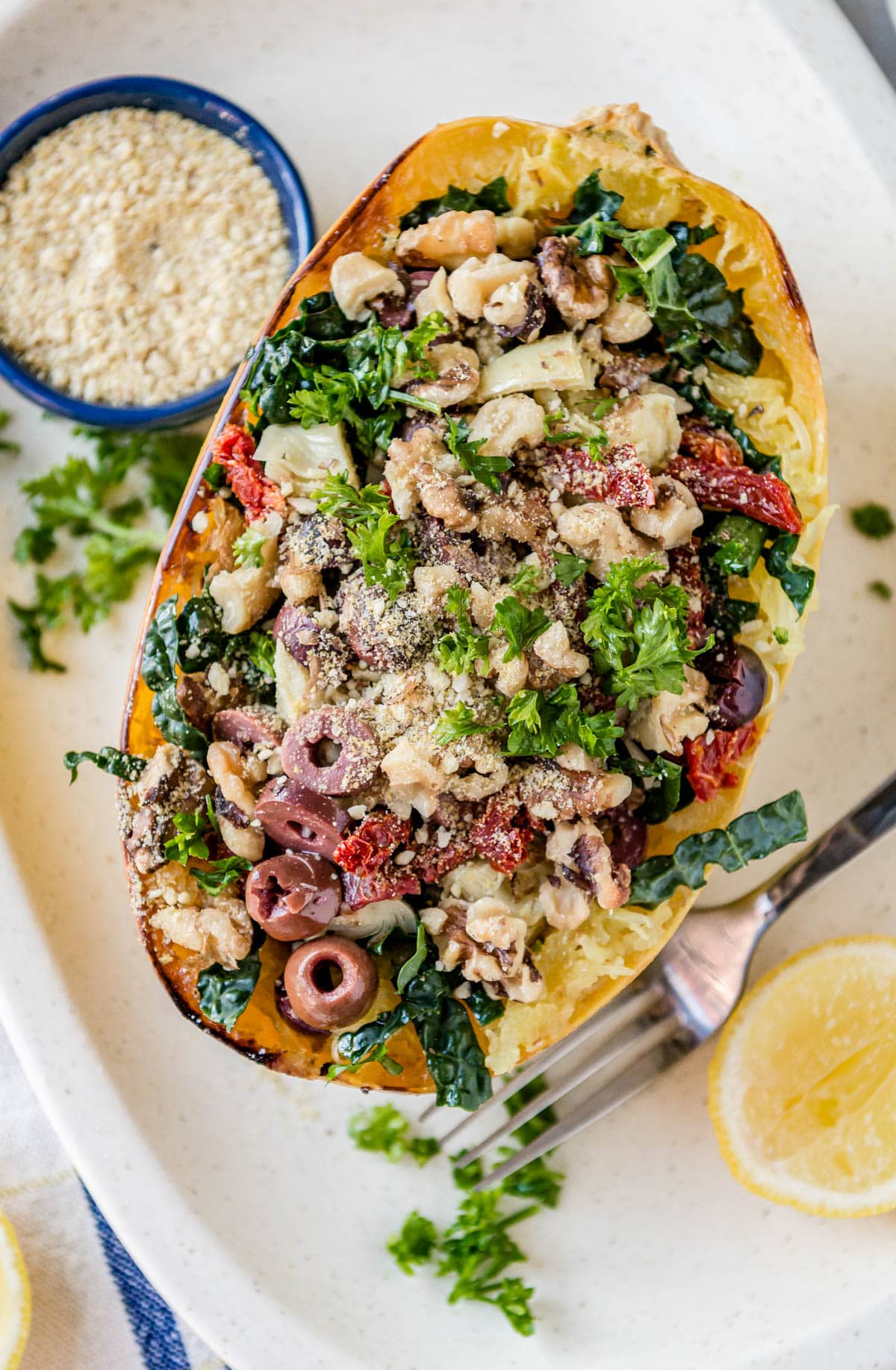 Let me take the guesswork out of what you'll eat this week. Just download my free PDF below which contains a menu, shopping list and all the recipes you'll need for a week of satisfying yet simple meals and snacks.
Table of Contents
What is the Mediterranean Diet?
This style of eating is based on the ingredients and way of cooking throughout the countries that border the Mediterranean Sea. The 'diet' itself started in the 1950s after research showed that people in this region of the world had fewer instances of heart disease than Americans.
This plan focuses on whole food plant-based ingredients like whole grains, fruits, vegetables, legumes, nuts and seeds as well as herbs. Healthy fats like olive oil are also used. My Mediterranean diet 7-day meal plan, inspired by Mediterranean flavors, uses these ingredients in creative and mostly non-salad ways to bring you delicious meals without a lot of effort.
Download: Free Mediterranean-Inspired Meal Plan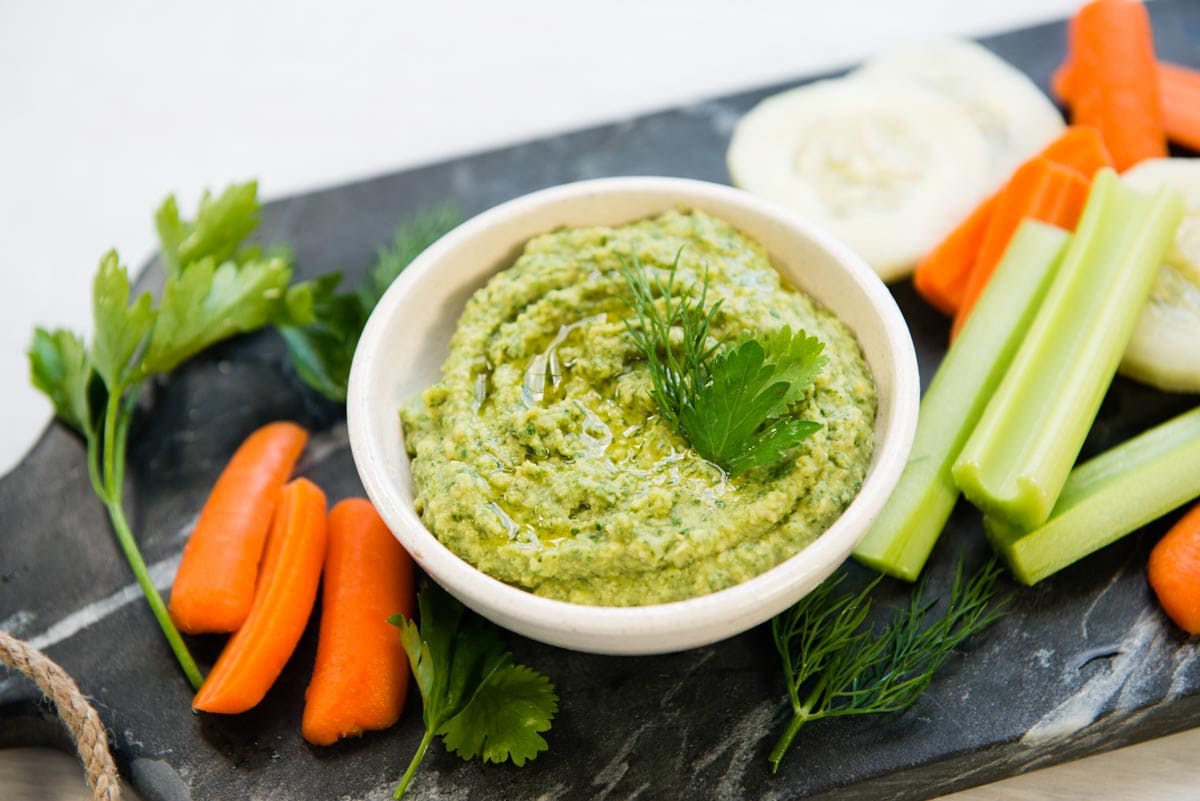 With this free Mediterranean diet meal plan, you get three breakfast recipes rotated throughout the week (one recipe can be made ahead and then portioned out for the week), three snacks (two which can be prepped ahead) as well as seven satisfying dinners. All recipes are whole food plant-based and will actually fuel your day.
This meal plan is based on two people, so get ready for easy lunches with dinner leftovers or double the shopping list for a family of four. You do you! If you're worried that rabbit food is on the menu for the week, then take a breath now. If I want to eat healthily, then I need to eat good food. So that's what I'm bringing to you!
Download the Mediterranean Diet Meal Plan
Antioxidant Powered Breakfasts

This free meal plan uses smoothies to start the day. Don't forget to add in a homemade protein powder with both healthy fats and protein to make these smoothies a meal.
My smoothies are made with whole food, plant-based ingredients… no weird stuff. You can add leafy greens to any recipe you want for added fiber, or enjoy as-is.
Energizing Snacks

Snacks are just as important as meals in my opinion. They can help curb hunger (or make you hungrier!) depending on the ingredients. So I focus on snacks that include a good balance of protein, healthy fats and carbs. Also, I have to like my snack food if I'm going to eat it over something processed, so these recipes are Jen-approved!
Strawberry Snack Bowl, featured in the Autumn Cleanse.
Herb Hummus, featured in the Spring Cleanse.
Savory Trail Mix, featured in the Winter Cleanse.
Colorful Dinners

No boring dinners at your house this week! Instead, you'll feast on filling whole food and might even have leftovers to make the next day's lunch a breeze. I personally created these recipes and share them with my family.
Mediterranean Meal Plan FAQs
What do you eat for breakfast on a Mediterranean diet?
My 7-day free meal plan focuses on easy breakfasts through smoothies. They take about five minutes to make, yet are full of plants to help energize you for the day ahead.
What is a typical Mediterranean diet dinner?
The seven dinner recipes in my meal plan focus on getting a variety of plants on your plate. I've got tacos, soups, salad and veggie bowls that are full of flavor and nourishing ingredients.
What is not allowed on the Mediterranean diet?
The Mediterranean diet focuses on whole foods, mostly plants and getting as much variety as possible. My 7-day free meal plan ditches the meat (though you can easily add it into the dinner recipes if you want!) and focuses on nutrient-dense plants. Steer clear of processed foods, dairy and refined grains this week and focus instead on whole food plant-based ingredients.
More Plant-Forward Meal Plans
If you loved this meal plan, then try out a few more:
I created these menus inside my Rawk the Year: Meal Planner. I created this because I needed a one-stop-shop of recipes I knew my family would enjoy. Plus, I can choose to take the next week's plan as is or customize it to fit my family's schedule. If you want the easiest way to add more plants to your diet, then give this awesome planner a try!
Don't forget to review this post once you've given my meal plan a try. I'd love to get your feedback!