This Mexican-inspired Mangonada recipe is a seriously flirty summer drink. You can blend at home using all plant-based ingredients to create a flavor-packed smoothie that's healthy and tasty.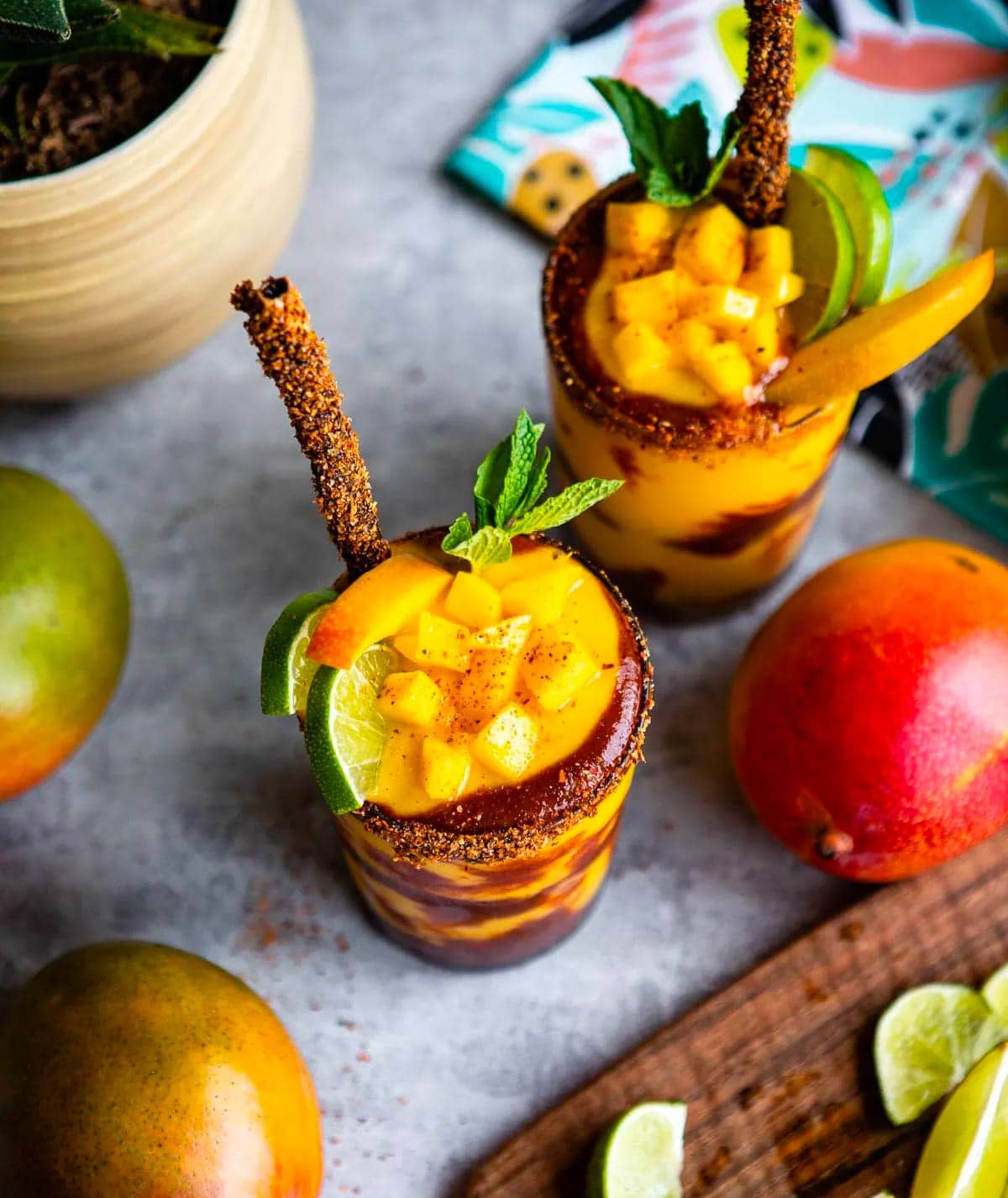 This mangonada recipe has got it all: sweet, tangy, spicy and colorful. It is the perfect frozen treat for a hot day and this recipe makes enough to share with a friend. My version is based on the popular Mexican drink, yet modified to align with my plant-based lifestyle.
Mangonada, also called mango chamoyada, is a fun blend of tropical fruits and chamoy sauce. I promise the end result is totally worth it. It's crazy good!
Table of Contents
Mangonada is a newer beverage creation, thought to have originated in Mexico in the 1990s. It starts with a flavorful fruit smoothie base, then adds in layers of chamoy sauce and is finished off with a tamarind straw and a frosted glass rim.
It's non-alcoholic, yet has the look and taste of a specialty cocktail. I don't think anyone would flinch if you added some booze to this if that's your style.
Ingredients in Mangonada Recipe
I created my own healthier Mangonada recipe because Graciela (who is a part of the Rawkstar Team) was raving about the one she'd bought in Guadalajara City, where she lives. I looked into it and realized how good it sounded. Mango, lime and spices— yes, please!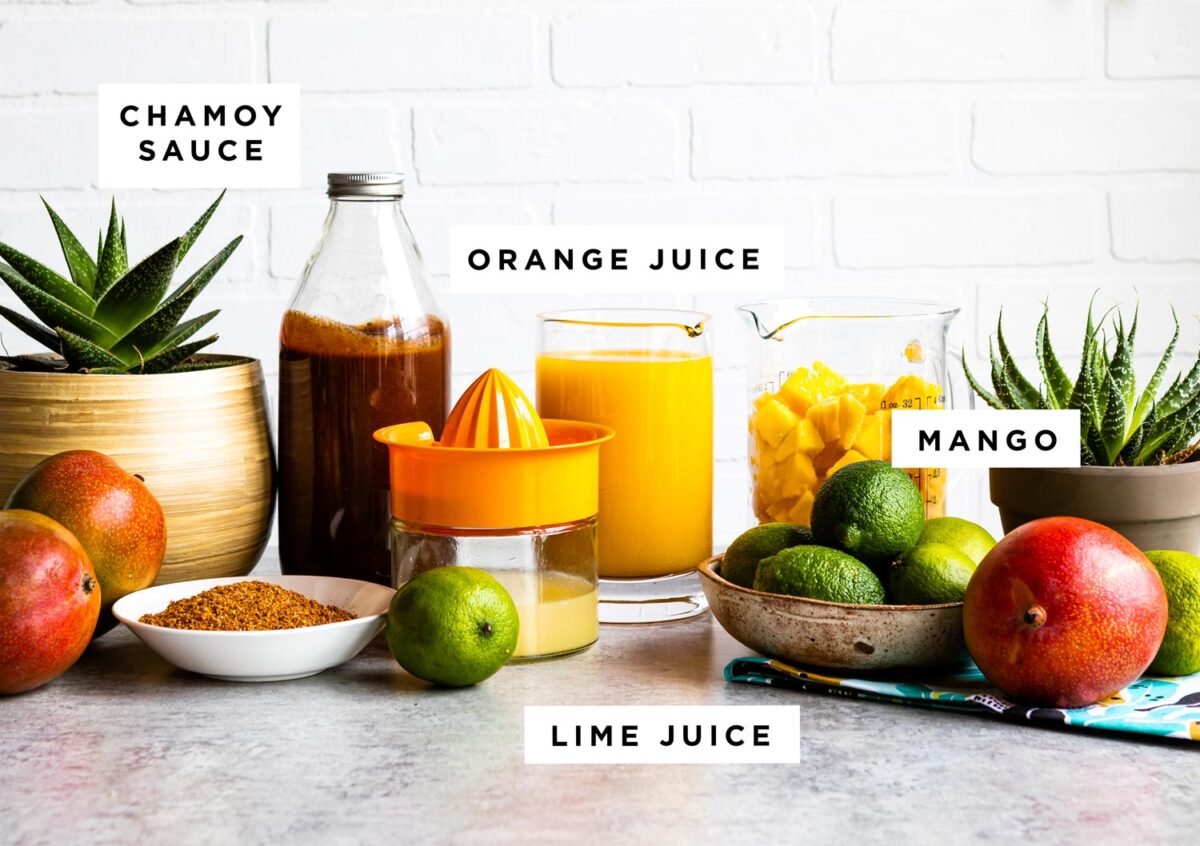 The chamoy adds such a unique and addictive flavor to the tropical fruit base. I had to make my own version that's clean(er) and easy to do, which is how the rawkstar Mangonada came to exist. Enjoy!
The base of this crazy good Mangonada is a mango-lime smoothie. When blending, you want the texture to be sherbert-like. Layer it in a glass with homemade chamoy sauce, then top with freshly cut mango.
Mango: This tropical fruit is packed with vitamin C and fiber. I use frozen mango for a super thick smoothie, then fresh mango (or thawed frozen chunks) for the topping.
Orange Juice: I love the vitamin C boost found in oranges, yet any fruit juice can be used. Peach, apple, pineapple, passionfruit or guava juice are all great options. Swapping in another juice may change the smoothie color if you're trying to serve at a party where presentation is everything.
Lime juice: I recommend using fresh-juiced limes instead of store-bought lime juice. The latter often has preservatives added to it, which aren't necessary.
Chamoy: This sauce is the perfect blend of sweet, salty, sour and spicy all at the same time. You can buy it online (look for ones with clean ingredients- no food dyes, citric acid, or gums) or make your own with my Homemade Chamoy recipe.
Tamarind straw: This chili lime straw is completely optional, or not, depending on your style.
Helpful Blending Tips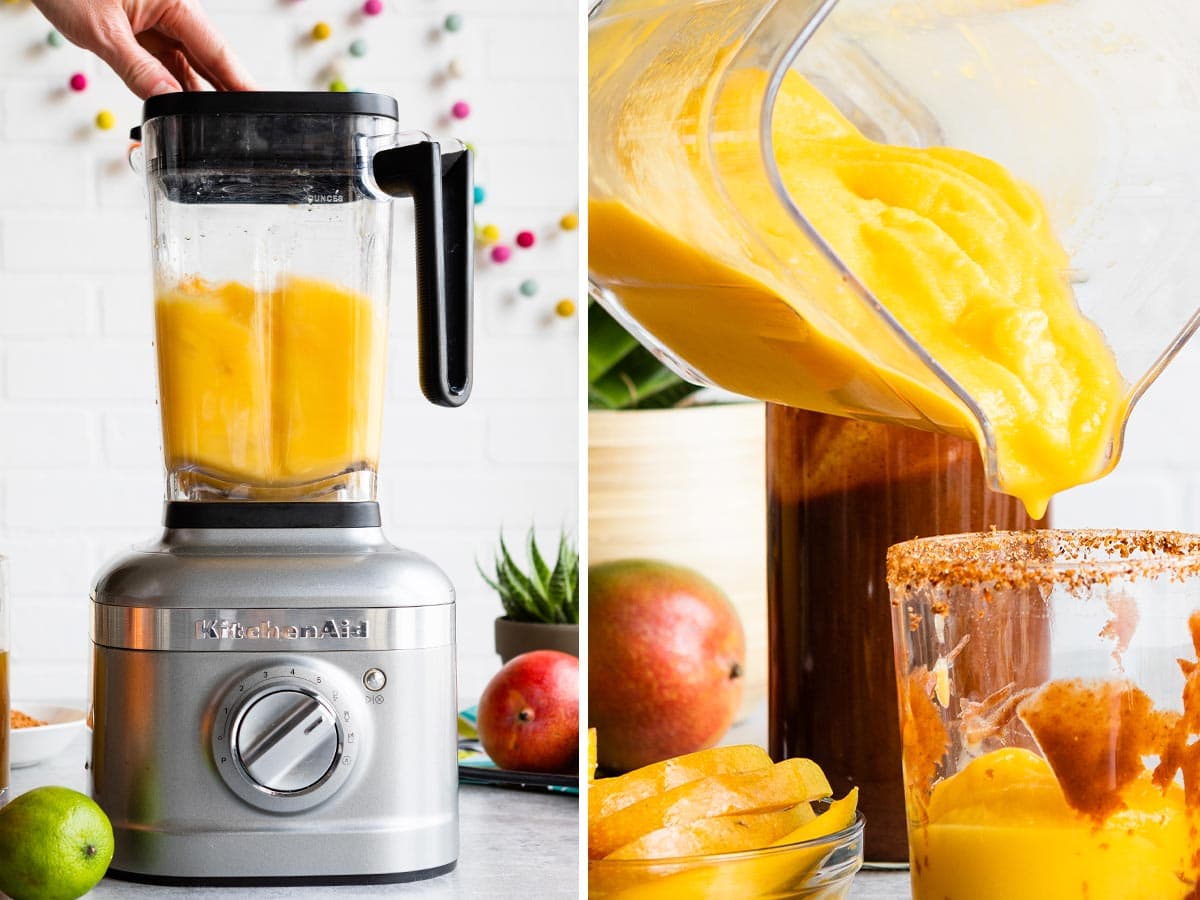 The orange layer of this fruity drink is a blended mango lime smoothie. Yep, just three ingredients: frozen mango, orange juice and lime juice, blended to perfection. You'll want to create a sherbert-like consistency, which is thicker than most smoothies, yet not as thick as a smoothie bowl.
Frozen mango is what thickens this smoothie up nicely.
If you find it too watery, just add more frozen mango and blend again. Feel free to use your blender tamper to help the ingredients blend up nicely. Thicker smoothies tend to need extra help.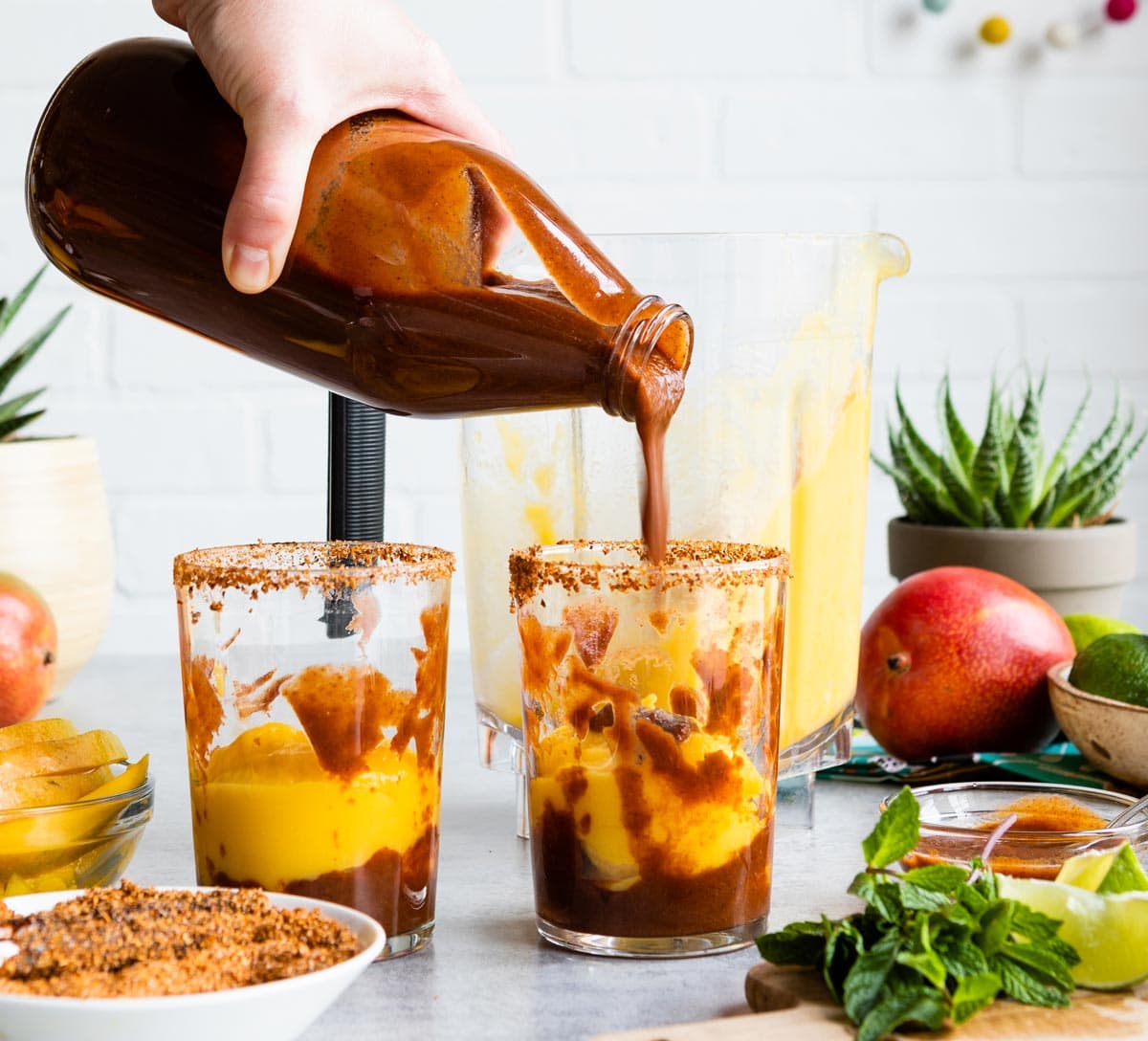 Where to Find Chamoy
You can find chamoy in the international section of a grocery store. It's important to read the label since most store-bought brands include preservatives, dyes and gums. Here are a few options that are clean and rated highly:
Once you realize you like chamoy (and become obsessed with Mangonadas), it's best to make your own. It's pretty easy to make in your kitchen, stores well and you know exactly what's in it.
How to Make a Tamarind Straw
While you don't need the fancy fun straw, it does take this to the next level. I encourage you to go all out with this fun recipe. Here's how to make a tamarind straw to jazz up your new favorite Mangonada recipe.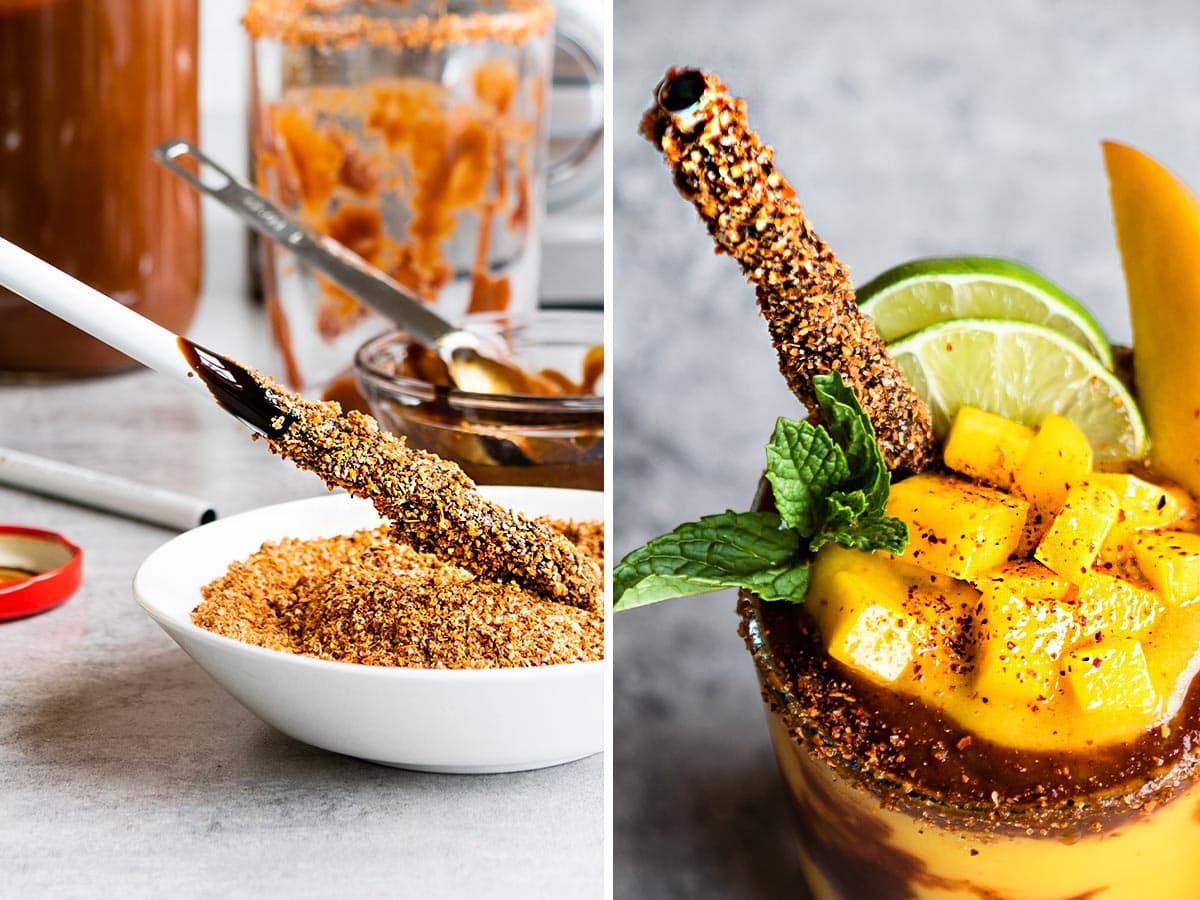 Mix together 1 tbsp honey and 1 tbsp tamarind paste in a small bowl.
Take a straw (paper, metal, plastic) and coat the top 1/3 in the tamarind paste. We used the reusable stainless steel straws that we sell in our online smoothie supply shop.
Next, roll the coated end of the straw in Tajín to coat it completely in goodness.
That's how you make a flavor-packed tamarind straw. Pretty dang easy, right?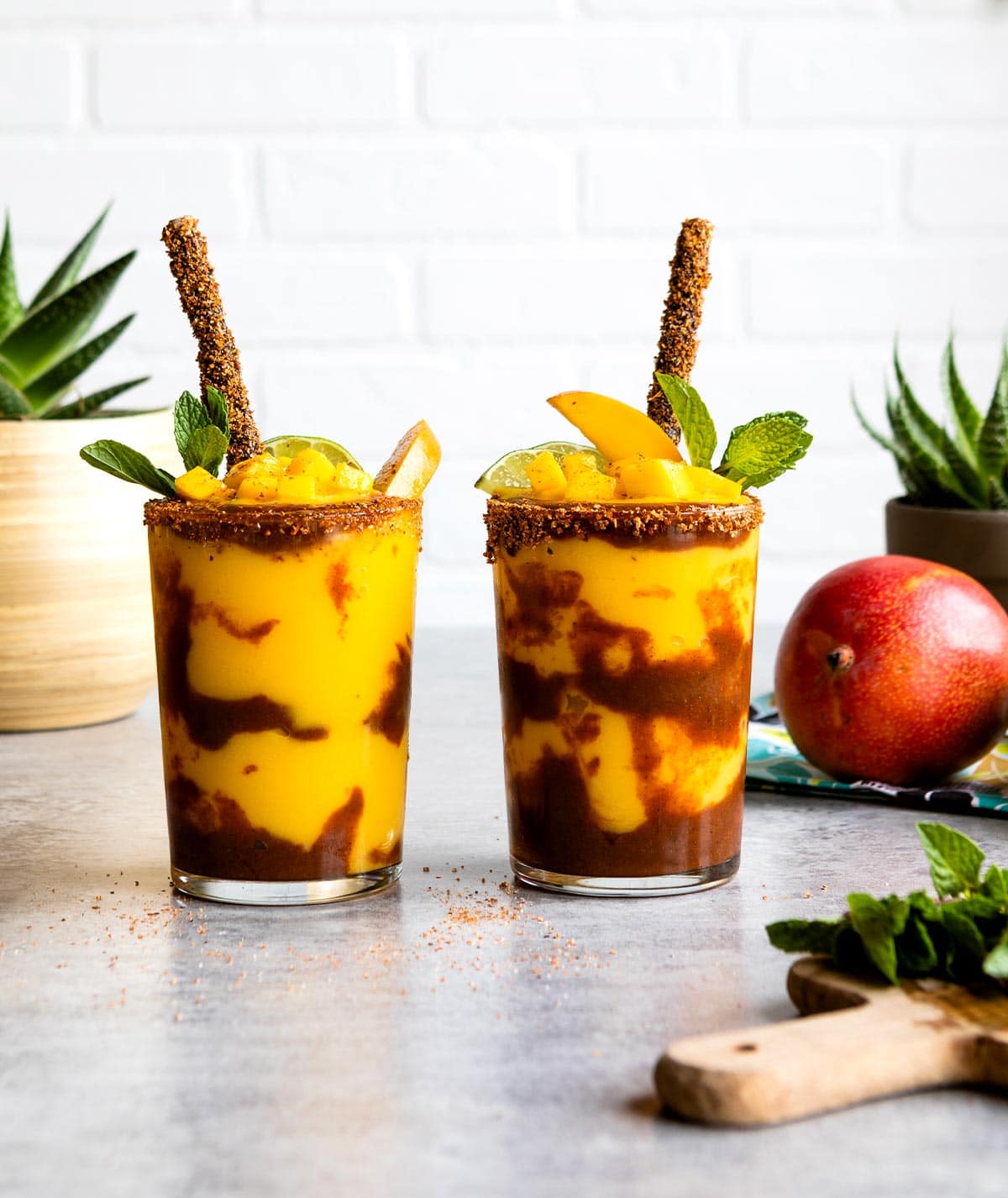 Mexican Mangonada Recipe FAQs
What's in Mangonada?
A Mangonada is basically a mango-lime smoothie mixed with chamoy sauce. It uses chili powder and Tajín to give it a spicy-salty flavor. My Mangonada recipe also tells you how to make Tamarind straws for the complete look.
Is Mangonada healthy?
While Mangonadas are made with real whole fruit, they are basically a fruit smoothie with a spicy kick. I wouldn't use this as a meal replacement, yet it is a great treat to share this summer.
Why is a Mangonada salty?
Mangonadas are made with chamoy sauce which contains chili powder and sea salt. You can cut back on the salt content by lowering the amount of either of these ingredients in your beverage.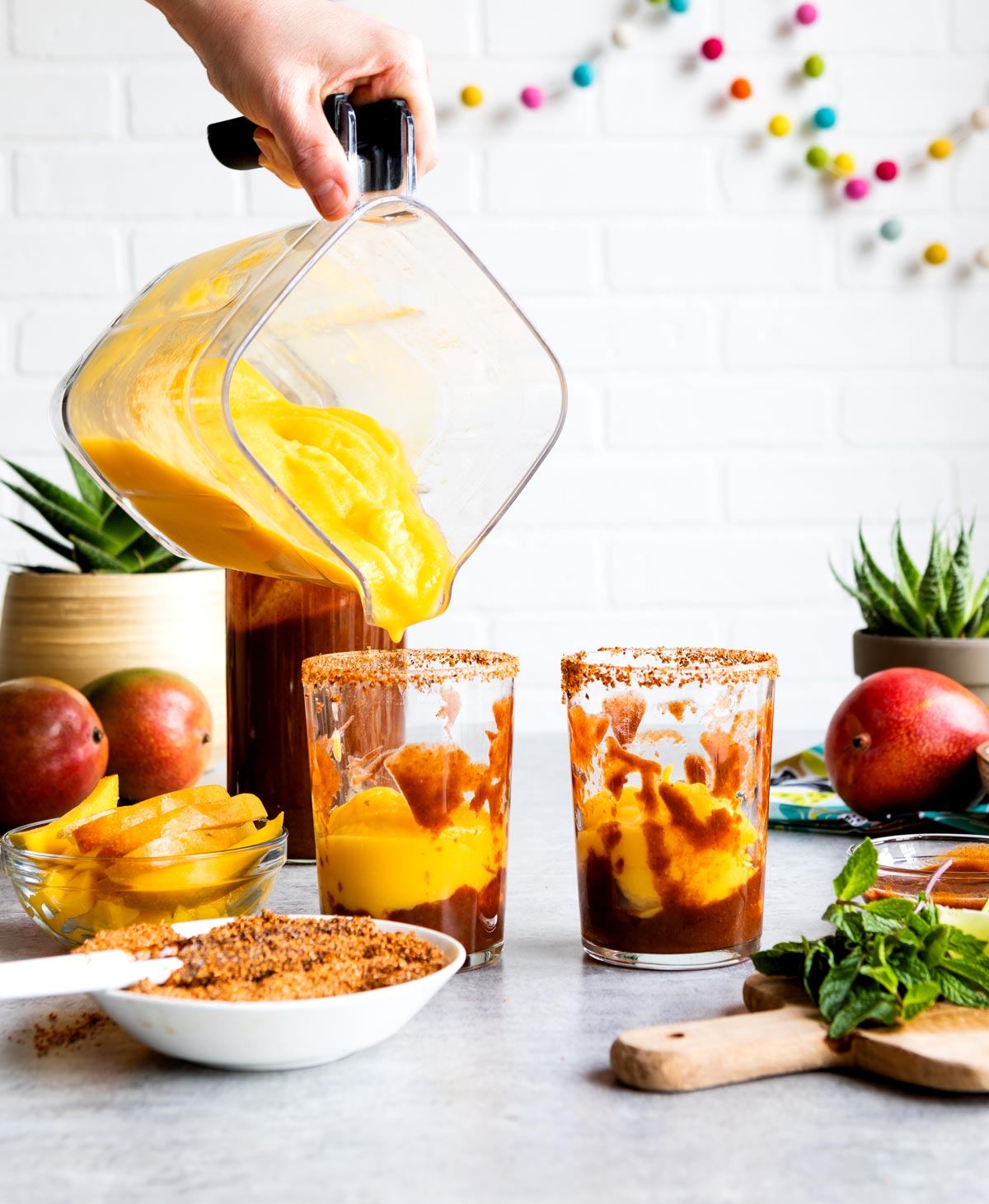 More Summertime Beverages
If you're ready for some fun n' fruity drinks then try out one of these other plant-based summer recipes:
Don't forget to rate + review this recipe once you make it. I'd love to know how it turns out!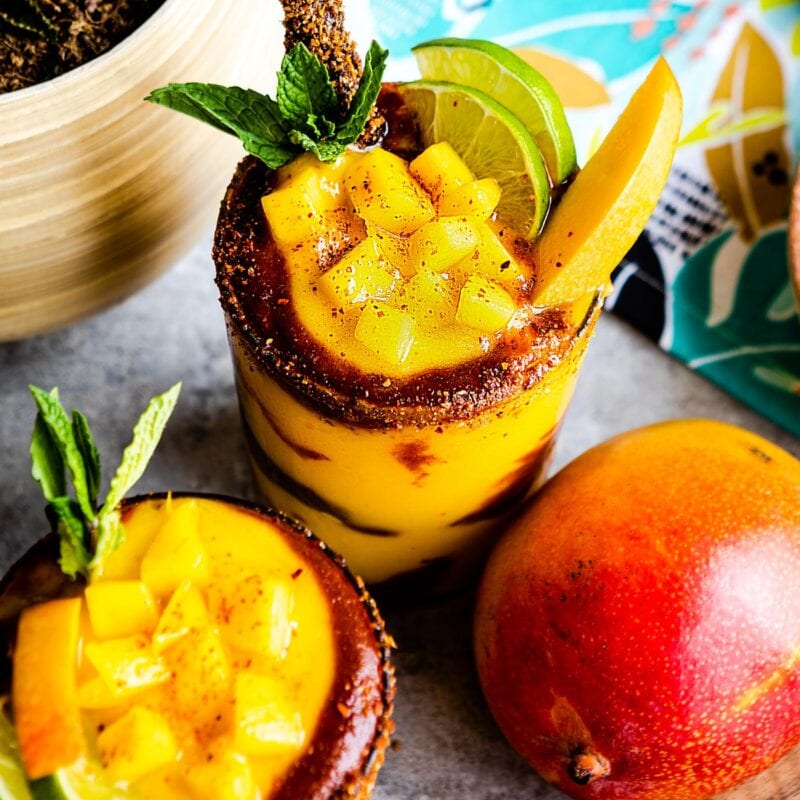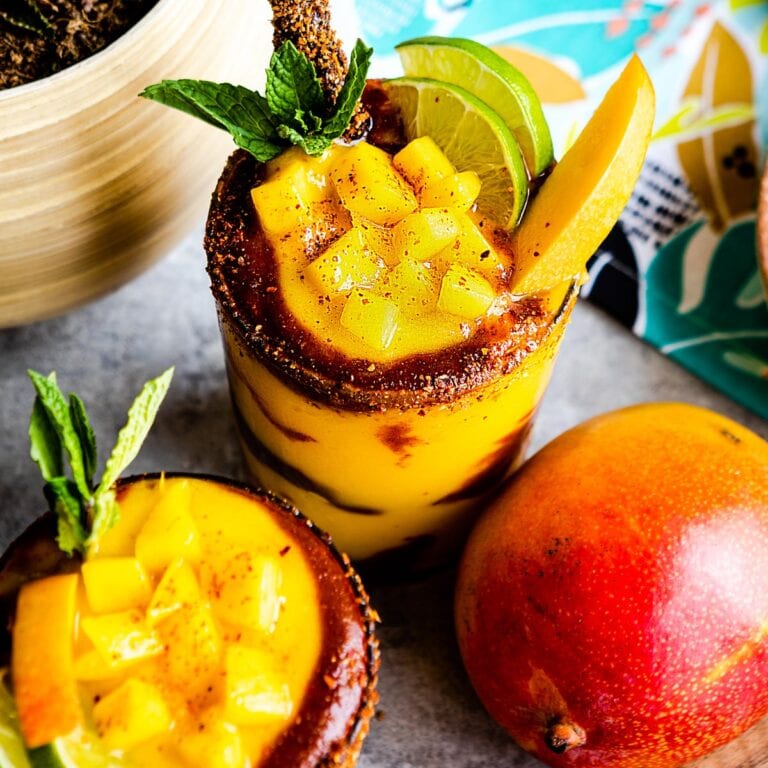 Crazy Good Mangonada
Try this Mexican-inspired Mangonada recipe dressed up for a party or dressed down for a fun night in. It's made with frozen mango and a crazy good kick from chamoy sauce.
Ingredients
2

cups

mango

frozen

1 ½

cup

orange juice

¼

cup

lime

juiced

½

cup

chamoy sauce
Toppings (optional)
1

lime

wedged

¼

cup

mango

chunks

1

tbsp

Tajín

2

tamarind straws

recipe in post
Instructions
Place mango, 1 cup orange juice and lime juice into a blender. Puree until smooth. The smoothie will be thick. Add remaining juice as needed while blending to facilitate blending. The final texture should be like sorbet.

Take lime wedge and run it around the rims of the serving glasses. Dip the rims into the Tajín seasoning. Layer the mangonada smoothie and chamoy sauce until the glasses are full. Garnish with lime wedges, fresh mango and a tamarind straw, if using.
Notes
Sub any kind of fruit juice for the orange juice. I recommend peach, apple, pineapple, passionfruit or guava.
Tajin is chili lime seasoning (I found mine at Trader Joe's. You can also find it in a local Hispanic grocery store).
Nutrition
Calories:
285
kcal
,
Carbohydrates:
71
g
,
Protein:
4
g
,
Fat:
2
g
,
Saturated Fat:
0.3
g
,
Polyunsaturated Fat:
0.3
g
,
Monounsaturated Fat:
0.5
g
,
Sodium:
1179
mg
,
Potassium:
998
mg
,
Fiber:
7
g
,
Sugar:
56
g
,
Vitamin A:
3258
IU
,
Vitamin C:
238
mg
,
Calcium:
89
mg
,
Iron:
1
mg