Sweet and spice and everything nice in this unique new recipe. I'm making a Mexican-inspired Chamoy sauce today. Use it in a summertime Mangonada or on your next plate of freshly sliced mango. With a little bit of sweet, spicy, salty and sour, this is the best Chamoy sauce recipe you'll find!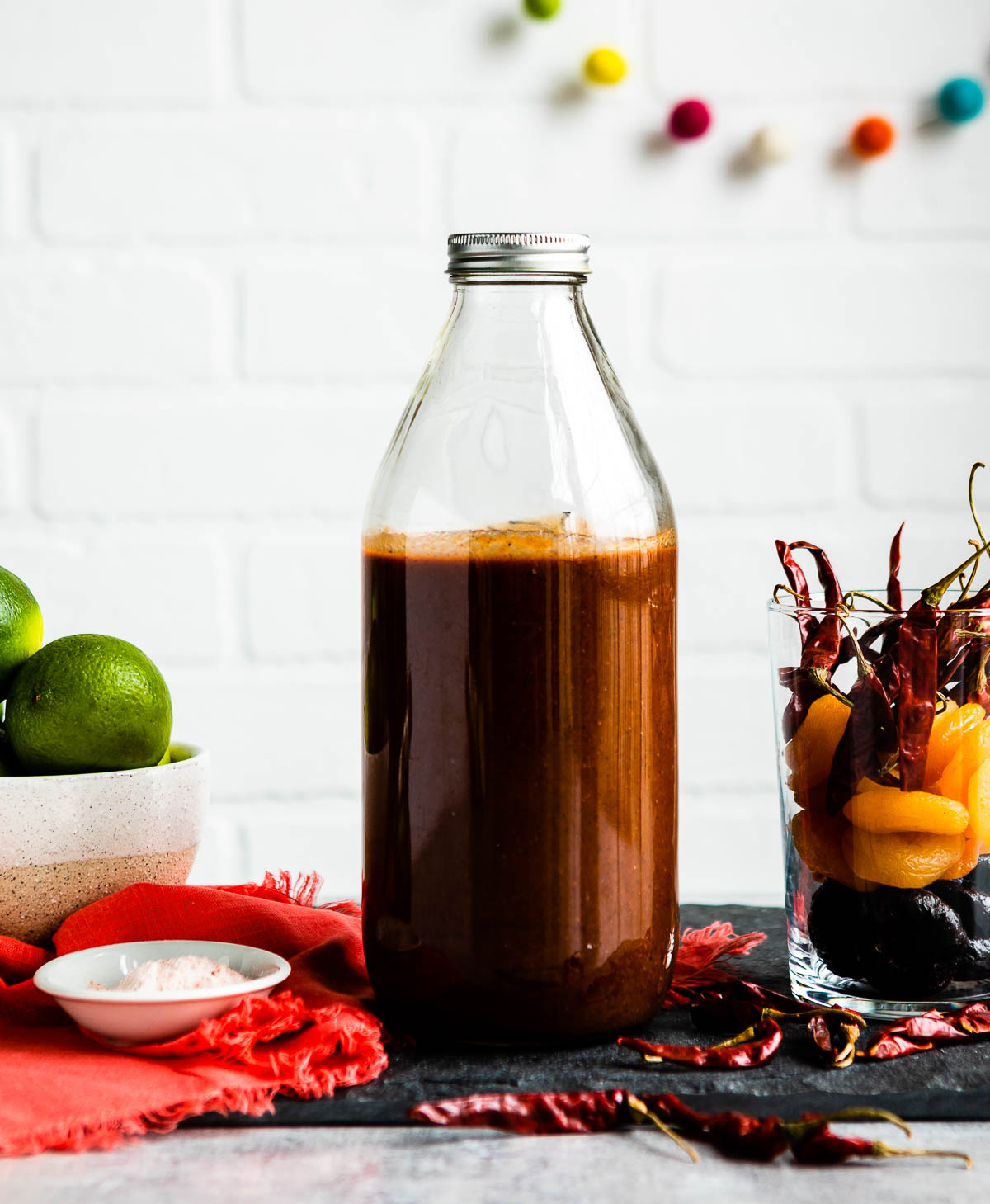 I originally made this recipe for a Mangonada, yet it's super versatile. If you're new to this vibrant condiment then don't forget to let me know how you like it! I love trying new things and sharing them with our community.
Table of Contents
Chamoy Sauce Ingredients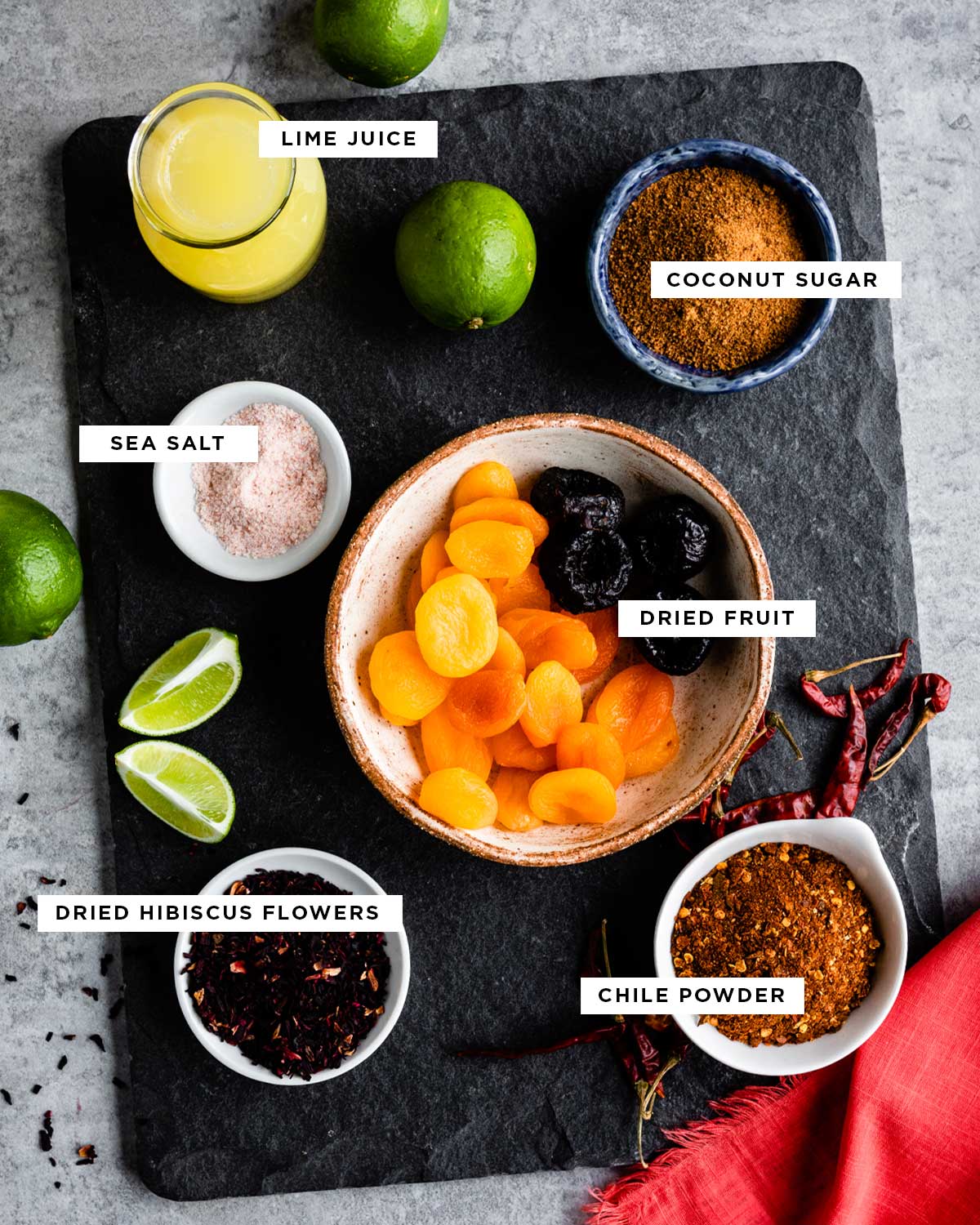 Dried Fruit: Look for dried fruit that doesn't contain added sugar, since it's sweet enough! I used apricots and prunes in this recipe for the best flavor.
Dried Hibiscus Flowers: I've been using dried flowers in a few recipes this year, they are so fun (and pretty!). Rose Mountain Herbs is my go-to brand for edible flowers.
Chile Powder: Note that this is chile powder, not chili powder.
Coconut Sugar: Coconut Sugar is a non-refined sugar that tastes a lot like brown sugar. It dissolves well during the soaking process and blends in nicely adding a nutty sweetness.
Lime Juice: This may sound like a lot of lime juice, but it's needed for that sour flavor. To avoid hand-squeezing a whole bag, try this easy hand juicer.
Boiling Water: Some recipes make this in a saucepan over active heat. I like using already boiled water and then soaking instead because it's easier (bonus!) and doesn't require me to stand in front of a hot stove mixing for 20+ minutes.
Ingredient Swaps
If you can't find coconut sugar then swap with brown sugar or cane sugar. Hibiscus flowers bring a note of floral to this recipe yet you can omit them if they aren't easy to find.
I found apricots and prunes to be the best tasting dried fruit in my version, yet you can replace the prunes with 1/4 cup raisins. I've also seen some variations of this condiment made with apricot jam, but that often has extra ingredients.
How to Make the Best Chamoy Sauce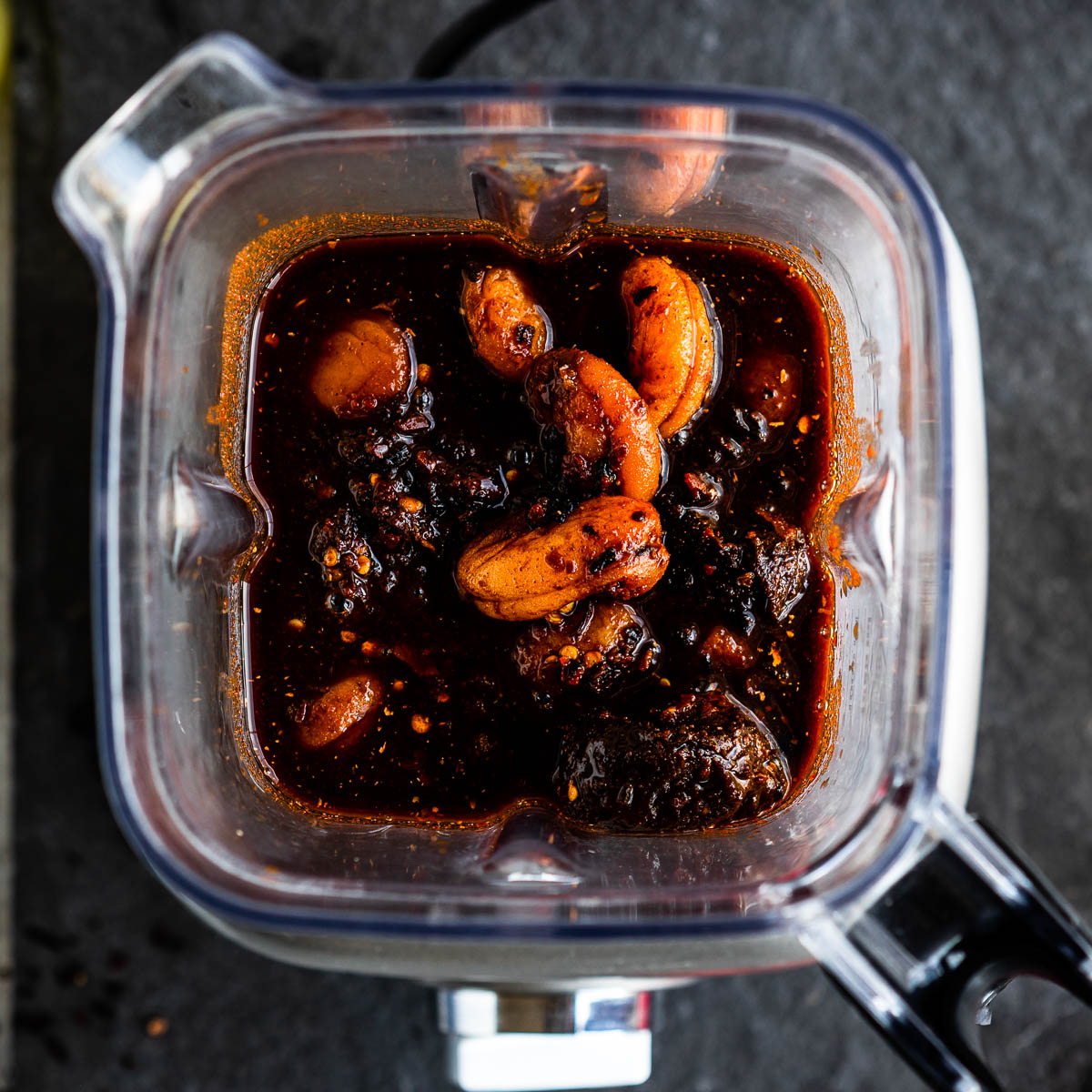 Step 1: Start by boiling 1 1/2 cups of water in whatever way is easiest for you (I like using my electric kettle for easy pouring). While waiting for the water to boil, find a heat-safe bowl and add the dried fruit, flowers, chile powder, and coconut sugar. Pour the boiling water over the other ingredients and then set a timer for 20 minutes.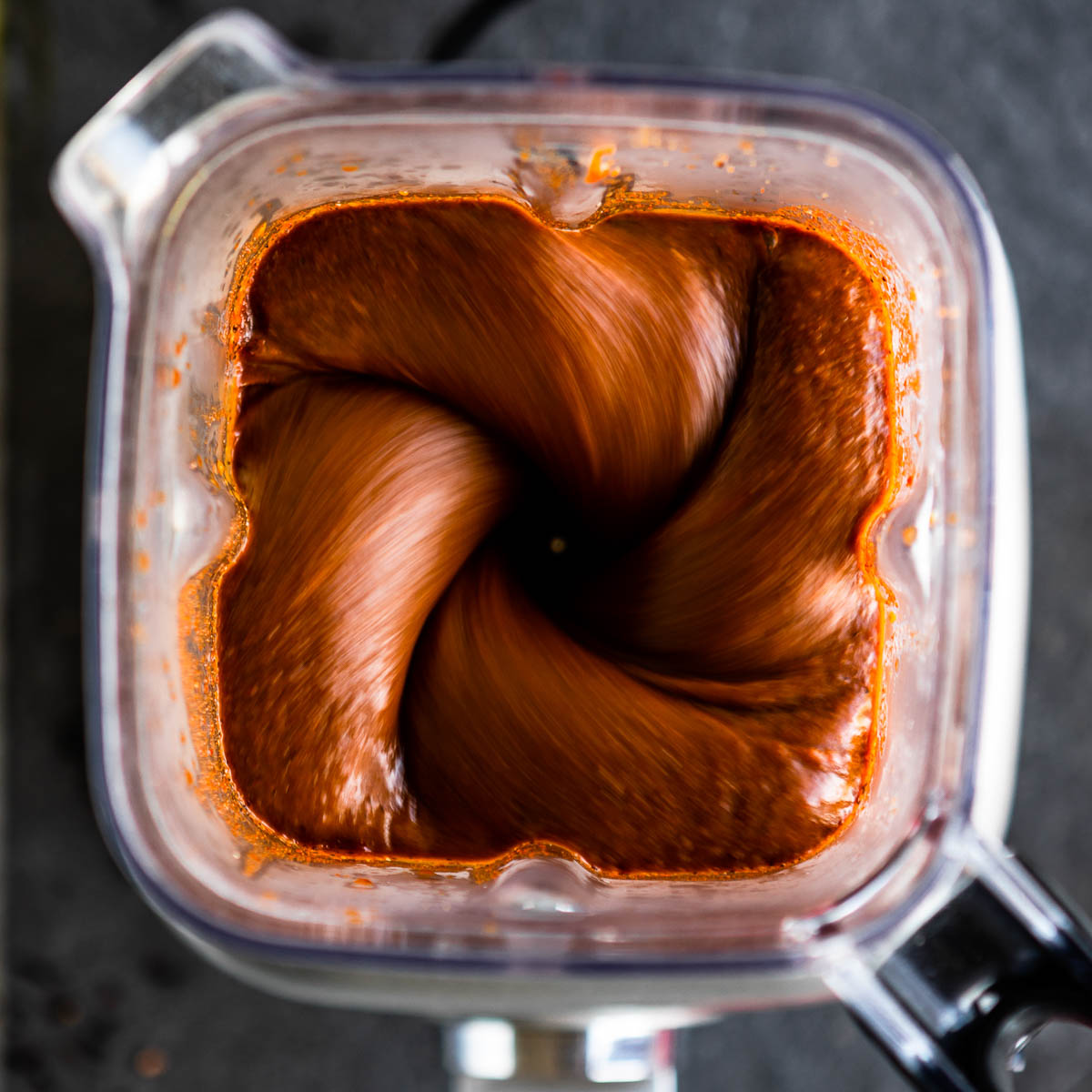 Step 2: You'll know the mixture is done soaking once the dried fruit has plumped up a lot (takes about 20-30 minutes). Pour the whole bowl, including the water, into a blender. You *can* use a food processor, yet I think a blender does a better job producing a smooth sauce.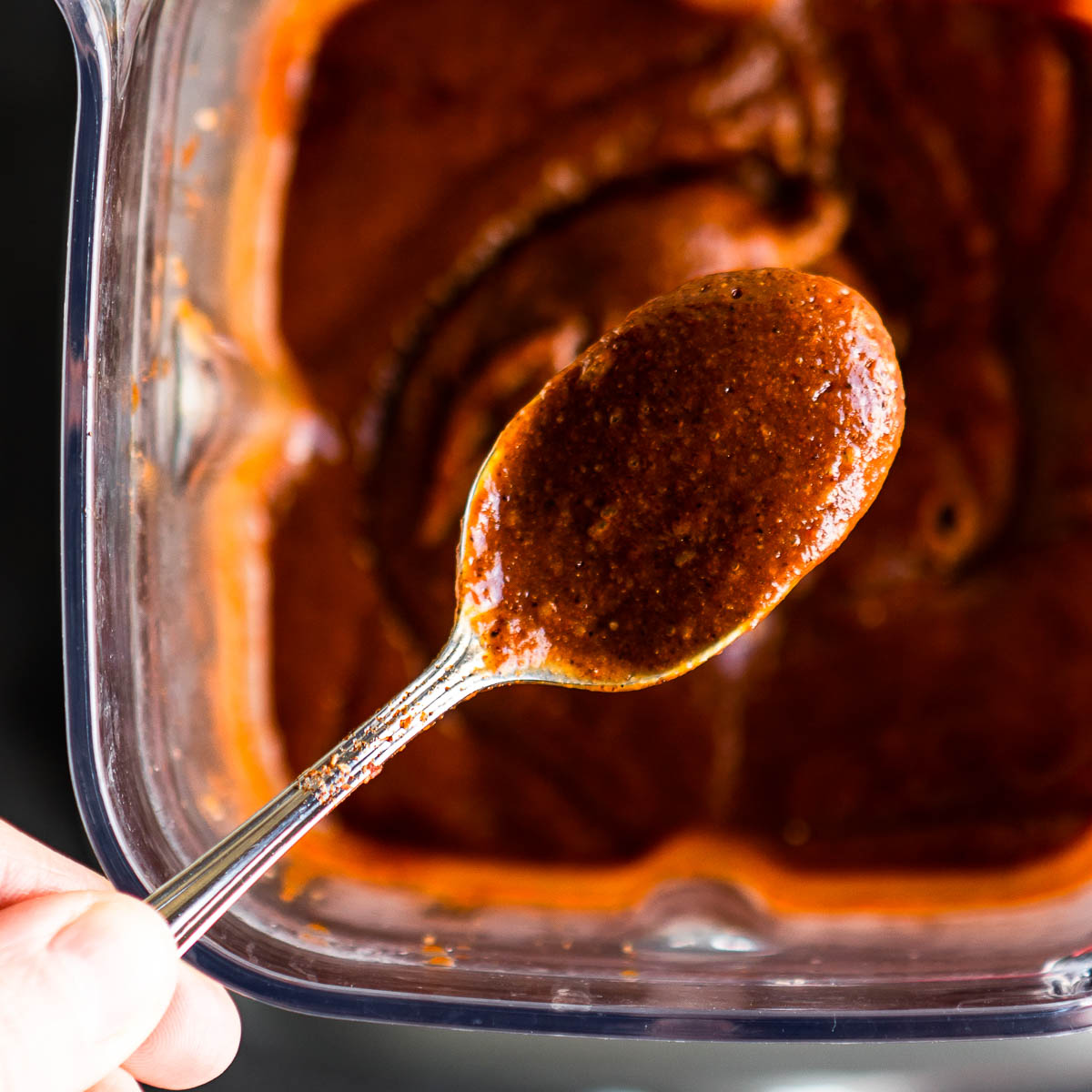 Step 3: Blend until smooth. Add in the lime juice and sea salt then blend again until combined. The result should be fairly runny, so if your sauce is thick, add more water or lime juice to thin it out.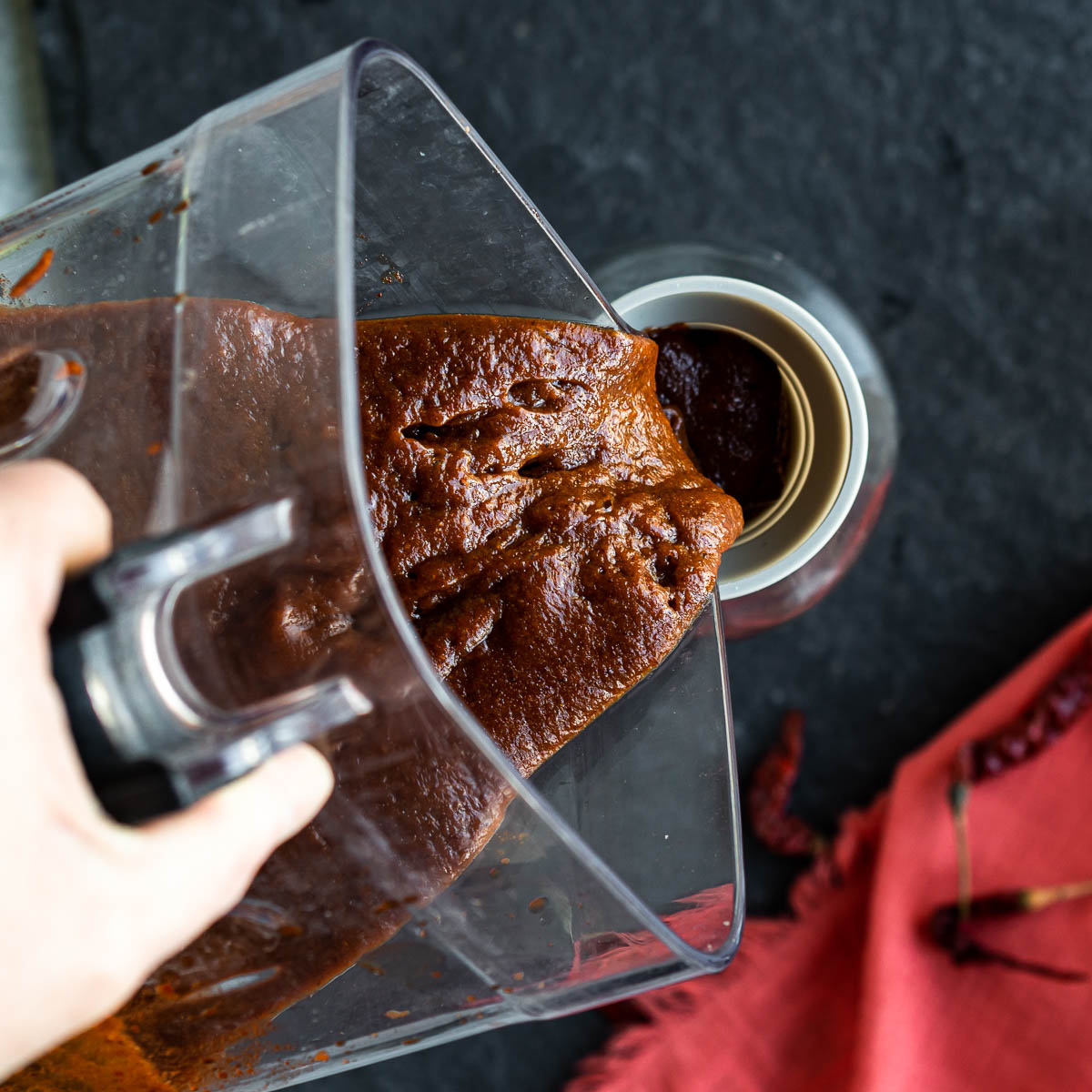 Step 4: Store in a glass container with a screw top lid (or another secure lid) and store in the refrigerator until ready to use.
Storage Tips
This condiment lasts several months when refrigerated, so you can use it all summer long! It's seriously fun to use and brings a different kind of flavor to fruit and more.
I store it in a glass container with a screw-top lid to ensure it stays properly sealed. Since it's a specialty condiment that won't get daily use, glass helps the flavor not leach out (like it would sitting in plastic for a long period of time).
You can also freeze Chamoy sauce in an ice cube tray, then transfer it to a freezer-safe bag for easy storage.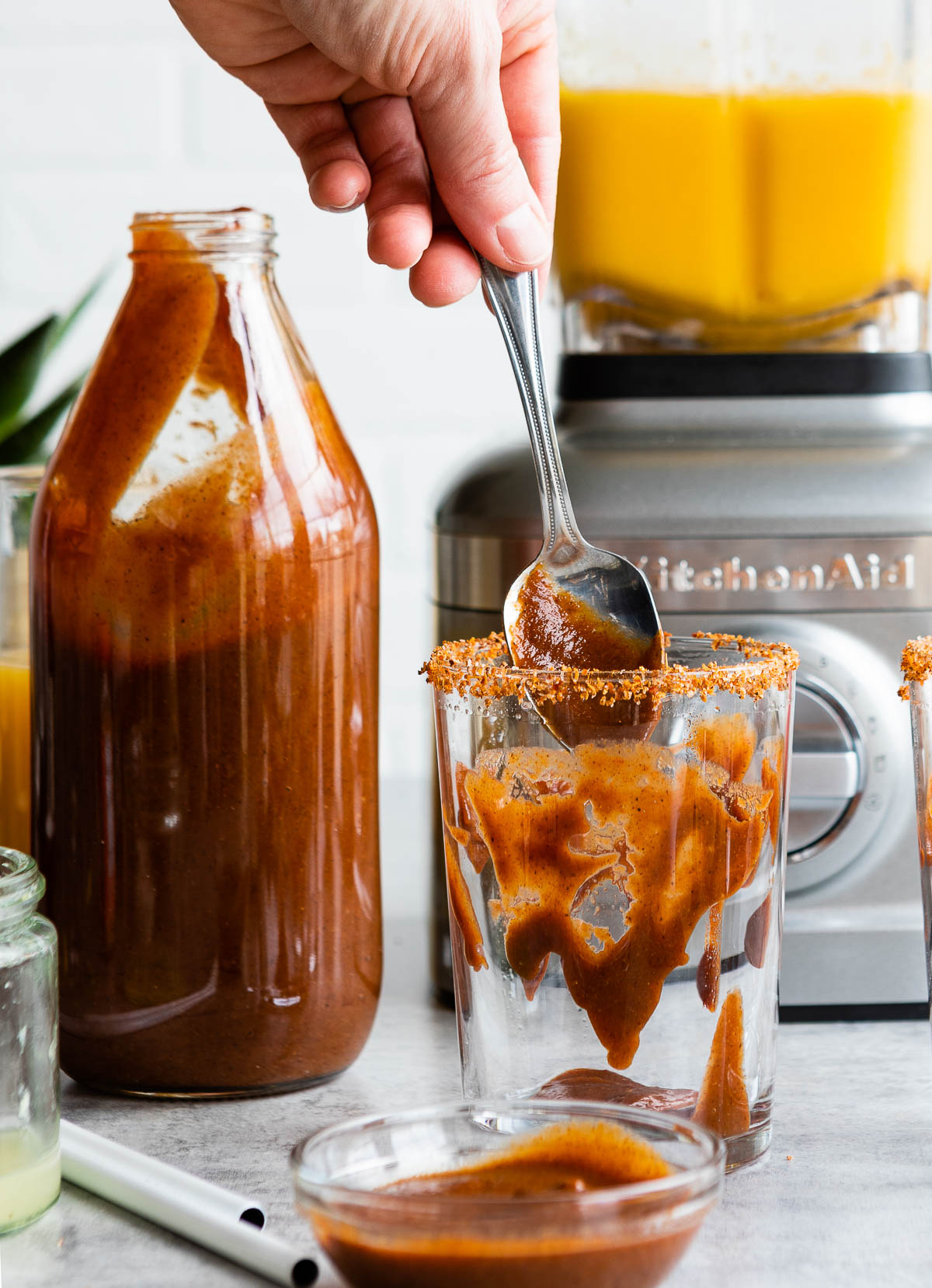 FAQs
What does Chamoy sauce taste like?
Chamoy sauce has got it all: sweet, spicy, sour and salty. The unique flavor comes from dried fruit, flowers and lime juice blended with chile powder and coconut sugar. The complex flavor profile makes it a versatile sauce for a variety of sweet and savory dishes!
How do you make Chamoy sauce?
My Mexican-inspired recipe has dried fruit, dried hibiscus flowers, chile powder and coconut sugar, soaked in boiling water. Once the dried fruit has plumped, I transfer everything to a blender along with lime juice and salt. The end result is a runny sauce that can be refrigerated and enjoyed for several months.
Is Chamoy sweet or hot?
Both! My recipe is a bit sweet, sour, spicy and salty. A little goes a long way if you aren't a spice fan, yet no judgment if you like to smother with your sauce and get a good kick from the heat!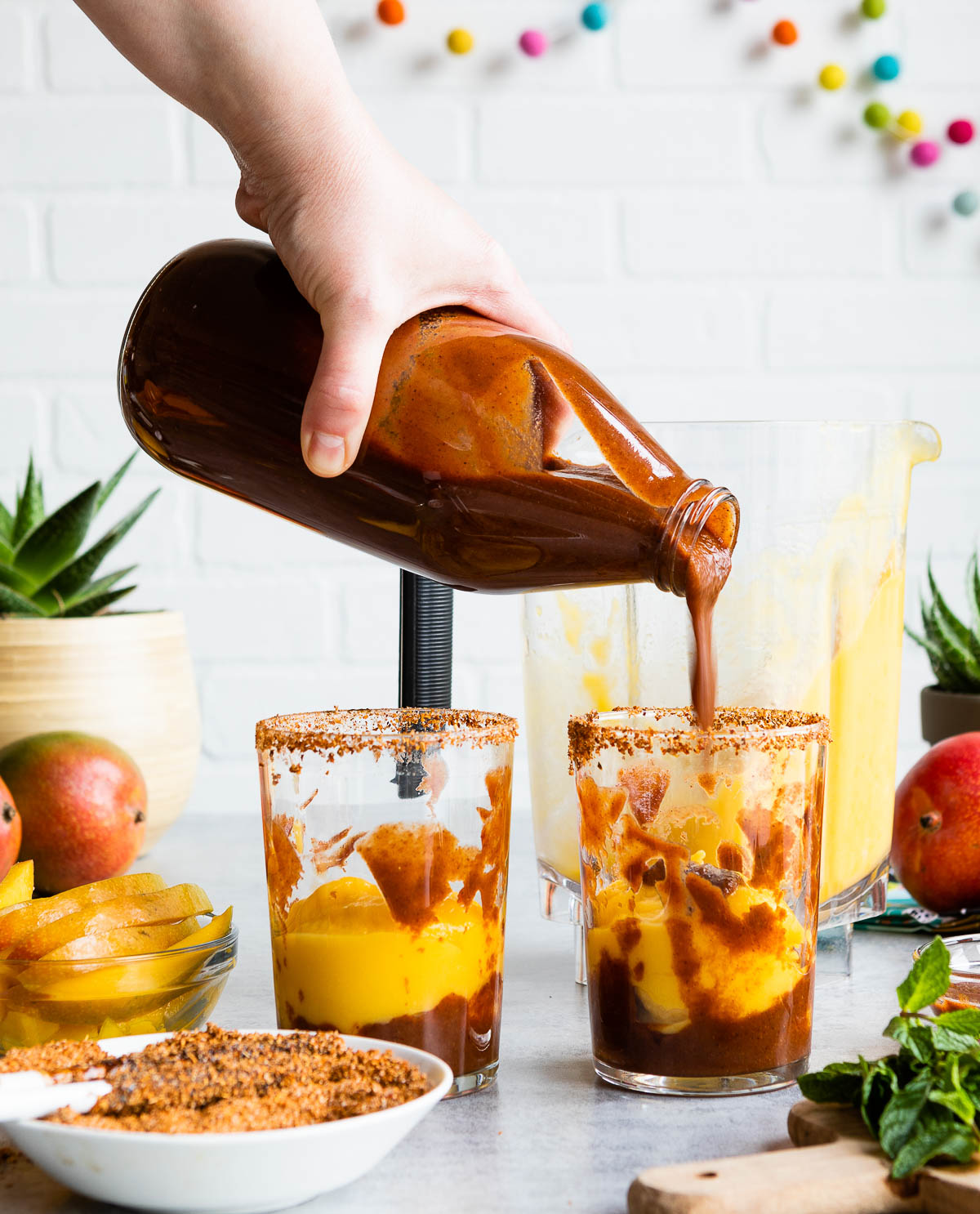 Serving Suggestions
This has a complex flavor profile and compliments many sweet and savory dishes. Here are a few ideas for yours:
Chamoy sauce veterans, how do you like to use this unique sauce? Drop a comment below and let me know.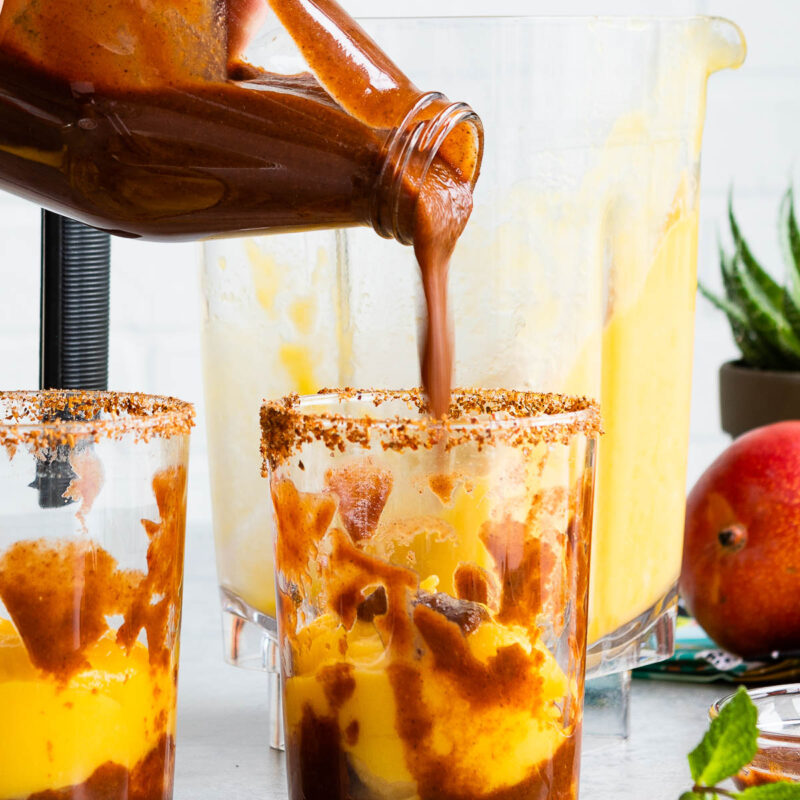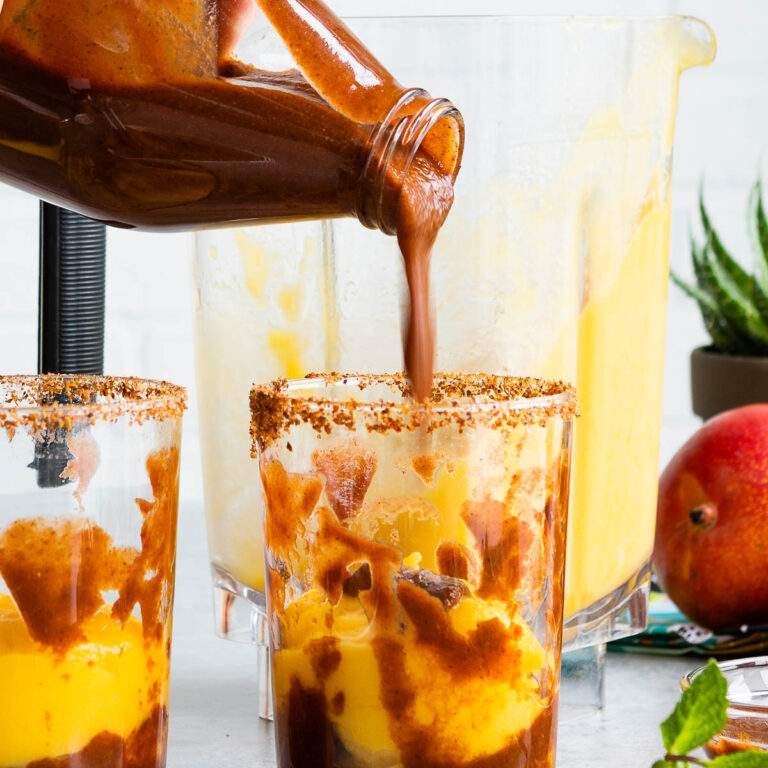 Chamoy Sauce
Try this sweet n' spicy sauce for a Mexican-inspired flavor in your next dish. I originally created this for my take on a Mangonada, yet it can be used in a variety of sweet and savory dishes.
Ingredients
1 ½

cups

water

boiling

6

oz

dried apricots

4

prunes

pitted

2

tbsps

hibiscus flowers

dried, optional

4

tbsps

chile powder

¼

cup

coconut sugar

¾

cup

lime

juiced

1

tsp

sea salt

to taste
Instructions
Place apricots, prunes, hibiscus flowers, chile powder and coconut sugar in a a heat-safe bowl. Cover with boiling water and soak 20-30 minutes or until fruit has plumped.

Transfer contents to a blender and puree until smooth. Add lime juice and sea salt then blend again.

Transfer to an air-tight container and refrigerate until ready to use.
Notes
Consistency should be runny. Add more water or lime juice to blender as needed.
Chamoy sauce should last several months if kept refrigerated.
For best results, use soft prunes (and make sure they are pitted!)
Chile powder is made from ground chile pods. This can be found in most Hispanic grocery stores (don't confuse it with chili powder… it's not the same thing).
Nutrition
Calories:
16
kcal
,
Carbohydrates:
4
g
,
Protein:
0.2
g
,
Fat:
0.1
g
,
Saturated Fat:
0.02
g
,
Polyunsaturated Fat:
0.1
g
,
Monounsaturated Fat:
0.02
g
,
Sodium:
62
mg
,
Potassium:
62
mg
,
Fiber:
1
g
,
Sugar:
3
g
,
Vitamin A:
334
IU
,
Vitamin C:
0.5
mg
,
Calcium:
5
mg
,
Iron:
0.2
mg