I just can't get enough when berry season comes around. My family eats pints of berries in 1 sitting, they're our go-to road trip snack, and I love tossing them into smoothies. This mixed berry smoothie recipe is a great low-sugar option as well as loaded with antioxidants that will leave you feeling energized, glowing and ready to tackle the day ahead.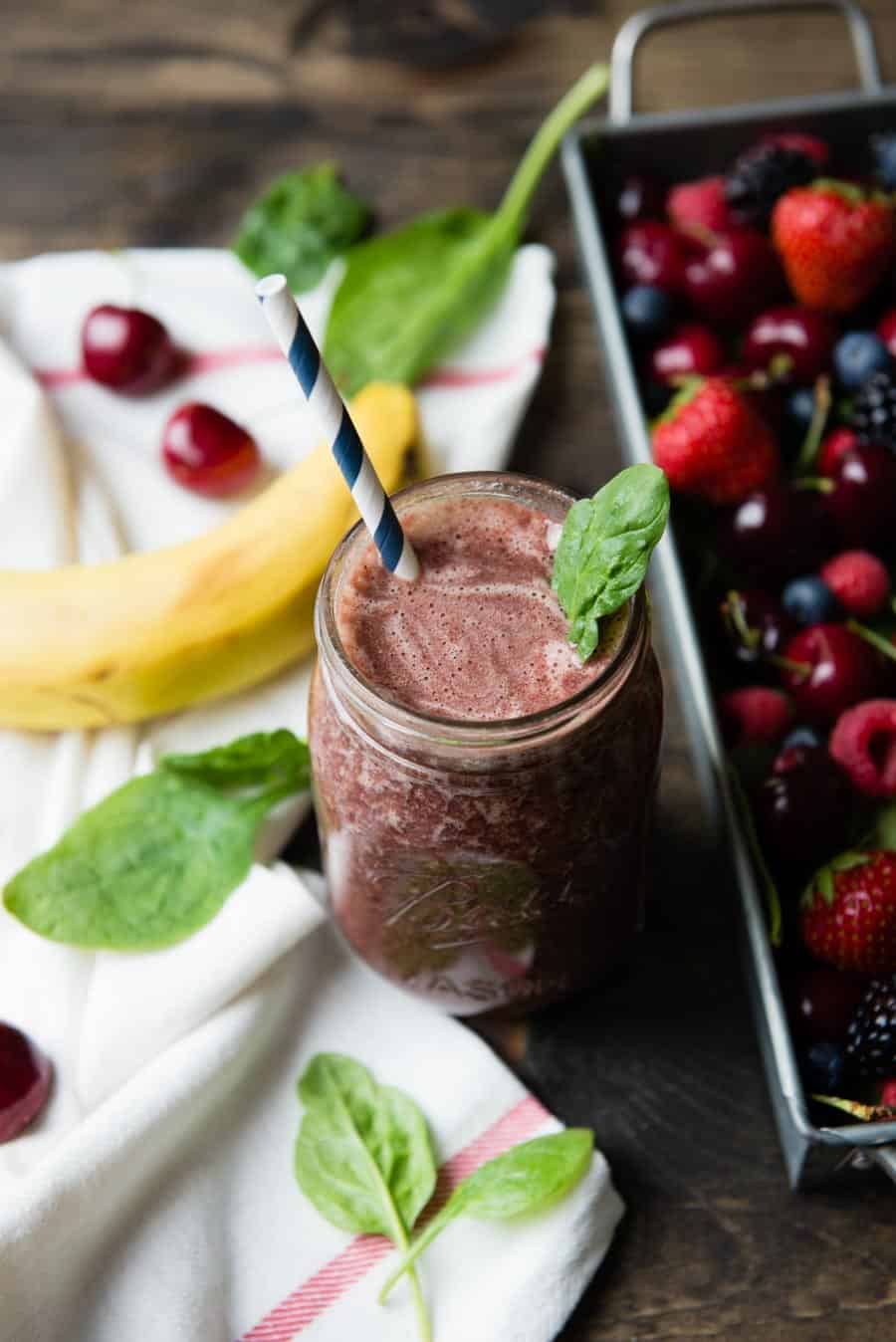 Table of Contents
Recipe Ingredients
Cherries: This pitted fruit contains 3 grams of fiber and 18% of the recommended daily intake (RDI) of vitamin C per serving. The antioxidants in cherries help control oxidative stress. Polyphenols give cherries powerful anti-inflammatory properties.
Strawberries: This low sugar berry is also anti-inflammatory and can help lower the risk of heart disease. High in potassium, strawberries can help control blood pressure. It makes my mixed berry smoothie naturally sweet without spiking the sugar.
Blueberries: The mighty blueberry is often touted as a superfood. 1 serving contains 4 grams of fiber, 36% of the RDI of vitamin K, 24% of the RDI of vitamin C, and 25% of the RDI of manganese. Blueberries are queen when it comes to antioxidants and can help protect against both aging and cancer.
Banana: While people often associate bananas with high sugar content, they are actually relatively low on the glycemic index. Greener bananas contain less sugar than the yellowish brown ones. This creamy fruit also contains fiber, potassium and vitamins B6 and C.
Finally, this helps your body break down the natural fruit carbs in your smoothie, giving you long lasting energy with no sugar crash.
Mix Berry Smoothie Recipe
I call smoothies the world's healthiest fast food because you can make a whole food, plant-based breakfast, lunch, dinner or snack in 5 minutes. Here's how:
Blend water + spinach starting with the blender on low, then slowly moving to high speed. Blend until no leafy chunks remain.
Stop blending and add all fruit ingredients + boosters then blend again. Since many berries have seeds, blend a bit longer to ensure the seeds are well blended. If you aren't using a high-powered blender, you will probably still have seeds in your finished product. If you want to pour your smoothie through a sieve into the glass, go for it!
That's it! If your fruit is all fresh, then you may want to add an ice cube or 2 to your finished smoothie to cool it down. If you are using all frozen fruit, thaw them slightly before blending for a smoother finished product.
Feel free to swap out any of the ingredients in the below mixed berry smoothie for the berries of your choice. Smoothies are super versatile and just needs to be delicious for the person consuming it.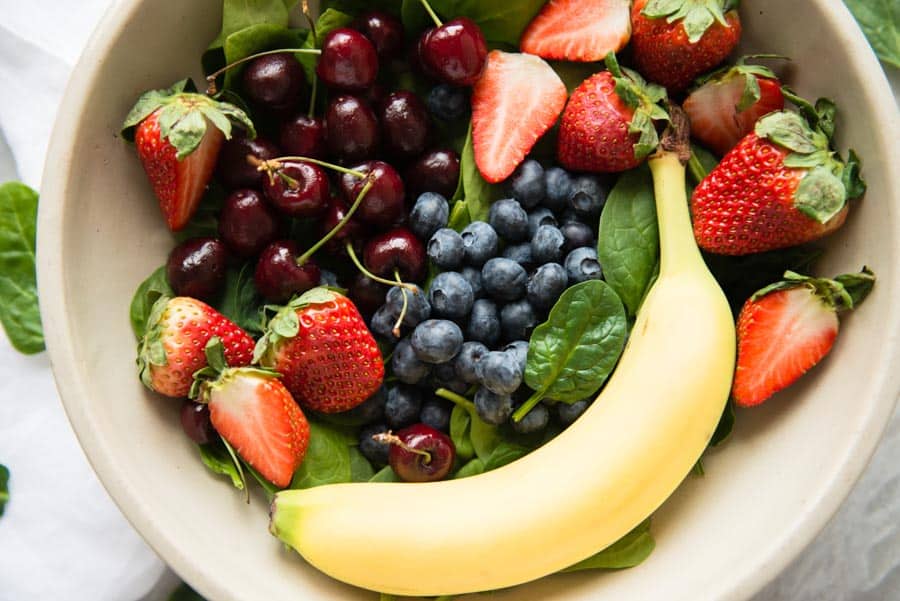 Berry Smoothie FAQs
Are mixed berry smoothies good for you?
They can be! Berries are naturally low in sugar, and my smoothie also has a handful of spinach which boosts the fiber. Fiber helps the body break down the natural sugar in fruit for a filling, no sugar rush snack or light meal. Berries are also loaded with antioxidants and vitamins that help the immune system.
Can you make a mixed berry smoothie with milk?
Yes! I like the ease of making smoothies with water, yet you can definitely swap out water for the plant milk of your choice.
Are mixed berry smoothies good for weight loss?
Smoothies alone can't help you lose weight, yet boosting your intake of fruits and vegetables can. Berries are low in sugar, and drinking a smoothie in place of a snack or breakfast (especially if that smoothie is boosted with plant-based protein) sets the tone for your day and helps you choose healthier options through the day.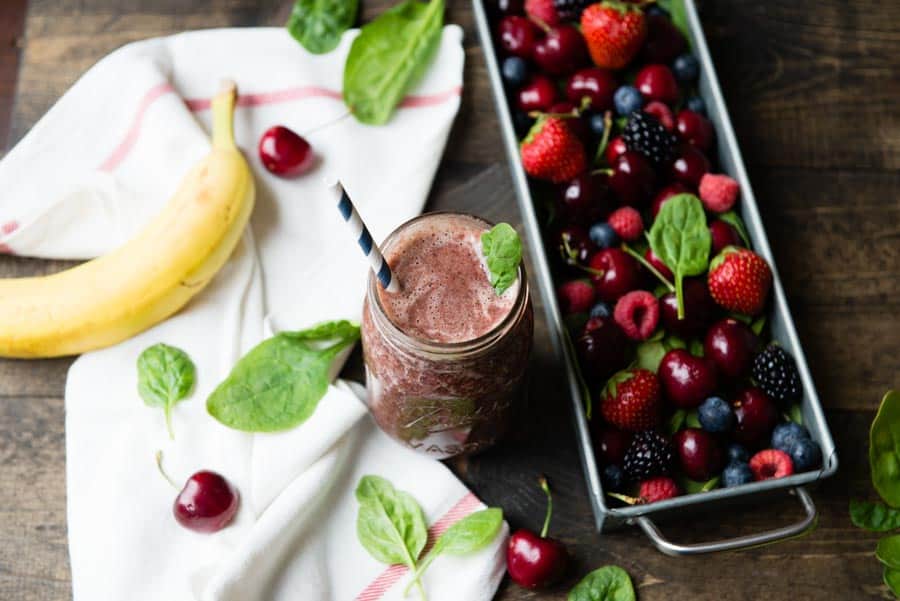 How to Make a Low-Sugar Smoothie
Fruit has carbs. These carbs are broken down between sugar and fiber. This is super important to know, because so many of us see carbs as 'bad' and lump fruit sugar into the same category as refined sugar.
I know that fruit sugar can affect our blood sugar, yet I also know that fiber is SUPER important in breaking down the natural sugar in the body… and our bodies need both (which is why a mixed berry smoothie recipe should be on your weekly blend list). Plus, did you know daily fruit consumption can actually combat obesity?!
If you like to keep your smoothies lower in sugar, first pick your fruits from my list of low sugar fruits. Second, use water or unsweetened plant milk as your liquid base. I know smoothies with fruit juice are delicious… yet that adds a lot of fiberless sugar. Third, boost your smoothie with my protein powder recipe. Make sure it's sugarless, and has both protein and healthy fat.
More Berry Smoothie Recipes
I've got SO many berry smoothies because… well berries are delicious, smoothies are delicious, so why the heck not?! Here's some recipe inspo for you:
Basically if you like berries and have a blender then I've got a berry smoothie for you. Mix n' match your berries to what you have on hand/prefer. Frozen berries are a great option as well; no need to spend a lot of money on fresh, out-of-season berries. Frozen berries are picked at the height of their season, then flash frozen to preserve nutrients.
When berries are in season, find a u-pick place or buy them from a local stand. That way you get the most berries for your buck. Your mixed berry smoothie tastes best with seasonal fruit.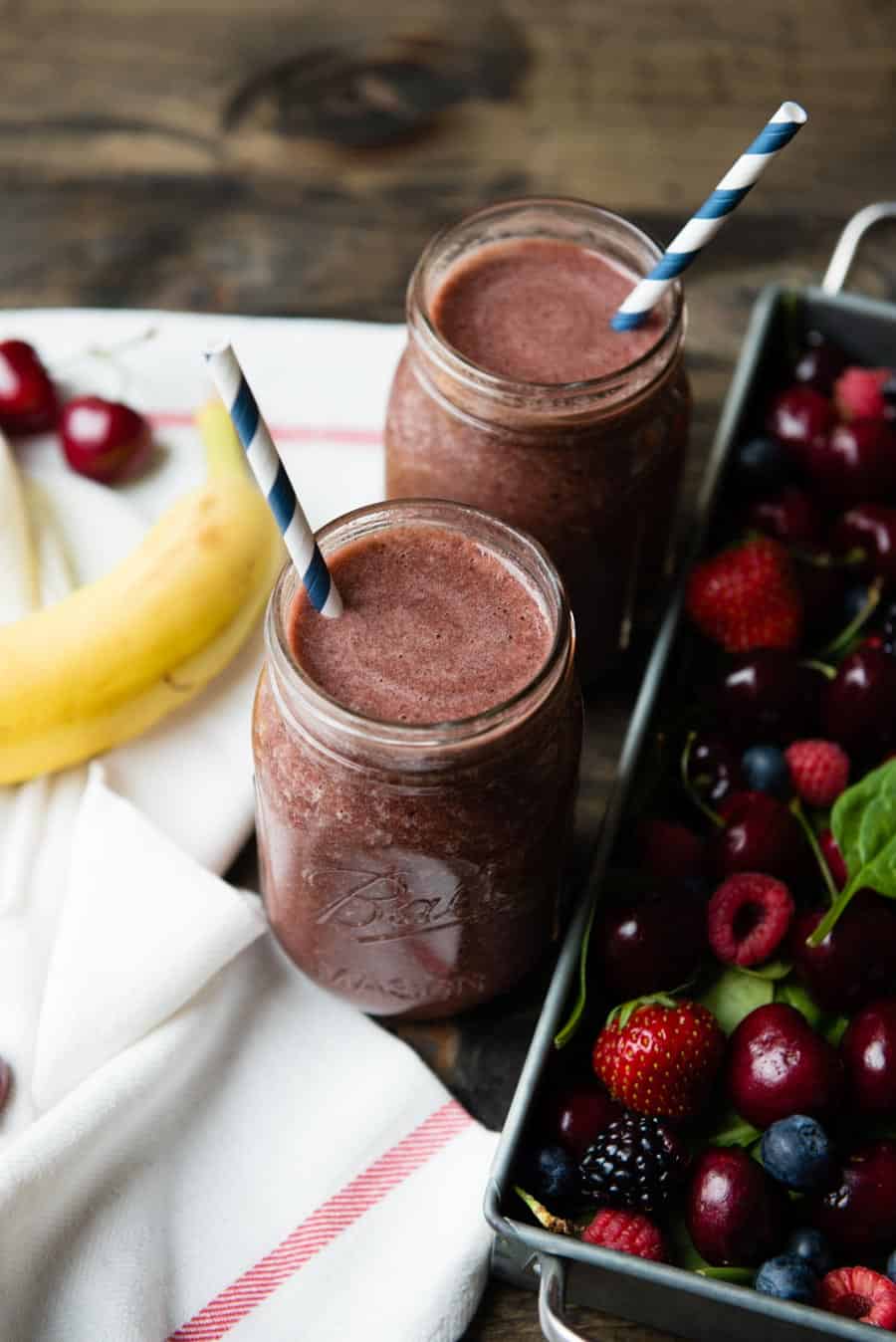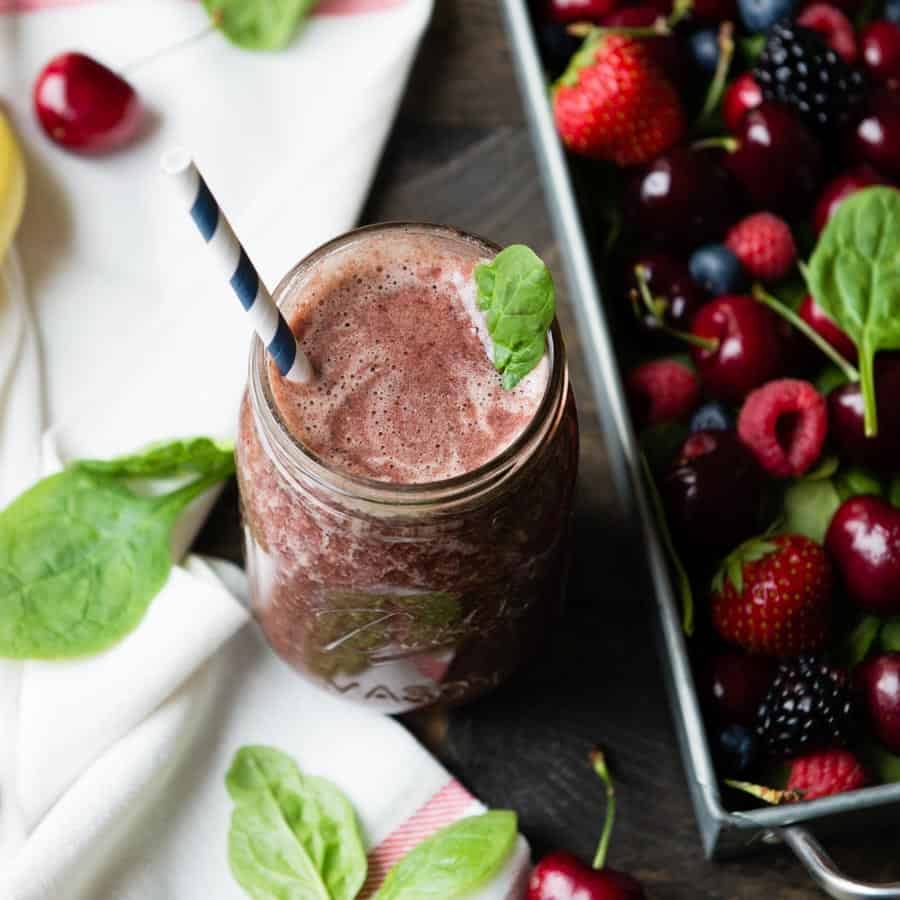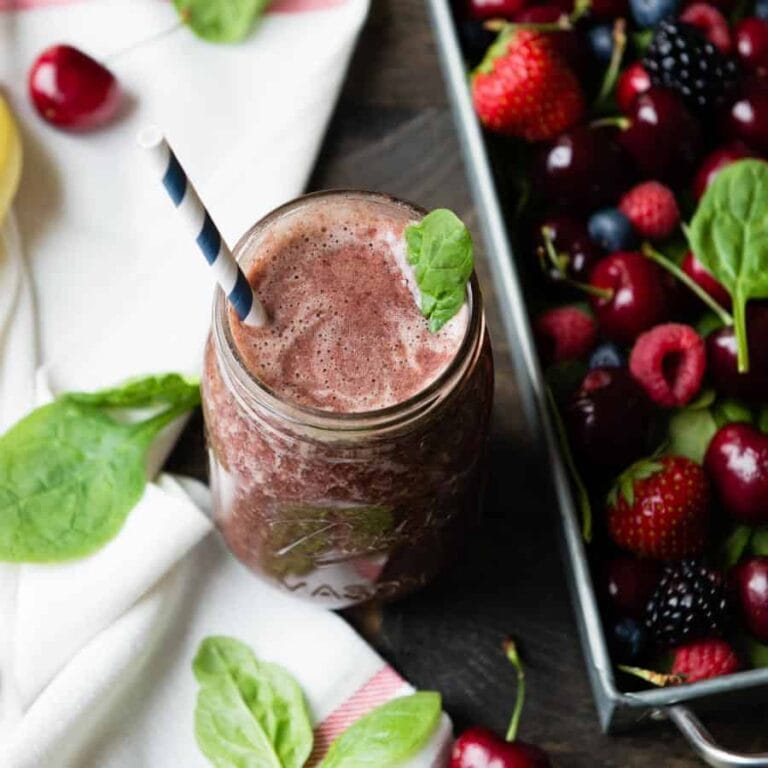 Healthy Mixed Berry Smoothie
With the sweet combination of cherries and mixed berries, this Mixed Berry Smoothie recipe is packed with disease-fighting antioxidants, fiber, and vitamin C. You won't even taste the spinach, yet you'll get the added health benefits!
Ingredients
1

cup

spinach

1

cup

water

½

cup

cherries

frozen

¼

cup

strawberries

frozen

¼

cup

blueberries

frozen

½

banana

1

serving

homemade protein powder

optional
Instructions
Blend spinach and water until smooth.

Add the remaining fruits and blend again.
Notes
Use at least one frozen fruit to make the green smoothie cold. Make sure to remove cherry pits before blending.
Swap the spinach with the leafy greens of your choice.
Instead of buy separate fresh berries you can buy a bag of mixed berries for this recipe.
Nutrition
Calories:
135
kcal
,
Carbohydrates:
34
g
,
Protein:
3
g
,
Fat:
1
g
,
Saturated Fat:
1
g
,
Polyunsaturated Fat:
1
g
,
Monounsaturated Fat:
1
g
,
Sodium:
37
mg
,
Potassium:
615
mg
,
Fiber:
5
g
,
Sugar:
22
g
,
Vitamin A:
2919
IU
,
Vitamin C:
43
mg
,
Calcium:
57
mg
,
Iron:
1
mg