Foods can help with a variety of dietary concerns and PCOS is one of them. I created this PCOS smoothie based on guidelines from my friend Kym Campbell to help manage symptoms and naturally nourish your body.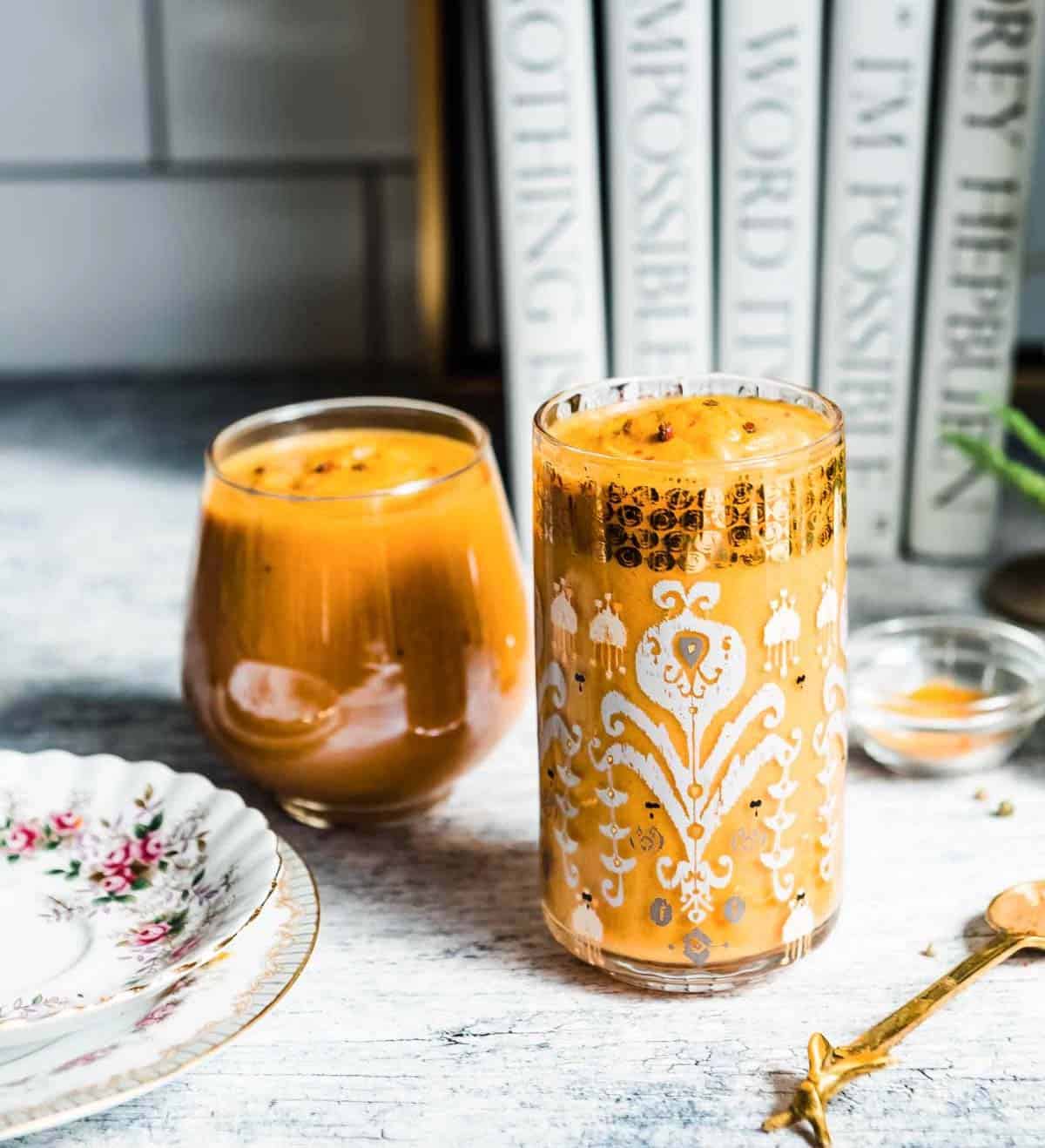 Rawkstar Kym Campbell has not only successfully managed her own PCOS symptoms, but has also become a PCOS health coach to teach others the vital role that food plays in fertility. Today she's sharing a delicious PCOS smoothie recipe, as well as helping us share with you our top fertility smoothie recipes. Did you know that food can actually help with fertility?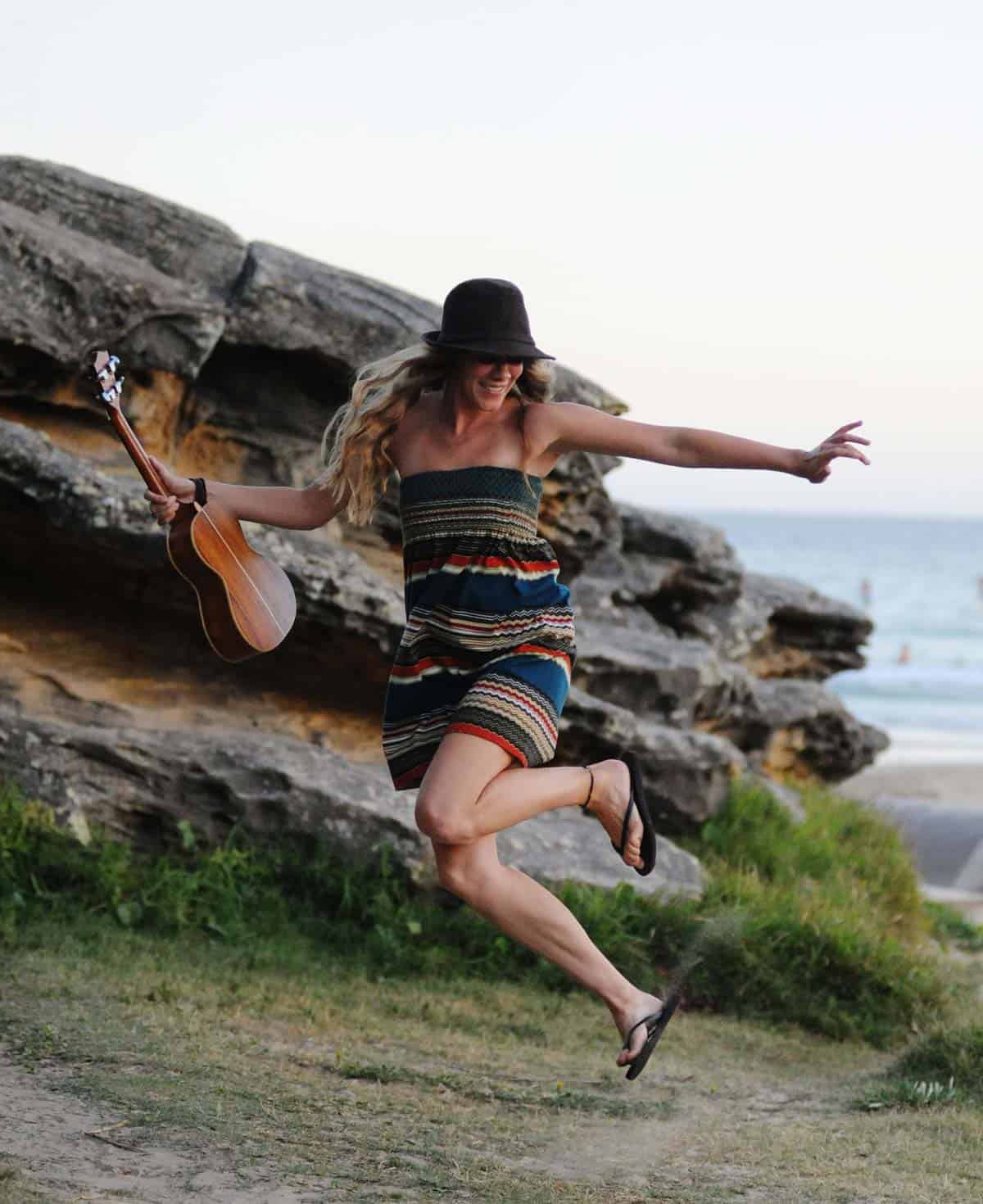 Kym Campbell of Smart Fertility Choices
I met Kym Campbell, creator of Smart Fertility Choice + PCOS warrior mama a few months ago, and was in awe of her awesome story. She learned how to manage PCOS (polycystic ovary syndrome) personally, and is passionate about helping other women take control of it as well through total health and wellness. Since then, she's hosted 30-Day PCOS Challenges and helped thousands of women (her next one starts 5/28).
How to take back your health from PCOS
Working with an incredible team of doctors and health coaches, Kym has created a PCOS diet program that focuses on whole food nutrition after discovering the lack of helpful research + recipes online. Her results speak for themselves! And her tireless research efforts help provide women a wholistic way to manage PCOS symptoms for a life well lived.
So many women feel alone and ill-equipped to overcome the battle with PCOS. So, start with Kym. Her wealth of knowledge and attention to research provides a great starting point for women seeking out a healthy way towards fertility. I learned a lot from her PCOS journey, and know you can too!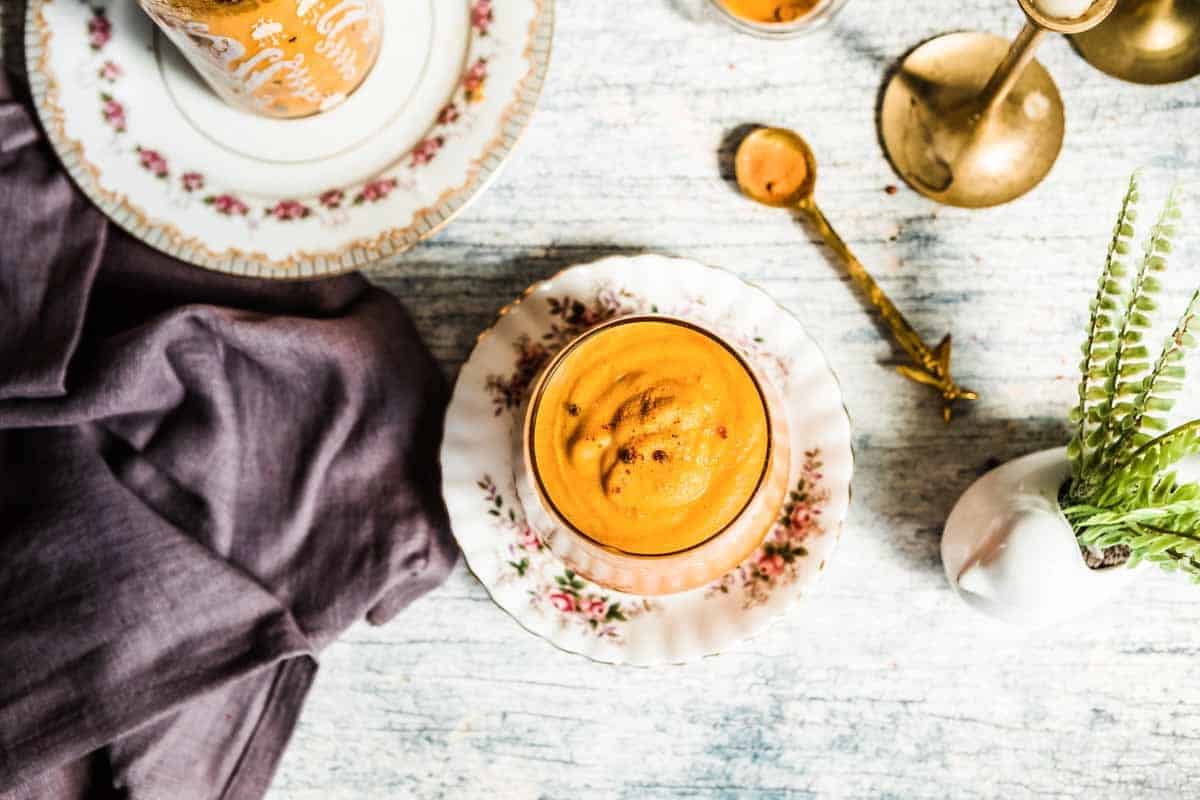 Foods to fight PCOS
So what foods can promote fertility besides the PCOS smoothie recipe below? Now, before you come at me for this list of foods… remember that plant BASED does not mean vegan. I share meatless recipes because I know how hard it is to swap meat for plants. Yet I am all for a well-balanced diet, and that includes ALL whole foods… like these:
Animal protein– Why? A big battle for those struggling with PCOS is getting a nutrient balanced diet. Animal protein can help fill in the gaps and provide the nutrients your body needs to fight back.
Non-starchy vegetables– Kym recommends 1 lb of nutrient dense veggies every day. These include (but aren't limited to): gourd vegetables, nightshades, and of course, leafy greens! See why we became fast friends?!
Whole food carbs– foods like starchy veggies and legumes, as well as whole grains like quinoa and buckwheat.
Fats and oils– fish oil, olive + avocado oil, butter, nuts, seeds, fatty cuts of meat, eggs. Try to avoid more processed fats from cotton seed, canola, sunflower seed, soybeans, and rice bran. This PCOS smoothie recipe uses healthy fat from coconut cream.
Nuts and seeds– Need I say more? A few of Kym's favs include walnuts and chia seeds, as well as flaxseeds.
Low sugar fruits– While berries and melons are great low sugar options, remember that fruit contains natural sugar + fiber to help break down that sugar, so listen to your body and don't hide the fruit!
Now let's put these foods to the test and try out a new smoothie recipe!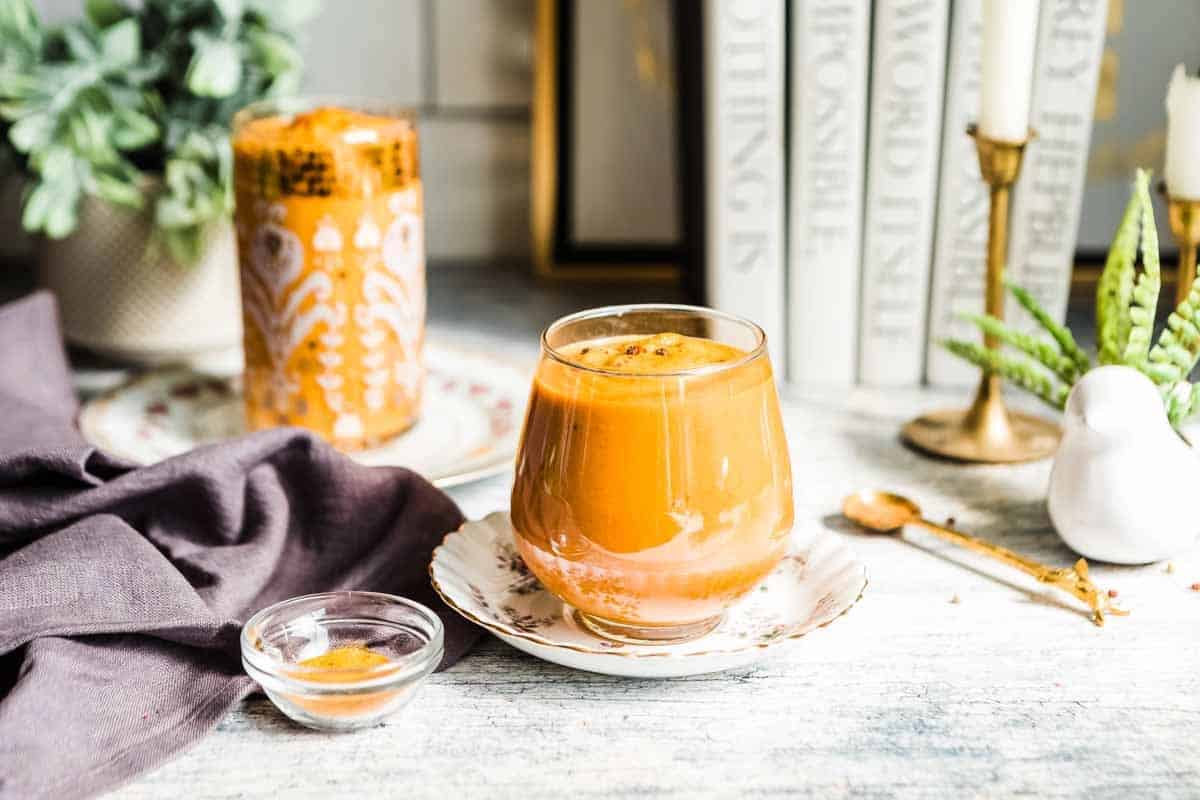 PCOS smoothie recipe
Quite frankly, this smoothie's got a little bit of everything and a whole lot of goodness in every sip. A few notes to help you achieve the perfect blend:
Coconut cream is the fatty cream in canned coconut milk. Did you know you can actual buy whole cans of just this rich cream part?! Thrive Market has my fav brand of coconut cream. Yet if you have trouble finding this, then buy full fat canned coconut milk, DON'T shake it before opening, then use a spatula to scrape out just the creamy part, leaving the milk at the bottom.
Ceylon cinnamon, turmeric, pumpkin, and also ginger all contain anti inflammatory properties. Fighting inflammation is important to managing PCOS symptoms.
Orange foods– If you noticed a color theme in this smoothie, then you're on to something! Orange foods are full of vitamin A, and so is this PCOS smoothie!
Now give this PCOS smoothie a blend, then leave a comment + review to let me know how it tasted. I love pumpkin, so I instantly fell in love with this creamy creation!
More fertility smoothie recipes
Taking control of your health doesn't have to be bland or difficult. It can be as easy as measure, blend, sip! If the PCOS smoothie below was a win, then try out some more PCOS-friendly smoothie recipes below:
These recipes are not only insanely good, they are loaded with whole foods that work for your body.
Plant based protein for PCOS smoothie
Want to turn your smoothie into a meal? Then add 1 serving of homemade protein powder, which easily turns any one of these fertility smoothies into a meal. No sugar, no additives, no secret ingredients. Just hemp protein, chia seeds, and flax seeds loaded with healthy fats.
I do recommend adding a little extra liquid to this PCOS smoothie if using homemade protein powder, to keep it creamy as well as thin enough to drink.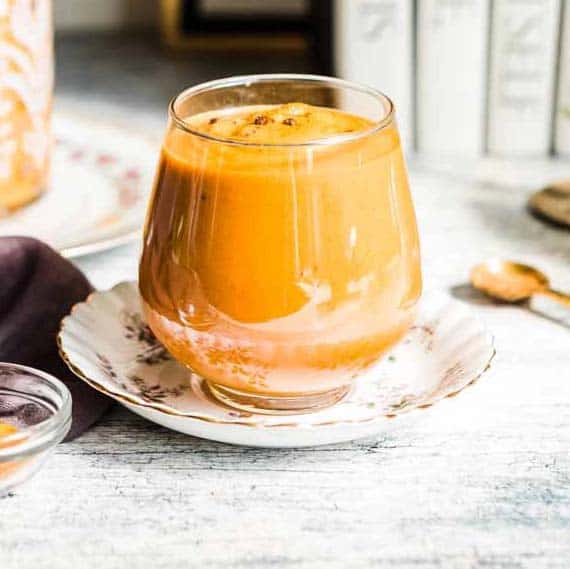 PCOS Smoothie Recipe
Fertility and food come together in this creamy smoothie creation. Loaded with foods that can fuel your body, this PCOS smoothie is a great way to start the day. 
Ingredients
½

cup

pumpkin puree

4

oz

carrot

cut into large pieces

1

tbsp

ginger root

minced

1

cup

almond milk

¾

cup

coconut cream

1

tsp

ground cinnamon

½

tsp

ground turmeric

Pinch

black pepper

1

serving

homemade protein powder

optional
Instructions
Add all ingredients to blender, then blend until smooth

Pour into your fav glass and enjoy!
Nutrition
Calories:
711
kcal
,
Carbohydrates:
33
g
,
Protein:
10
g
,
Fat:
66
g
,
Saturated Fat:
56
g
,
Polyunsaturated Fat:
2
g
,
Monounsaturated Fat:
4
g
,
Sodium:
384
mg
,
Potassium:
1105
mg
,
Fiber:
11
g
,
Sugar:
8
g
,
Vitamin A:
29762
IU
,
Vitamin C:
15
mg
,
Calcium:
396
mg
,
Iron:
7
mg