This easy smoothie will brighten your day! It's made with just 4 ingredients + a dash of cinnamon at the end, and it uses a fun seasonal fruit called a persimmon. Try my Yogurt Persimmon Smoothie for a creamy snack.
My son introduced me to persimmons after we found some at Trader Joes. He thought they were so bright and fun so we just had to try them. Once we figured out how to tell when they're ripe (when the skin is almost translucent), we gave them a try… and were immediately impressed! They are creamy, super sweet and easy to eat.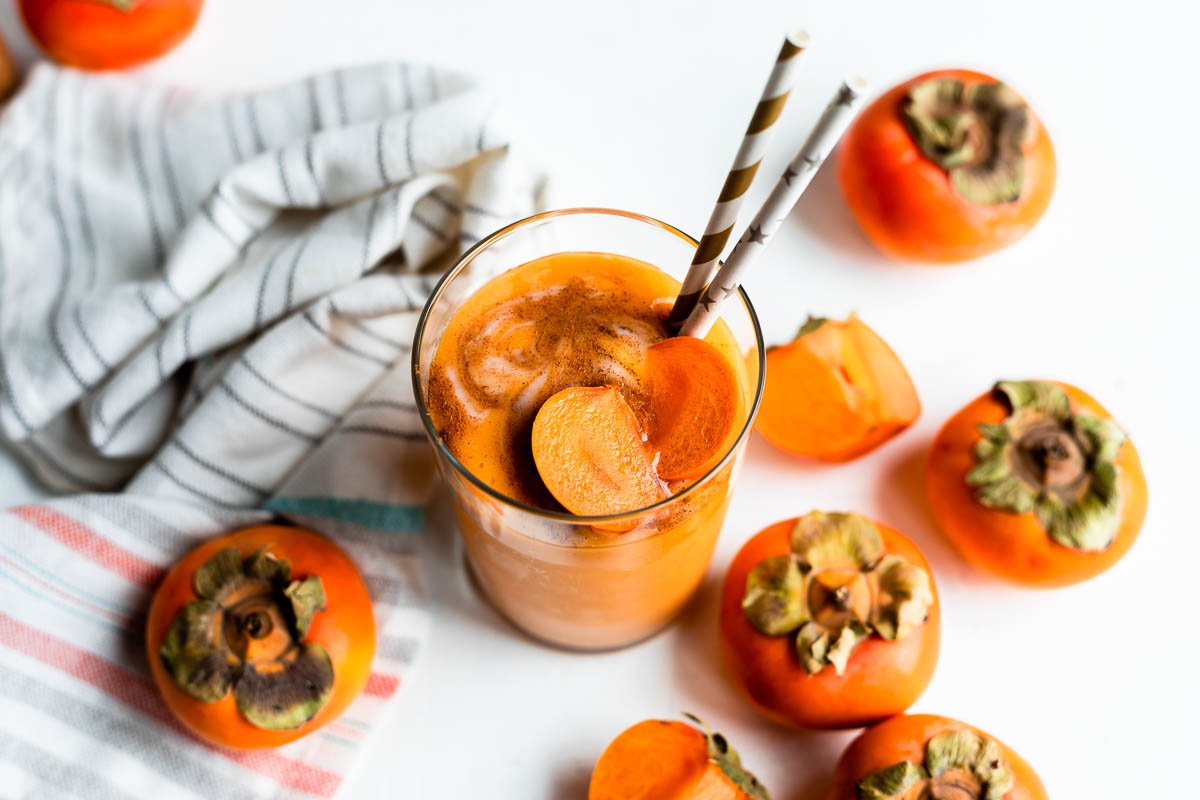 Naturally I had to come up with a fruit smoothie recipe to showcase this incredibly beautiful fruit, so I paired it with a bright orange, some coconut yogurt and a bit of honey for a filling snack. This no banana smoothie recipe is a great option to blend this time of year.
Table of Contents
Ingredients in a Persimmon Smoothie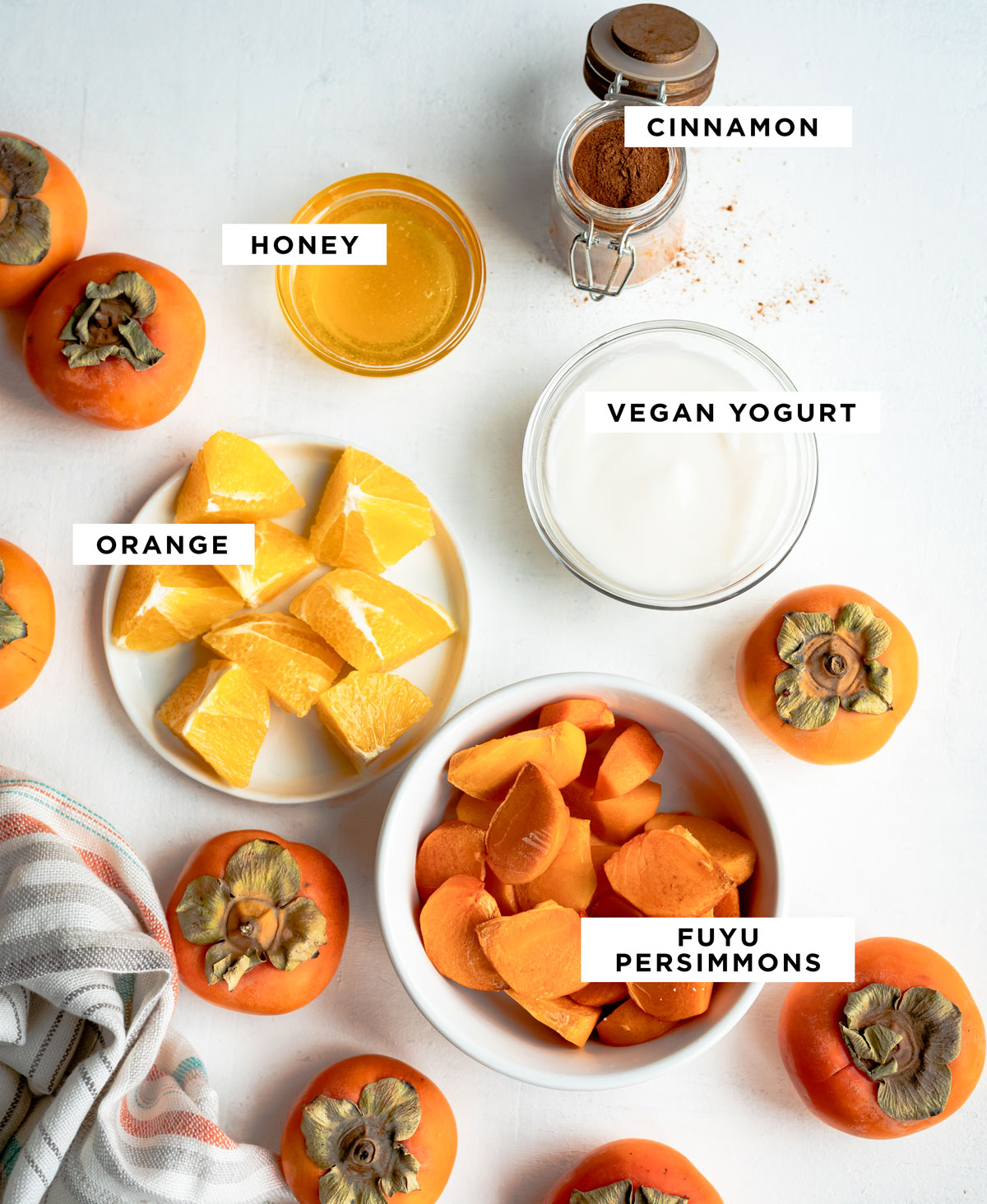 This 4-ingredient smoothie with a dash of cinnamon is such a satisfying pairing of sweet, citrus and a bit of deep flavor from the honey and spice.
Vegan yogurt: I'm keeping this smoothie dairy-free with some coconut yogurt. Grab your fav version from the store or try making your own.
Orange: A lightly peeled orange adds a juicy, citrus flavor to this blend while also giving it vitamin C.
Fuyu persimmons: This type of persimmon should be fairly easy to find at the grocery store starting in October.
Honey: I love pairing honey with these sweet persimmons. Feel free to use the natural sweetener of your choice; maple syrup is a great vegan option.
Cinnamon: A dash of cinnamon at the end is the perfect way to finish off this festive drink. If you aren't a fan of smoothie toppings then feel free to add it right into the blender to mix in with the other ingredients.
You can swap the yogurt with canned coconut milk and add in a dash of vanilla for a bit of warmth.
Pro Tip: Make sure those persimmons are ripe before you blend, as they won't be flavorful and creamy if they aren't!
How to Make a Persimmon Smoothie
Since persimmons may be a new-to-you fruit, especially if you aren't used to tossing them into a smoothie, I added a recipe step on how to prep them (spoiler alert, it's super easy). Here's how I'm blending this 5-ingredient smoothie: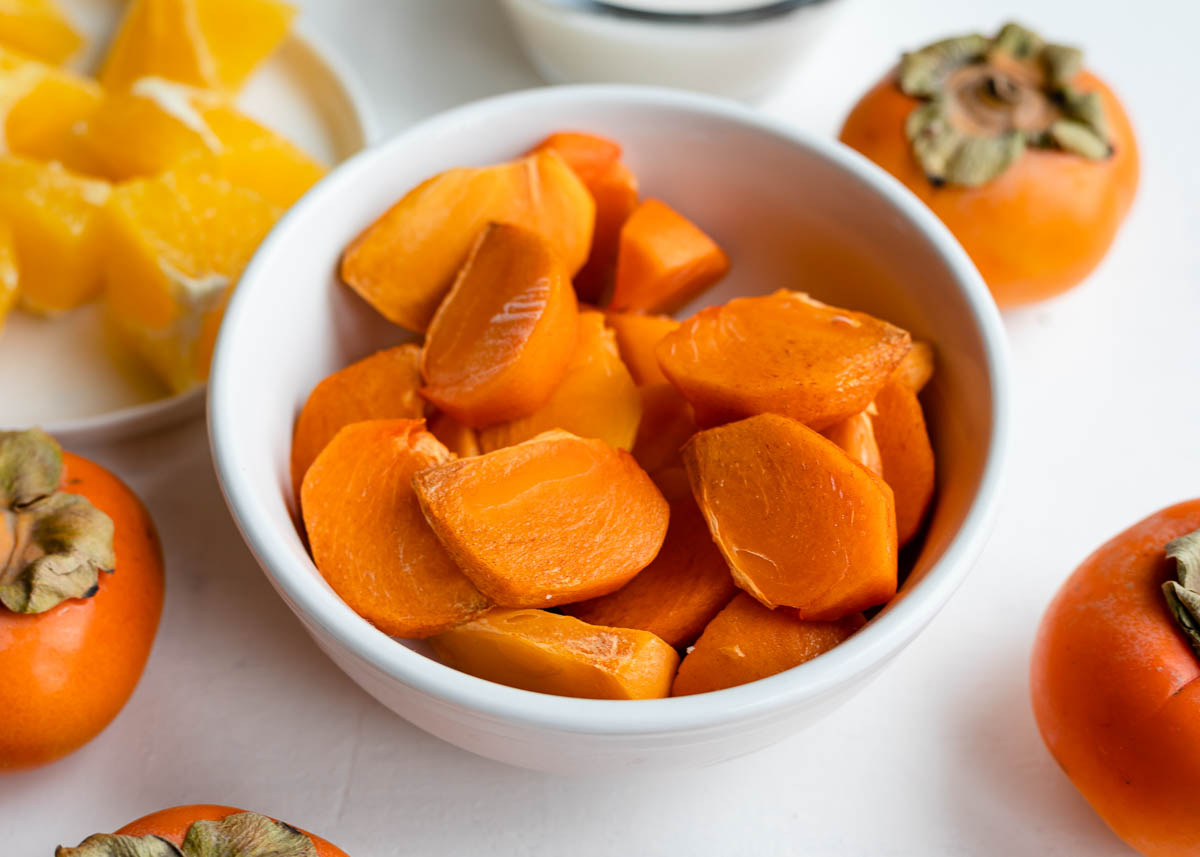 Step 1: Since the skin of a persimmon is edible, start by washing the fruit well. Then remove the top stem and you're ready to toss them into the blender along with the yogurt, orange (peeled) and honey.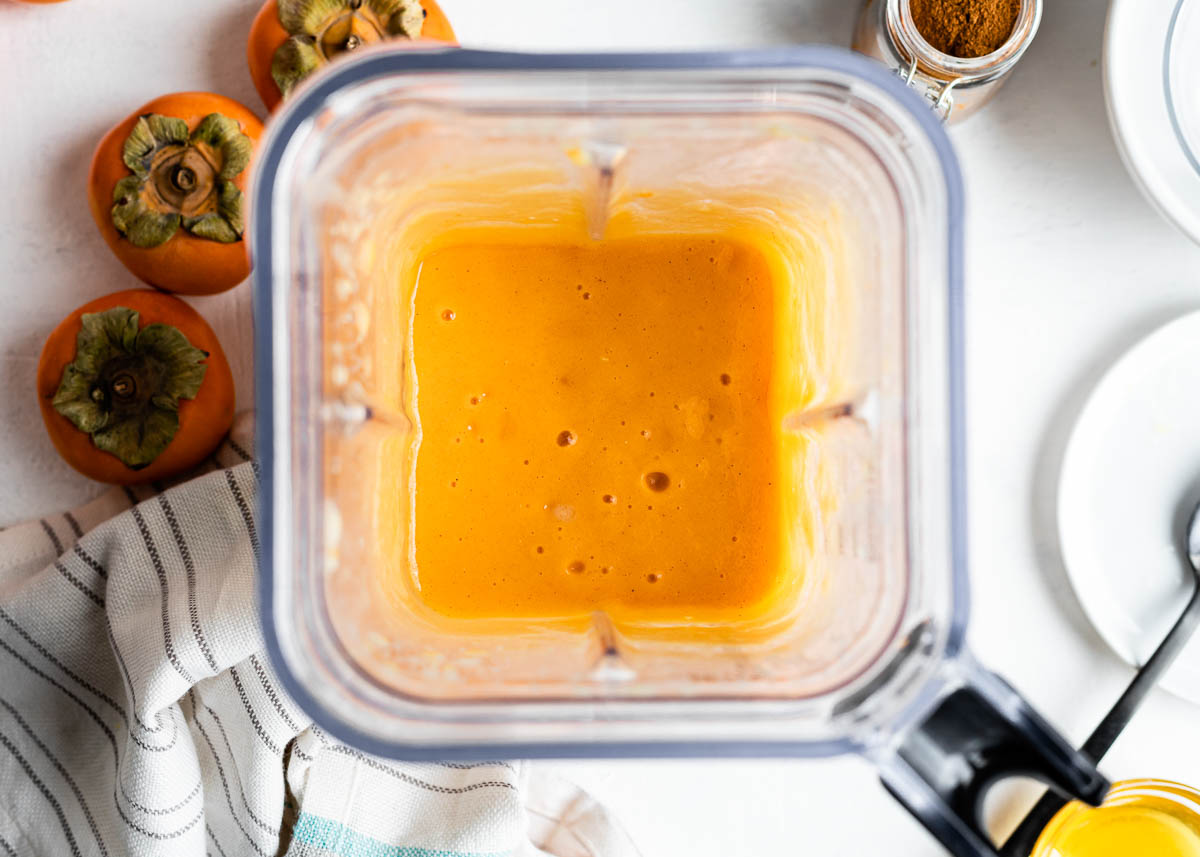 Step 2: Blend this mixture until smooth. Stop and scrape down the sides as needed to get the smoothest result.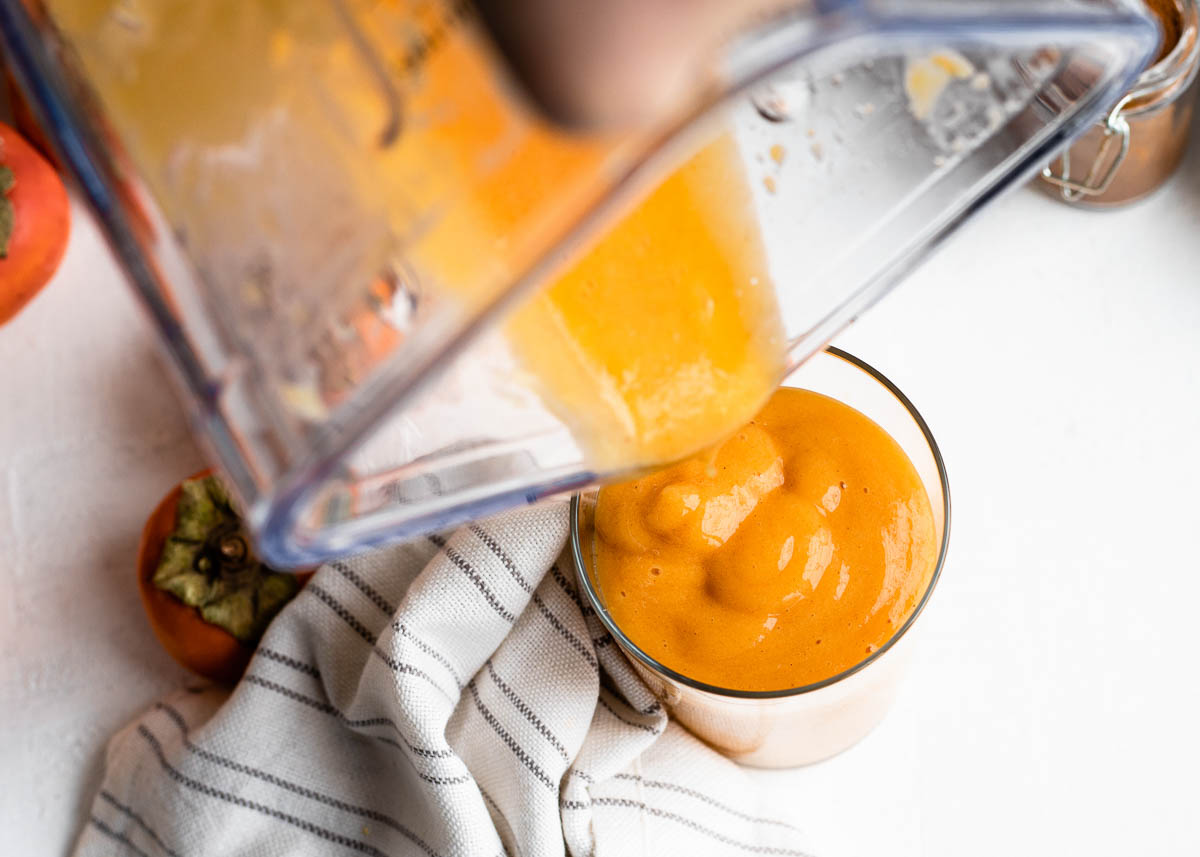 Step 3: Pour into a glass and sprinkle cinnamon on top. Enjoy!
If you thought the liquid was missing, it's not. Oranges and persimmons are super juicy fruits so they act as both the liquid and the produce in this recipe. If you want to add in a few tablespoons of water to help your blender then go for it.
You can also add in a bit of coconut milk for a tropical tasting result.
Common Questions ABout A Persimmon Smoothie with Yogurt
What fruits go well with persimmon?
Persimmon tastes great alongside oranges, pomegranate seeds, grapes and apples. Since these are all rip in the same season, you should be able to easily find them all to toss into a fruit salad or smoothie!
Can you eat the skin of a persimmon?
The skin of a persimmon is definitely edible! The skin is just a bit tougher than that of a plum, and tastes just like the custard-like flesh inside.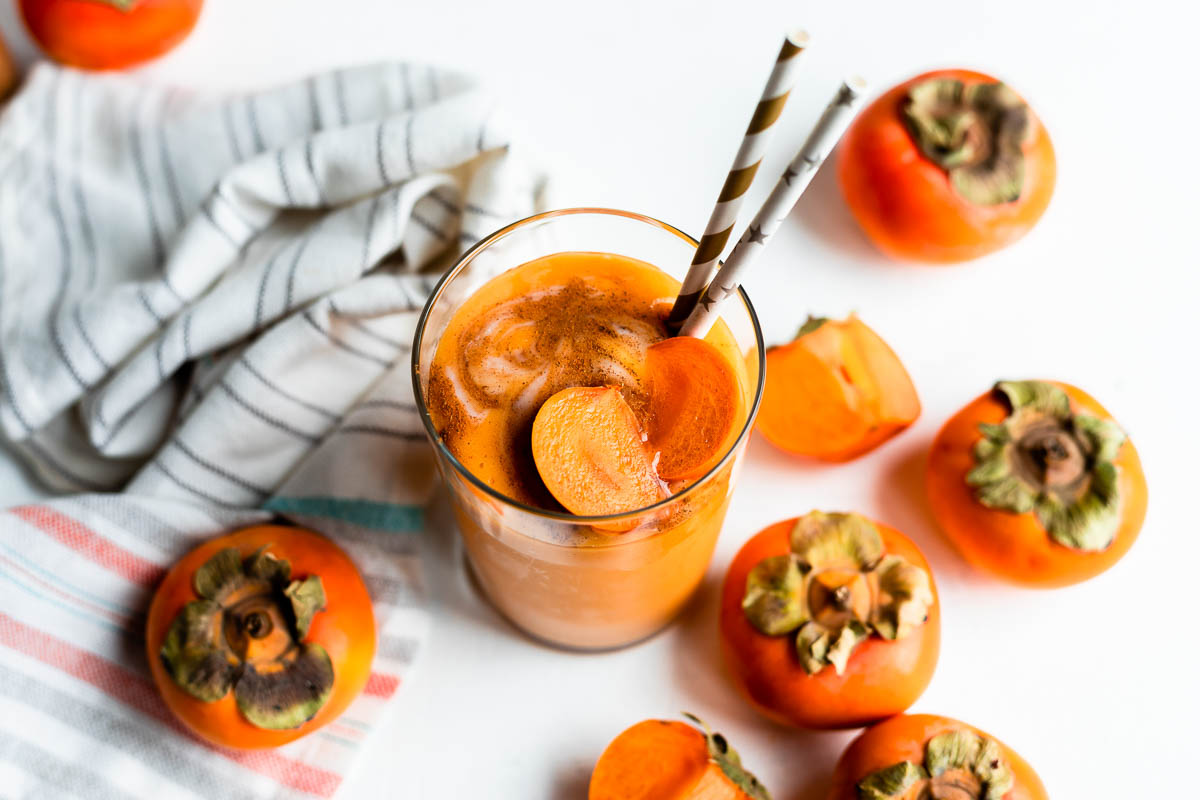 More Fruit Smoothie Recipes for Winter
I know it might be hard to think about sipping an icy cold smoothie during the Winter months yet hear me out. You might be surprised how much of a difference using room temp ingredients (aka no frozen fruits) or blending up some warm smoothies can make.
Seasonal ingredients make smoothies like this butternut squash smoothie or an apple pie smoothie taste heavenly, even warm! My kids love sipping a hot chocolate smoothie on a cold morning.
Or if you do just fine with cold ingredients then give a refreshing pomegranate smoothie or a festive fig smoothie a blend. Lean into the flavors of the season and have fun with your daily beverage!
Don't forget to rate + review this recipe once you've made it; I can't wait for you to try it!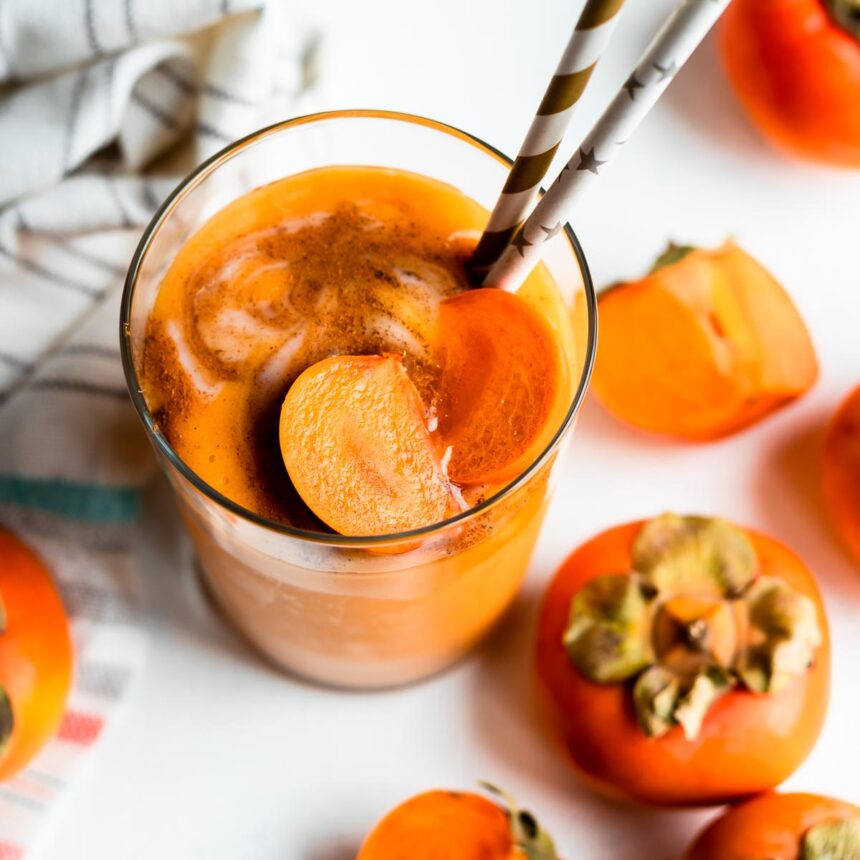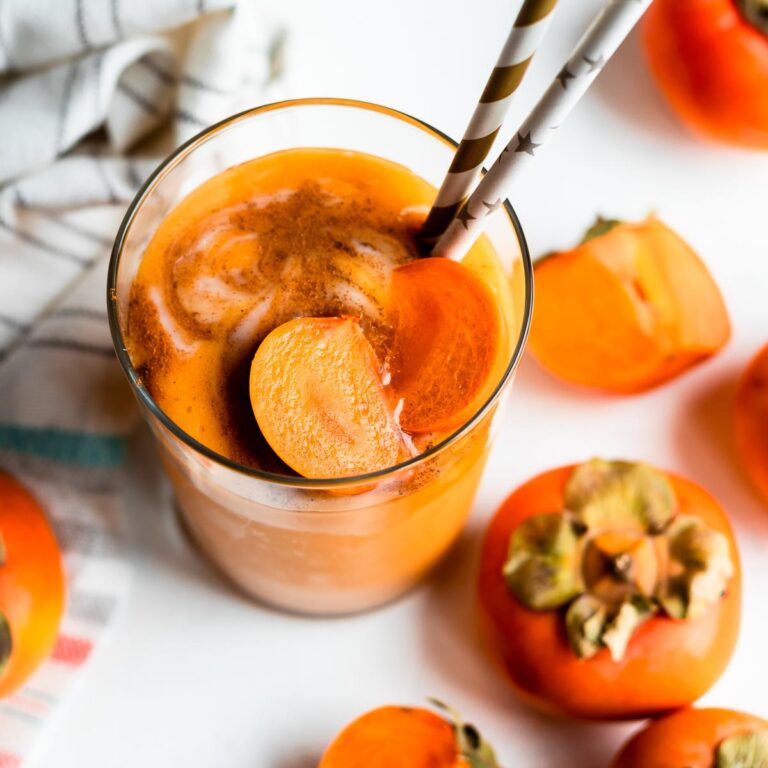 Yogurt Persimmon Smoothie
I'm turning to persimmons this year for a festive, in-season persimmon smoothie that's ultra creamy and tasty. Just 5 simple ingredients— yogurt, orange, persimmon, honey and cinnamon,— to create a delicious drink that will help fuel your day.
Ingredients
½

cup

vegan yogurt

1

orange

peeled

2

fuyu persimmons

ripe

1

tsp

honey

⅛

tsp

cinnamon

ground
Instructions
Wash persimmons and remove stems.

Blend yogurt, orange, persimmons and honey until smooth.

Pour into a glass and sprinkle cinnamon on top. Serve immediately.
Notes
To make this recipe vegan, swap honey with maple syrup or the natural sweetener of your choice.
Since oranges carry so much water, you don't need to add liquid to this smoothie. Yet if your blender blades have a hard time getting this smoothie liquified, then add just a bit of water to facilitate the blending process.
Use frozen persimmons or add ice to your glass for a refreshingly cool smoothie.
Feel free to add up to a cup of leafy greens.
Nutrition
Calories:
402
kcal
,
Carbohydrates:
92
g
,
Protein:
4
g
,
Fat:
7
g
,
Saturated Fat:
5
g
,
Polyunsaturated Fat:
0.03
g
,
Monounsaturated Fat:
0.03
g
,
Sodium:
39
mg
,
Potassium:
782
mg
,
Fiber:
17
g
,
Sugar:
19
g
,
Vitamin A:
295
IU
,
Vitamin C:
292
mg
,
Calcium:
566
mg
,
Iron:
9
mg