One of our most popular recipes is our Pineapple Banana Smoothie, which we fondly call the Pineapple Upside Down Cake in my smoothie recipe app, Daily Blends. It's dessert-level good! Before you run from the sight of spinach—give this a shot…. TRUST ME! This smoothie not only tastes amazing, it also has some added health perks that you'll definitely enjoy.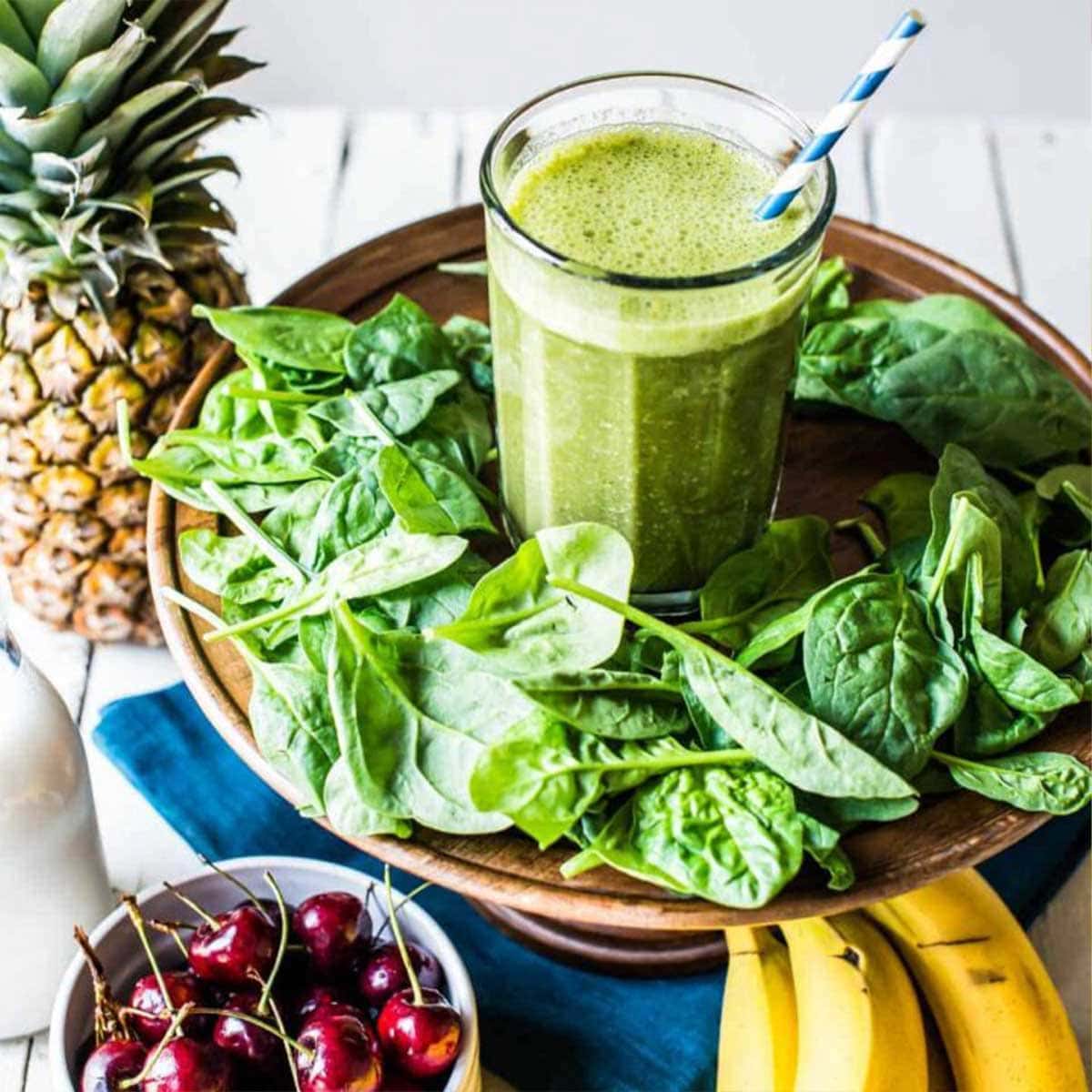 Table of Contents
Banana and Pineapple Smoothie
This pineapple banana smoothie is inspired by a cake from my childhood: the Pineapple Upside Down cake. While it may be based on a super sweet dessert, this fruit smoothie is loaded with health benefits too:
Only sweetened by fruit, no added sugar here!
thick & creamy thanks to the protein-rich almond milk + bananas
100% plant-based to give you the healthiest smoothie without any of the tummy troubles that dairy often causes.
Naturally boosted with calcium, vitamin C, and vitamin D, which gives you some delicious health benefits.
No wonder this pineapple banana smoothie is such a fav among our fellow smoothie lovers! Seriously, this is a fun smoothie for newbies as well as veteran smoothie drinkers.
Smoothie Ingredient Swaps + Protein Boosts
If you need to lower the sugar, then replace the banana with a half cup frozen cauliflower, or 1/4 an avocado. That way you keep the creamy texture while cutting down on the sugar.
Want to turn this pineapple banana smoothie into a meal? I love adding in a scoop of natural almond butter, for a hint of nuttiness + a load of healthy fat.
If you want a protein boost without any change in flavor, then try a clean, plant based option. My completely plant-based, organic protein powder recipe is a quality way to add protein to any smoothie you make. It gives your smoothie 10 extra grams of protein + healthy fat, without changing the flavor! That means this pineapple banana smoothie goes from 4.2 grams of protein to 14.2 grams, #kaleyeah!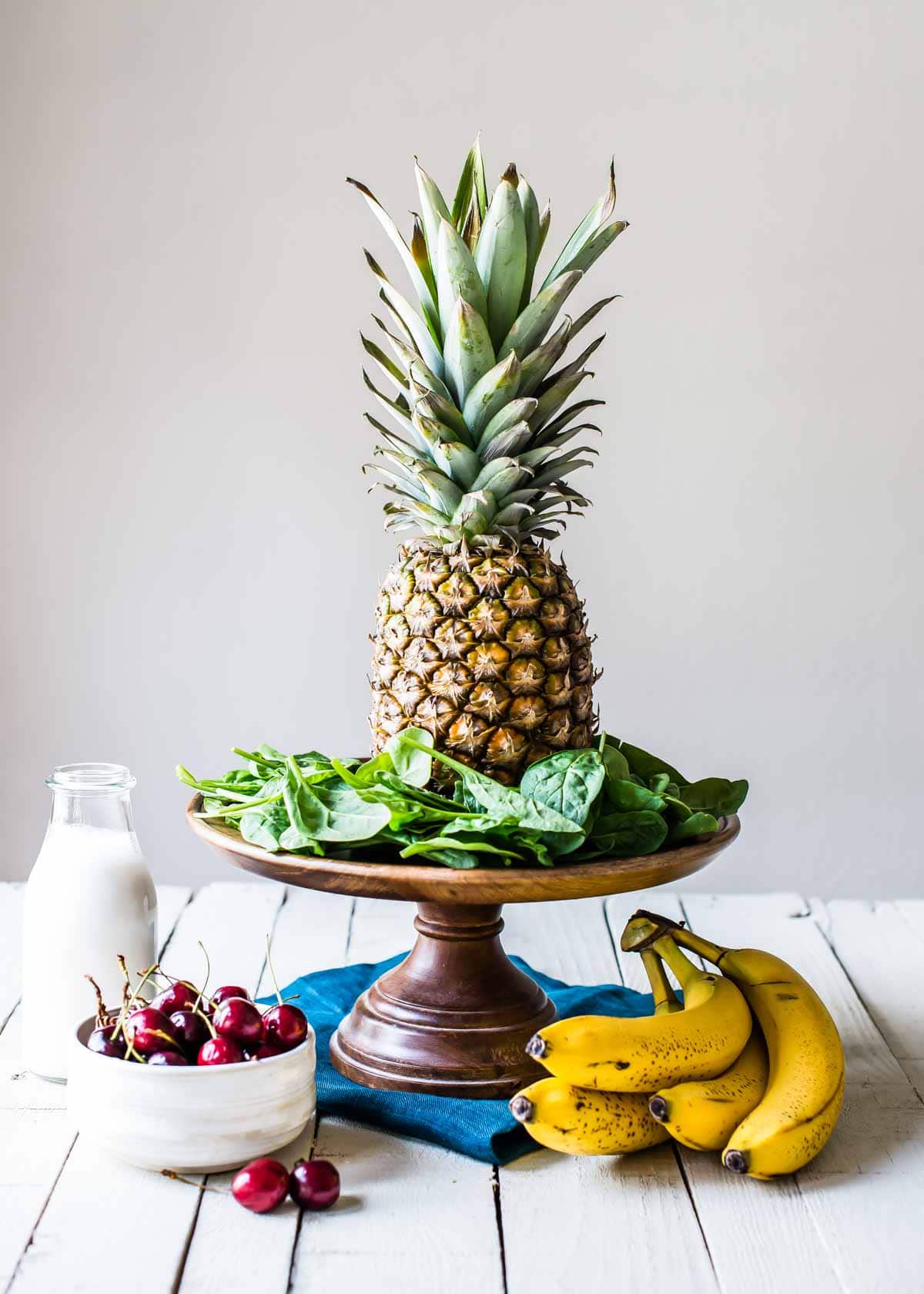 What Almond Milk Should I Use in Smoothies?
While water is an easy base to swap in for almond milk in this pineapple banana smoothie, I love the flavor + creaminess that the almond milk adds. You can either make your own almond milk (which is what I do!), or you can buy some from almost any grocery store. If you choose store bought, don't forget to check out my report on the best almond milk brands currently on the market.
Liquid swaps for pineapple banana smoothie
If almond milk isn't your thing, no worries! Green smoothies are SO versatile, and I've got some great swaps for you. Honestly, you could swap in almost any dairy-free milk you want (cashew milk and oat milk are my top choices for this pineapple banana smoothie).
The thickness + texture changes depending on the liquid used, so keep that in mind. If water is your base of choice, then add in a tablespoon of hemp hearts so you don't lose the protein.
 More Healthy Smoothies
Pineapples are a sweet, tropical ingredient found in many of my smoothie recommendations for beginners. They are flavorful and bright, as well as loved by many. If you're looking for more pineapple smoothie options, then I've got some great recipes for you!
What are some of your fav pineapple smoothie combos? Share in the comments so that we can all try some new flavors together!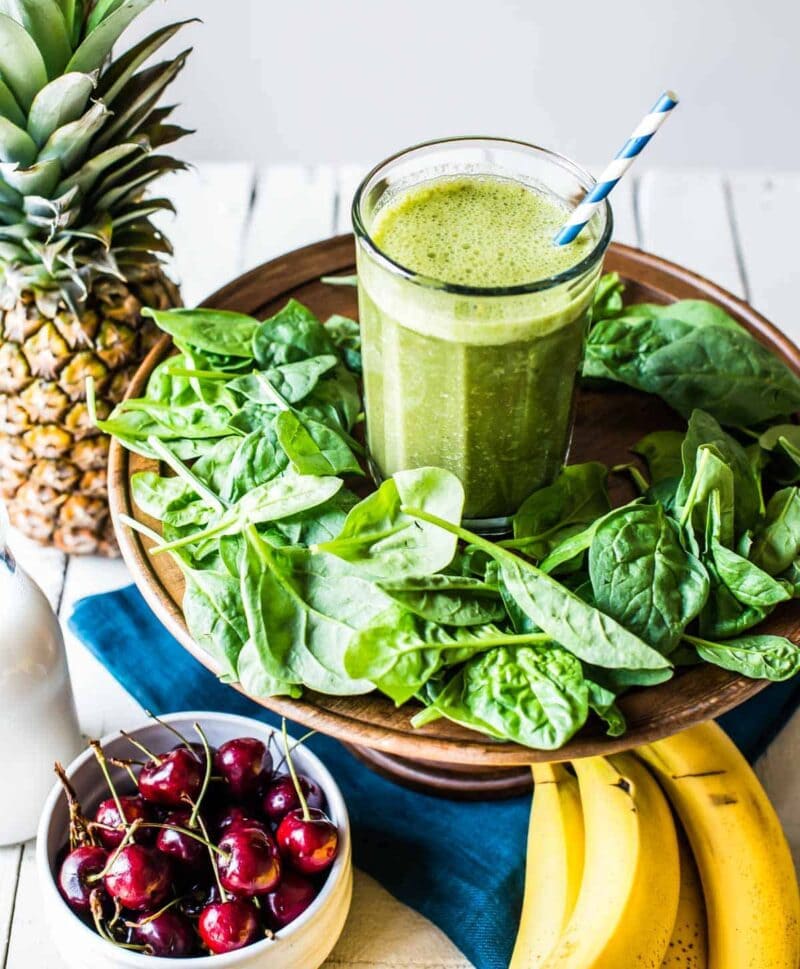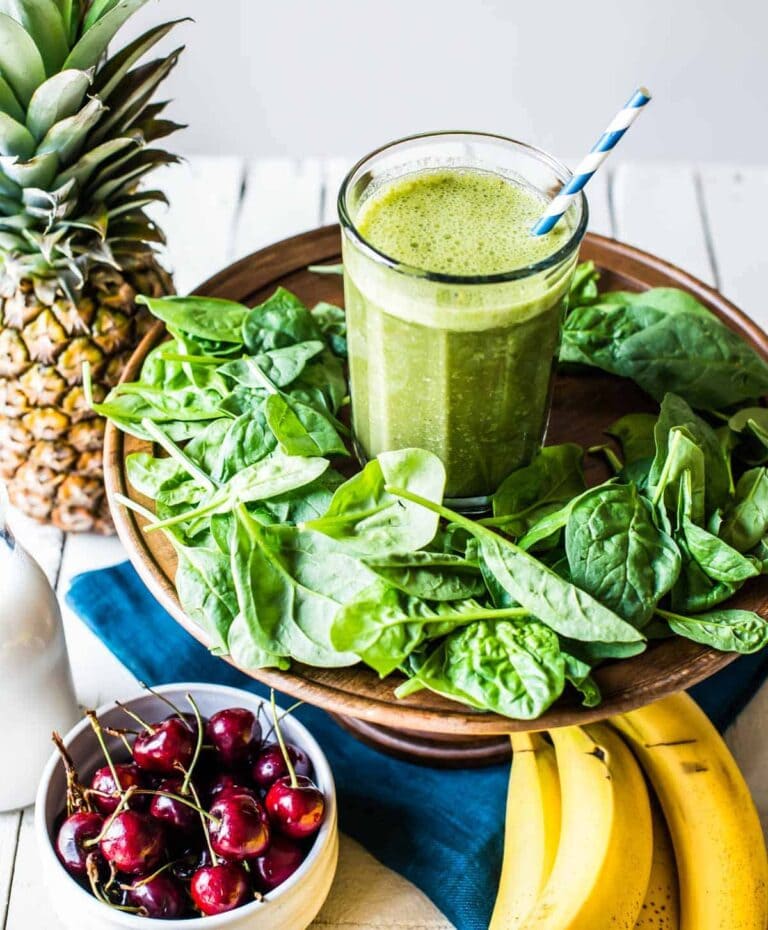 Healthy Pineapple Banana Smoothie
This healthy pineapple banana smoothie is full of fruity flavors. Unlike most smoothies, this one is also loaded with fiber, vitamins, and minerals to nourish you.
Instructions
Blend spinach and almond milk until smooth.

Add remaining ingredients, and blend until smooth. Enjoy!
Notes
Use at least one frozen fruit to make smoothie cold.
Cherries can be substituted with berries.
Use the leafy greens of your choice.
Use the dairy-free milk of your choice.
Nutrition
Calories:
179
kcal
,
Carbohydrates:
37
g
,
Protein:
4
g
,
Fat:
4
g
,
Saturated Fat:
1
g
,
Polyunsaturated Fat:
2
g
,
Monounsaturated Fat:
2
g
,
Sodium:
350
mg
,
Potassium:
622
mg
,
Fiber:
6
g
,
Sugar:
25
g
,
Vitamin A:
2943
IU
,
Vitamin C:
58
mg
,
Calcium:
352
mg
,
Iron:
1
mg