One of my fav fruits is pineapple. It has SO many uses from smoothies to salsas, and works great both fresh and frozen. I love eating it plain, as a topping, or within a dish… I mean, have you ever grilled pineapple?! It is divine. This pineapple smoothie recipe is also divine, whether made for a playdate or a light + sweet dessert.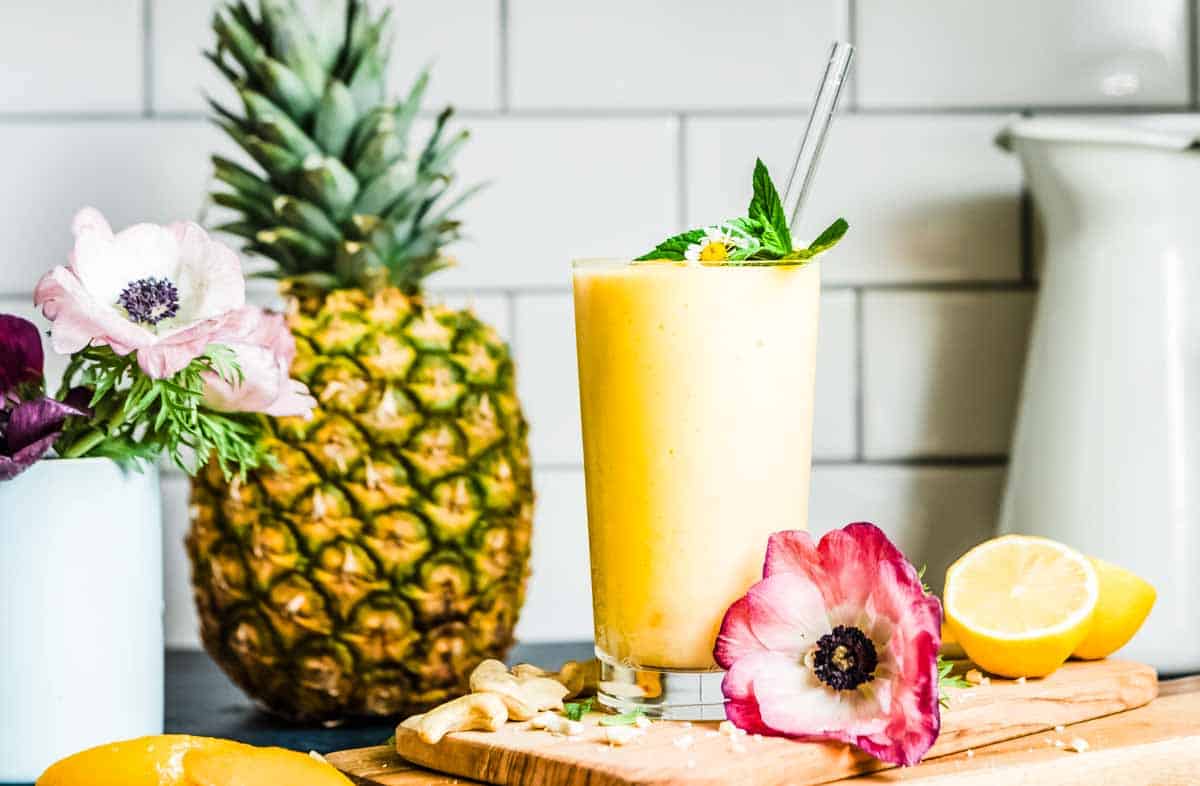 How to Make a Pineapple Smoothie
Most of my smoothies with pineapple in them use water as the base. So I decided to switch it up and use a juice base for this one. If you are trying to keep your sugar low, then swap that fruit juice for coconut water, coconut milk, or plain water.
I also use cashew yogurt to up the cream factor in this pineapple smoothie. I used Forager brand, which adds 3 grams of protein (always a win). Since I know my body doesn't process dairy well, I'm always on the lookout for a good dairy free option.
Many of the dairy-free brands add a lot of extra ingredients, additives, and dyes, so ALWAYS read labels when shopping for a new kind. Find one that works best for you and your body.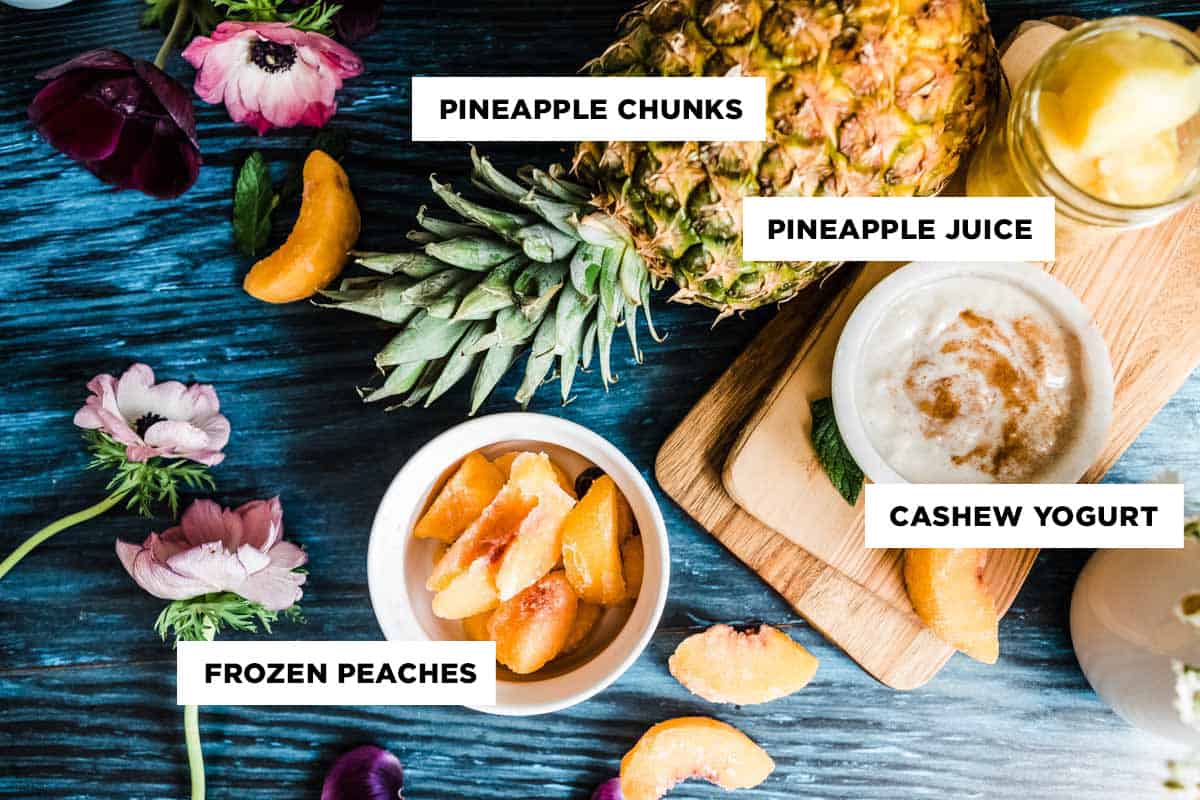 When blending frozen ingredients in a non high-powered blender, you may need to let the ingredients thaw for 15 minutes before blending. Letting them sit in the blender with the liquid added helps in the thawing process.
Another easy way to cut back on the natural sugar content is to add in leafy greens. Spinach is always a great option, yet I love smoothies with kale + pineapple. Pineapple has a strong flavor and helps cut down on the sharper taste of kale. Leafy greens are loaded with fiber, which our bodies use to process sugars.
Easy Ingredient Swaps
Like I said above, choose the liquid base that works best for you. I kept it simple by adding in the entire contents of the canned pineapple, yet many other liquids work just as well as pineapple juice. This pineapple smoothie isn't short on flavor, so using water won't let you down on taste.
You can swap out the cashew yogurt for coconut yogurt, coconut cream, or dairy-based yogurt if it sits well in your body. Make sure to look for a yogurt without a lot of added sugar, and with as few ingredients as possible. If you're feeling adventurous, then try my homemade vegan yogurt recipe.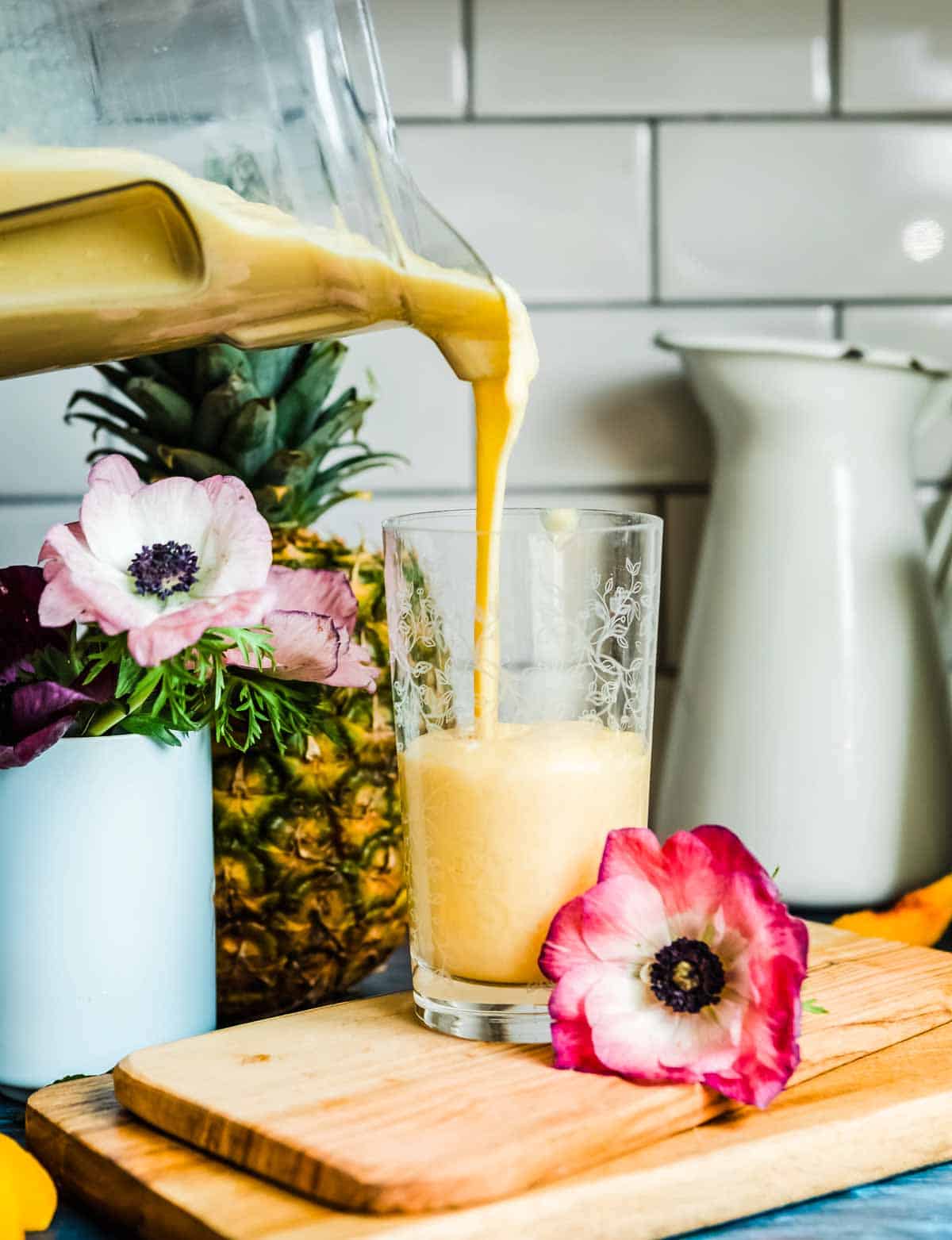 Canned, fresh or frozen fruit?
This is a super common question I get. Which is best: fresh, frozen or canned fruit? While we can all agree that fresh, in season produce has the most nutrients, that's not always available. Frozen is also a great option as most fruit is picked in its peak season and then frozen right away to preserve nutrients.
Canned fruit is also processed within hours of harvest, helping to preserve nutrients. When using canned fruit, I look for ones packed in 100% fruit juice, not syrup. Canned fruit also has a long shelf life, and is typically the least expensive option.
I like to buy fresh fruit seasonally, then freeze what I don't immediately use. Pineapple peak season is Spring and Summer, so grab up those pineapples now to get the best bang for your buck!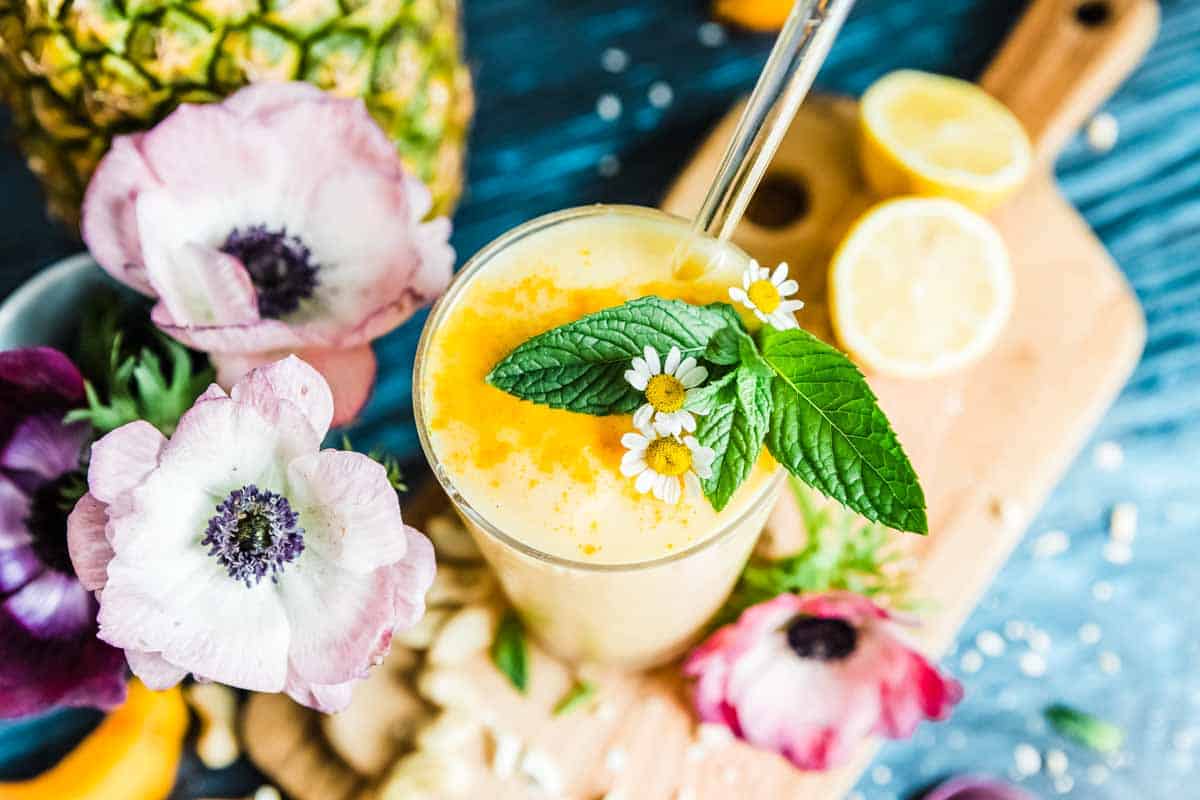 FAQs
What fruits go with pineapple?
All of them! But seriously, pineapple easily pairs well with berries, other tropical fruit like oranges, limes, mango, stone fruits like peaches and nectarines… the list goes on and on. Remember that ripe pineapple is naturally sweet, so pairing it with less sweet fruits like blackberries work well too.
Can I mix pineapple and milk?
Yes! I often use coconut milk in smoothies with pineapple, as the flavors go well together. This smoothie uses creamy yogurt in it, which blends well with pineapple as well.
What are the benefits of a pineapple smoothie?
Pineapple is loaded with nutrients, especially vitamin C. It's rich in antioxidants and is a good source of fiber. Its anti inflammatory properties make it great to take if you are fighting inflammation.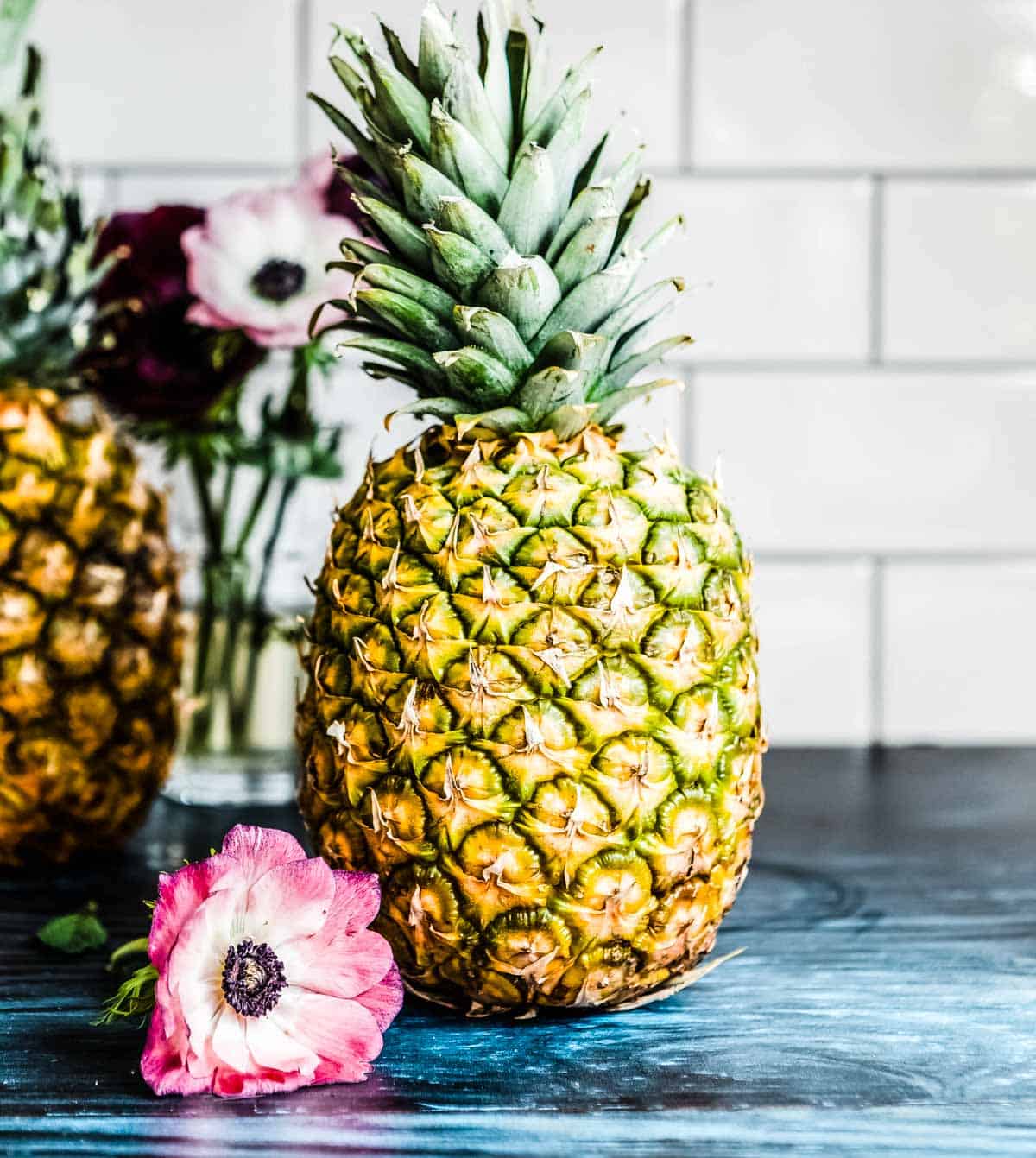 More Pineapple Smoothie Recipes
Pineapple is the perfect smoothie ingredient because it's naturally sweet as well as inexpensive. You can find it both fresh and frozen in most any grocery store.
Here are my top smoothies with pineapple; I hope you can find a new fav too!
Which one of these sounds like a smoothie you wanna try? Let me know in the comments below… and don't forget to try this new pineapple smoothie recipe!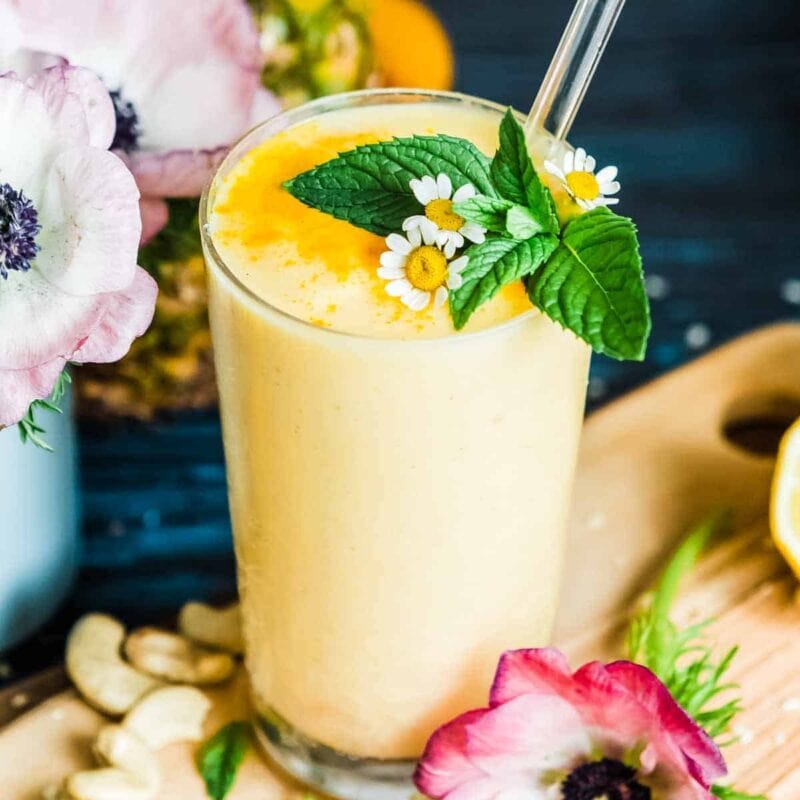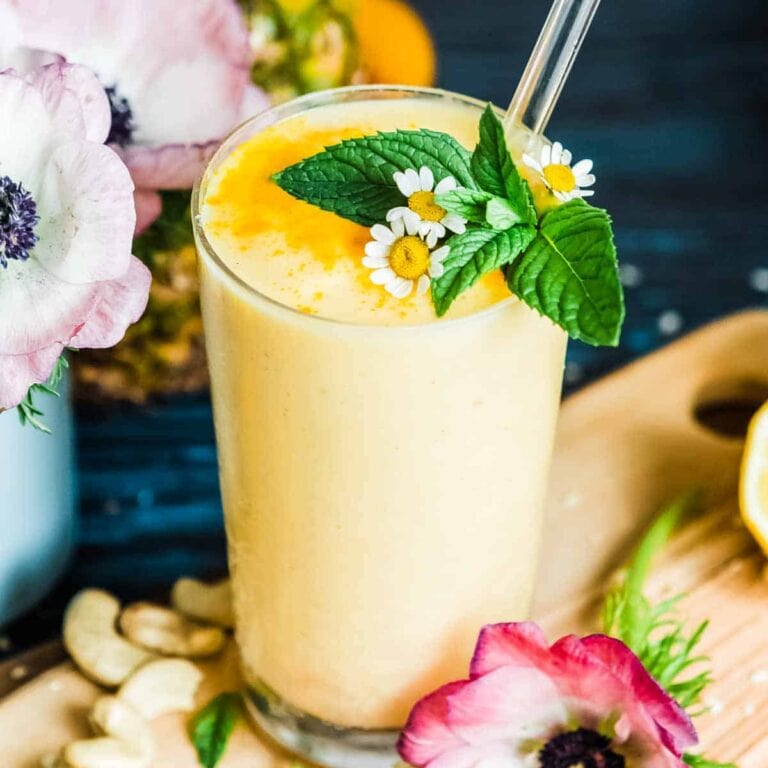 Healthy Pineapple Smoothie
This tropical pineapple smoothie uses plant-based ingredients to create a creamy and healthy treat. Fun to make + easy to customize; enjoy the best flavors of summer with this super simple smoothie.
Instructions
Blend all ingredients until smooth.

Pour into glasses and enjoy!
Notes
Swap the pineapple juice for coconut water or plain water for a less sweet treat
Swap the canned pineapple for fresh pineapple
Peach can be subbed with nectarine or mango
Add up to 1 cup of leafy greens to cut down on the sugar in this recipe as well as provide extra nutrients.
Use your own vegan yogurt if you want to know exactly what's in the ingredients.
Nutrition
Calories:
126
kcal
,
Carbohydrates:
19
g
,
Protein:
5
g
,
Fat:
4
g
,
Saturated Fat:
3
g
,
Polyunsaturated Fat:
1
g
,
Monounsaturated Fat:
1
g
,
Cholesterol:
16
mg
,
Sodium:
57
mg
,
Potassium:
382
mg
,
Fiber:
2
g
,
Sugar:
16
g
,
Vitamin A:
396
IU
,
Vitamin C:
25
mg
,
Calcium:
158
mg
,
Iron:
1
mg