Enjoying a smoothie after workout is honestly one of my favorite things. I usually don't have much of an appetite after a long run or a spinning class, so a smoothie is perfect. I'm sharing my best post-workout smoothie to help you make the most of that hard work, too!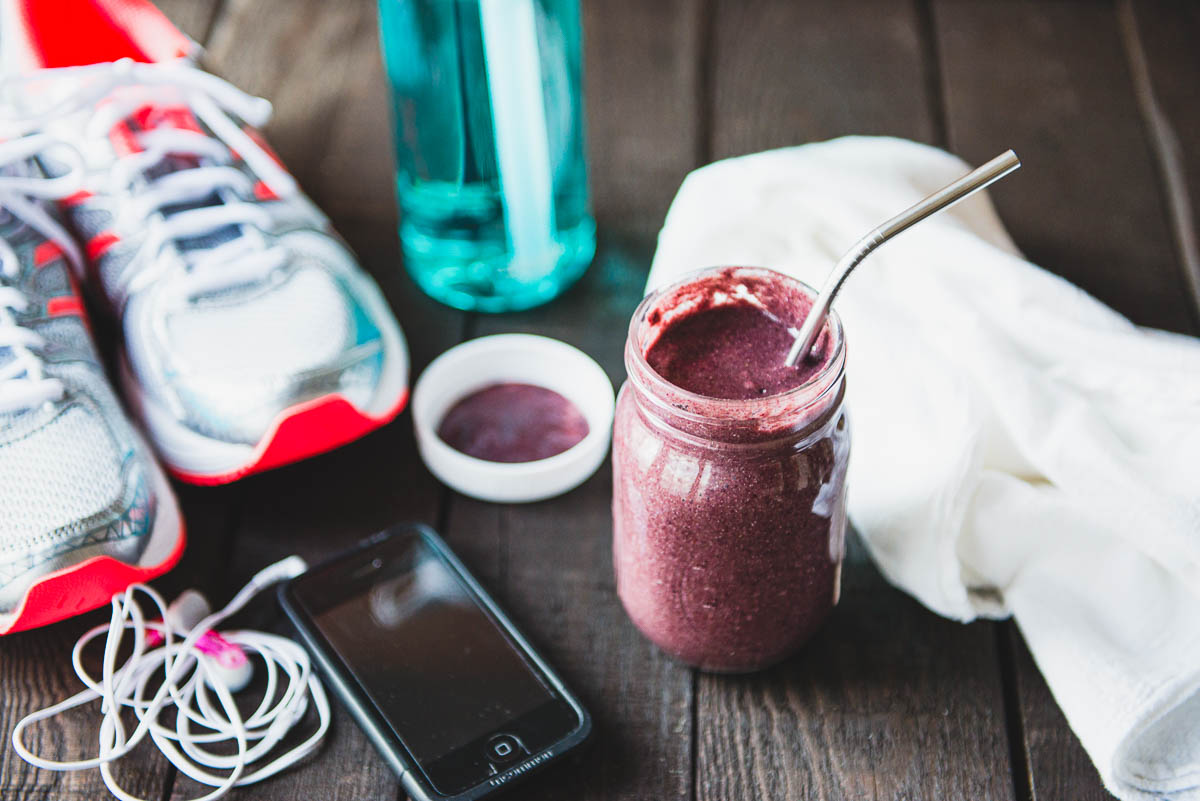 Depending on the type of exercise I want to do, I'll make a pre-workout smoothie or one after (not both). After a challenging workout, our bodies need replenishment and nourishment to recover properly.
While store-bought protein shakes and sports drinks have been popular choices for post-workout nutrition, smoothies have emerged as a delicious and nutritious alternative. Packed with vitamins, minerals, and other essential nutrients, smoothies can help restore and refuel your body after a strenuous exercise session.
Table of Contents
Recipe Ingredients
Whether you're a fitness enthusiast or just looking for a tasty and convenient way to support your active lifestyle, drinking smoothies after working out could be a game-changer. Let's check out the ingredient list for this recipe to learn why this is a great option:
Kale: This may surprise you, but kale has 4 grams of protein per serving! It is a powerhouse vegetable containing calcium, vitamins A, B6, C and K, potassium and manganese. If you are new to kale, it has a stronger flavor than spinach and this recipe is a great way to try it out!
Coconut water: While regular water works great as a liquid base, coconut water contains natural electrolytes. This is something you definitely want to replenish after an intense workout, especially if you sweat.
Orange: Oranges are 86% water, making them a great food option to help rehydrate. I love bringing them along with me on a long run or blending them into a smoothie.
Pineapple: While pineapple is higher in natural sugar, that sugar contains the energy boost you need after barre class.
Blueberries: I use blueberries as a low-sugar fruit addition with antioxidants that help lower blood pressure and fight disease.
Chia seeds: This superfood is an easy way to add protein, healthy fat and fiber to any blend, and it's pretty much tasteless.
How to Blend the Perfect Smoothie
Did you know it only takes about five minutes to blend a deliciously creamy smoothie? I've got a no-fail, two-step process that gets me a beverage I can enjoy with ingredients that my body will love:
Blend kale and coconut water until smooth. You don't want any leafy chunks left.
Add the remaining ingredients and blend again until smooth.
The reason I blend twice (even if using a high-powered blender!) is to give the leafy greens time to break down because I don't want to drink chunks. It doesn't take a lot of extra time and lets me enjoy this shake that much more.
Now, grab your blender and get ready to discover a new favorite way to recover and recharge after your workouts!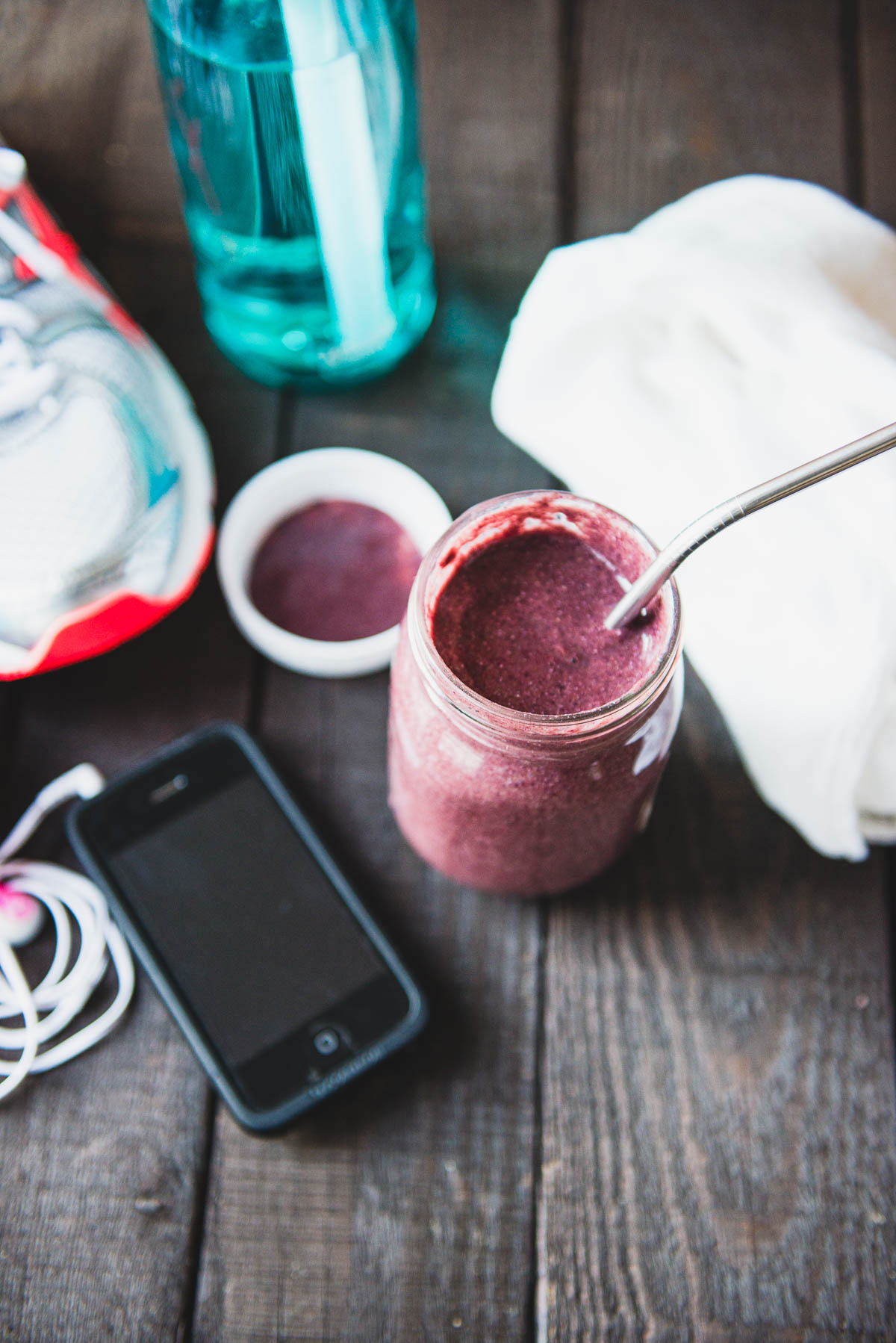 Boosting Smoothies with Protein
To make sure you're getting in enough protein and healthy fats after a great workout, try my plant-based protein powder recipe. It's only three ingredients and the cleanest one I've used, no weird ingredients here!
You can turn any smoothie or shake into a meal by using protein powder, and easily refuel.
FAQs
Are smoothies good for post-workout?
Smoothies are a great post-workout beverage. They can help refill your body with key nutrients you burned while working out as well as refuel your energy faster. Choose one that is filled with whole food ingredients and plants so that it won't weigh you down.
What should be in your post-workout smoothie?
My go-to smoothie has kale, coconut water, orange, pineapple, blueberries and plant-based protein powder. This way I get to replenish my electrolytes and protein and gain energy through the natural fruit sugars.
How soon after a workout should I drink a smoothie?
The faster you can replenish electrolytes and energy after a workout, the better! I like to prep my smoothie before I work out so it can chill in the fridge and be ready to consume immediately after the workout is over. It also contributes to hydration, which is a bonus.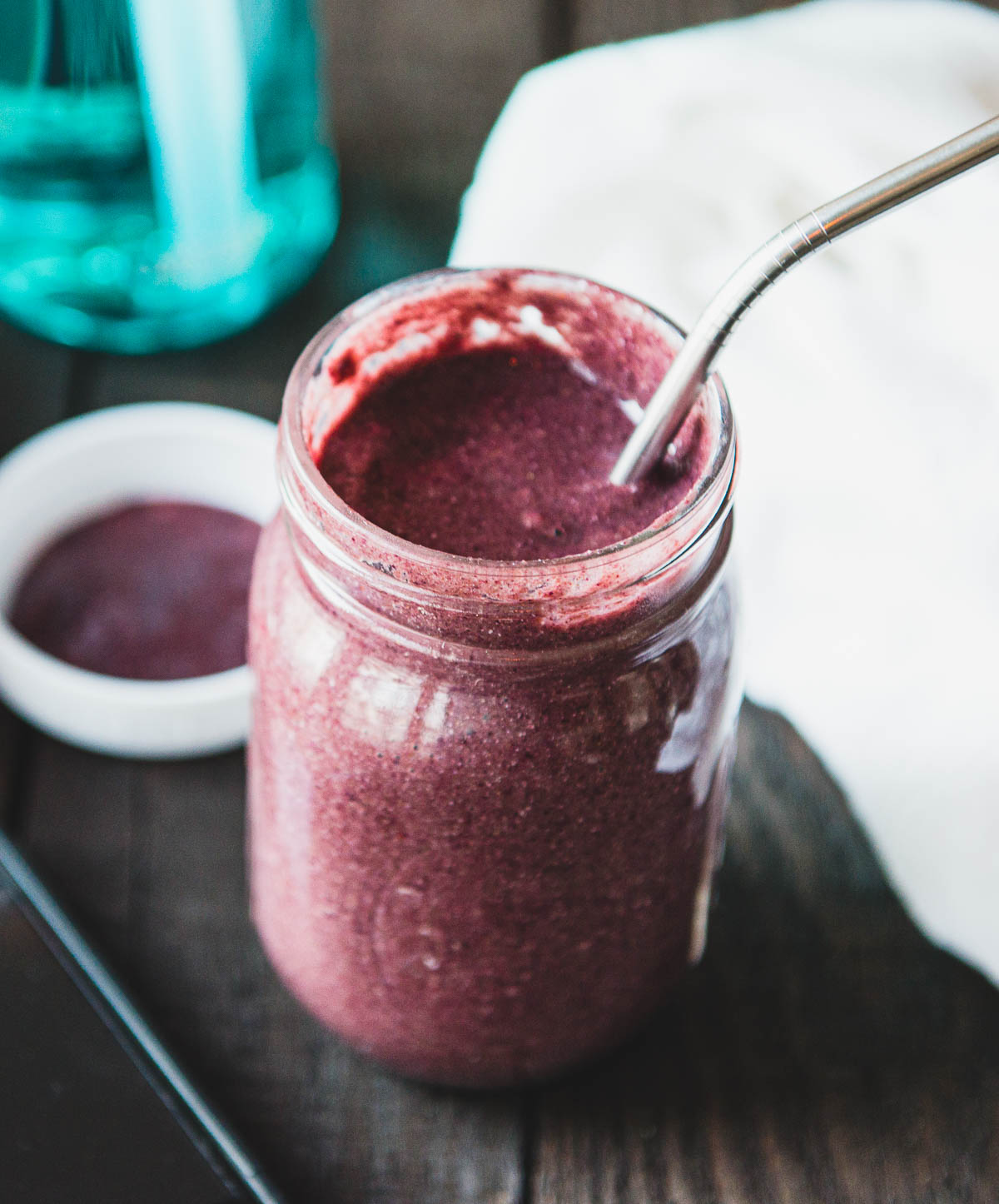 More Workout Smoothies
If you love this recipe, be sure to check out my other pre- and post-workout smoothie recipes. I've got a whole list of healthy protein shakes that you can use to your advantage. If you want some non-beverage options, I've got other healthy workout snacks, too!
Don't forget to rate + review this smoothie once you've tried it! I love getting your feedback.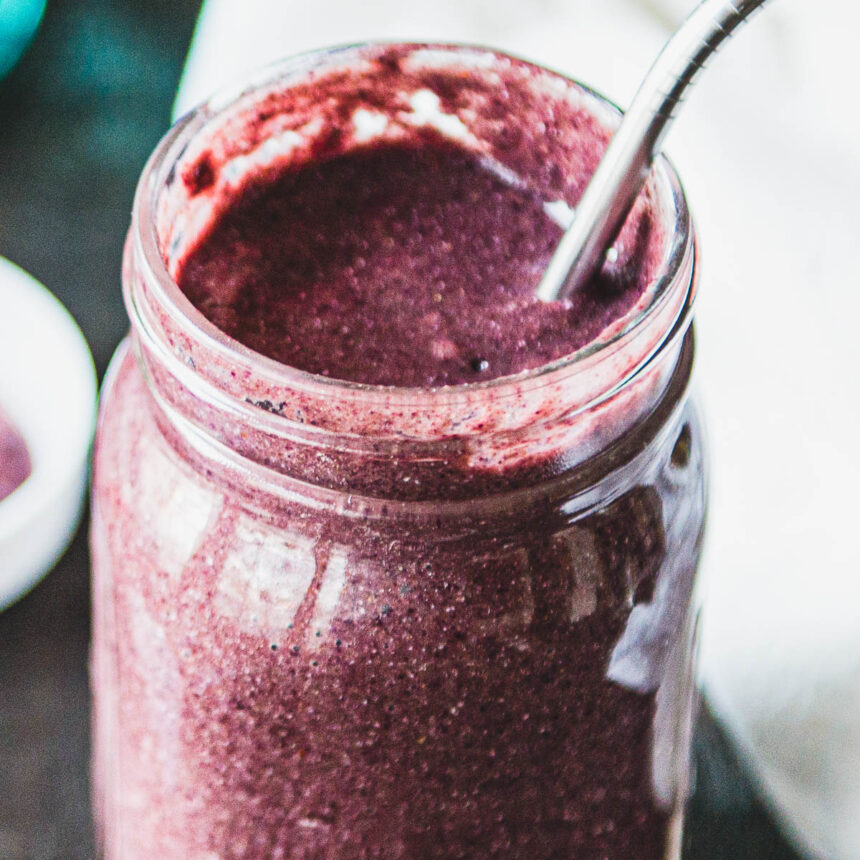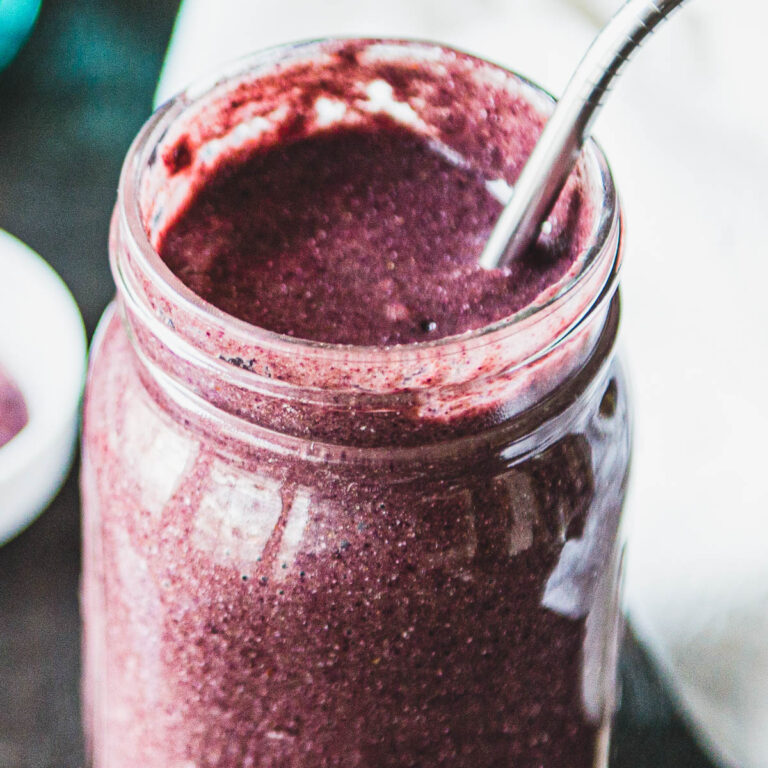 Post Workout Smoothie
This post-workout smoothie has a good amount of plant protein, healthy carbs, and liquid for rehydration. Include chia seeds for protein and healthy fats and coconut water ("nature's Gatorade"), but you can get by with regular h2o. Go ahead and enjoy this smoothie. You've earned it!
Instructions
Blend kale and liquid until smooth.

Add remaining ingredients, and blend until smooth.
Notes
Use at least one frozen fruit for a refreshingly cool smoothie. 
Swap kale with the leafy greens of your choice.
Add 1 serving of homemade protein powder to boost this smoothie by 10 grams of protein as well as healthy fat.
Swap coconut water for regular water. 
Nutrition
Calories:
286
kcal
,
Carbohydrates:
50
g
,
Protein:
9
g
,
Fat:
9
g
,
Saturated Fat:
1
g
,
Polyunsaturated Fat:
6
g
,
Monounsaturated Fat:
1
g
,
Trans Fat:
1
g
,
Sodium:
157
mg
,
Potassium:
992
mg
,
Fiber:
14
g
,
Sugar:
25
g
,
Vitamin A:
6941
IU
,
Vitamin C:
165
mg
,
Calcium:
322
mg
,
Iron:
4
mg