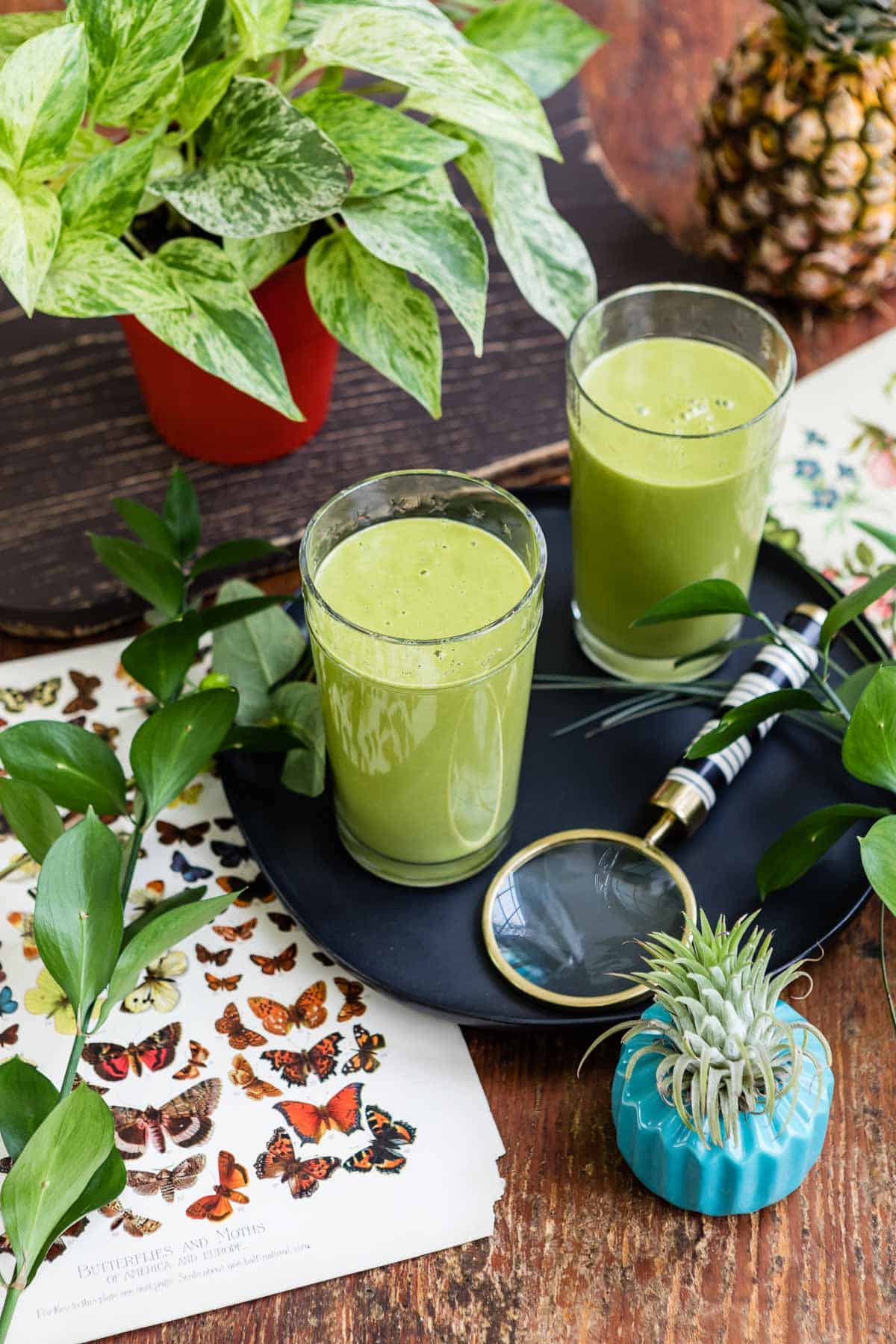 The term "adrenal fatigue" that is being used to describe a set of symptoms including body aches, fatigue, unexplained weight loss, low blood pressure, lightheadedness, loss of body hair, and skin discoloration. (source) To understand what adrenal fatigue is, it's important to note what the adrenal glands do.

The adrenal fatigue diet is still a fairly new concept… yet powerful.
The adrenal glands sit atop the kidneys and function as exocrine glands that produce a variety of essential-to-life hormones including adrenaline, aldosterone, and cortisol. In short, these hormones are responsible for regulating the body's metabolism, immune system suppression, regulation of blood pressure and electrolyte balance, and the rapid response to stress. (Think: flight or fight response.)
After long periods of extreme stress or dysfunction of the adrenal glands (such as with certain diseases or the presence of tumors, etc.) there may be an imbalance of one or more of those hormones either from over- or under-production. To confirm the imbalance or inadequate levels of the adrenal hormones, blood tests are needed. But those common symptoms are also a good indicator that something is wrong. To sum up: adrenal fatigue can be pretty debilitating. (source)
Lifestyle and diet changes are usually necessary to recover from adrenal fatigue.
How To Recover From Adrenal Fatigue
The common protocol for treating adrenal fatigue is as follows:
follow an adrenal fatigue diet which entails avoiding foods that cause inflammation and loading up on anti-inflammatory foods.
eat high-protein foods along with plenty of vegetables and whole grains
avoid refined sugars and processed foods
go to bed early (here's my sleep tips)
take a supplement with B5, B6, and B12 vitamins (under doctor supervision)
consume foods high in omega-3 fatty acids, curcumin (turmeric), and vitamin C
add adaptogenic herbs to your diet – cordyceps, ashwagandha, rehmannia, and licorice root
hydrate properly throughout the day
replace any missing nutrients (confirmed by doctor's blood test and under supervision) such as vitamin D, magnesium, zinc, and selenium
rest during the day, as needed
participate in regular meditation and use other stress-relieving breathing techniques
do yoga or another mild exercise (as not to create more fatigue)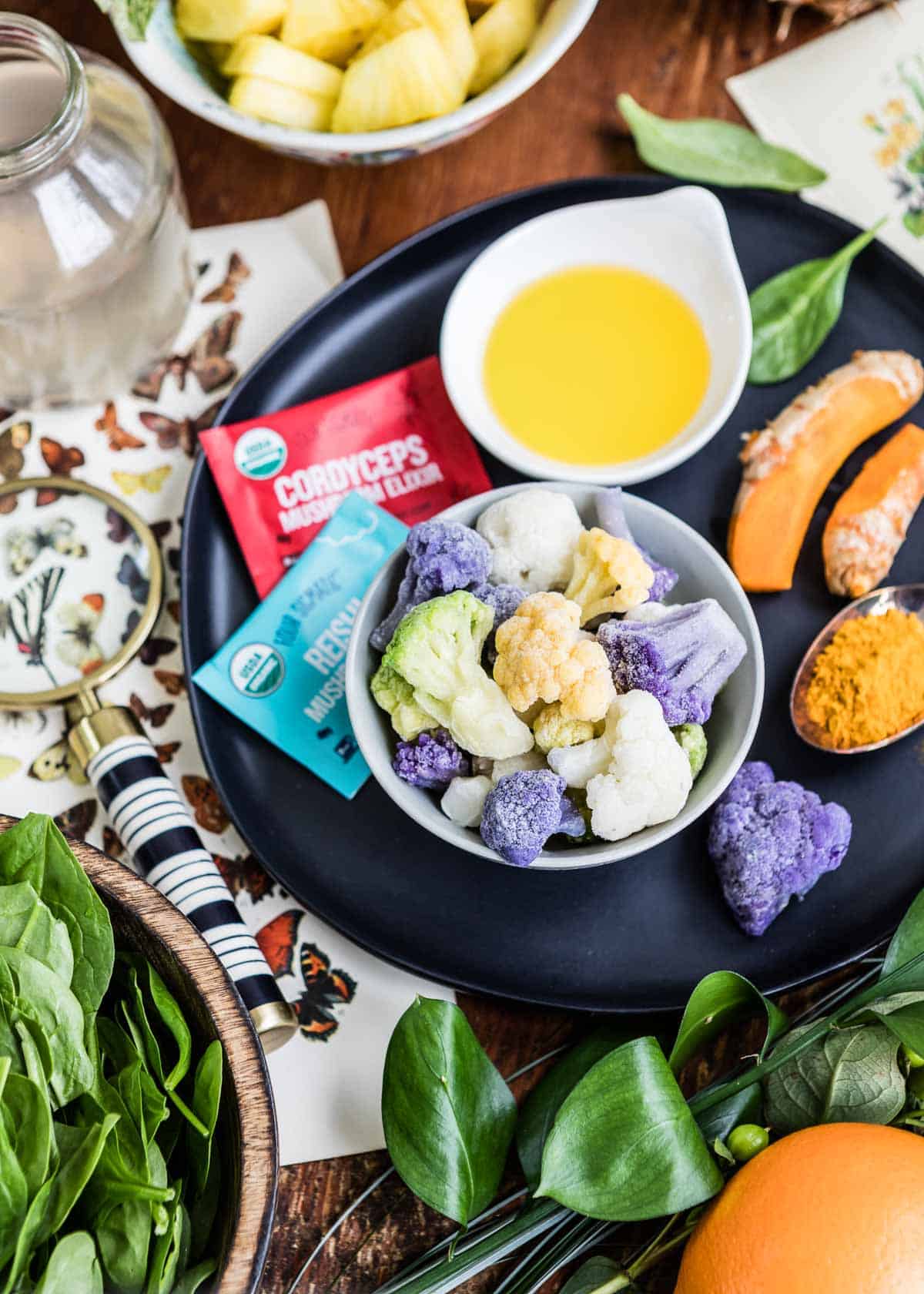 How to do an Adrenal Fatigue Diet
This Adrenal Fatigue Green Smoothie is chock full of nutritious ingredients chosen for their anti-inflammatory and adrenal-supporting properties. Baby spinach is high in iron and contains moderate amounts of vitamins B6 and C. Cauliflower is high in vitamin C, and is a great source of B6, and magnesium.
Coconut water provides extra B6, magnesium, and iron. Pineapple is extremely high in vitamin C, and one cup provides another 10% RDV of B-6 and 5% magnesium. Turmeric is well-known for its anti-inflammatory properties thanks to curcumin, but it's also high in iron and B6. Finally flax oil is one of the best sources of omega-3 fatty acids. This smoothie is hydrating and full of heart- and GI-tract-friendly dietary fiber.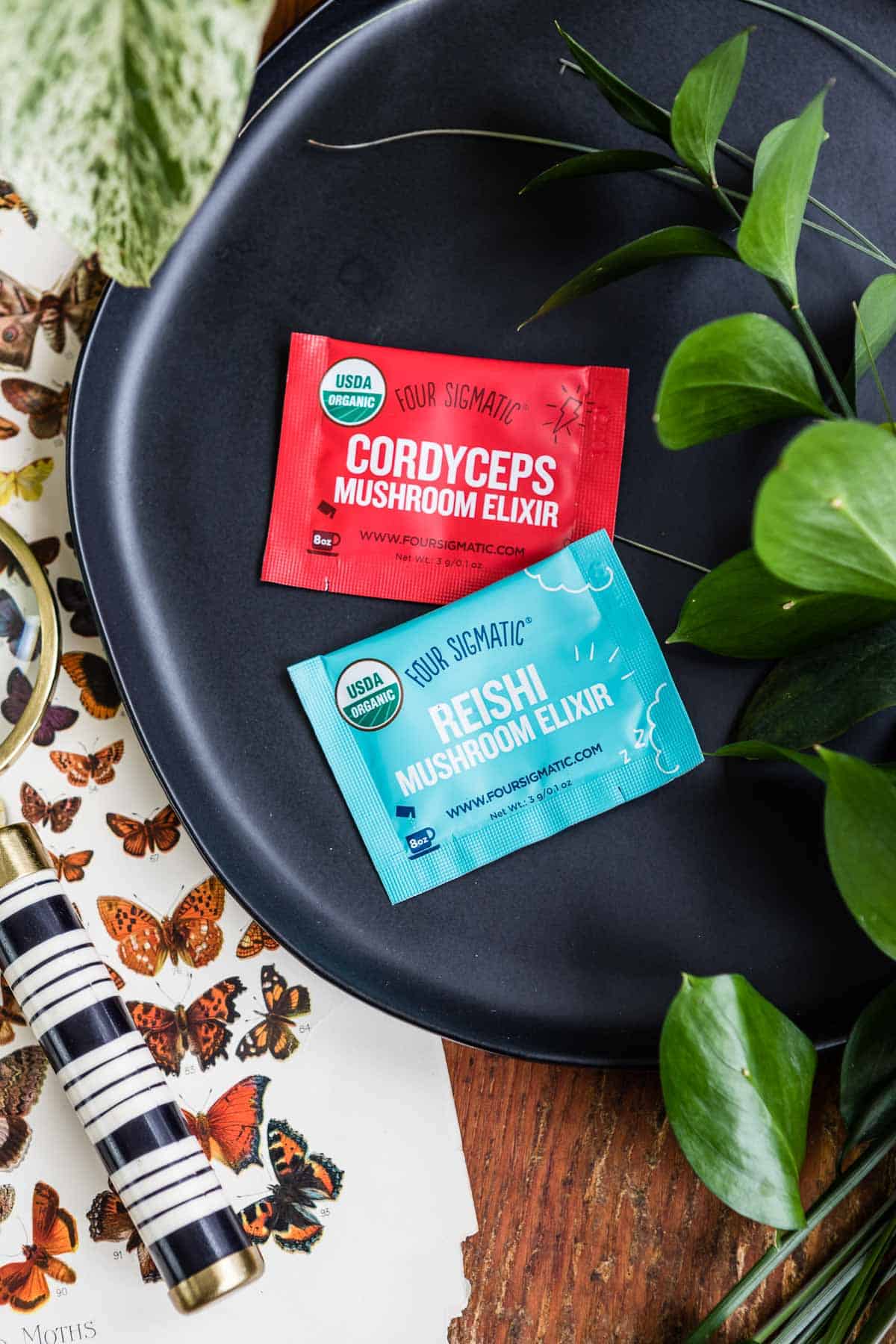 Another helpful way to combat adrenal fatigue is to include adaptogenic herbs in your diet. They can better help your body respond to stress and recharge the adrenal glands. An Adrenal Fatigue Diet can truly give you the energy and healing you need quickly! Food is medicine.
The best adaptogens for stress are rhodiola, mucuna pruriens, ashwaganda, cordyceps, schisandra, and licorice root. Maca and ginseng are great for fatigue. I love the team over at Four Sigmatic. If you want to give them a try, use this link with the code SGS and receive a special discount.
But a word of caution, discuss using these herbs with your healthcare provider as some adaptogens may interact with any prescription medications or supplements.
Print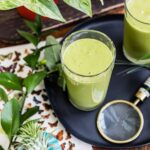 Adrenal Fatigue Diet Smoothie
---
Author:

Jen Hansard

Prep Time:

5 minutes

Total Time:

5 minutes

Yield:

1

smoothie

1

x

Diet:

Vegan
Description
This smoothie contains specially chosen ingredients to help the adrenal glands recover and support health and wellness. If you're looking for an adrenal fatigue diet smoothie that taste amazing, this is it!
---
1 cup

baby spinach (fresh)

1/2 cup

coconut water (unsweetened)

1/2

orange (peeled)

1 cup

pineapple (cubed, fresh or frozen)

1/2 cup

cauliflower florets (frozen)

1 tablespoon

fresh turmeric (or

1 teaspoon

ground turmeric)

1 tablespoon

flax oil
Optional: adaptogenic herbs (see notes)
---
Instructions
Place spinach, coconut water, and orange in blender.
Puree until smooth.
Add pineapple, cauliflower, turmeric, flax oil, and any adaptogenic herbs, if using.
Blend again.
Notes
If using adaptogenic herbs, use according to package directions for specific type and always check with a medical professional before using as some may cause interactions with prescription medications.
Category:

smoothie

Method:

blending

Cuisine:

american
Keywords: Adrenal Fatigue Recipe