Sneak more veggies into your day with this sweet + creamy strawberry banana smoothie recipe. Loaded with nutrient-rich cauliflower and vibrant strawberries, this healthy veggie-packed smoothie works well as a filling breakfast or healthy mid-morning snack.
Let's talk about how to make a strawberry banana smoothie that everyone will love, and hope that the blender can keep up with the demand for this delicious treat!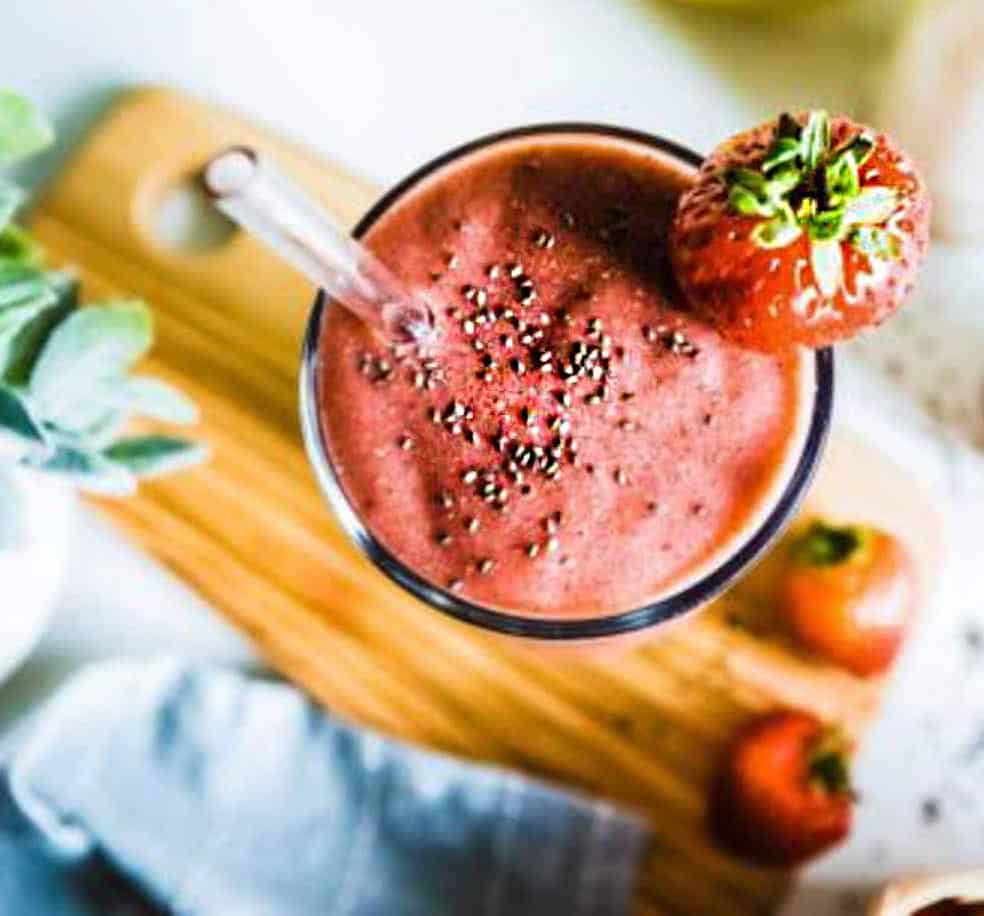 If your kids are new to the world of smoothies, this is a great starter. Smoothies for kids are typically a bit sweeter yet still full of whole foods that will give them energy and boost their servings of fruits and vegetables each day.
Table of Contents
Using Veggies in a Smoothie
First I wanna talk about the cauliflower in the room. If you already read the ingredients for this smoothie and that one threw you off, don't fear! I know adding cauliflower to fruit smoothies might sound odd, but it is a super mild veggie that adds nutrition + creaminess.
When using frozen cauliflower, I don't even notice the flavor of it in my smoothie! While using fresh can produce a different taste, this smoothie tastes like bananas and strawberries all the way.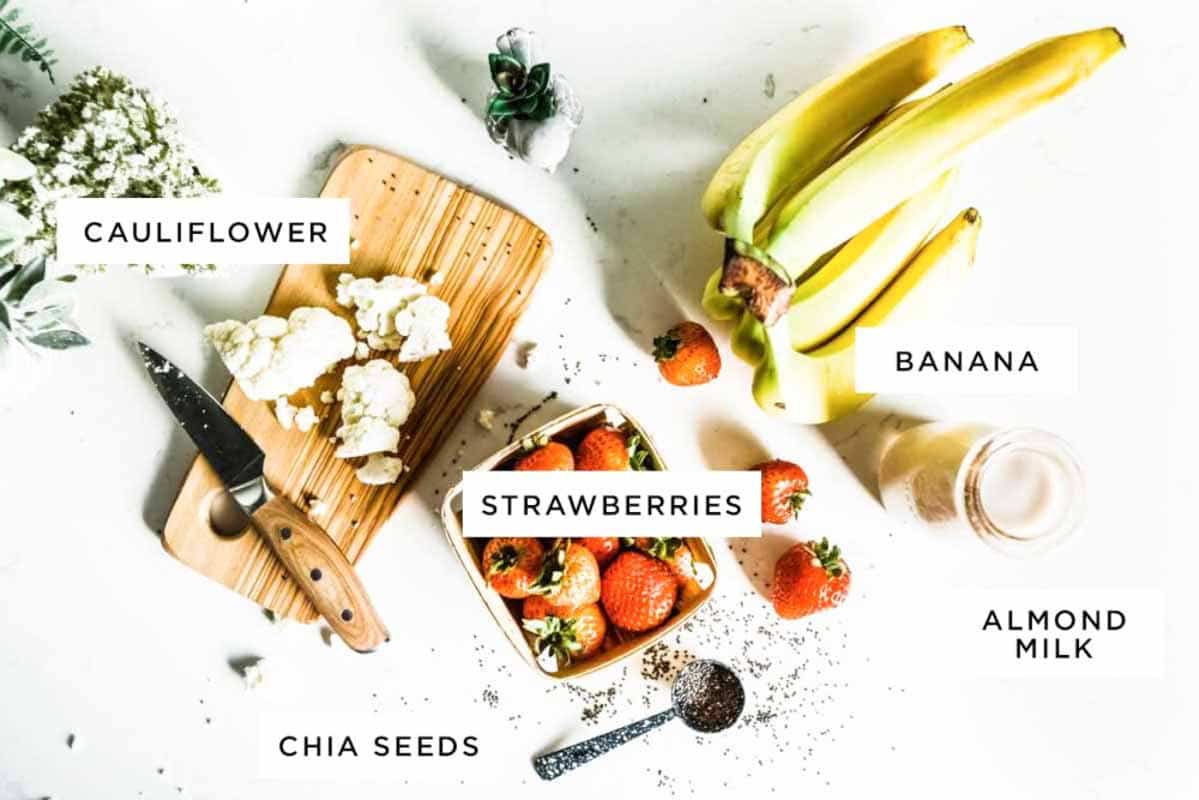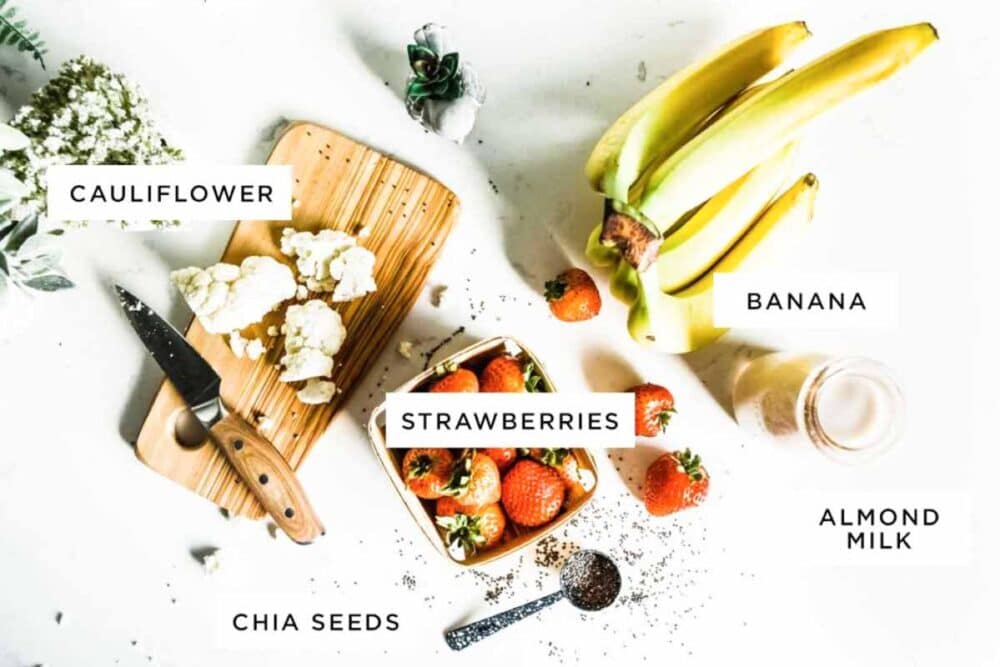 I often throw veggies in my smoothies like carrot, sweet potato, cauliflower, leafy greens, cabbage and celery. They each provide a whole host of health benefits, as well as blend seamlessly into smoothies with a variety of other ingredients.
Try tossing one of these vegetables into your next smoothie, and then let me know how it worked out!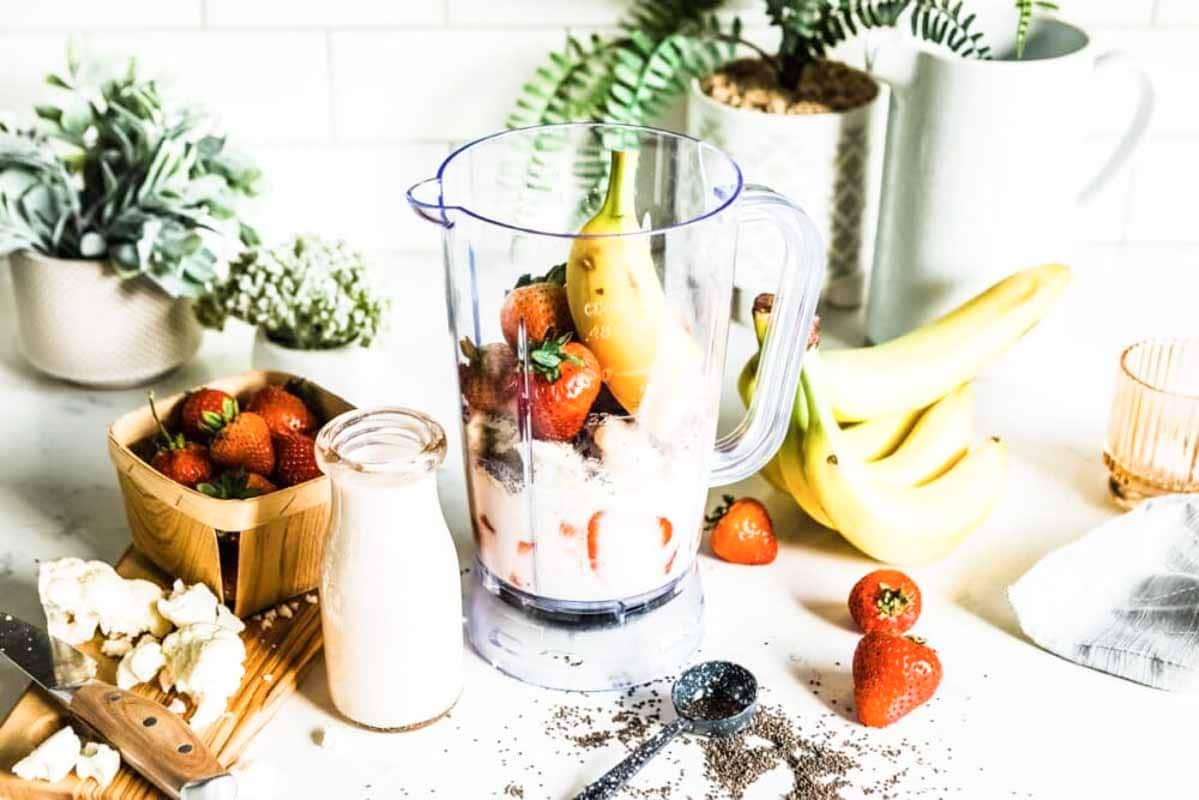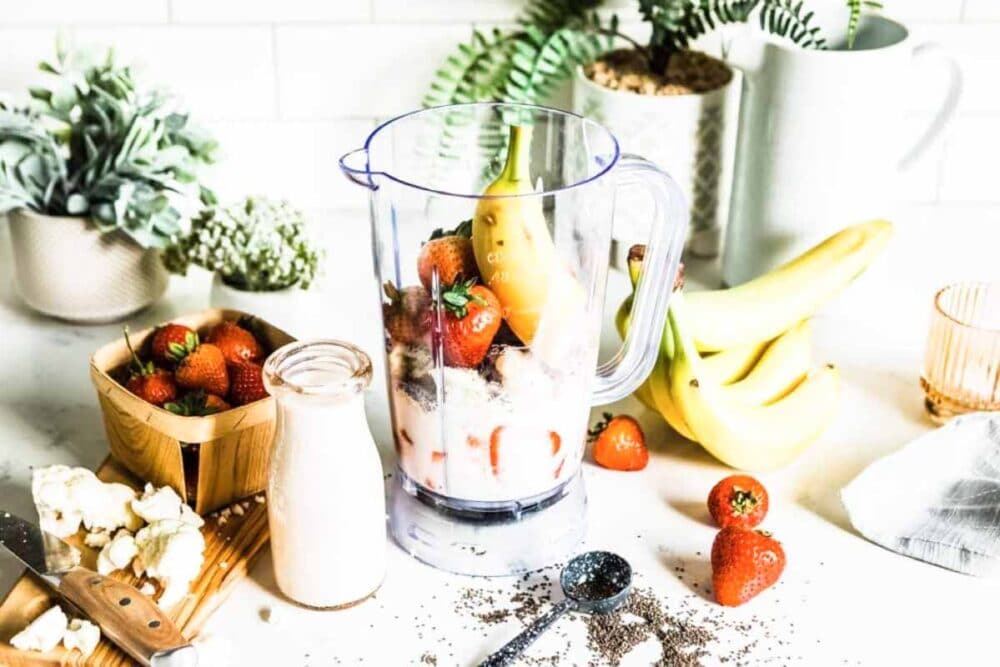 How to Make a Strawberry Banana Smoothie
This smoothie is even easier to blend up than a traditional green smoothie, because you don't need to blend the liquid and leafy greens first. Just toss all the ingredients into your blender and blend! A high-powered blender will break down the chia seeds as well as the strawberry seeds.
Ingredient Swaps
If you want to make this smoothie a little lower in sugar, then swap the measurements for the banana and cauliflower. Using 1/2 a banana and 1 cup of cauliflower will lower the sugar by 5 grams.
Looking for a berry smoothie with no strawberries? Swap in blueberries, blackberries, raspberries, cherries, etc to blend up an equally delicious smoothie.
Oat milk, cashew milk, or hemp milk are great stand-ins for the almond milk, as well as refrigerated coconut milk.
If adding cauliflower to this strawberry banana smoothie isn't possible, then add a half cup of vegan yogurt instead.
Protein boost for smoothies
If I'm blending this smoothie for breakfast, then I want to make sure it has enough protein. I like breakfasts smoothies that keep me full for the morning.
Adding 1 serving of my homemade protein powder will give this strawberry banana smoothie recipe an additional 10 grams of plant-powered protein, as well as 4 grams of healthy fats. That turns this smoothie into long lasting energy without any sugar crash!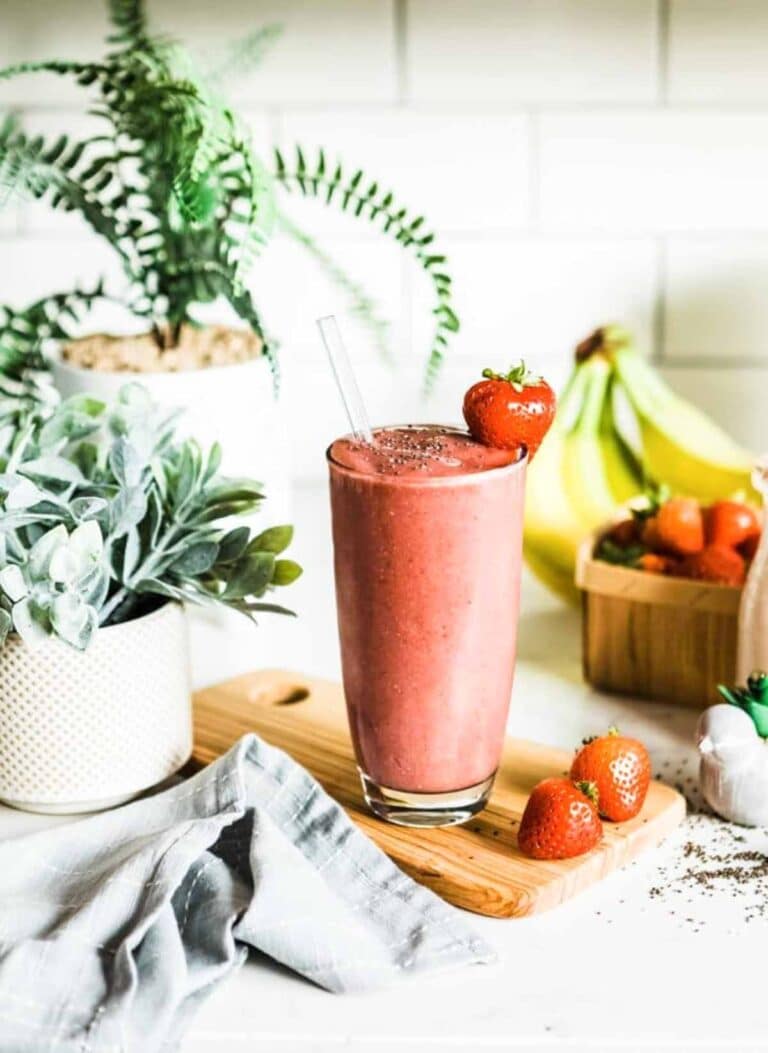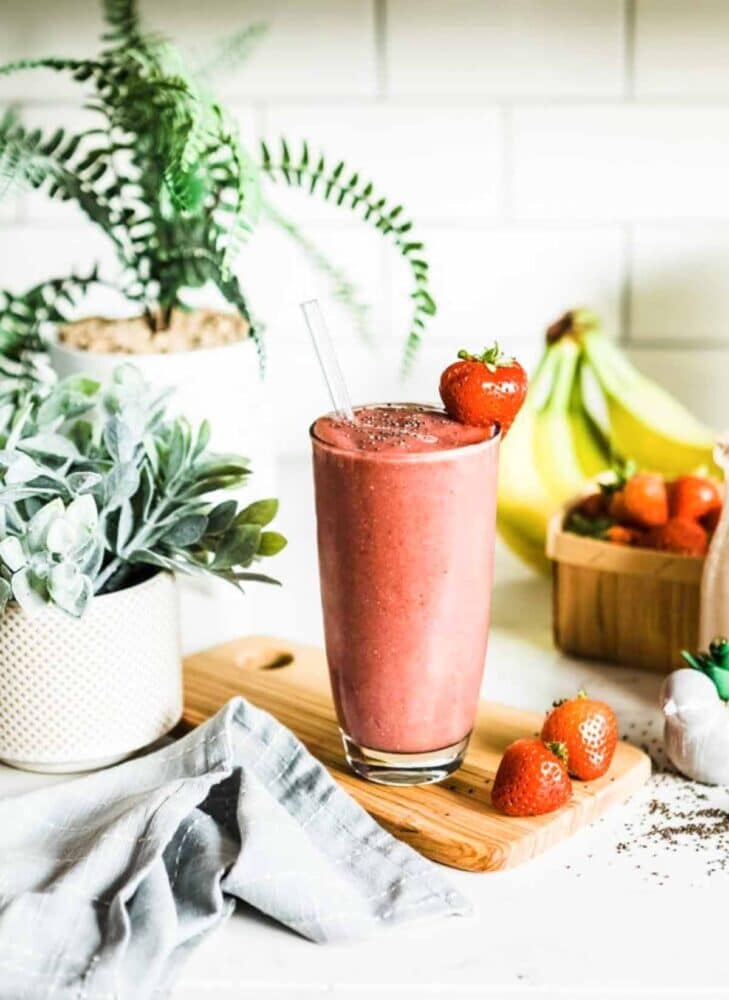 Strawberry Banana Smoothie Benefits
Regular consumption of fresh strawberries has been linked to less inflammation and lower risk of heart disease. The antioxidants in strawberries are a great defense against various types of cancer. Cauliflower contains vitamin C, folate, and potassium. It's definitely not just for looks in this recipe!
Chia seeds are a superfood with protein as well as healthy fat. These tiny seeds gel up when added to liquid, and help thicken a smoothie as well as provide additional nutrition.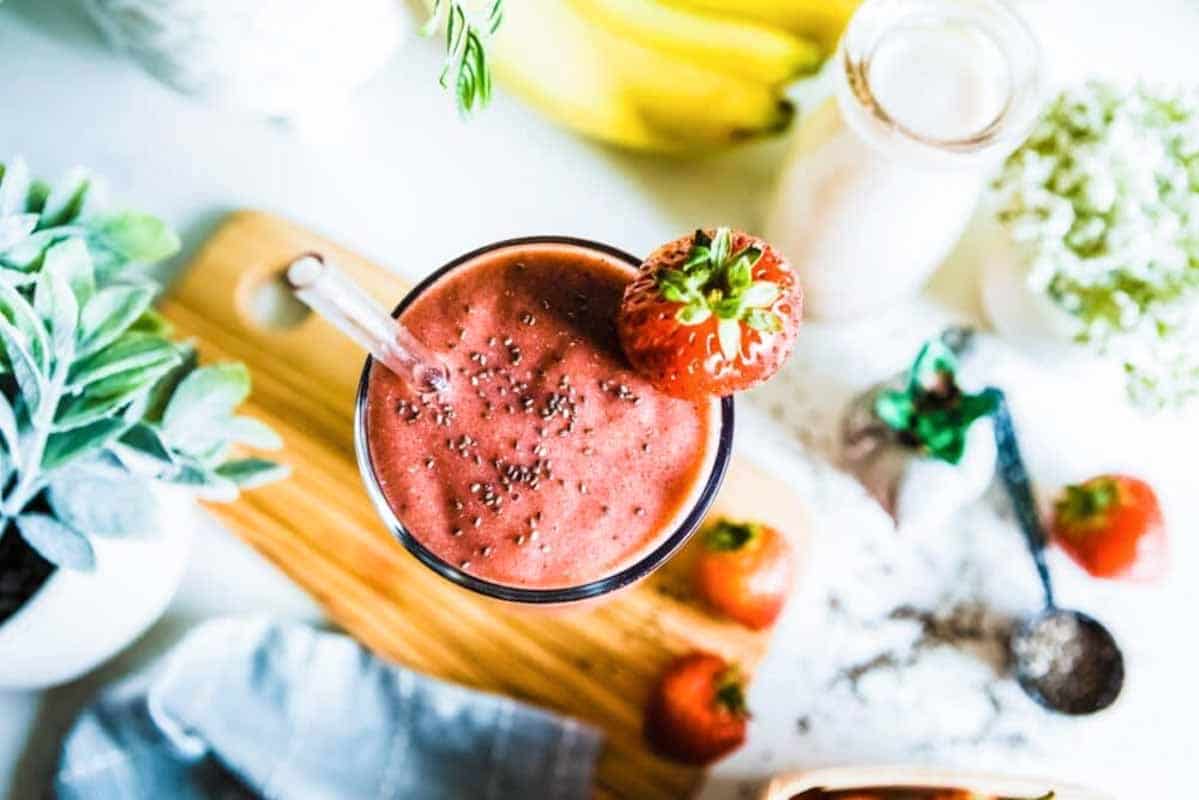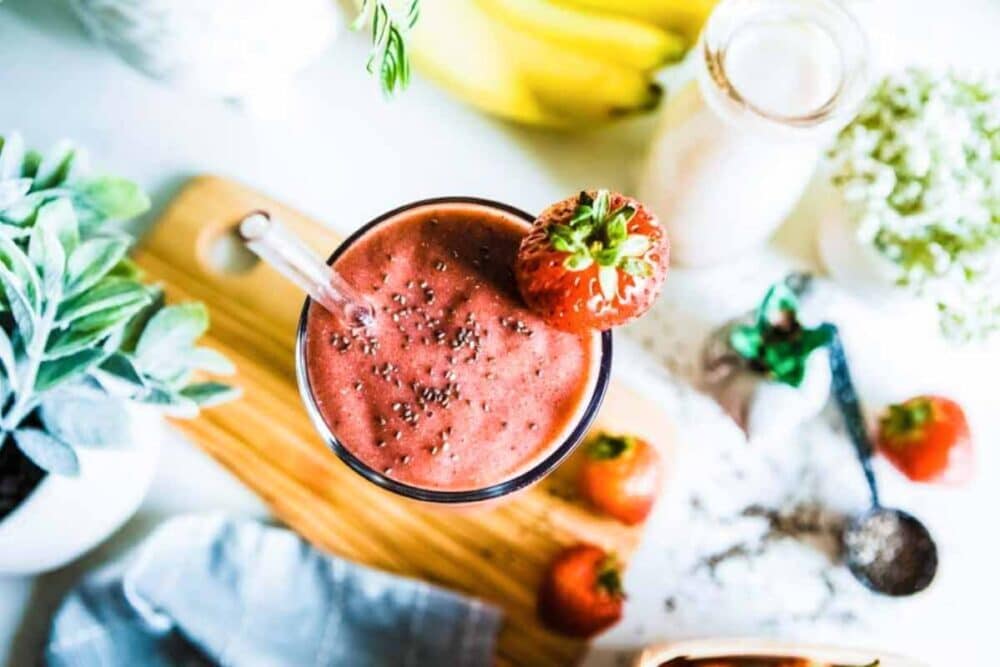 More Fruit Smoothie Recipes
Whether you're out of greens for the week, or just want a change, I've got several smoothie recipes without greens for you to try:
Smoothies don't need leafy greens to be chock full of whole foods, yet feel free to add greens to any of these smoothie creations. Now, don't forget to blend this strawberry banana smoothie, then leave a rating + review to let me know how you liked it!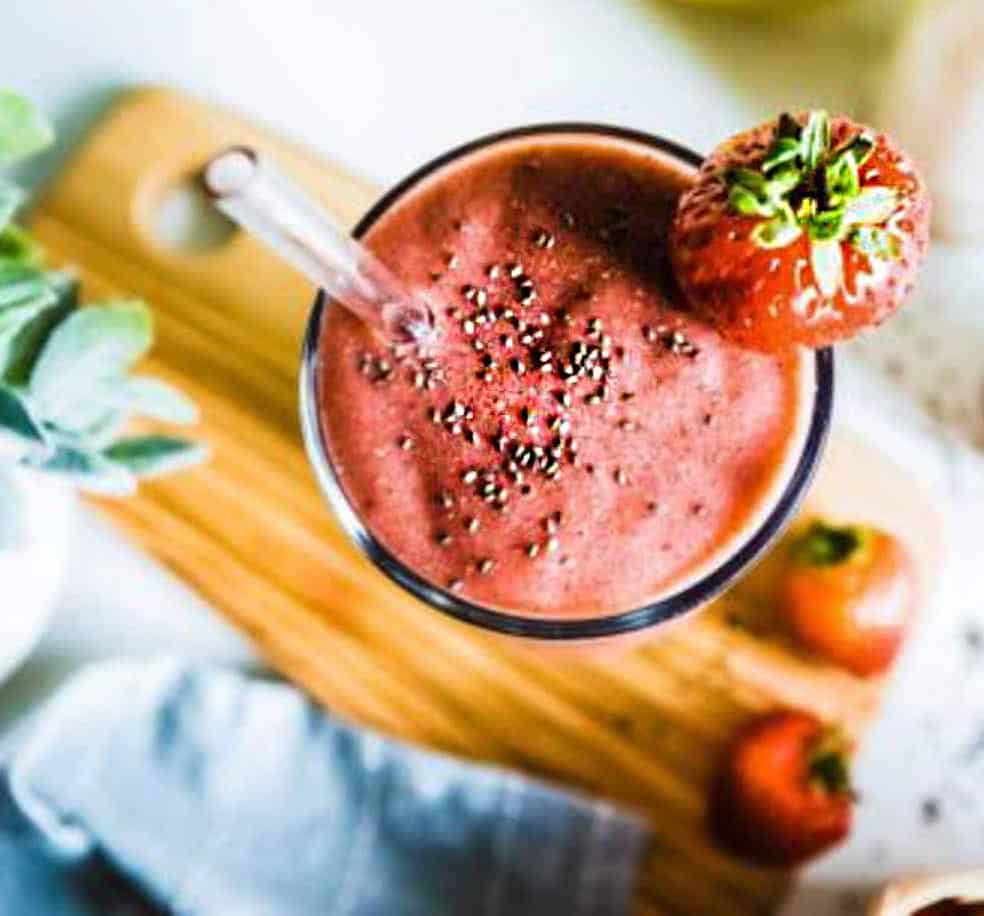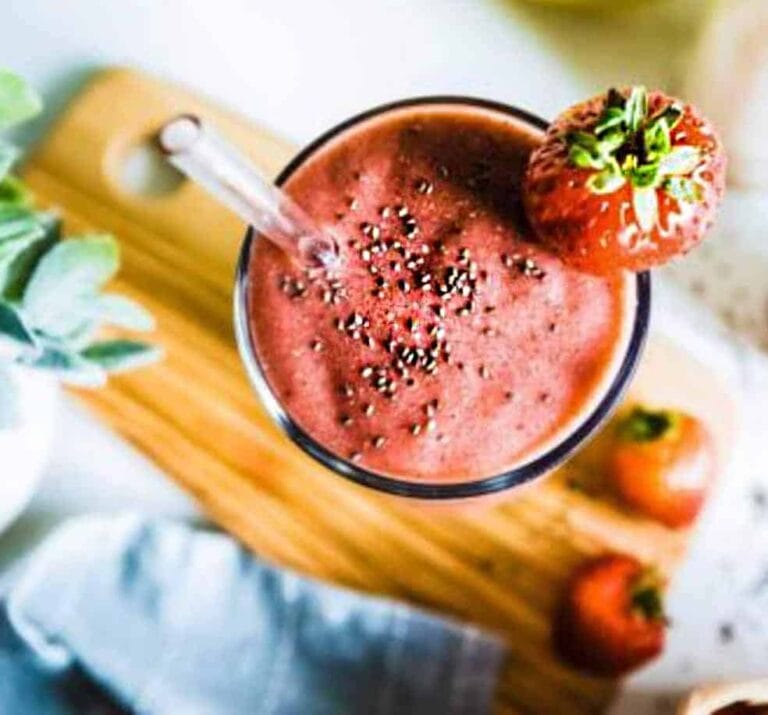 Strawberry Banana Smoothie
Blend up this strawberry banana smoothie as a fun family treat, or a bright + refreshing morning breakfast. One sip of this smoothie will put a smile on anyone's face; it's truly a smoothie for all ages. 
Instructions
Blend all ingredients until smooth.

Pour into a glass and enjoy!
Notes
If using fresh cauliflower, make sure to use 1 frozen fruit for a refreshingly cool smoothie.
Make sure to use at least one frozen fruit for a refreshingly cool smoothie.
Swap the almond milk for the dairy-free milk of your choice.
Feel free to add up to 1 cup of leafy greens for even more nutrients.
Nutrition
Calories:
303
kcal
,
Carbohydrates:
59
g
,
Protein:
7
g
,
Fat:
8
g
,
Saturated Fat:
1
g
,
Polyunsaturated Fat:
5
g
,
Monounsaturated Fat:
2
g
,
Trans Fat:
0.02
g
,
Sodium:
338
mg
,
Potassium:
978
mg
,
Fiber:
13
g
,
Sugar:
29
g
,
Vitamin A:
137
IU
,
Vitamin C:
112
mg
,
Calcium:
413
mg
,
Iron:
2
mg