I've got an entire Vegan Thanksgiving Menu that rivals the best multicourse meal! These vegan Thanksgiving recipes can be incorporated into your meal, too.
When I started focusing on a plant-based lifestyle, I dreaded holidays the most. I was so nervous my vegan recipes wouldn't stack up to the holiday classics my family loved. But I brought my favorite plant-based recipes and they are now staples at all our family gatherings.
Before you get nervous about tofurkey and fake bacon, let me stop you. You might be surprised at how many regular recipes are natural or easily dairy-free, like my Oven Roasted Brussels Sprouts and my Roasted Butternut Squash.
Feel free to mix n' match to create your ultimate feast.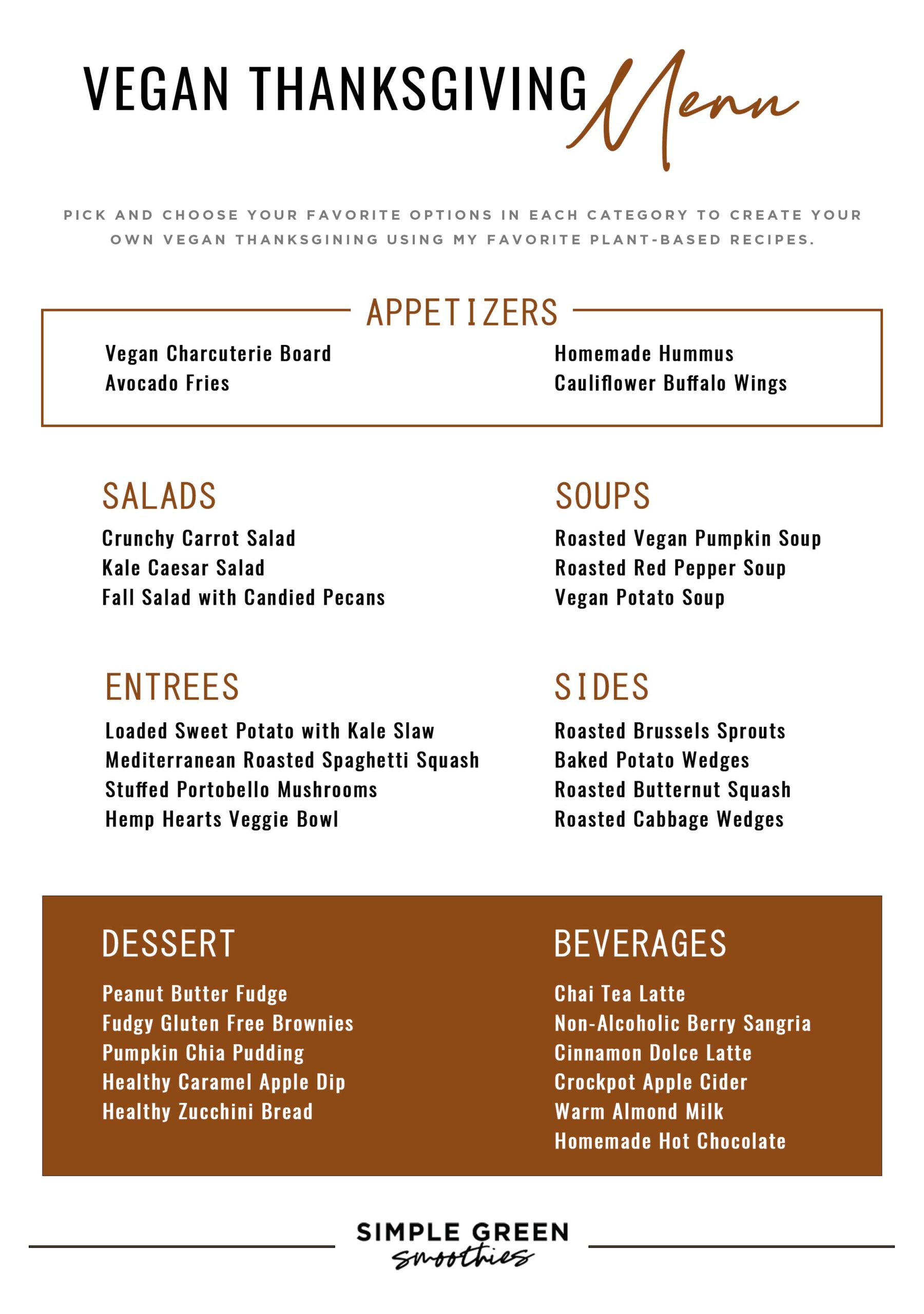 These 30+ vegan Thanksgiving recipes can be proudly shared with family and friends alongside a turkey (we don't judge here) or left to shine all on their own.
Also, the whole team here at Simple Green Smoothies is here to answer any questions you have leading up to the big day to ensure your holiday gathering is as stress-free as possible. If you have a question in the middle of shopping for your Vegan Charcuterie Board then scroll down to the comments and ask away!
Table of Contents
Vegan Thanksgiving Menu
Grab this menu and decide what you want to include in your feast. Pick as many recipes from each category as you want and dive on in! You can adjust these recipes right on the recipe card to the number of servings you need. I can't wait for you to create the vegan Thanksgiving dinner of your dreams!
Whether you're a hard-core vegan, plant-based foodie or trying to add more vegetables to your traditional Thanksgiving feast, you're in the right place. Embrace the plants you love and make them taste amazing.
Vegan Thanksgiving Appetizers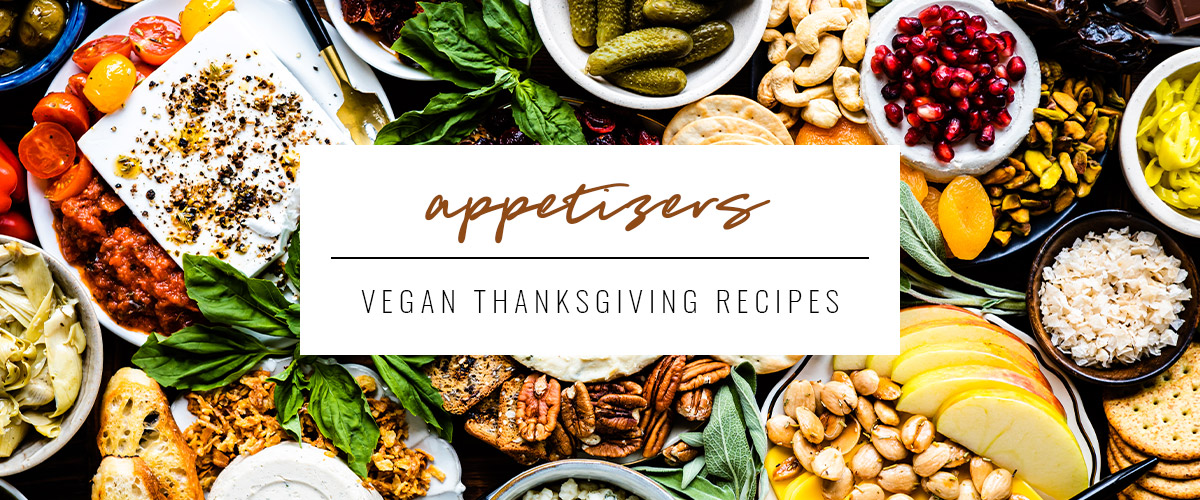 One of my favorite parts of this day is all the snacking that happens during the preparations. This vegan Thanksgiving menu takes that into account by offering light finger foods to share with friends and family during the prep time.
You can easily make a charcuterie board ahead of time and set it out as guests arrive, or prep some Avocado Fries to stick in the oven just when you need them. Homemade hummus or this Greek Dip can also be made a day or two in advance.
These appetizers keep everyone satisfied, even with all the good smells coming from the kitchen.
Vegan Soups and Salads for Thanksgiving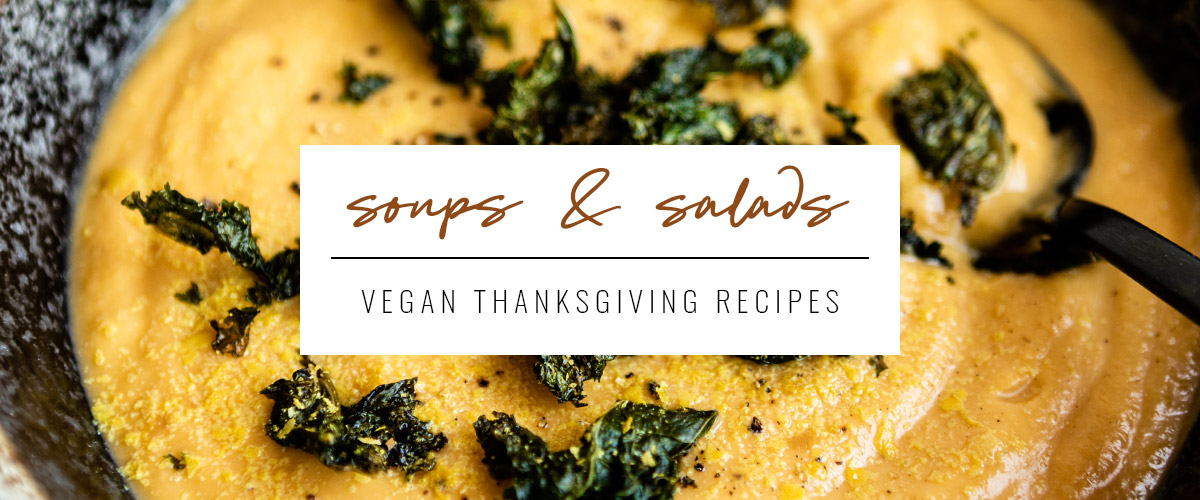 Nothing says Autumn like Kale Caesar Salad and Healthy Soups for Fall, especially if you lean more plant-based. Infuse your Thanksgiving meal with these wonderful additions to add color and flavor magic to your day.
Whether you serving your meal course-style or piling it on the table for a family feast a gorgeous Fall Salad or Vegan Pumpkin Soup fits right in.
Vegan Thanksgiving Main Dishes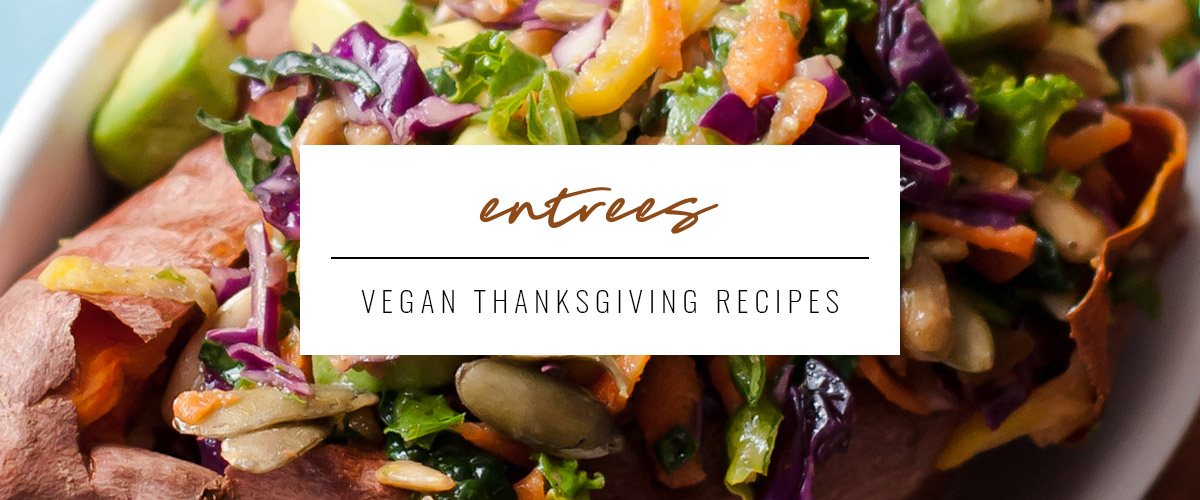 If you're not a turkey lover then grab a vegan Thanksgiving main dish from the below list to keep you happy. If you're doing a blended feast, serving turkey alongside any of these entrees can really turn up the wow factor.
Most of these are best made the day of, so reserve some oven space for them as you plan out your prep. The Loaded Sweet Potatoes can actually be baked a day ahead, then reheated and topped right before serving if you wish.
The Oven Roasted Spaghetti Squash and Roasted Vegetable Bowl keep the warming taste you want on this festive day, while the Stuffed Portobello Mushrooms introduce a bit of new flair.
Vegan Holiday Side Dishes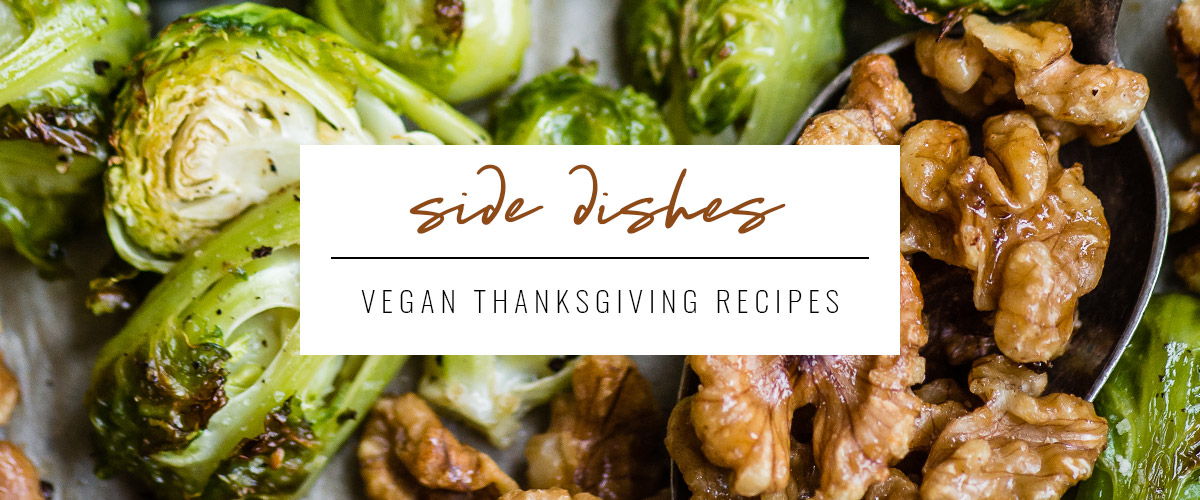 Now that we're hitting our stride with these awesomely festive dishes, let's keep the good times rolling with some on-par Thanksgiving sides. I like to keep the sides simple so that the Roasted Cabbage Wedges and Oven Roasted Brussels Sprouts (the number one requested dish at my table!) complement the other dishes.
If you're including kids in your holiday then providing some Baked Potato Wedges is a great way to include potatoes yet in a kid-friendly way. Swap the sour cream and butter with some ketchup and you've got a vegan Thanksgiving side dish that is comforting for everyone.
Plant-Based Thanksgiving Dessert Recipes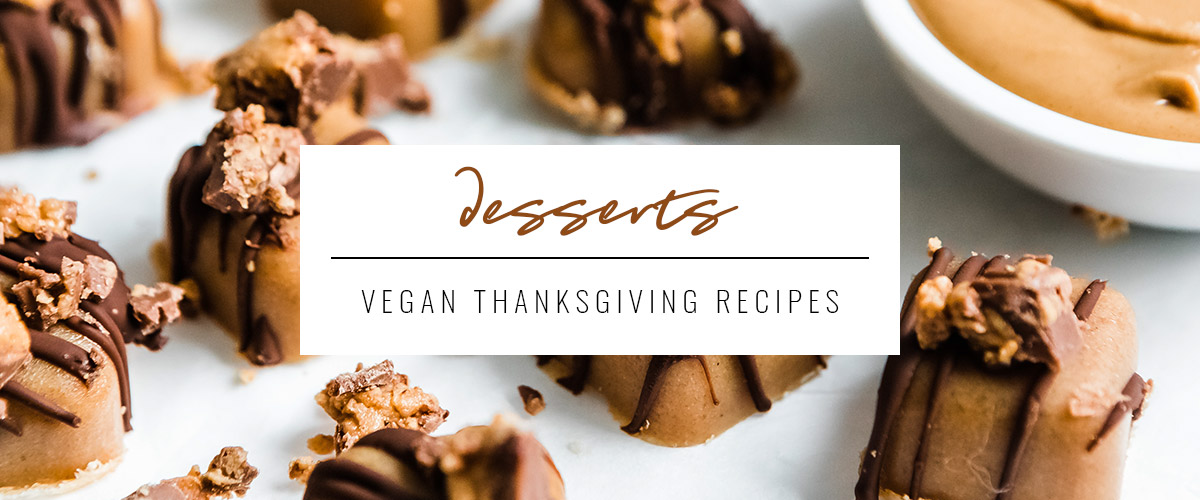 This is the course where vegan Thanksgiving recipes can truly shine. I'd stack my dessert recipes up against non-vegan desserts any day! They can all be made at least a day in advance, leaving your kitchen free for the hot dishes that need to be prepped the day of.
I have to be honest, I'm not the biggest dessert fan. My kids ask for these vegan chocolate chip cookies every year, and we usually make them sometime in the evening before whipping out the board games.
I love the simplicity of a smaller sweet treat, like a piece of Peanut Butter Fudge, after such a big meal. If you love going all out on the sweeter side then go for it! Grab the Date Caramel and Fudgy Gluten-Free Brownies for an epic dessert spread.
Tasty Thanksgiving Beverages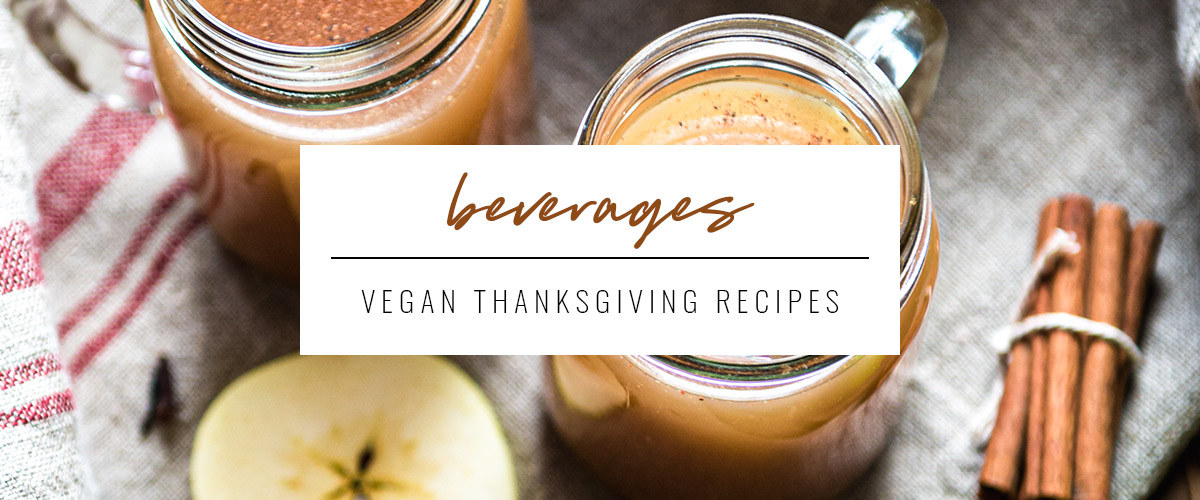 I wanted to include some bonus recipes here for you too. Magic happens around the fire or board game table while you're sipping on a delicious drink. I think these festive drinks for Fall will help your guests feel super comfy, as well as keep the good flavors rolling whether they enter with the appetizers or are offered with the vegan Thanksgiving main dish.
Commence the holiday sipping on a warm beverage like crockpot apple cider, homemade hot chocolate or even a seasonal berry sangria! The cider can be made in a slow cooker and left simmering all day.
We hope you enjoy your Thanksgiving with your loved ones! If you end up making any of these awesome recipes, we'd love to know. Be sure to tag us @simplegreensmoothies so we can celebrate with you.