What better way to hydrate this season then with a watermelon smoothie. Once you learn how to cut melon, you'll be digging into all the summer smoothies like this cantaloupe smoothie or this honeydew smoothie.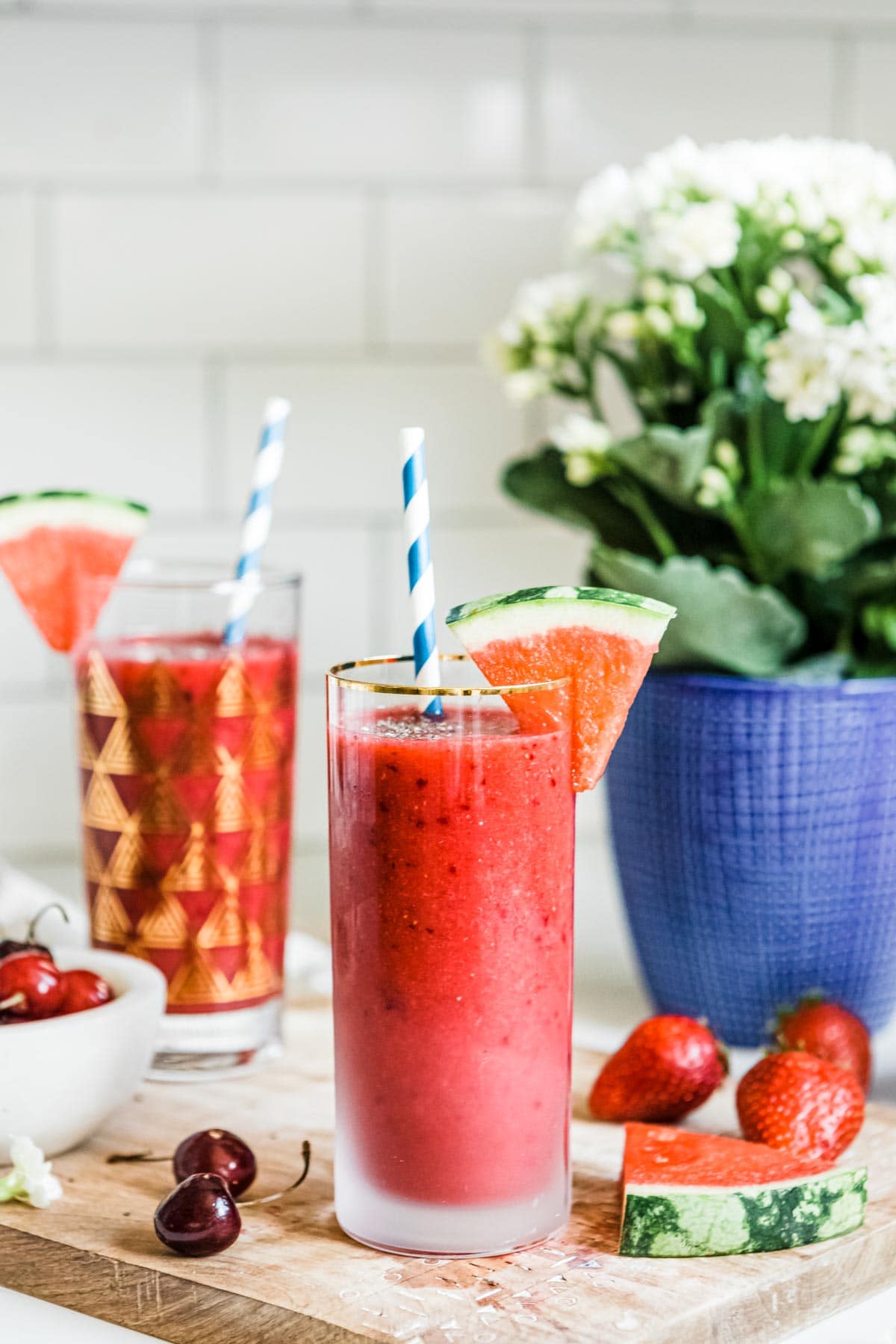 Want a refreshing, vitamin-packed smoothie that doubles as a kid-pleasing snack? This watermelon smoothie is a cool and sweet thirst quencher that you'll be sipping on all season long. Packed with watermelon, cherries and strawberries, this quintessential summer smoothie is quick and easy to make and perfect for freezing as popsicles.
With just four simple ingredients, you're on your way to an invigorating, naturally-sweetened, healthy summer treat.
Table of Contents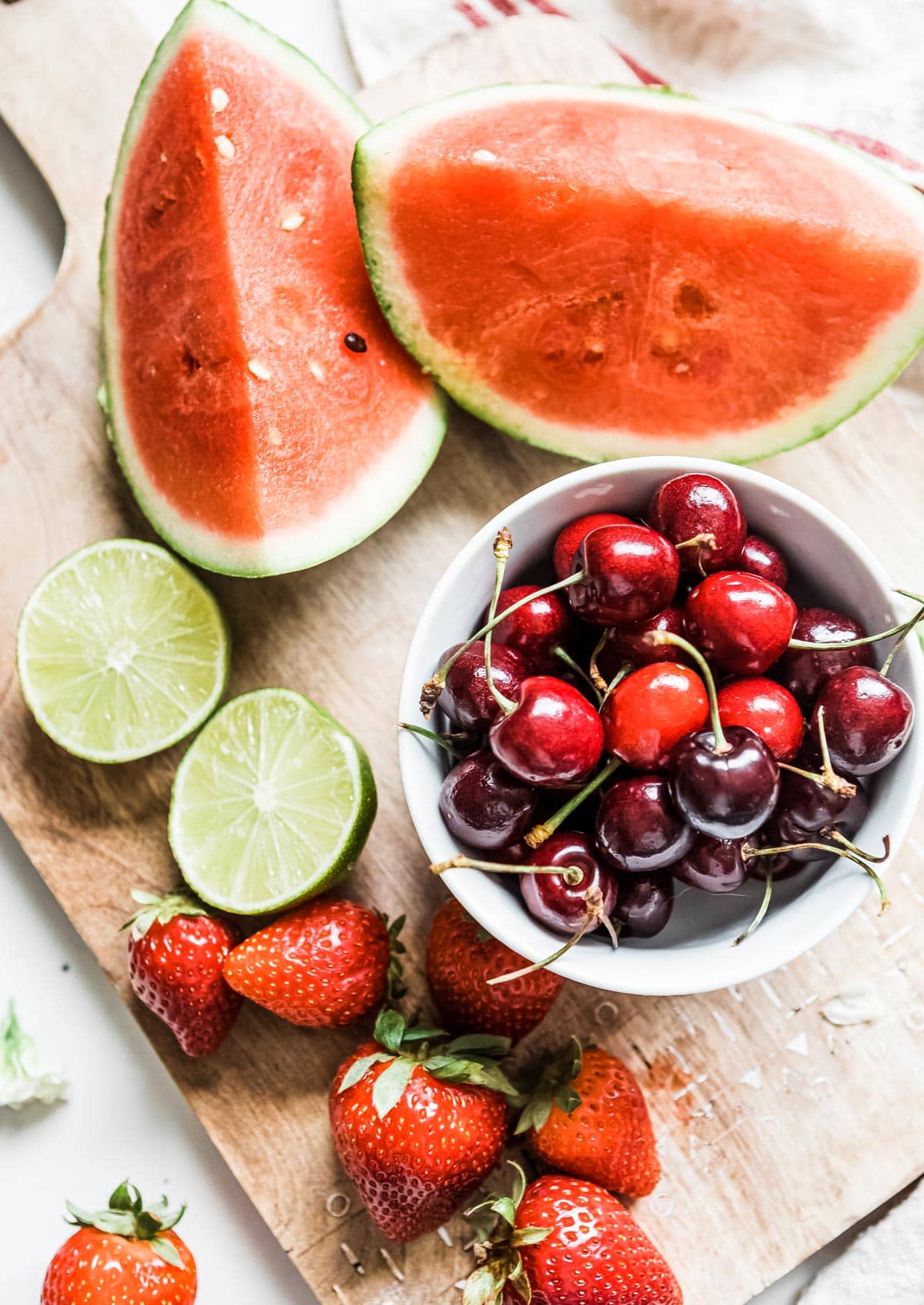 5 Watermelon Smoothie Tips
Since watermelon is over 90% water by weight, you don't need to add any extra liquid or ice to this smoothie.
Use seedless watermelon for this recipe. No need to spend all day picking out watermelon seeds!
Using frozen cherries and frozen strawberries rather than fresh ones yields a cool and frosty drink. If using fresh, add ice cubes to the blender.
Serve this smoothie immediately after making it. The longer it sits, the more the watermelon separates from the other ingredients.
Want popsicles? Freeze the smoothie in freezer pop molds to make homemade popsicles for the kids.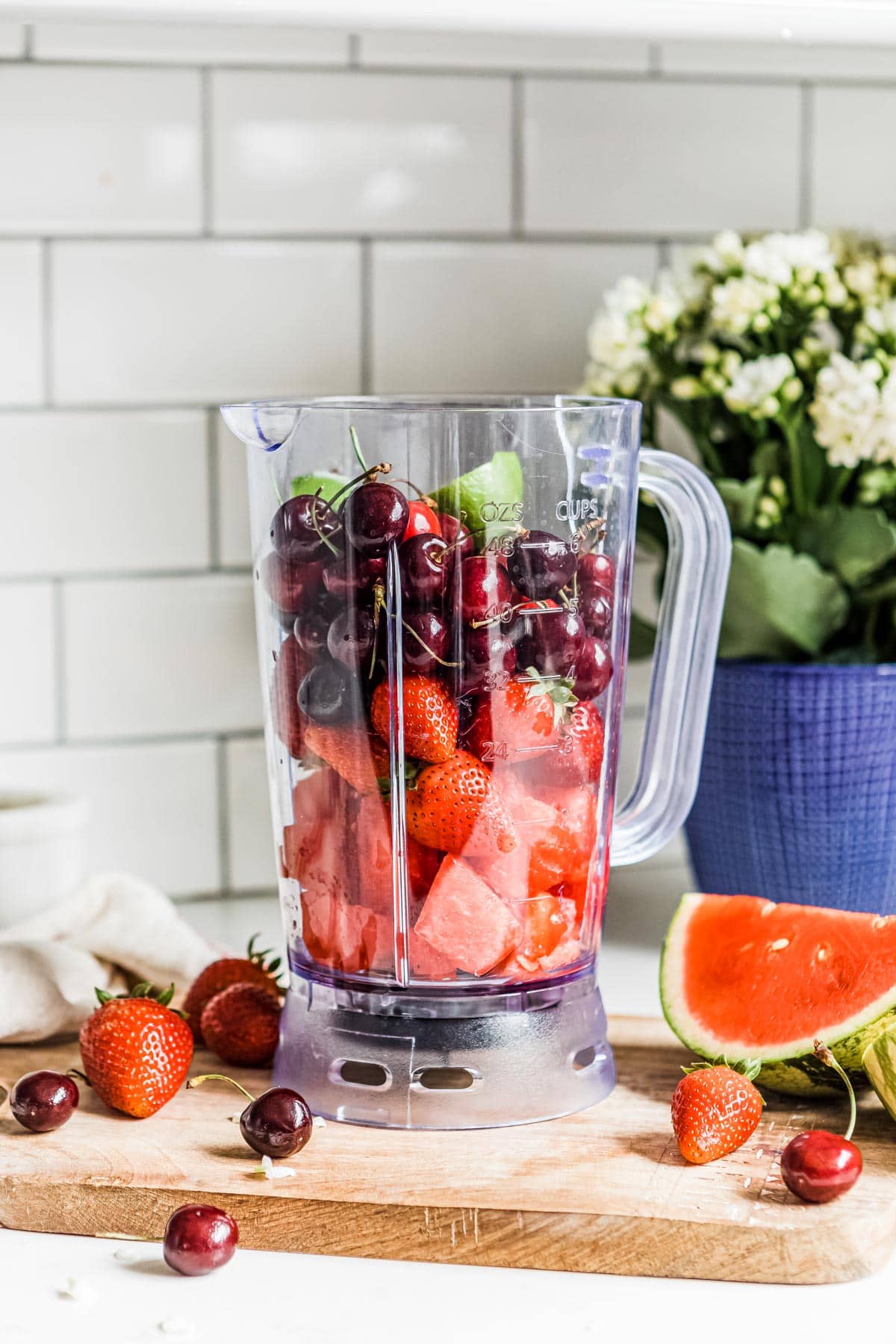 Health Benefits of a Summer Smoothie
Summer is overflowing with nutrient-dense produce. Take advantage of these ruby red, antioxidant-rich ingredients!
Watermelon
Watermelon has high water content, so it's the perfect fruit for hydration. All that water doesn't mean it's lacking in powerful antioxidants. Watermelon actually has about 40% more lycopene than raw tomatoes. Lycopene can help curb your risk of cancer and heart disease as well as offers some protective effects against damaging UV rays.
Strawberries
Strawberries add filling fiber to this watermelon smoothie as well as vitamin C and other beneficial antioxidants. Blood sugar regulation, reducing heart disease risk and boosting immunity are just some of the health benefits of adding strawberries to your diet.
Cherries
Cherries are also high in fiber and loaded with antioxidants. These powerful antioxidants may protect against cancer, cardiovascular disease and diabetes as well as Alzheimer's. Anti-inflammatory compounds in cherries may help reduce muscle pain and damage.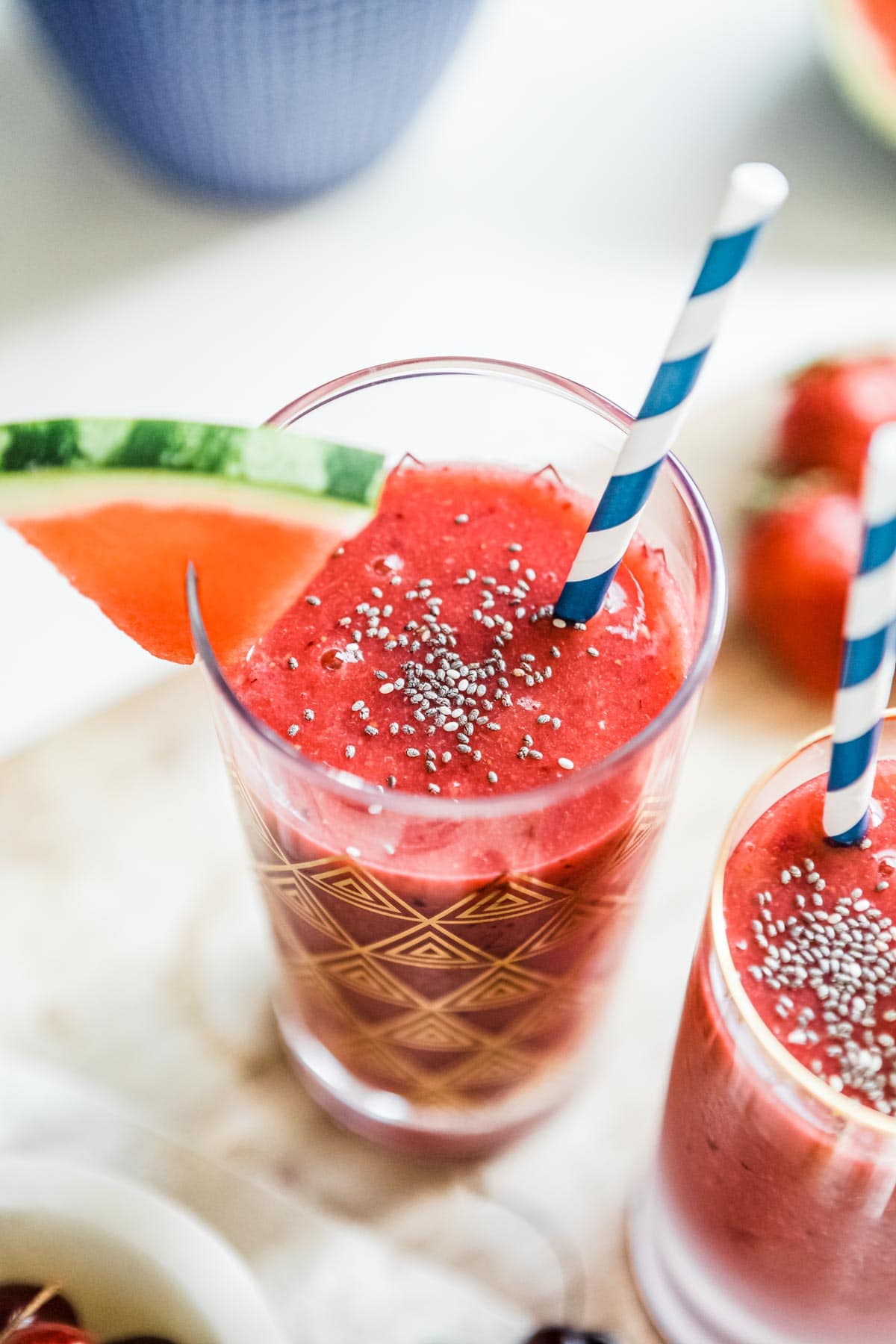 Watermelon Smoothie FAQs
What fruit mixes well with watermelon?
My watermelon smoothie blends cherries, watermelon, strawberries and lime. It's super refreshing and antioxidant-loaded!
Is it okay to blend watermelon?
Yes! When using any kind of melon in a smoothie, I cut back on the amount of liquid. Watermelon contains enough water on its own that you don't need any more liquid. Also, don't forget to remove the seeds!
Can I freeze watermelon?
Watermelon acts as both the liquid and fruit in a smoothie. If you freeze the watermelon, be sure to add extra liquid to help it blend well.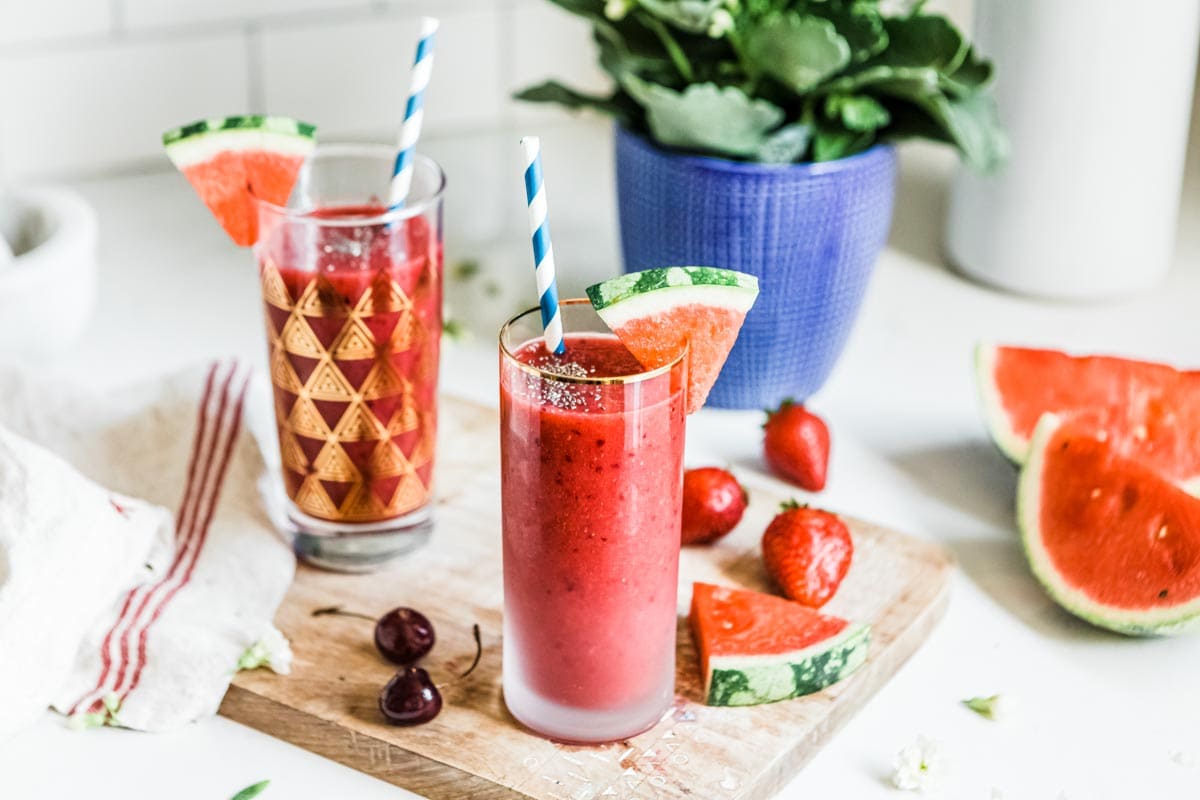 More Summer Beverage Recipes
If you loved sipping my watermelon smoothie then check out these other excellent fruit smoothie options to cool down on a hot day:
Summer is the perfect time to stock up on fresh produce. You can freeze it to use to enjoy summer smoothies all winter long, or freeze smoothie packs to enjoy as well.
Will you rate + review this recipe once you've tried it? I so value your feedback!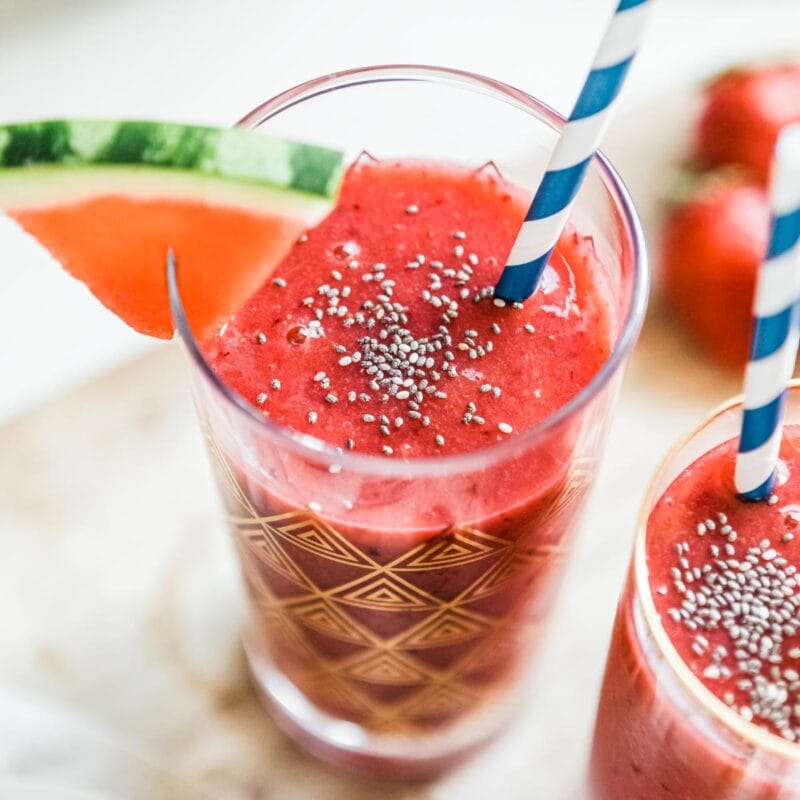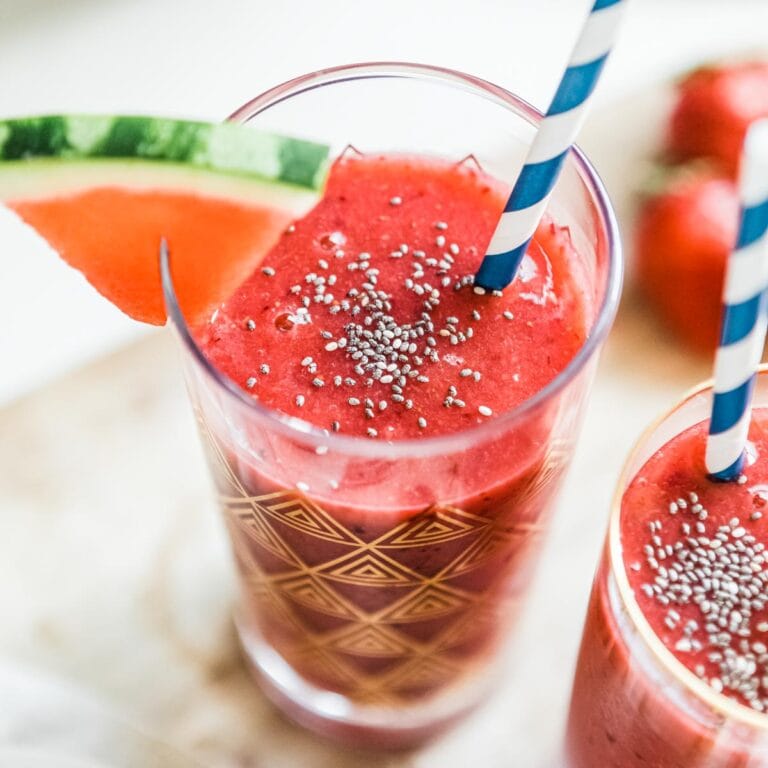 Summer Watermelon Smoothie
Want a refreshing, vitamin-packed smoothie that doubles as a kid-pleasing snack? This watermelon smoothie is a cool and sweet thirst quencher that you'll be sipping on all summer long.
Instructions
Add watermelon, strawberries, cherries and lime juice to the blender.

Blend on high speed until nice and smooth.

Pour into cups and sprinkle with chia seeds on top.
Notes
Use seedless watermelon if you don't have time to pick out the seeds before blending.
If using frozen watermelon, thaw ahead of time or add 1/2 cup liquid to help it blend well.
To lower the natural sugar, swap the cherries out for blueberries or raspberries, or add in a plant based protein powder to help your body process the natural sugar.
Nutrition
Calories:
135
kcal
,
Carbohydrates:
35
g
,
Protein:
3
g
,
Fat:
1
g
,
Saturated Fat:
1
g
,
Polyunsaturated Fat:
1
g
,
Monounsaturated Fat:
1
g
,
Sodium:
4
mg
,
Potassium:
506
mg
,
Fiber:
4
g
,
Sugar:
26
g
,
Vitamin A:
1773
IU
,
Vitamin C:
58
mg
,
Calcium:
43
mg
,
Iron:
1
mg