Smoothies are a great way to nourish your body with natural energy and vitamin boosts. If protein is what you're looking for, then def give this almond milk smoothie a blend. It's a berry filled, protein powered beverage that can fuel your day the right way.
Table of Contents
Almond Milk Smoothie Ingredients
This smoothie is loaded with berries, banana, and almond milk. Feel free to use the berries of your choice. If you'd like a lower sugar option, then use 1/2 banana and 1/4 cup cauliflower. This keeps the sweetness yet cuts back on the natural sugar.
Make sure to use unsweetened almond milk in this smoothie, as sweetened almond milk often has gums + additives that the body doesn't need. If you love the idea for this smoothie but need an almond-free option, then keep reading!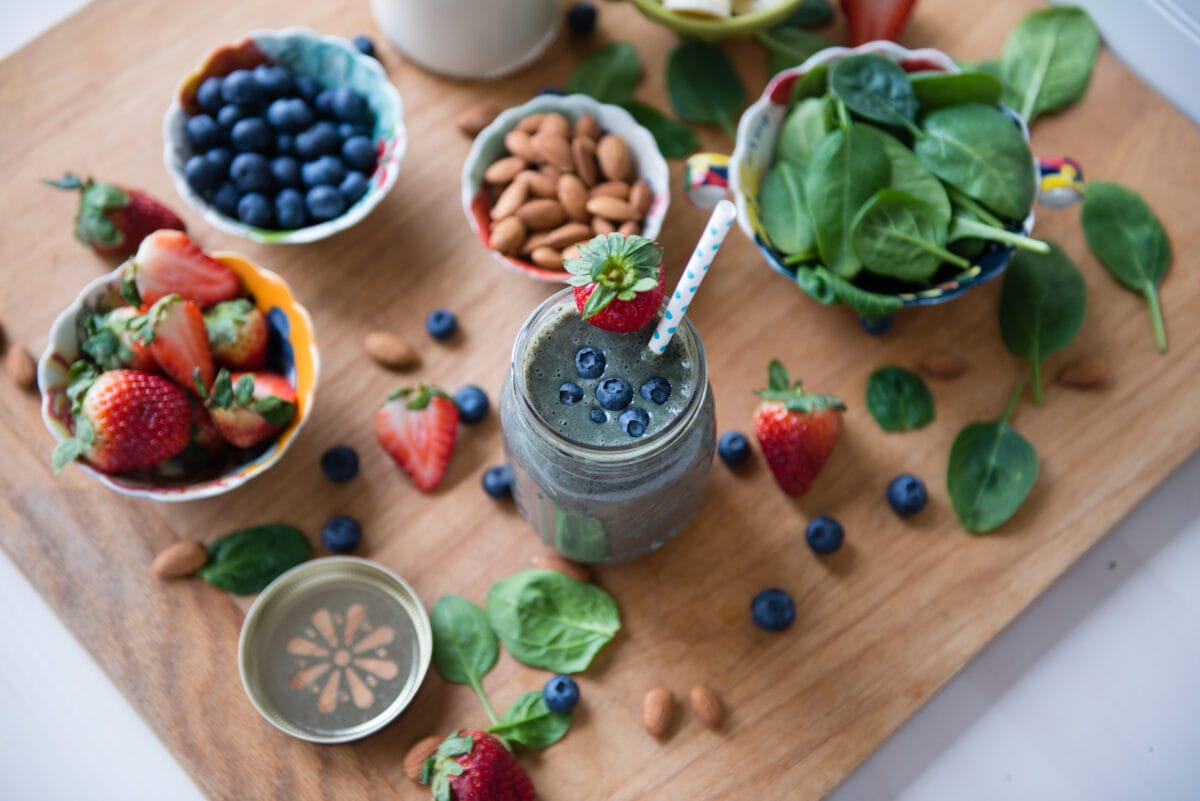 Store Bought vs Homemade Nut Milk
While almond milk has come a looong way since first appearing on grocery store shelves, making your own almond milk is a great option too. Reading labels is important, yet when you make your own milk, you know exactly what goes into it… plus, it's super easy!
I've got a no-fail homemade almond milk recipe, plus my team's also done the research to find the best store-bought almond milk brands as well. Either way, you can't go wrong with a good plant milk and a great almond milk smoothie recipe like the one below!
Non-dairy milk alternatives
While almond milk is super popular as well as easily available in most grocery stores, it might not be for everyone. If you love the idea of a milk-based smoothie yet can't do almond milk, then that's okay! There are SO many great options out there: oat milk, coconut milk, soy, cashew milk, hemp milk, flaxseed, rice… the possibilities are seemly endless.
Either make your own dairy free milk, or grab a new kind from the store next time you shop; I promise you'll find an option that's right for you.
FAQs
Is almond milk good for weight loss?
It can be! Almond milk has fewer calories and fewer carbs than cow's milk. Yet not all almond milk is the same. Def read labels when buying to minimize your exposure to gums and additives in almond milk. This almond milk smoothie is a healthy breakfast or snack.
What is the healthiest milk for smoothies?
Since more than 2/3 of adults have a dairy intolerance, I recommend reaching for a non-dairy milk option for smoothies. Honestly, each kind of milk has different pros and cons, so really the healthiest milk for smoothies is the one that's right for you. Check out my guides on shopping for oat or almond milk to help.
Does almond milk make smoothies thicker?
Yes! Almond milk is a great way to thicken up that smoothie, as well as make it creamier. If you're swapping in almond milk for a smoothie recipe made with water, then you may need to add a bit more milk than the recipe calls for, to help it blend well.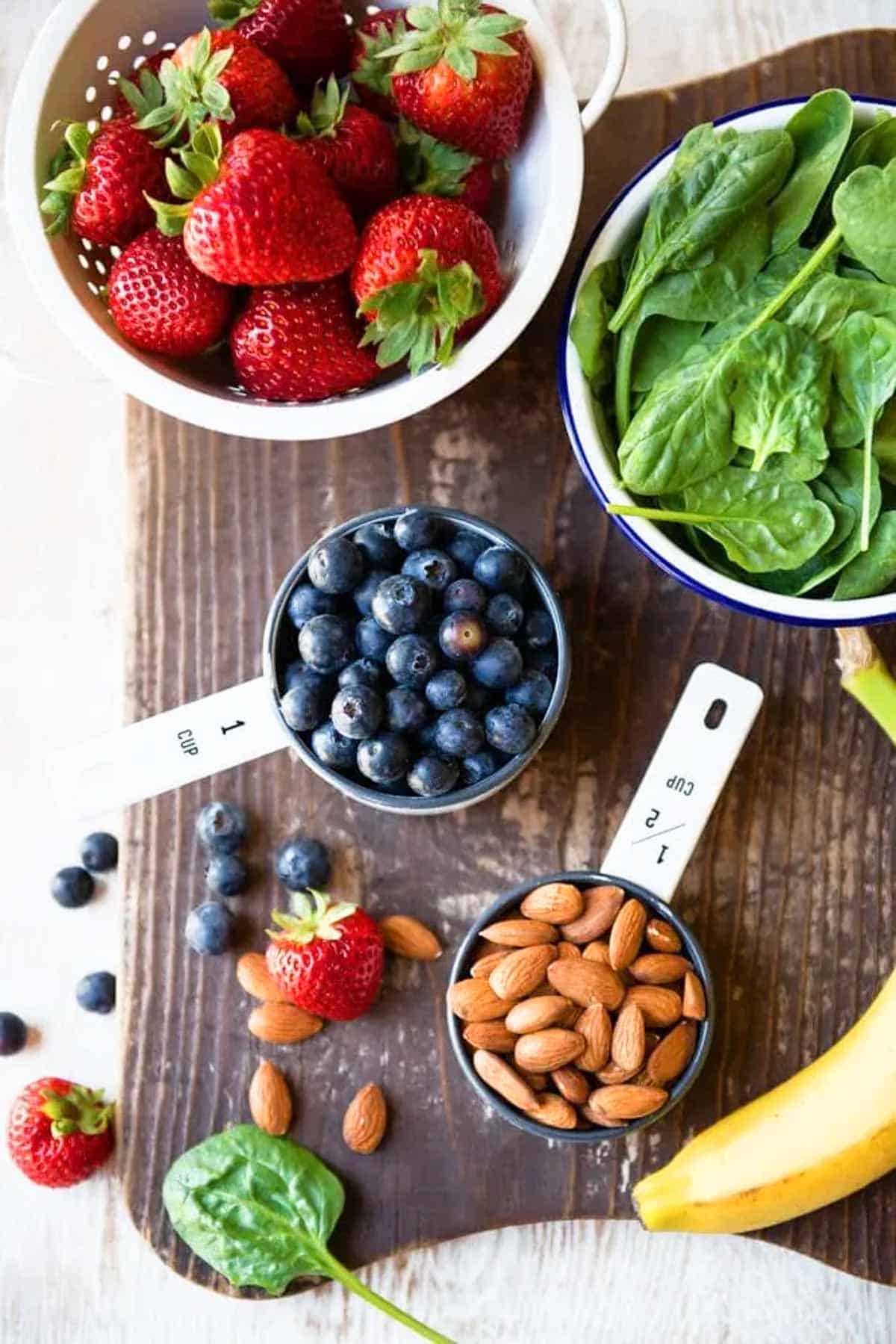 More Smoothies with Almond Milk
If you loved this creamy smoothie recipe then check out some similar options below:
Don't forget, if almonds aren't your thing, then just swap the almond milk for your fav dairy-free milk option. You can't go wrong with cashew, oat, coconut, pecan, rice, walnut… the sky's the limit!
Plant-Powered Protein Boost
Boosting smoothies with protein helps keep you full longer, and helps your body better process all the leafy greens + fruit you're consuming. My homemade protein powder is the cleanest way to add protein to smoothies, and it's for all smoothie lovers! No need to lift weights to enjoy added protein (yet it works for gym enthusiasts too!).
I love that this plant-based option can quickly turn any smoothie into a complete meal that my body will benefit from. It adds 10 grams of protein, turning this almond milk smoothie into a 14.7 gram protein drink!
Don't forget to rate + review this smoothie once you make it; I value your feedback!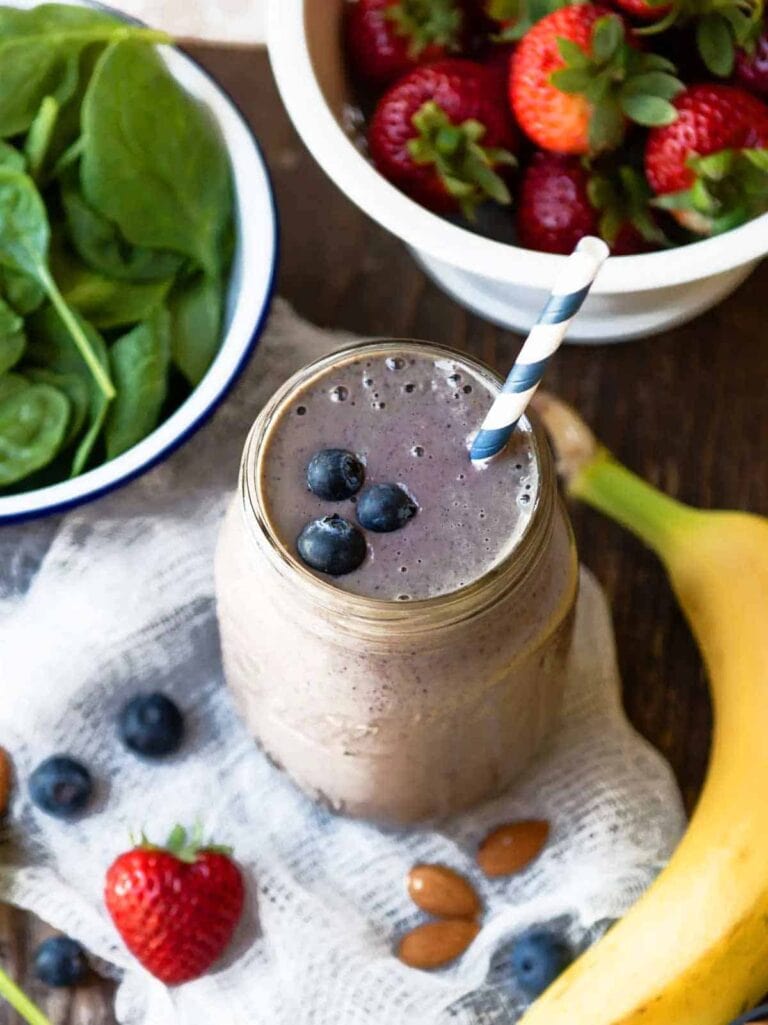 Almond Milk Smoothie
This is one of our favorite combos – strawberries, blueberries, and banana to use in a protein packed almond milk smoothie. 
Instructions
Blend spinach and almond milk until smooth.

Add the remaining fruits and blend again. Stop and scrape down the sides as necessary.

Pour into a glass and enjoy!
Notes
Use at least one frozen fruit to make the smoothie cold.
Any variety of berry can be substituted.
Swap the spinach with the leafy greens of your choice.
Swap the almond milk with the dairy-free milk of your choice.
Nutrition
Calories:
212
kcal
,
Carbohydrates:
45
g
,
Protein:
4
g
,
Fat:
4
g
,
Saturated Fat:
1
g
,
Polyunsaturated Fat:
2
g
,
Monounsaturated Fat:
2
g
,
Sodium:
351
mg
,
Potassium:
757
mg
,
Fiber:
8
g
,
Sugar:
26
g
,
Vitamin A:
2937
IU
,
Vitamin C:
68
mg
,
Calcium:
352
mg
,
Iron:
2
mg