Avocados are delicious all by themselves but this vegan avocado crema recipe elevates them even more. A little zest, a slightly nutty flavor and a whole lot of smooth. This might be your new favorite condiment on everything from black bean burgers to vegetarian pizza.
One of my favorite ways to jazz up Austinite Vegan Tacos, a Chipotle Veggie Bowl or Bean and Rice Burritos is with this avocado cream sauce. And bonus, you can thicken it or thin it out to become a dip or a sauce. I love how versatile it is!
Table of Contents
It's super quick to make in a blender, making it easy to bust out for Taco Tuesday to create an upgraded dinner that adds healthy fats and tons of flavor from the lime to the sea salt.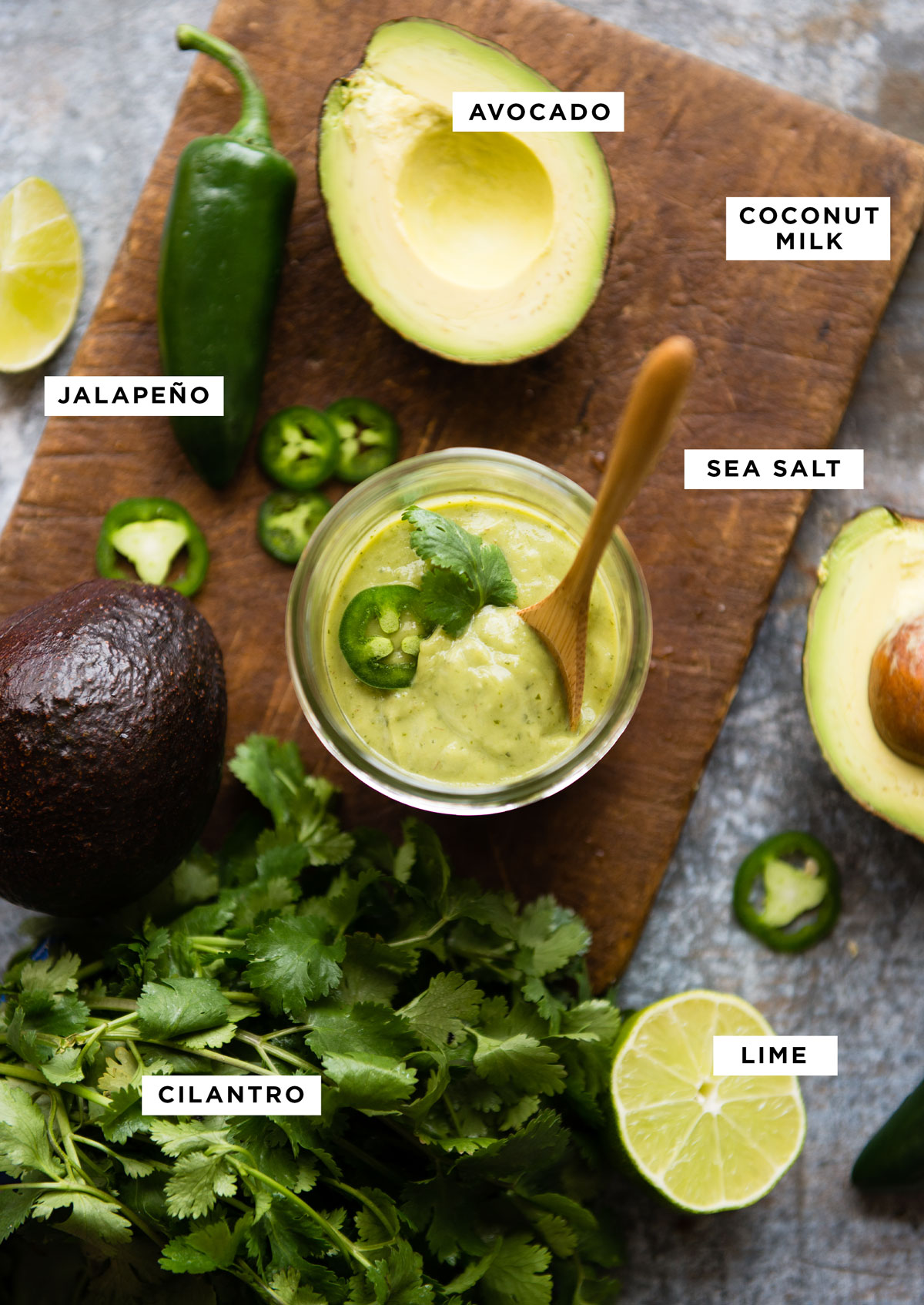 Recipe Ingredients
It takes six ingredients to whip up this savory vegan avocado crema:
Avocado: Make sure yours is ripe and ready! You can use the variety of your choice, just know they vary in size so if you're using smaller ones, toss two in.
Coconut milk: Depending on the consistency you want, choose either canned or carton coconut milk. Use store-bought or try homemade coconut milk for the most delicious results.
Fresh lime juice: This provides the tang as well as helps preserve the fresh avocado in this recipe. Want even more flavor? Zest a bit of the lime peel and add that into your crema.
Jalapeño: A little heat is always a good idea and this gives the right amount of punch. If you are sensitive to jalapeños, use gloves when handling. Don't forget to scrape out the seeds to cut down on the heat!
Fresh cilantro: This herb isn't just a garnish, it's also a great addition to the vibrant green color of this condiment.
Sea salt: This helps balance the flavors and cuts down on the coconut milk flavor.
Substitution Guide
If one of these ingredients isn't your style then hold on! I've got some easy swaps that might just make this avocado crema work for you. The coconut milk can be swapped with cashew cream or vegan yogurt. If you aren't worried about the dairy then you can also use Greek yogurt.
Lemon juice replaces lime juice in a pinch. Serrano peppers are a great swap for the jalapeño, or if you want a less heated pepper, use a green bell pepper.
I am firmly in the #cilantroclub, yet if it tastes like soap to you, and you definitely know who you are if it does, then just omit it.
You can also add a garlic clove or some onion to your blend for a different flavor profile.
How to Make Avocado Crema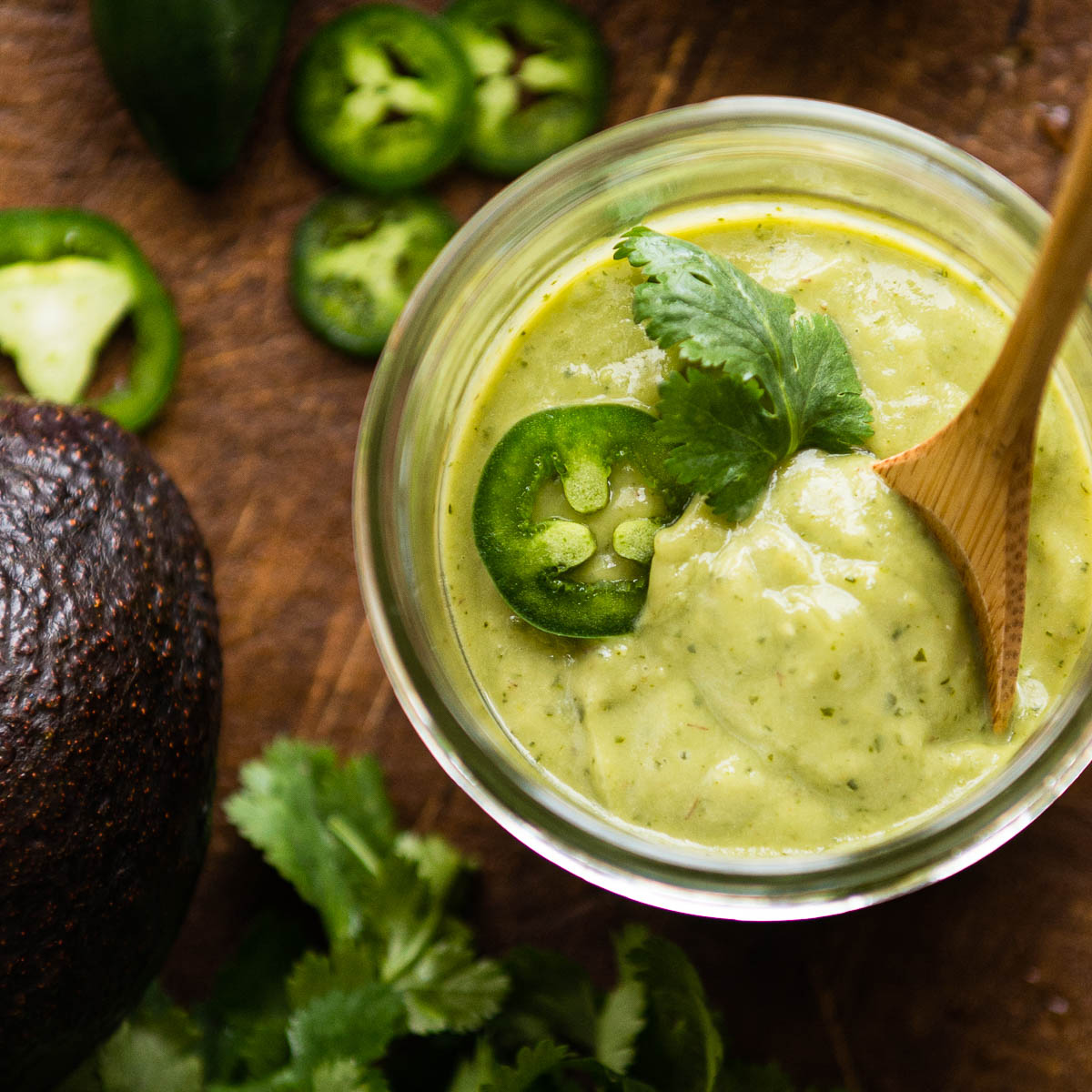 Another reason to love this versatile avocado crema recipe is how easy it is to prep.
Toss all the ingredients into a blender and blend until smooth.
Stop and scrape down the sides as needed. If your blender is having a hard time, either add a bit more liquid or try doubling the recipe to help give the blades more to work with.
Transfer to an air-tight container and refrigerate until ready to use. This condiment is best used right away, yet can last up to three days if sealed properly.
Check out my guide on how to cut an avocado to make the most of your produce.
If stored in an airtight container, it can last a few days. However, wherever oxygen has touched it, the color will turn brown. To help with this, I like to eat it all in one meal; then I don't have to worry about it.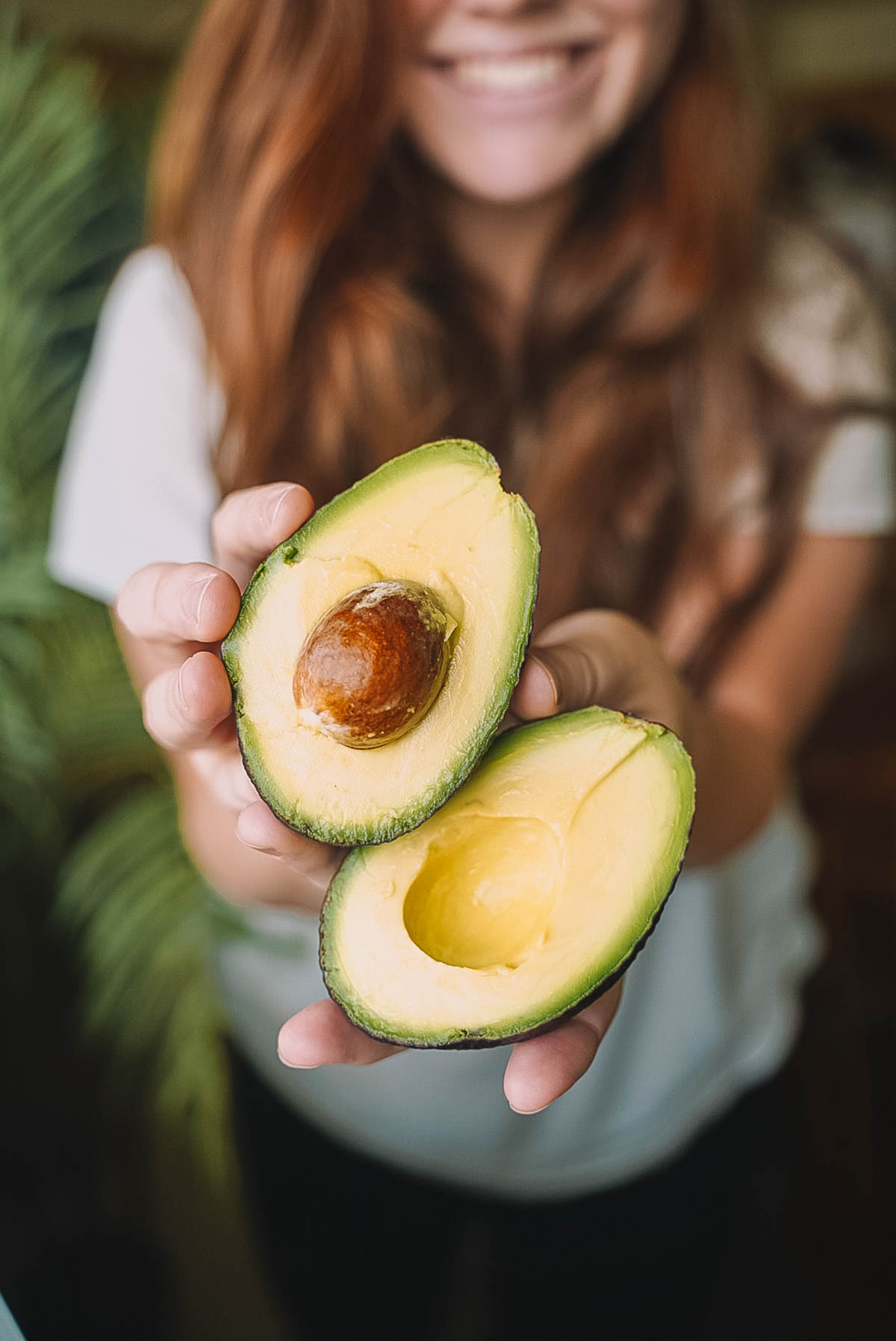 Tips for the Best Results
I usually purchase my avocados a few days beforehand, so I know I'll have a ripe one on hand. I've also noticed some grocery stores starting to carry frozen avocados. If you can find this, then try it!
Canned coconut milk is preferred over refrigerated for this recipe since it is thicker and has a better fat layer. This adds brings a silky smooth texture.
Lime juice in a bottle typically contains additives. Buying fresh limes, then squeezing them into your blender will give you the freshest, cleanest juice.
Storage Options
I store my vegan avocado crema in a squirt bottle so I can drizzle it on my tacos and it seems to help it stay fresh longer. If you're making extra, then you can always freeze it until ready to use. This is a great way to save time and have it on hand in a pinch. Plus, it protects the ripe avocado from turning more.
If you want to freeze it then grab an ice cube tray and fill each cube with cream. Once frozen, you can transfer to a silicone freezer bag. Thaw in the fridge until ready to use.
FAQs
What is in avocado crema?
My dairy-free version uses six ingredients: coconut milk, avocado, fresh lime juice, fresh cilantro, jalapeño and sea salt. It takes only five minutes to blend together into a creamy sauce that can be used in a variety of dishes.
Can I substitute avocado for sour cream?
Yes, though it wouldn't be considered avocado crema any longer. If you want to keep it vegan then use a cashew cream or vegan sour cream. If you are a dairy-lover then go for regular sour cream.
Is crema just sour cream?
Crema is elevated sour cream. My version uses avocado, lime, cilantro, jalapeño and salt along with coconut milk (to make it dairy-free). It is silky smooth, almost like a mousse.
How to use Avocado Lime Crema
Avocado crema has a mild flavor that can work in a number of dishes. You can use it just like you would avocado or guacamole, so give one of the following options a try using this recipe!
Depending on how you want to use it, change the consistency to turn it into a dressing, dip or sauce. It's amazingly versatile! Don't forget to rate + review this recipe once you try it. I can't wait to hear how you use your vegan avocado crema!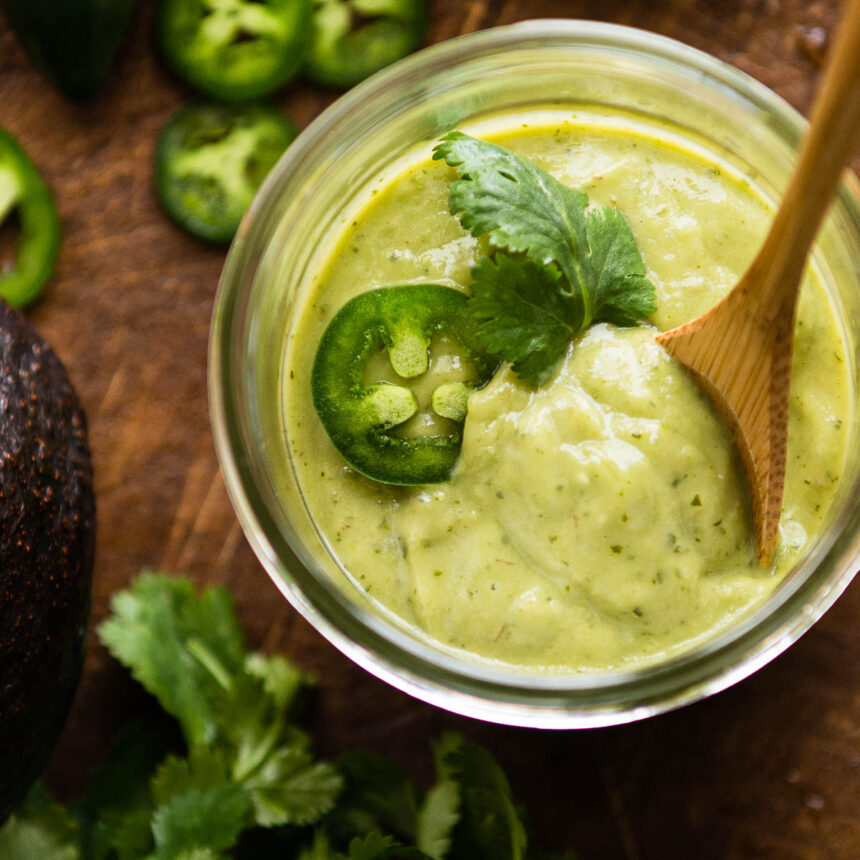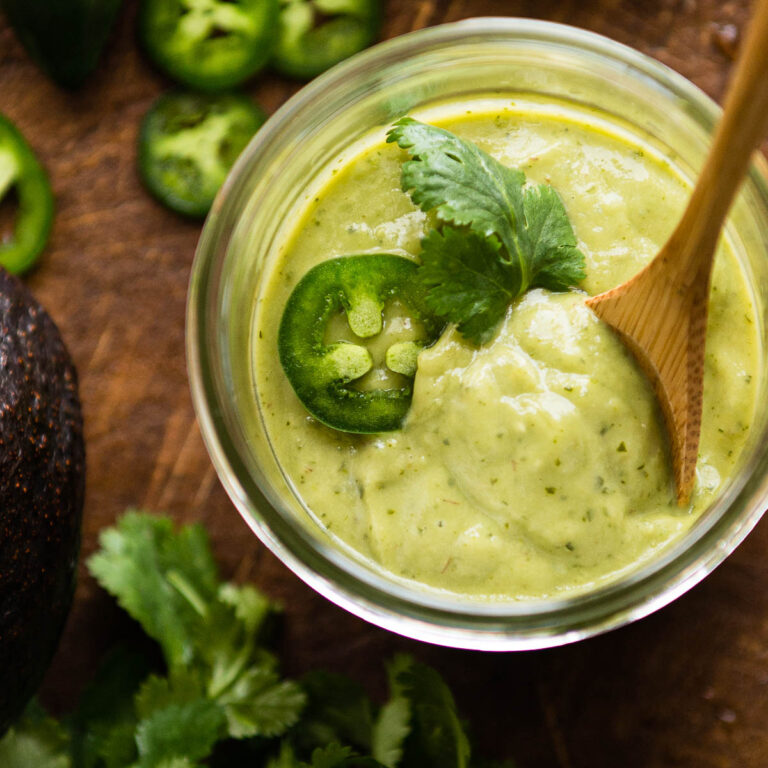 Vegan Avocado Crema
Think of avocado crema as an incredible guacamole-like dressing- thick and creamy with a hint of spice and fresh lime juice. The added coconut milk gives it a nice drizzling quality. Feel free to add more spice if you can take the heat.
Ingredients
1

avocado

¼

cup

coconut milk

2

tbsp

lime

juice

½

jalapeño

seeds and ribs removed

¼

cup

cilantro

fresh, chopped

¼

tsp

sea salt
Instructions
Place all ingredients into a blender or food processor.

Blend or process until smooth. Taste and add more salt or lime juice, to taste.

Transfer to an airtight container and refrigerate until ready to use.
Notes
Swap jalapeño for serrano chile or canned chipotle pepper in Adobe sauce, if preferred. 

Coconut milk can be canned (for thicker crema) or carton (for thinner sauce).
Use within three days for the freshest sauce.
If your blender has a hard time blending the small amount in this serving size, try doubling or tripling the recipe to make it easier to blend. You can always freeze the leftovers to use in the future. 
Nutrition
Calories:
93
kcal
,
Carbohydrates:
5
g
,
Protein:
1
g
,
Fat:
8
g
,
Saturated Fat:
2
g
,
Polyunsaturated Fat:
1
g
,
Monounsaturated Fat:
5
g
,
Sodium:
160
mg
,
Potassium:
262
mg
,
Fiber:
3
g
,
Sugar:
1
g
,
Vitamin A:
163
IU
,
Vitamin C:
10
mg
,
Calcium:
8
mg
,
Iron:
1
mg