I probably haven't met a pizza I didn't like if I'm honest. This Buffalo Jackfruit Pizza might just be my new favorite! It has one of my favorite spicy sauces: buffalo. I mean, anything with buffalo sauce is amazing, as my Buffalo Cauliflower Wings prove.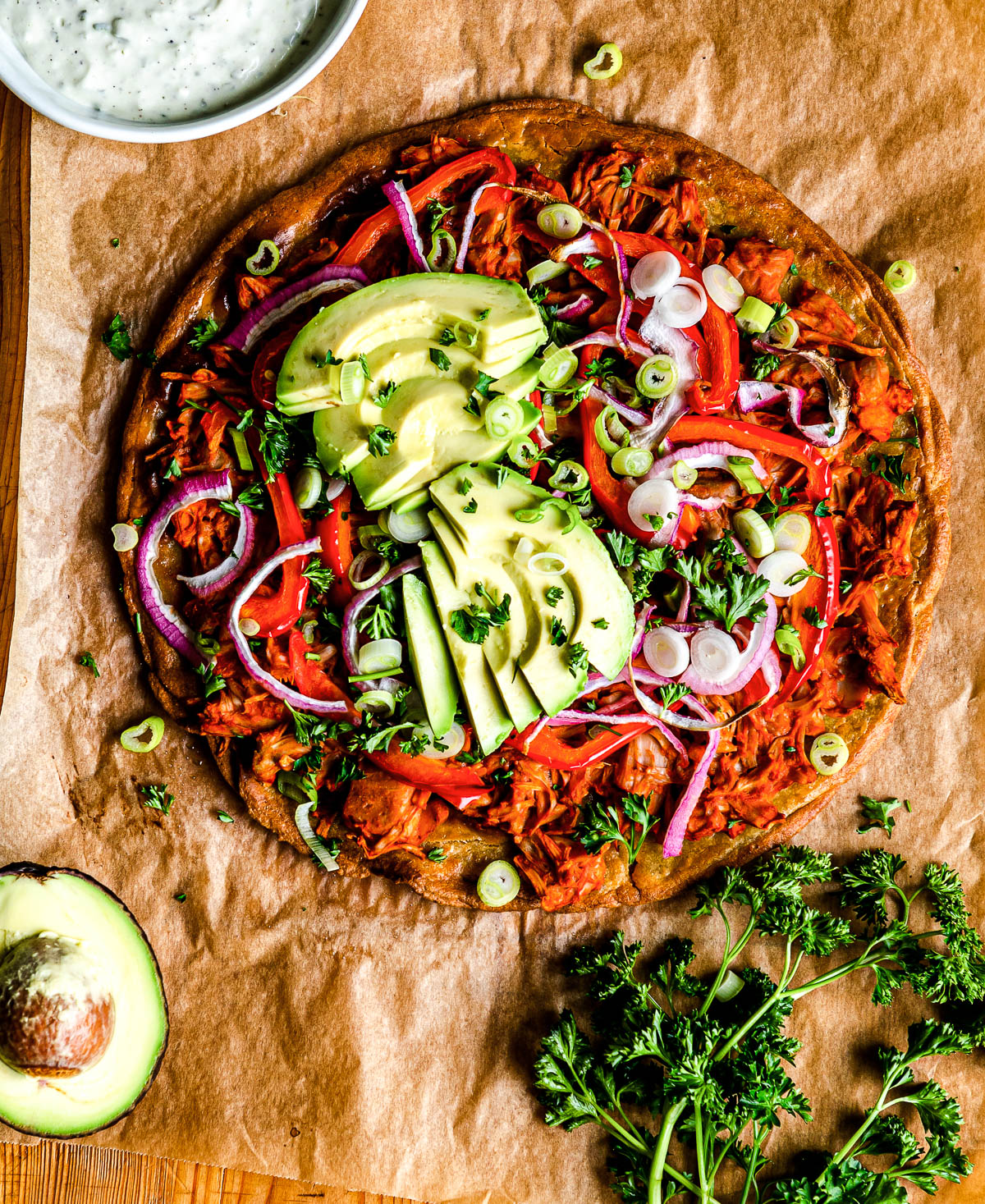 I topped the gluten-free pizza crust with a spicy jackfruit mix that's been baked with buffalo sauce. That's how the flavors go from okay to wowza! I also included a recipe for my Cashew Ranch Dipping Sauce originally from the Simple Green Meals Cookbook and it's the perfect dip for this dish.
Table of Contents
Recipe Ingredients
This gluten-free dinner is super easy to make and super delicious. Here's what I'm using to make mine: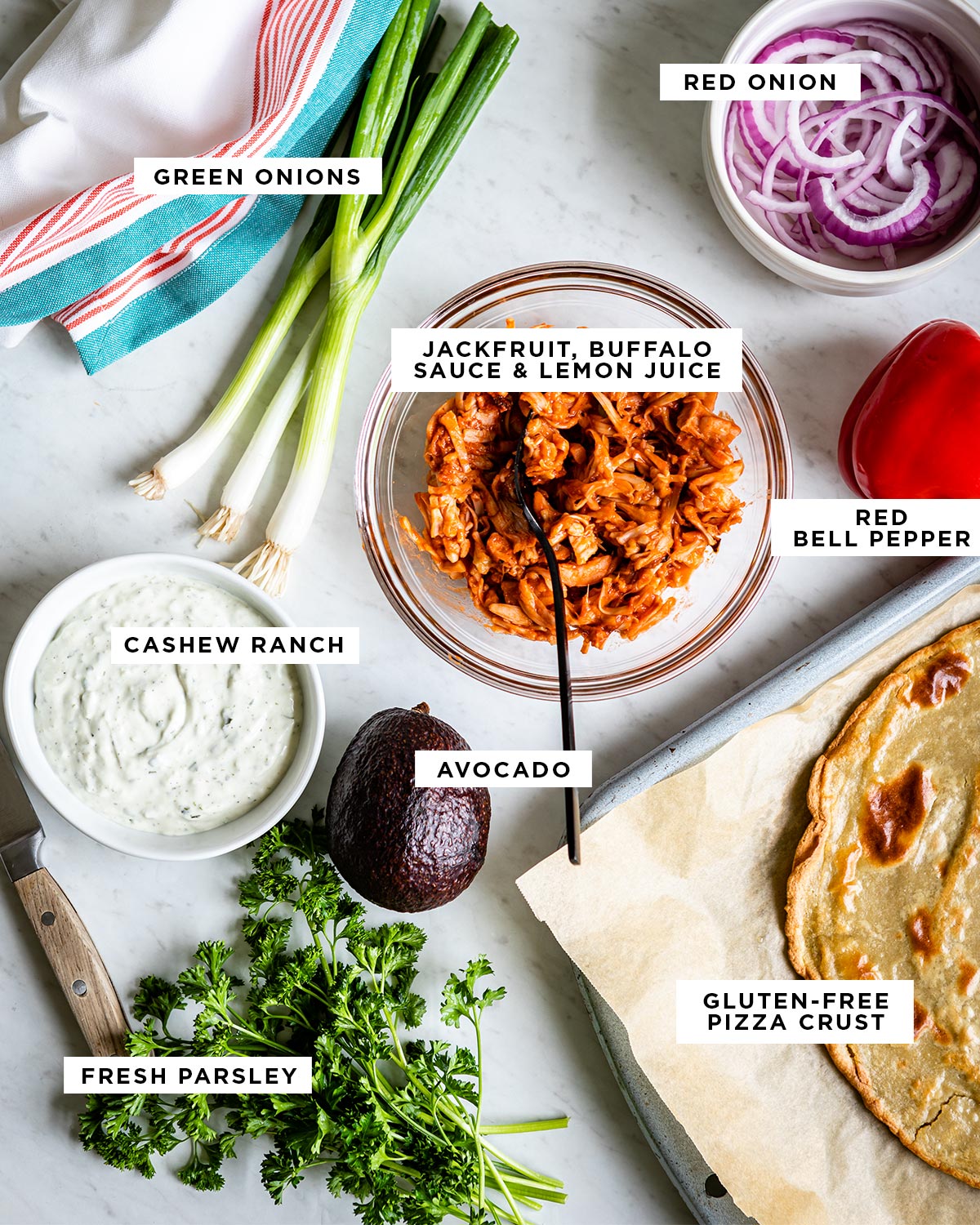 Gluten-free pizza crust: While my crust takes a while to make, it's the texture and density of a regular crust and perfect for pizza night.
Jackfruit, buffalo sauce & lemon juice: The buffalo jackfruit is baked first and then added to the pizza, giving it a meat-like texture and the best flavor.
Red onion: This pairs perfectly with the buffalo sauce and should be used if you can find one!
Red bell pepper: I love adding a little sweetness with a mild pepper like this one, as well as some crunch.
For Topping:
Avocado: Creamy slices of avocado cut down on the heat from the sauce.
Fresh parsley: Greens are a great pizza topper and the peppery, earthy taste of parsley pairs nicely with this dish.
Green onions: Even though there are already purple onions on this pizza, I like adding a sprinkle of green onions as well for a bright finish.
Cashew ranch: I am decidedly in the dipping my pizza category, no matter the kind. This cashew ranch is the creamy finish I need and love with my meal.
Crust Options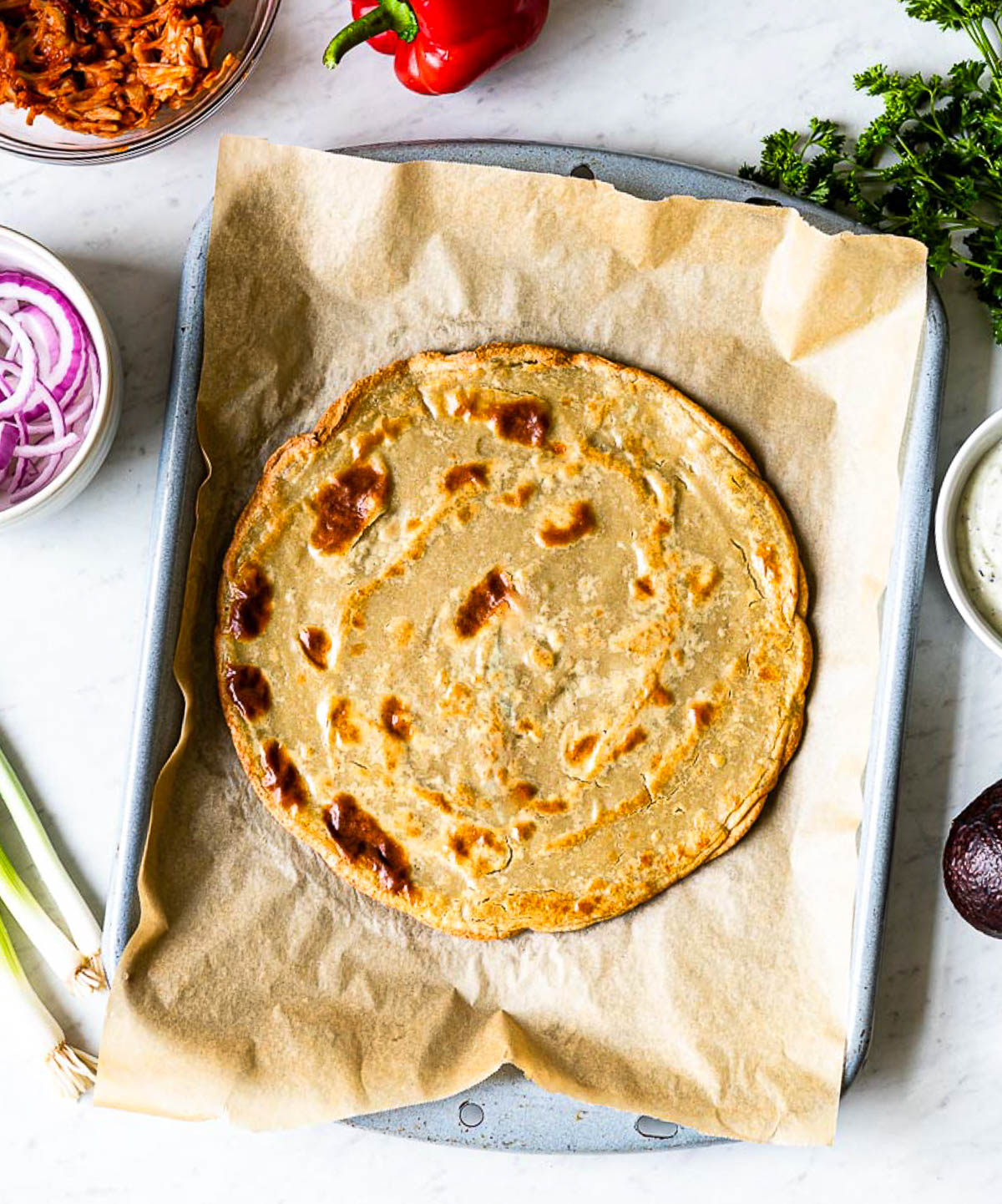 The foundation of your pizza is very important. Whether you go with a traditional crust, gluten-free or plant-based, there are so many options! Some people like to go completely homemade and if that's you then rock it.
If you want the homemade taste without the time commitment then check out the bakery section in your grocery store for a fresh store-bought dough that you take and bake. Trader Joe's has both regular, whole wheat and gluten-free options.
To go with a grain-free option, cauliflower crust is becoming more popular. If you want to keep this pizza dairy-free then make sure to read the ingredient label on that cauliflower crust to ensure it isn't made with cheese (many of them are).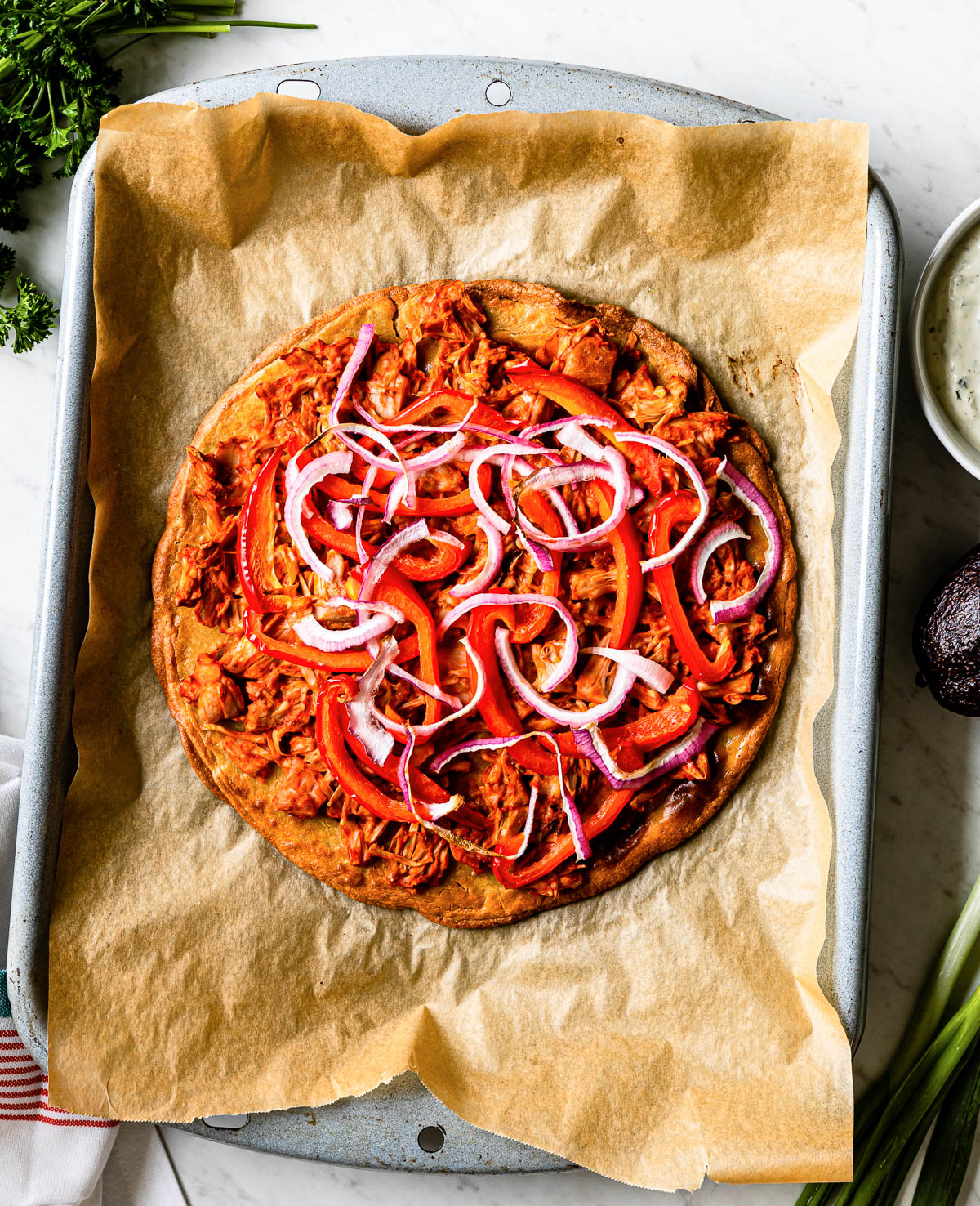 Buffalo Jackfruit Pizza Recipe
Since you can use the pizza crust of your choice for this recipe, start by making sure that is prepped and ready to go. Depending on what you choose, it might take a little work. Then head on down to this recipe for the pizza of your dreams:
Preheat the oven to 400°F. Line a rimmed baking sheet with parchment paper then lightly grease a casserole dish. You'll use the casserole dish for the jackfruit and the baking sheet for the pizza.
In a bowl combine the jackfruit, buffalo sauce and fresh lemon juice. Pour out evenly over the greased casserole dish then bake for 10-15 minutes. Remove from oven and cool slightly before using two forks to shred the jackfruit. Stir it up once more to soak up as much sauce as possible.
To assemble the pizza, place the prepared crust on the lined baking sheet and top with the jackfruit mixture. Add the purple onion and bell pepper then bake for 10-15 minutes or until the crust is golden and the veggies are tender.
Top the finished pizza with sliced avocado, minced parsley and green onions. Serve with cashew ranch dipping sauce on the side.
FAQs
What is jackfruit meat?
Jackfruit is a unique fruit that when shredded looks like shredded pork. It's got a mild flavor making it easy to sauce up and use in a variety of dishes as a meat replacement.
How do you make jackfruit taste like meat?
Since jackfruit has a mild flavor, it's easy to season and sauce it up to taste like anything you want. For my buffalo jackfruit, I take the shredded jackfruit and mix it with buffalo sauce and fresh lemon juice. Then I bake it to further infuse it with flavor and give it a meat-like texture.
How do you eat canned jackfruit?
Start by draining and rinsing the jackfruit pods. Then take some forks and shred them, almost like you do with chicken or pork. Then you can eat the fruit uncooked or cooked, seasoned or not. I like putting mine on pizza and in tacos.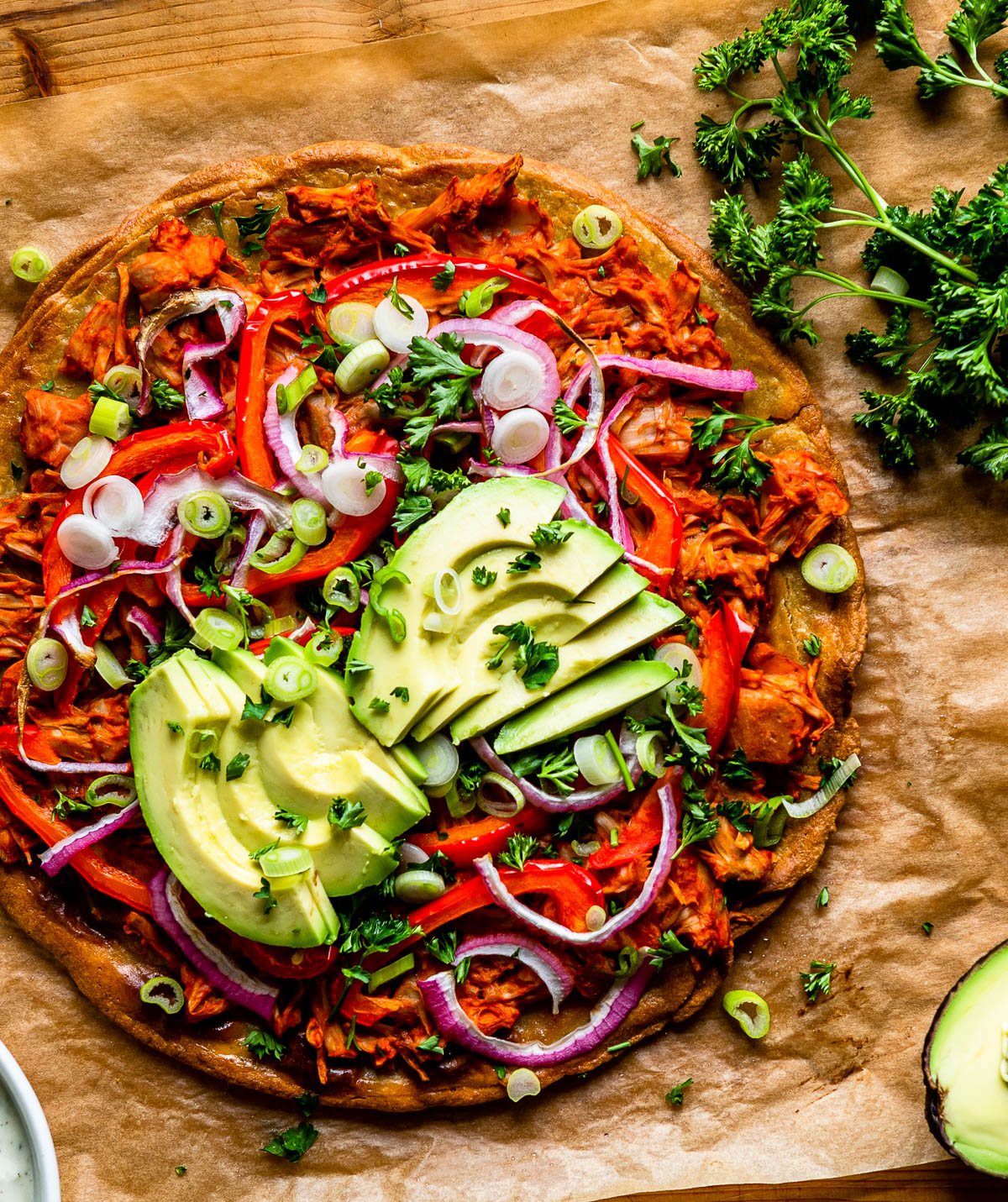 More Pizza Recipes
If you're looking for an indulgent homemade pizza then I've got three more recipes for you to try! These healthy pizza recipes are incredibly delicious AND plant-based:
I can't wait for you to try this fun recipe. Would you please rate & review it once you've made it so I can know how it turned out for you?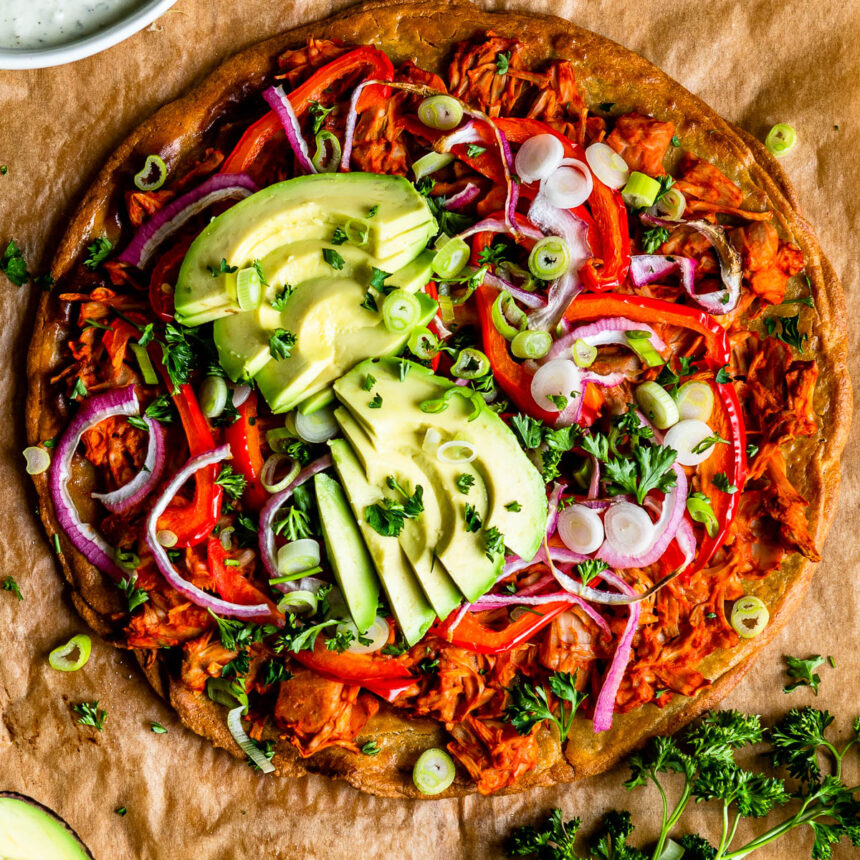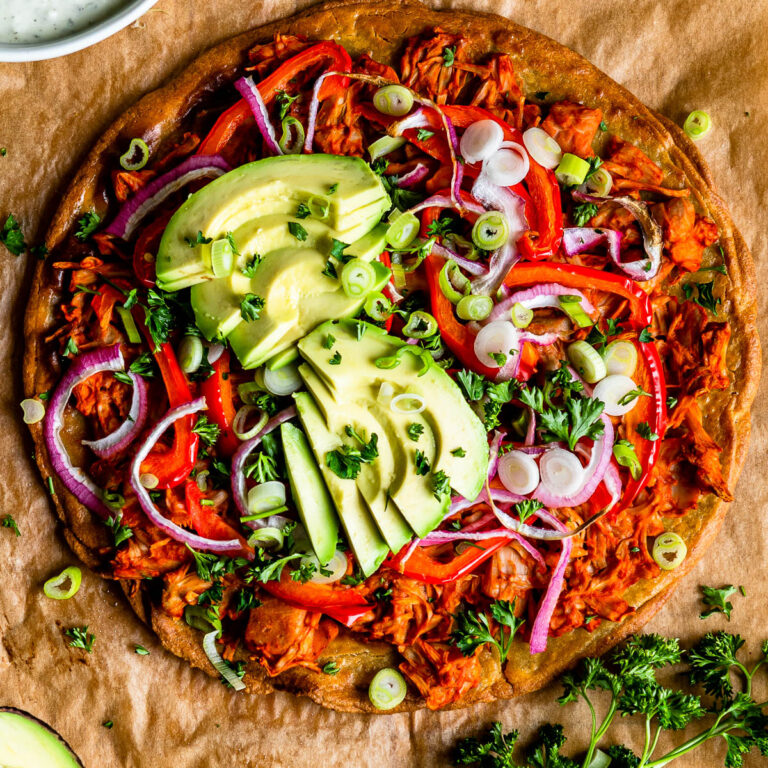 Buffalo Jackfruit Pizza
Pulled jackfruit cloaked in tangy, spicy buffalo sauce makes for a fantastic pizza topping. Add a few veggies and serve with vegan ranch on the side for a tasty, unique, buffalo jackfruit pizza.
Ingredients
1

pizza crust

ex: quinoa pizza crust

1

20-oz can

green jackfruit

drained and rinsed

½

cup

buffalo hot sauce

ex: Frank's Red Hot

1

lemon

juiced

¼

red onion

diced

½

red bell pepper

thinly sliced
For Topping:
1

avocado

thinly sliced

fresh parsley

green onions

thinly sliced

Cashew Ranch

optional
Instructions
Preheat oven to 400°F. Line a large rimmed baking sheet with parchment paper. Lightly grease a casserole dish. Set both aside.

In a bowl, combine jackfruit with buffalo sauce and lemon juice. Transfer to the greased casserole dish and bake for 10-15 minutes. Remove from oven and allow to cool slightly. Use two forks to shred the jackfruit and stir so it can absorb more of the sauce.

To assemble pizza, place the prepared pizza crust on the lined baking sheet and top with the buffalo jackfruit. Add the onion and bell pepper. Bake for 10-15 minutes, or until crust is deeply golden and the vegetables are tender.

Top the pizza with sliced avocado, minced parsley and green onions. Serve with Cashew Ranch Dipping Sauce on the side. 
Notes
To make Cashew Ranch Dipping Sauce: soak 1/2 cup raw cashews in water for several hours or overnight. Drain and rinse. Place in blender with 2 teaspoons lemon juice, 1/2 teaspoon dried dill weed, 1/4 teaspoon garlic powder, a pinch of paprika, and a good pinch each salt and freshly ground black pepper. Add a few tablespoons of water and blend until smooth. Store in fridge until ready to use.

This pizza is best eaten the day it is baked, but will keep for 1-2 days in the fridge.

You can also make the buffalo jackfruit and refrigerate up to a day ahead of time.
Use a gluten-free pizza crust to keep this recipe gluten-free.
Nutrition
Calories:
732
kcal
,
Carbohydrates:
113
g
,
Protein:
21
g
,
Fat:
24
g
,
Saturated Fat:
7
g
,
Polyunsaturated Fat:
2
g
,
Monounsaturated Fat:
10
g
,
Sodium:
2900
mg
,
Potassium:
645
mg
,
Fiber:
12
g
,
Sugar:
7
g
,
Vitamin A:
1090
IU
,
Vitamin C:
78
mg
,
Calcium:
212
mg
,
Iron:
6
mg