I probably haven't met a pizza I didn't like, if I'm honest. And this Vegan Jackfruit BBQ Pizza might just be my new favorite! It has one of my fav sauces: buffalo. I mean, anything with buffalo sauce is amazing. Cauliflower? Yes! Tacos? Yes! Pizza? Yes!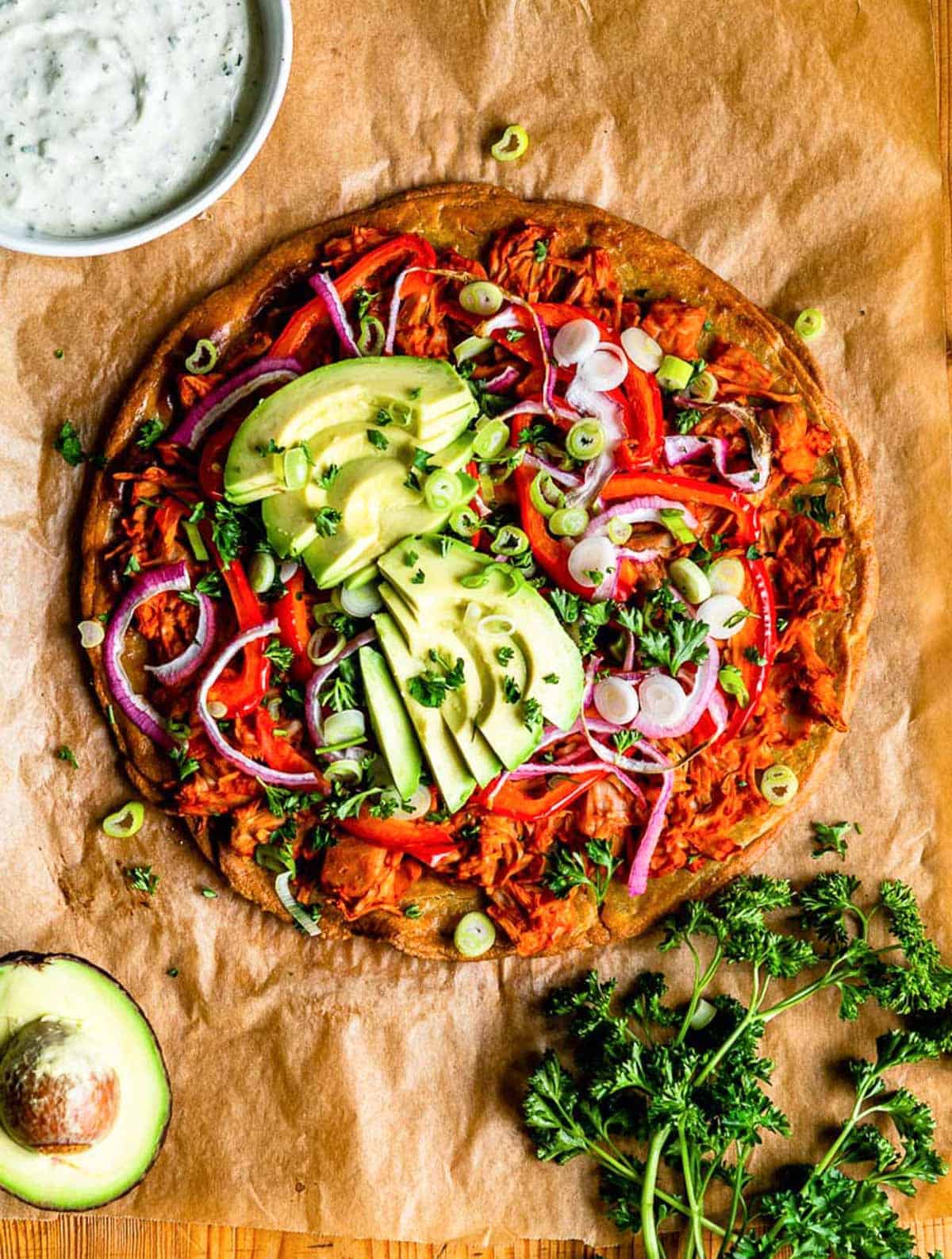 We've topped the gluten-free crust with a spicy jackfruit mix that's been pre-baked with buffalo sauce. That's how we get the flavors to go from okay… to wowza!
To finish things off, add red onions, bell pepper, green onions, avocado, and a sprinkling of fresh parsley. In lieu of blue cheese dressing, I turn to my Cashew Ranch Dipping Sauce from my book, Simple Green Meals. It's so so so good!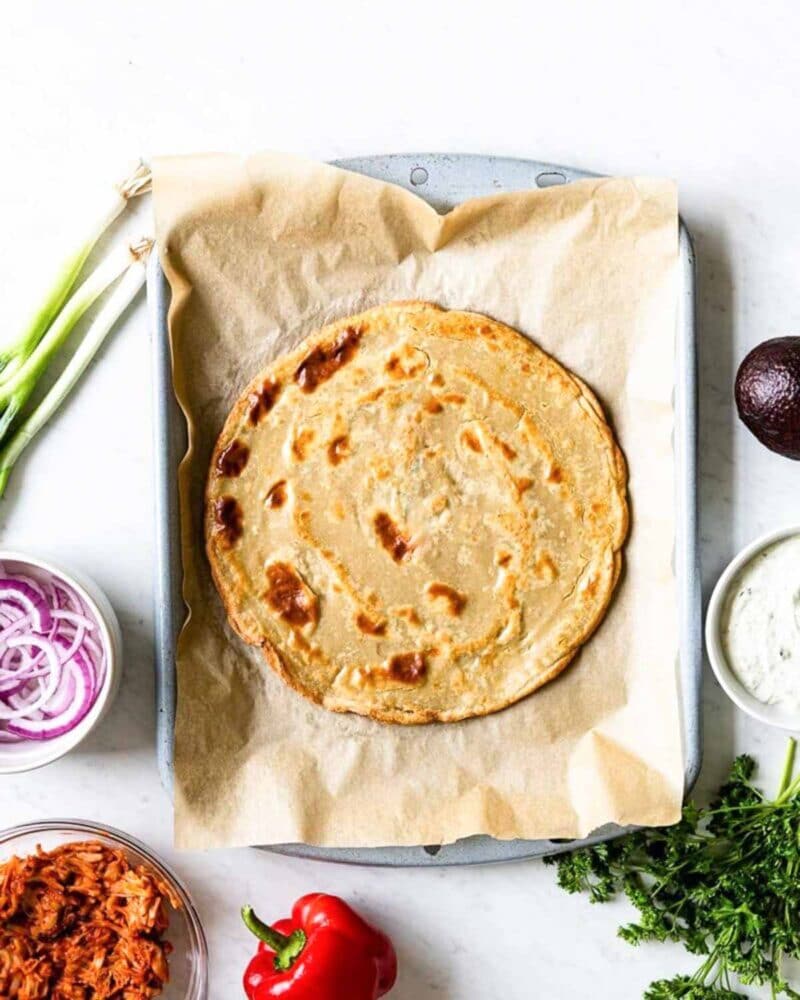 Gluten-free vegan pizza crust
The foundation of your pizza is very important. You have many options when going vegan (or plant-based) or gluten-free, so don't freak out. Most pre-made dough in bags are vegan-friendly YET not gluten-free! Be careful of cauliflower crust because they tend to sneak cheese and eggs in them.
The solution we've found is to make your own and make it so good that you crave it!
My go-to vegan pizza crust is a homemade quinoa one that I started making for my Seasonal Cleanse. Why? it's got a great texture and packed with protein. It really takes the nutrition to the next level while not sacrifice on flavor, texture or quality.
Vegan vs Plant-Based Pizza
You're probably heard both of these terms but aren't quite sure what. the difference is. Most recipes that are plant-based are also vegan. Whereas some vegan recipes are not plant-based. What do I mean?
Kale salad with a cashew dressing is considered plant-based and vegan.
Grilled cheese is neither vegan or plant-based.
Twizzlers are technically vegan, yet not plant-based.
I focus on a plant-based diet, yet also often look for vegan recipes since there's more out there and. they often fall into the plant-based space. Yet I am not 100% anything— which means I will down a bowl of Lucky Charms, eat Taco Bell bean and cheese burritos and ice cream with the best of 'em.
And yes, this pizza would also be considered vegan.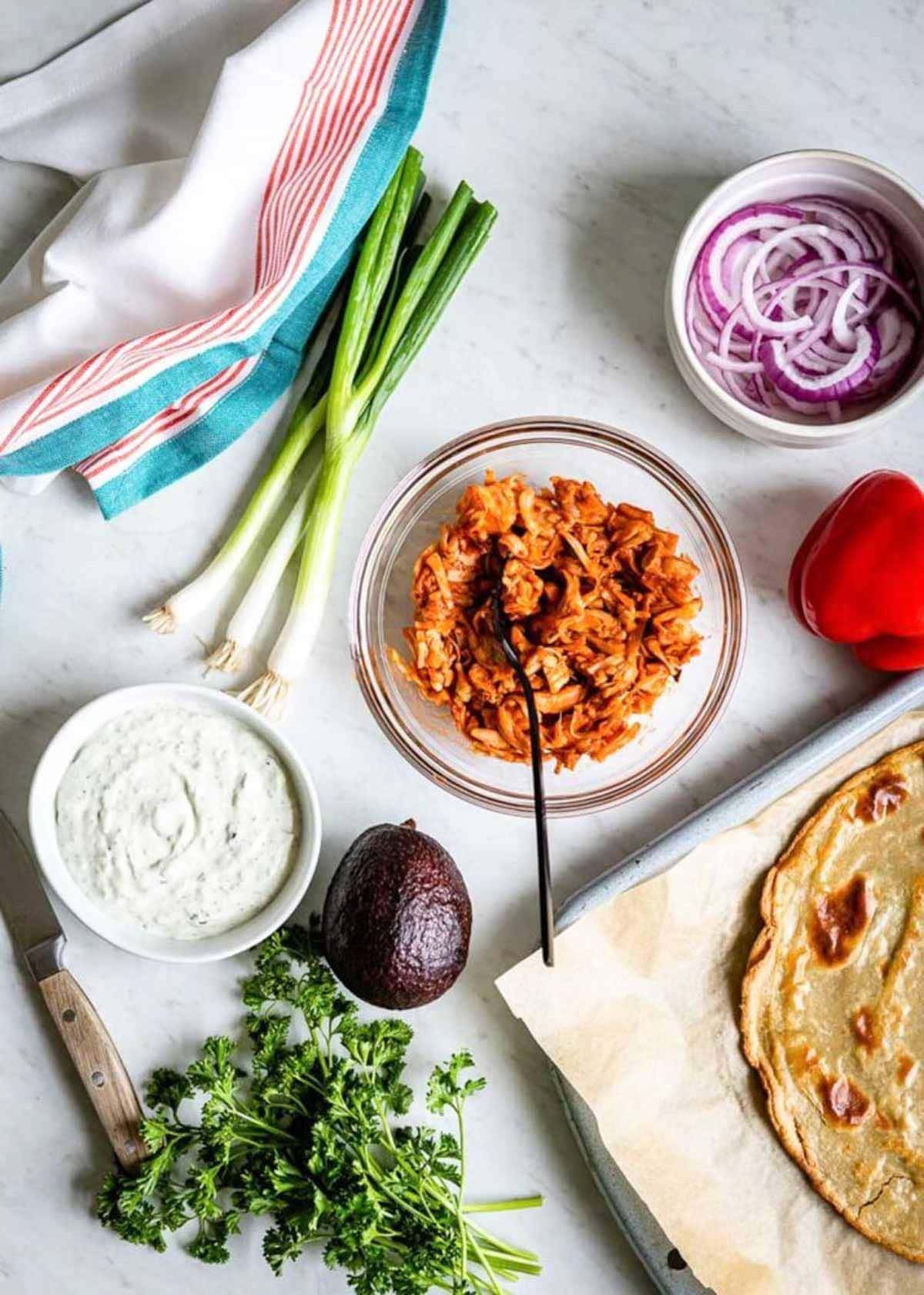 Jackfruit on a pizza?
You may remember my recipe for BBQ Jackfruit Tacos. We still make that at least once a month! Jackfruit is so, so easy to use and it soaks up flavor and sauces like nobody's business. If you've never cooked with jackfruit before, check out the taco post for pictures and tips.
Is Buffalo Sauce Gluten-Free?
It sure it! And you make be wondering… is this sauce worth all the hype?
Yes. It absolutely is! Buffalo sauce is one of my favorites. I'm not a fan of chicken wings, but I loooove the sauce. And I love it smothered on my Buffalo Cauliflower Wings and on my pizza, tacos, and chips.
And who knew you could use buffalo sauce in so many different ways? The jackfruit really soaks up the flavor and the "meaty" texture makes for a great pizza topping. But…the whole thing is a legit plant-based pizza.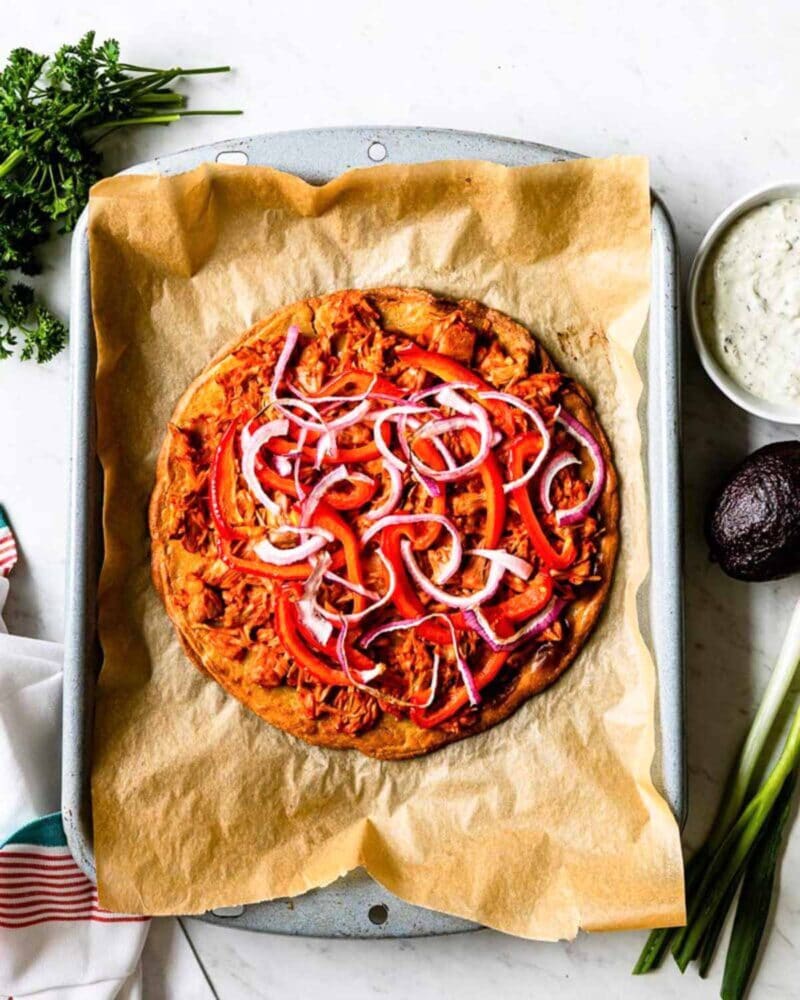 Vegan Jackfruit Pizza Toppings
While you could just top this gluten-free pizza recipe with the buffalo jackfruit, I believe thinly sliced red bell pepper and red onion are the perfect compliments to the tangy-spiciness of the jackfruit. I'm all about a flavor explosion and that's what happens when you go this extra step. Boom!
When people eat buffalo wings, usually there is a vat of blue cheese dressing alongside carrot and celery sticks. I'm a fan of our Cashew Ranch Dipping Sauce recipe – way more my speed and it tastes fantastic with this jackfruit pizza. For an extra boost of creamy flavor, I like adding thinly sliced avocado plus a sprinkling of super fresh minced parsley and sliced green onions.
Bottomline: This vegan gluten-free pizza recipe is perfect for a party, weeknight/weekend dinner, game day, or any other time you're in the mood for some seriously tasty vegan noshing.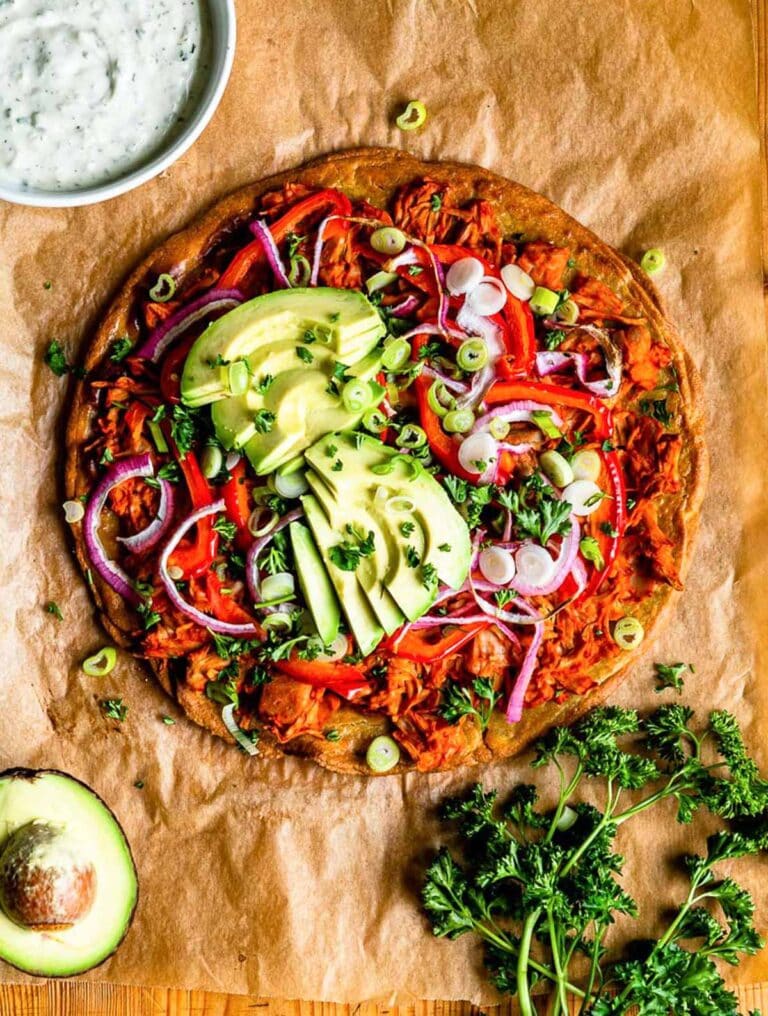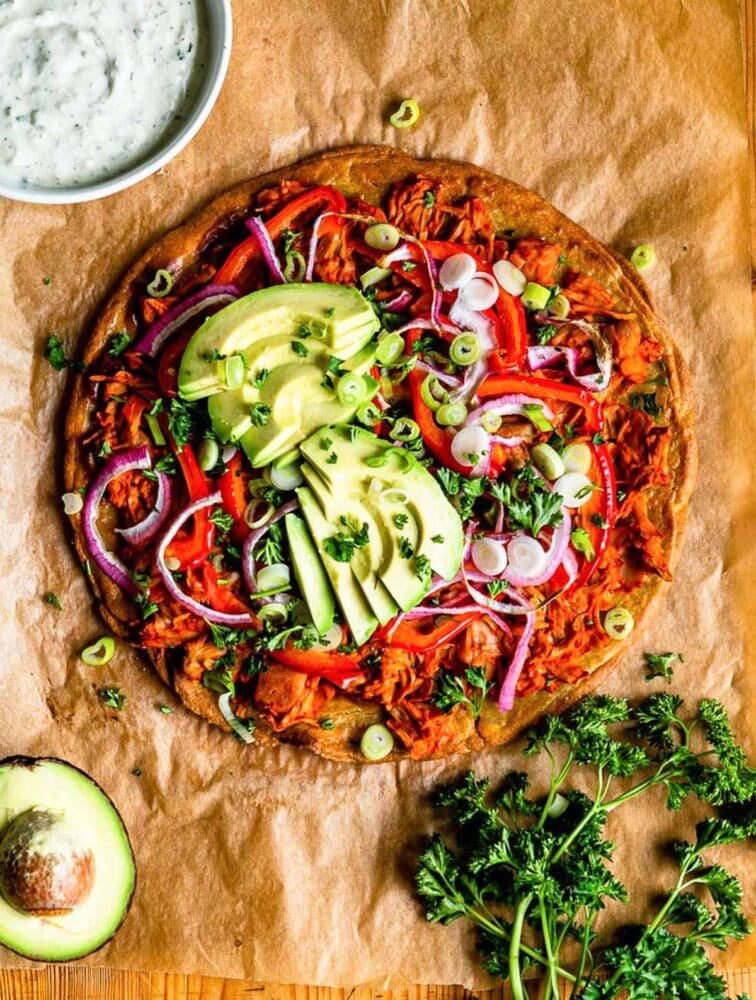 Make this Vegan Jackfruit Pizza
I hope you're ready to get in the kitchen and make this delicious pizza recipe. Yes, it's gluten-free. Yes, it's vegan. But most importantly, it's delicious! Hope you enjoy it!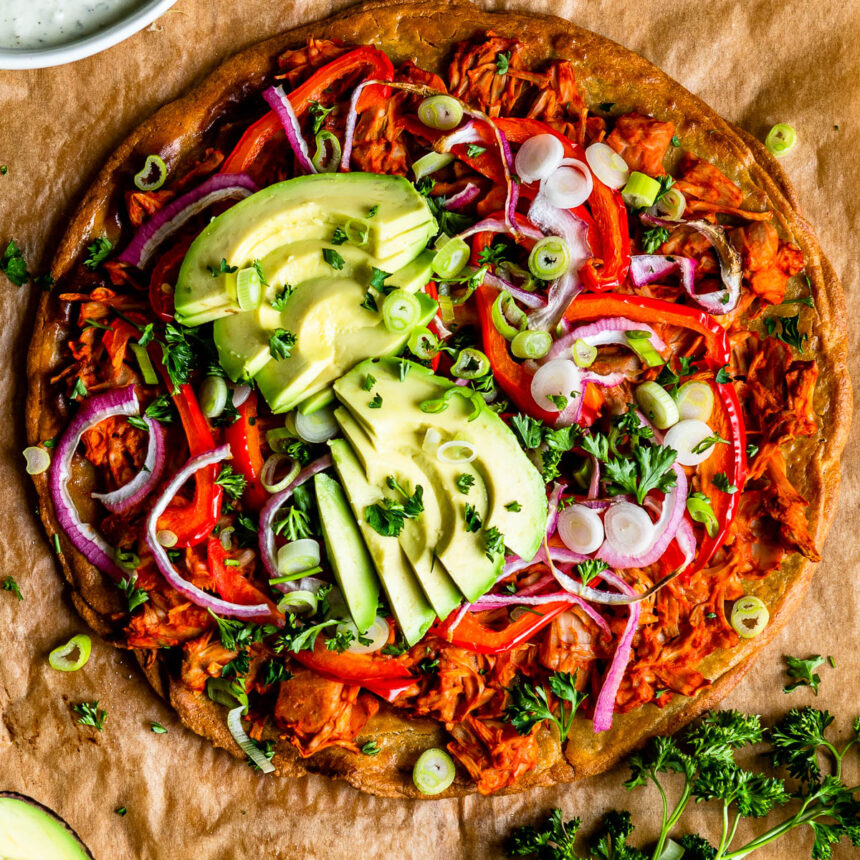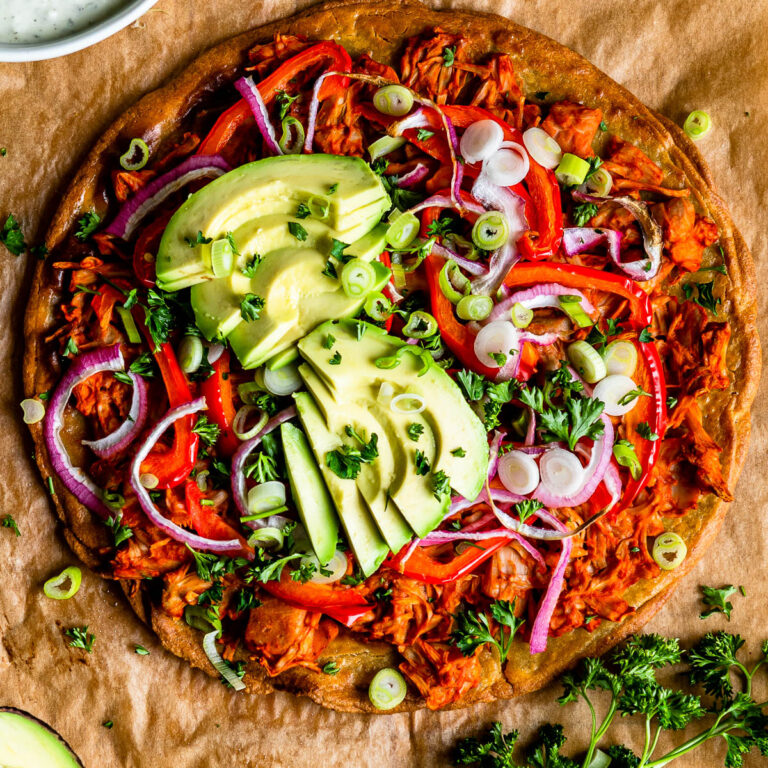 Buffalo Jackfruit Pizza
Pulled jackfruit cloaked in tangy, spicy buffalo sauce makes for a fantastic pizza topping. Add a few veggies and serve with vegan ranch on the side for a tasty, unique, buffalo jackfruit pizza.
Ingredients
1

pizza crust

ex: quinoa pizza crust

1

20-oz can

green jackfruit

drained and rinsed

½

cup

buffalo hot sauce

ex: Frank's Red Hot

1

lemon

juiced

¼

red onion

diced

½

red bell pepper

thinly sliced
For Topping:
1

avocado

thinly sliced

fresh parsley

green onions

thinly sliced

Cashew Ranch

optional
Instructions
Preheat oven to 400°F. Line a large rimmed baking sheet with parchment paper. Lightly grease a casserole dish. Set both aside.

In a bowl, combine jackfruit with buffalo sauce and lemon juice. Transfer to the greased casserole dish and bake for 10-15 minutes. Remove from oven and allow to cool slightly. Use two forks to shred the jackfruit and stir so it can absorb more of the sauce.

To assemble pizza, place the prepared pizza crust on the lined baking sheet and top with the buffalo jackfruit. Add the onion and bell pepper. Bake for 10-15 minutes, or until crust is deeply golden and the vegetables are tender.

Top the pizza with sliced avocado, minced parsley and green onions. Serve with Cashew Ranch Dipping Sauce on the side. 
Notes
To make Cashew Ranch Dipping Sauce: soak 1/2 cup raw cashews in water for several hours or overnight. Drain and rinse. Place in blender with 2 teaspoons lemon juice, 1/2 teaspoon dried dill weed, 1/4 teaspoon garlic powder, a pinch of paprika, and a good pinch each salt and freshly ground black pepper. Add a few tablespoons of water and blend until smooth. Store in fridge until ready to use.

This pizza is best eaten the day it is baked, but will keep for 1-2 days in the fridge.

You can also make the buffalo jackfruit and refrigerate up to a day ahead of time.
Use a gluten-free pizza crust to keep this recipe gluten-free.
Nutrition
Calories:
732
kcal
,
Carbohydrates:
113
g
,
Protein:
21
g
,
Fat:
24
g
,
Saturated Fat:
7
g
,
Polyunsaturated Fat:
2
g
,
Monounsaturated Fat:
10
g
,
Sodium:
2900
mg
,
Potassium:
645
mg
,
Fiber:
12
g
,
Sugar:
7
g
,
Vitamin A:
1090
IU
,
Vitamin C:
78
mg
,
Calcium:
212
mg
,
Iron:
6
mg
More Pizza Recipes
If you're looking for an indulgent homemade pizza without the guilt then I've got 3 more recipes for you to try! These healthy pizzas are incredibly delicious AND plant-based.