Beverages often get overlooked in my holiday food prep. I get so focused on the salads, sides and desserts that I forget to plan any fun drinks. With 2 middle schoolers, I like drinks that the whole family can enjoy and that's where this non-alcoholic sangria comes in.
It's a gorgeous show stopper on the table, tastes incredible + is a fun mocktail my kids feel a little extra drinking out of the 'good glasses.' You'll want to add this berry sangria to your next big dinner and you'll never guess my secret ingredient… Sambucol elderberry syrup.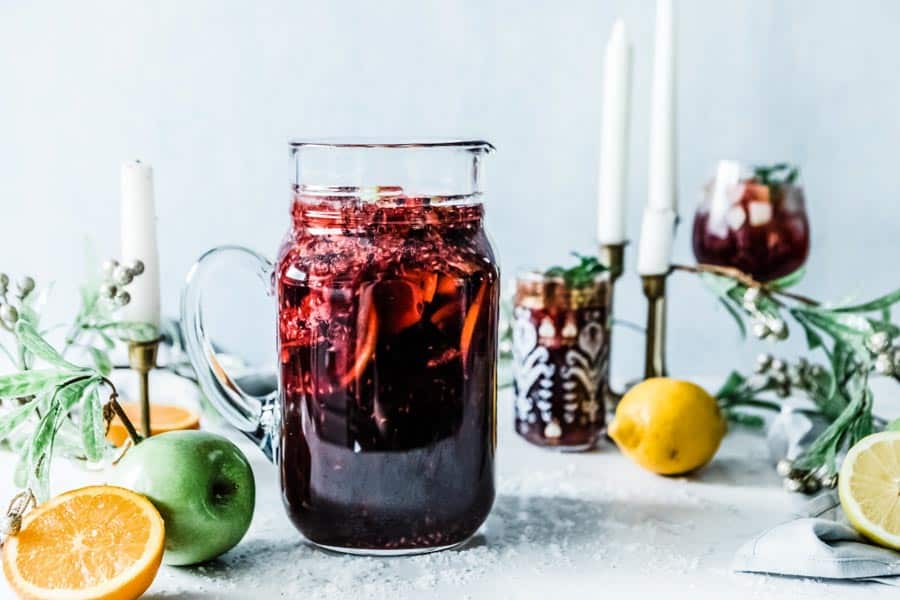 I know that sounds like an odd ingredient to add to a sangria, but hear me out. It's a berry syrup that adds depth, sweetness, and immune support. That's a win in my book!
I'm partnering with Sambucol to bring you a fun and festive recipe to share.
Table of Contents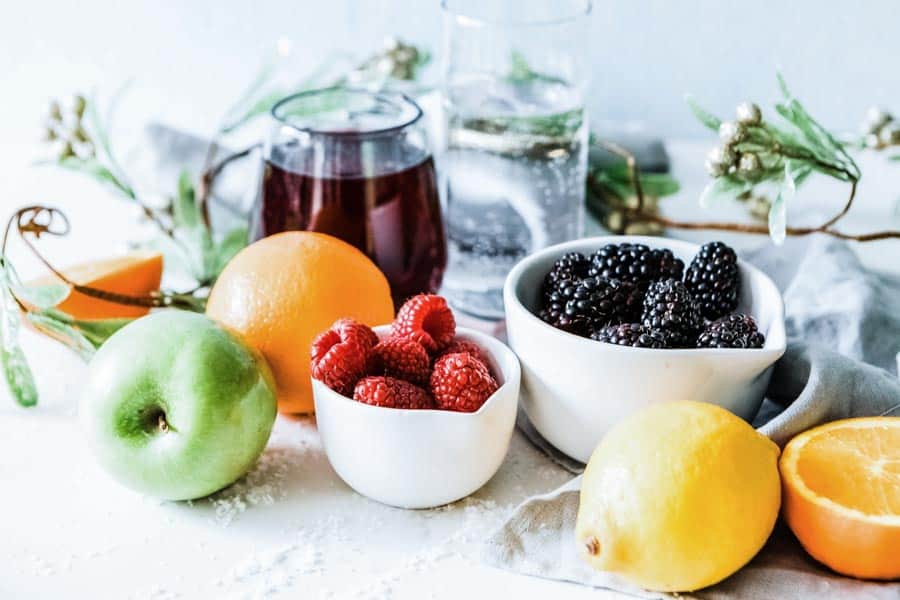 Ingredients in a Non-Alcoholic Sangria
Spain is the birthplace of sangria, a wine with fruit and spices added to it. Sangria's been around since 200 BC- so crazy! My version has a variety of citrus and berries, yet no alcohol. I use grape juice and sparkling water to mimic the wine and turn it into a mocktail. If you prefer to use red wine, you can absolutely do that here. Yet I prefer a non-alcoholic version that everyone can enjoy.
To make this virgin berry sangria, you'll need:
Green apple
Naval orange
Lemon
Raspberries
Blackberries
Grape juice
Sparkling water
No need to peel anything, yet you should scrub the rinds clean before using. Use the sparkling water of your choice; I prefer unflavored to let the fresh fruits shine. Be prepared to share this mocktail recipe with all your guests because it's seriously tasty.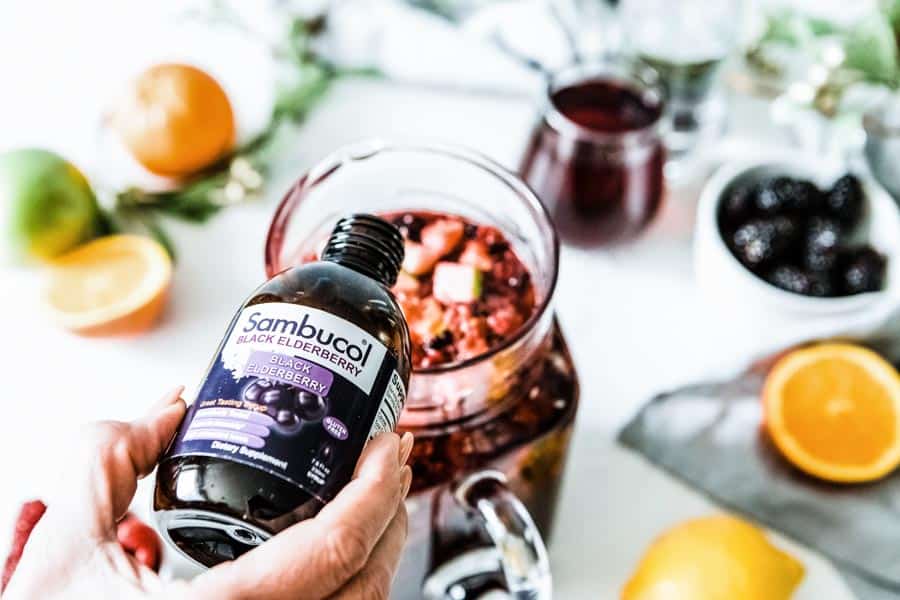 My Secret Immune Support Ingredient*
I wanna be clear: while elderberry syrup is not intended to diagnose, treat, cure or prevent any disease, I use it as a an immune supporter for my family. Since 2011, it's been one of a handful of natural remedies I keep in my home. I'm not against medicine, yet I like to give rest, hydration and plants a chance to heal our bodies first.
Black elderberry syrup is rich in antioxidants just like the other berries in this sangria, and therefore helps support my body's immune system. It's a bonus when I can add it to a fun recipe like this and reap the benefits.
If I'm gonna consume something, then I want it to nourish me. Elderberries contain antioxidants to fight free radicals in the body as well as anti-inflammatory properties. So while I'm eating heavier foods around the holidays, I know I'm doing my body some good too with a serving of elderberry syrup.
Sambucol is giving 15% off your order w/ code SGS2021 through January 5, 2022. This is a great way to try the Black Elderberry Syrup for yourself.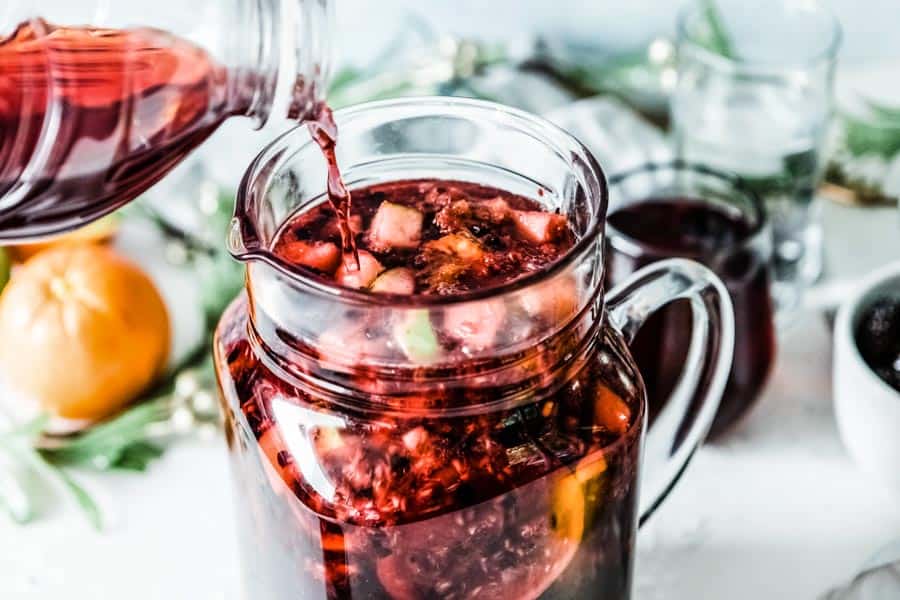 How to Make Berry Sangria
This gorgeous drink makes a statement, yet is very easy to make. No specialty cocktail tools needed, just a big pitcher and a wooden spoon:
Chop the apple (leaving the skin on) and dice the orange + lemon (leaving the rind on both). Add all the fruit to a large pitcher then muddle with a muddler or wooden spoon. 'Muddle' is just a fancy word for gently mashing the fruit to release their juice. You don't want to smash them beyond recognition yet you do want the flavors to properly mix together.
Add the grape juice + sparkling water as well as the black elderberry syrup, then muddle again to mix the fruit with the liquids.
If you want this to be served cold, refrigerate until serving. Don't add ice to the mixture, add it to glasses then pour the sangria over the ice.
My non alcoholic sangria is best served shortly after making. This doesn't get better with age, so it's best not to make too far ahead of time.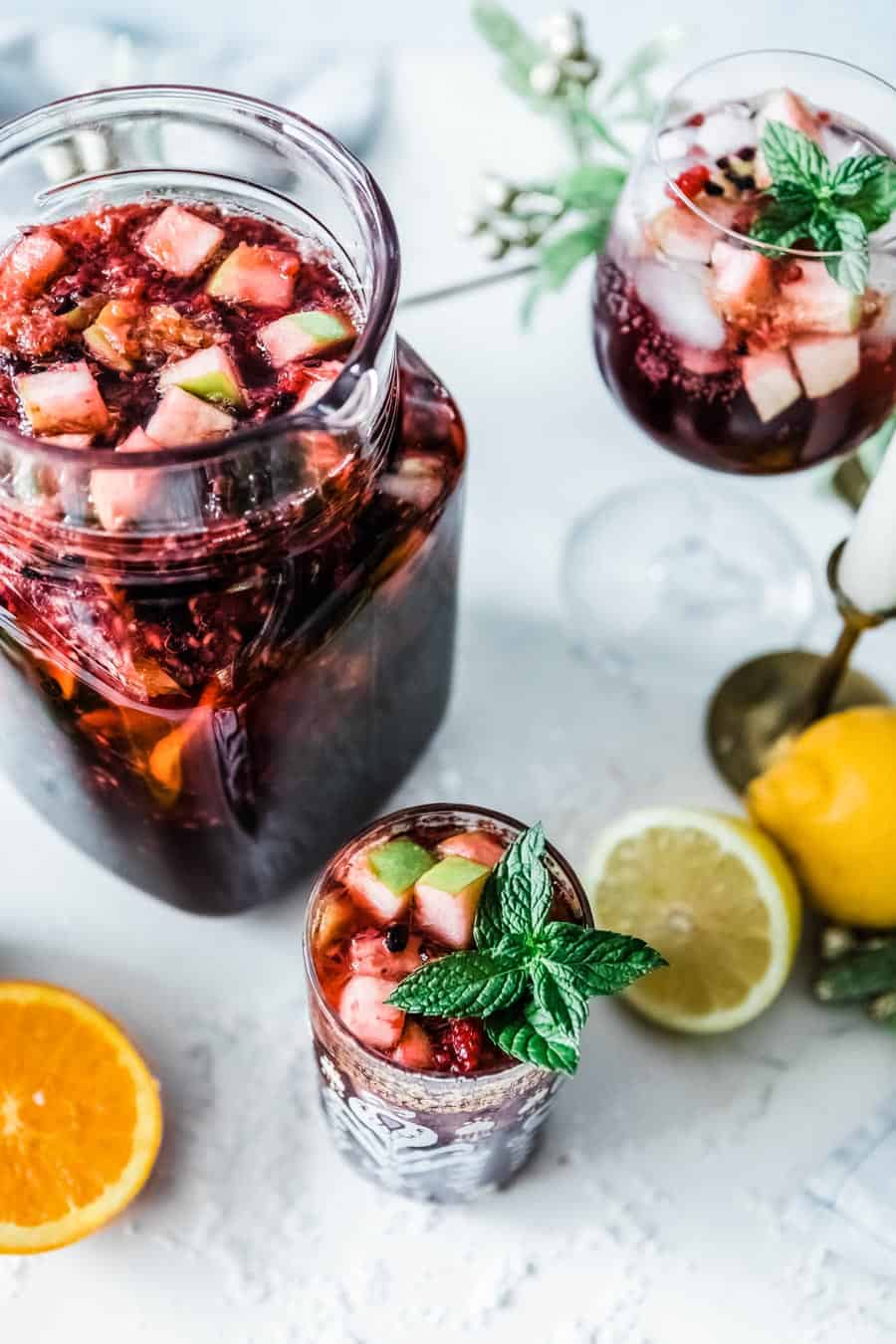 Tips and Tricks for a Holiday Mocktail
If you prefer limes over lemons or a certain type of orange, then go for it. For a punch-like experience use club soda. If you don't have elderberry syrup on hand, then you can swap it out for maple syrup or a sweetener of your choice. Depending on the ripeness of your fruit and your taste buds, you may not need to add much sweetener to your berry sangria.
Sparkling cider is another great option for the liquid base if you prefer a seasonally spiced beverage.
While this recipe centers around the Autumn + Winter seasons in North America, feel free to use seasonally fresh fruits based on your location and time of year. If I wanted to use this for a summer baby shower, I'd use a mix of strawberry, peach, lemon, and blackberry. Mint or basil work great as garnishes (or just mix them in too!).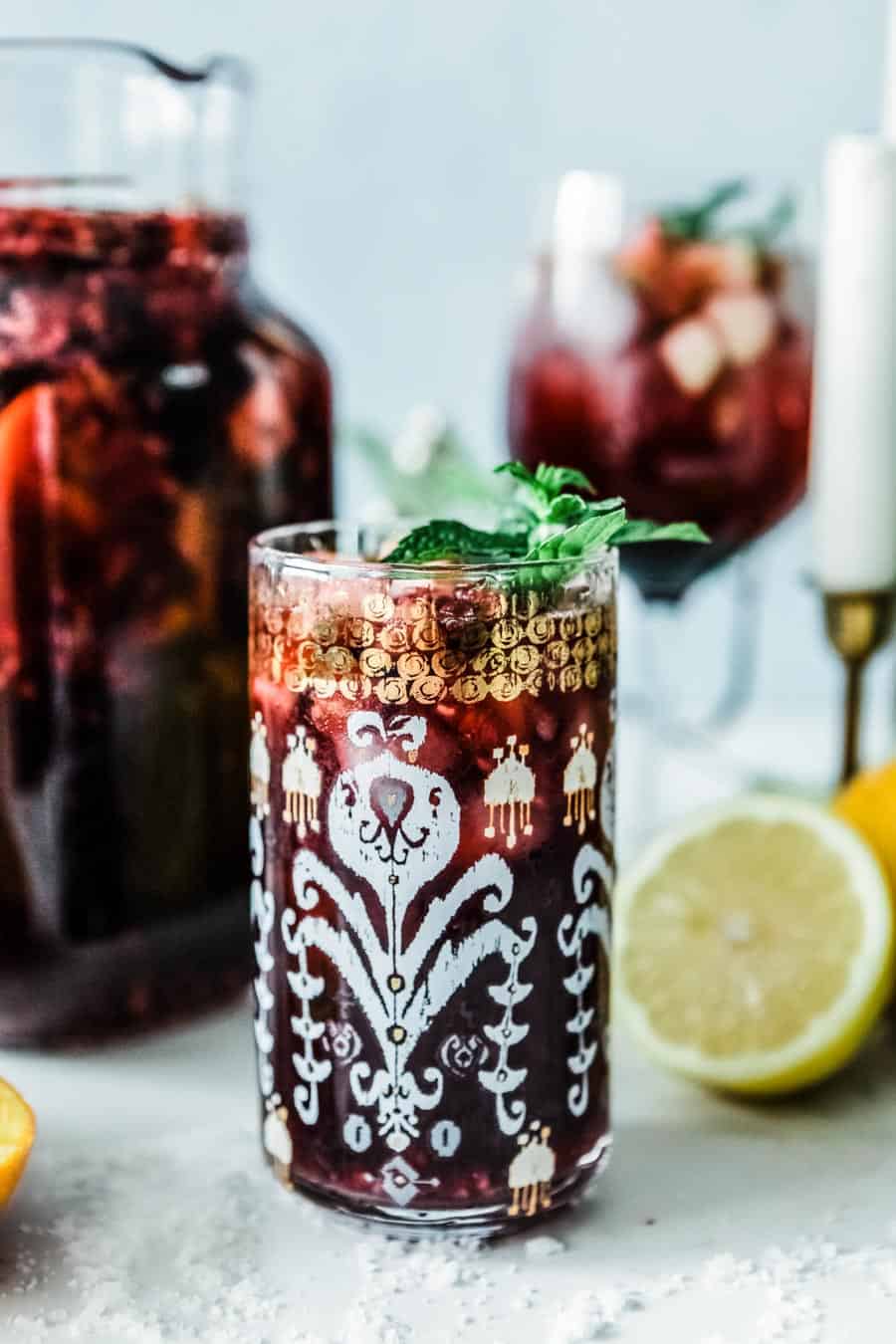 Non-Alcoholic Sangria FAQs
What liquid do you use in non-alcoholic sangria?
I use a mix of 100% grape juice and unflavored sparkling water. Feel free to use your fav beverages to spice up your sangria.
Is non-alcoholic sangria a soda?
It doesn't have to be. My recipe use sparkling water (your choice!). You can use a sparkling soda or soda water for even more bubbles and a 'punchy' feel, yet sparkling water + fruit juice works great too.
What other juices can I use in my mocktail?
Orange juice, apple juice, pomegranate juice, cherry juice… there are many options when making berry sangria (or other mocktails) and all are delicious! I recommend sticking with 100% juice and using fresh, not canned or frozen, for the best results.
More Holiday Dishes
Why not make food that looks and tastes incredible? My berry sangria recipe looks as beautiful as it tastes. Here are my go-to recipes for holiday fare:
While your whole spread might be plant based (mine isn't!), you can use plant based recipes like these that live up to the tastes needed for the perfect family meal. I actually use these recipes for Halloween, Thanksgiving, Christmas, and New Years… and my guests ask for them year after year.
*Sambucol products are not intended to diagnose, treat, cure or prevent any disease.
Will you please rate + review this recipe once you make it? I'd love to hear how it turned out for you!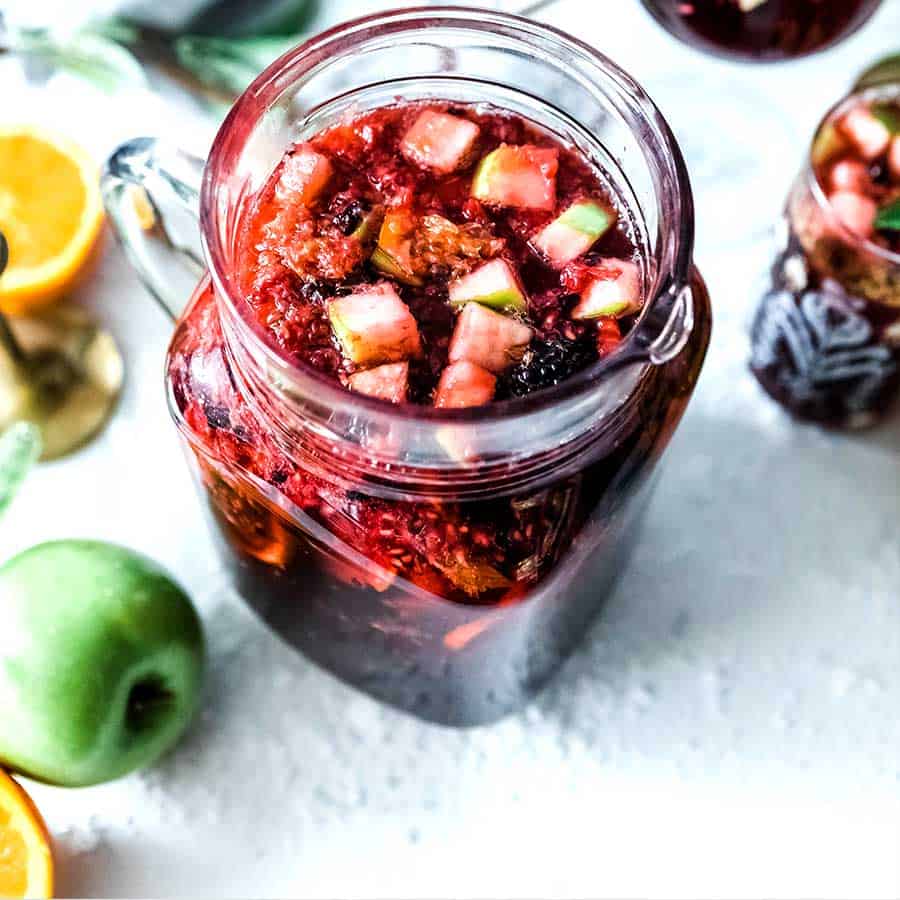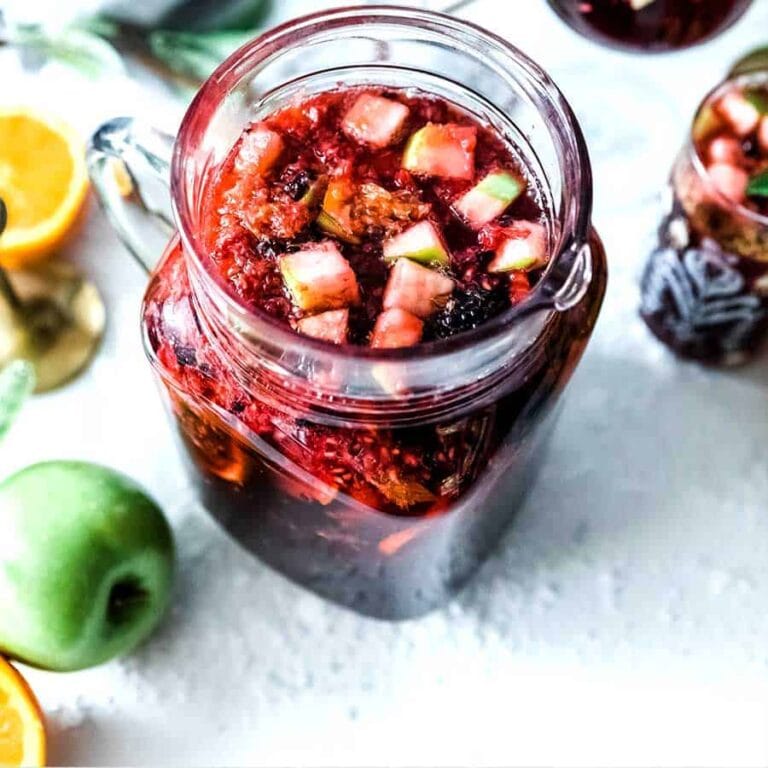 Non-Alcoholic Berry Sangria
Dress up your next party not only with decor but also with this vibrant non-alcoholic Berry Sangria. It's full of fruit and flavor, and can be enjoyed by the whole family.
Equipment
Large pitcher

Wooden spoon
Ingredients
1

apple

green, cored, skin on, chopped into small pieces

1

orange

rind on, sliced into small pieces, large seeds removed + more for garnish

1

lemon

rind on, sliced into small pieces

1

cup

raspberries

1

cup

blackberries

3

cups

grape juice

4

cups

sparkling water
Instructions
Add all fruit to large pitcher and muddle with a muddler or wooden spoon for 45 seconds.

Add grape juice, elderberry syrup and sparkling water. Muddle again to combine for 30 seconds.

Serve in glasses with ice.

Store leftovers, covered, in the refrigerator for up to 48 hours, though best when fresh.
Notes
Thoroughly wash all fruit before using in recipe, especially the rinds of the lemon + orange.
You can swap grape juice with apple juice.
Swap sparkling water with soda water, club soda, or a flavored sparkling water for variety.
While the fruit can be washed + prepped beforehand, I recommend saving this recipe until the very end to be put together so it is super fresh when served. 
Feel free to change up the fruit depending on the season. Pomegranate would be delicious, as well as other berries, and lime.
Nutrition
Calories:
97
kcal
,
Carbohydrates:
24
g
,
Protein:
1
g
,
Fat:
1
g
,
Saturated Fat:
1
g
,
Polyunsaturated Fat:
1
g
,
Monounsaturated Fat:
1
g
,
Sodium:
31
mg
,
Potassium:
225
mg
,
Fiber:
3
g
,
Sugar:
19
g
,
Vitamin A:
110
IU
,
Vitamin C:
26
mg
,
Calcium:
38
mg
,
Iron:
1
mg