We're sharing the results of our quest to find the best almond milk money can buy. We reviewed them for taste, cost and quality. These almond milk brands come from a variety of stores, both online and brick and mortar. The results from this review may (or may not) shock you.
My goal is to help you find a brand that matches your priorities regarding taste, ingredients and eco-conscious packaging.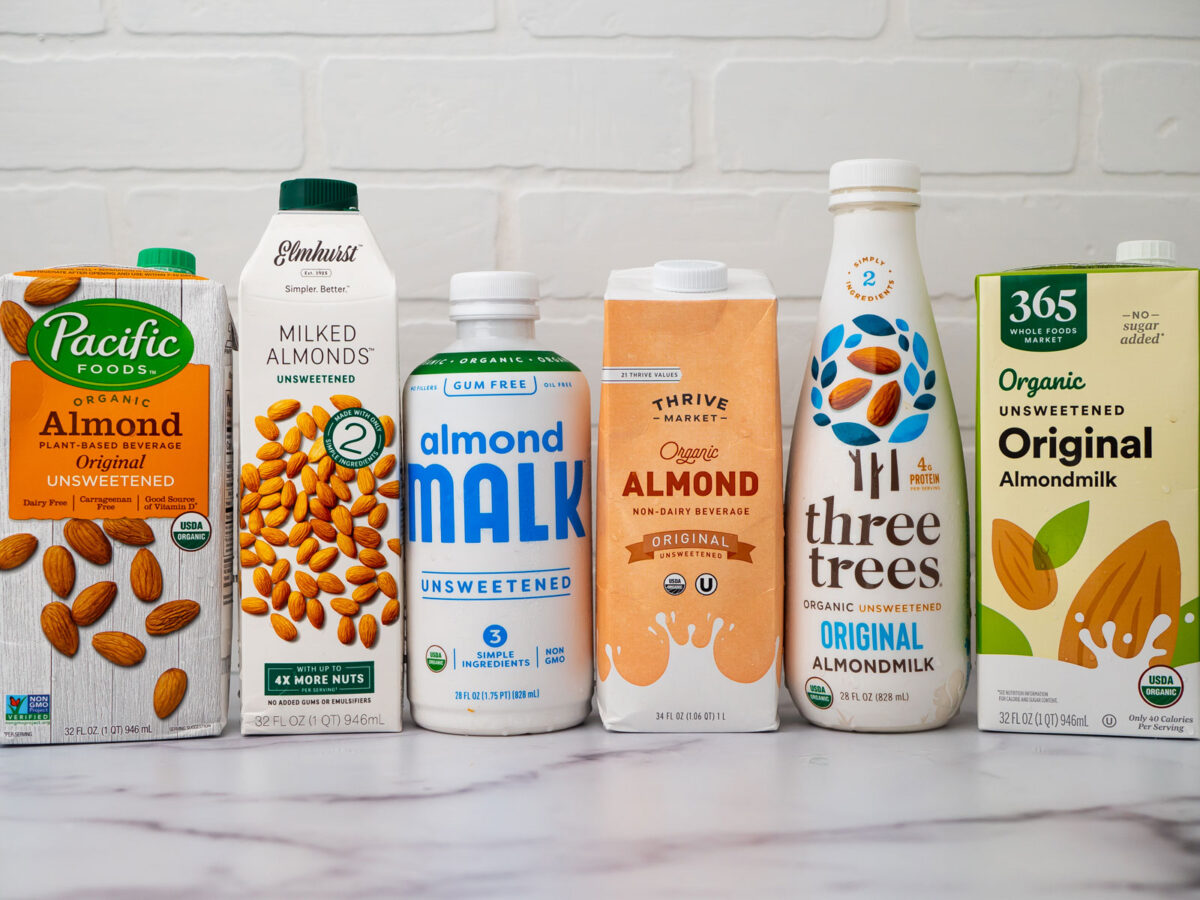 Almond milk is one of the most popular non-dairy alternatives on the market. It's affordable, has a mild taste and is widely available in most grocery stores. Yet choosing which brand to buy can be confusing.
With the help of the Simple Green Smoothies Team, we shopped and blind taste-tested so we could bring you the best almond milk brands for 2023.
If you are concerned with almond milk production with regard to water use and pesticide use then check out my reviews for Oat Milk Brands of 2023 and Coconut Milk Brands of 2023.
Almond Milk Review
In our very own rawkstar report, you can see how +20 almond milk brands stack up. We focused on unsweetened as well as unflavored varieties, which I recommend using. We then rated them based on the quality of ingredients, taste (and texture) and sustainable packaging.

---
So Delicious Organic Almondmilk w/ Cashew

---
Thrive Market Organic Almond Beverage

---

---

---

---
365 Organic Original Almondmilk

---
Three Trees Organic Original Almondmilk

---

---
Good & Gather Original Almond (refrigerated)

---
Sprouts Organic Almondmilk Original

---
Great Value Almondmilk Original

---
Pacific Foods Organic Almond

---
Blue Diamond Almond Breeze Almondmilk Original

---

---
Friendly Farms Almond Original Almondmilk

---
Publix Original Almond Milk

---
Trader Joe's Simple Almond Beverage

---
Trader Joe's Almond Beverage Original

---

---
Good & Gather Original Almond (shelf-stable)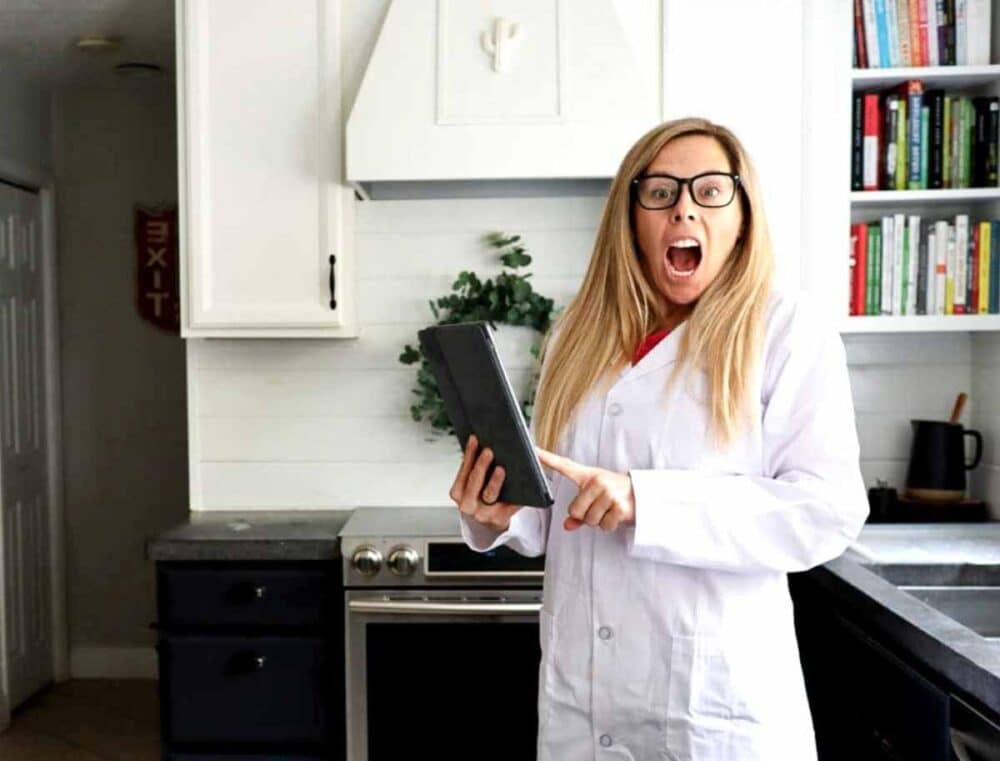 Factors to Determine the Best Brands
As you'll see from the ratings above, almond milk is not all the same. Many brands add fillers, gum, fortify with vitamins, and alter taste with "natural flavors" to modify the true flavor.
Always read labels when shopping; you never know what you'll get if you don't. The best quality you will ever find is homemade almond milk. Yet if that's not a possibility for you, then let this list be your guide to getting the very best brand.
High-Quality Ingredients
Just because the branding looks clean, attractive and healthy, it doesn't mean the ingredients tell the same story. While we know taste and texture are huge buying factors, we also compared ingredient lists to give our best recommendations:
Unsweetened Trader Joe's Simple Almond Beverage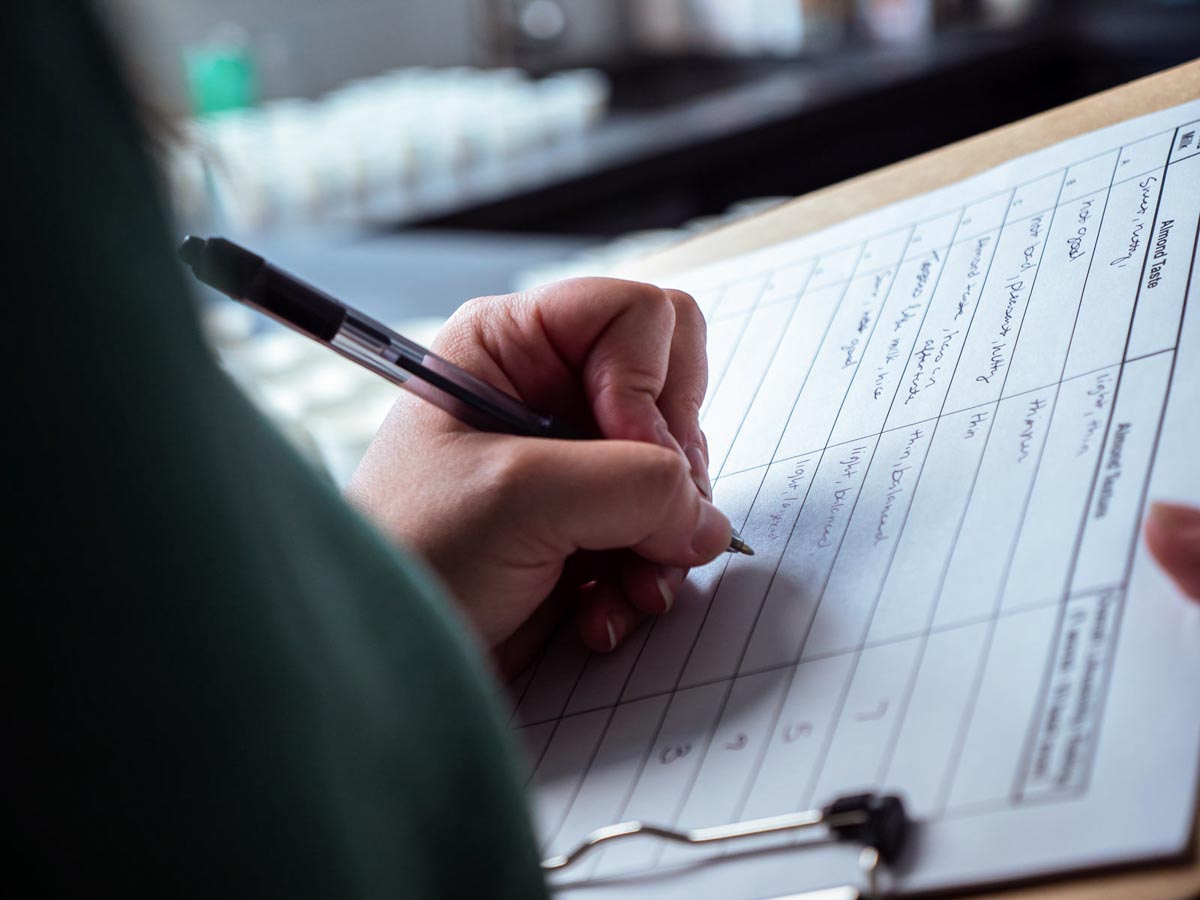 Taste + Texture
Blind taste-testing was a game-changer when it came to comparing the taste of a variety of milk. Some were gritty, others were smooth. Some had a bitter taste. Others had a smooth sweetness. We took all this into account when rating each brand.
So Delicious Organic Almond with Cashew
Silk Unsweetened Almond was the top-tasting winner hands down (and the only was to get a "green pass" for its taste score). Overall, we realized that every brand of store bought almond beverage isn't that tasty, especially when you compare it to oat milk or coconut milk.
Eco-Conscious Packaging
Eco-friendly packaging also gave certain brands a boost. If a brand used recyclable materials or had B-Corp status then they got bonus points.
So Delicious Organic Almond with Cashew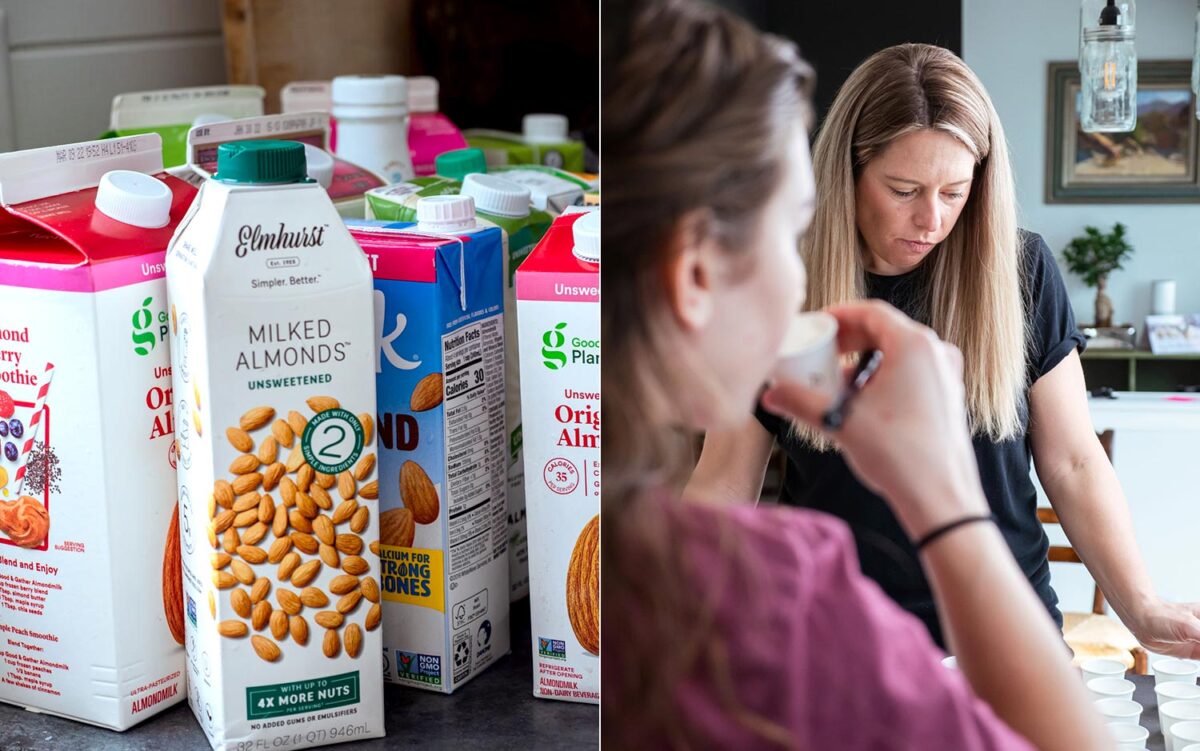 Where to Buy The Top Brands
Erin spent a day driving around Tampa Bay, so that she could buy every brand available. She purchased every almond beverage brand available at Costco, Whole Foods, Sprouts, Trader Joe's, Walmart, Target, Aldi, Publix, The Fresh Market, and NutritionSmart. We also purchased online from Thrive Market and Amazon to get everything we could. You can pretty much find it in every grocery store in 2023.
If you're looking to buy the top winners from the Rawkstar Report, read on:
Elmhurst Milked Almonds: Publix, Amazon, Elmhurst.com, Wegman's, Thrive Market, Whole Foods, etc.
So Delicious Almond with Cashews: Walmart (yet occasionally discontinued), Amazon
Thrive Market Almond: ThriveMarket.com is the online grocery story loved by many, including myself. They make their products at an affordable price too.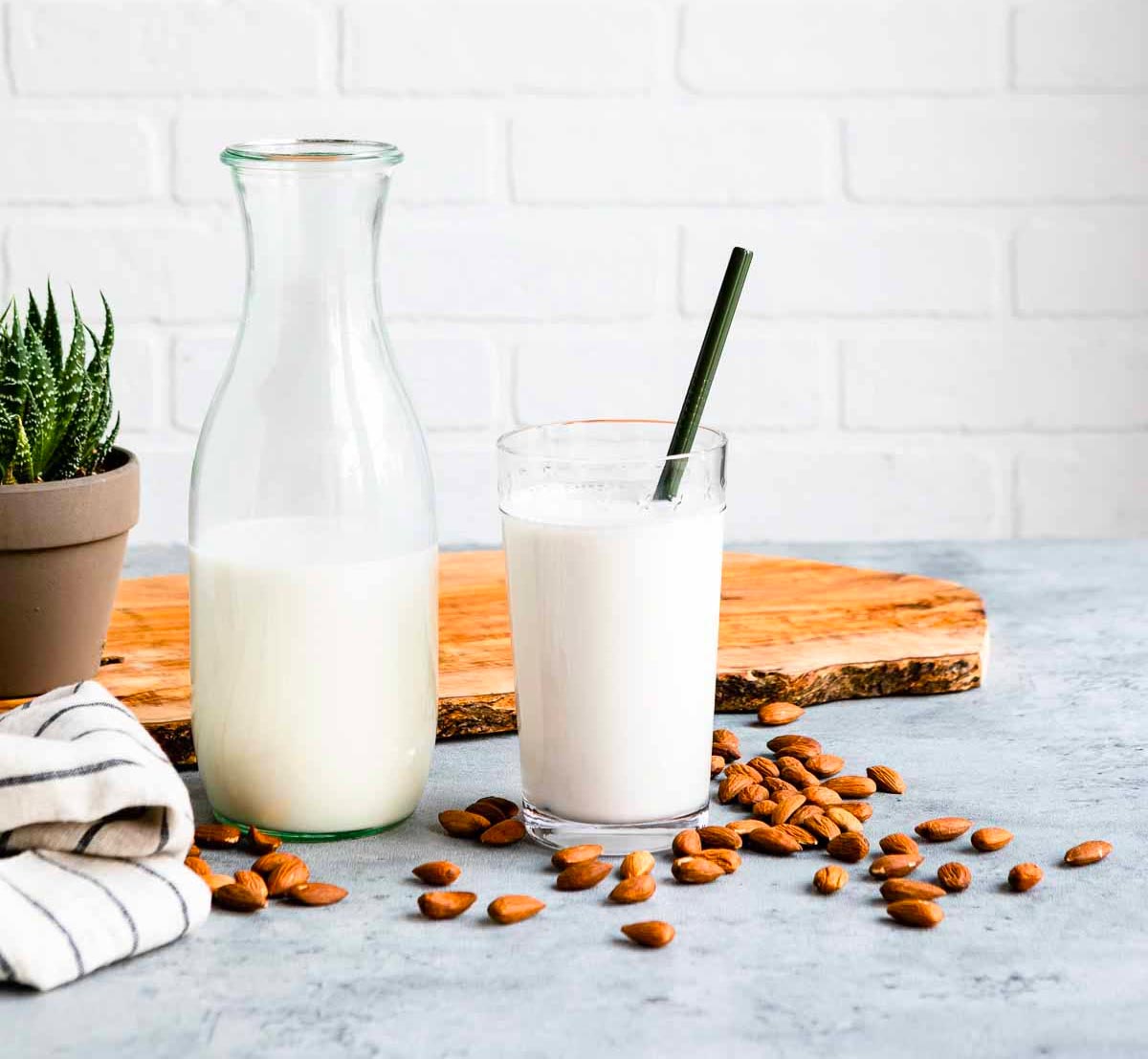 Is Almond Milk Good for You?
Almond' milk' has exploded on the market in recent years. Consumers are buying more plant-based products and grocery stores are listening. Dairy also happens to be one of the most common food sensitivities, which makes this milk, oat milk and coconut milk great options. Whether you choose to buy one of the best brands above or make homemade almond milk, you can enjoy some wonderful health benefits.
Here's how one cup of almond milk stacks up to one cup of dairy:
Unsweetened Almond Milk (on average)
50 calories
2 grams of carbs
35% daily Vitamin E
35% daily Calcium (manufacturers enrich most almond milks to compete with dairy milk)
Low Fat Dairy Milk (on average)
103 calories
12 grams of carbs (mostly sugar)
28% daily Calcium
5 Tasty Recipes Using Almond Milk
We love using almond beverages as a recipe base to create a creamy, protein-enriched meal, so here are a few of our favorites:
Leave a comment letting us know if this report was helpful and if there are any refrigerated almond milk brands we can test next! We're here to do the work for you, and then give you the inside scoop. If your favorite isn't listed, then we'd love to know which brand you think has the best-tasting milk because we want to try it, too!
Almond Milk Brands FAQs
What almond milk is healthier?
The healthiest almond milks on the market are the ones with the most limited ingredient list. There are several brands that contain just almonds and water without any extra gums or fillers. Make sure to always read the nutrition label so you know exactly what ingredients are in your preferred brand.
What are the negatives of almond milk?
As with any food, you can have too much of a good thing! Almond milk is not a great source of protein and can be filled with lots of gums and other additives to help with the flavor and texture. In recent years, the public has been made increasingly aware of the farming and processing practices of almonds and there has been much discussion and debate on the amount of water and pesticides used. If this is a concern for you, definitely do your homework to determine which milk brand most closely aligns with your beliefs.
Which almond milk is the tastiest?
Based on our blind review of over 20 brands, we determined that Silk Almond Unsweetened milk is the best tasting one on the market. It might not have the most quality ingredient list yet we all gave it highest marks for flavor and texture.