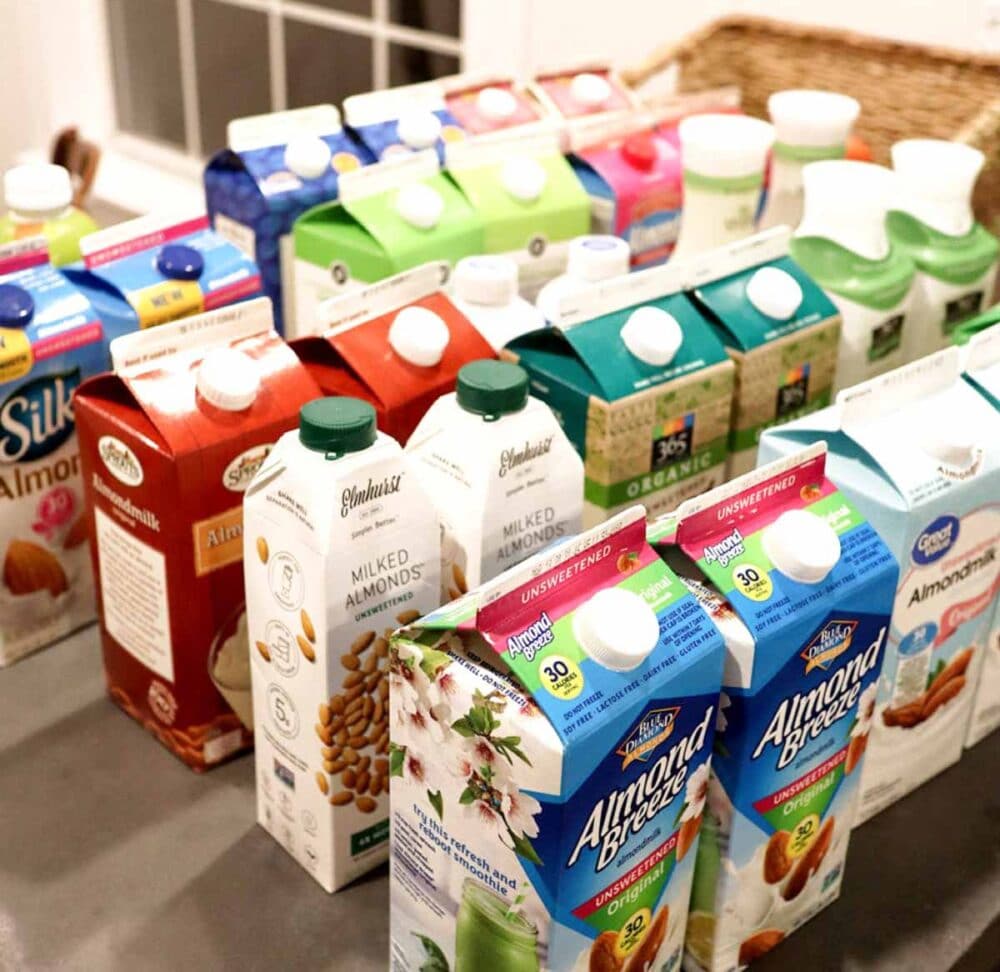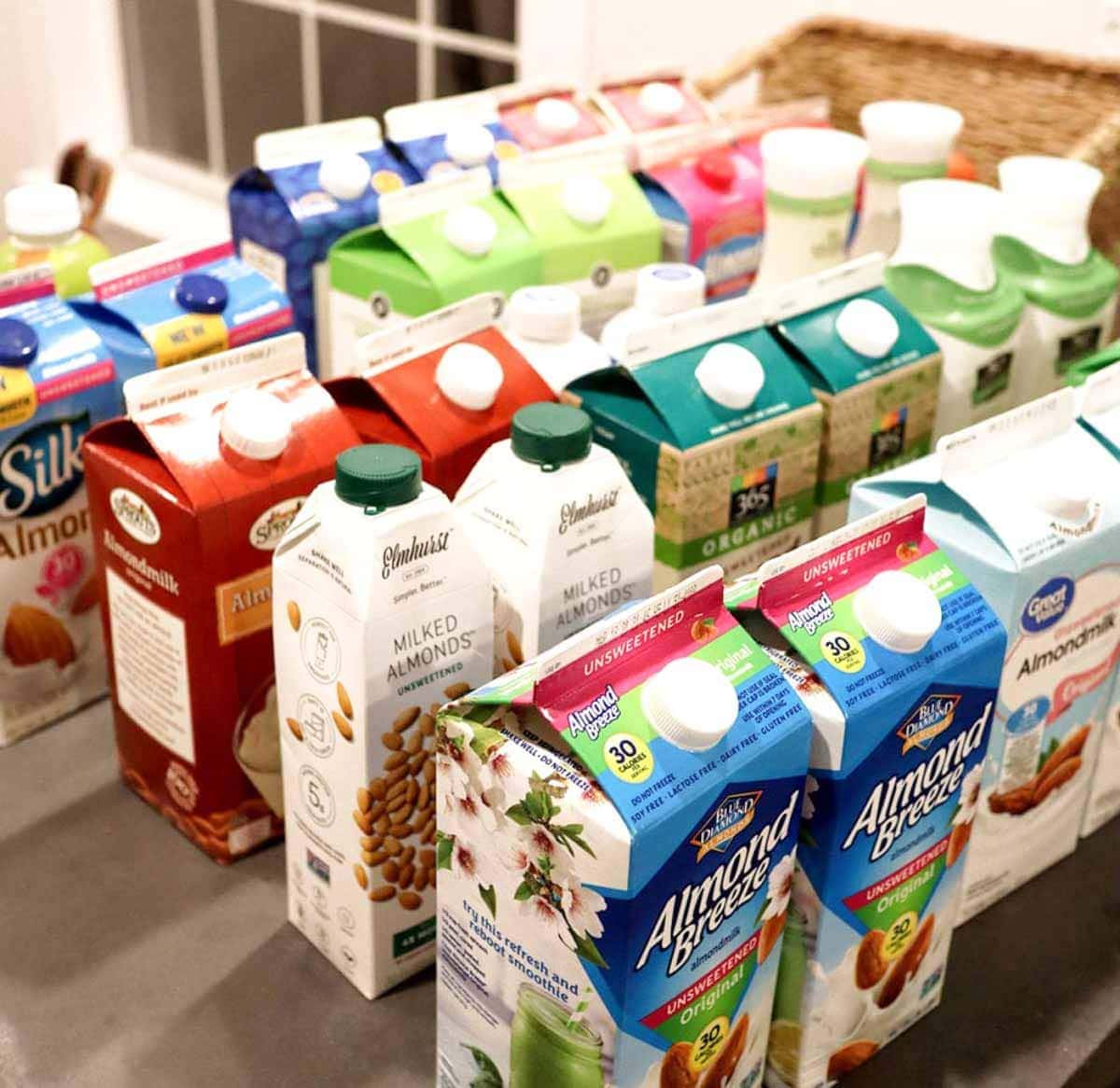 My team searched every grocery store in a 60-mile radius of our hometown Brooksville to find all the refrigerated, unsweetened original brands of almond milk. We then taste-tested 17 brands to determine the best almond milk brand out there. We weren't just looking for best tasting almond milk, though that was a factor! This test included branding, price, ingredients, and overall quality. And now we're ready to share our results with you.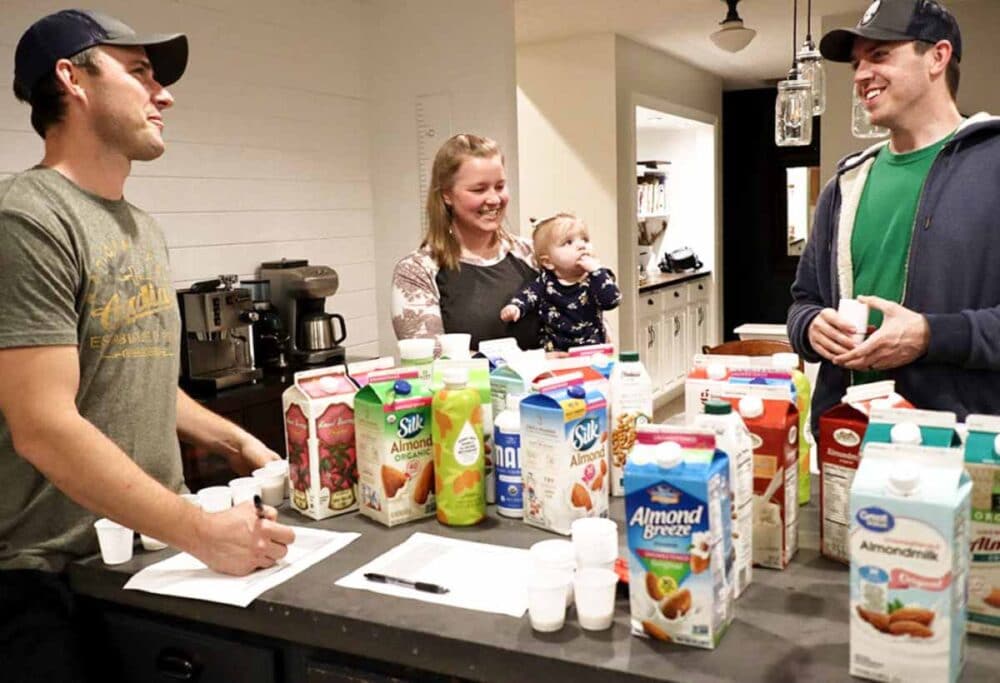 To determine how these different offerings of almond milk stacked up against each other, we developed a scoring system from Best to Horrible.
So when you read the chart below, just remember green means best! We tried to make this as simple as possible for our community to choose the best almond milk for their families, so we'd love feedback to let us know how you liked our rating system + results!
Best almond milk brand results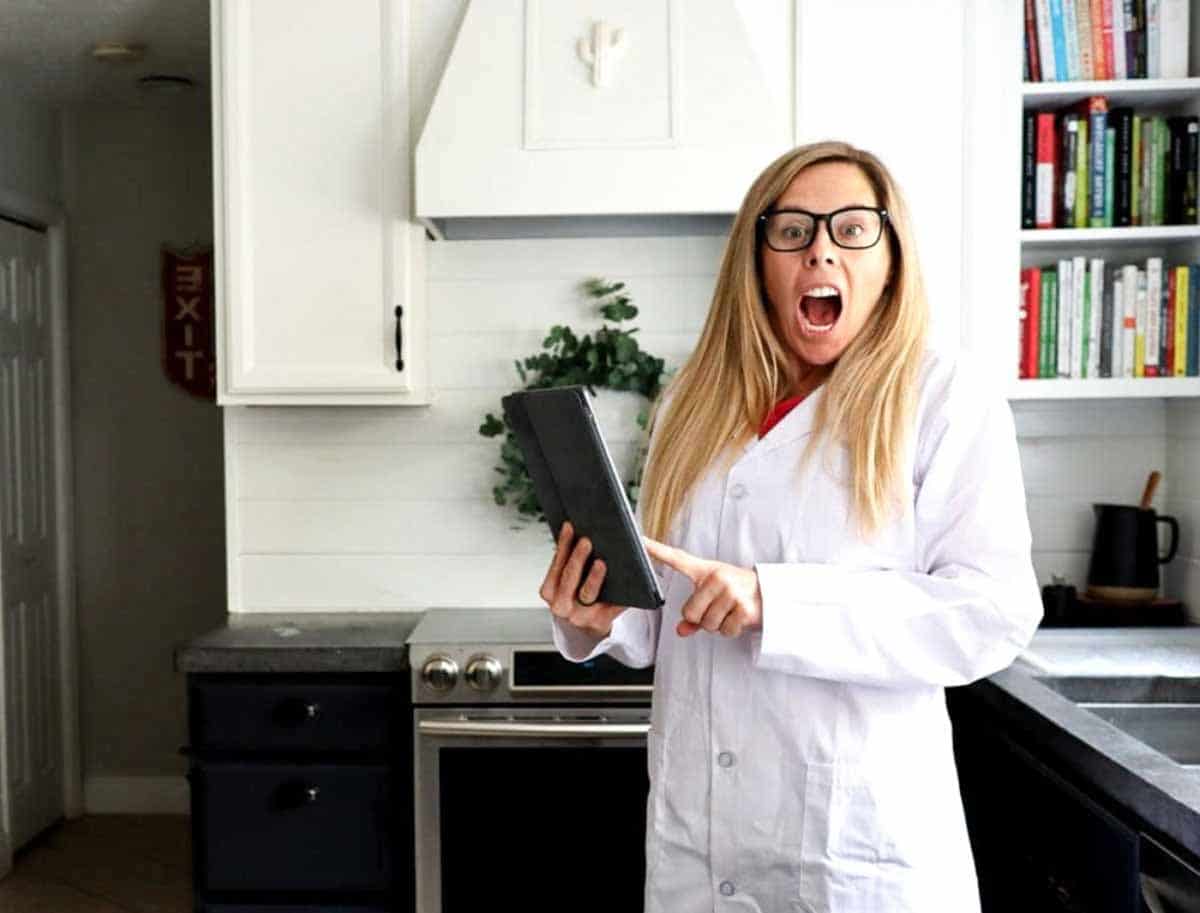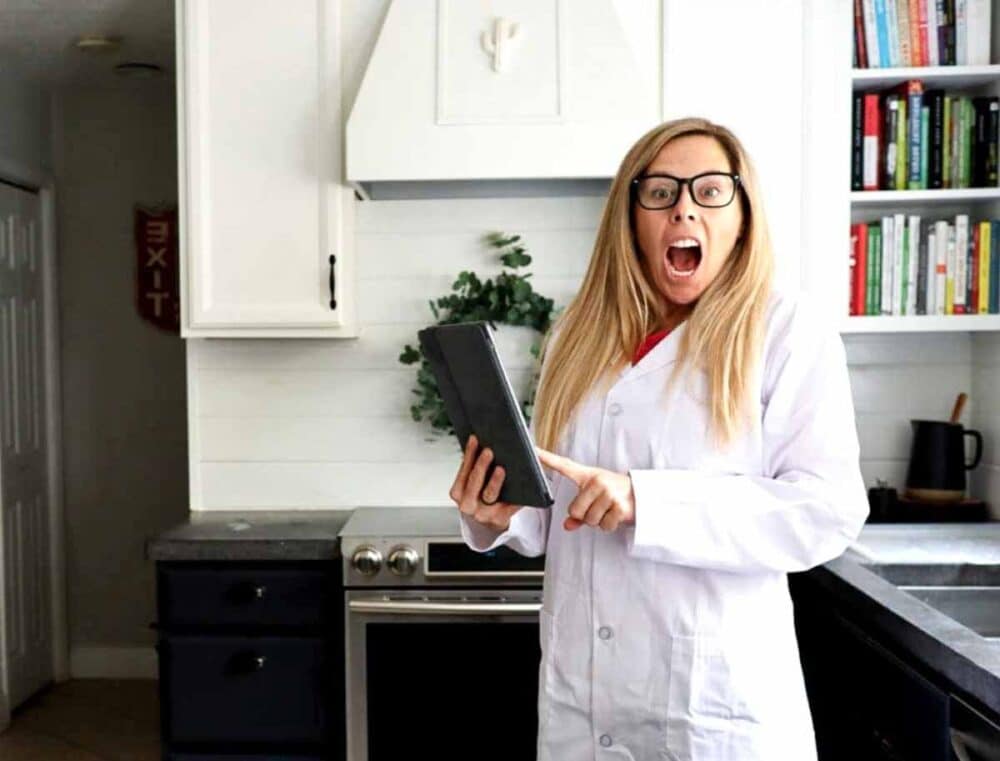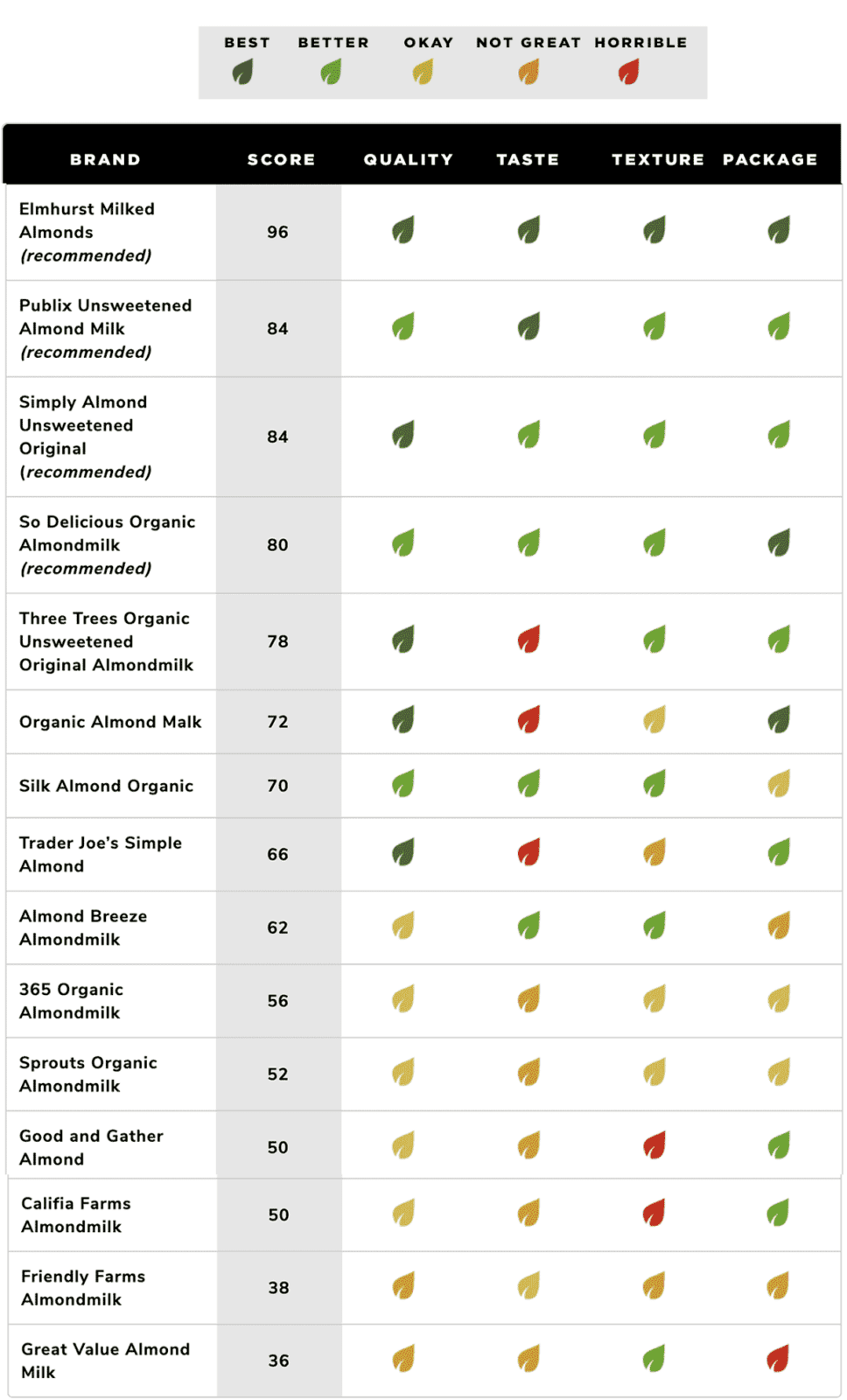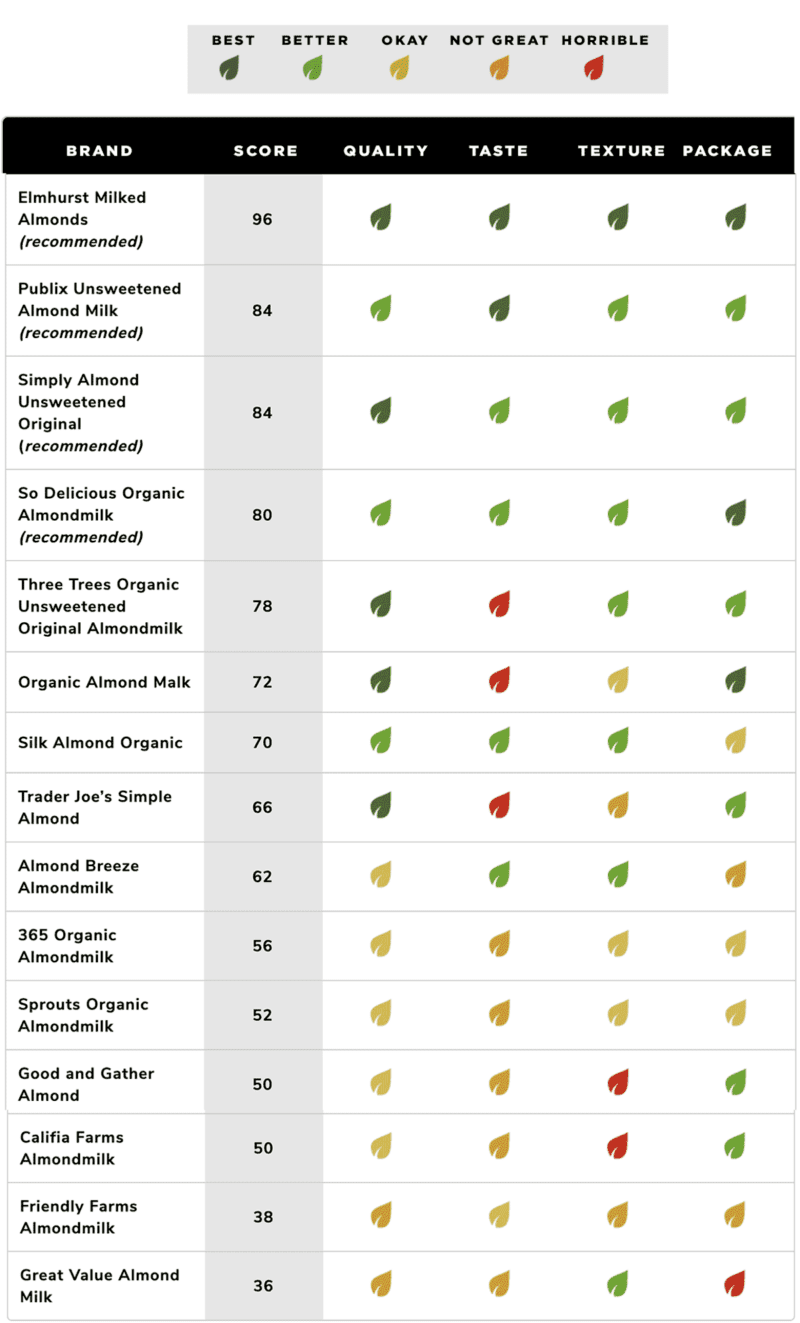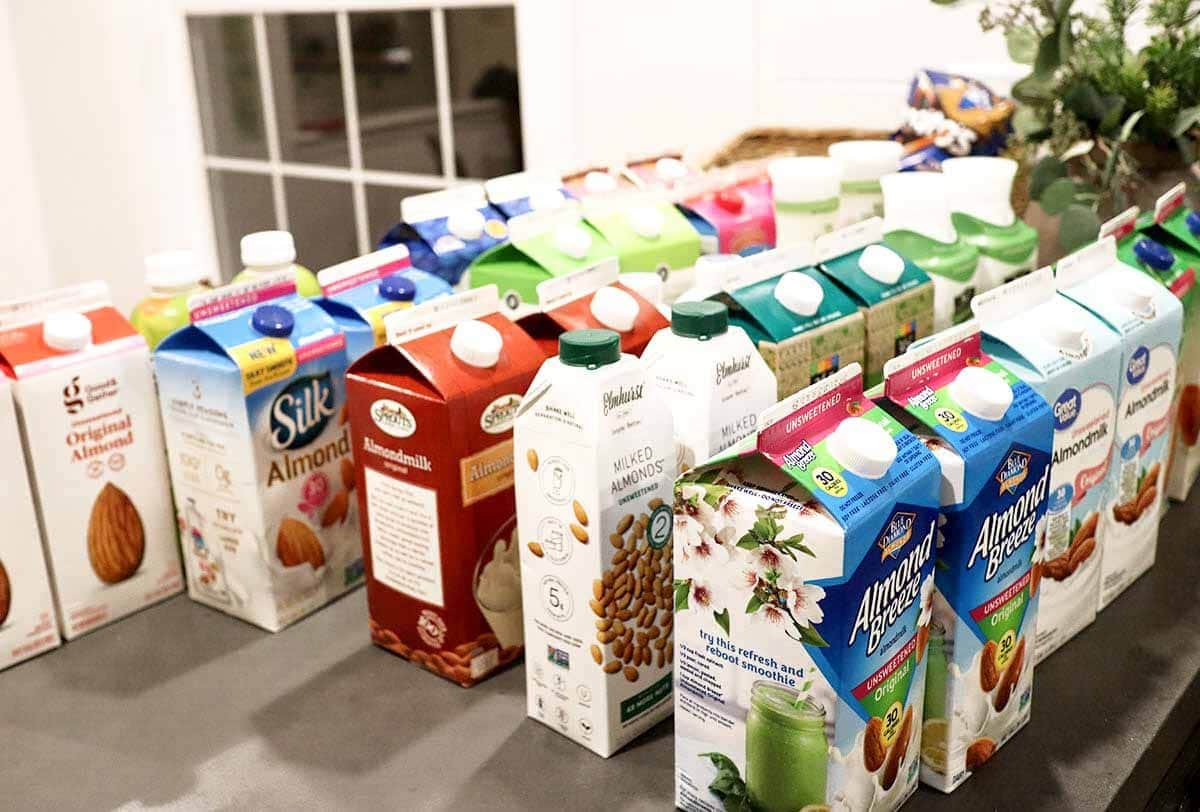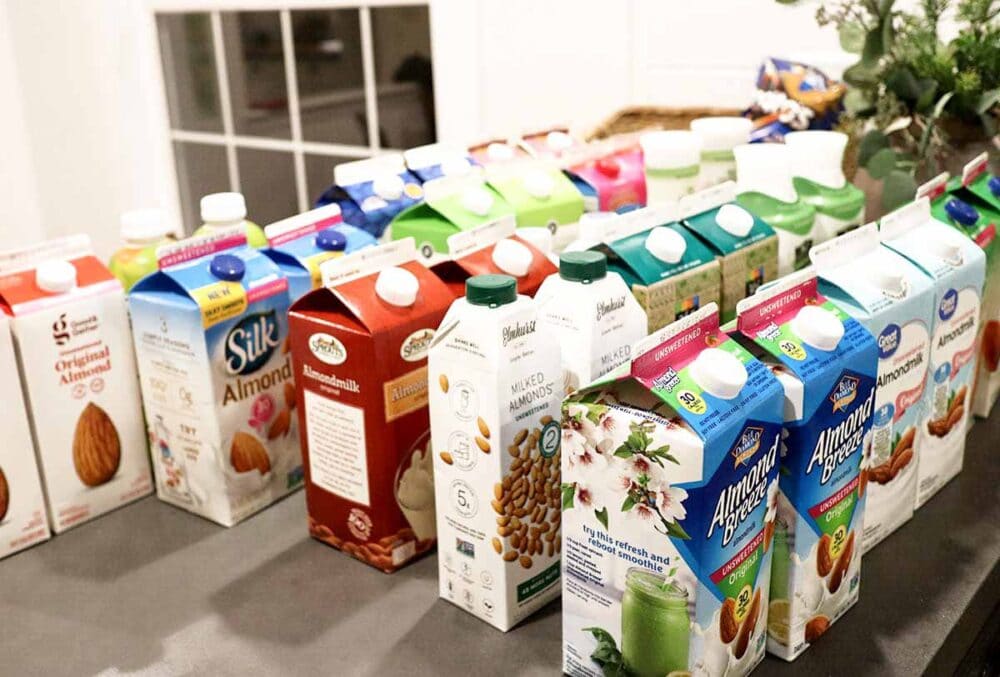 How to find the best almond milk
Erin from the Simple Green Smoothies team spent a day driving around Tampa Bay, so that she could buy every brand available could find. They went to...
*We actually tried 2 different Costco locations, and both only sold Silk brand almond milk. I know a lot of you are curious how the Kirkland brand stacks up, but we haven't been able to find it 2 years in a row!
Since this is an update from our 2020 list, we knew how to get started testing and dove right in.
While we know taste and texture are huge buying factors, we also compared ingredient lists to give our best recommendations. Finally, we took price into consideration, as some of these brands were almost $6.00 USD per carton, while others were just over $2.00.
If it tastes horrible, we can't spend the money just because it is 'clean.' The very best way to get delicious, clean almond milk is to make it ourselves. If that's not a possibility for you, then let this list be your guide to getting the very best brand.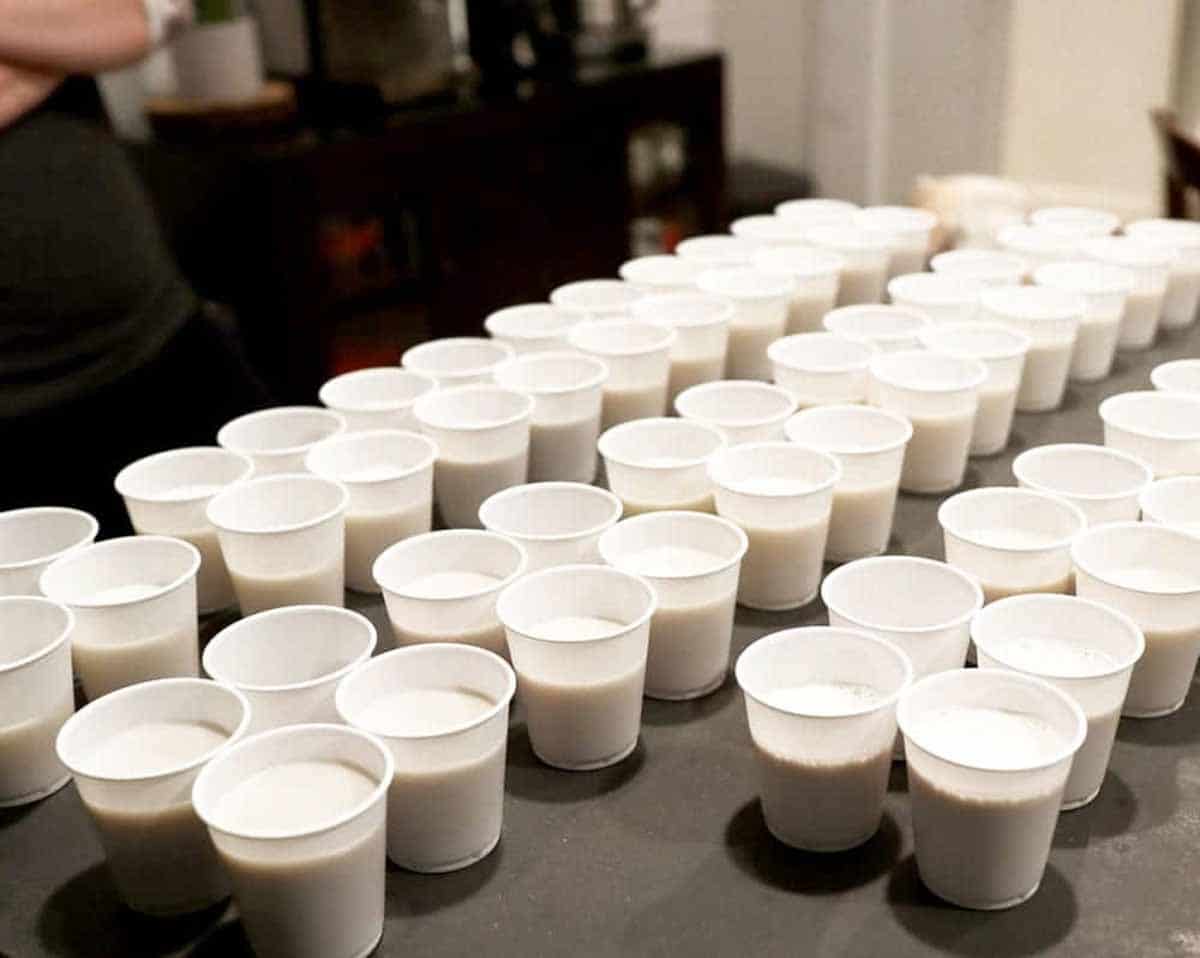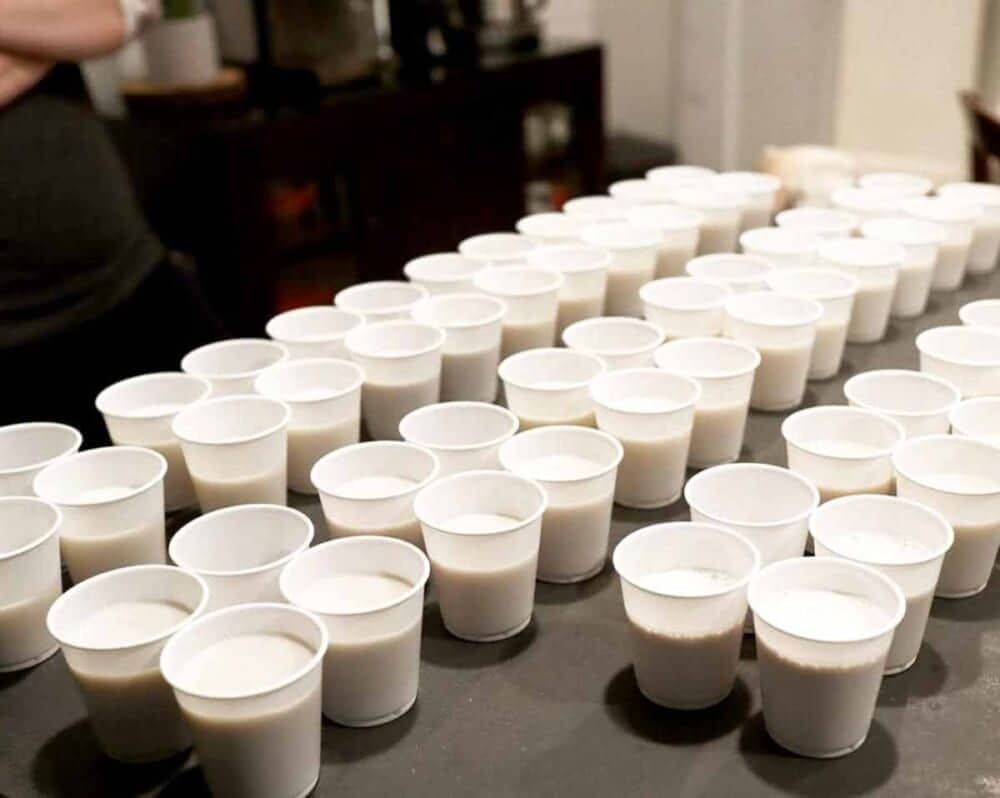 The healthiest brands of 2021
Almond milk is NOT all created equal. Many brands add fillers, gums, and fortify with vitamins, as well as alter taste with "natural flavors" to make it taste better. Always read labels when shopping; you never know what you're gonna get if you don't. Just because the branding looks clean, attractive, and healthy, doesn't mean the ingredients are telling the same story.
The top 4 healthiest brans of almond milk on the market right now are Elmhurst, Malk, Trader Joe's Simple Almond, and Three Trees.
What makes these the 'healthiest?' They each had these things in common:
Super simple ingredient lists (I'm talkin' 3 ingredients or less)
NO GUMS. None, zero, not there.
While these milks were all definitely on the higher price end, they were the cleanest we could find, and that's important depending on your use. I might not be able to afford these brands on the daily (which is why I make my own milk!), yet I'd definitely recommend them for anyone to purchase while doing one of my cleanses or resets, because they are super clean.
Is Almond milk good for you?
Plant-based milk has exploded in the market in recent years. Consumers are buying more plant-based products, and grocery stores are listening. To be clear, we have nothing against dairy, yet it is a common allergy or sensitivity. A recent poll we did in our Rawk the Year group showed that our community wants, as well as needs, dairy free recipes, so that's what we're gonna give ya.
See how 1 cup of almond milk stacks up to 1 cup of dairy milk below:
Unsweetened Almond Milk
between 30 - 50 calories
1 - 2 grams of carbs
20-50% daily Vitamin E
20%-45% recommended daily intake of Calcium (manufacturers enrich most almond milks to compete with dairy milk)
If dairy milk leaves you feeling less then energized, then try a plant based milk!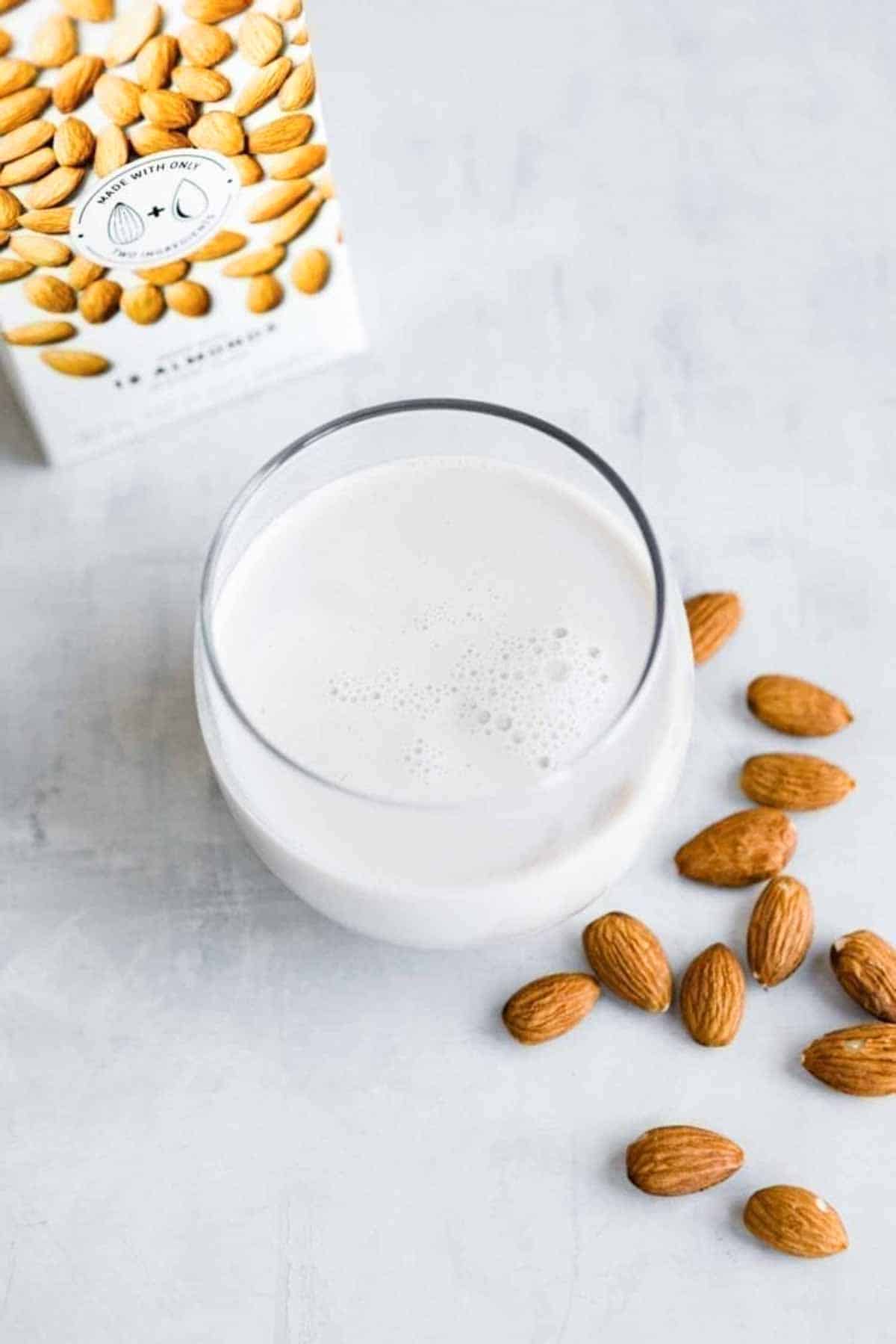 Gums in almond milk?
Food companies know that if they want to sell a 'healthy looking' product, then they need to label it corn syrup free and non-GMO. Yet they continue to add fillers, like gums, that aren't exactly "whole food".
The four gums we found during our best almond milk test were:
Carrageenan (the worst): Added to food to thicken, emulsify, and preserve. It is made from red seaweed and the US National Library of Medicine determined it can cause inflammation, damage the digestive system, as well as colon cancer.

Xanthan Gum (not so good): added to food as a thickener, a preservative. It's created when sugar is fermented by a certain kind of bacteria. It is an insoluble fiber, so our bodies can't break it down. This means it has no nutritional value. Xanthan gum comes from sugar found in wheat, corn, soy, and dairy. Therefore, people can be allergic to it, and should avoid if they suffer allergies to any of the above foods.

Gellan Gum (better): Added to food to thicken, stabilize, and texturize. It's a plant-based alternative to gelatin. Studies are inconclusive so far in determining the safety/benefit vs the risk of adding gellan gum to food. Some studies show that it can reduce constipation, while other studies link it to abnormalities in stomach lining.

Locust Bean Gum (better): added to food as a natural thickener. It is made from the seeds of a carob tree. It has several health benefits such as lowering blood sugar, high in fiber, and can reduce reflux in infants (added to infant formula). While it is more naturally occurring than the other gums we mentioned, there also isn't a whole lot of research yet on how good or bad it can be for our bodies to ingest in the long run.
Calcium: Calcium Carbonate vs. Tricalcium Phosphate
Many almond milk manufacturers fortify their milk with calcium, because they're trying to compete with dairy milk. The 2 main kinds of calcium added are calcium carbonate and tricalcium phosphate.
They have roughly the same amount of elemental (real) calcium per unit, however, calcium carbonate is more easily digested, as it is more naturally occurring than tricalcium phosphate. Companies choose the more processed, less natural form of calcium, tricalcium phosphate, because it's cheaper. We docked them in our report if they did this.
Sunflower Lecithin
Many of the almond milk brands have an ingredient called sunflower lecithin. We have lecithin naturally in our bodies, it's made up of fatty acids. Sunflower lecithin in particular is non-GMO, which makes us happy. This supplement is added to food as an emulsifier. Basically, it keeps fat and oils from mixing with other substances in our bodies.
There are several health benefits to sunflower lecithin, such as:
Improves Heart Health through breaking down fat
Lowers Cholesterol
Promotes liver health
Helps breastfeeding mothers avoid clogged ducts
Lowers blood pressure
Improves digestion
Fights dementia symptoms
We noticed that a few of the brand of milk we tested had a strong nutty taste (yet not like an almond), which we think is from the sunflower lecithin.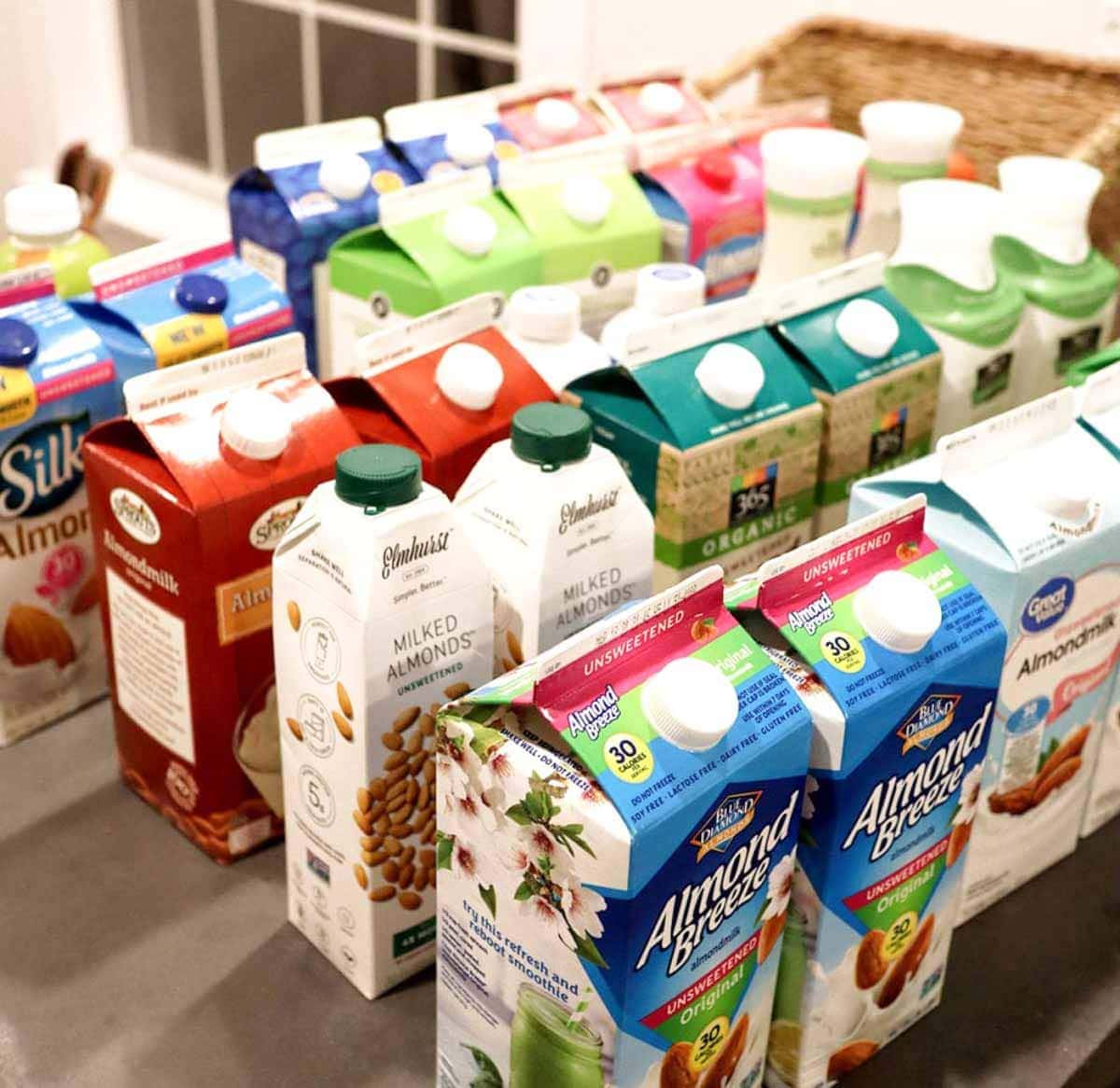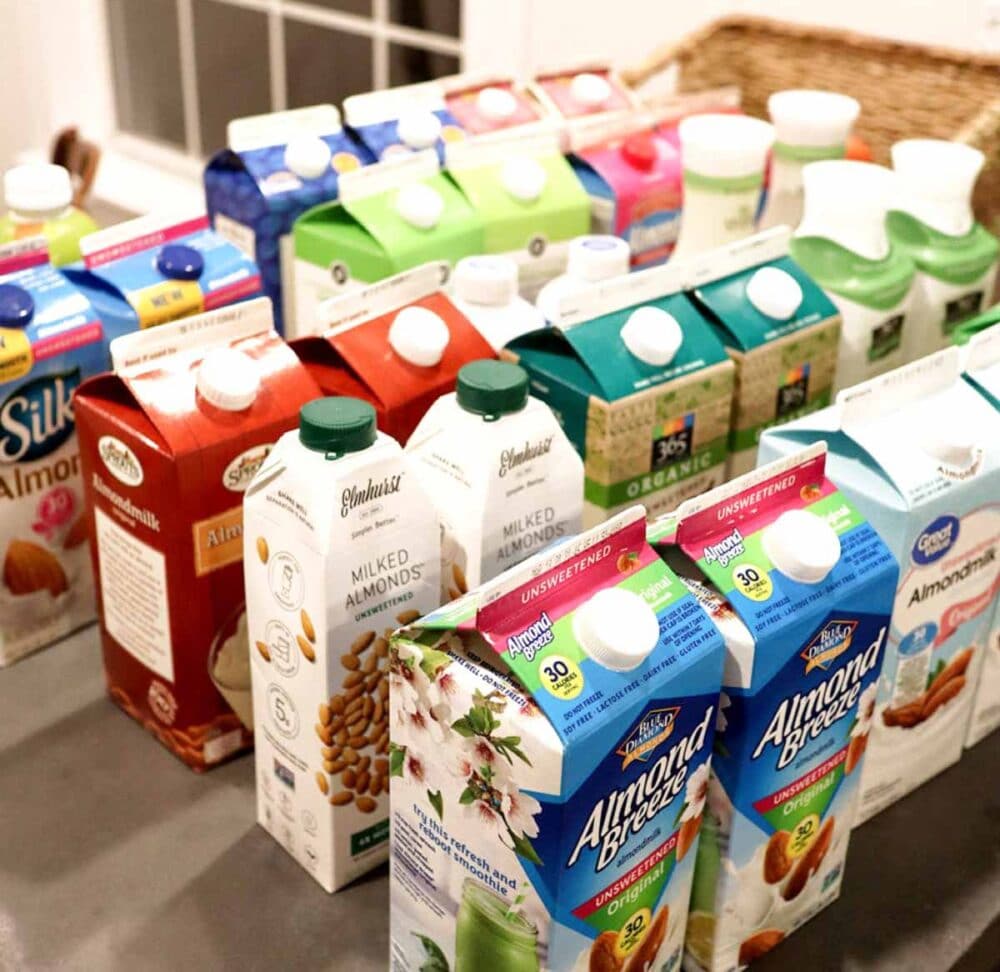 The best almond milk brands:
GOLD: Elmhurst Milked Almonds, Unsweetened
SILVER: So Delicious Organic Almondmilk with Cashew, Unsweetened
BRONZE: Publix Unsweetened Original Almondmilk and Simple Almond Unsweetened Original
Best taste + texture
Publix Unsweetened Original
Elmhurst Milked, Unsweetened
Simply Almond, Unsweetened
So Delicious Organic with Cashew, Unsweetened
Best clean + simple ingredients:
Elmhurst Milked, Unsweetened
Trader Joe's Simple Almond Beverage
Organic Almond Malk, Unsweetened
Three Trees Organic Almondmilk
Best in design + sustainable packaging:
Elmhurst Milked, Unsweetened
Organic Almond Malk Unsweetened
So Delicious Organic Almondmilk with Cashew, Unsweetened
Simply Almond, Unsweetened
Best priced almond milk:
Friendly Farms Almond Original Unsweetened Almond milk ($1.79/Aldi)
Great Value Almond milk ($2.36/Walmart)
Good and Gather Unsweetened Original Almond ($2.59/Target)
Trader Joe's Almond Beverage Original Unsweetened ($2.69/Trader Joe's)
Which milk surprised us:
The lowest scoring milk brands were the most shocking. Before the taste test, we hypothesized that Malk and Califia Farms would probably be one of the highest ranking almond milk cartons in our test. They are both 'specialty, high-end' brands and seem to make big waves in the plant-based community (we are talking partnerships with major plant-based influencers).
Yet when it came to the taste test, they scored among the lowest.

I want to point out that this was a blind taste test for us, so it was as unbiased as we could be. Three Trees and Malk were also the most expensive almond milk brands we found, for the smallest quantity (though we loved the packaging on both!). While Califia Farms was the most widely found, it had different price points depending on where it was purchased.
5 recipes that use almond milk
We love using almond milk as a base in recipes to create a creamy, protein enriched meal, so here are a few of our favs:
Leave a comment letting us know if this report was helpful, as well as if there are any refrigerated almond milk brands we can test next! We're here to do the work for you, and then give you the inside scoop. If you're fav isn't listed, then we'd love to know which brand you think has the best tasting almond milk... cuz' we wanna try it too!