Earlier this year my friend, Kathleen, texted me a recipe for Bieler's Broth. If you haven't ever heard of it, you aren't alone! It was new to me as well. Apparently this healing blended vegetable soup has been used for decades to detoxify the body.
It's super simple to make, and you can flavor it with your fav spice blend for a deliciously soothing recipe.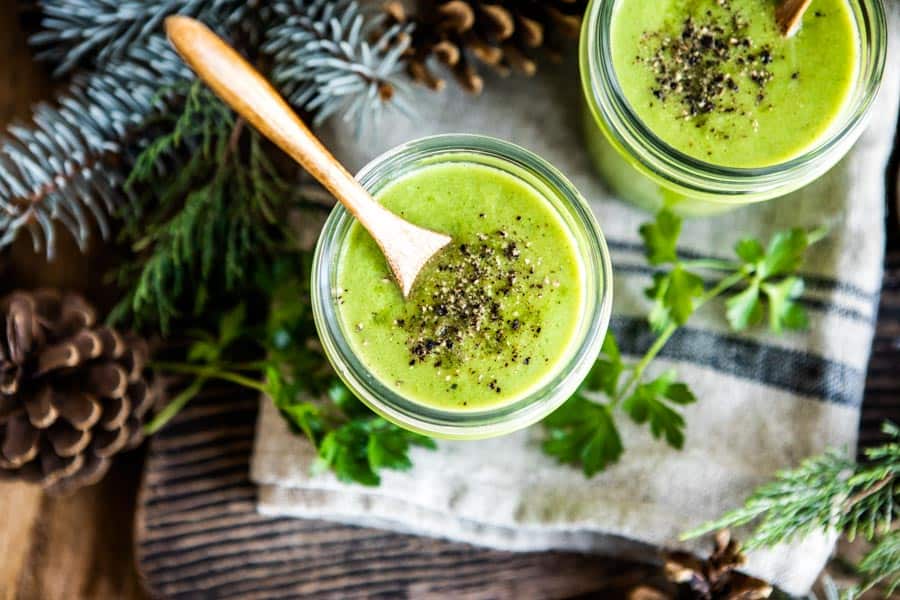 This healing, cleansing vegetable soup recipe will soon become a staple at your house like it is at mine. Upgrade it to a meal by adding collagen powder.
Table of Contents
Steps for Blended Vegetable Soup
The broth starts with garden fresh veggies – bonus points if you actually have these in your garden. 😉 It's a great way to use garden zucchini. The combination of zucchini, green beans, celery, and parsley yield a vegetable soup recipe that is simple, cleansing, nourishing and totally plant-based. So much to love.
Wash and chop all the vegetables. They can be roughly chopped, since they will be blended after cooking.
Add all veggies + water to a large stock pot and bring to a boil. Once boiling, lower to a simmer and cook until all vegetables are tender, about 15 minutes.
Pour the contents into a heat-proof blender and blend until smooth. Before pouring the scalding soup into your blender container, make sure your blender can handle hot liquids. An immersion blender is also a great option, or wait until the soup is lukewarm before blending.
And now you have a nourishing, tasty blended vegetable soup!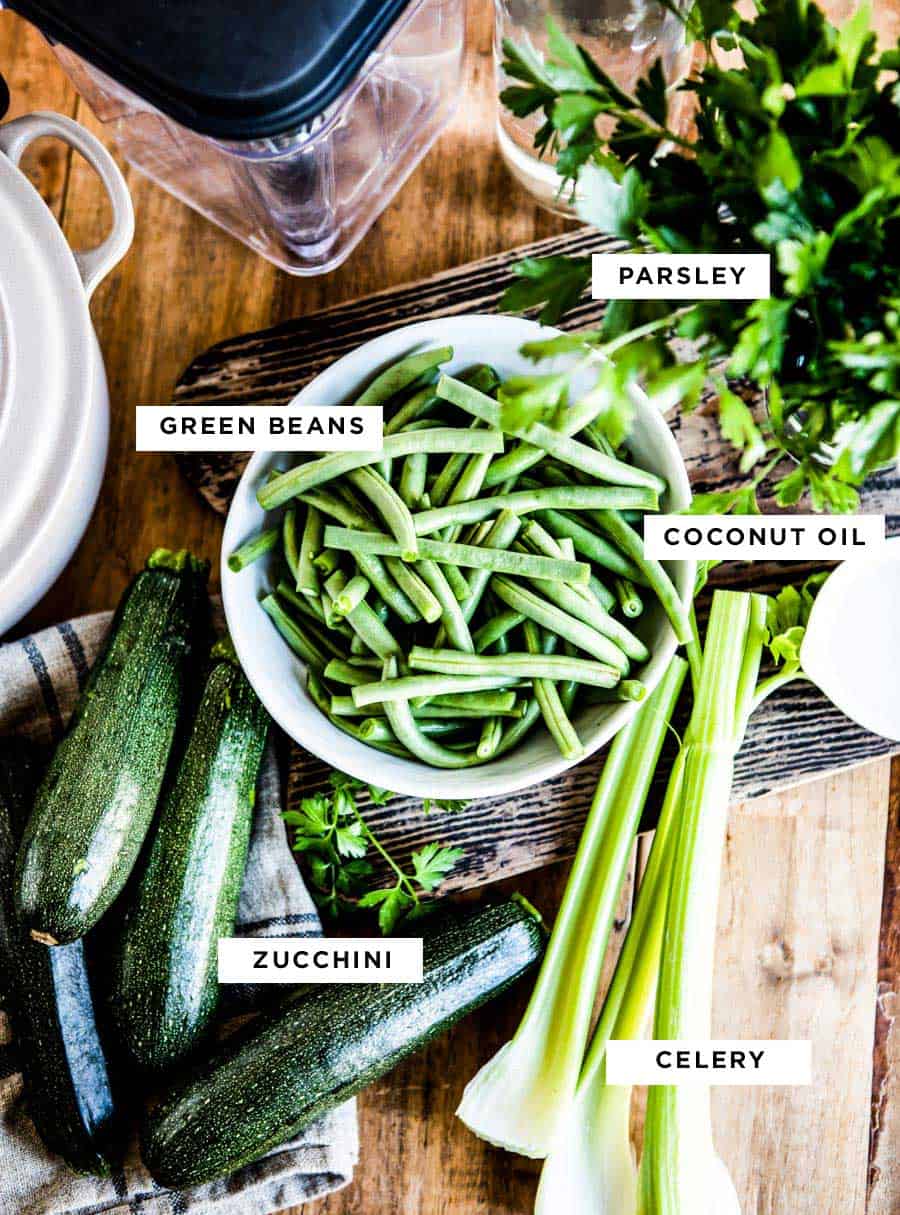 While this blended vegetable soup recipe as written can be a bit plain, it's a great base for adding some extra goodness in there to season it up a bit.
A little garlic, salt, and pepper gives the soup a lot of flavor without taking away from its healing benefits. I prefer it very mild and simple, especially if I'm feeling a little under the weather. Fresh turmeric and/or ginger added before the blending stage can boost its anti-inflammatory properties.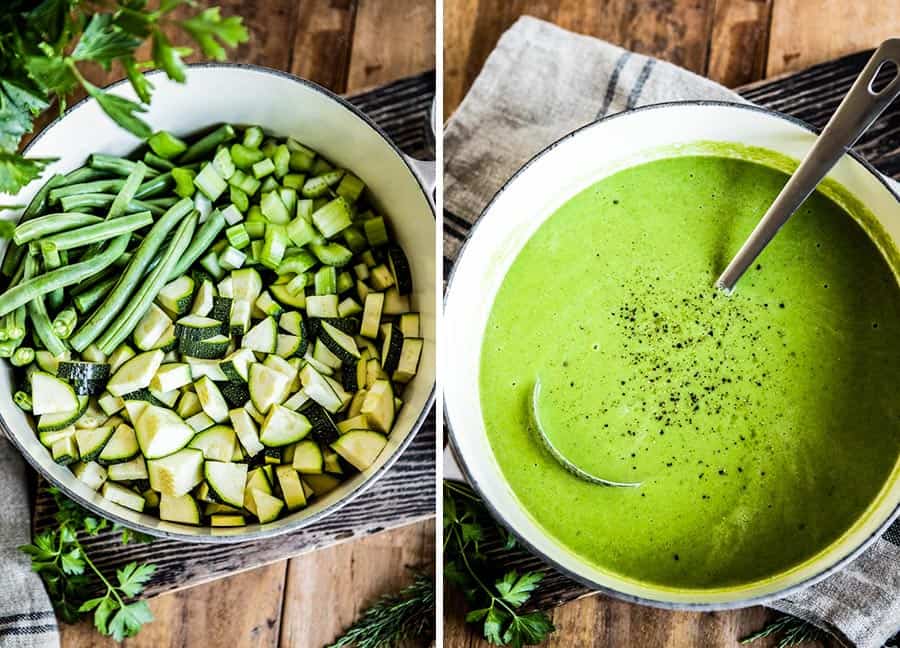 Vegetable Soup Storage Options
This blended vegetable soup recipe makes a LOT of soup. Yay for you! I recommend storing the left overs into pint sized mason jars (leave space for them to safely expand!) then store in the freezer. You can heat this soup up whenever you're ready to enjoy it again.
Alternatively, freeze the left overs in soup-sized ice cube trays. Then you can use a freezer-safe storage bag to store the cubes until you're ready for more soup. Feel free to heat these cubes up with a mix of my alkaline smoothie cubes for even more nutrients.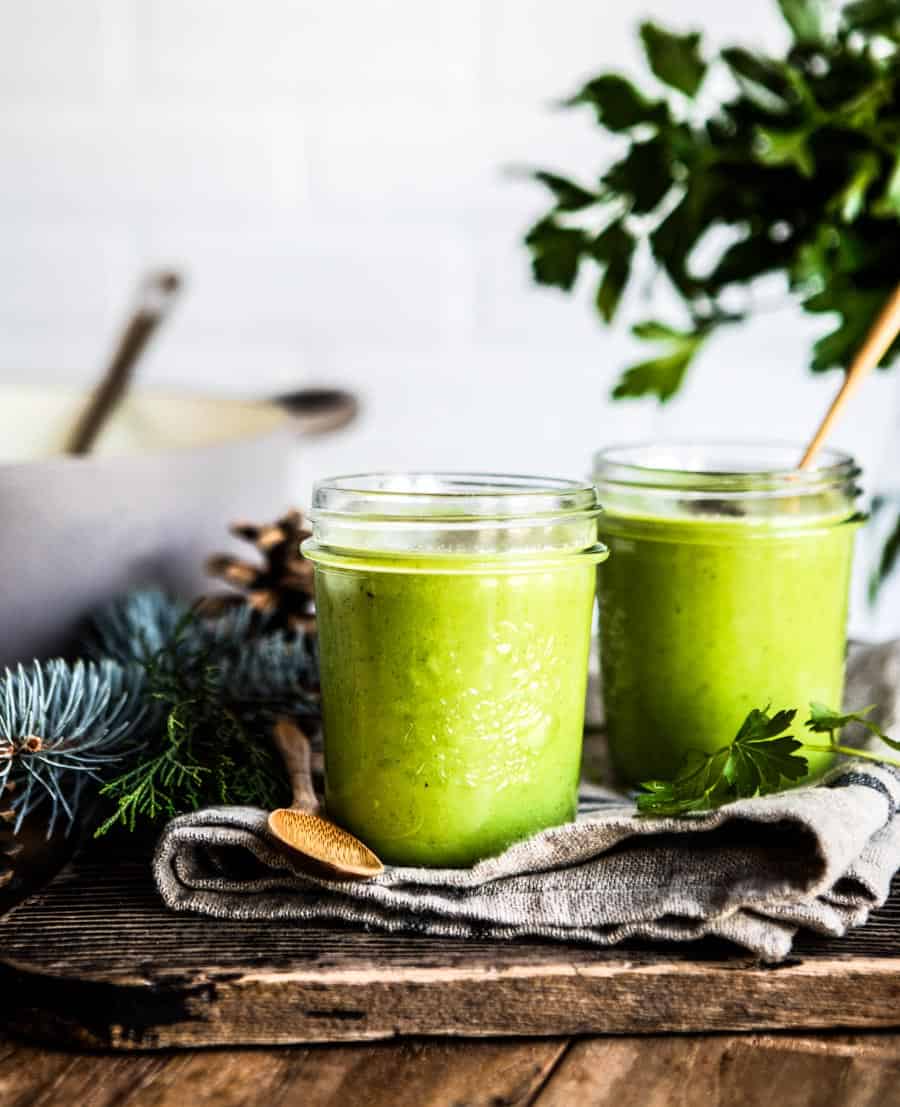 The Origins of Bieler's Broth
Dr. Henry G Bieler was a prominent physician who viewed whole food as therapeutic. He wrote the book Food is Your Best Medicine which included a recipe for Bieler's Broth. This is a detoxifying and cleansing broth used to help cleanse the body.
This vegetable soup recipe is perfect for when you're stressed out and craving high sugar, high carb meals. Those foods can mess with your adrenal glands and make your body more acidic that it should be.
This recipe (plus green smoothies + plant-based meals!) is how we can balance our body out. I just had it for dinner and it's doing the body some good. The heavy dose of fresh greens is a great way to help restore your body to an alkaline state and reset the "sodium-potassium" balance to your organs and glands. You ready for some green soup?!
This makes a TON of soup, so it also ticks off the box of creating something healthy and delicious that I can freeze in smaller portions for later.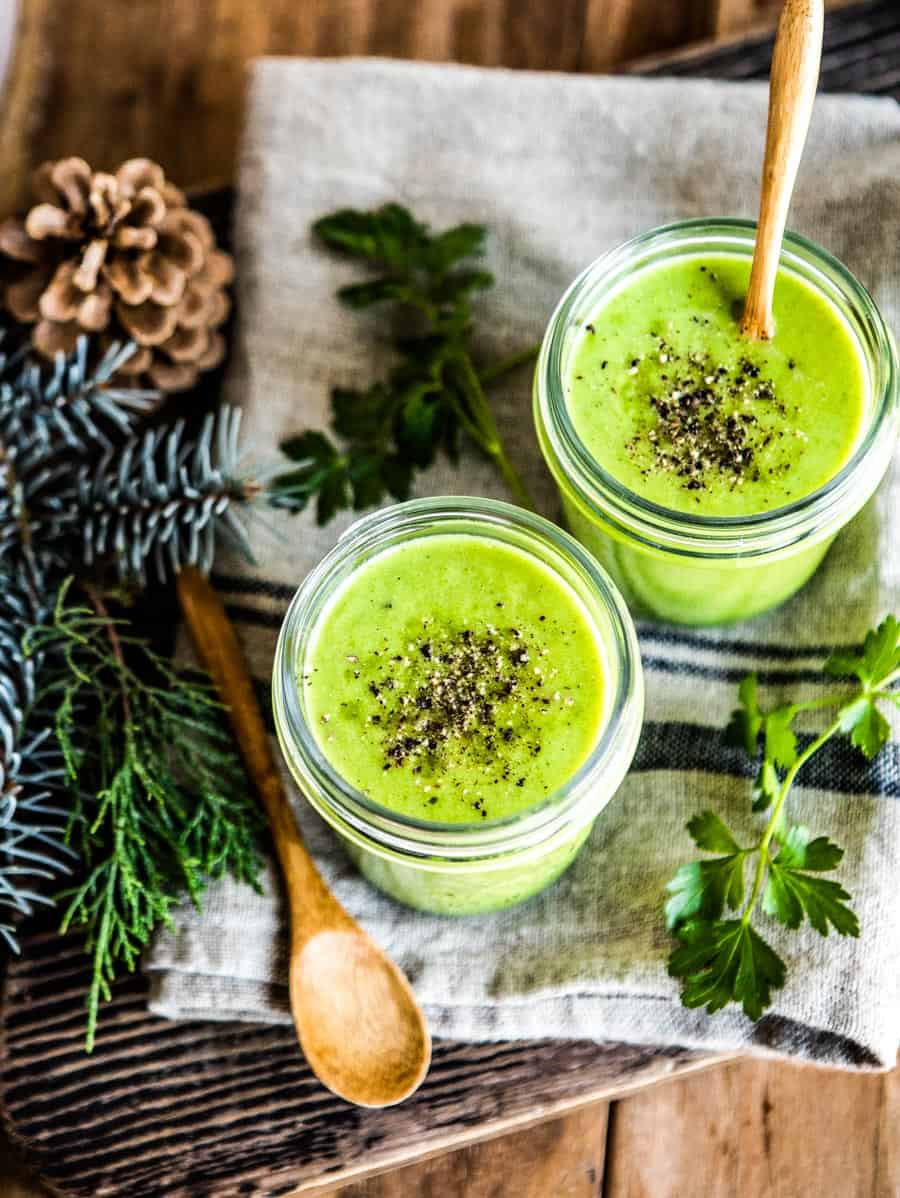 Blended Soup FAQs
What does blended soup mean?
It's literally soup that's been blended. You can puree soup or blend so there are still some chunks left, completely your preference. If you want to take your soup to-go, blend it then pour into a thermos. Super delicious fast food!
Is blended vegetable soup good for you?
Absolutely! Homemade soup is full of veggies + made completely of ingredients you know and can pronounce. Canned soups often contain additives, extra sodium, and chemicals, so make sure you read the ingredients on any store bought soup. My blended vegetable soup is simple, quick, and incredibly delicious + full of healing veggies.
How do I use a blender for soup?
Once you've thoroughly cooked your soup ingredients, you can blend them together for easy consumption. Yet not all blenders are made for blending hot ingredients. Make sure you blender is safe for hot ingredients before pouring your piping hot soup mix into it. If your blender can't handle hot ingredients, let your soup mixture cool to luke warm temp before blending, or use an immersion blender instead.
More Blended Soup Recipes
Interested in more delicious, plant based soups that are blended together? Check out these tasty ones:
Don't forget to rate + review this recipe once you've made it! I love getting your feedback.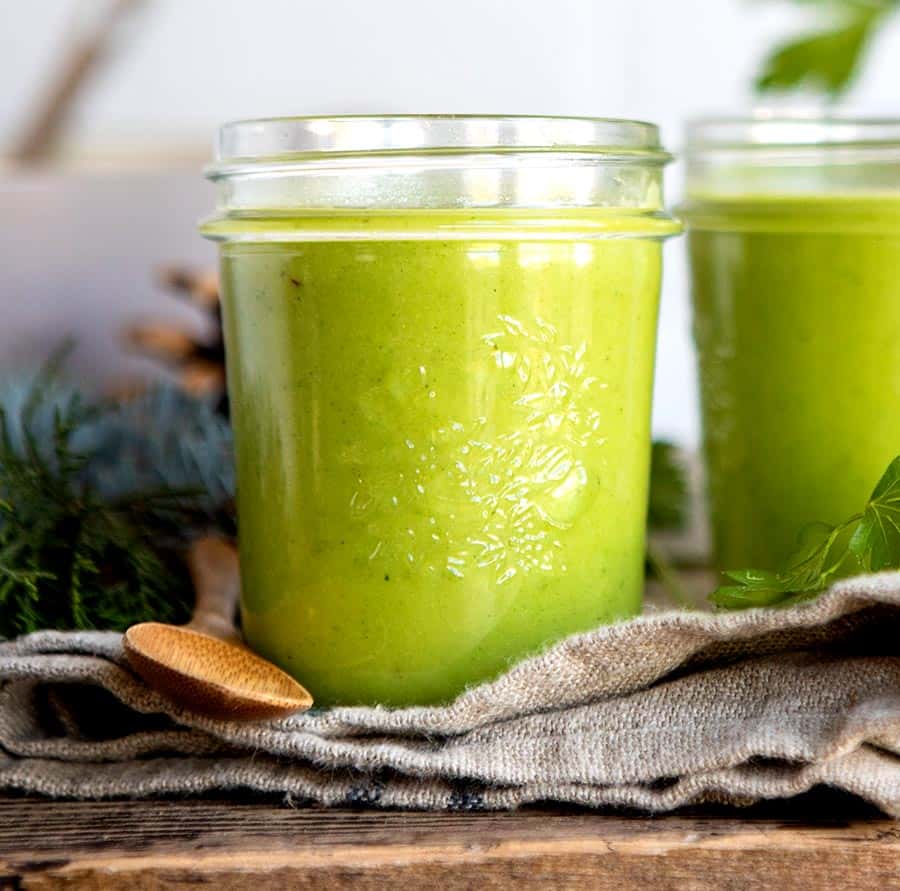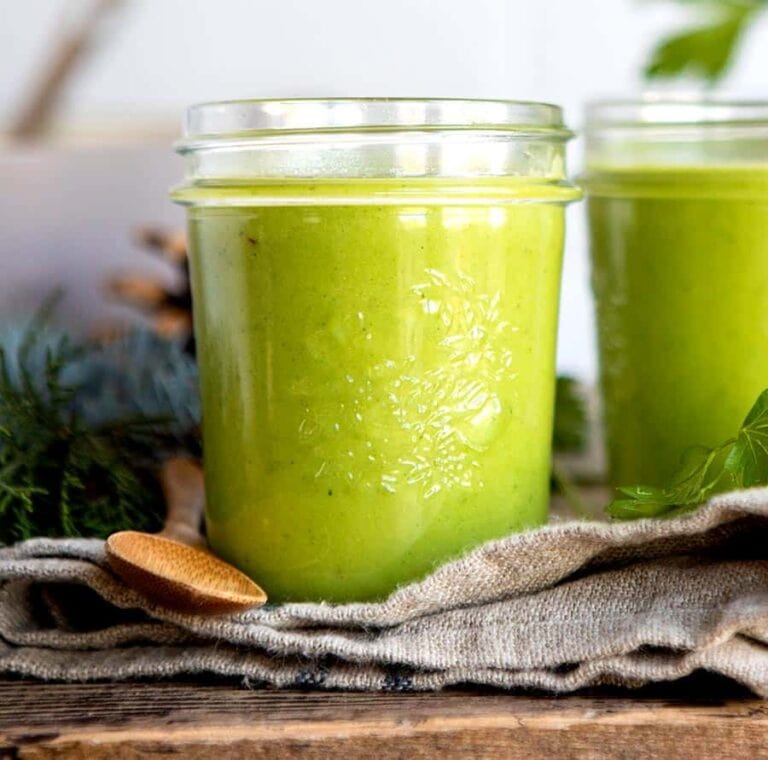 Bieler's Blended Vegetable Soup
This healing, cleansing blended vegetable soup recipe helps to alkalize the body and bring it back into balance, especially if you've been eating too much sugar and/or processed foods. Add collagen powder for a protein boost without altering the flavor or texture.
Ingredients
4

zucchini

chopped and ends discarded

1

lb

green beans

ends trimmed

2

stalks

celery

chopped

1

bunch

fresh parsley

tough stems removed

4

cups

alkaline water⠀

¼

cup

coconut oil
Instructions
Place all ingredients (except coconut oil) in a large pot and bring to a boil. Lower the heat and simmer until the vegetables are tender, about 15 minutes.⠀

Puree soup and coconut oil in a blender in batches (covered!).

Eat warm and season with salt and pepper, if desired.⠀
Notes
Use caution and make sure to vent the blender lid and cover with a towel and start blending on low speed to prevent the hot soup from splattering.
Make sure your blender container is heat resistant.
An immersion blender can be used during the blending step.
Feel free to spice this soup up with your spices of choice: garlic can help detox, fresh ginger and/or turmeric added before blending can boost the anti-inflammatory properties.
Nutrition
Calories:
130
kcal
,
Carbohydrates:
10
g
,
Protein:
3
g
,
Fat:
10
g
,
Saturated Fat:
8
g
,
Polyunsaturated Fat:
1
g
,
Monounsaturated Fat:
1
g
,
Sodium:
31
mg
,
Potassium:
588
mg
,
Fiber:
4
g
,
Sugar:
6
g
,
Vitamin A:
1643
IU
,
Vitamin C:
46
mg
,
Calcium:
67
mg
,
Iron:
2
mg