My black bean burger is exploding with flavor, doesn't dry out and makes a great feature on grill night. Grab your fav bun + toppings and get ready for some good food.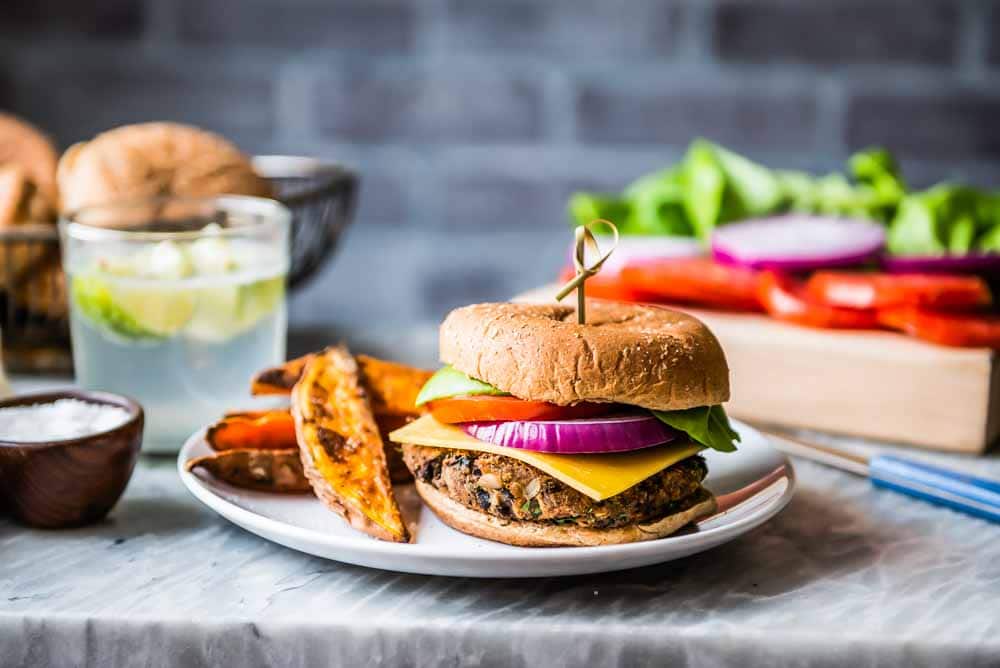 There are so many black bean burgers on the market these days, yet I've tried more bad versions than good. So, I created my own black bean burger recipe. It's crispy on the outside, super filling, flavorful, and perfect for the next cookout or game day feature. It's also vegan, and full of good-for-you benefits.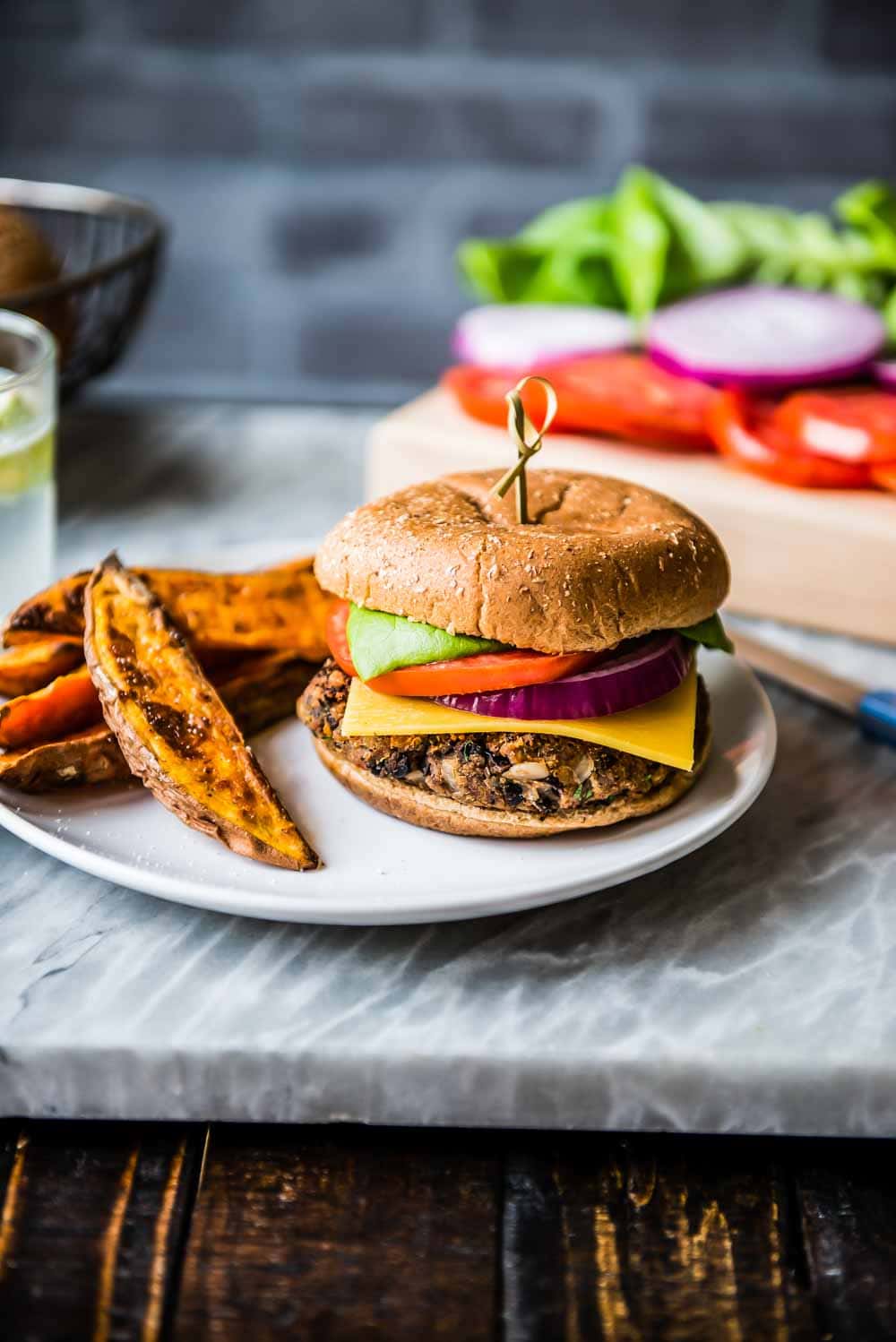 Vegan Black Bean Burger Recipe
Let me breakdown my recipe as well as provide a few tips along the way for easy baking/storage. I use coconut oil in this recipe, because it withstands a higher heat than olive oil. Feel free to swap with avocado oil to avoid any coconut flavoring.
If you want more perfectly shaped patties, use the rimmed part of a wide mouth mason jar lid to shape them. I use this method in my vegan hash cakes recipe from our Seasonal Cleanse, and they turn out beautifully! Definitely don't skip the fridge/freezer rest time. This ensures the patties don't fall apart while cooking. Nobody wants crumbly burgers!
Why Choose a Vegan Burger
Burgers are an American staple at many BBQs, birthday parties, game day gatherings, and more. Yet they honestly leave me feeling bloated, uncomfortable, and sluggish. I like the idea of a burger, yet want something that can delight my tastebuds without the negative side effects. The black beans and cooked quinoa give this burger a great texture, while the spices bring in a flavorful punch.
Though this homemade black bean burger recipe does take some time to prepare, it is well worth it. Store bought vegan burgers are often full of really processed ingredients, as well as tons of sodium. This vegan option offers real, whole food ingredients that actually taste good.
Freeze/Prep Ahead Options
Because this black bean burger recipe takes a bit to make, I usually double or triple the batch so that I can freeze them. Just follow steps 1-3, then put the frozen patties in freezer safe storage until you're ready to cook. They don't even need to thaw before cooking, just make sure add a few extra minutes per side in the skillet to cook through.
These vegan burgers can also be made a day or two in advance. If I know a block party is coming, I'll make a batch a few days ahead, so they're ready to go.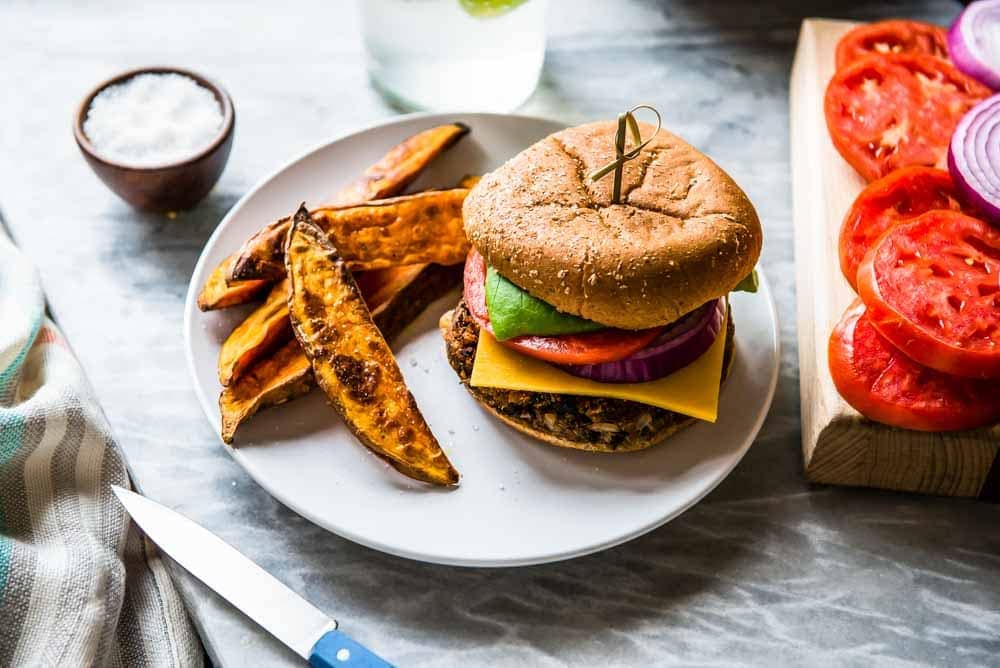 Plant Based Toppings
If you want to make these burgers 100% vegan, that includes the toppings. To add in a creaminess without the cheese, I like to toss on a few slices of avocado. An avocado crema is also a great addition, to give creaminess + a little tang. Or try my vegan kale slaw recipe for a delicious crunch topping. Vegan pesto is another flavorful addition to spice up this black bean burger. And don't forget the perfect fresh toppings, like lettuce, purple onion, and tomato.
If you need a gluten free bun option, check out this recipe from my friend Danielle Walker. I like to make a batch of these and freeze them, so I have one on hand for my next black bean burger!
Cookout-Worthy Sides
While this black bean burger recipe is the main feature of a cookout, we all know that sides play a vital role in a delicious meal. Check out these fresh sides that are both yummy and healthy!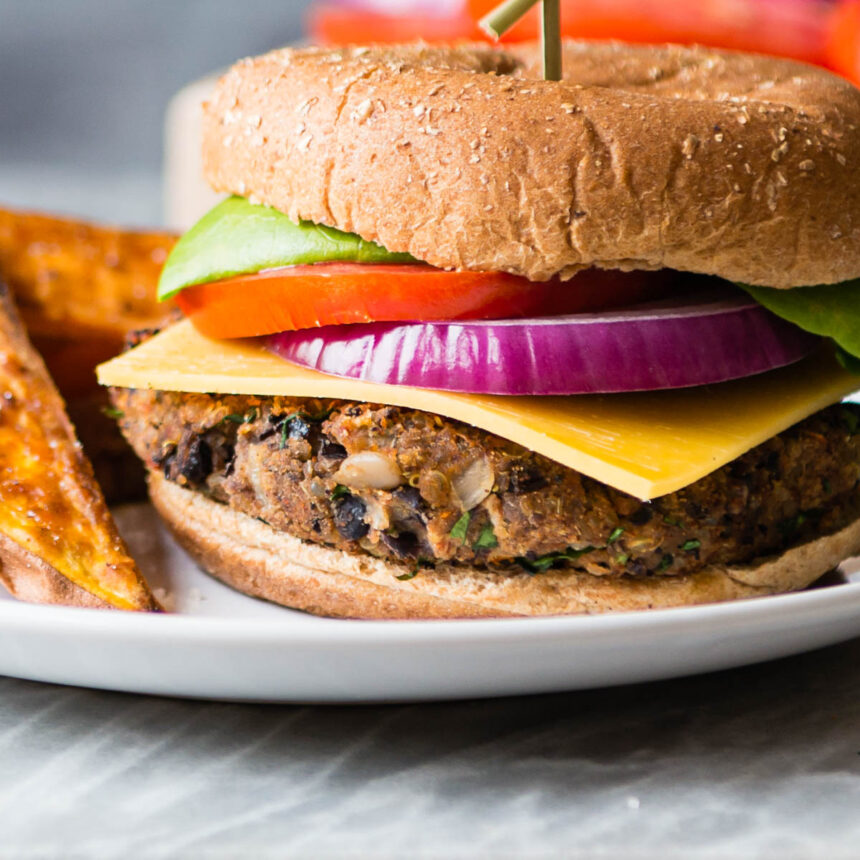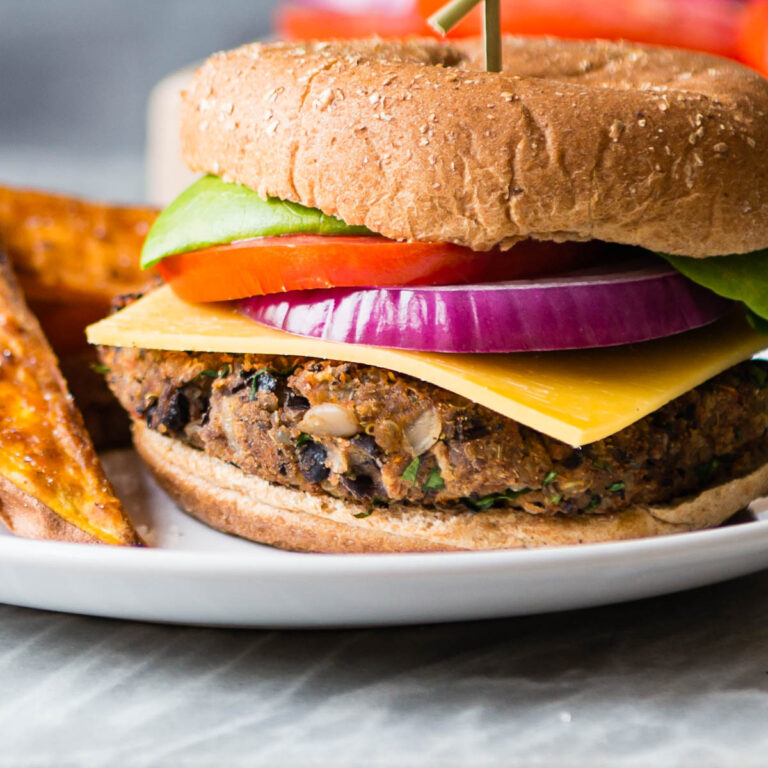 Vegan Black Bean Burger
Perfect for a backyard BBQ or a fun family meal, this vegan black bean burger is a winner. My family loves to pair them with homemade fries and load them up with fresh tomatoes. 
Ingredients
For the Burgers:
1

tbsp

coconut oil

plus more for cooking

1

yellow onion

finely diced

4

garlic cloves

minced

1

15-oz can

black beans

drained

1

cup

quinoa

cooked

½

cup

breadcrumbs

¼

cup

sunflower seeds

¼

cup

sun-dried tomatoes

drained and chopped

¼

cup

fresh cilantro

chopped

1

tsp

cumin

ground

1

tsp

chili powder

sea salt

to taste
For Serving:
6

hamburger buns

split in half

1

tomato

sliced

6

slices

vegan cheese

optional

1

red onion

sliced

6

butter lettuce leaves
For the Potato Wedges:
1

tbsp

olive oil

2

sweet potatoes

peeled if desired, cut into 8 wedges each

sea salt

to taste
Instructions
Heat the 1 tablespoon coconut oil in a skillet. Add the onion and sauté until softened, about 5-10 minutes. Add garlic and cook for 30-60 seconds.

Transfer to a mixing bowl and add all of the other ingredients in the bowl. Use your hands or potato masher to mash everything together, especially the beans. The mixture will be rather sticky. Taste and add salt, if needed.

Line a baking sheet or plate with parchment paper or plastic wrap. Form the burger mixture into 6 balls of equal size. Place the balls spaced about 3-inches apart on the plate or sheet. Gently flatten with the palm of your hand to form patties about 4-inches in diameter.

Cover with plastic wrap and refrigerate until firm, about 1 hour. *Don't skip this step – it makes it much easier to cook and flip the burgers*

Heat a large nonstick skillet over medium-high heat. Add a little oil to the pan and let it get nice and hot, about 20-30 seconds. Place the burgers in the hot pan, working in batches, if needed. Cook first side until golden brown, about 5-8 minutes. Gently flip the burgers over and cook on the remaining side.

Serve on a bun with desired toppings.
For the Potato Wedges: 
Line two baking sheets with parchment paper. Adjust oven racks so one is closer to the bottom of the oven, and one is closer to the top. Heat oven to 450°F.

Toss the sweet potato wedges with olive oil and arrange in single layers on the baking sheets. Sprinkle with sea salt.

Place the baking sheets in the oven and bake for about 10-15 minutes. Switch the baking sheets, top to bottom, and continue baking until fries are tender and golden on the edges, an additional 10-15 minutes. Cool slightly before serving.
Notes
These are more delicate than meat burgers, and hold together best after being refrigerated or frozen. Be gentle when turning.
To save time, freeze until hard, about 30 minutes. This will extend your cooking time to ensure the patties are heated all the way through.
To make these gluten-free, substitute gluten-free bread crumbs or almond meal for the regular bread crumbs. Serve on a gluten-free bun or bed of leafy greens.
Nutrition facts don't include the sweet potato fries or toppings.
Nutrition
Calories:
217
kcal
,
Carbohydrates:
31
g
,
Protein:
7
g
,
Fat:
8
g
,
Saturated Fat:
3
g
,
Polyunsaturated Fat:
3
g
,
Monounsaturated Fat:
2
g
,
Sodium:
80
mg
,
Potassium:
422
mg
,
Fiber:
4
g
,
Sugar:
3
g
,
Vitamin A:
195
IU
,
Vitamin C:
4
mg
,
Calcium:
52
mg
,
Iron:
3
mg