Learn how to make candied pecans and use them all season long on salads, yogurt and more. My candied pecans recipe is easy and refined sugar free! Sprinkle them in coconut whipped cream or on top of a festive fall salad for the perfect finishing touch.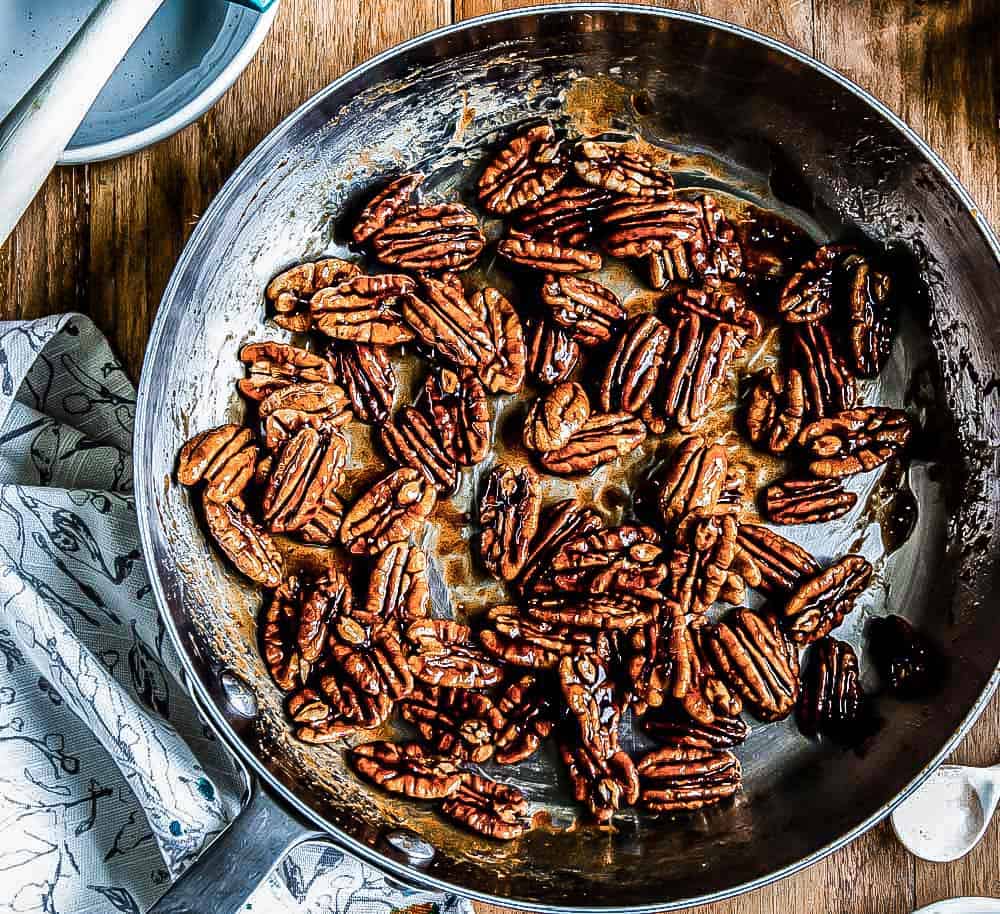 Today I'm sharing my recipe for candied pecans. This simple skillet recipe will take your praline pecans to the next level, as well as that fall fresh salad, dessert, or even side dish. Ready to elevate your cooking + baking? Use this candied pecans tutorial to seriously level up.
Table of Contents
A Plant-Powered Ingredient List
While your grandma's candied pecans are soaked in butter and brown sugar, I dare you to compare them with my plant powered version. It's got a rawkstar ingredient list, including: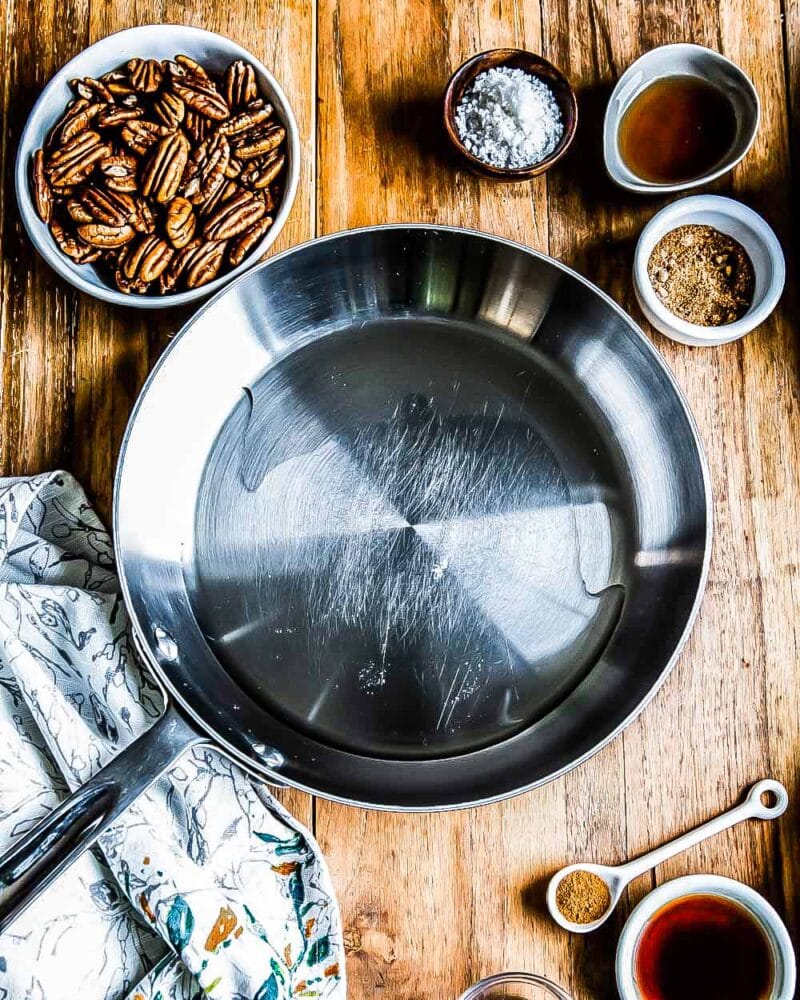 Coconut oil– used as a higher heat oil, and a great dairy free option. Surprisingly, I don't notice any kind of coconut-y taste either.
Coconut sugar– this has a lower glycemic index than regular refined sugar. Coconut sugar contains several minerals such as iron, zinc, calcium, and potassium.
Pure vanilla extract– imitation vanilla extract is exactly that, not real. Since imitation vanilla is made with wood byproduct and typically loaded with sugar or corn syrup, pure vanilla extract is the way to go in this candied pecan recipe. In my book Simple Green Smoothies, you can even learn how to make your own vanilla extract.
Ingredient Swaps
Love the idea of this recipe, yet need some swaps? No problem! If you aren't able to have pecans, then swap them with another nut or seed. Toasting times vary, depending on the nut/seed used, so just watch the skillet to ensure they are browning instead of burning. Maple sugar lately is a great swap for coconut sugar. Maple sugar is a bit sweeter in my opinion, so start with a slightly smaller amount, then add to taste.
Also, don't be afraid to switch up the spices in this candied pecans recipe! Pumpkin spice is a great swap for just cinnamon, as well as a cardamon (start out with a pinch!).
How to Make Candied Pecans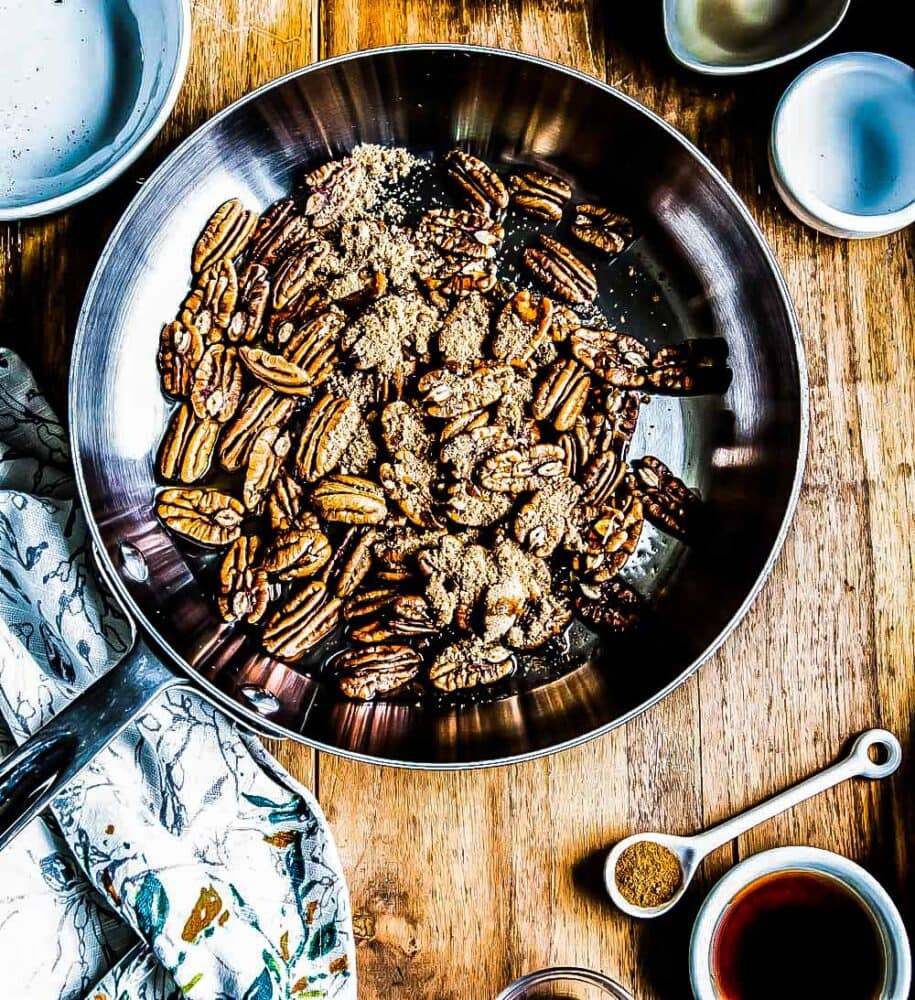 You only need 1 pot for this recipe. Heat a skillet (I like using a cast iron skillet for these) over medium high heat. Then add in the coconut oil and allow to melt + coat the skillet. Carefully add the pecans to avoid oil splashing, and brown 2-3 minutes, stirring occasionally to avoid over-browning on a side.
Once toasted, sprinkle the coconut sugar, maple syrup, and sea salt. Lower the heat to medium, then constantly stir with a spatula or wooden spoon until a thick syrup starts to form. Be careful not to let this caramelized syrup get too dark, as this will burn the pecans.
Turn off the heat and add the vanilla as well as cinnamon. Stir well, then serve immediately or allow to cool for the pecans to fully become candied.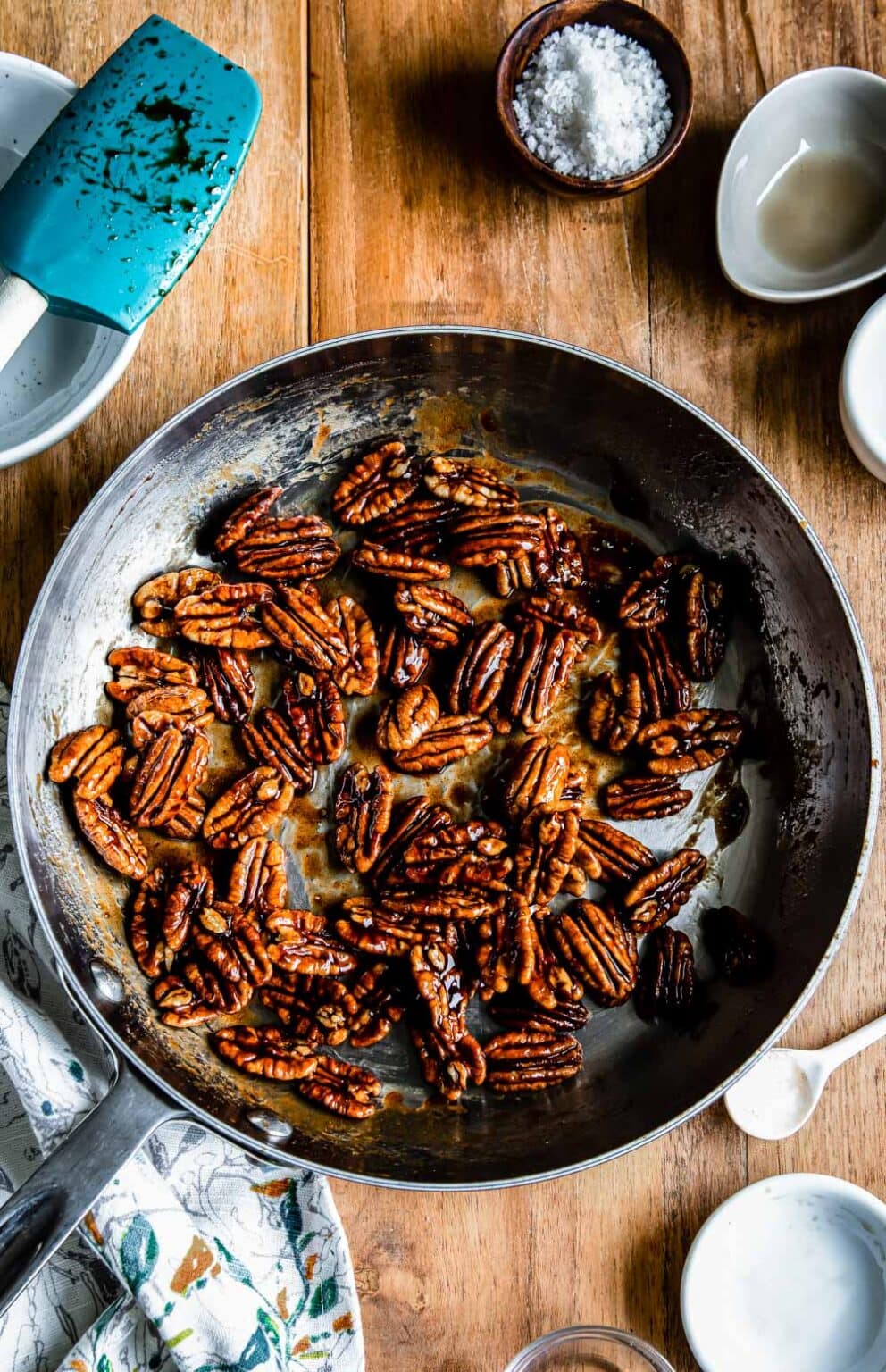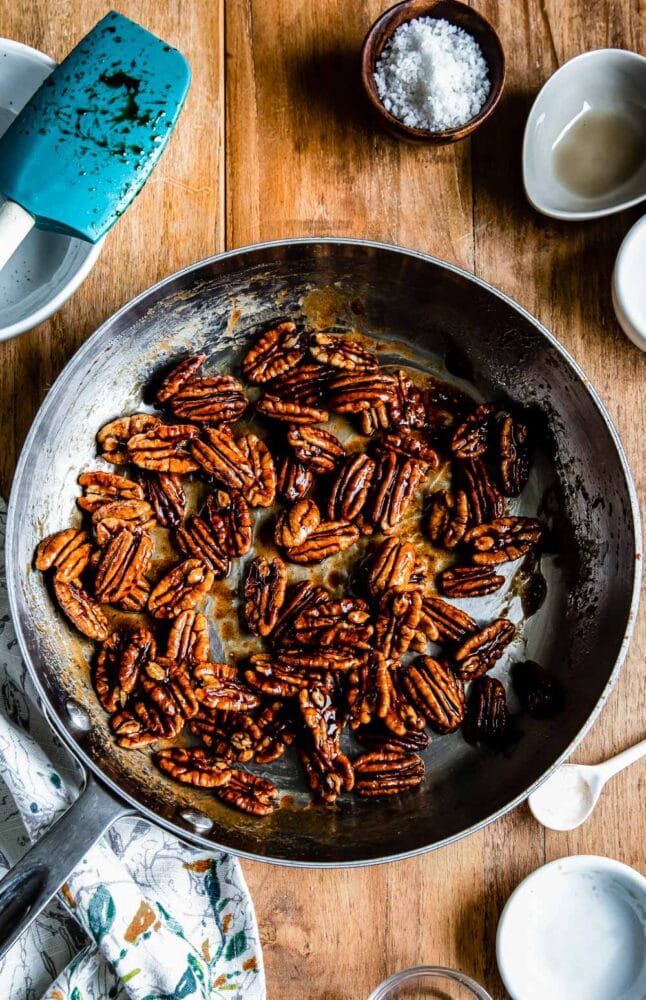 Cooling + storing Tips
Once the candied pecans are done crisping, they can be used right away, or stored for later use. Simply spread them out piece of parchment or a silicone baking mat, allow to cool completely, then store in an airtight container.
No need to refrigerate, and these can be heated up slightly in a toaster oven or skillet just before serving if desired.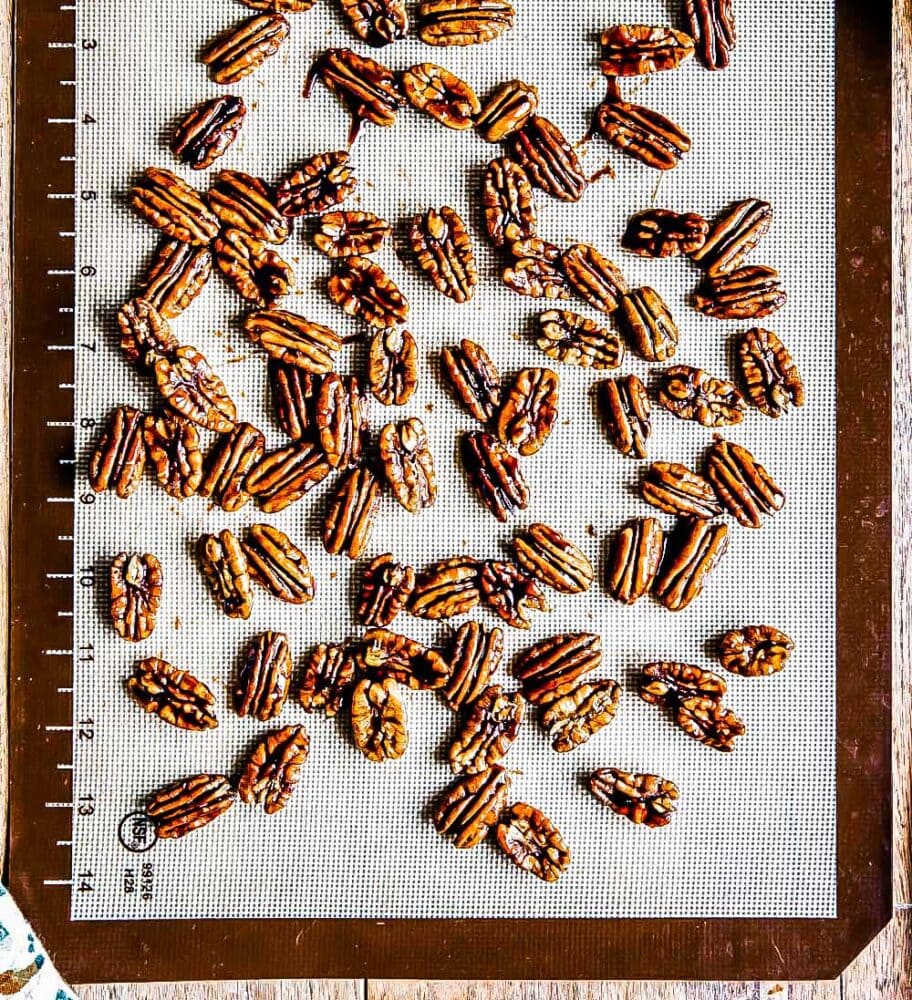 Candied PEcans FAQs
Why are my candied pecans chewy?
They probably weren't cooked long enough. Make sure the sugar coating gets hot enough to turn into a brittle, crunchy state. It will get sticky as it melts and then it's up to you to watch it and wait for it to harden again in a nice, candy-like coating.
How to keep candied pecans crunchy?
Make sure to cook all the moisture out of your pecans + sugar coating before you remove from heat. That way they will harden as they cool and keep that crunchy coating to them even when cooled completely. Store in an air-tight container to keep them from going soft.
Are pralines and candied pecans the same?
Yes! Pralines are a type of candied pecan with a glaze or coating. Though if you are looking for ones with certain flavor/ingredients, make sure you read your labels! Or stick to making your own so you know exactly what's in them.
Where to Use Candied Pecans
Now that you are a master at making these praline pecans, where can you use them? Here are a few more plant based recipes that pair perfectly with this topping:
Pear candied pecan salad: this topping was originally created to top this fall green salad!
Roasted sweet potato: looking for a healthier dessert to share at your next family dinner? Just roast a sweet potato (no fail roasting directions!), then top with these candied pecans.
Vegan Pumpkin Pancakes: my mouth is watering just thinking about topping already delicious pumpkin pancakes with this recipe.
Coconut Yogurt Parfait– turn this cashew coconut 'yogurt' recipe into a fall staple by swapping the fruit compote with some praline pecans.
Roasted Butternut Squash: This topping is the perfect finish if you want to dazzle with your side dishes like roasted squash. The natural sweetness of squashes like pumpkin, butternut and acorn make them the perfect vessels for this nutty recipe.
Where do you like to use candied pecans? Drop a comment and let me know!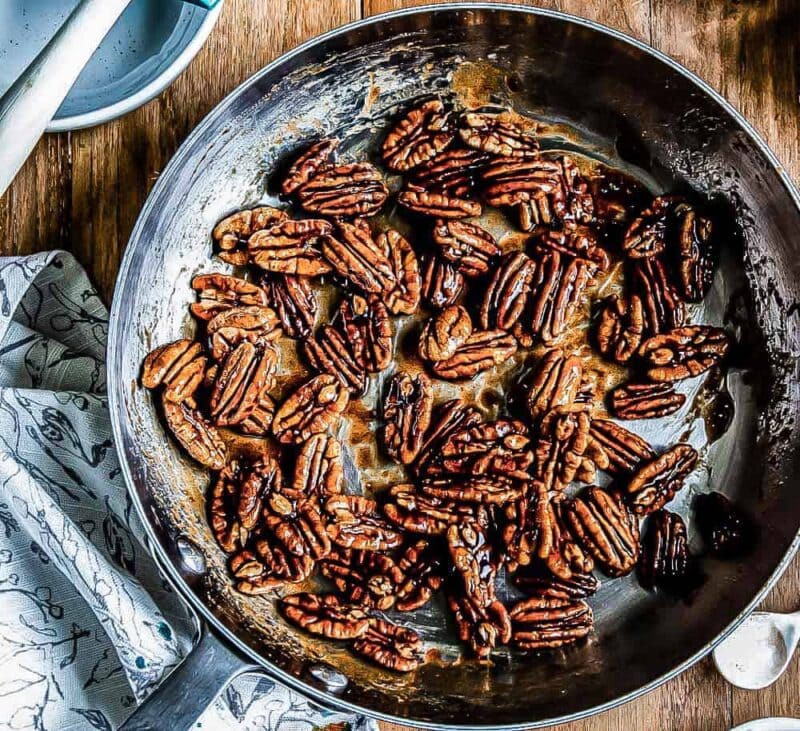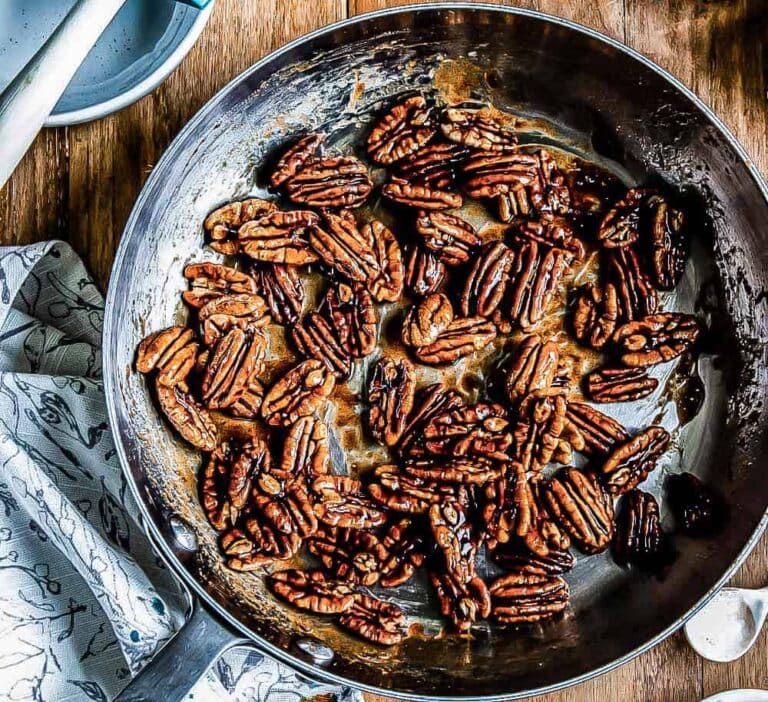 How To Make Candied Pecans
Make your own candied pecans to use as a topping for salads and other recipes. Made from whole food ingredients and only takes minutes to prepare!
Ingredients
2

tsp

coconut oil

1

cup

raw pecans

shelled halves

1

tbsp

coconut sugar

2

tsp

maple syrup

1

pinch

sea salt

1

tsp

vanilla extract

1

pinch

cinnamon

ground
Instructions
Preheat a large skillet over medium-high heat. Add coconut oil and allow to melt. Add the pecans.

Lightly toast the pecans in the coconut oil for about 2-3 minutes.

Sprinkle the coconut sugar evenly over the pecans, followed by the maple syrup, and sea salt. Lower heat to medium and continue cooking, stirring constantly with a silicone spatula or wooden spoon. A thick syrup will start to form and turn a deep amber brown and lightly coat the pecans. Be careful not to let the caramel become too dark or the nuts will taste burnt.

Turn off heat and add vanilla and cinnamon. The caramel will bubble up and sputter a bit. Stir well.

Transfer the pecans to a baking sheet lined with parchment or a silicone baking mat and spread out evenly. Alternatively, generously grease pan to prevent pecans from sticking. Allow to cool completely.

Store candied pecans at room temperature in an airtight container until ready to use. 
Notes
This recipe can be used for most types of nuts, but works particularly well with walnuts, almonds, and hazelnuts.
Brown or white sugar can be used in place of coconut sugar.
Honey can be substituted for maple syrup.
For a spicy version, add a good pinch ground cayenne at the same time as the vanilla and cinnamon.
Nutrition
Calories:
105
kcal
,
Carbohydrates:
4
g
,
Protein:
1
g
,
Fat:
10
g
,
Saturated Fat:
2
g
,
Polyunsaturated Fat:
3
g
,
Monounsaturated Fat:
5
g
,
Sodium:
8
mg
,
Potassium:
56
mg
,
Fiber:
1
g
,
Sugar:
3
g
,
Vitamin A:
7
IU
,
Vitamin C:
1
mg
,
Calcium:
11
mg
,
Iron:
1
mg