You just can't go wrong with these cauliflower buffalo wings. All my friends are hooked on them; I don't even have to be the one to bring them to game day parties anymore! Someone always volunteers to bring the "cauliflower chicken wings." Cauliflower wings are definitely a party staple.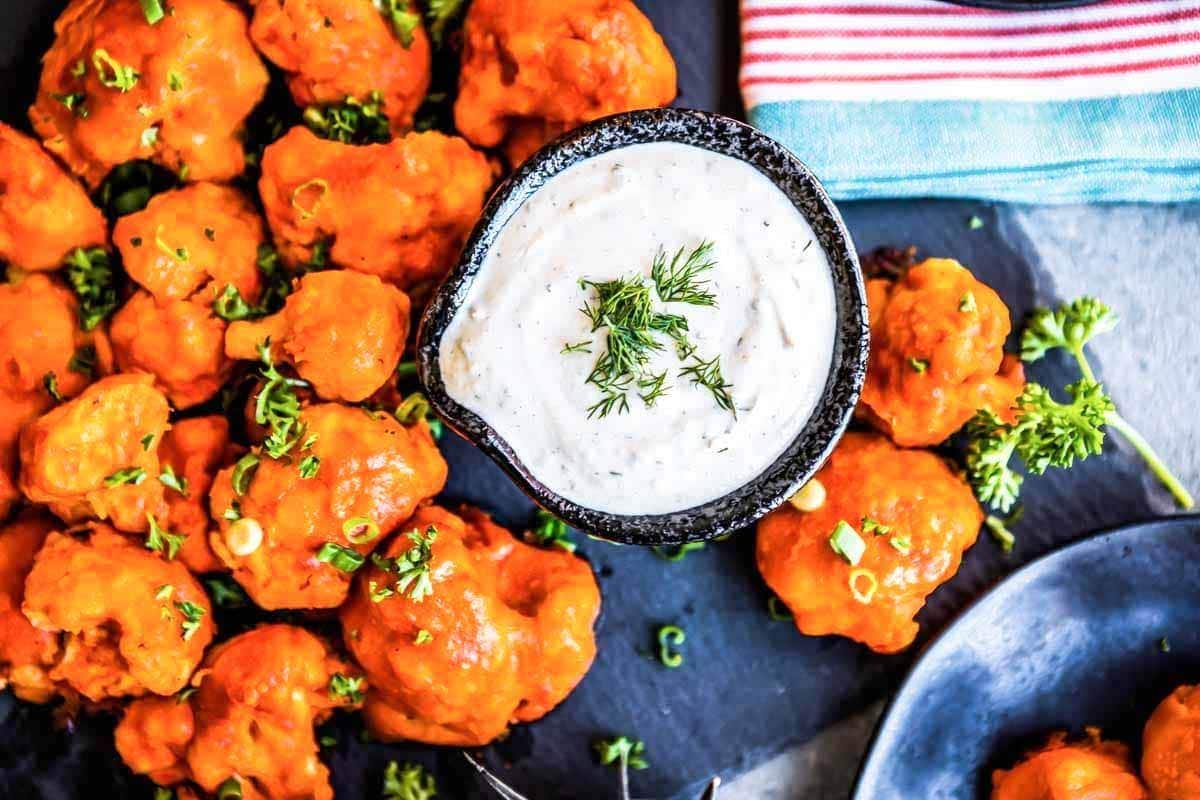 Table of Contents
What Makes Cauliflower Wings So Good?!
There are so many reasons I love this dish, yet here are my top 3:
The hotter, the better is my motto! Add as little or as much hot sauce you want… just keep a glass of water nearby! Franks RedHot Buffalo Wing Sauce is my go-to, yet if you've got a better option, let me know in the comment section!
Vegetarian alternative to a classic is the best way to share this cauliflower buffalo wing recipe. Not everyone will eat chicken wings, yet I think everyone can agree that cauliflower chicken wings will be a crowd pleaser.
Dairy free ranch dressing. Need I say more? You're going to fall in love with the creaminess of this ranch dressing and you don't even have to feel bad about it.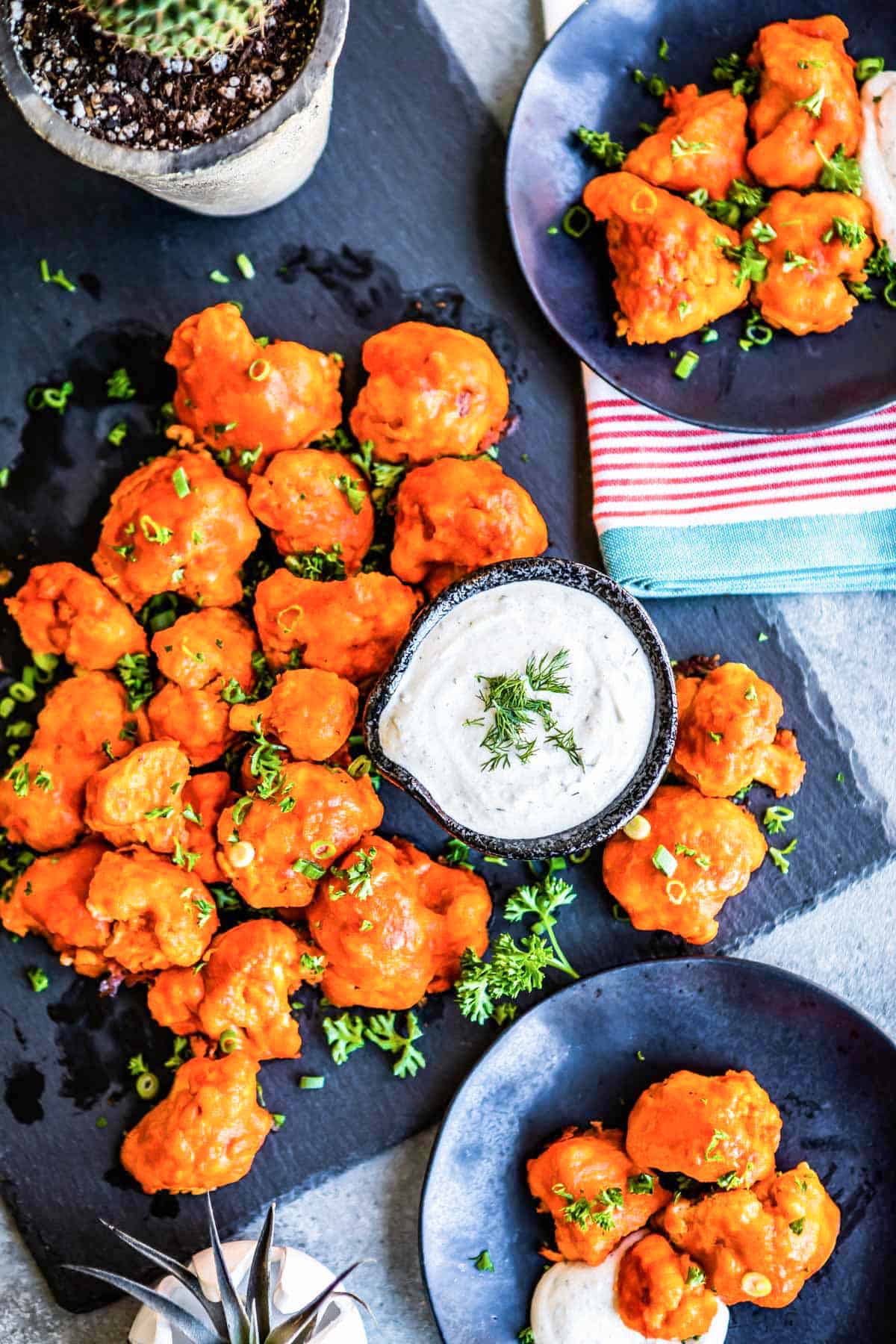 Cauliflower Buffalo Wing Recipe
My mouth is watering just writing about this recipe… it is a for real winner. I made sure to keep the ingredient list simple, since the baking process takes a little time. If you want to get the perfect crisp, then don't skimp out on the second bake time, or rotating the cauliflower buffalo wings in the oven!
Also, mixing the buffalo sauce with a little coconut oil before dipping the wings in is necessary, to help the sauce coat each piece better. It also lends to the pieces crisping up in the oven.
Recipe swaps
If coconut oil isn't your thing, then swap in another oil, like avocado. Store bought (or homemade) ranch dressing works fine, yet the creaminess of the cashew ranch dipping sauce is unmatched… in my opinion. If you want to try the dipping sauce, yet need a replacement for the cashews, try macadamia nuts or almonds.
Gluten-free all purpose flour works best, because it is so finely milled. However, if you need an alternative, use almond flour + 1 tablespoon tapioca starch. Cauliflower buffalo wings use buffalo sauce, yet don't be afraid to try other hot sauces too.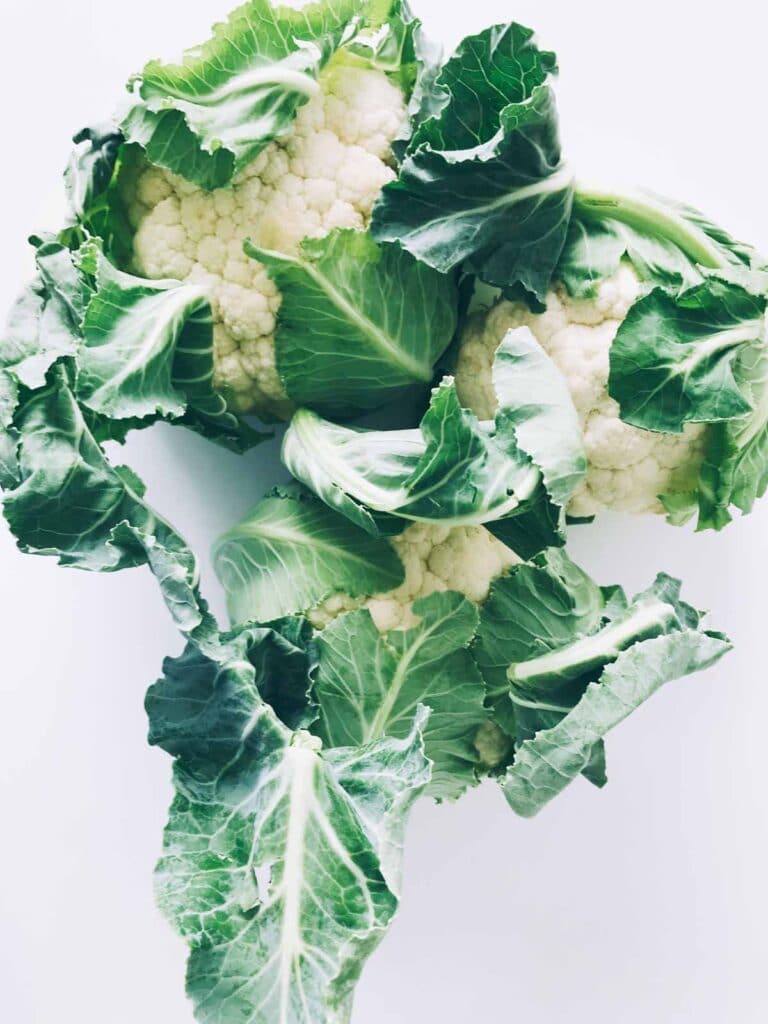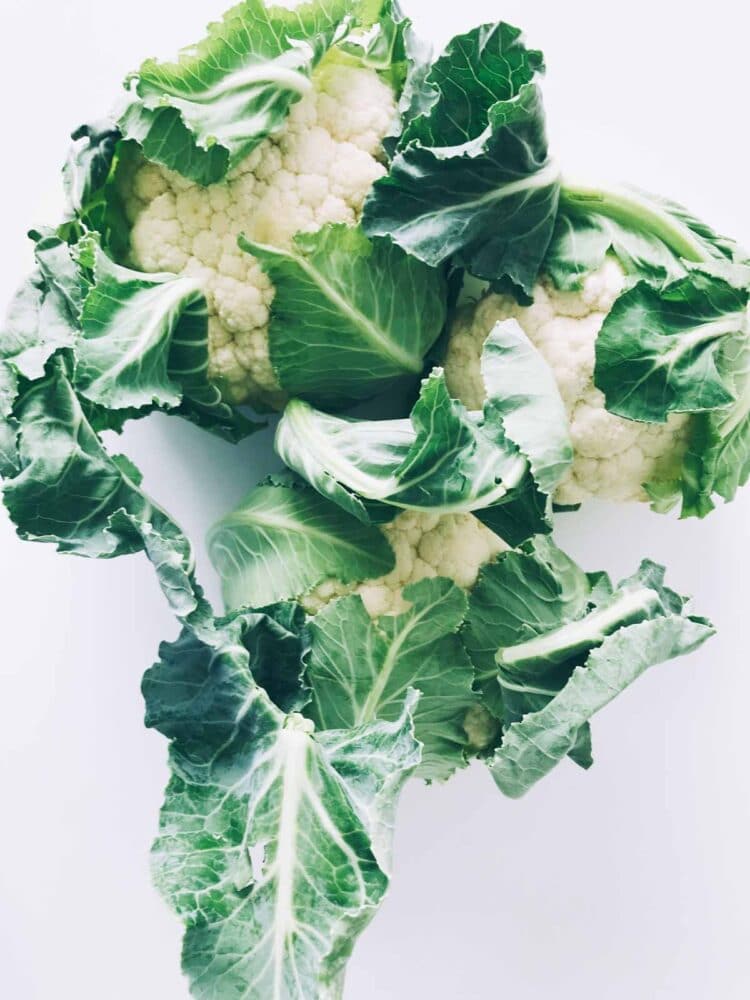 More Healthy Game Day Snacks
If you need more fabulous game time snack recipes, then check out this list below:
Plant-Based Food For Every Party
I love parties; whether it's just a few friends, or a whole big group. I also love food. So when I created Simple Green Meals, I did so with recipes that I knew would translate well from a small gathering to a large one. Good food is meant to be shared! I believe a party is a great way to share healthier recipes in a no-pressure way for others to try.
So next time you're headed to a get-together, grab a recipe like these cauliflower buffalo wings. Everyone wants the recipe once they've tried a piece or two!
Are you ready for your mind to be blown? Get ready because these "cauliflower chicken wings" are packin' the heat! Don't forget to rate + review once you've tried them!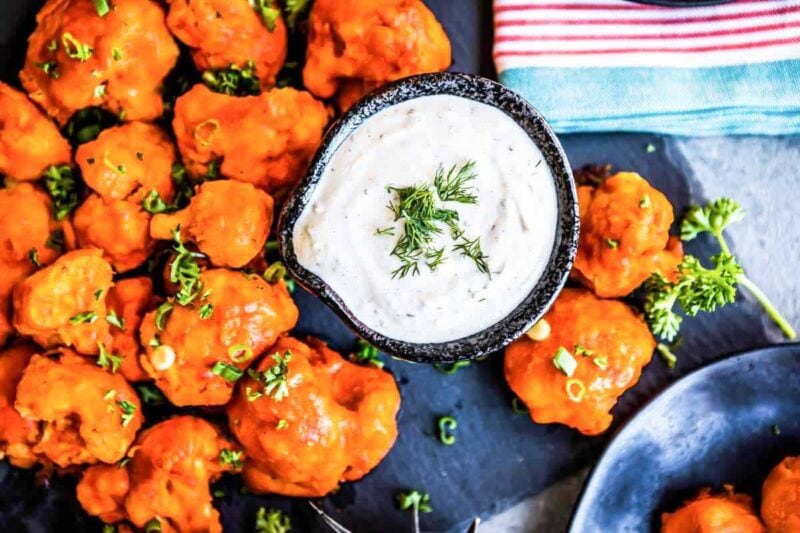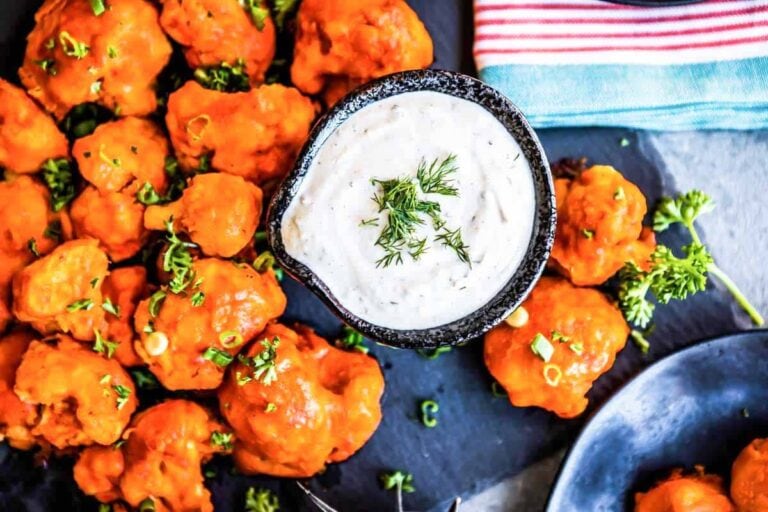 Cauliflower Buffalo Wings
I've never been a fan of chicken wings—yet I love the spicy-hot flavor! I was so excited when I got this plant-based recipe to work. Welcome to the world of Cauliflower Buffalo Wings!
Ingredients
For the wings
½

cup

gluten-free all purpose flour

½

cup

water

1

tsp

garlic powder

½

tsp

sea salt

1

head

cauliflower

cut into bite-size florets

1

tsp

coconut oil

melted

⅔

cup

Frank's Red Hot Sauce
Cashew Ranch Dipping Sauce (Makes About 1/2 Cup)
½

cup

raw cashews

4

tsps

lemon

juice, divided

½

tsp

dill weed

¼

tsp

garlic powder

Pinch

smoked paprika

sea salt

black pepper
Instructions
Preheat: Oven to 450°F. Line a rimmed baking sheet with parchment paper.

Mix together: In a large mixing bowl, combine the flour, water, garlic powder, and salt. Whisk until smooth and well combined.

Dip: Cauliflower pieces in the batter, making sure each piece is well coated, and arrange on the prepared baking sheet.

Bake: For 15 minutes, turning the pieces over halfway through the baking time.

Meanwhile, in another large bowl, stir together the oil and hot sauce.

When the cauliflower is done, transfer the pieces to the bowl with the sauce and toss well.

Place coated cauliflower back on the baking sheet and bake for 25 minutes, or until crispy.

Let cool slightly. Serve the cauliflower with the dipping sauce.
CASHEW RANCH DIPPING SAUCE
Place the cashews in a medium bowl. Pour 2 teaspoons of the lemon juice over the top. Add enough water to cover by a few inches. Let soak 2 hours, then drain and rinse well.

In a food processor: Combine the cashews, 1/4 cup water, dillweed, garlic powder, paprika, the remaining 2 teaspoons lemon juice, and salt and pepper to taste. Process until smooth and creamy. Scrape down the sides as needed. Store in the refrigerator until ready to use.
Notes
Gluten Free. Vegan. Dairy Free.

To make the cashew cream even smoother, double the recipe and use a blender on high. Add more water as needed to encourage blending. 
Swap in your fav hot sauce, and let me know what you try!
These are best served immediately, yet if you have to transport them first then make sure they are in in an insulated container to keep hot.
Nutrition
Calories:
157
kcal
,
Carbohydrates:
18
g
,
Protein:
5
g
,
Fat:
9
g
,
Saturated Fat:
2
g
,
Polyunsaturated Fat:
1
g
,
Monounsaturated Fat:
4
g
,
Sodium:
1523
mg
,
Potassium:
220
mg
,
Fiber:
3
g
,
Sugar:
2
g
,
Vitamin A:
1351
IU
,
Vitamin C:
4
mg
,
Calcium:
32
mg
,
Iron:
2
mg