If you're needing a warm and cozy drink on a cold day, try this homemade chai tea latte recipe. It's packed with flavor, and doesn't have any refined sugars or dairy products (we use creamy oat milk).
Get ready to be amazing by this delicious creation we've worked hard to perfect this autumn.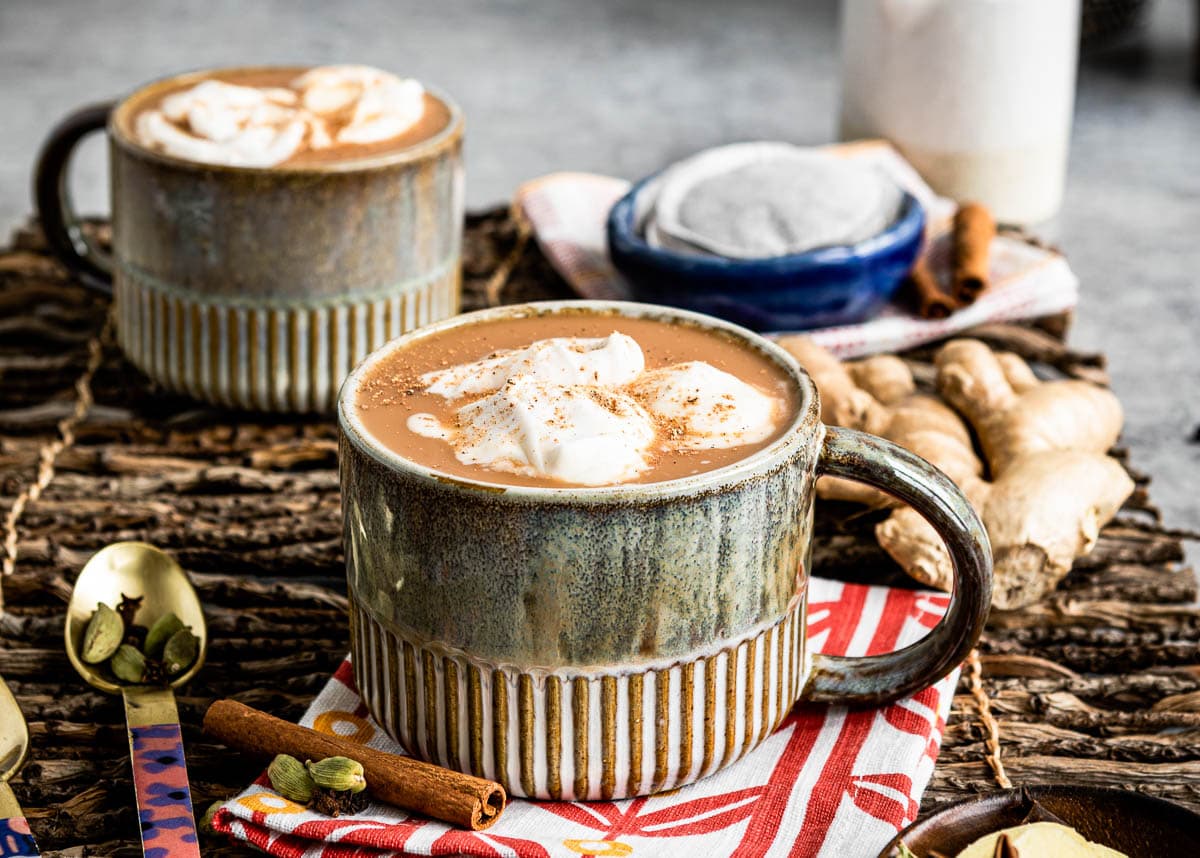 I love playing around with spices and when I first tried a Chai Tea, I was totally hooked. Masala Chai is Hindi for spiced tea and is thousands of years old. In India, it is traditionally made with fresh ginger and other freshly ground spices. My version uses black tea which was introduced to the recipe in the 1800s, and oat milk to make it dairy-free.
Be careful, this colorful recipe might just become your new autumn favorite; it fills the house with an incredibly delicious scent and tastes divinely comforting.
Table of Contents
Chai Tea Latte Ingredients
This recipe is made in two parts: a spiced water mixture paired with a creamy black tea and oat milk mixture. Here's what I like to add to mine:
Fresh Ginger Root: Located in the fresh produce section of most grocery stores. A little goes a long way for this spicy root!
Green Cardamom Pods: This unique spice has a bright, citrus flavor that is both sweet and spicy.
Whole Cloves: With a very apparent hot and floral scent, cloves deliver a spiced punch.
Freshly Ground Nutmeg: Nutmeg has a very fragrant, nutty flavor.
Cinnamon Stick: Slightly bitter and strongly scented with notes of floral.
Whole Black Peppercorns: This contributes to the spice and overall flavor of the chai.
Star Anise: This spice has a sweet, licorice flavor.
Black Tea: Look for Assam or Darjeeling for best results.
Oat Milk: Unsweetened, dairy-free milk is a perfect swap with dairy milk in this recipe.
Maple Syrup: Add just a touch of sweetness with nutty maple syrup.
Vanilla Extract: I love the woody flavor of an amber vanilla extract.
Pro Tip: You should be able to find most of these whole spices in the spice section of the grocery store, a bulk food store or an Asian grocery store.
Whole vs Ground Spices
While you can make this recipe with pre-ground spices, I challenge you to use whole spices for this chai tea latte. They provide a lot more flavor as well as the most potential for medicinal benefits. I was able to find all these spices in their whole form between Publix and Costco.
Chai Latte Recipe at Home
This warming beverage takes a few steps, yet it's so worth the final result! I make the spiced water mixture first so that the tea doesn't get too strong.
Spiced Water Instructions: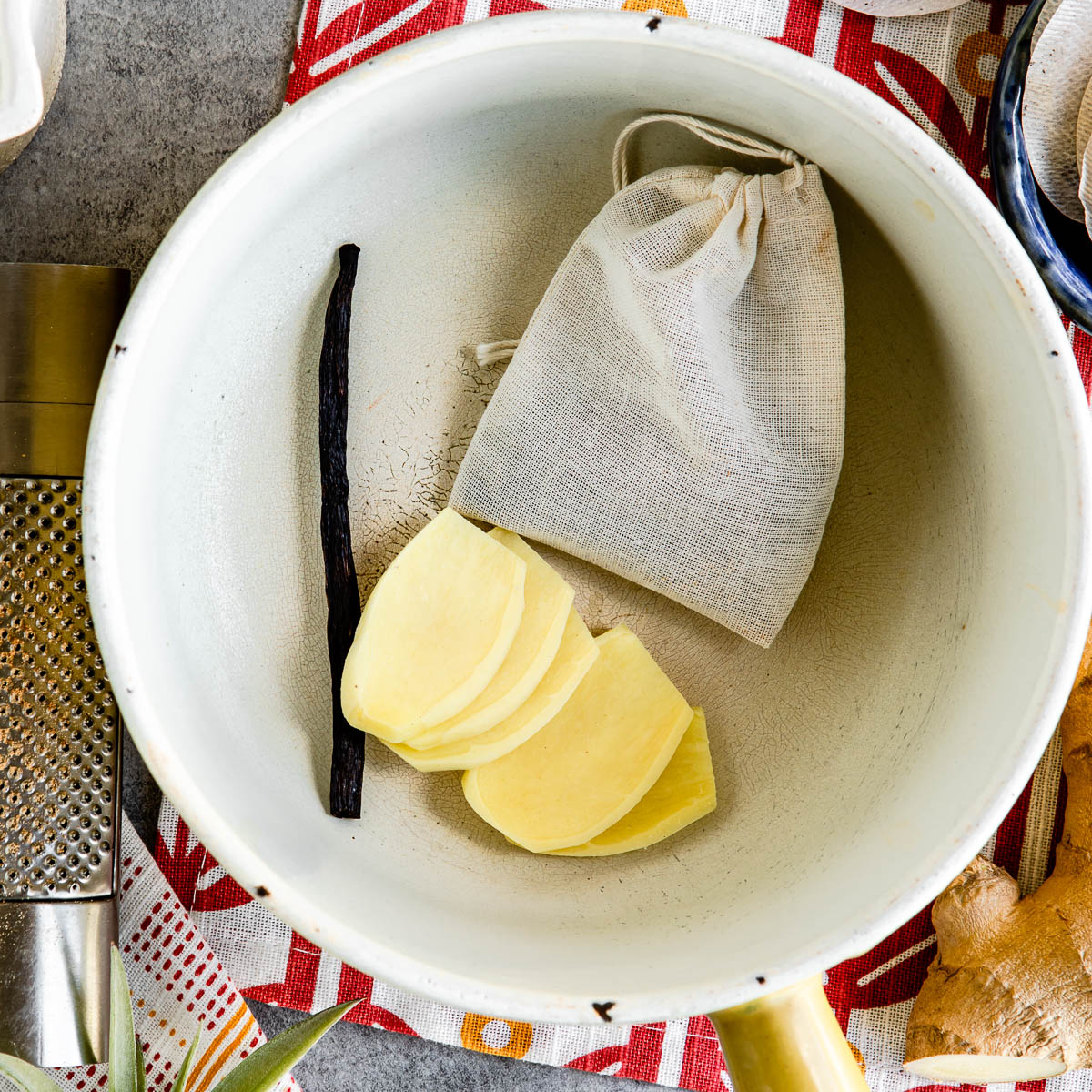 Step 1: The spiced water mixture can be made by combining the spices and filtered water in a saucepan and bring that to a boil.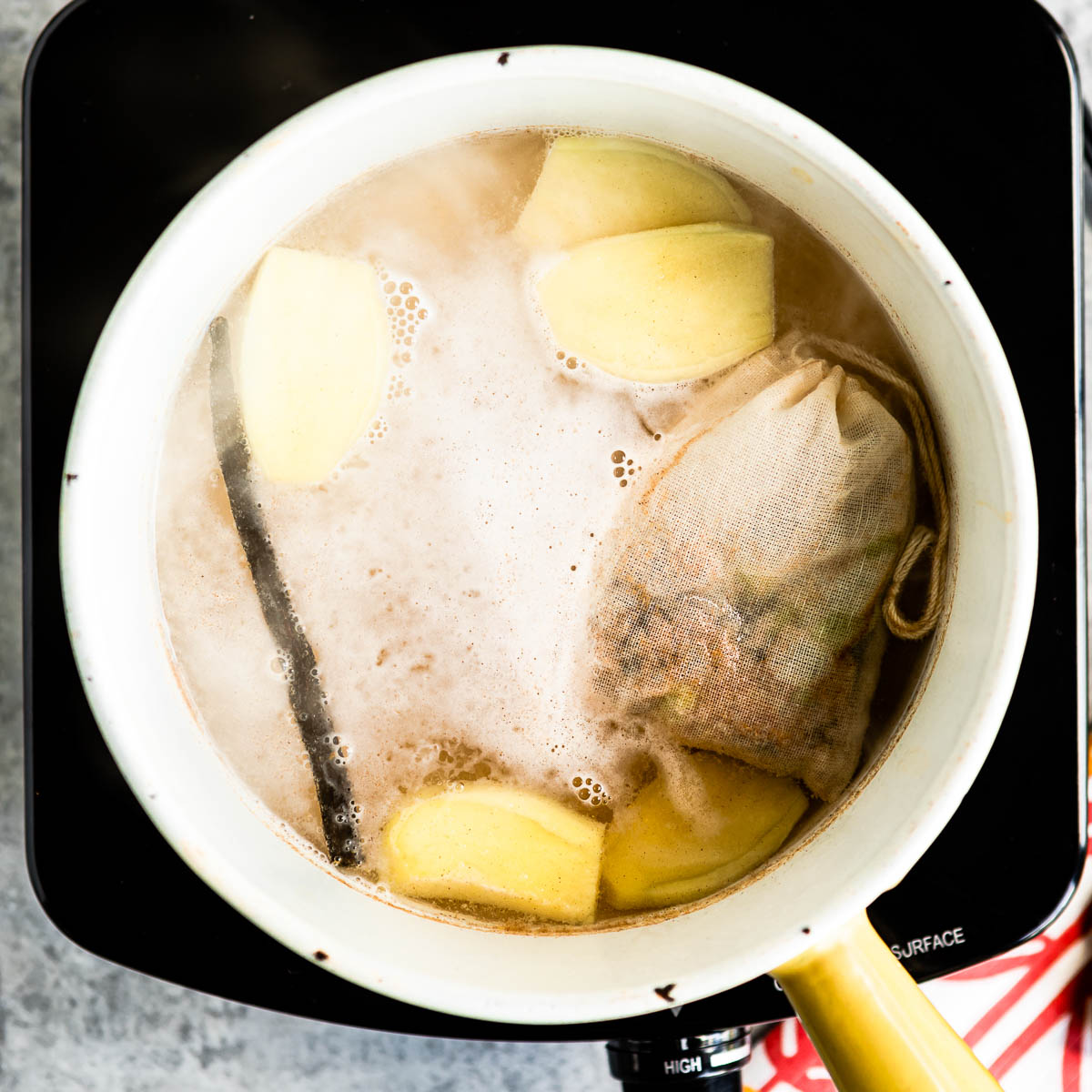 Step 2: Once boiling, simmer this mixture (and enjoy the aroma!) while the heat brings out the flavors.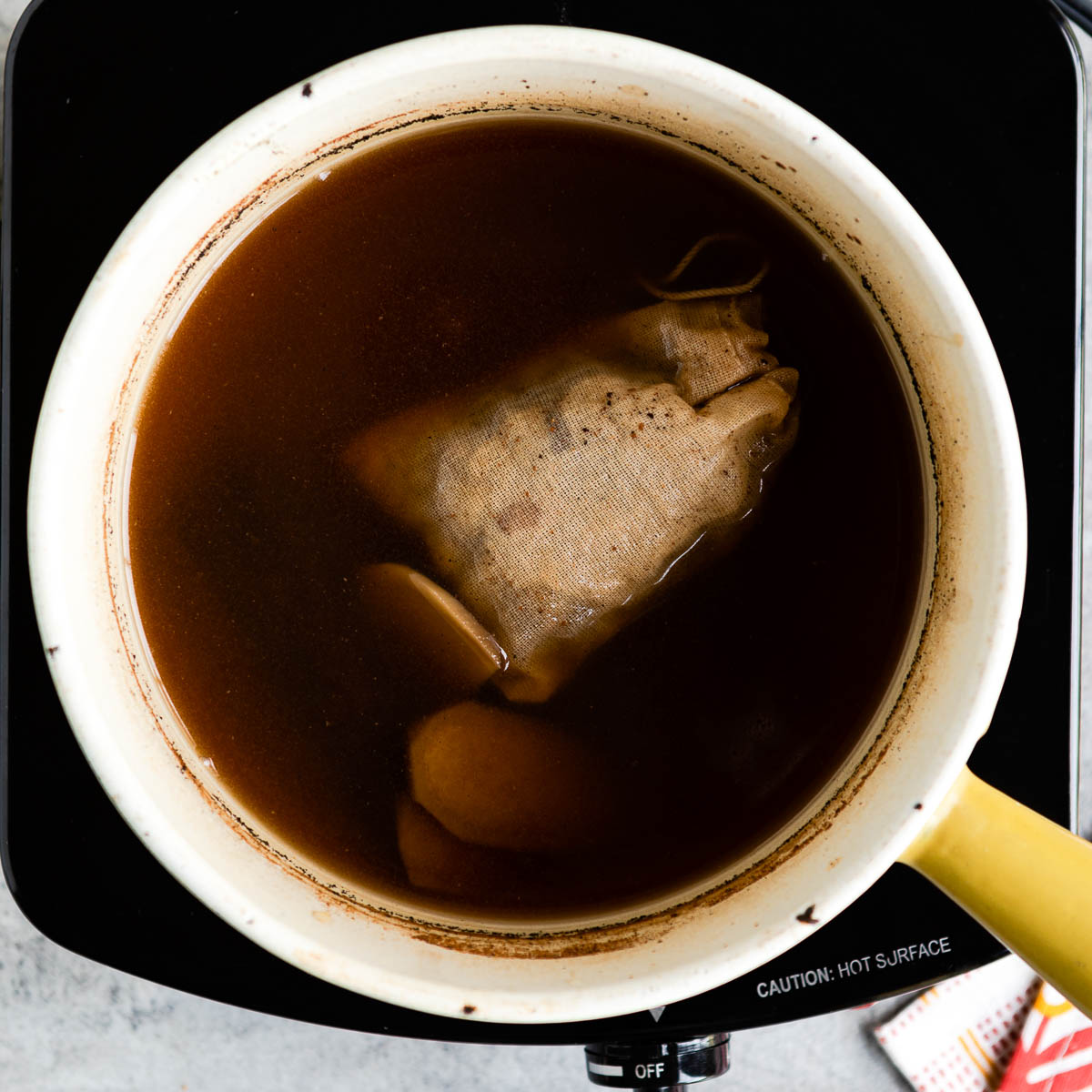 Step 3: I put my whole spices into a linen bag in case they start to break down while simmering. If you choose to add them without a bag then be sure to strain the whole spices out once it's done steeping so you don't over-spice the mixture.
Chai Tea Latte: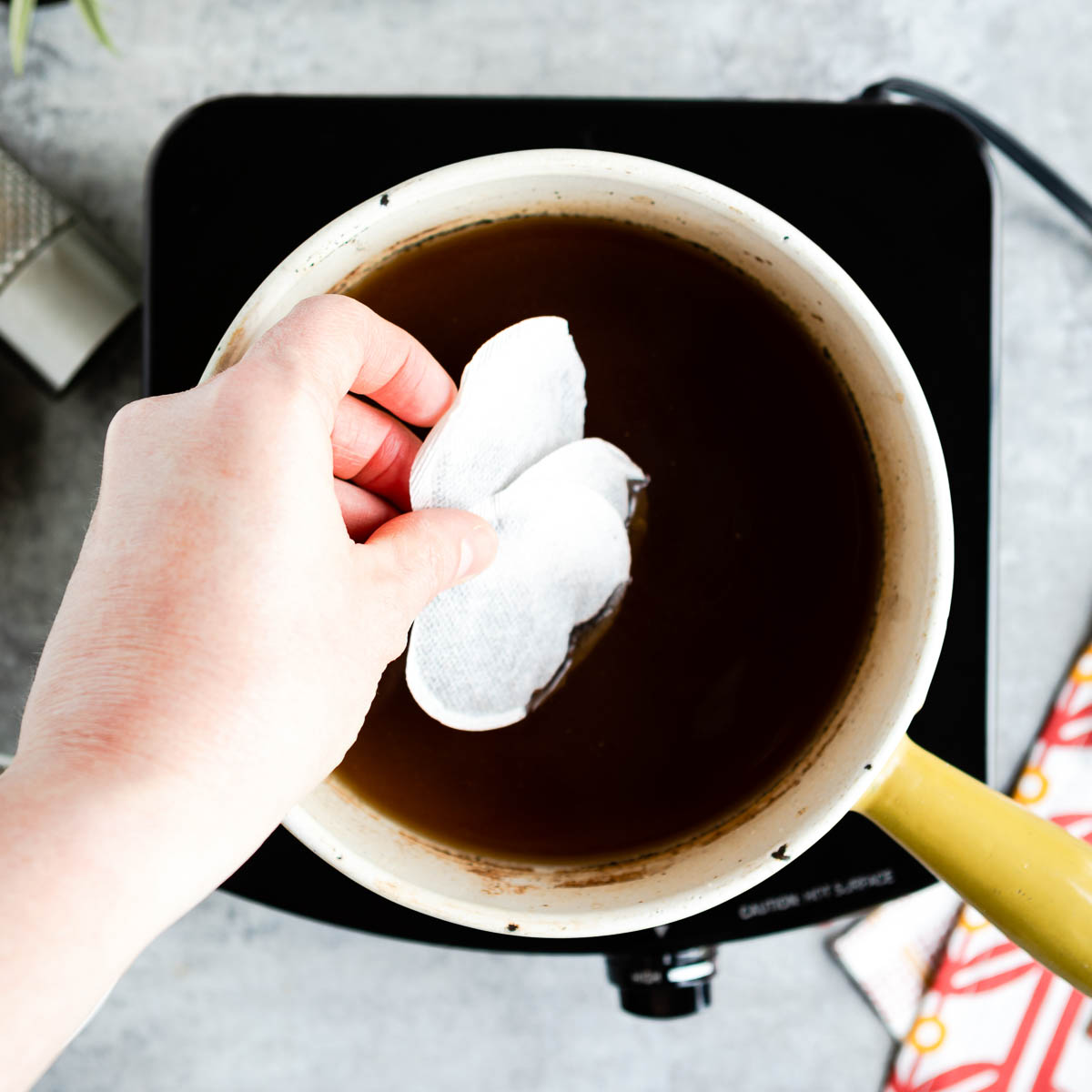 Step 1: Add your tea bags to the spiced water. I find that four bags steeped for 5 minutes gives me the strength and flavor I want, yet feel free to adjust based on your preferences.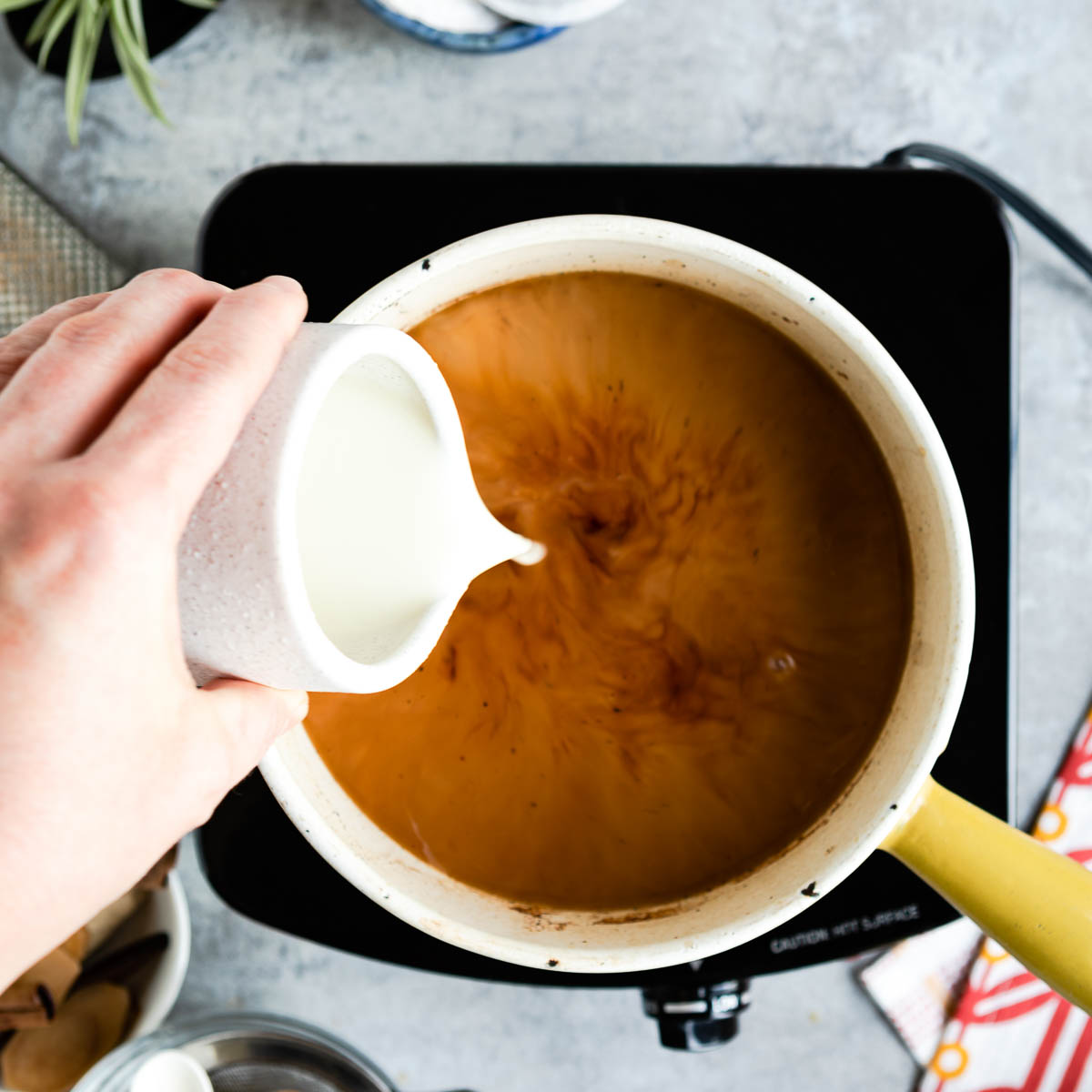 Step 2: After removing the tea bags, stir in maple syrup and vanilla extract along with oat milk. Once this creamy mixture is well combined, divide it between mugs and serve immediately.
If you prefer your chai tea latte iced, allow the mixture to cool then add ice cubes! You can store the spiced water mixture in the fridge overnight then make the tea portion the next day for even better flavor.
Perfect Tea for Chai
I find that Darjeeling or Assam (both black teas) work best for this mixture. You can definitely use a decaffeinated tea if you prefer, just try to find one that isn't flavored already. Loose leaf and bagged tea both work for this recipe, just make sure to strain the leaves before serving if you go that route.
FAQs for Chai Latte Recipe
What ingredients are in a chai tea latte?
My recipe uses fresh ginger, green cardamom pods, whole cloves, freshly ground nutmeg, a cinnamon stick, black peppercorns, star anise, black tea, oat milk, maple syrup and vanilla extract.
Is chai tea healthy?
It can be! Using fresh, whole spices allows you to soak in all the medicinal benefits of each spice. I use plant-based milk instead of dairy milk to avoid any uncomfortable side effects. Black tea is naturally caffeinated, so take note if you are sensitive to caffeine.
Do chai tea lattes have caffeine?
Yes, traditional chai tea uses black tea, which is naturally caffeinated. Feel free to use the decaf tea of your choice to avoid the majority of the caffeine in this recipe.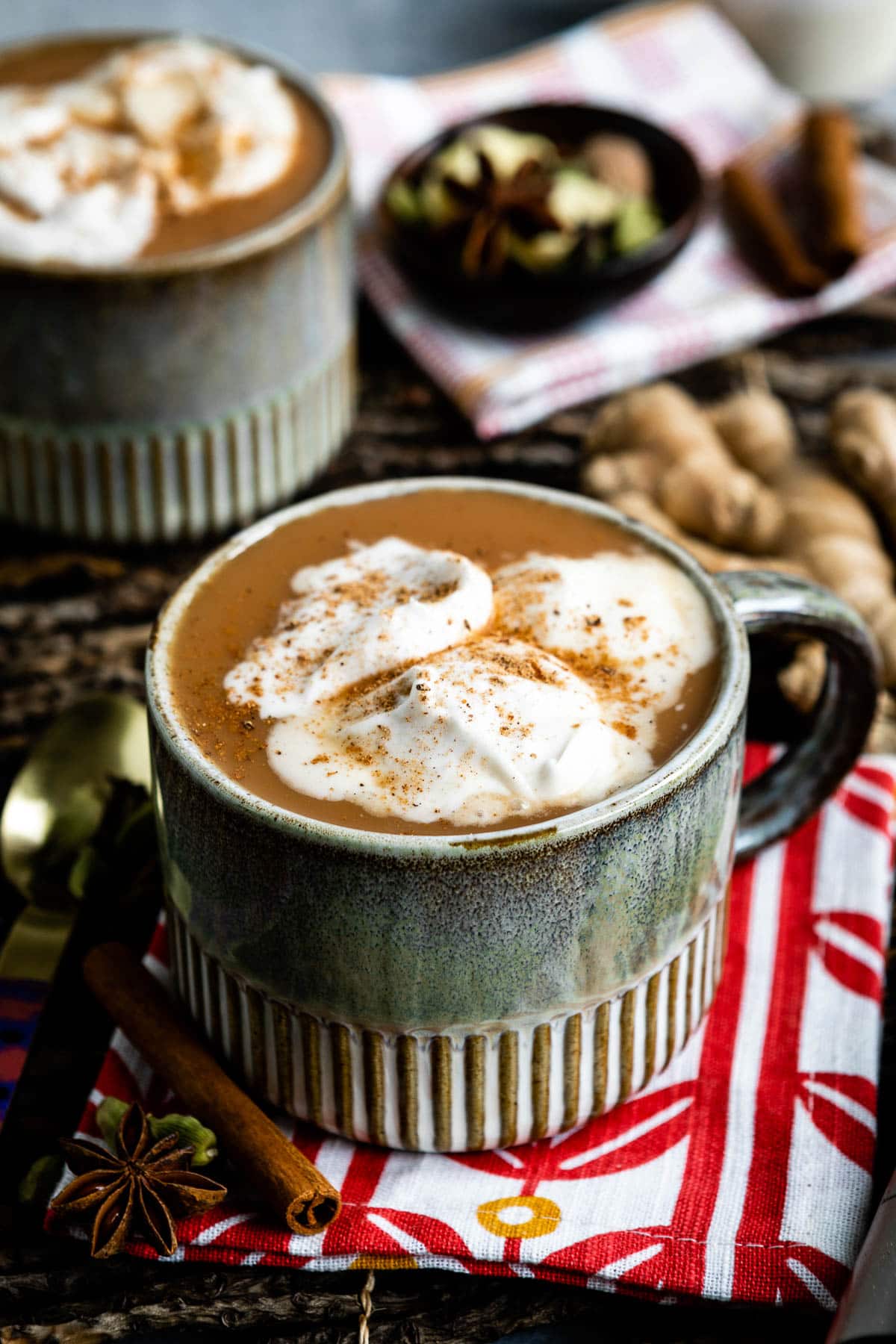 Caffeinated Beverages for Autumn
I love a great, warm coffee yet that's not the only thing I'm sippin' on this season. Here are my go-to Autumn beverages (hot and cold!):
Please rate this recipe once you make it; your feedback is so helpful!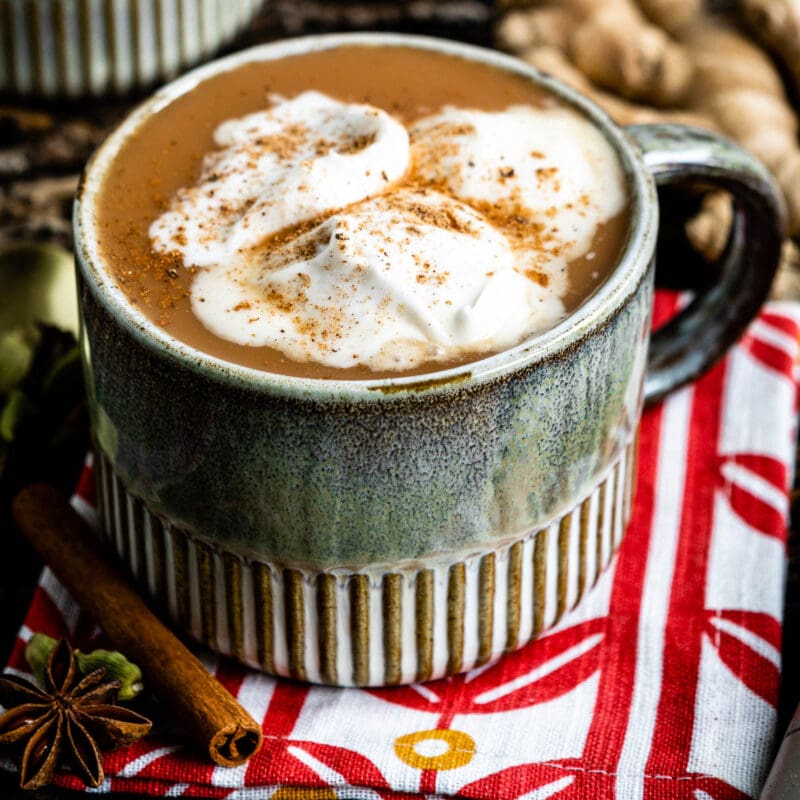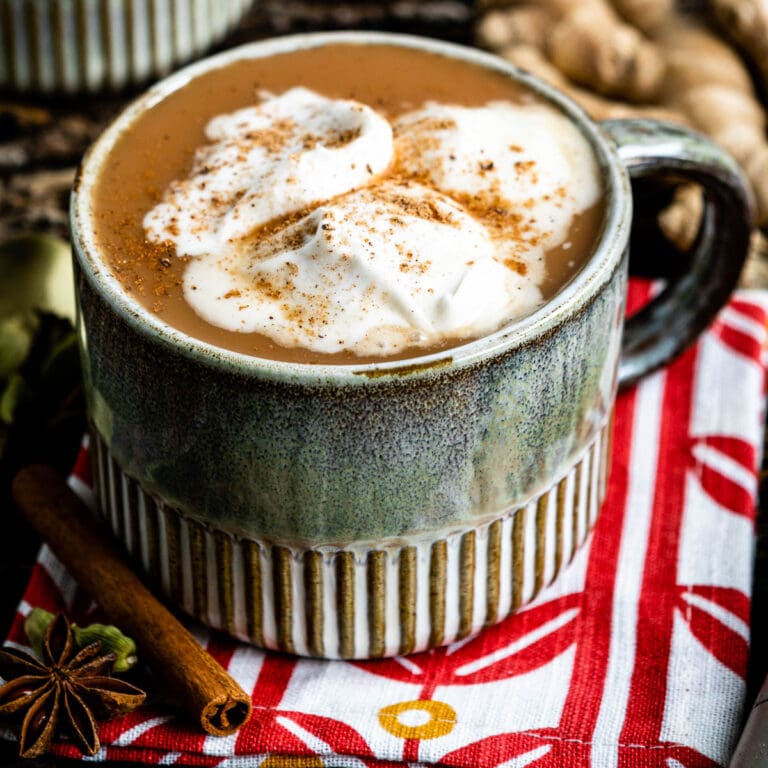 Chai Tea Latte
This warm and cozy spiced chai tea latte recipe is just what you need on a cold autumn day. It will fill your home with the aromas of fresh cardamom, ginger and cloves as well as warm you inside and out.
Ingredients
Spice-Infused Water
3

cups

water

filtered

1

inch

ginger root

thinly sliced

4

green cardamom pods

3

whole

cloves

1

whole

nutmeg

1

whole

cinnamon stick

½

tsp

black peppercorns

whole

2

whole

star anise
Instructions
Place water in saucepan. Add ginger, cardamom, cloves, nutmeg, cinnamon, black peppercorns and star anise. Feel free to put all spices in a linen tea bag to make next step easier. Bring to a boil and simmer on low for 10 minutes.

Remove spices from liquid. (Try straining it if you don't use a tea bag).

Add tea bags to saucepan and cover. Allow to steep for 5 minutes.

Move saucepan away from heat. Remove tea bags, making sure to gently press tea bags to extract any remaining liquid. Stir in maple syrup and vanilla. Add oat milk and whisk well. Pour into mugs and serve immediately.
Notes
We suggest using whole spices to get most flavor. Yet you can use ground spices as well.
Allowing the spice mixture to sit overnight before steeping with tea will also bring out a better, more flavorful chai.
Use any dairy-free milk of your choice.
Darjeeling and Assam are my go-to black teas for making chai.
Nutrition
Calories:
64
kcal
,
Carbohydrates:
11
g
,
Protein:
2
g
,
Fat:
2
g
,
Saturated Fat:
1
g
,
Polyunsaturated Fat:
0.3
g
,
Monounsaturated Fat:
0.3
g
,
Trans Fat:
0.003
g
,
Sodium:
14
mg
,
Potassium:
60
mg
,
Fiber:
2
g
,
Sugar:
3
g
,
Vitamin A:
6
IU
,
Vitamin C:
1
mg
,
Calcium:
34
mg
,
Iron:
1
mg