Mmmmm…tacos, am I right? At my house, tacos are never just for Tuesdays. I love a good taco, but even more, I love a good veggie taco. That's where my new recipe for Spicy Vegan Chickpea Tacos comes into play. Perfectly seasoned and lightly roasted, chickpeas are the taco filling you never knew you needed in your life. Until now.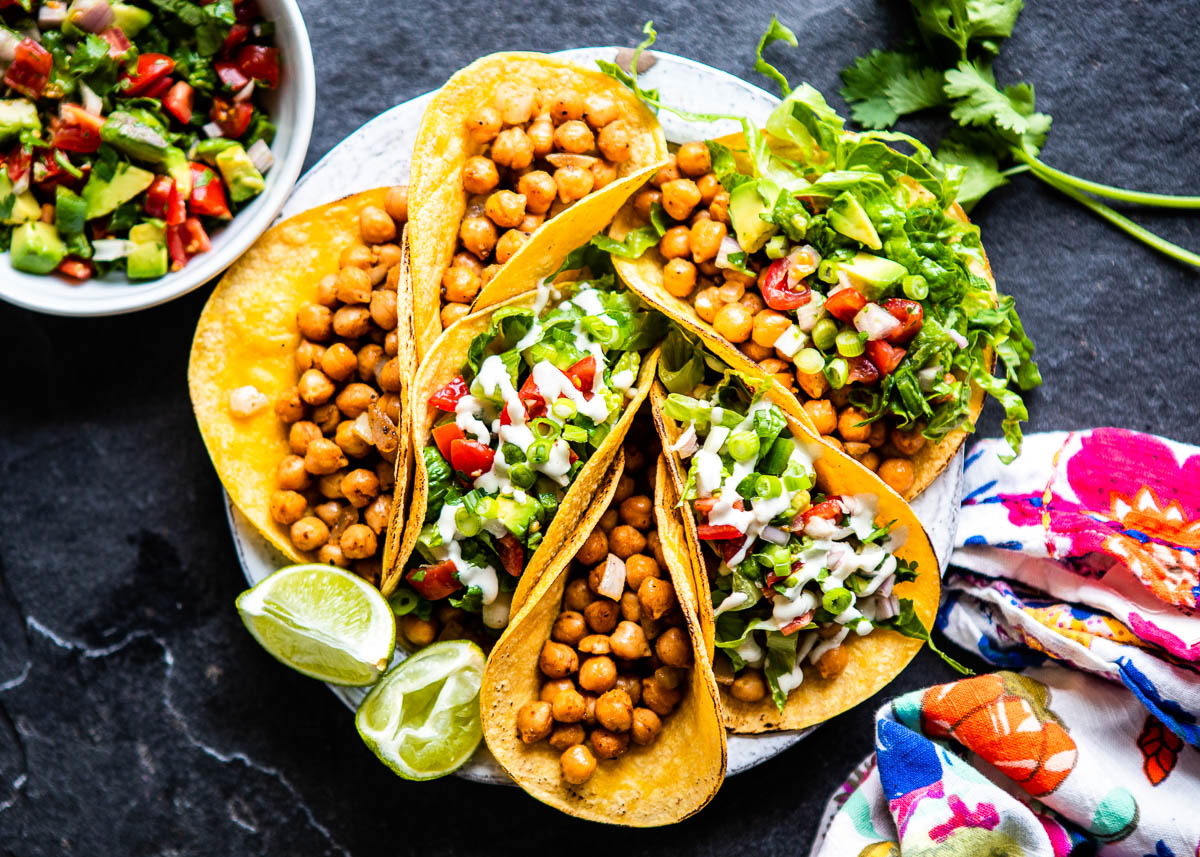 Chickpeas are a great source of plant-based protein with 6 grams per every 1/2 cup. They are a budget-friendly option too. You can get a can of chickpeas for under $1 at most grocery stores! They crisp up perfectly for this recipe and are a great vessel for flavor-packed seasoning.
Table of Contents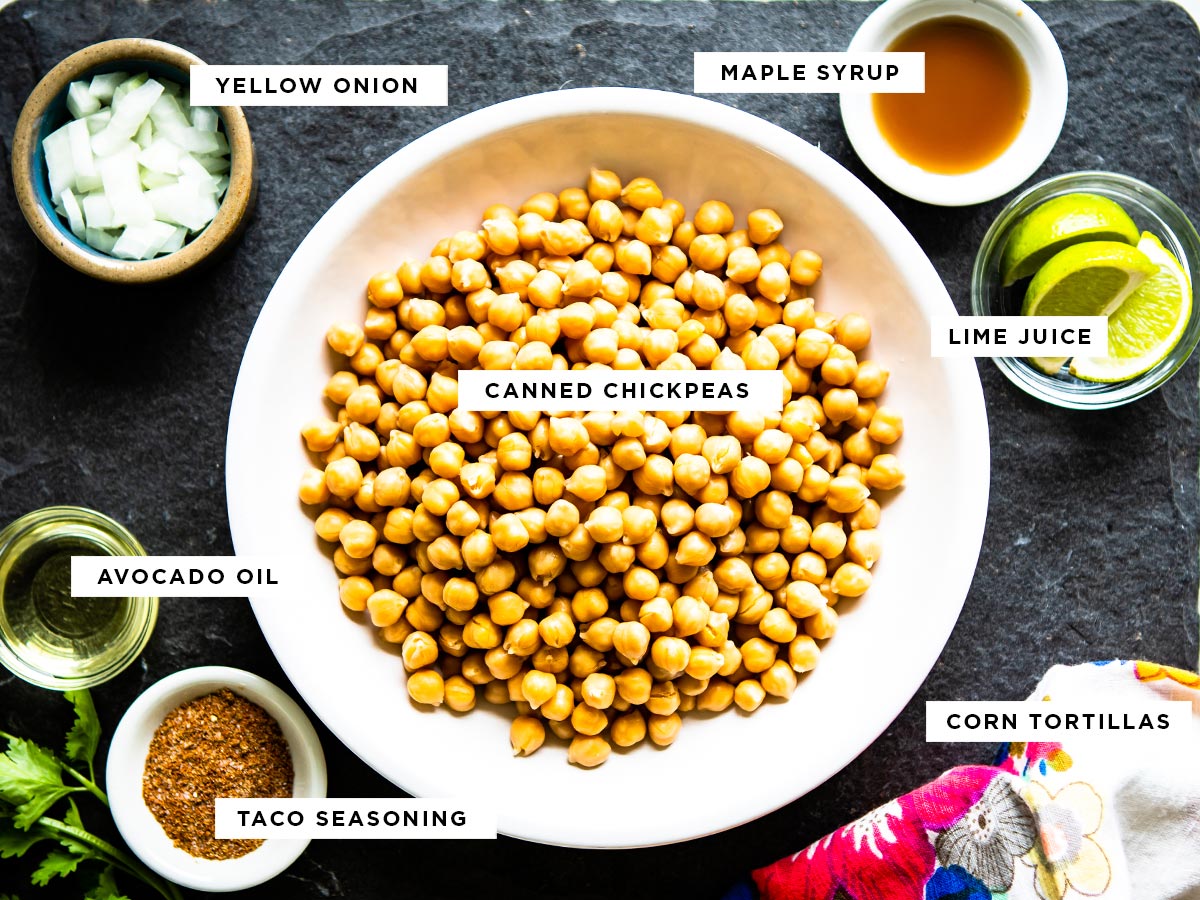 Ingredients for Chickpea Tacos
The filling part of these tacos is pretty simple so you can go crazy with toppings. Here's what I'm putting together for my vegan chickpea tacos:
Corn tortillas: Gluten bloats my belly and contributes to inflammation in my body, so I eat it sparingly. Corn tortillas are perfect for this recipe, just make sure you warm them up slightly so they don't crumble on you.
Canned chickpeas: Chickpeas are the main protein on this plate and I show you how to crisp them up to perfection.
Yellow onion: This is my go-to type of onion to cook with. It's fragrant without overpowering a dish and inexpensive to buy. Feel free to use the onion of your choice.
Avocado oil: Since we are roasting the chickpeas, a high-heat oil like avocado oil is a great choice.
Lime juice: A little citrus juice beautifully brightens up the chickpeas nicely.
Maple Syrup: I love mixing sweetness and heat and the small amount of maple syrup does just that!
Taco seasoning: Use the recipe below or grab the store-bought or homemade taco seasoning mix of your choice for the ultimate flavor.
Toppings
Now for the fun part: toppings. You can keep it totally fresh and simple with diced tomatoes, shredded lettuce, avocados and diced or pickled jalapeños or you can get creative with some plant-based toppings like vegan cheese sprinkle, cashew cream and avocado crema.
Keeping these tacos plant-based even in the toppings will still taste AH-mazing, it will also deliver more nutrients like protein and healthy fats in a way that doesn't sit heavy in your tummy but instead turns into usable energy.
Vegan Taco 'Meat' Options
I honestly don't miss the meat in vegan tacos that are loaded with other textures, proteins and all-out delicious ingredients. My favorite veggie taco fillings include chickpeas, cauliflower and sweet potatoes, roasted butternut squash and potatoes.
If I want a more 'meat-like' texture then I turn to this incredible walnut taco meat or some savory jackfruit BBQ. These are both great options for those still wanting the taste and feel of a traditional taco filling yet are adventurous enough to try it vegan.
Honestly, toss some taco seasoning on any veggies and you've got a great taco filling!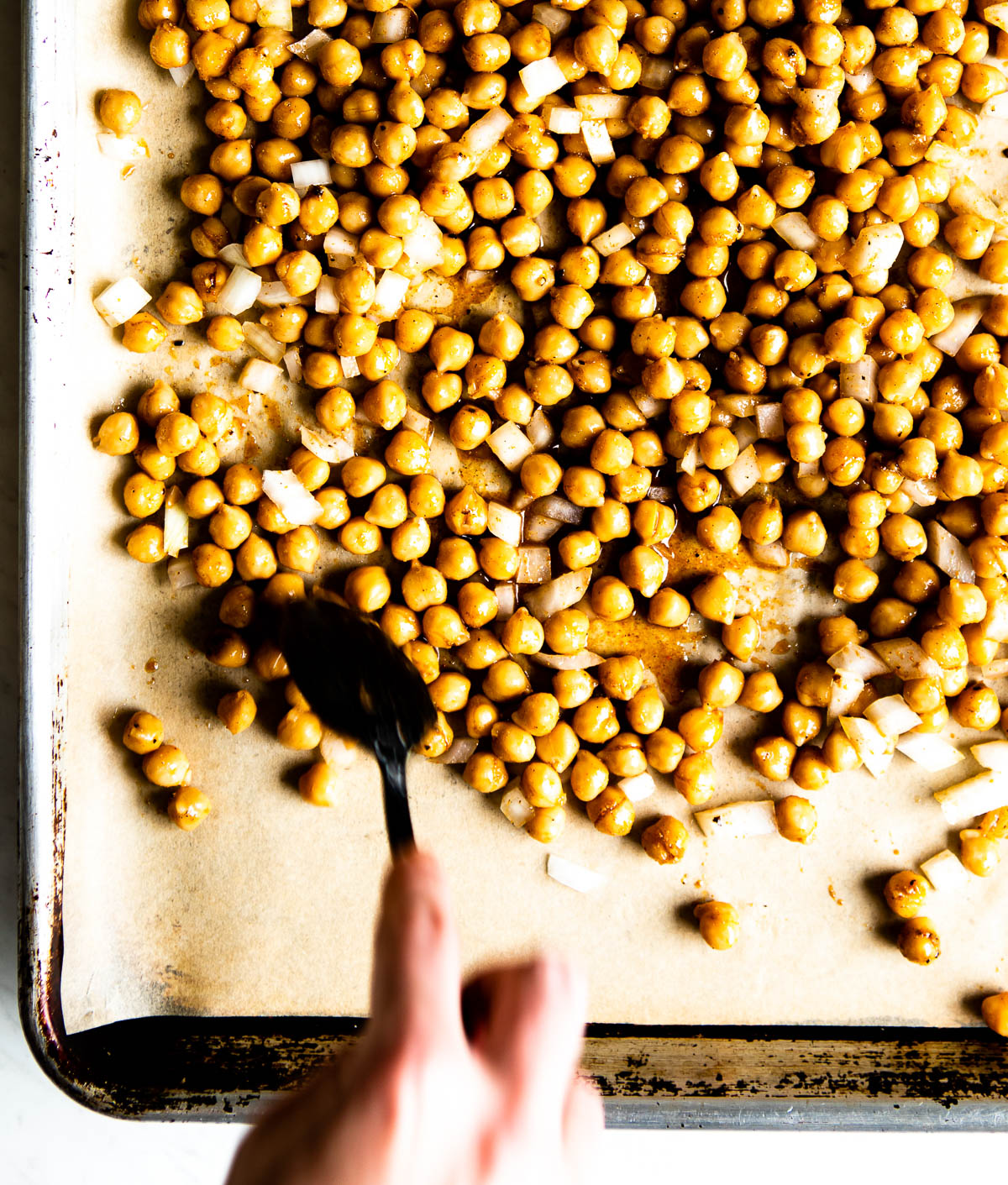 How to Make Vegan Chickpea Tacos
This recipe focuses on the crispy chickpeas and lets you guide the toppings you want.
Make sure those canned chickpeas are rinsed and drained well before putting them in a bowl. Combine with the diced onion, avocado oil, lime juice, maple syrup and seasoning mixture. Toss well to coat every last chickpea. We don't want any of them to feel left out! A good coating will also ensure they crisp to perfection in the oven.
Pour out the coated chickpeas onto a parchment-lined baking sheet and try to spread them out as evenly as possible before sticking them in the oven.
Roast the chickpeas until they are a lovely golden color and crunchy. They will feel super light and have a chip-like crunch when you test them. Drizzle with just a bit more oil and evenly coat again to help them not dry out too much.
While the chickpeas are roasting, warm up the corn tortillas in whichever way you prefer. My mom likes to stick them between paper towels and microwave them while I prefer a dot of oil in a cast iron skillet and almost 'searing' them on both sides.
Once your chickpeas are done you can toss them into the warmed shells and serve them with all the fresh toppings you want.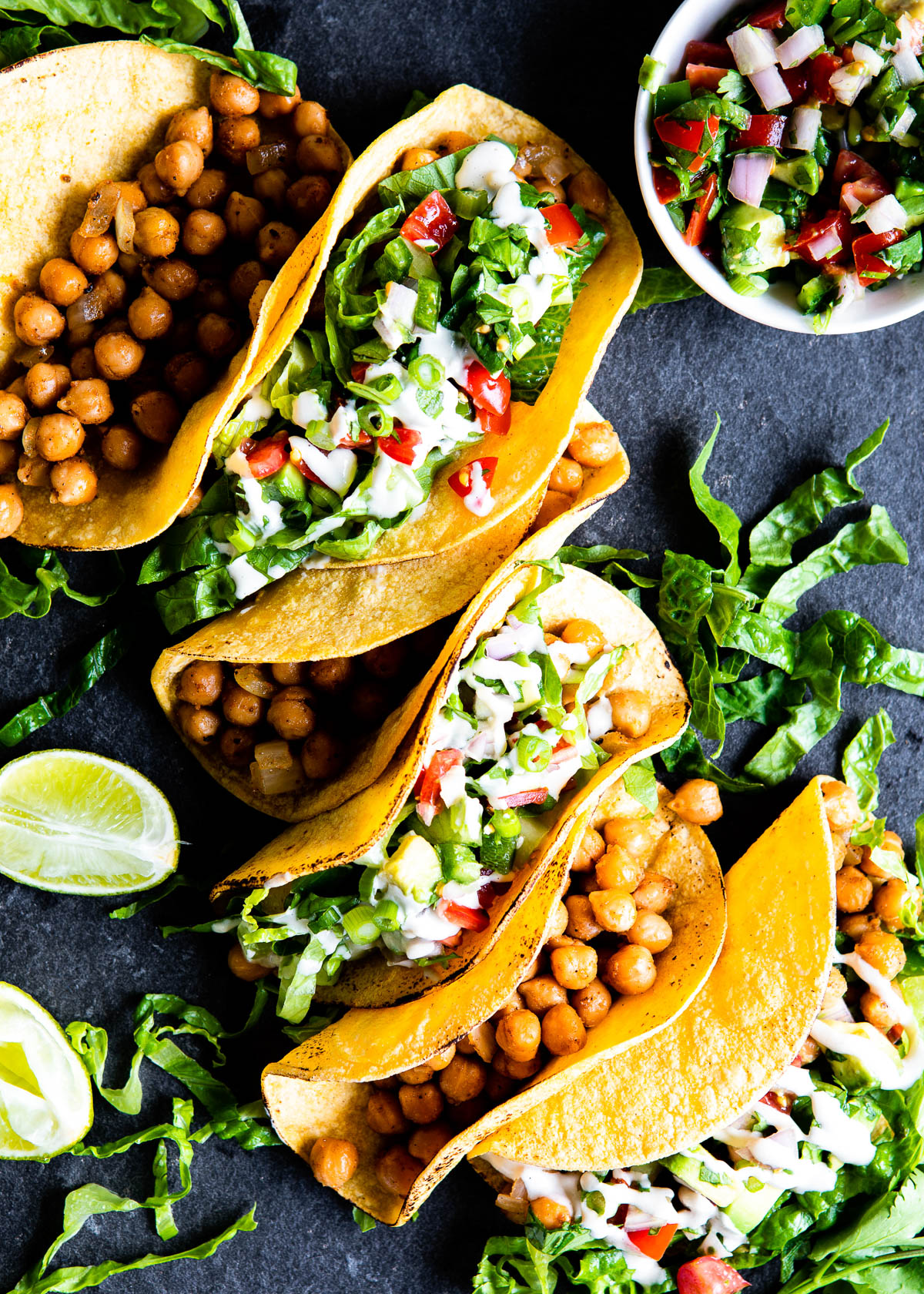 Chickpea Taco FAQs
What can I do with a can of chickpeas?
So many things! You can drain and rinse then use them right away to top your salad with some great plant protein, or roast them as I did in these chickpea tacos or go crazy and toss some into your next smoothie for an easy and creamy protein boost!
How many calories are in chickpea tacos?
Three tacos is a serving for me, and there are about 494 calories in 1 serving, as well as 24 grams of protein per serving. These are great, filling meals.
How do you swap chickpeas into a meat taco recipe?
You can use my roasted chickpeas recipe and toss them into any taco you want! Just roast the chickpeas instead of browning meat or roasting chicken and you've got a taste, protein-powered vegan option.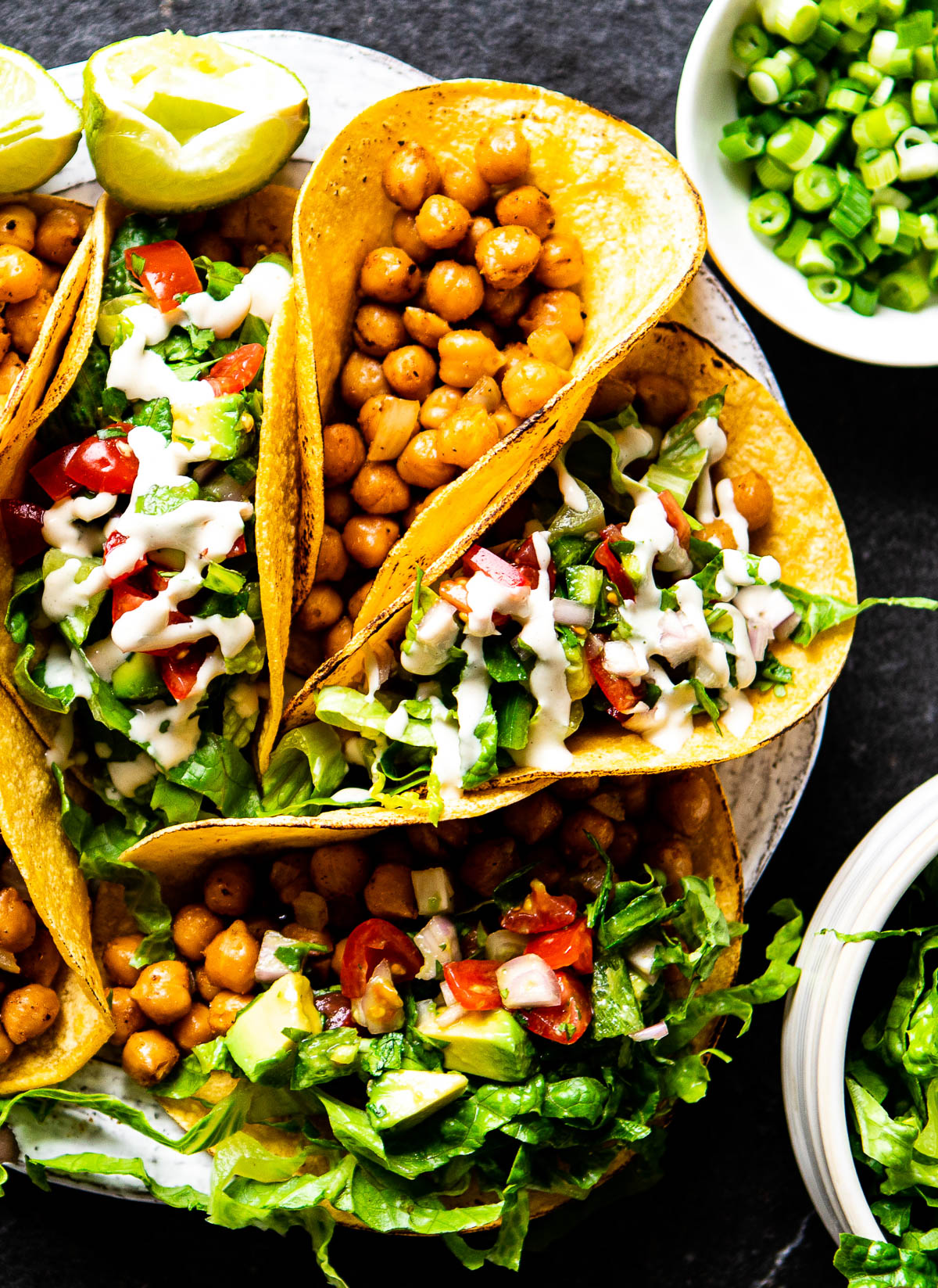 More Plant-Based Taco Recipes:
Tacos are my jam! So I've got several recipes to share that are oh-so-tasty as well as meatless. Feel free to add meat if you want, yet they are all pretty scrumptious without it.
Don't forget to leave a rating and review after you try this recipe. These reviews help me and other members of our community out so much!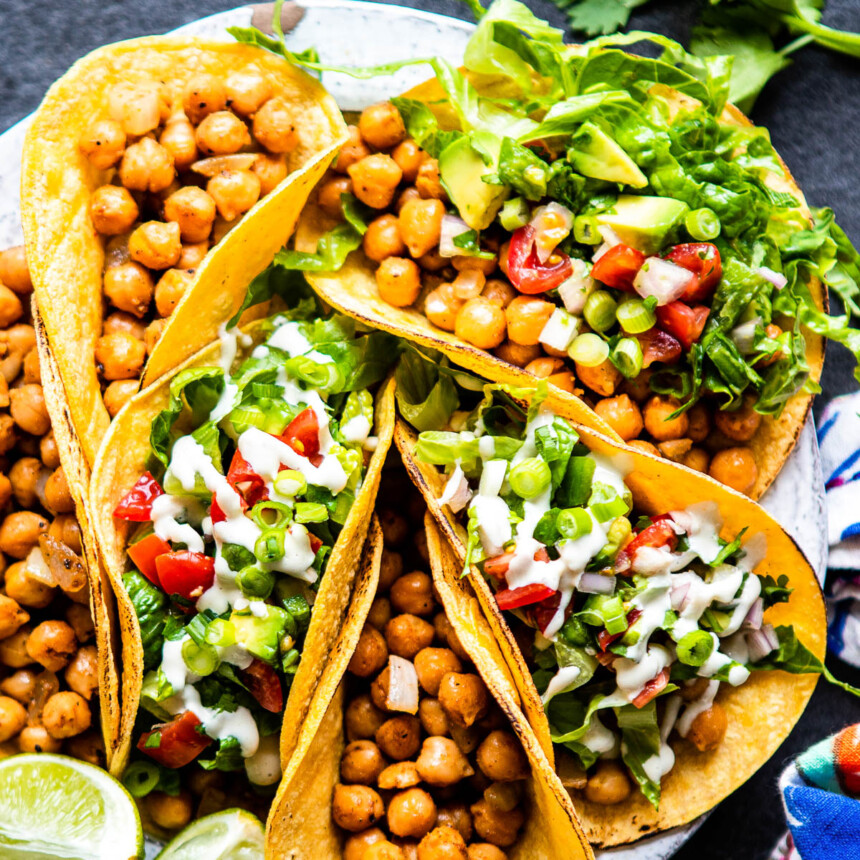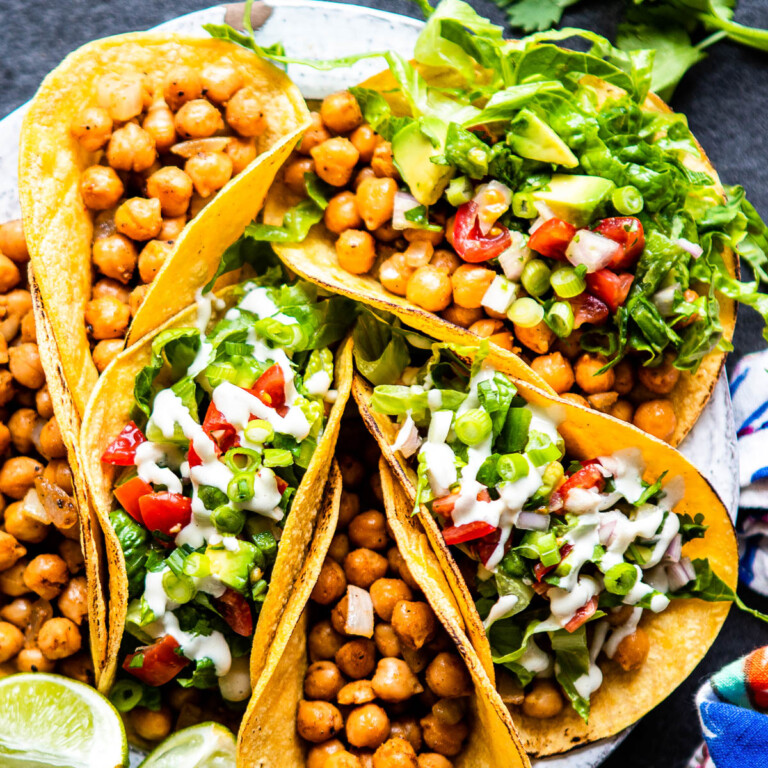 Spicy Chickpea Tacos
Slightly crisp roasted beans are a fantastic plant-based filling in these chickpea tacos. Load them up with your favorite toppings and enjoy!
Ingredients
12

corn tortillas

warmed

30

oz

chickpeas

two 15-oz cans, drained and rinsed

½

yellow onion

diced

2

tbsp

avocado oil

2

tsp

lime

juice

1

tsp

maple syrup
Homemade Taco Seasoning (can also use store-bought)
½

tsp

cumin

ground

¼

tsp

sea salt

¼

tsp

smoked paprika

¼

tsp

garlic powder

¼

tsp

onion powder

⅛

tsp

cayenne pepper

ground

⅛

tsp

black pepper
Suggested Toppings
pico de gallo

shredded lettuce
Instructions
Preheat oven to 400°F. Line a baking sheet with parchment paper.

In a bowl, combine drained chickpeas, diced onion, 1 tablespoon oil, lime juice maple syrup, and spices. Toss until well-coated. Spread in an even layer on the prepared baking sheet.

Roast for 15-20 minutes, or until golden and slightly crisp. Drizzle with remaining 1 tablespoon oil and shake the baking sheet so the chickpeas roll around and are lightly coated with the oil. 

Transfer to a bowl and keep warm. Serve immediately in tortillas with desired toppings.
Notes
Use homemade or store bought taco seasoning, your preference! 
This recipe is a bit spicy, so omit the cayenne from the seasoning mix to tone it down a bit.
Swap maple syrup with the sweetener of your choice (you only need a little).
Nutrition
Calories:
594
kcal
,
Carbohydrates:
96
g
,
Protein:
24
g
,
Fat:
15
g
,
Saturated Fat:
2
g
,
Polyunsaturated Fat:
5
g
,
Monounsaturated Fat:
7
g
,
Sodium:
197
mg
,
Potassium:
802
mg
,
Fiber:
21
g
,
Sugar:
13
g
,
Vitamin A:
151
IU
,
Vitamin C:
4
mg
,
Calcium:
176
mg
,
Iron:
7
mg