Mmmmm...tacos, am I right? At my house, tacos are never just for Tuesdays. I love a good taco, but even more, I love a good veggie taco. That's where my new recipe for Spicy Chickpea Tacos comes into play. Perfectly seasoned and lightly roasted, chickpeas are the taco filling you never knew you needed in your life. Until now.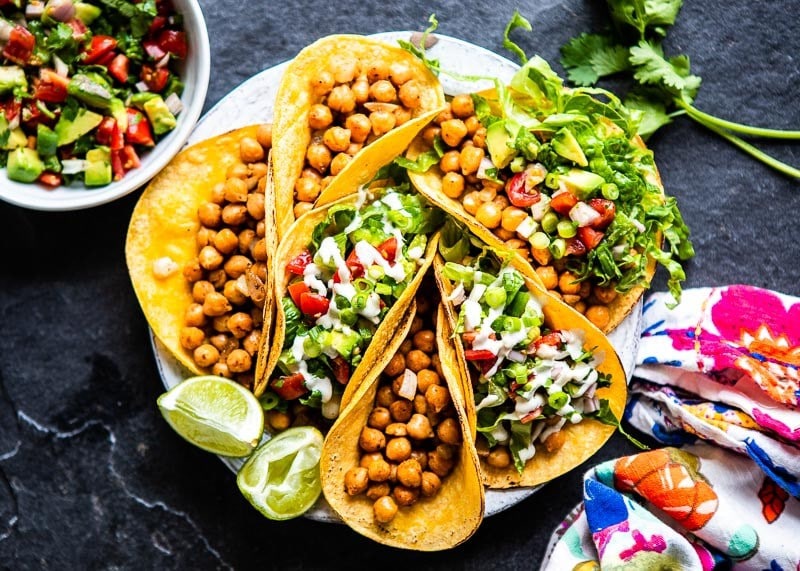 What are Chickpea Tacos?
Chickpea tacos are so, so yummy! These protein packed beans are also known as garbanzo beans. Yep- they're the same legume in hummus.
If you've never thought of making plant-based tacos with chickpeas, then here are a few reasons it's time to give them a try:
Chickpeas are a good source of dietary fiber, protein, and iron.
They're a bit messy to eat, yet you can season them in so many different ways.
Beans and other legumes are great plant-based meat replacements if you're trying to avoid, or even just eat less, meat.
Budget-friendly to the max. If you buy a few cans it will set you back about $0.99/a can. But you can buy dry chickpeas and cook up enough to feed a small army for the same price. You could feed that small army chickpea tacos. Just sayin'.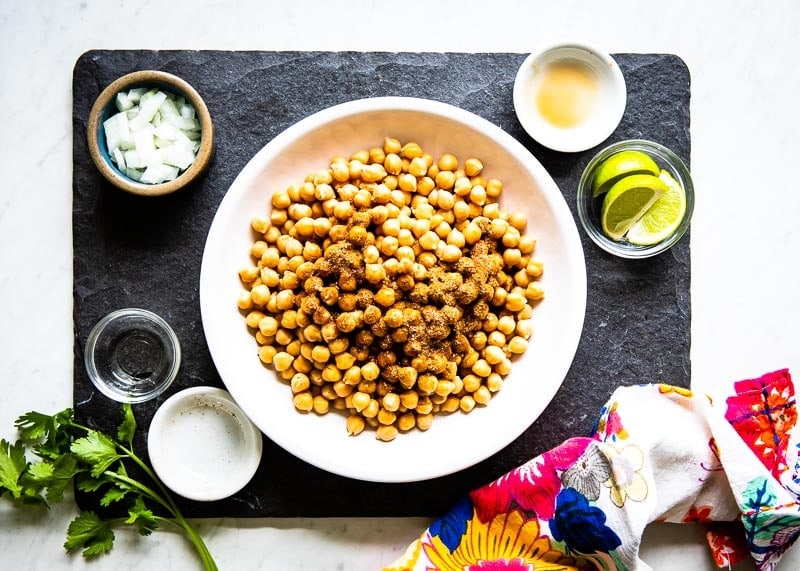 Are chickpeas good for weight loss?
Chickpeas are loaded with dietary fiber and protein. Both are important parts of a healthy diet. A diet rich in fiber and protein will also help keep you feeling fuller longer and prevent spikes in blood sugar.
However, they can be a bit higher in calories, so there are trade-offs. As with anything, it's important to discuss weight loss and diet with the appropriate professional such as a dietician or nutritionist.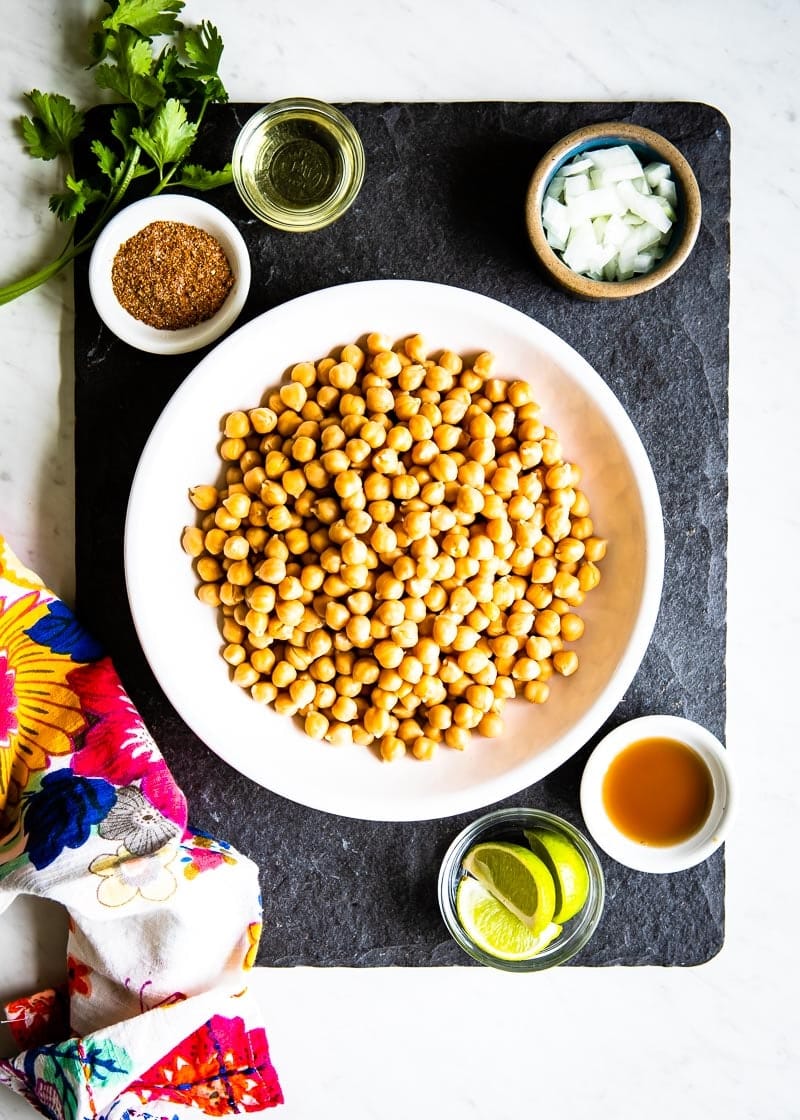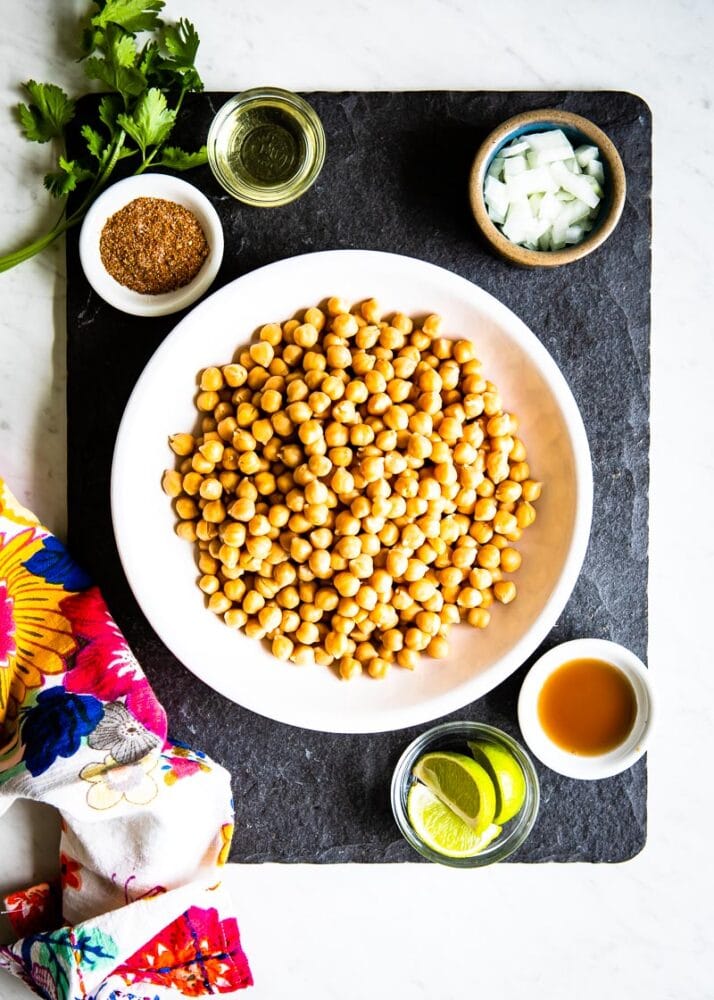 What can I make with chickpeas?
Plant-based tacos are just one of a million dishes you can make with chickpeas! In my book, Simple Green Meals, I even included a recipe for dessert bars made with chickpeas as the base. It sounds strange at first. Once you try them— you'll be sold!

Chickpeas work in salads, soups, pureed into dips and sauces, dessert hummus (yeah...it's a thing), falafel, pizza, flatbread (socca), etc. Flour made from dried, finely ground chickpeas is a staple item for vegans as an egg replacement.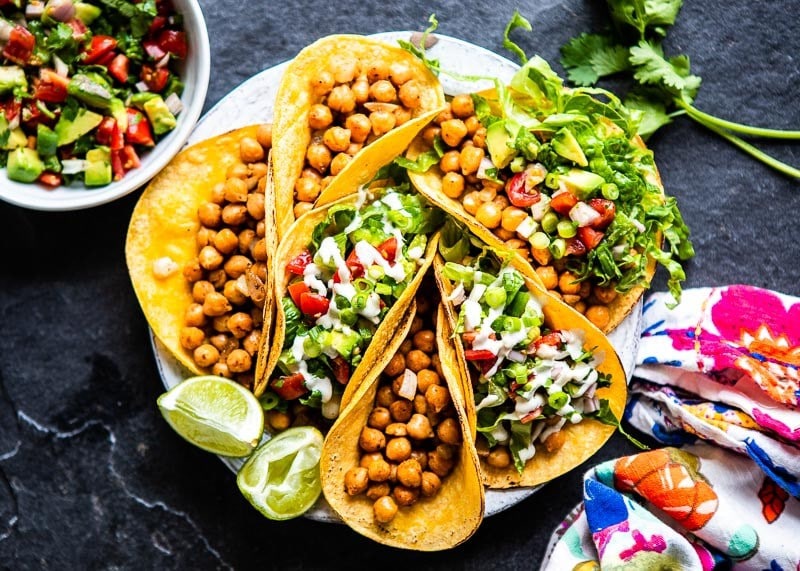 Can you eat chickpeas raw?
Uncooked chickpeas might give you a belly ache. While you could certainly sprout chickpeas or eat fresh, green chickpeas, the dried ones need to be cooked. Canned chickpeas have been cooked. You can rinse them and enjoy right out of the can. No need to reheat. That's what I recommend using in this plant-based taco recipe, so that you can enjoy it asap.
How long do chickpeas take to cook?
In the slow cooker, chickpeas can take upwards of 6-10 hours. It depends if you set the temp to high or low. Yet each slow cooker is different, so it may take a few tries to get the timing right.
If you're using an instant pot type appliance or a pressure cooker, then be sure to follow manufacturer directions. Cooking time could take less than an hour. This is a good option if you're crunched for time, don't like canned beans, or you already own one of these magical appliances.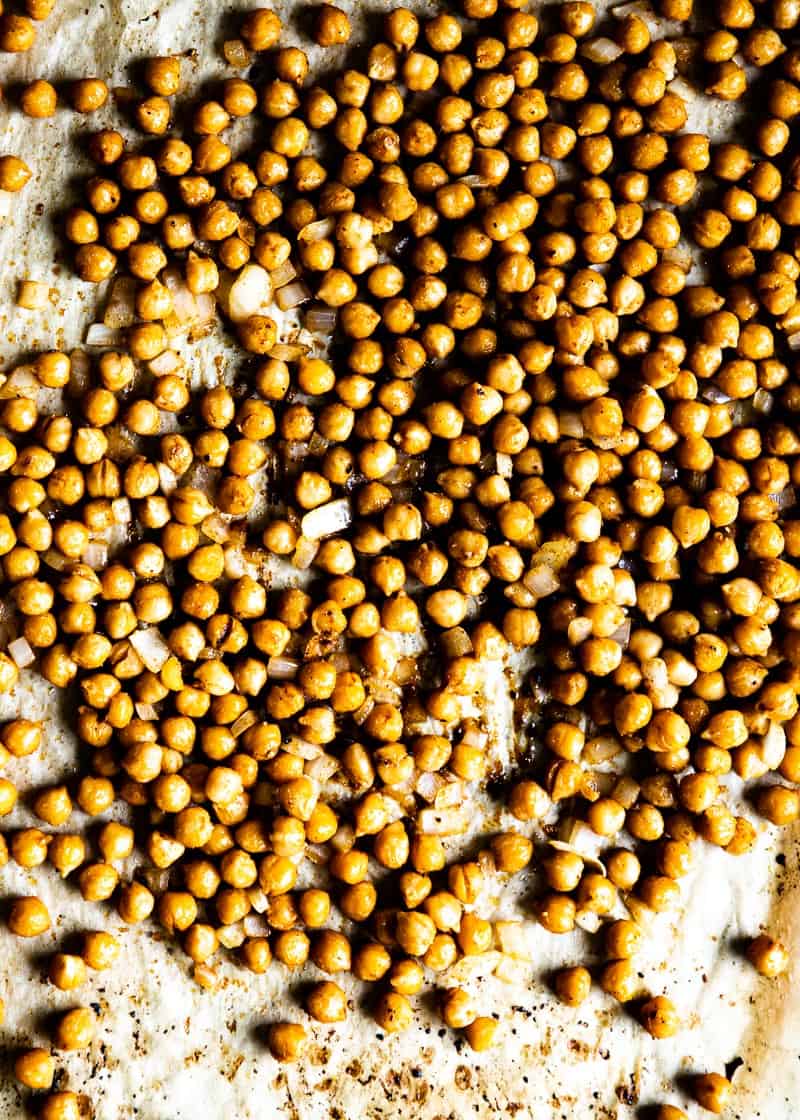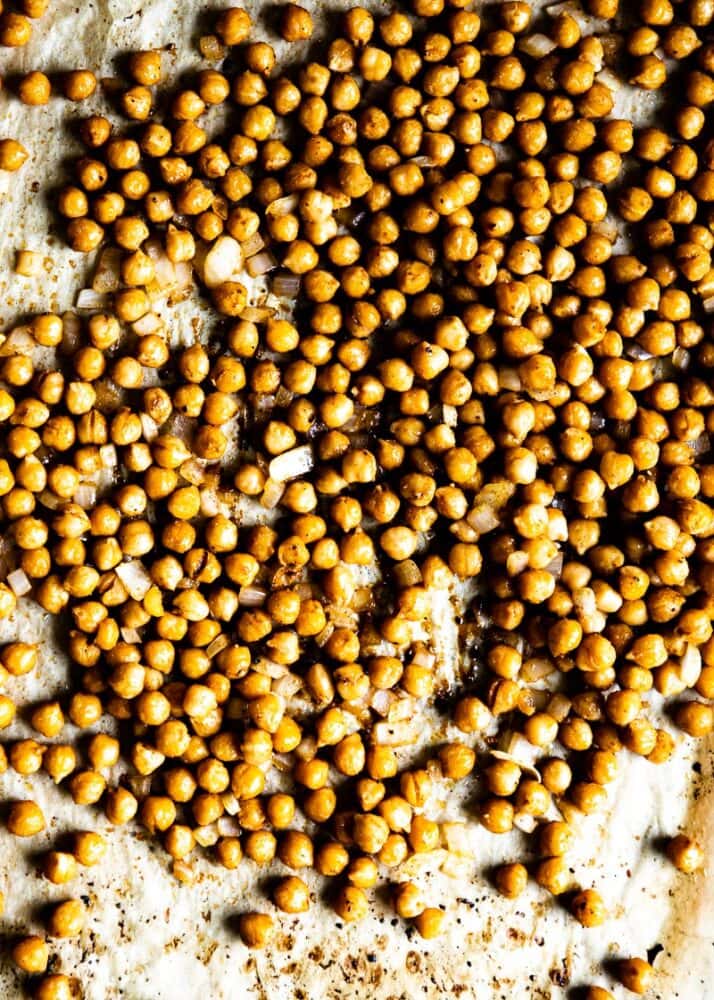 On the stovetop or in the oven, chickpeas will take roughly 4 hours to cook. Presoaking the chickpeas overnight may decrease cooking time, but I've found that bringing the dried chickpeas to a rolling boil with plenty of water and allowing them to sit for 15-20 minutes, then draining and cooking with fresh water is the best way to decrease the cooking time.
Chickpea Taco Recipe
I have several favorite chickpea taco recipes. One recipe even graces the cover of one of my best-selling books! Really, as I said above, you can season chickpeas however you like best. Slathered in BBQ sauce? Sure! Seasoned to perfection with a mixture of spices and herbs? Oh yeah. Roasted, simmered, or fried? Amazing! I haven't met a chickpea taco I didn't like.
I'm sharing a simple chickpea taco recipe below. If you use it as a starting point, then you can experiment to turn it into your own taco creation.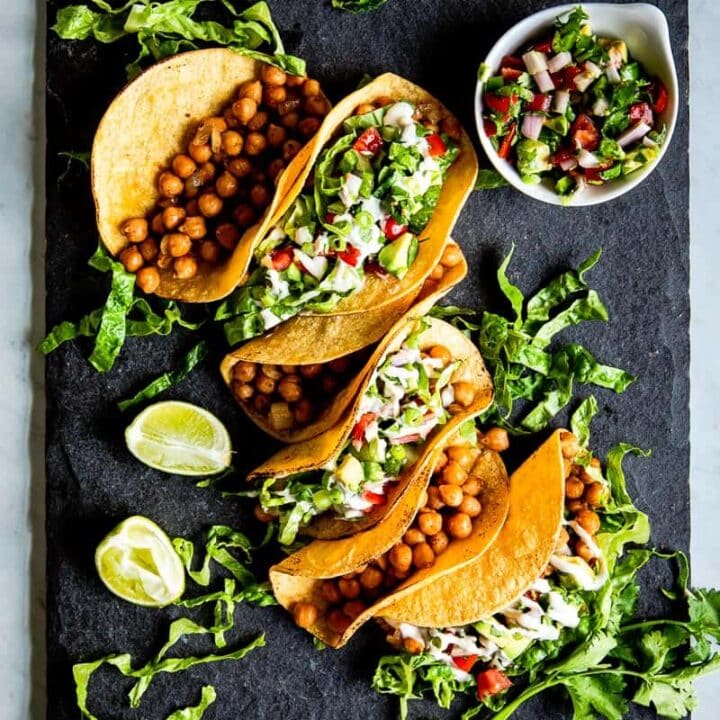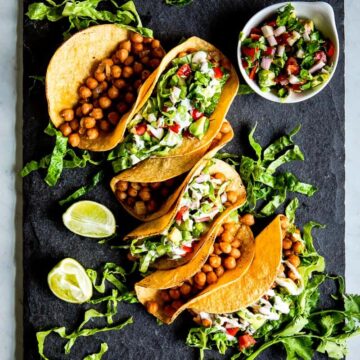 Spicy Chickpea Tacos
Rate this Recipe
Print Recipe
Slightly crisp roasted beans are a fantastic plant-based filling in these chickpea tacos. Load them up with your favorite toppings and enjoy!
Ingredients
12

corn tortillas

(warmed)

30

oz

chickpeas

(two 15-oz cans, drained and rinsed)

½

yellow onion

(diced)

2

tablespoon

avocado oil

2

teaspoon

lime

(juice)

1

teaspoon

maple syrup
Homemade Taco Seasoning (can also use store-bought)
½

teaspoon

cumin

(ground)

¼

teaspoon

sea salt

¼

teaspoon

smoked paprika

¼

teaspoon

garlic powder

¼

teaspoon

onion powder

⅛

teaspoon

cayenne

(ground)

⅛

teaspoon

black pepper
Suggested Toppings
pico de gallo

shredded lettuce
Instructions
Preheat oven to 400°F. Line a baking sheet with parchment paper.

In a bowl, combine drained chickpeas, diced onion, 1 tablespoon oil, lime juice maple syrup, and spices. Toss until well-coated. Spread in an even layer on the prepared baking sheet.

Roast for 15-20 minutes, or until golden and slightly crisp. Drizzle with remaining 1 tablespoon oil and shake the baking sheet so the chickpeas roll around and are lightly coated with the oil. 

Transfer to a bowl and keep warm. Serve immediately in tortillas with desired toppings.
Notes
Use homemade or store bought taco seasoning, your preference! 
This recipe is a bit spicy, so omit the cayenne from the seasoning mix to tone it down a bit.
Swap maple syrup with the sweetener of your choice (you only need a little).
Nutrition (estimated)
Calories:
594
kcal
(30%)
Carbohydrates:
96
g
(32%)
Protein:
24
g
(48%)
Fat:
15
g
(23%)
Saturated Fat:
2
g
(13%)
Polyunsaturated Fat:
5
g
Monounsaturated Fat:
7
g
Sodium:
197
mg
(9%)
Potassium:
802
mg
(23%)
Fiber:
21
g
(88%)
Sugar:
13
g
(14%)
Vitamin A:
151
IU
(3%)
Vitamin C:
4
mg
(5%)
Calcium:
176
mg
(18%)
Iron:
7
mg
(39%)
More plant-based tacos to rawk your dinner table: