I originally created this Chipotle Ranch Dressing as the dipping sauce for my Avocado Fries, yet it's quickly become my go-to condiment for many other recipes. It is creamy yet surprisingly dairy-free. This vegan chipotle ranch dresses up a salad as well as becomes an irresistible dip for vegetables, pizza and more.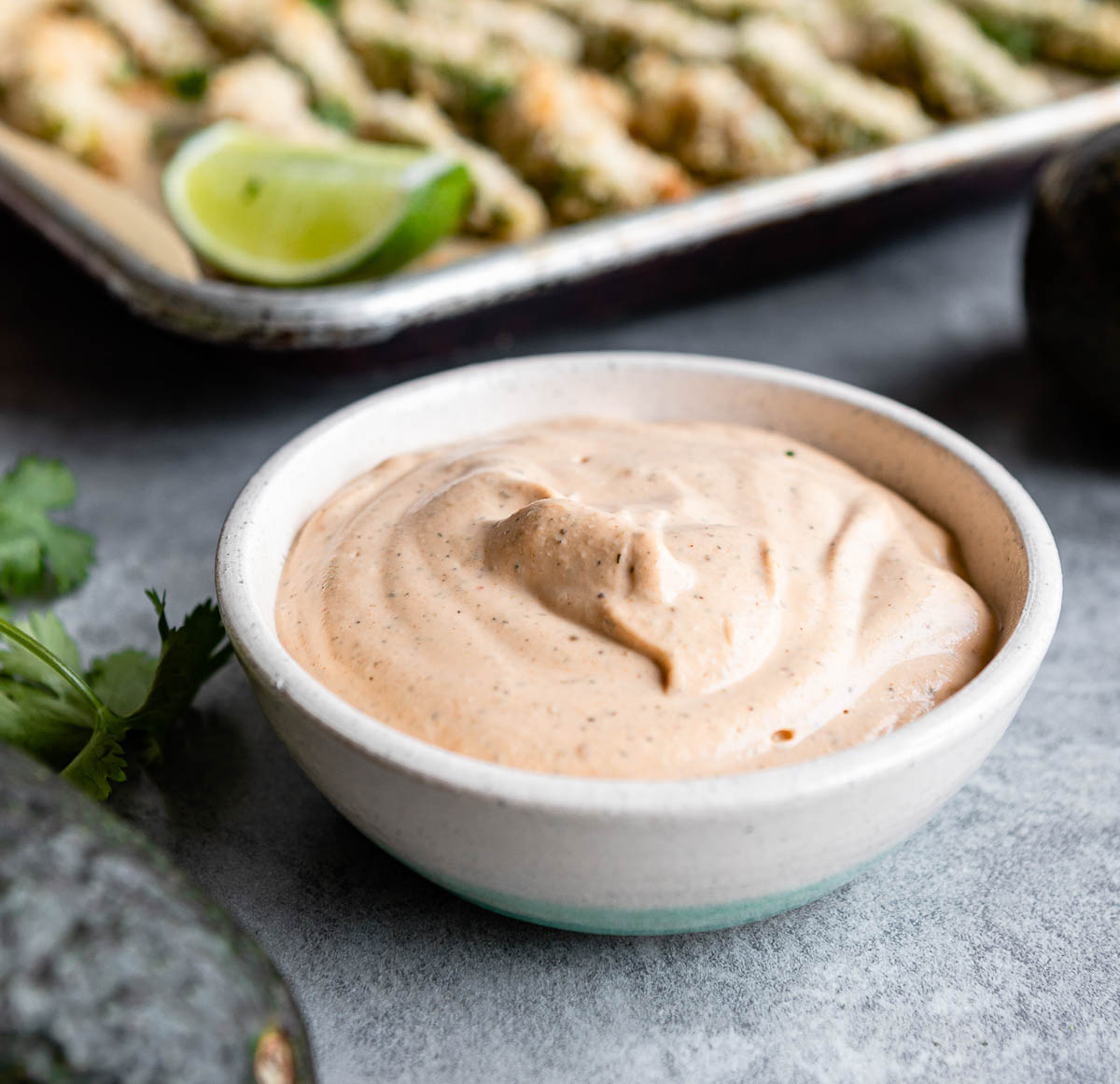 I'm totally #teamranchdressing and #teamspicy, so this recipe creates my dream condiment.
Table of Contents
Vegan Chipotle Ranch Ingredients
My chipotle ranch recipe uses a mix of fresh and dried or canned ingredients for a balanced sauce bursting with smoky flavor: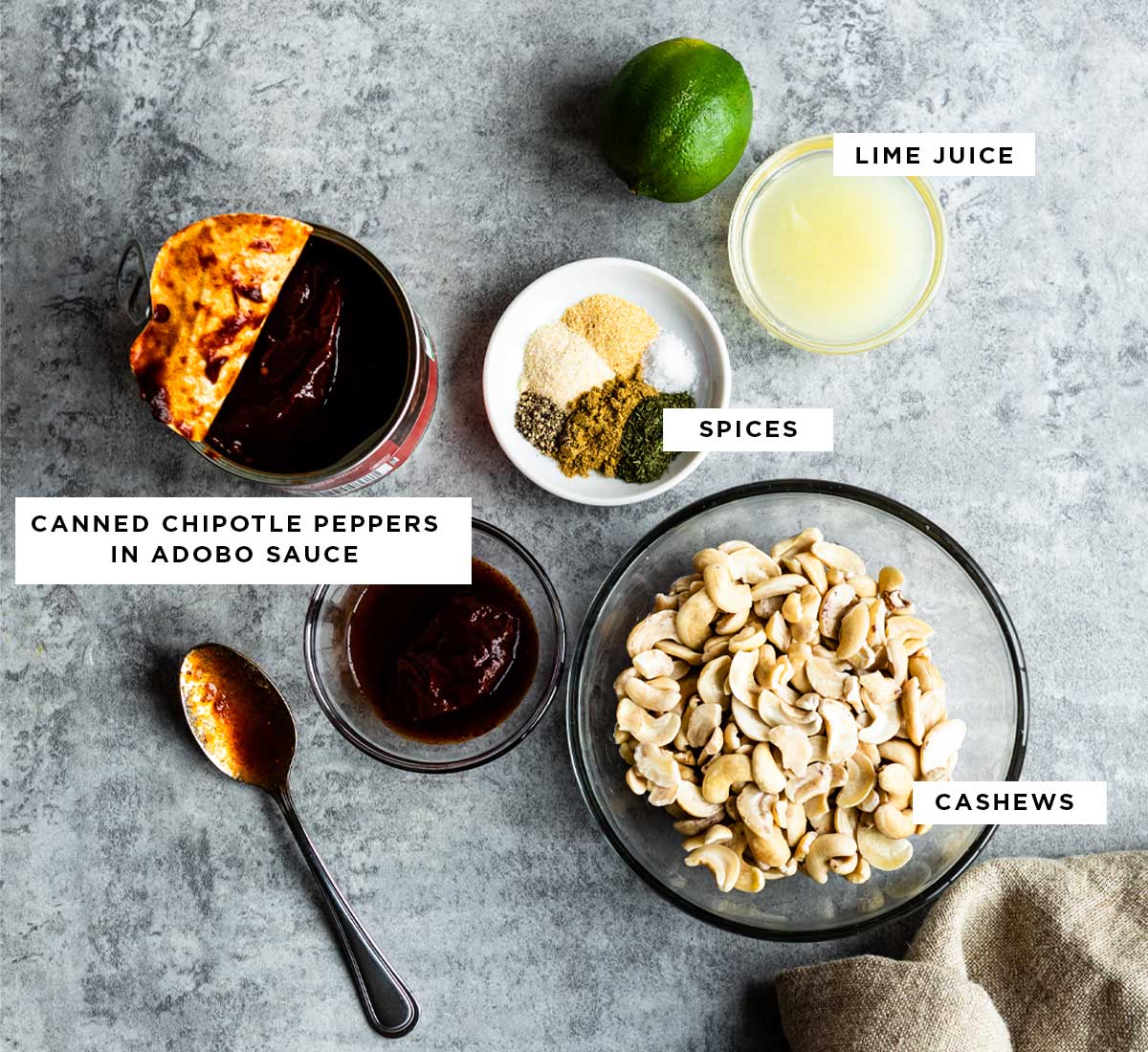 Cashews: My vegan version uses cashews and a bit of lime juice to create a base that feels like yogurt or mayonnaise yet without dairy or eggs.
Lime juice: This brightens up the dressing without overpowering it.
Canned chipotle peppers in adobo sauce: Adds a bit of smoky heat without adding too much spice.
Spices: I use a blend of spices to bring out the traditional ranch flavor. The combo of cumin, garlic powder, onion powder and dried dill weed along with sea salt and ground black pepper are typically found in ranch sauce.
Seasonings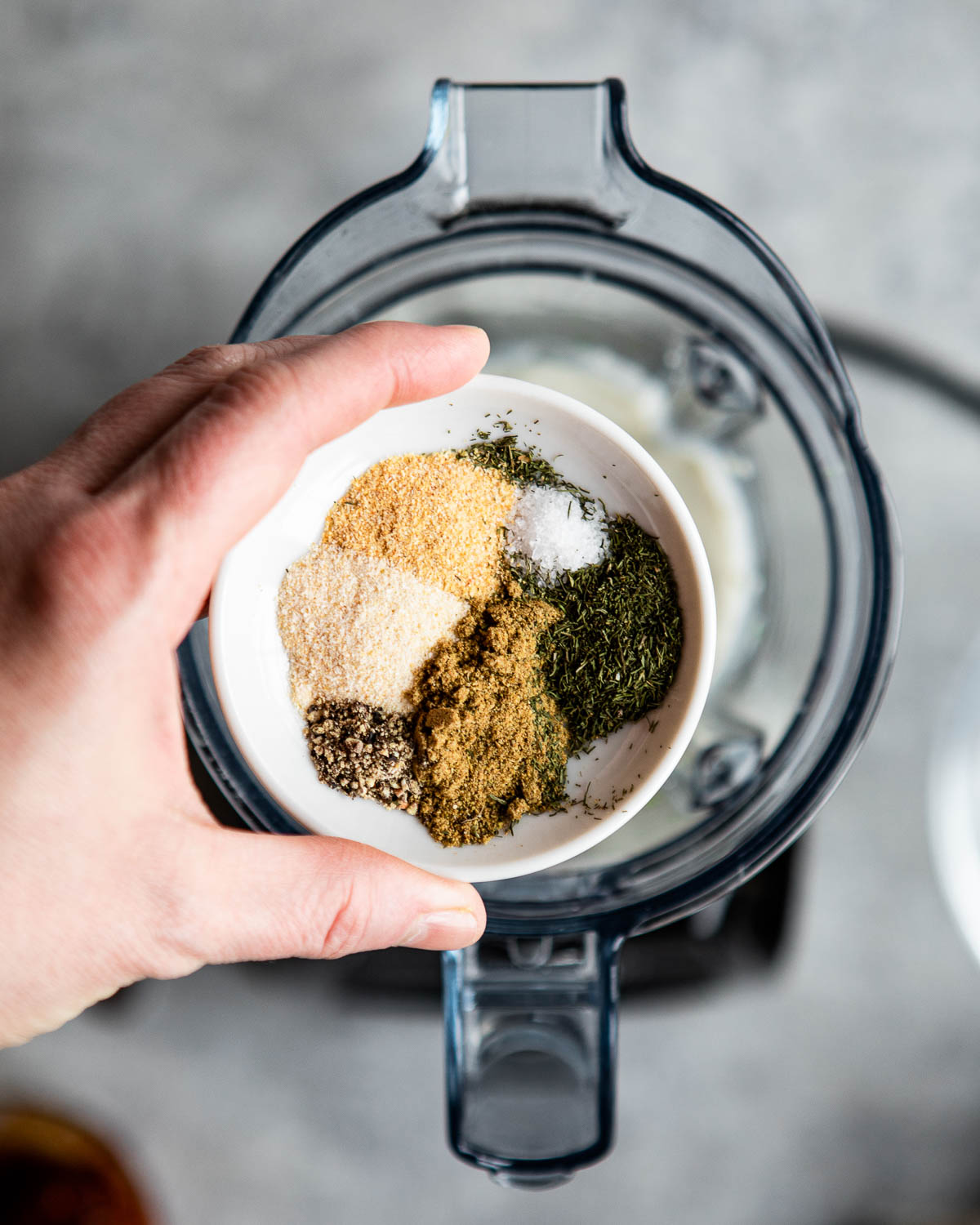 Cumin: A warm, nutty spice that compliments the smoky pepper flavor.
Garlic powder, onion powder, dried dill weed: These 3 spices are found in a traditional ranch dressing and bring that flavor to this vegan sauce.
Sea salt + ground black pepper: Brings the flavors all together. Add each to taste.
Easy Ingredient Swaps
While chipotle peppers aren't super spicy, you can swap them out for roasted red peppers for a zero-spice dressing. Swap out fresh cilantro for fresh parsley. Replace dried dill weed with fresh dill.
If you want a nut-free version, use plain, unsweetened coconut yogurt to keep this chipotle ranch dressing dairy-free. Or use regular greek yogurt if you don't need it to be dairy-free.
Dressing Serving Suggestions
This smoky and creamy dressing can go on a veggie wrap, dress up a veggie bowl, or sit in the middle of a platter of potato wedges. You can use it on pretty much any roasted veggie you make. I won't judge if you use it as a dipping sauce for your next pizza night.
Just remember, if you want to spread it then keep it on the thicker side, if you want to drizzle it then thin it out with just a bit of water.
Tips for Creamy Dressing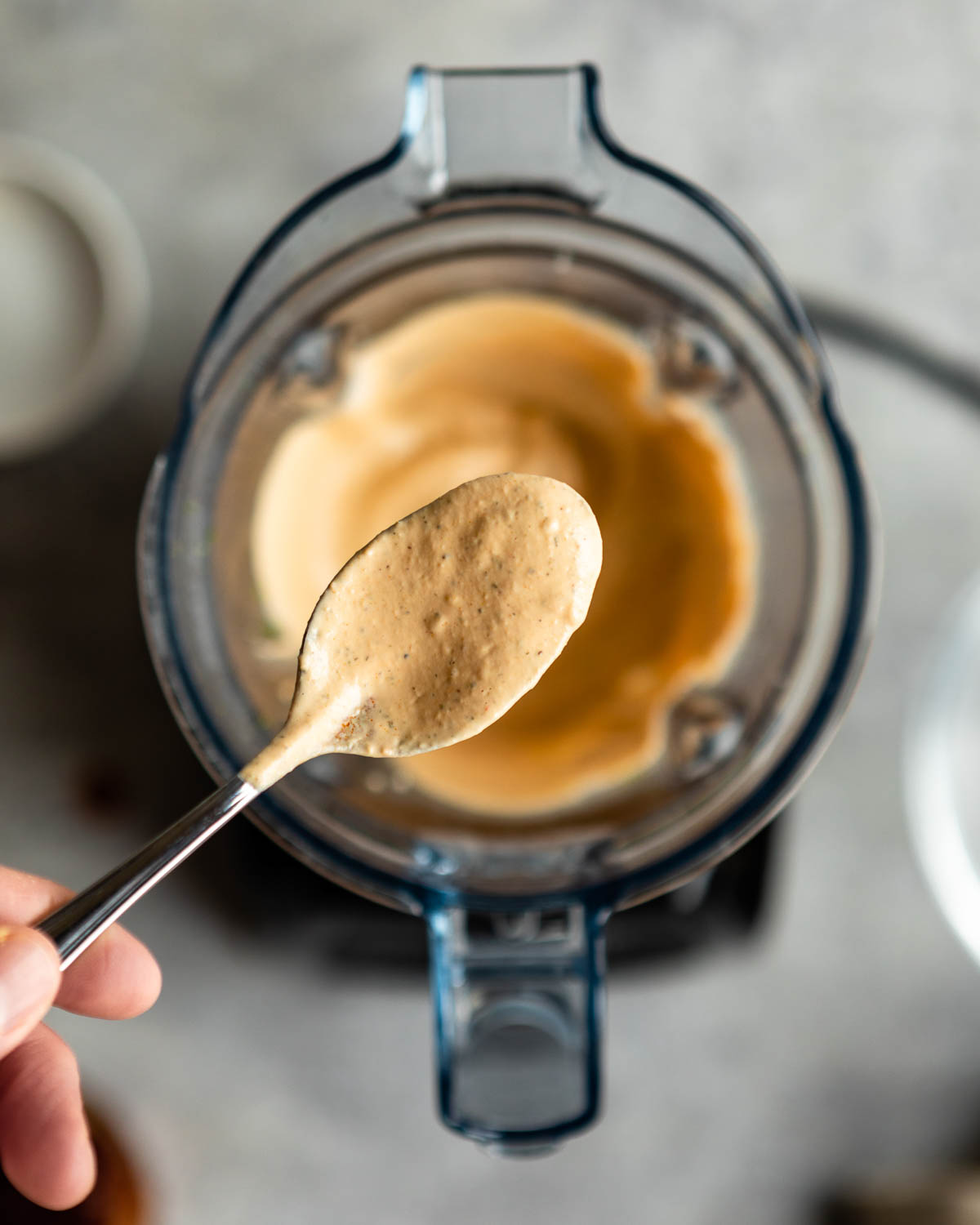 The secret to the silky smooth ranch texture in this vegan version is soaked cashews. Cashews alone offer a creamy texture yet when you soak them before blending, they'll turn any sauce into a thick n' creamy masterpiece.
Pro Tip: If you don't have time to soak cashews ahead of time, then use heat some water and soak the cashews in hot water for at least 10 minutes. This flash soaking technique works well in a pinch!
Chipotle Ranch Dressing FAQs
What is in chipotle ranch?
My chipotle ranch dressing is made with soaked cashews, lime, canned chipotle peppers in adobe sauce and a blend of fresh and dried spices. It is smoky, tangy and full of savory flavor.
Is chipotle ranch spicy?
If you can't handle spice, then this isn't the sauce for you. It won't make you sweat, yet it does have a smoky kick to it. If you don't want any spice then swap the chipotle peppers for sun-dried tomatoes or roasted red peppers that aren't spicy.
How do you make chipotle ranch vegan?
The secret to my vegan sauces is cashew cream. Soaked cashews blend into a creamy and smooth mixture that can be added to sweet and savory condiments. It acts like mayonnaise or cream but is totally vegan.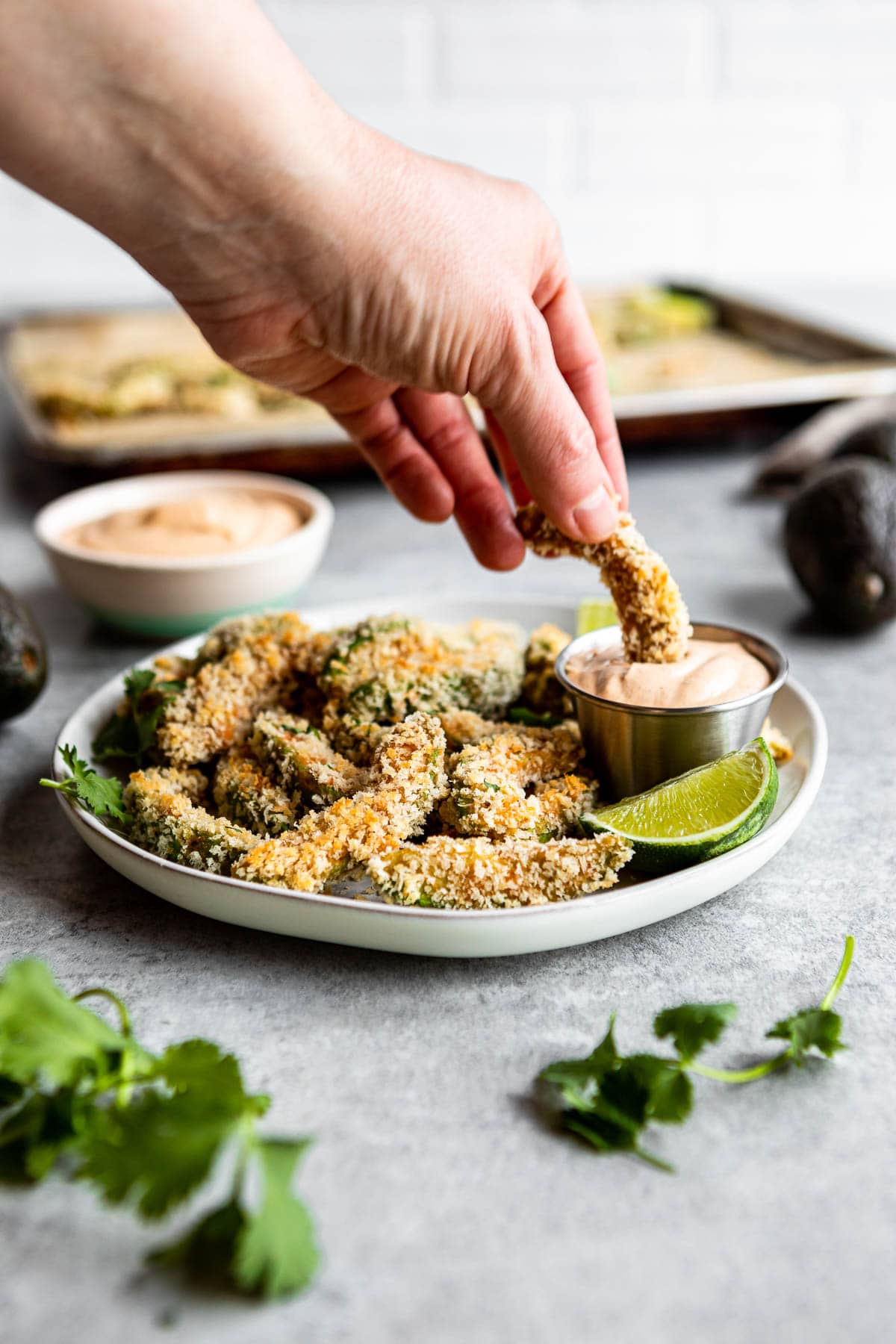 For the Love of Sauces
If you have a hard time incorporating more vegetables into your diet then let me give you a tip: don't focus on the vegetables, focus on the dressing. I can eat almost anything if it's smothered in a perfectly spiced sauce, dip or dressing. Toss a bunch of chopped veggies on a tray, cook at 375° F for 20-30 minutes and while you wait, whip up one of these savory sauces:
You really can't go wrong with a good homemade condiment ready to top your next dish. What's your fav way to dip, dunk or drizzle your veggies?
Don't forget to rate + comment on how you used this recipe. I wanna know!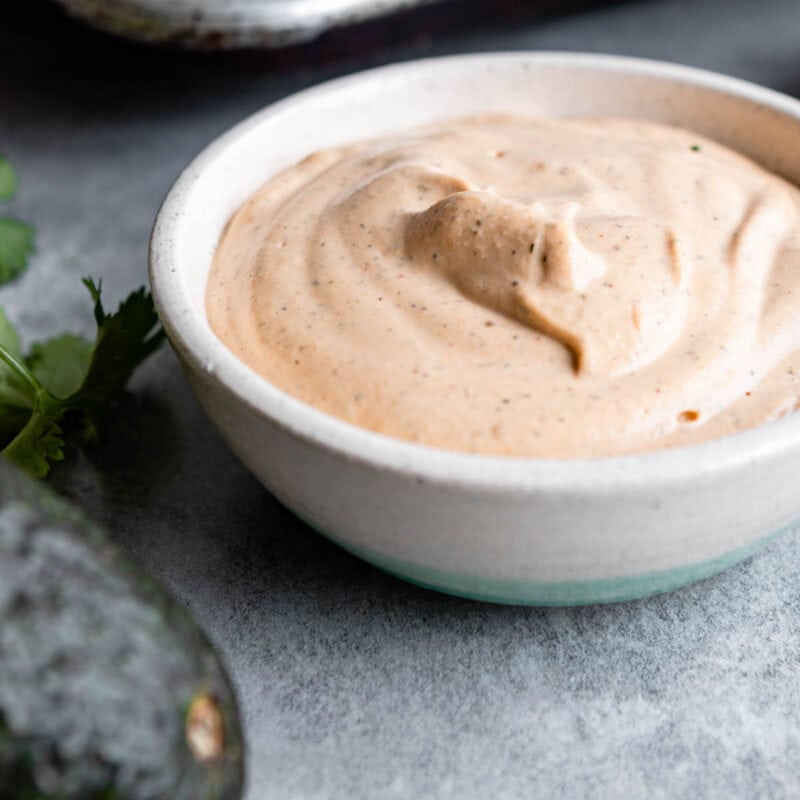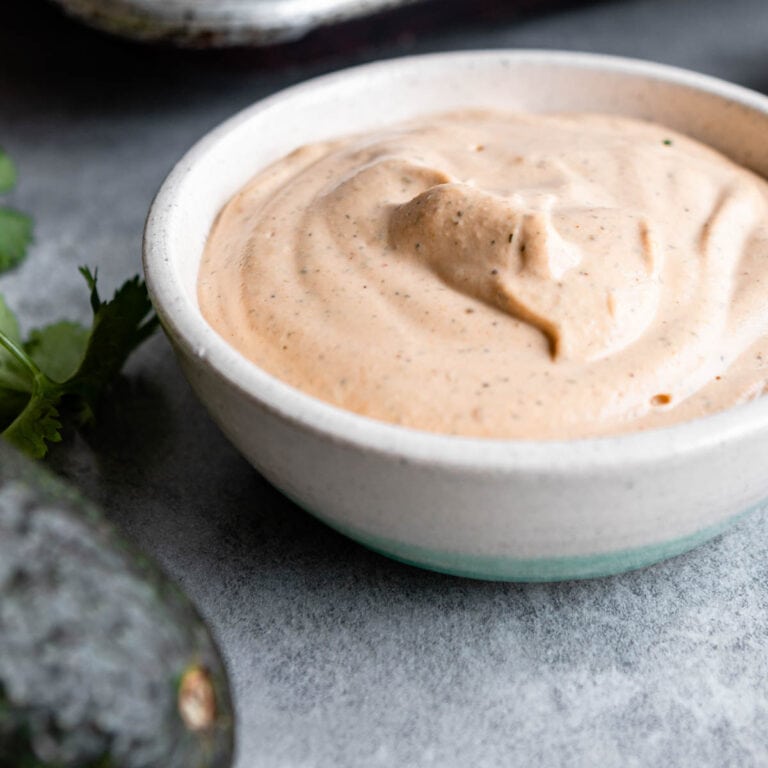 Chipotle Ranch Dressing
I love creating dips and dressings that are quick and can be used on a variety of dishes. This vegan chipotle ranch dressing is exactly that recipe! Originally created as the dipping sauce in my avocado fries, this condiment is fast becoming a staple in my fridge.
Ingredients
¾

cup

raw cashews

2

tbsp

lime

juiced

1

lime

zest

1

tbsp

canned chipotle pepper

in adobo sauce

1

tbsp

cilantro

fresh

½

tsp

cumin

ground

½

tsp

garlic powder

½

tsp

onion powder

¼

tsp

dillweed

dried

¼

tsp

sea salt

¼

tsp

black pepper

ground
Instructions
Soak cashews in enough water to completely cover them for 30 minutes up to overnight. Drain and rinse cashews. Transfer to a food processor.

Blend pre-soaked cashews with remaining ingredients until smooth. If needed, add 1 tsp of water at a time until mixture is able to blend fully.

Transfer to an airtight container and refrigerate until ready to serve. Store 2-3 days.
Notes
To make this spicier, add more chipotle peppers. 
If making as a dip, try to keep it as thick as possible. If making as a dressing, feel free to add a bit more water to make this easily pourable. 
This can be frozen in an ice cube tray then thawed as needed.
To make this in a blender, triple the recipe. This will give your blender enough volume to blend well. 
Nutrition
Calories:
291
kcal
,
Carbohydrates:
21
g
,
Protein:
9
g
,
Fat:
21
g
,
Saturated Fat:
4
g
,
Polyunsaturated Fat:
4
g
,
Monounsaturated Fat:
12
g
,
Sodium:
394
mg
,
Potassium:
387
mg
,
Fiber:
4
g
,
Sugar:
4
g
,
Vitamin A:
417
IU
,
Vitamin C:
12
mg
,
Calcium:
40
mg
,
Iron:
4
mg