If you know me then you know I love coconut oil. It has so many uses from food to home to health and I'm sharing them all with you! Come discover coconut oil benefits and unique uses you need in your life.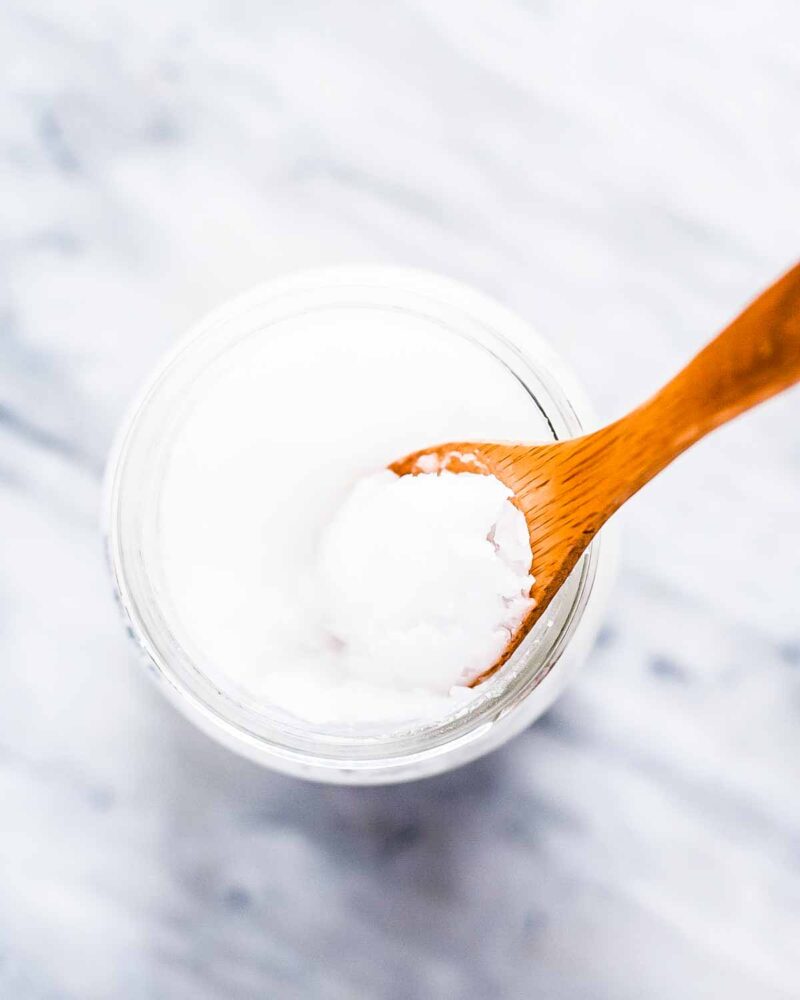 Coconut oil benefits have been both praised and criticized. I'm sharing why I love this oil along with the benefits of eating coconut oil. Not all coconut oil is created equally, yet once you find the right one, coconut oil health benefits abound!
Table of Contents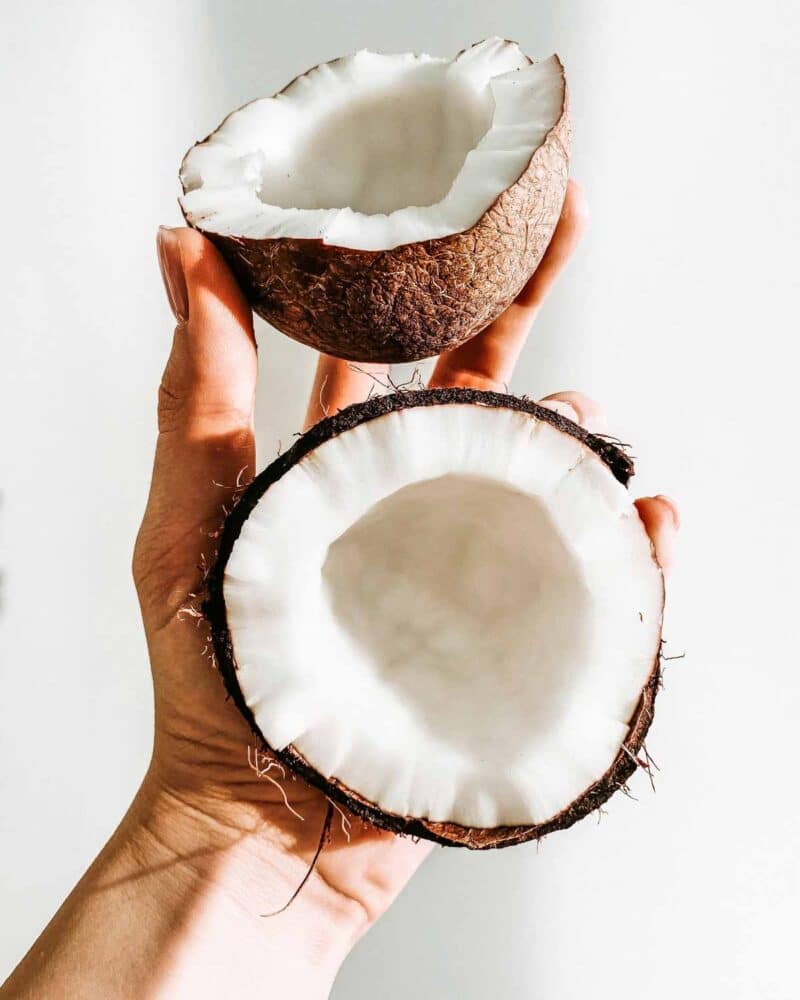 Healing Benefits of Coconut Oil
Coconut oil is one superfood used in almost every room of my house.
I use it for baking + cooking, moisturizer, deodorant, as a green smoothie ingredient, hair conditioner… you name it! It's a go-to remedy, and I am obsessed with it.
So what makes this oil so special?
Coconut oil benefits through MCTs
Over 50 percent of coconut oil contains medium chain fatty acids (or triglyerides), which are easily digested and sent right to the liver for energy production. By traveling directly to the liver, it is not stored as fat and can actually help boost the metabolism. These triglycerides also help keep skin smooth and moisturized by trapping the escaping moisture from pores.
Most of the medium chain fatty acids found in coconut oil are lauric acid, which is only found in as high a concentrate in human breastmilk. This powerful acid actually helps increase immunity and fight infections, which makes it essential to our daily diets.
Other superfood benefits
The body benefits from 3 properties in this oil. Coconut oil is antifungal, antibacterial, and antimicrobial. These properties make it useful for everything from a facial moisturizer to deodorant… the same oil that can be used in cooking and baking! And did I mention that it smells incredible as well?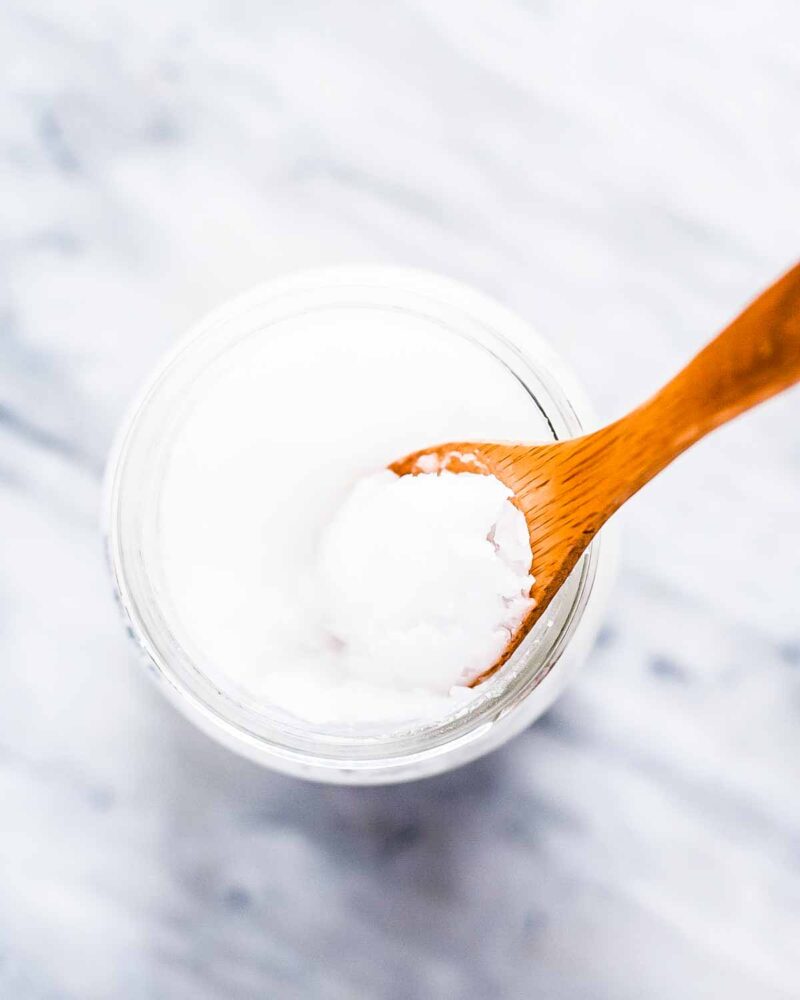 Top Uses
There are many websites that can give you a list of uses for coconut oil, yet I want this list to all be about my personal testimony. I religiously use all of these things and can personally say they work for me, so I hope you fall in love too!
Benefits of eating coconut oil: baking + cooking
Baking: I substitute coconut oil 1-for-1 in most baking recipes that call for butter or oil (check out my Maple Granola Bars and Lemon Fat Bombs for some deliciously healthy recipes). I also use it when making frosting, banana bread, pancakes and amish bread.
Canola and vegetable oils are incredibly processed, and have chemical additives in them. Coconut oil is much less processed.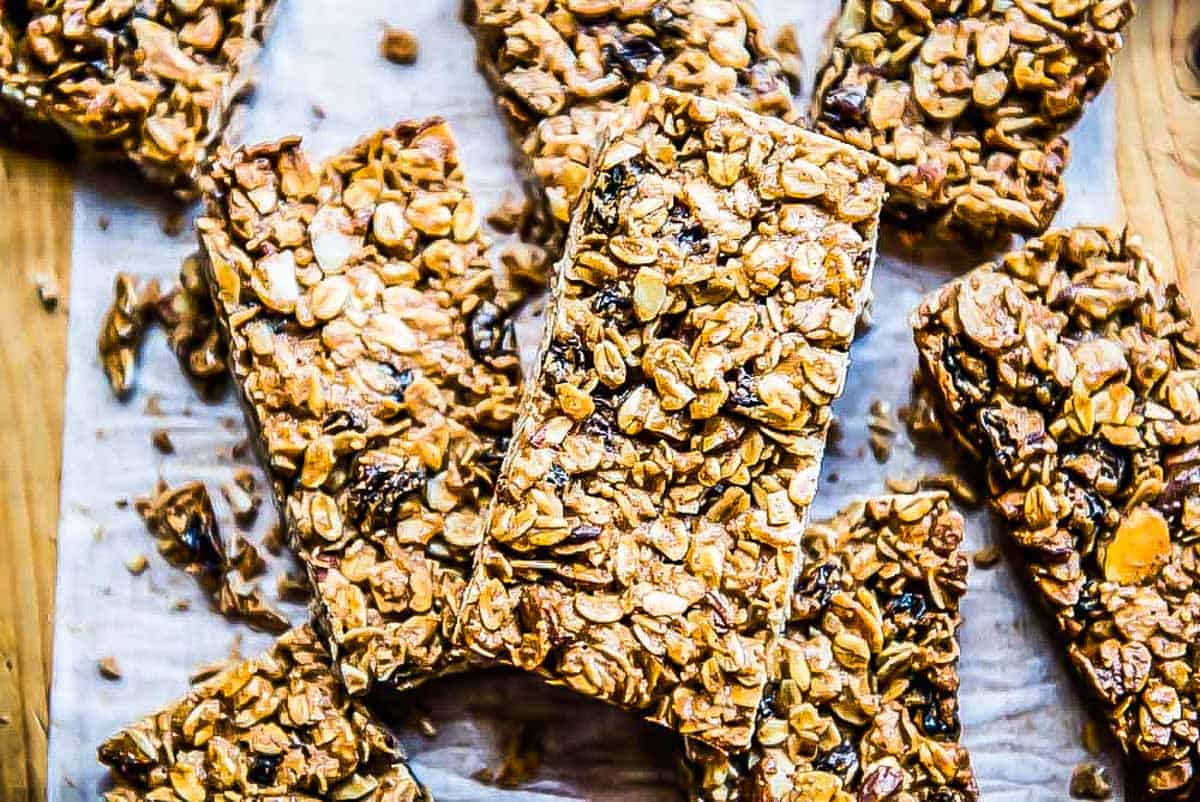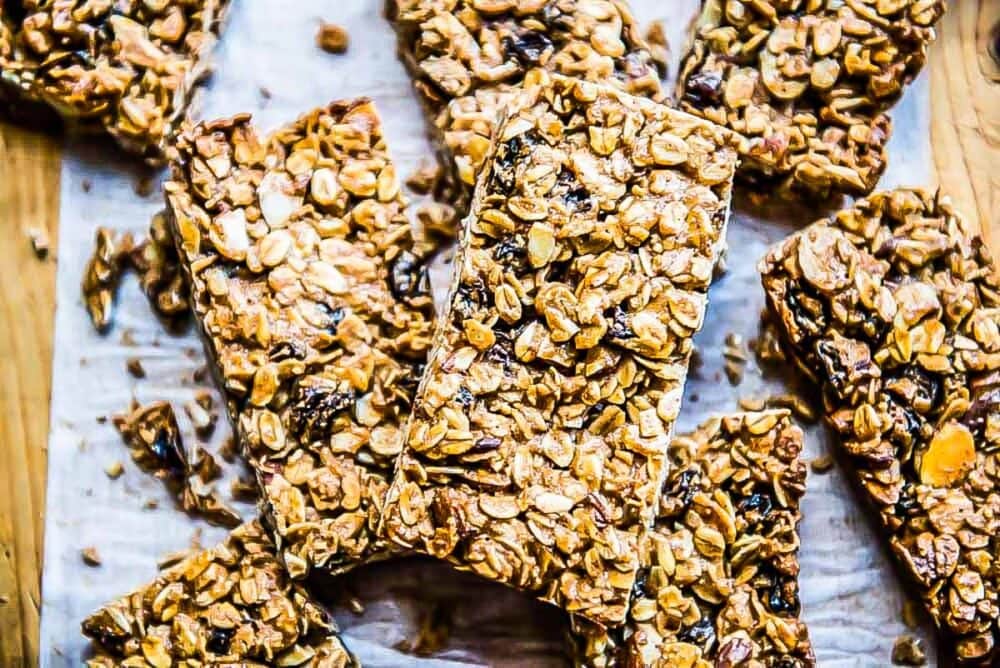 Cooking: My friend Jo got me hooked on cooking eggs in coconut oil. They do taste a little bit like coconut, but that's a good thing to me. I also love sauting veggies in coconut oil, as it can withstand higher heat than olive oil. Try this savory sweet potato noodle dish or my famous Austinite tacos, and experience firsthand the benefits of eating coconut oil.
Green Smoothies: Occasionally, I add two tablespoons of coconut oil to my green smoothies for a healthy fat boost. I even created a coconut oil smoothie for those that like a little tropical flavor in their green smoothies.
Since coconut oil can change the texture of a green smoothie, I suggest you also try MCT oil. It is flavorless, minimally alters texture, and a little goes a looooong way.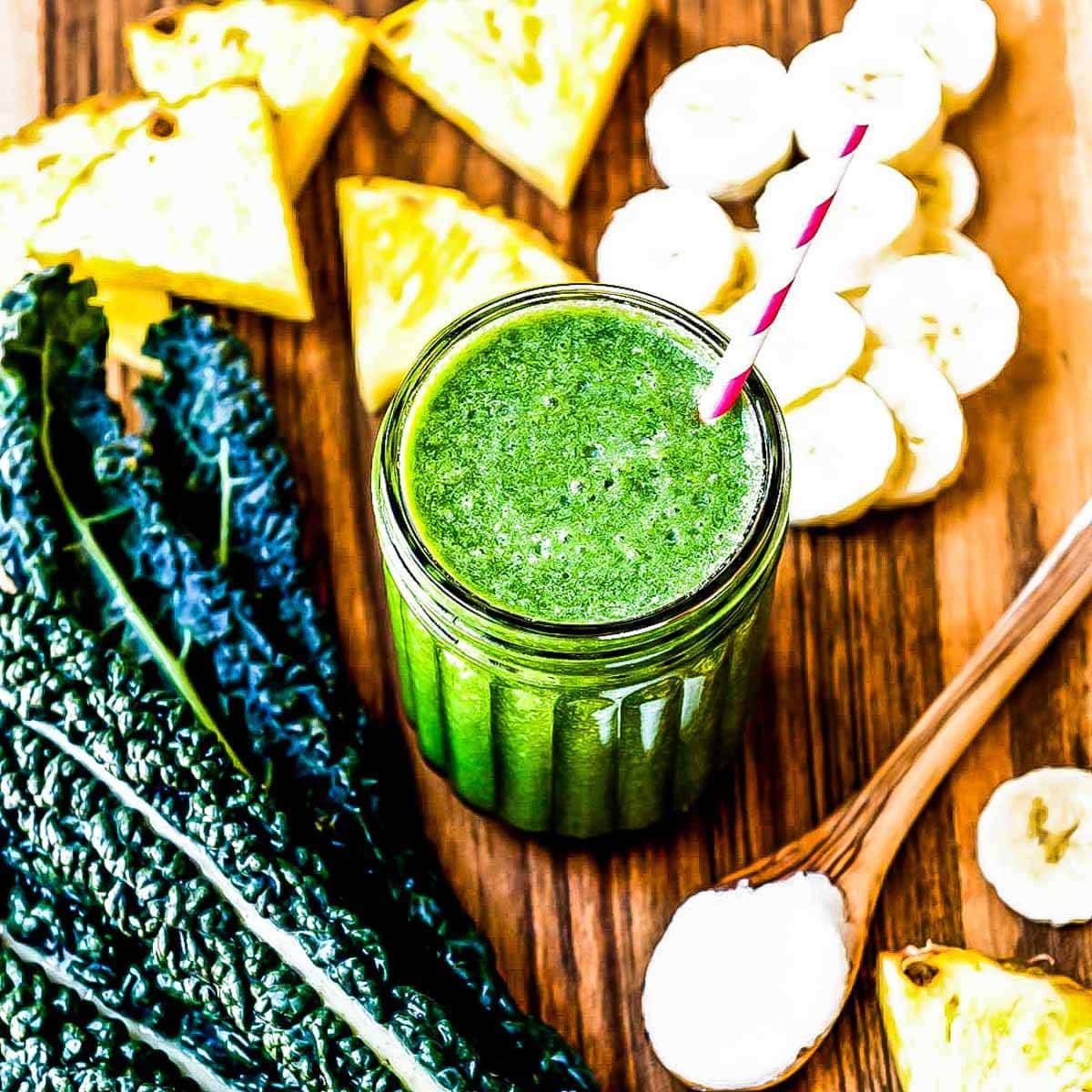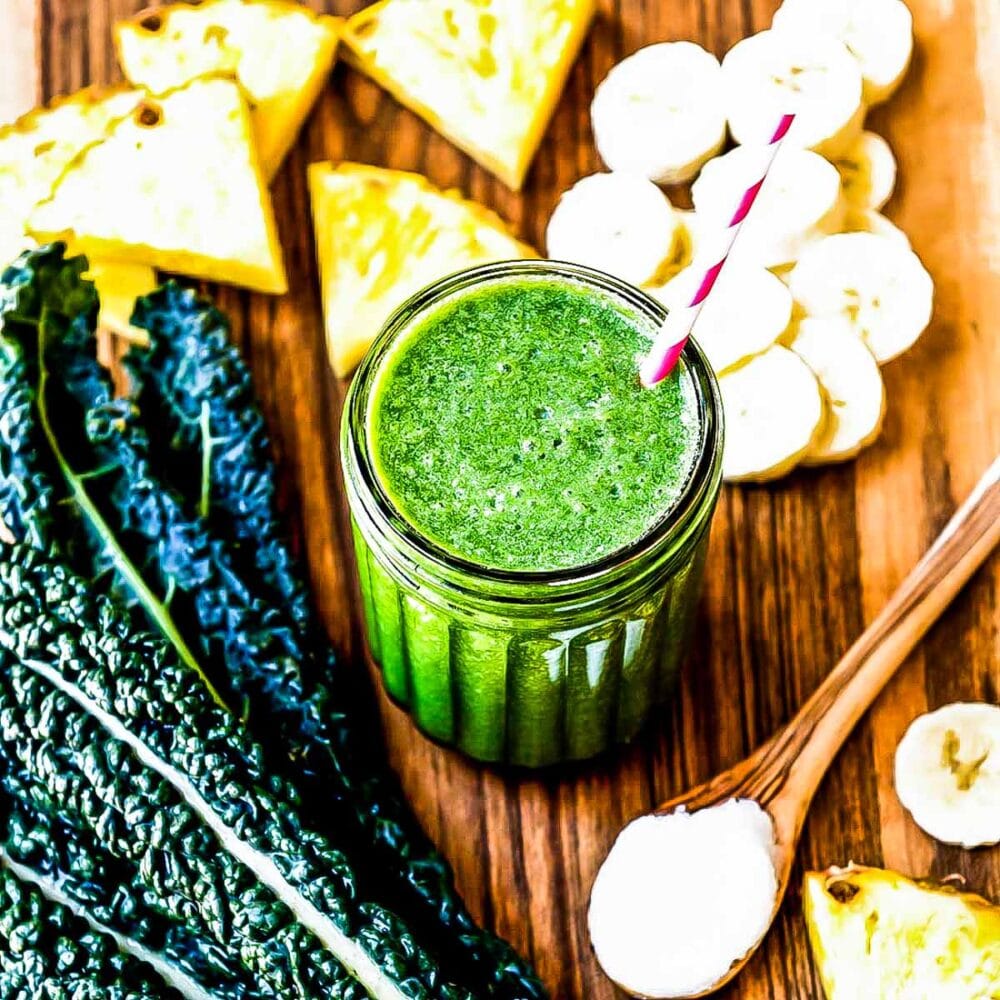 Coconut oil health benefits for the body
Coconut oil has about 0.1 mg of vitamin E in 100 grams, which definitely gives it skin-nourishing properties. Vitamin E is essential for healthy skin growth as it repairs weathered skin, keeps skin smooth, and protects against cracking. It also slows down aging and wrinkles, allowing skin to age gracefully over premature aging that comes from sun + pollution damage.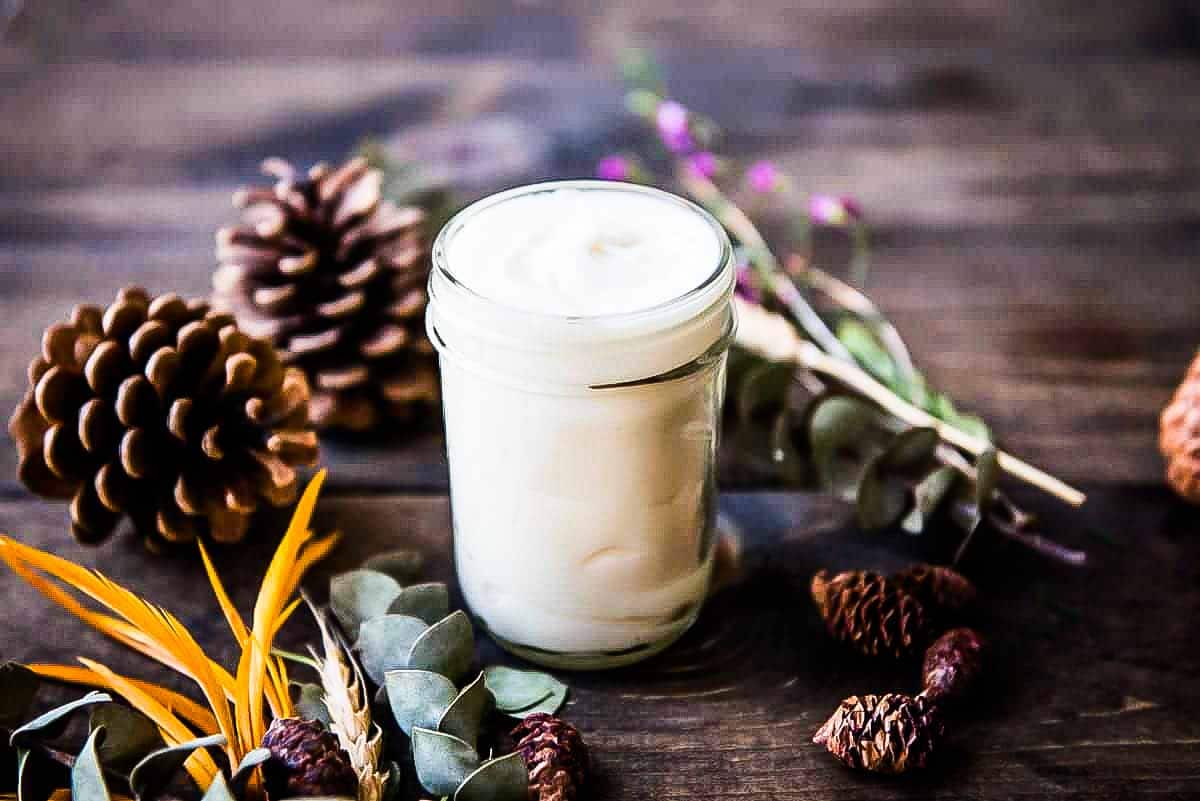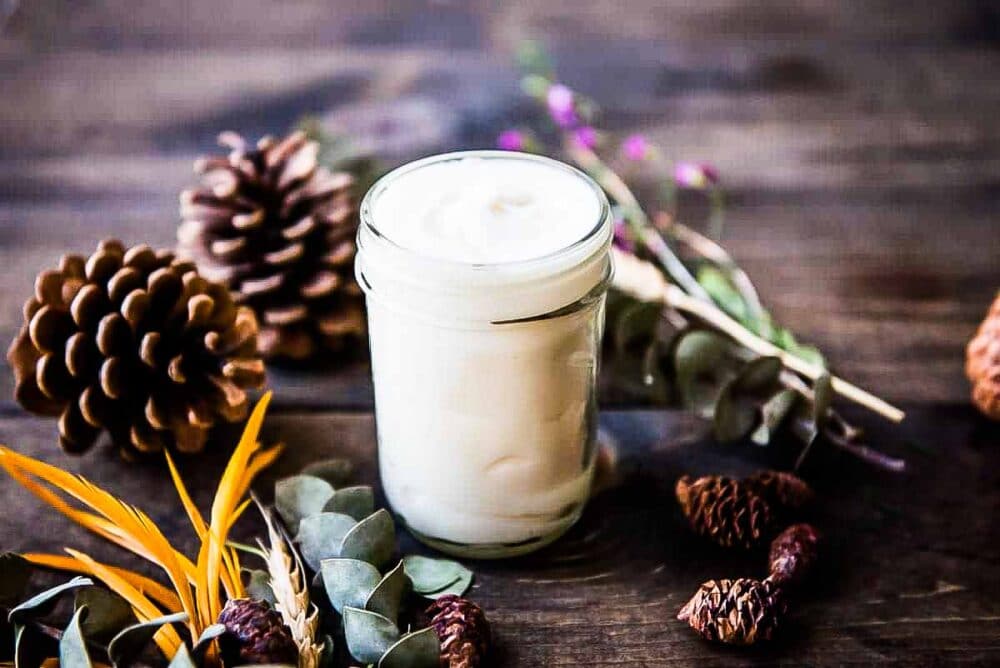 Homemade deodorant: This is my favorite use for coconut oil. It really works!!! This stuff is insanely good— I highly recommend that you make your own. After 12 hour days with working out, running errands and sweating in the Florida heat, I still smell good. This recipe is easy peasy!
Body lotion: During the drier winter months, I use a bit of coconut oil on my arms and legs right after showering. This keeps my skin hydrated all day long, as well as silky smooth. Start with a small amount, and really rub in well.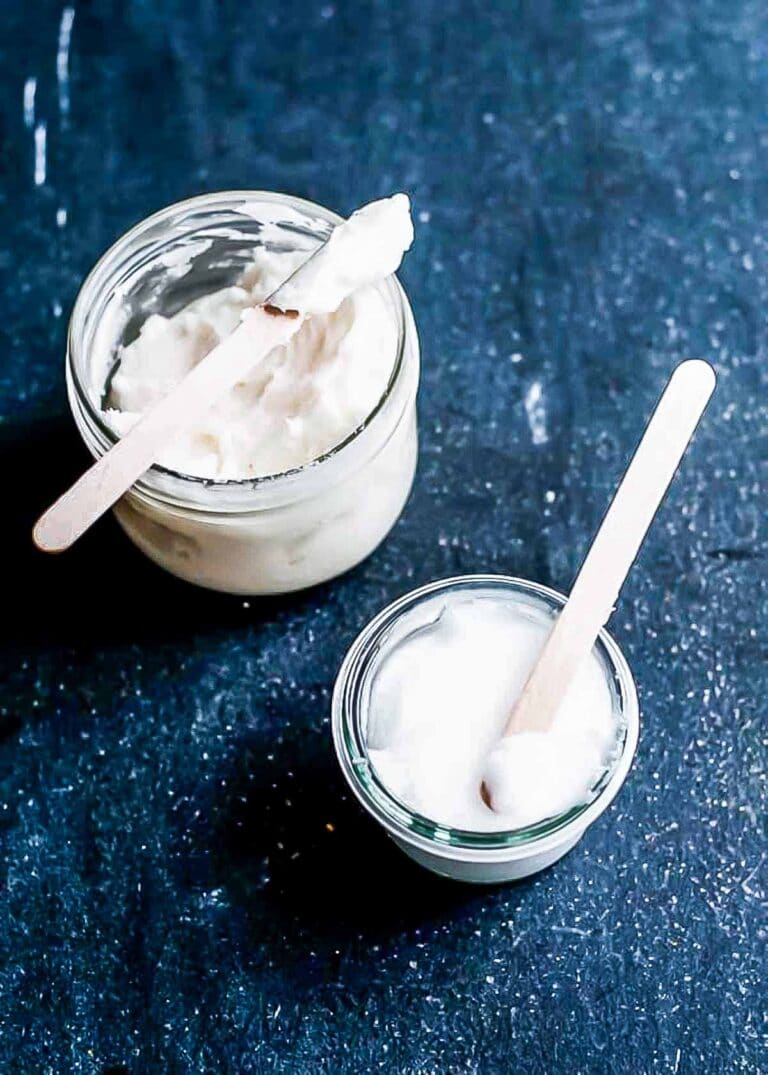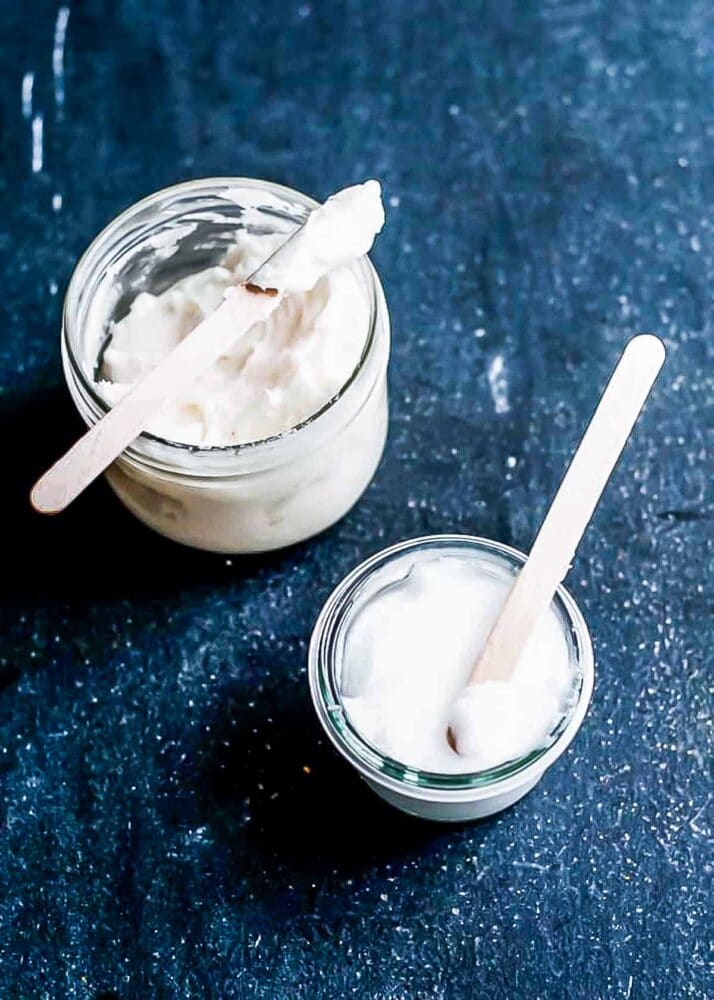 Toothpaste: I started making my own toothpaste with coconut oil a few years ago and really like it. The coconut oil gives it a creamy consistency similar to store bought, yet way better for you! The first few weeks my teeth were a little sensitive (which is an issue I have). SO I first alternated using homemade + store bought. Yet now I only use homemade and my teeth are fine.
Eczema: My son had mild eczema and we used a variety of creams. Coconut oil helped if we caught an outbreak early enough. (We eventually figured out what was causing his eczema— Target brand laundry detergent, so we stopped using it. Eczema solved!)
Nose bleeds: Coat your nasal passages with a thin layer coconut oil to keep nose bleeds at bay. This works great when traveling to dry climates.
Soothes sunburns: Coconut oil is actually an ingredient in many after sun lotions. To get full coconut oil benefits on that mild sunburn, skip the store bought remedies and just apply straight coconut oil to all sun-kissed skin.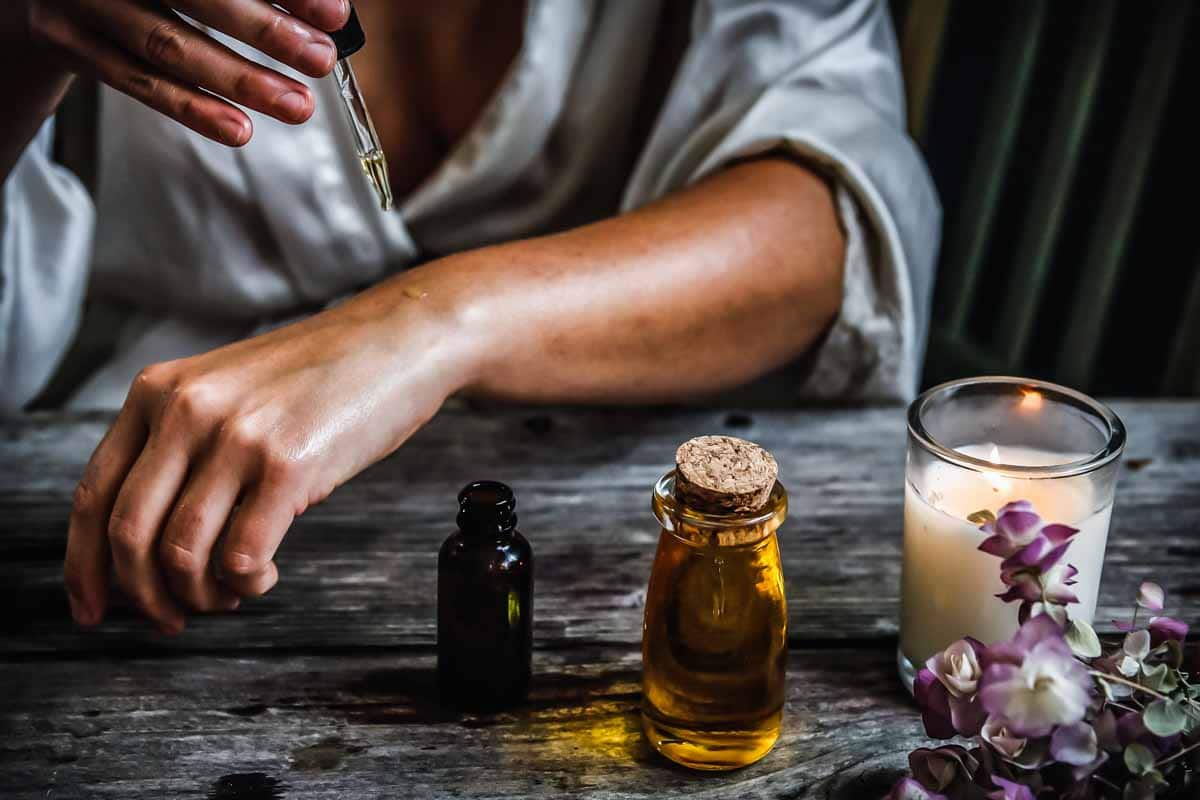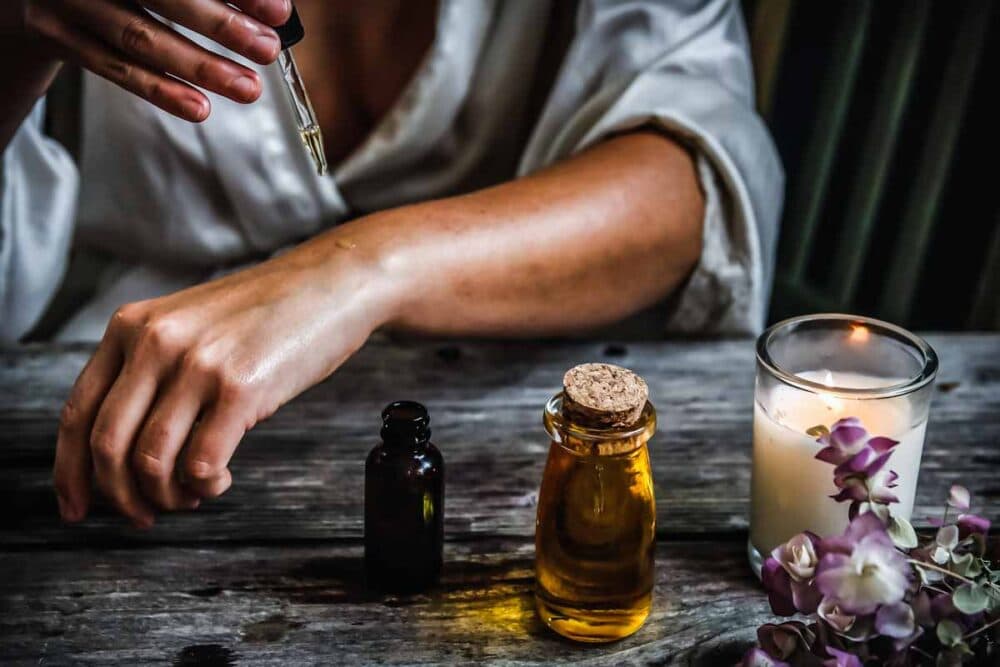 Using oil on your face
Facial moisturizer: I was very scared to put coconut oil on my face (I mean, oil on my acne-prone face)! Yet, it honestly doesn't cause me to breakout. I use it around my eyes to keep those tender areas moisturized . Make sure you are using high-quality coconut oil for your face— I use organic virgin unrefined coldpressed oil. I've seen websites recommend refined coconut oil for your face but that clogged my pores and I instantly broke out. And remember, a little goes a long way with coconut oil!
Eye makeup remover: On the rare occasion I actually put on makeup, I do use a cotton ball and a little coconut oil to help remove it. Works better than anything else, hands down.
Benefits on hair
Hair tamer: I have thick, curly and wild hair— coconut oil helps bring sanity to the situation. After the shower, I use mousse and then smooth some coconut oil on my unruly curls.
Any athletes with curly, thick, or long hair?
My hair actually starts to form dread locks after Grand Canyon runs. So even before the shower, I take a comb with some coconut oil rubbed in and start working on the tangles. It's a much gentler way to fight the tangles, without losing clumps of hair.
Deep conditioner for hair: At least once a month, I slather this on the tips of my hair and (even my scalp to help with psoriasis) and let it soak in for a few hours. Then I brush it through and massage my scalp before I shower.
Lice treatment: You don't need harsh chemicals to treat lice, seriously. All you need is coconut oil because it can suffocate the lice. When a good friend of ours called and explained that her child had lice (after a playdate complete with shared dress up clothes + hats), we slathered coconut oil on our two kids' heads. They slept on it and we washed it out the next day… and they were both lice free #momwin.
Other Awesome Uses
Furniture wood polish: I use it to polish my wood coffee table and it looks beautiful! Just pour a little onto a rag and rub it around for a nice gloss.
Stops creaking doors: I cannot stand a door that creaks, especially when it's my kids door. It's hard to sneak out of the room after they fall asleep when the door creaks, right? I've rubbed a little coconut oil on the door hinge and have the quietest door now.
Massage oil: It's very good. That's all I'm gonna say.
Where to Buy
You can buy coconut oil practically everywhere now, but don't. You want to use a brand that has high standards, uses organic products and makes quality coconut oil to soak in all its health benefits. If you plan on using it like I do (and I am sure you will!) then buy the good stuff for a little more money. Whether you are reaping the benefits of eating coconut oil, or just using it around the house, quality matters.
1. Trader Joes: What's not to love about Trader Joe's, right? If you are lucky enough to live close to one, pick up a jar of organic virgin coconut oil!
2. Amazon: They have variety of coconut oil brands and sizes — here's my favorite brand!
3. Mountain Rose Herbs: I love this company out of Portland, Oregon. They sell a variety of coconut oils, yet the best is the virgin unrefined / coldpressed. Hands down the best quality at a pretty fair price! I have ordered 3 gallons from them so far and love it. I also buy my essential oils, beeswax, arrowroot powder, elderberries, and herbal extracts from here— you can trust them and know you are getting the good stuff.
4. Costco: They have great prices for unrefined, cold pressed coconut oil! Definitely check it out if you have one in your area.
---
Do you already use coconut oil? If so, what's your favorite use? Post it in the comments below!