Coconut oil has some amazing health benefits such as increasing metabolism and endurance— which is great if you need clean fuel while on the go. Coconut oil in smoothies is a quick + easy way to give your body these incredible benefits, and it also helps your body process the other whole food ingredients in smoothies as well.
Once I started adding coconut oil to my smoothies… I never turned back.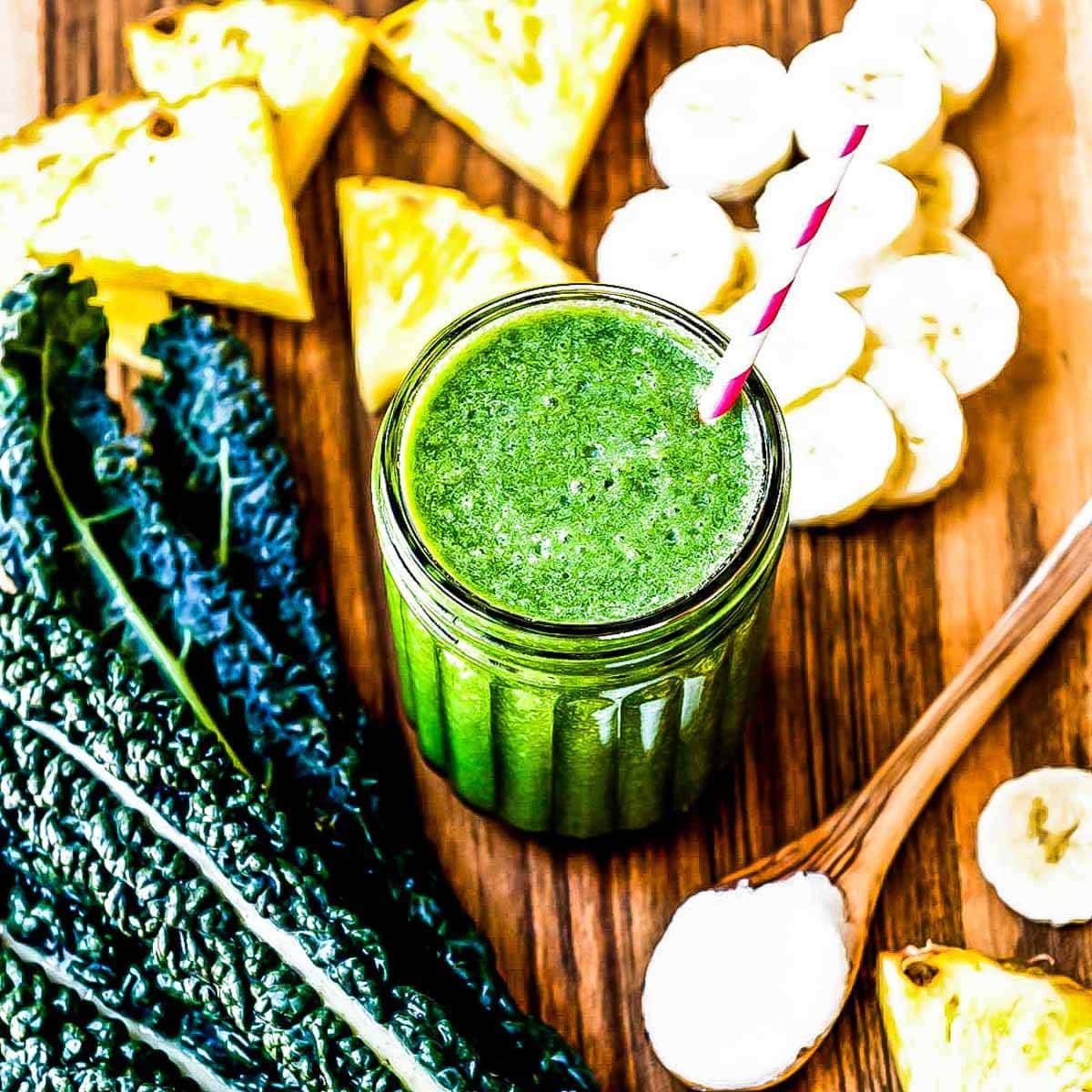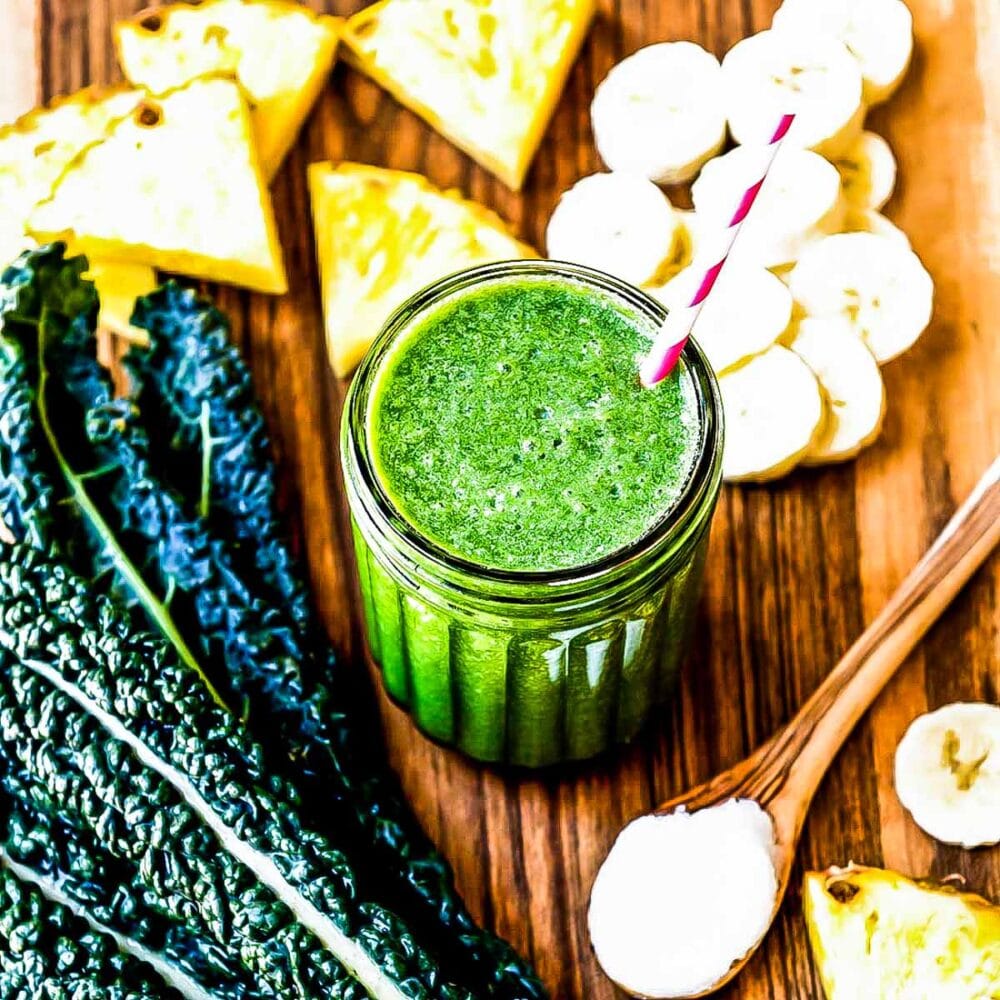 Table of Contents
Healthy Benefits of Coconut oil
Adding a tablespoon of coconut oil to your smoothie can help curb your appetite. I use coconut oil smoothies in my Seasonal Cleanse and the results are incredible. I love the benefits of coconut oil: not only does it help clear up my skin, help keep me regular, plus keep my hair shiny – it also balances out the carbs in smoothies, and helps the body absorb the protein. Plus, it helps all those precious vitamins and minerals from the plants absorb into your body.
Non-food uses for coconut oil
I use coconut oil for much more than just smoothies. It's the main ingredient in my natural deodorant and toothpaste recipes, a great + simple furniture polish, anti-chaffing ointment before a long run, as well as a great eye make-up remover. Seriously, coconut oil works on everything…
Did you know that you can even make your own coconut oil? Just follow this fun recipe by BlackFoodie.Co to learn how. If you'd rather go the store-bought route, don't let the price tag on those fancy little boutique jars fool you.
I get mine from Costco in a giant tub for less than $20. The same coconut oil in smoothies can be used all over your home as a natural solution.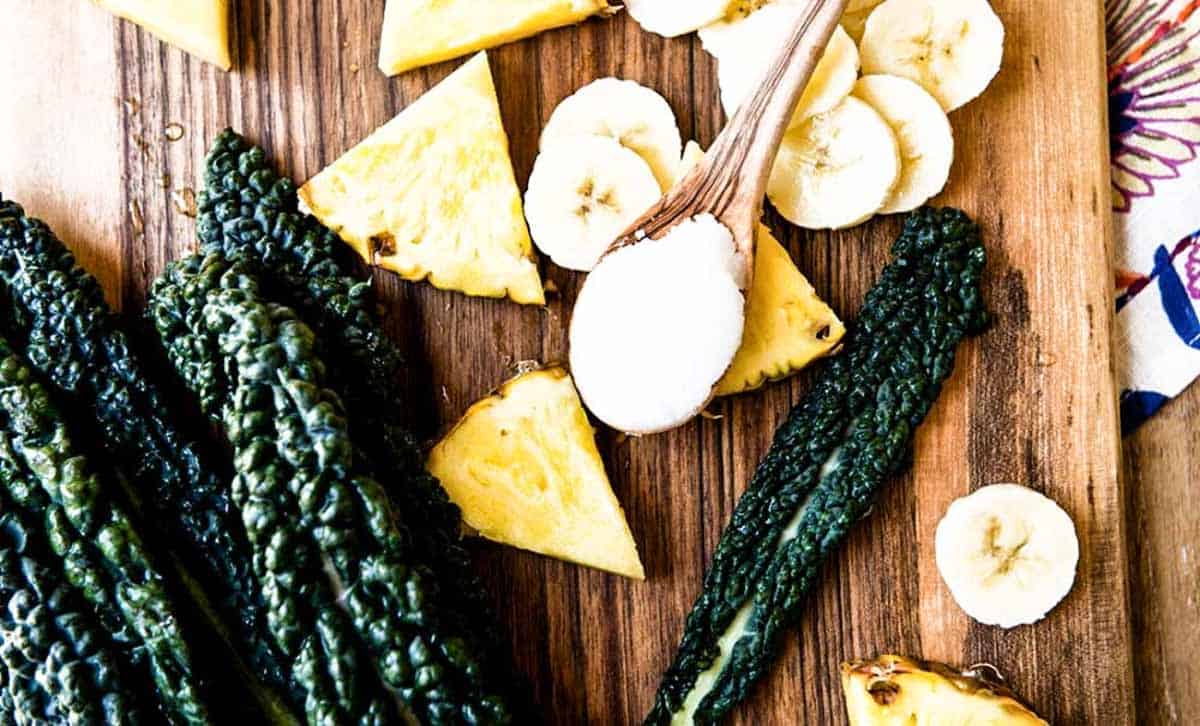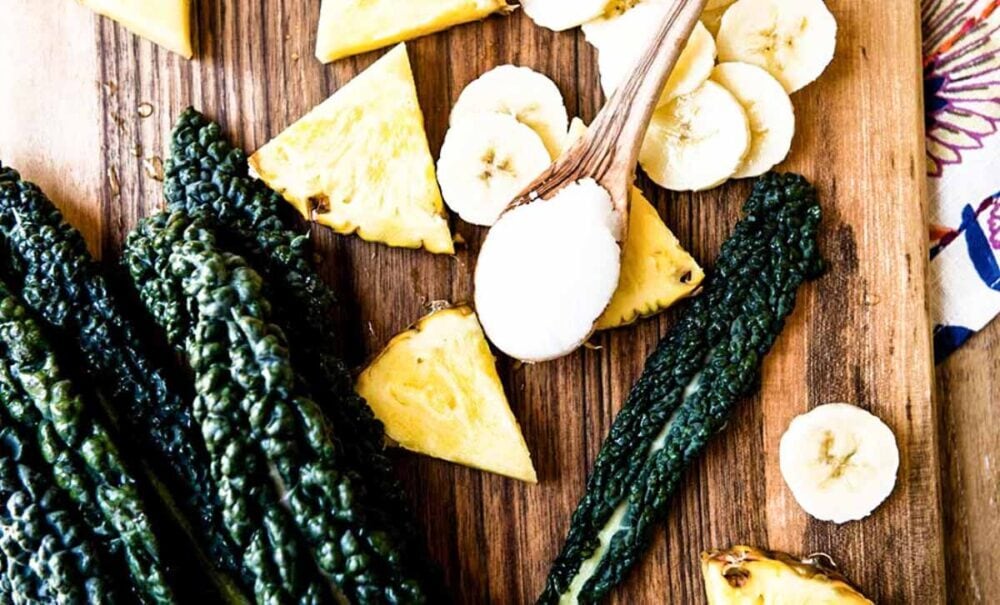 Boosting Smoothies with Superfoods
Coconut oil belongs to the superfood family, because of its health benefits in cooking, baking, and in smoothies. This healthy fat actually helps your body process the carbs from that smoothie you just drank, for longer lasting energy, without the sugar crash.
I love boosting smoothies with a few Top Superfoods List, especially those high in healthy fat and/or plant based protein. Chia seeds, hemp hearts, flaxseed, avocados, and almonds are all easy boosters with incredible health benefits.
Plant powered protein
Because plant powered energy is so important to me, I created my own homemade protein powder, the cleanest + best complete plant protein that can be added to smoothies. This super charged superfood blend gives any smoothie an extra 10 grams of protein and 4 grams of healthy fat.
Coconut in Smoothies
Smoothies benefit from coconut in a variety of ways:
Coconut water is nature's gatorade, and a great smoothie liquid base. Blend your next pre workout smoothie with coconut water to give you a great electrolyte boost.
Fresh (or frozen) coconut flesh is a delicious smoothie ingredient, while dried coconut flakes can be added as a pretty topping for serving. Add some coconut flakes to your next smoothie bowl too!
Coconut milk is also a delicious smoothie liquid base, with a completely different flavor profile, as well as healthy fat benefits too.
Coconut oil in smoothies is obviously a fav ingredient as well. If you don't like the taste of coconut oil, yet still want its benefits, then try adding MCT oil to your next smoothie. Just remember, a little goes a long way!
With the 4 different ways coconut can be added to smoothies, it's not a shocker that we're a little crazy for coconuts here at Simple Green Smoothies!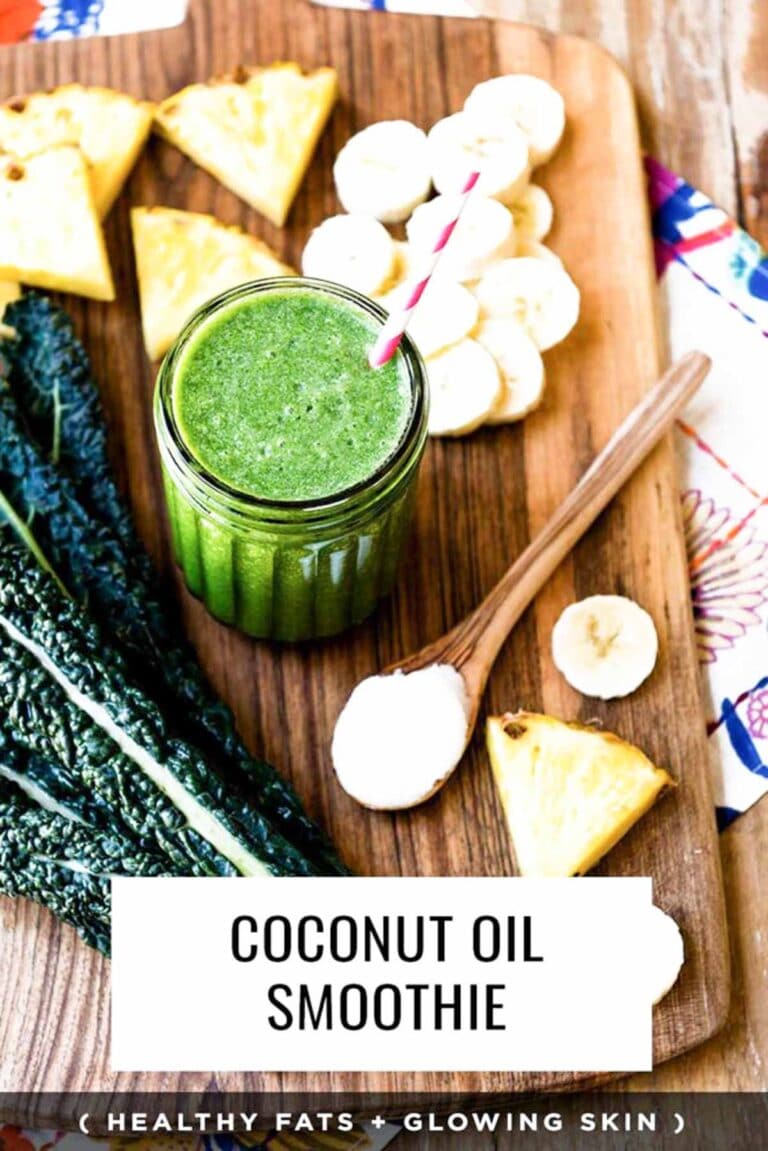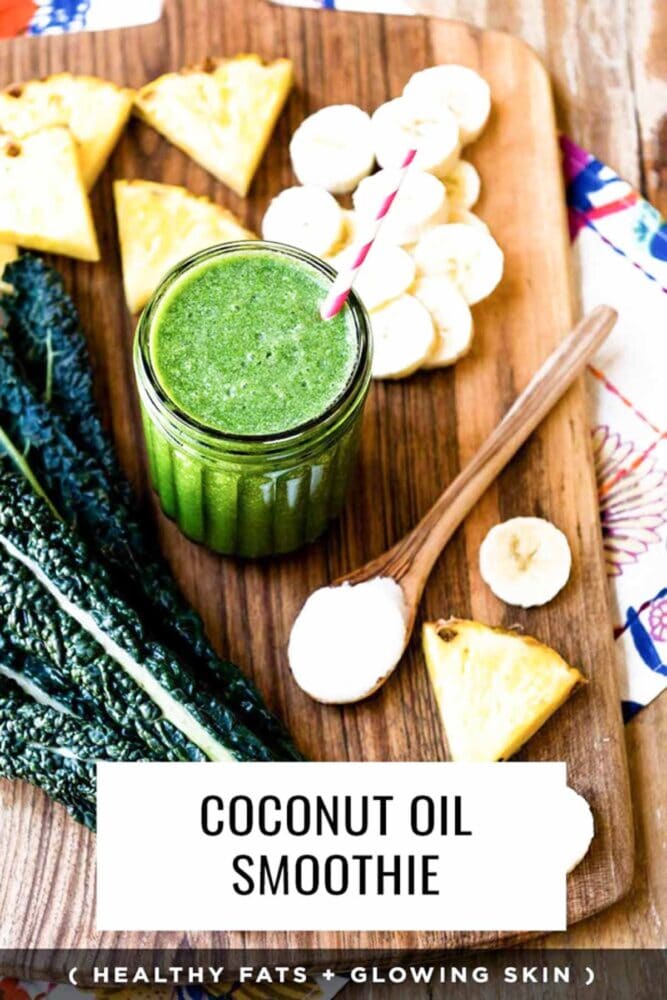 More Tropical Smoothie Recipes
Looking for a tropical way to start your day? Check out some of these fun creations:
While these delicious smoothies feel like they'd be best sipped on a beach during summer, many tropical fruits are actually in season during the winter months! So next time you're at the grocery store, grab some oranges and pineapple, and don't be afraid to add a little sunshine to your wintery day.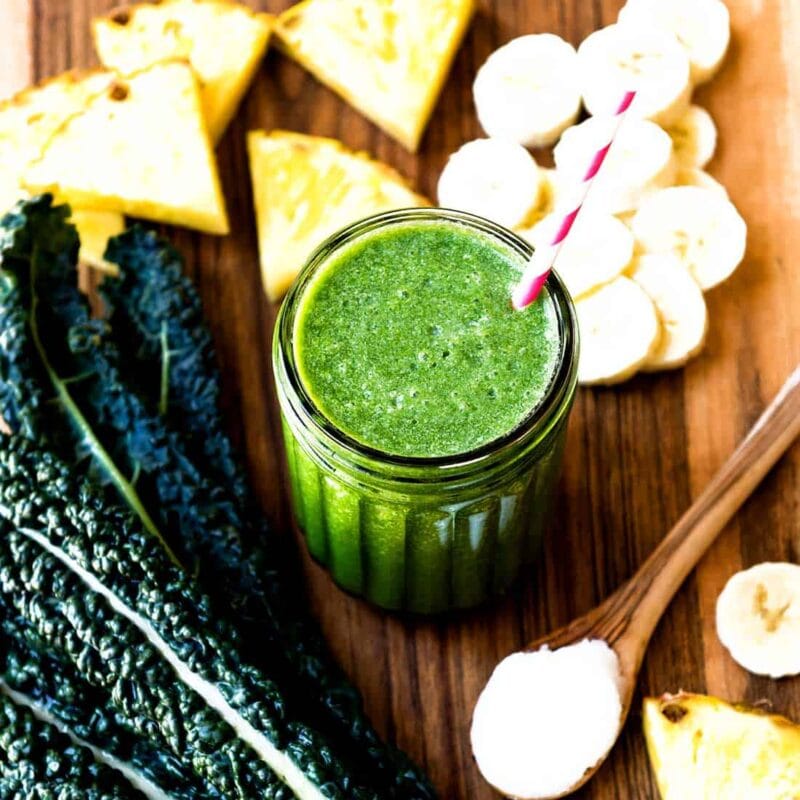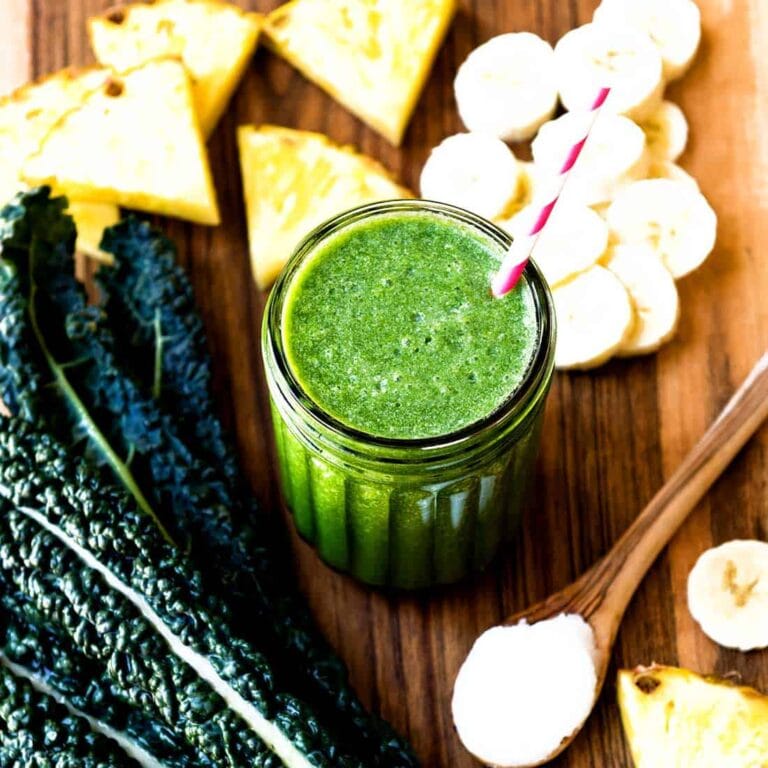 Coconut Oil Smoothie
Try this nutrient-packed coconut oil smoothie with fresh cut pineapple, kale and coconut oil. Coconut oil has some amazing health benefits such as increasing metabolism and endurance— which is great if you workout or are running after little ones all day.
Instructions
Blend kale, water and coconut oil until smooth.

Next add the remaining fruits and blend again.
Notes
Use one frozen fruit to make smoothie cold.
Can use a refined MCT coconut oil that will blend easier too.
Swap 1/2 banana with 1/4 avocado to lower the natural sugar in this smoothie.
Nutrition
Serving:
16
oz
,
Calories:
289
kcal
,
Carbohydrates:
41
g
,
Protein:
4
g
,
Fat:
15
g
,
Saturated Fat:
12
g
,
Polyunsaturated Fat:
1
g
,
Monounsaturated Fat:
1
g
,
Sodium:
40
mg
,
Potassium:
720
mg
,
Fiber:
4
g
,
Sugar:
23
g
,
Vitamin A:
6827
IU
,
Vitamin C:
164
mg
,
Calcium:
132
mg
,
Iron:
2
mg