Turn your house into an Autumn oasis after putting this Crockpot Apple Cider recipe on. It's infused with all the quintessential flavors of the season and can be served at a party, dinner gathering or just a random Tuesday night. Hot apple cider is the perfect Fall beverage.
The moment the weather starts to turn and evenings start losing the summer heat faster I like to put this recipe on simmer and enjoy curled up on the couch.
It's the same time I start trading in my cold brew for Healthy Coffee and my Tropical Smoothie Bowl for a Pumpkin Smoothie or a Maple Oat Smoothie Bowl.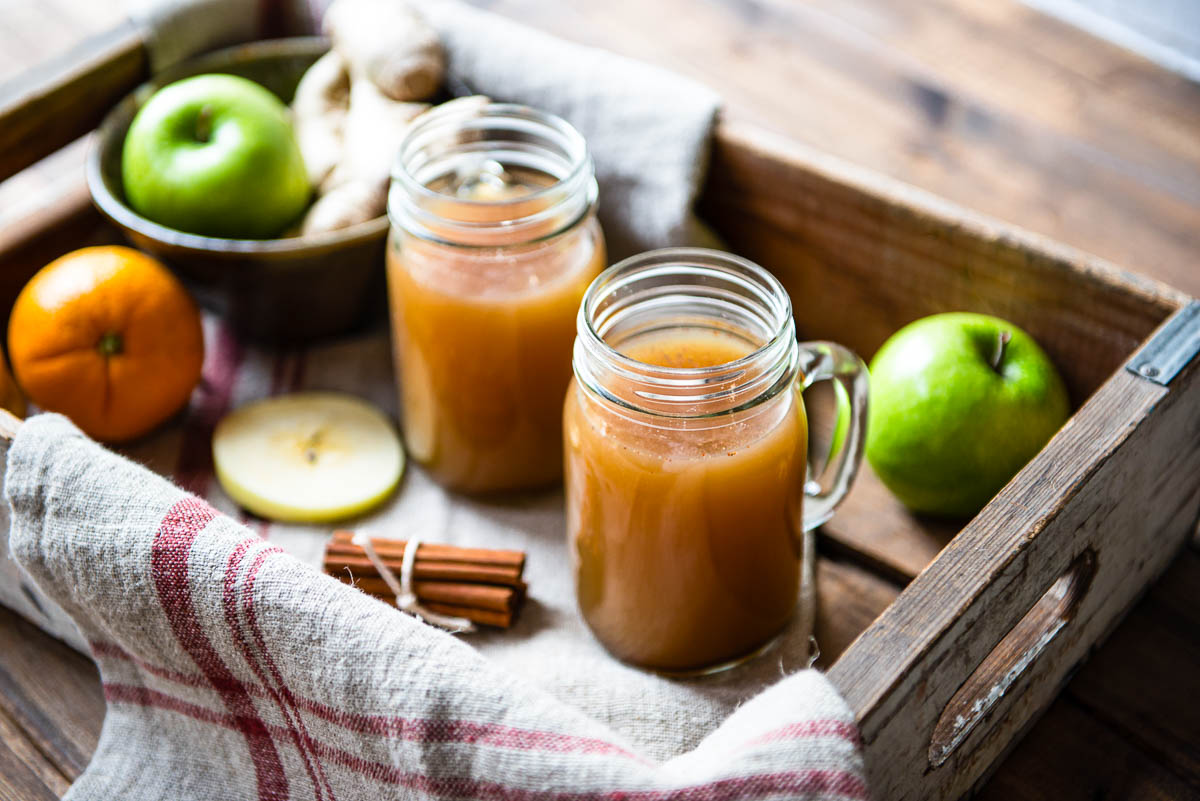 While apple cider straight from the fridge can be delicious, infusing it with cinnamon, nutmeg, cloves, ginger and orange take it to the next level. Not only does it make your whole house smell amazing (like the Vegan Chocolate Chip Cookies effect!) but you also get a delicious Drink for Fall when it's done.
Table of Contents
Recipe Ingredients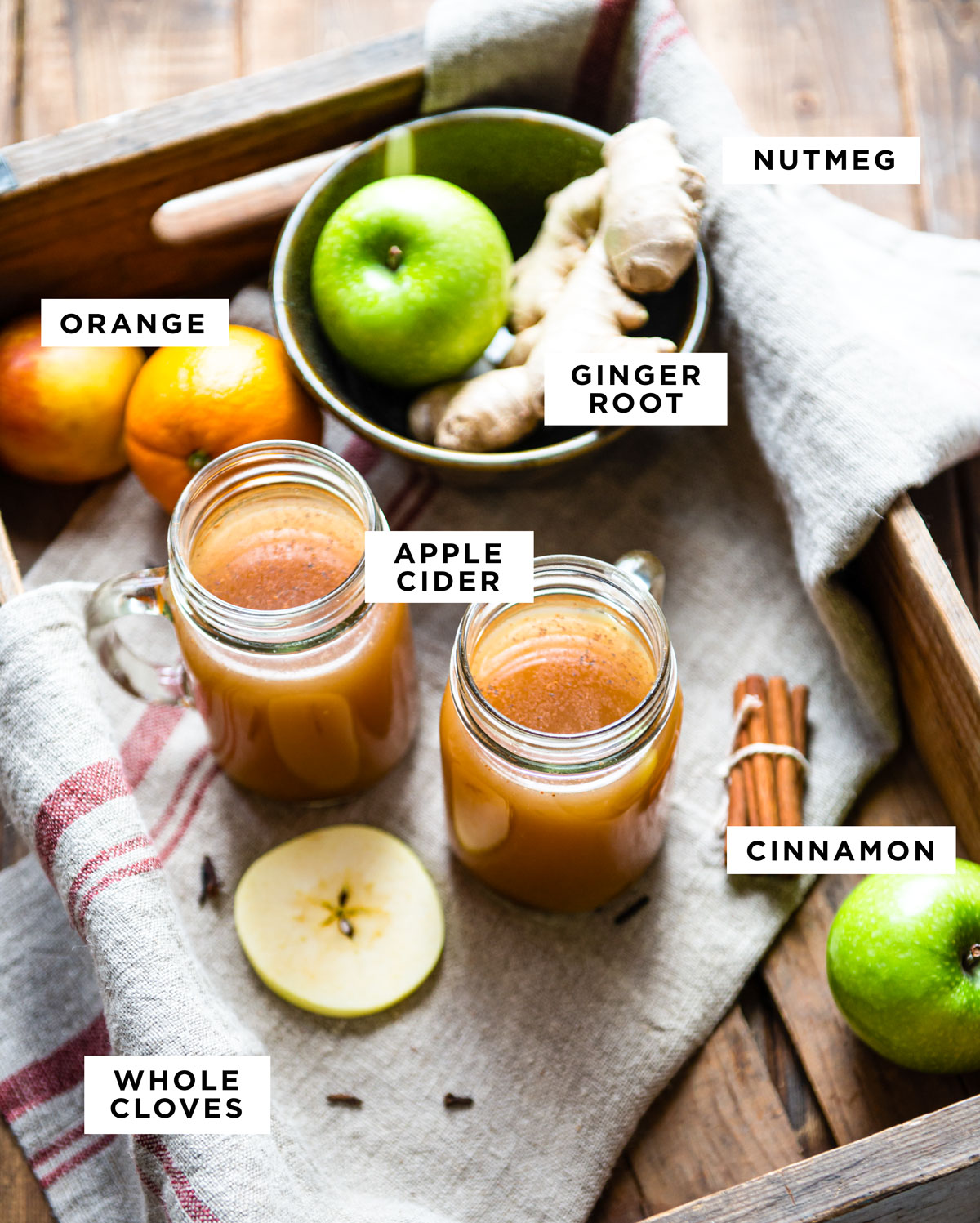 The prep for this recipe is actually really easy after you source the ingredients. I never knew there could be a cloves shortage, yet I had a crazy hard time finding some last year for my Chai Latte!
So, grab this list of aromatic spices and make sure you've got everything on hand before you take out that Crockpot.
Apple cider: Look for one that's just apples, no weird stuff. If you live in a place with apple orchards, head there for the freshest kind!
Cinnamon sticks: Most grocery stores sell whole cinnamon sticks in the spice section, or you can grab a package on Amazon.
Ground nutmeg: It's a little harder to find whole nutmeg so I went with ground for this recipe. If you want to use whole then check your grocery store's international section or spice section; you might get lucky!
Whole cloves: Clove is a super strong spice and you might be surprised to find that the ground one in your drawer just might be out of date. Instead, grab some whole cloves and enjoy a super fresh pop of spice.
Ginger root: Fresh ginger adds to the flavor of this recipe without making it spicy.
Orange peel: No need for orange juice in this recipe, just the peel! It provides a slightly acidic taste that pairs perfectly with the apples and other spices.
You honestly don't need any added sweetener in this recipe since the cider will provide that naturally through the apple juice. If you do want to add a small amount of maple syrup or brown sugar then go for it after you give it a taste first.
Easy Swaps/Variations
There are several different ways you can make this recipe to get just the flavor you're looking for. Here are a few variations you can do:
First, if you aren't able to find fresh/whole spices then use all ground! Ground cloves, ginger and cinnamon will work just fine, though the flavor will change slightly.
If your kitchen is overflowing with apples after a day at the orchard then try whipping up a batch of homemade apple cider for this recipe. Use a mix of sweet and tart apple varieties, all cored and cut into fourths (leave the skin on). Place them into a crockpot then add just enough water to cover the fruit and let cook on low for 6-7 hours. Use a large spoon to gently mash the soft apples to release their juices then strain the whole thing to remove the pulp/skin. Feel free to combine this process with my recipe for a spiced cider.
For a brighter citrus finish, use orange slices (peels on) in the mixture. The juice will be infused with the other ingredients.
If you'd like to make an adult beverage then add in some spiced rum for a spiked cider. Usually, spiced rums are infused with cinnamon and vanilla, which would pair perfectly with the other spices already in this recipe. Just make sure it's clearly labeled when serving!
How to Make Crockpot Apple Cider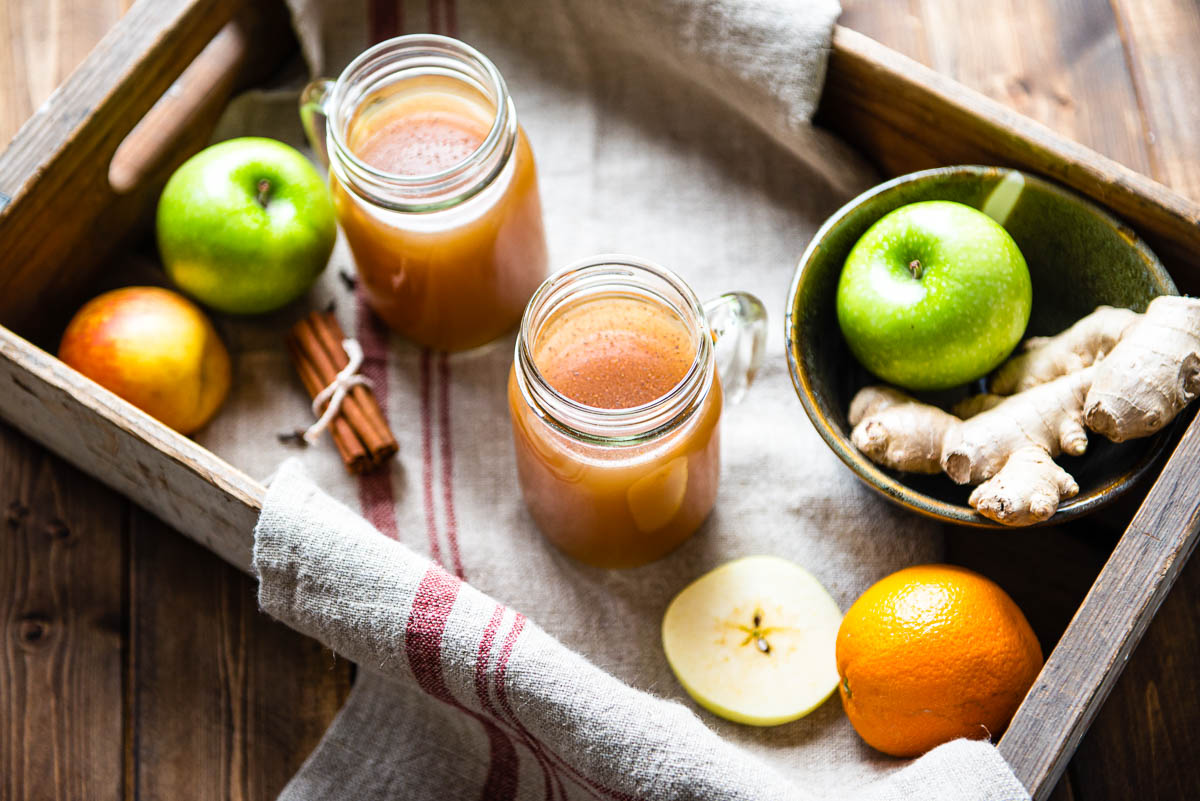 As I said before, crock-pot apple cider is simple to make, you really just need to give it time to simmer. You can even make it a day or two ahead of time, then heat up right before the main event. Here's how I'm making mine:
Combine all the ingredients in a slow cooker (I use my 7-qt Crockpot).
Heat on low for 8 hours or on high for 4 hours, until all the spices infuse the cider. The longer the cider simmers, the stronger the spiced flavor will be.
Strain using a fine-mesh strainer to remove all the whole spices and peel before serving.
Store leftover cider in an airtight container for up to 2 weeks in the refrigerator. Shake well to mix it up again before serving.
This can be served hot or cold, depending on the weather and your mood.
If you are serving this for a party then jazz it up a bit! Serve in a glass with a cinnamon stick or stick an apple slice or orange slice on the rim.
FAQs
Is it better to cook with apple cider or apple juice?
Since apple cider has a higher level of acidity than apple juice, they aren't really interchangeable when cooking. Stick to whichever one the recipe calls for.
What makes apple cider taste better?
If you're making your own apple cider, variety is the key to the best taste. Add a variety of tart apples and sweet apples as well as a mixture of red and green for a more complex and tastier drink. While apples are plenty sweet on their own, feel free to add a small amount of sweetener to your batch if you want.
How do you juice apples for cider without a press?
There is no need to use a press when making apple cider. Add cored apples (skin on) to a crockpot with just enough water to cover. Cook on low heat for 6-7 hours. Use a spoon to gently mash the softened fruit to release the juices, then pour the mixture through a fine-mesh strainer to remove the pulp and skin. Done! You can always strain again through cheesecloth if you want to get rid of even more pulp, yet you don't need to press the juice.
More Seasonal Drinks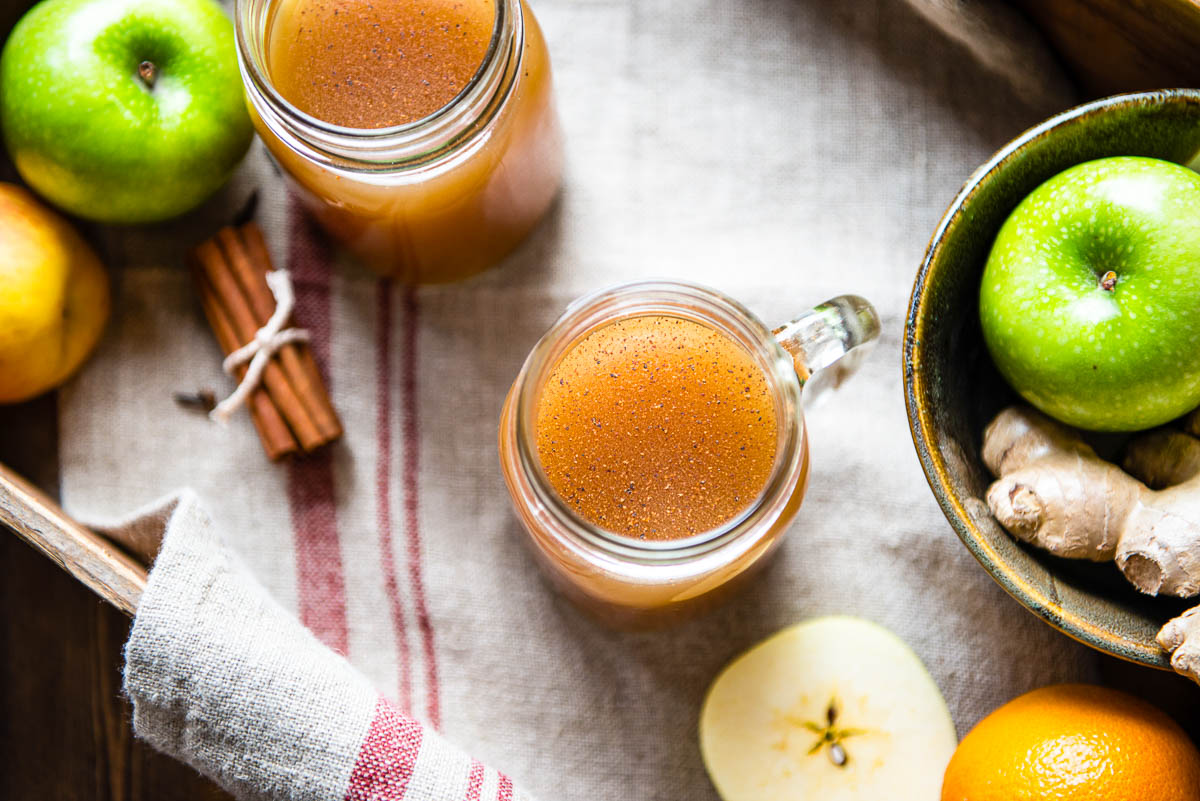 Fall is the best food scene, in my opinion. The fresh produce, flavors and atmosphere with which to enjoy them is unmatched. Grab your favorite sweater, look for some cooler weather and dive into a warm Chai Smoothie, Butternut Squash Smoothie or Wassail Drink. These lovely beverages show that Fall is the season for change from tropical to warming flavors.
If you're looking for a non-smoothie way to sip through your day then a lovely Cinnamon Dolce Latte or some Homemade Hot Chocolate is just around the corner. I've even got some Warm Almond Milk for those wanting a caffeine-free option.
And for those of you high on pumpkin spiced lattes, I've got you covered! Grab this Pumpkin Fall Smoothie for a delightful treat or keep getting your greens in with a classic Pumpkin Smoothie.
I hope you enjoy this easy crockpot apple cider recipe. If you could please, leave a comment & rating below so I know how you liked it. Cheers!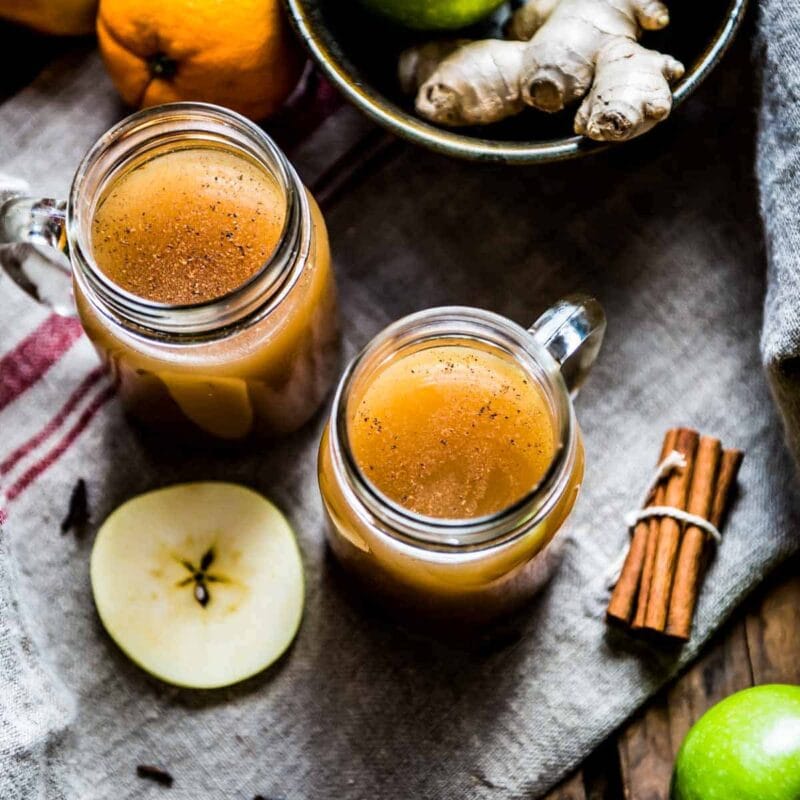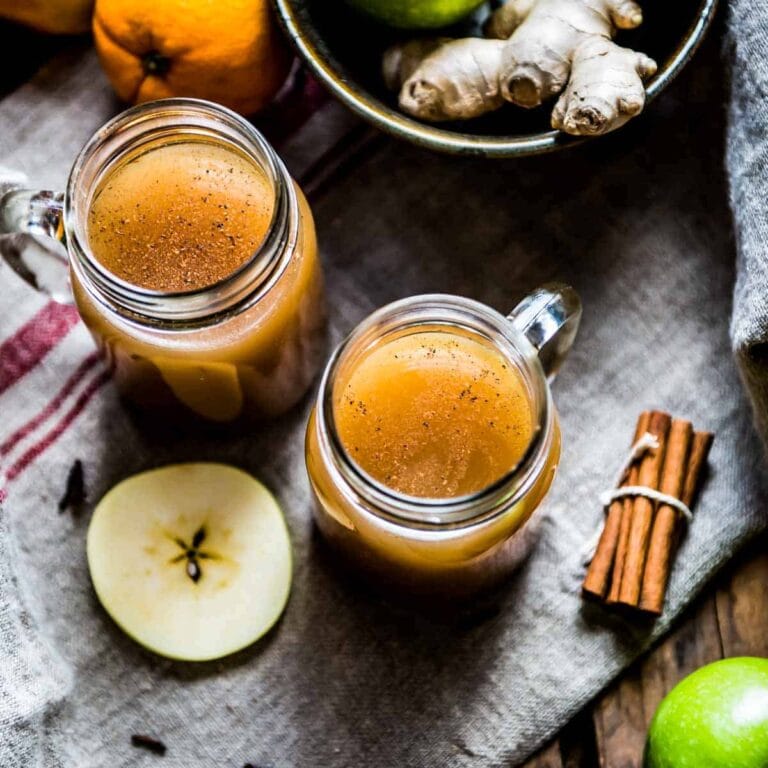 Crockpot Apple Cider
Nothing says cooler weather quite like crockpot apple cider. This version takes it to the next level with flavor. Using a slow cooker makes preparing this hot beverage easier than ever and the mulling cider makes your house smell fantastic.
Ingredients
1

gallon

apple cider

4

cinnamon sticks

½

tsp

nutmeg

ground

1

tbsp

cloves

whole

1

inch

ginger root

sliced, optional

orange

peel, optional

maple syrup

optional
Instructions
Combine the cider, cinnamon sticks, nutmeg, cloves, ginger and orange peel in a slow cooker.

Heat on low for 8 hours or high for 4 hours, or until the spices infuse the cider. The longer the cider cooks, the stronger the spiced flavor will be.

Strain the cinnamon sticks, cloves, ginger and orange peel before serving.

Store extra cider in an airtight container for up to 2 weeks in the fridge. Shake to mix before serving left overs.
Notes
To make it easier to remove the spices and peel, place them in a few layers of cheesecloth and tie with string to make a nice little bundle then toss the bundle into the crockpot. Then you can just take out the bundle before serving.
For a sweeter sip, add honey or maple syrup.
For an even more festive finish, top with coconut whipped cream.
I like to look for apple cider that's just apples so I can adjust the flavor + sweetness more easily. 
Nutrition
Calories:
112
kcal
,
Carbohydrates:
28
g
,
Protein:
0.3
g
,
Fat:
0.4
g
,
Saturated Fat:
0.1
g
,
Polyunsaturated Fat:
0.1
g
,
Monounsaturated Fat:
0.02
g
,
Trans Fat:
0.001
g
,
Sodium:
10
mg
,
Potassium:
245
mg
,
Fiber:
1
g
,
Sugar:
23
g
,
Vitamin A:
5
IU
,
Vitamin C:
2
mg
,
Calcium:
29
mg
,
Iron:
0.4
mg