Turn on the crockpot, toss in your ingredients and let your house fill with the smell of my spiced apple cider recipe. Perfect for fall festivals of all kinds.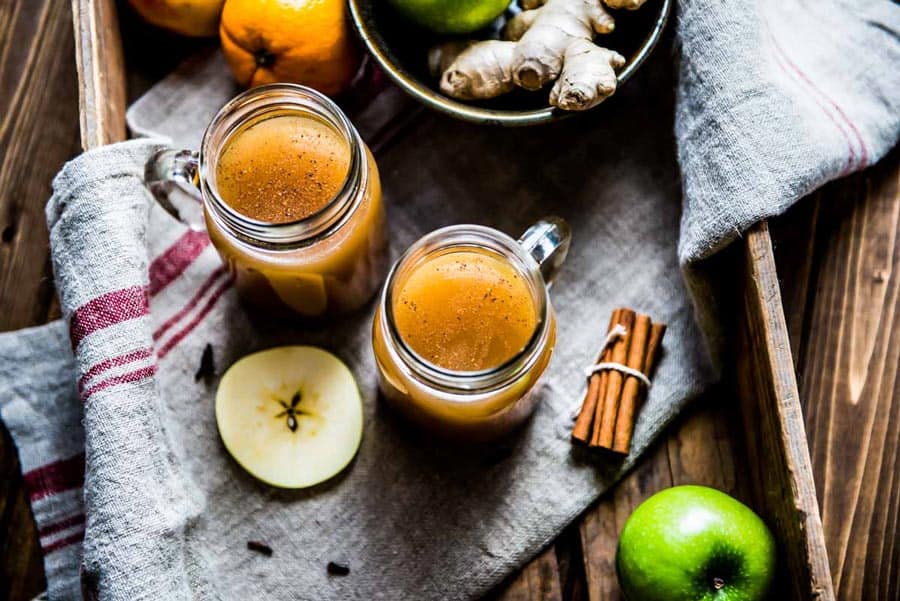 I'm super excited to share with you this crockpot apple cider recipe. It's perfect for the holidays and will keep your tummy warm on a cold night. I originally shared this recipe in my cookbook, Simple Green Meals and it was a hit. Now, I wanna walk you through exactly how to make it and why it's so special to me.
As a kid, we had a Christmas tradition where we'd make cider and walk along Clark Court, a street that took Christmas lights seriously. We'd stroll down the street with cider in our hands, looking at the lights and listening to the Christmas music— it felt magical. Then we'd watch Christmas Vacation and laugh the whole way through.
Table of Contents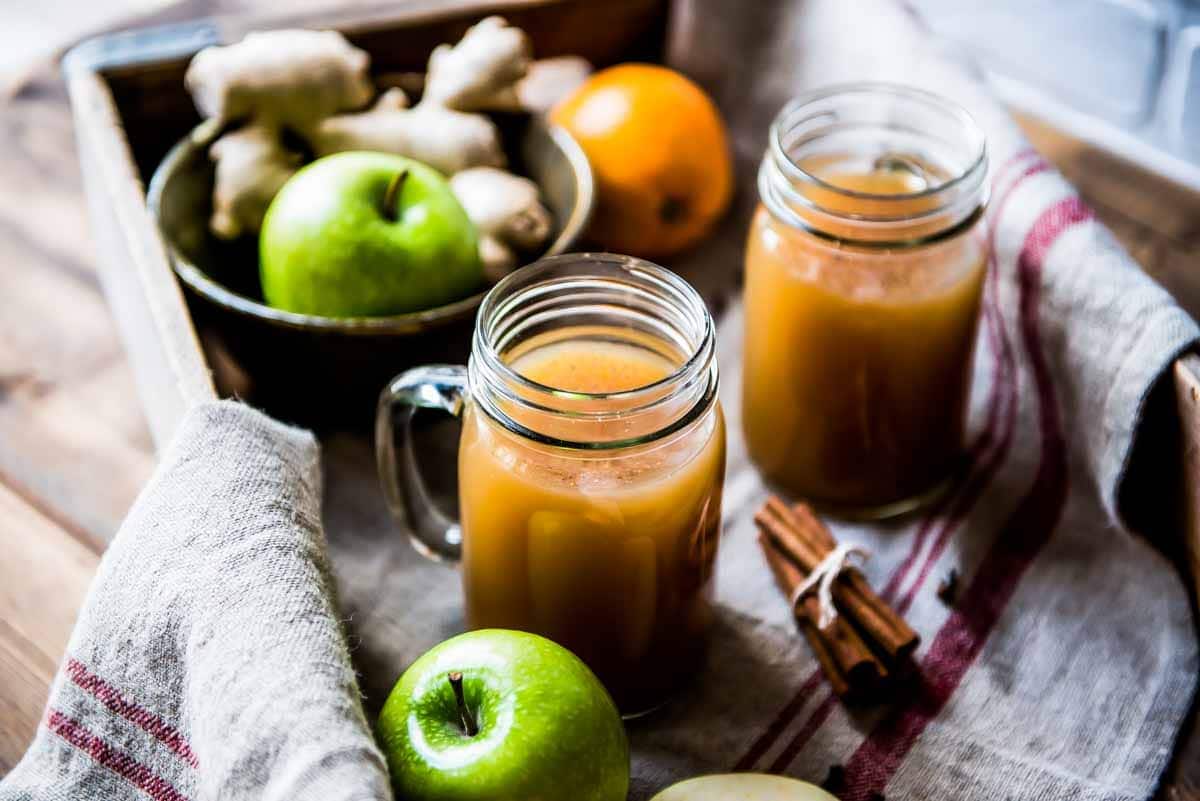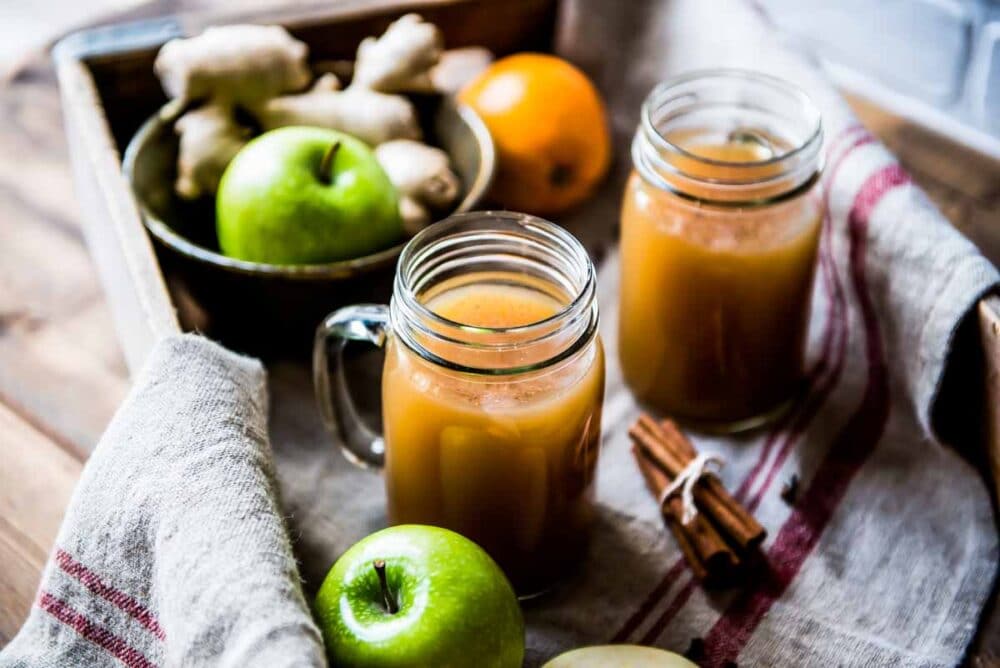 Ingredients for Apple Cider Recipe
I love to cook, but I really dread the cleanup. Washing dishes is not really my thing. Thankfully, my husband doesn't mind them and we have a rule: if you cook, the other person cleans up. So I try to do most of the cooking.
This easy hot apple cider recipe only requires a crockpot, a cutting board and a knife to prepare it all. So dishes aren't much of an issue here!
You'll also need:
Apple cider: I like to use the gallon found in the refrigerated section starting in September (right next to the orange juice and kombucha). If you can find Honeycrisp apple cider, even better.
Cinnamon sticks: This adds a rich scent of cinnamon, without caking up the cider or getting little pieces of cinnamon stuck in your teeth.
Ground nutmeg and whole cloves: Two of the best seasonings of Autumn is used in this cider. It adds depth and coziness.
Fresh ginger root: One of the best warming spices that also helps with inflammation. Since ginger is strong, start small and add more as desired.
Organic orange peel: Using an organic orange ensures no pesticides are getting into your cider. Yet still make sure to wash it with warm water and vinegar to kill and germs.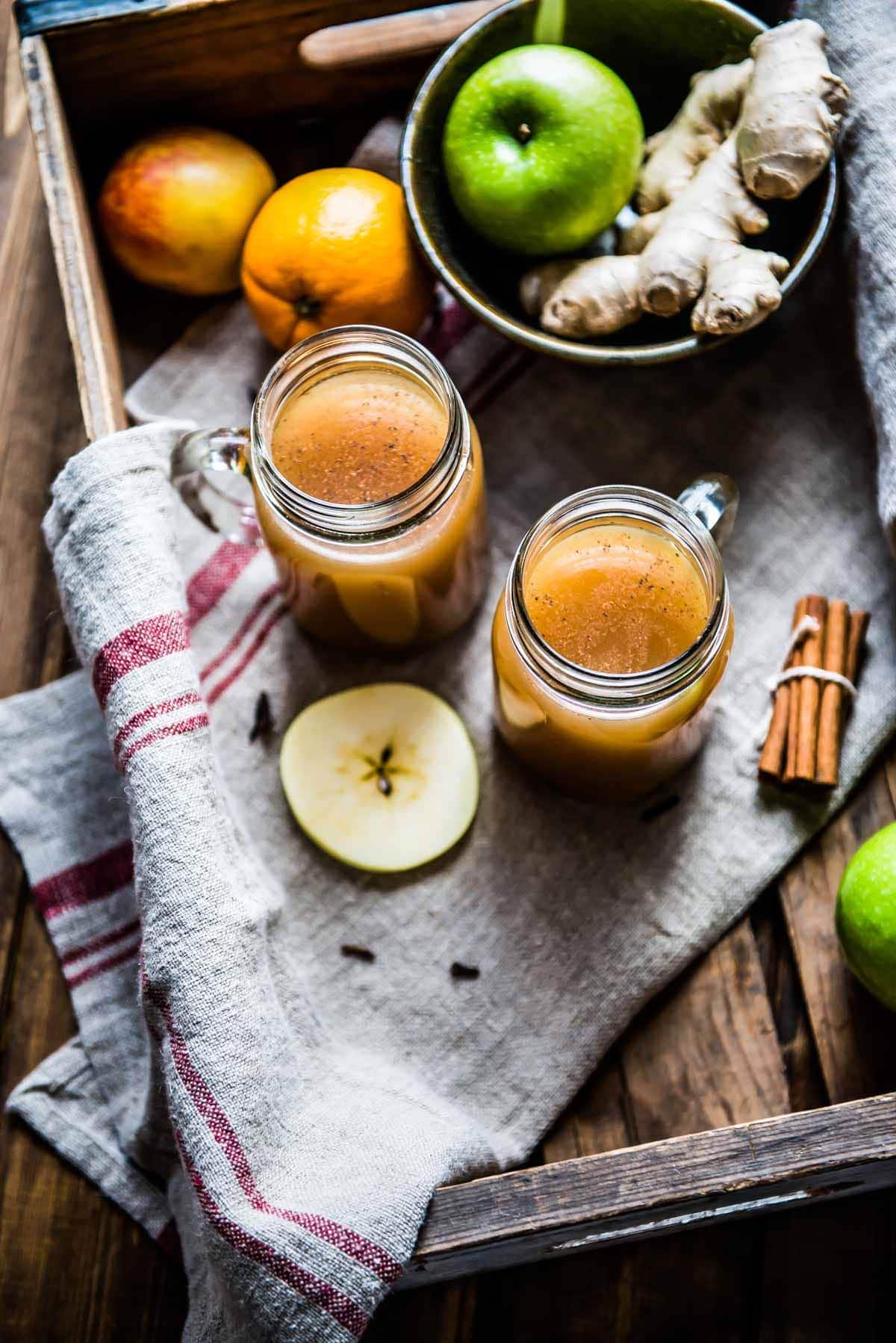 Tips and Tricks
Use Honeycrisp apple cider for a sweeter cider or add maple syrup to taste.
Use a thin-slotted spoon to sift out the spices before serving.
You can quickly heat up over the stove in a large sauce pan if you don't have time to simmer in a crockpot.
To jazz up the crockpot apple cider recipe, serve with whipped cream and caramel sauce on top. I've done this for parties and had many people ask me for the recipe afterwards— and it was literally homemade cider with store-bought caramel sauce and homemade whipped cream. Easy, peasy.
How to Store
If you have leftovers of this apple cider recipe, I suggest storing in a quart-size mason jar with a lid. To reheat, I'll pour into a sauce pan and warm up for a few minutes on medium heat. You can even have it simmer on the stove if you want to infuse your home with the scent.
Simple Ingredient Swaps
If you're having a hard time finding apple cider at the grocery store, swap it with apple juice. It won't be as rich of a flavor, yet it'll be close if you use all the spices and allow to simmer all day.
You can also skip the orange peel and ginger root if you don't enjoy those flavors on their own. They do help deepen the flavor, and are essential to make a winning apple cider recipe.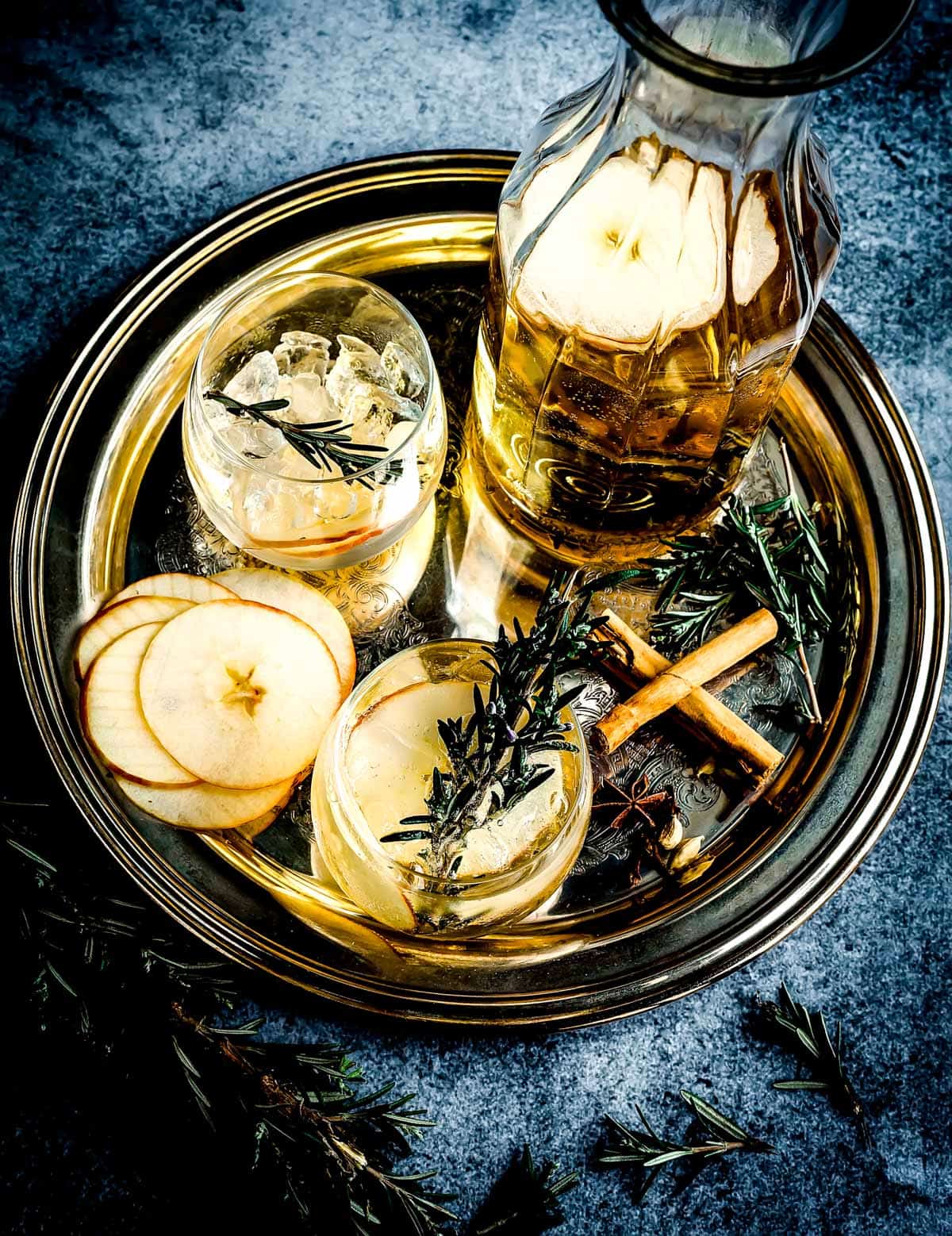 How to Make Spiked Apple Cider
You can easily spike this crockpot apple cider recipe by adding a splash of spiced rum. The "spiced" part of the rum usually refers to cinnamon and vanilla notes, which would bring out even more flavors in the cider.
Some brands that you can find locally or order online are: Captain Morgan Spiced Rum, Sailor Jerry Spiced Rum, Bacardi Spiced Rum and Chairman's Reserve Spiced Rum. I have no clue which one would be best because I don't drink rum. Yet if you do, feel free to comment below and let others know which one you like.
I hope you enjoy this easy crockpot apple cider recipe. If you do, make sure to leave a comment & rating below so I know how you liked it. Cheers to your health!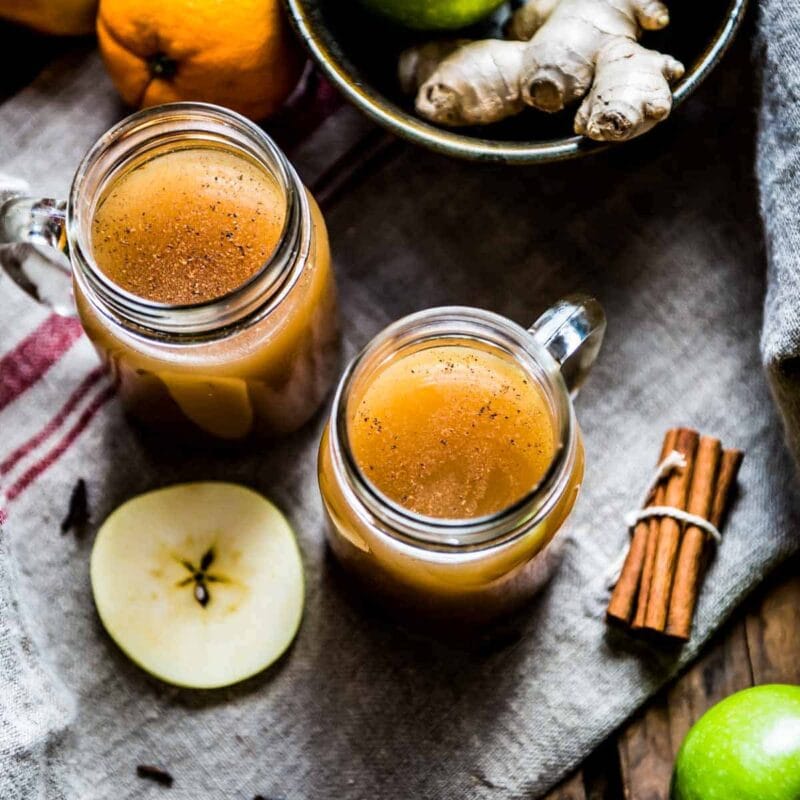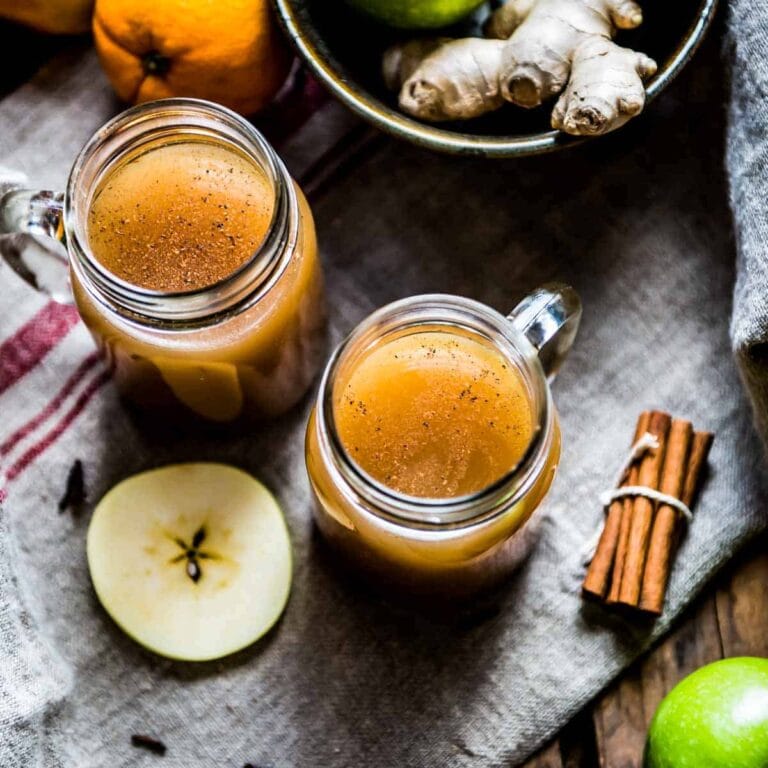 Best Crockpot Apple Cider
Nothing says winter quite like crockpot apple cider—and this version takes it to the next level with flavor. Using a slow cooker makes preparing this hot beverage easier than ever, and as the cider mulls, your house smells fantastic 
Ingredients
1

gallon

apple cider

4

cinnamon sticks

½

tsp

ground nutmeg

1

tbsp

whole cloves

1

inch

ginger root

sliced, optional

orange peel

organic + peeled

maple syrup

optional
Instructions
Combine in a slow cooker the cider, cinnamon sticks, nutmeg, cloves, ginger, and orange peel.

Heat on low for 8 hours or high for 4 hours, or until the spices infuse the cider. The longer the cider cooks, the stronger the spice flavor will be.

Discard the cinnamon sticks, cloves, ginger, and orange peel before serving.

Store extra cider in an airtight container for up to 2 weeks in the fridge.
Notes
To make it easier to remove the spices and peel, place them in a few layers of cheesecloth and tie with string to make a nice little bundle.
For a sweeter sip, add honey or maple syrup.
For an even more festive finish, top with coconut whipped cream.
Nutrition
Calories:
112
kcal
,
Carbohydrates:
28
g
,
Protein:
1
g
,
Fat:
1
g
,
Saturated Fat:
1
g
,
Polyunsaturated Fat:
1
g
,
Monounsaturated Fat:
1
g
,
Trans Fat:
1
g
,
Sodium:
10
mg
,
Potassium:
247
mg
,
Fiber:
1
g
,
Sugar:
23
g
,
Vitamin A:
5
IU
,
Vitamin C:
2
mg
,
Calcium:
29
mg
,
Iron:
1
mg