Experience the latest coffee trend with a plant-based twist: Dalgona Coffee. Whip up this "unity coffee" in less than 10 minutes and be buzzing for hours. My Dalgona coffee recipe is a plant-based version for those that want to join the trend yet are staying away from dairy, like me!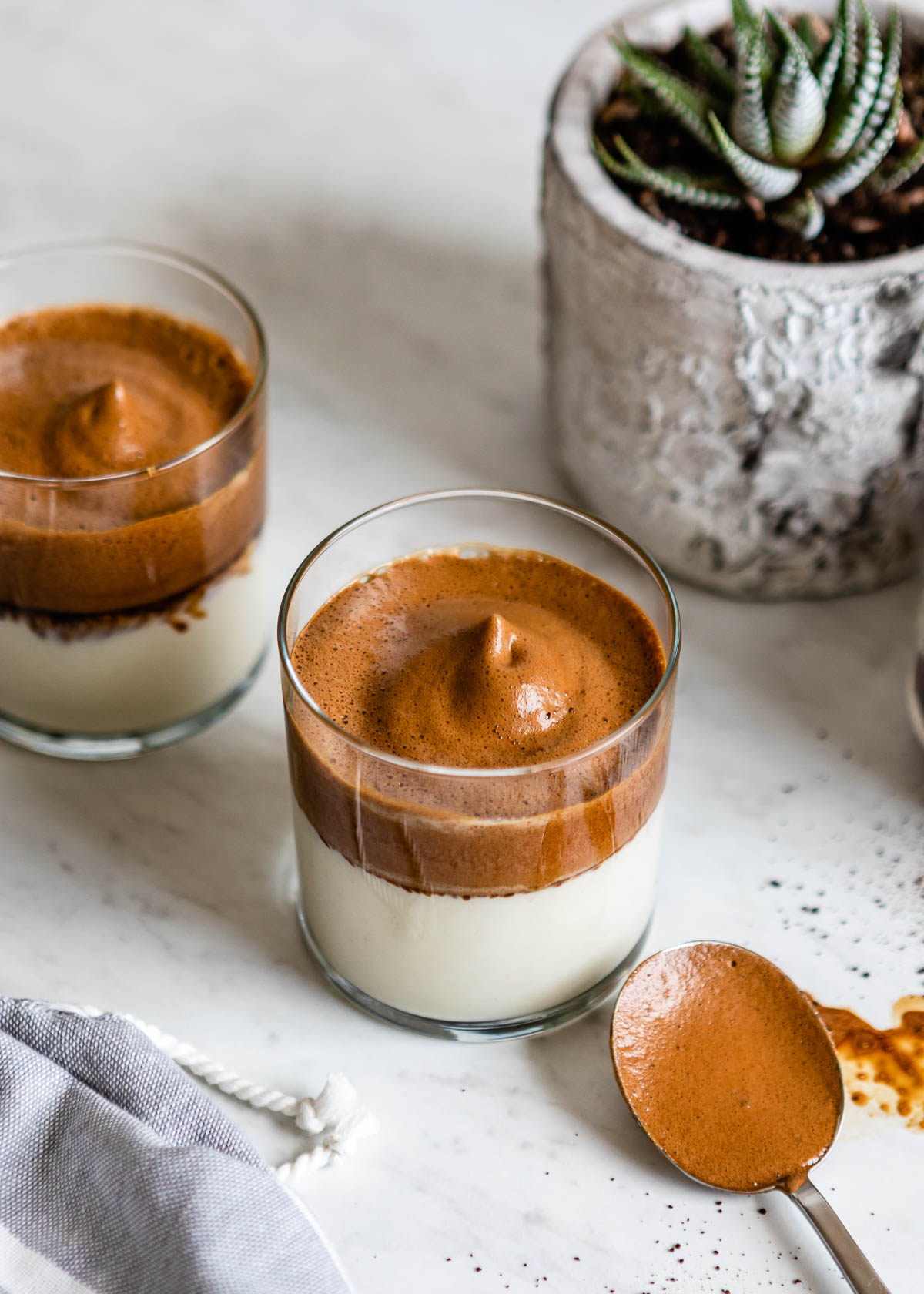 Recipe Ingredients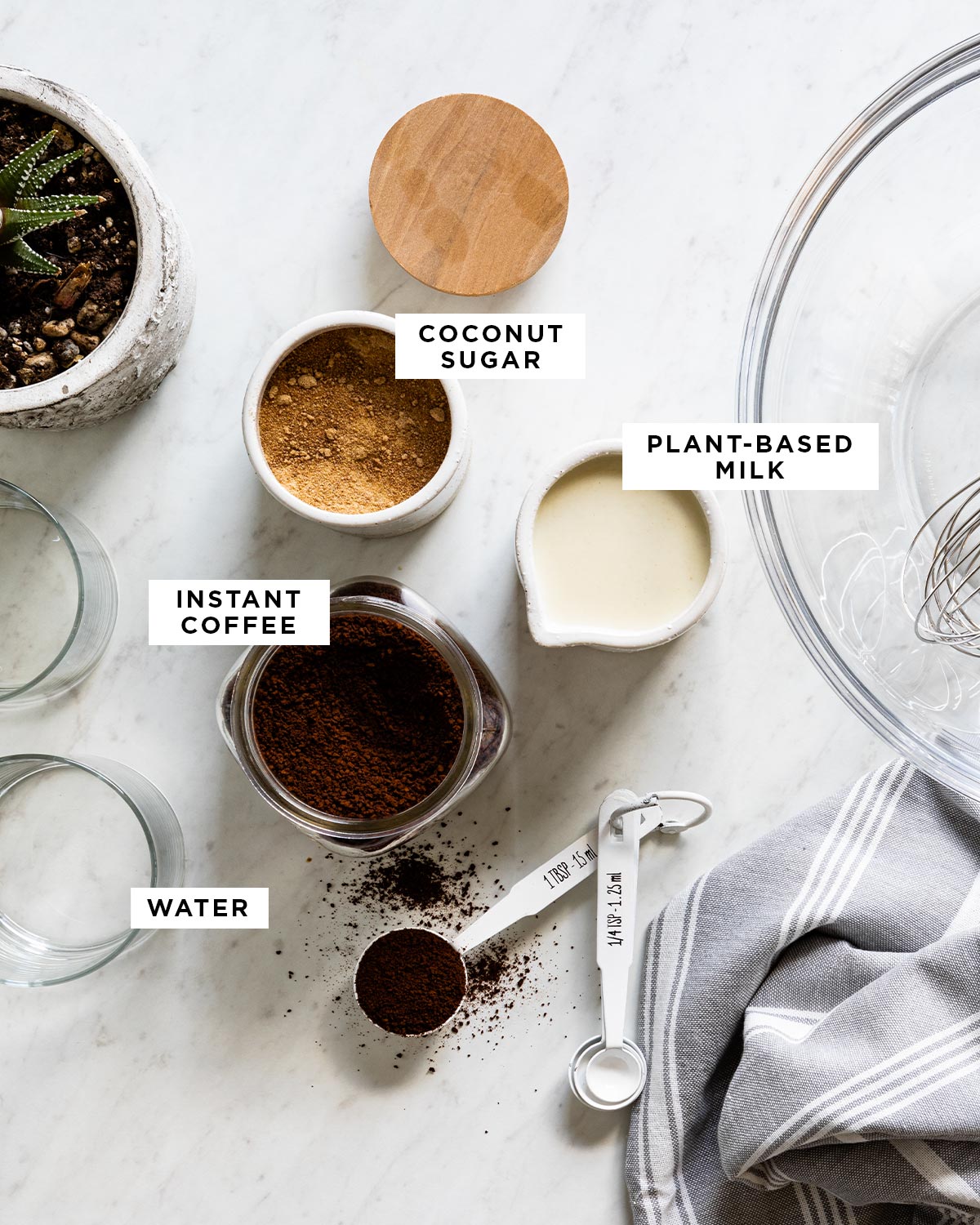 Dalgona is a Korean candy akin to a honeycomb. It's made with sugar and baking soda which produces a light, airy, crunchy texture. The traditional Dalgona coffee recipe doesn't actually contain Dalgona, yet resembles it in appearance (which explains the name).
Whipped coffee is a popular Korean beverage that's become global since COVID. This recipe is whipped sweetened instant coffee served over milk.
It's the most beautiful display of caffeine as you can see from the thousands of artistic Instagram posts. It seems to be just one more way coffee can provide a sense of unity or comfort during a challenging time. Here's what I'm putting in mine:
Instant coffee: I know it sounds odd but it's what the people use! We're going to use it, too. Look for coarse ground, nothing too fine or it won't work correctly.
Coconut sugar: Instead of refined sugar I'm using coconut sugar. It has a rich, nutty flavor that is a bit more like brown sugar, yet not as sweet or refined.
Water: You only need two tablespoons in this recipe to help the other ingredients dissolve.
Plant-based milk: I use my homemade oat milk in this recipe since it is super creamy, yet you can also use almond milk, hemp milk, coconut milk or really any dairy-free milk you want. If using a store-bought version, have fun with it! Look for the barista blend of your favorite version because that will produce the foamiest result.
How to Make Dalgona Coffee
Get those arms ready for a quick workout because you're going to be whisking for a bit! Seriously, you don't need an electric mixer, just those arm muscles and a whisk. You can totally use an electric mixer if you prefer.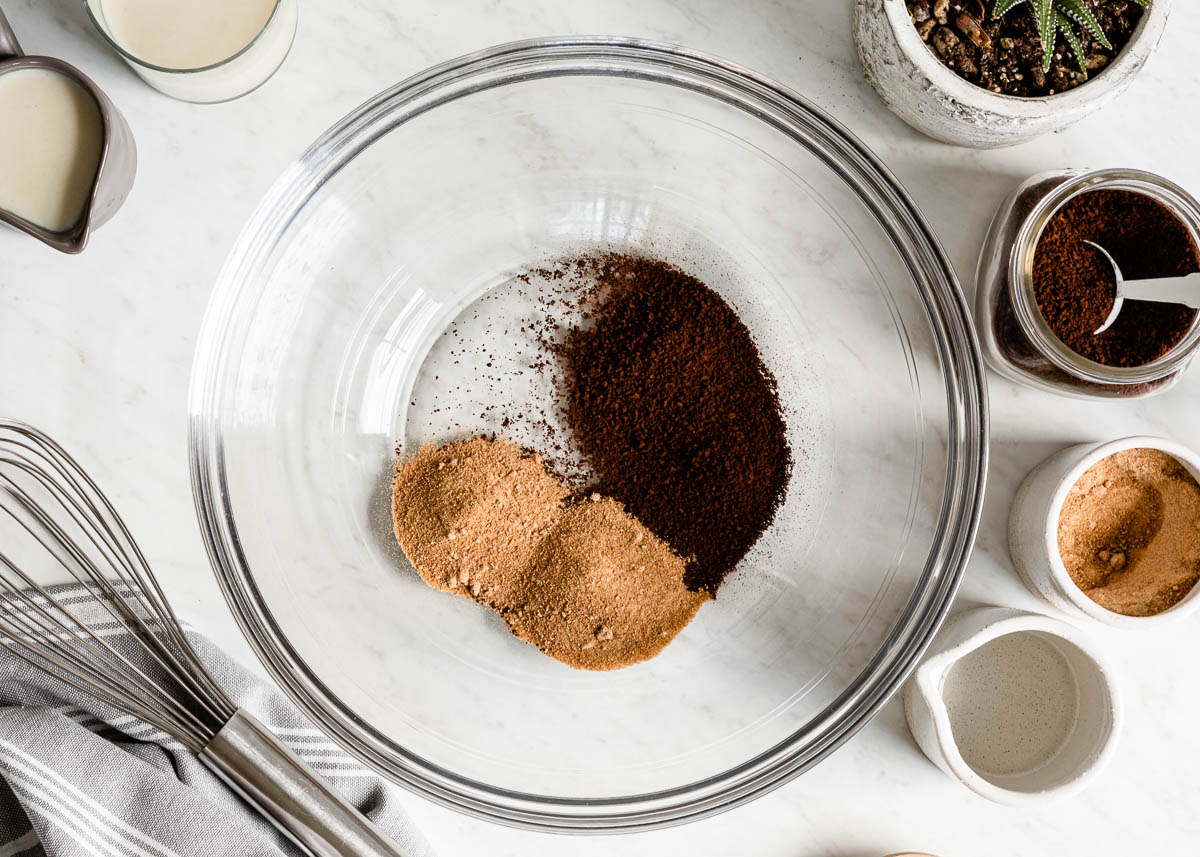 Step 1: Get a large bowl and whisk together the instant coffee, coconut sugar and water until the coffee and sugar are completely dissolved.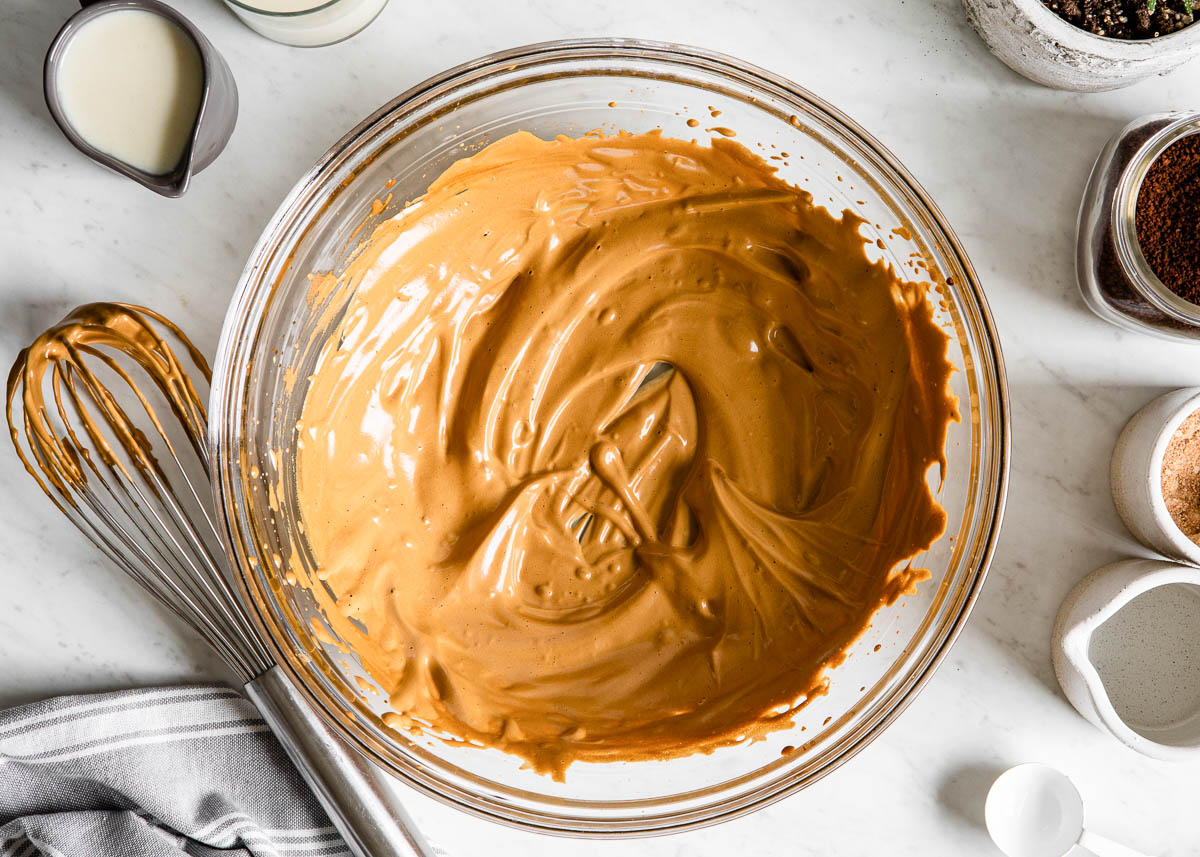 Step 2: Once dissolved, start to whisk vigorously until the mixture holds peaks like whipped cream. You can also use a hand mixer or hand-held blender to whip the mixture together.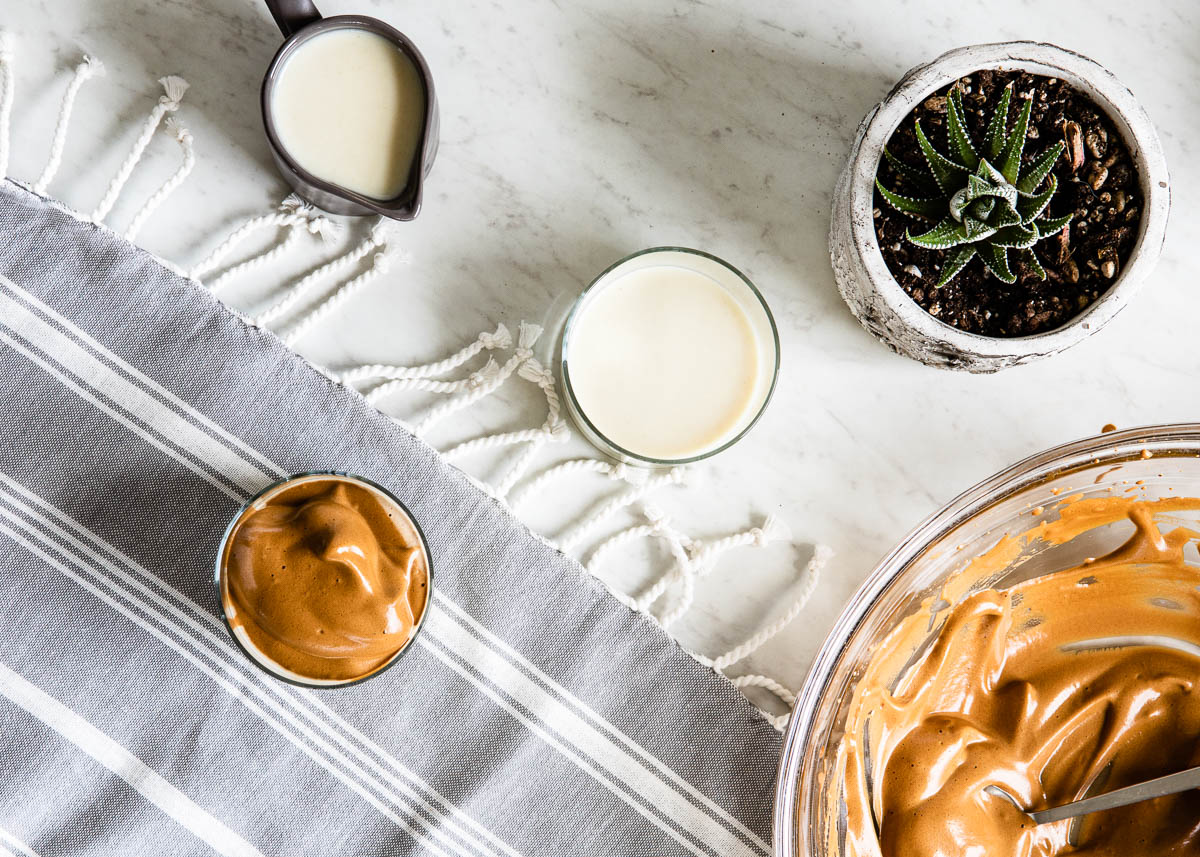 Step 3: To serve, pour 1/2 of the plant-based milk into each glass then divide the whipped coffee between the glasses. Serve immediately.
I know this Dalgona coffee recipe sounds like an odd departure from your regular caffeine routine yet it is truly a fun endeavor and a great way to share a cup with a friend!
Instant Coffee Options
Before we go any further, I must disclose that I'm a coffee snob. The thought of instant coffee threw me here, but trust me— it works and tastes good! When it comes to coffee, it's all about the quality and region.
Depending on your preference, there are a few options for instant coffee:
Don't be tempted to use finely ground coffee beans (no Via). Sadly, that will not work. It has to be instant coffee crystals.
Decaf Coffee Alternatives
Now, if you don't drink coffee or don't want the hit of caffeine, there are some alternatives you can use in whipped coffee. Decaf instant coffee crystals, Dandy Blend, Pero or other grain-based coffee alternatives, matcha powder, or cacao powder all will work.
With a decaf version of this recipe, the process is the same because we're only adjusting the caffeine content (not the actual ingredients). Whisk to dissolve, then keep on whisking until peaks form. Then add to hot or cold plant milk and serve immediately.
FAQs
How do you make easy Dalgona coffee?
To make this unique recipe, whisk together instant coffee, sugar and water. The ingredients will first dissolve, then begin to get fluffy until they form stiff peaks. Add this whipped coffee mixture to a cup with warmed milk and you've got Dalgona coffee!
What makes Dalgona coffee fluffy?
Whisking the coffee mixture creates air bubbles that increase the coffee's volume making it stiffer and look fluffy, like whipped cream. It's just like what happens to egg whites, yet there are none in this recipe!
Does Dalgona coffee only work with instant coffee?
It works best with instant coffee as the grounds need to be more coarse (unlike the coffee you use in the coffee maker). I also tested my recipe with some freshly ground coffee and that didn't work great either! Stick to instant coffee for this Dalgona coffee recipe.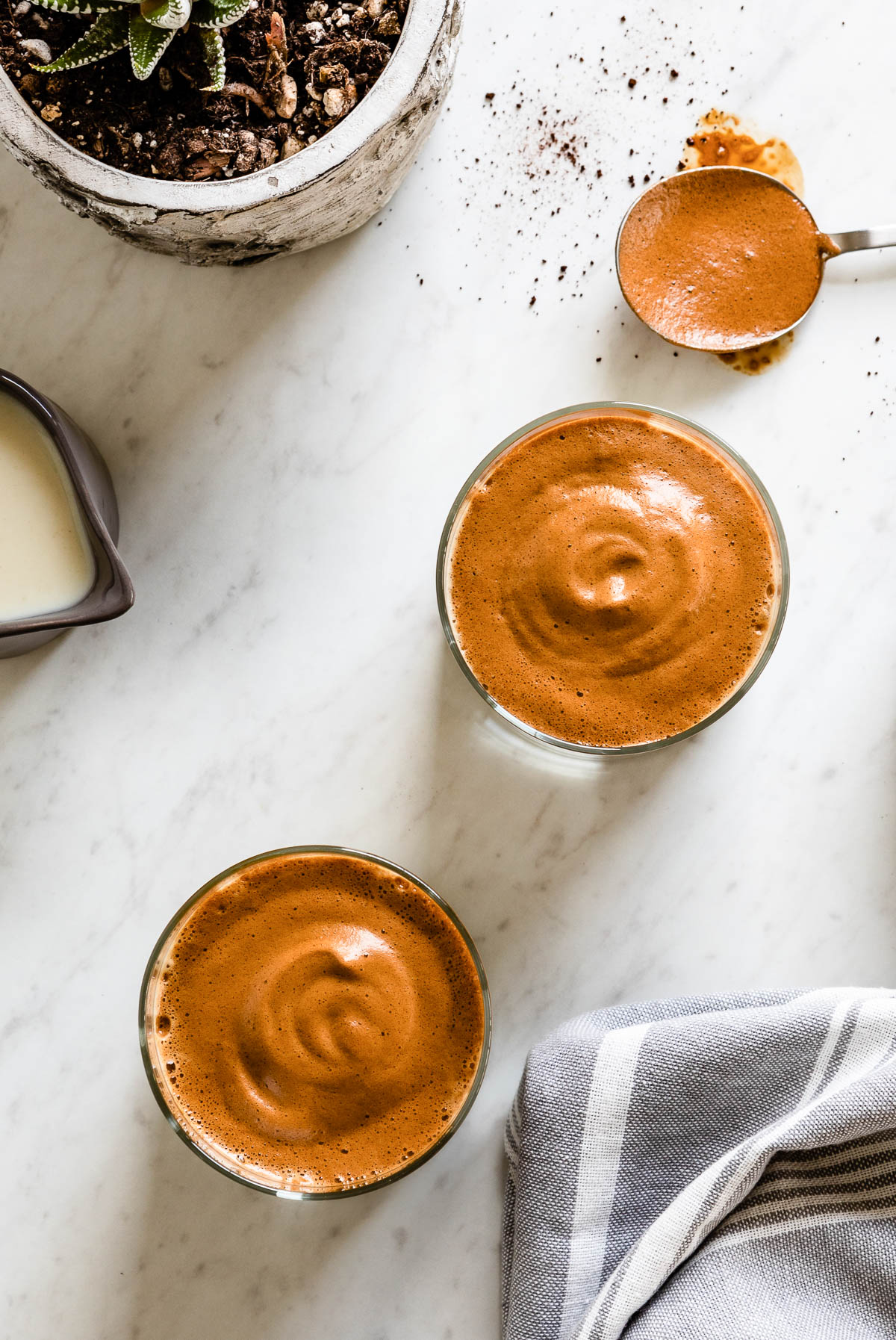 More Plant-Based Beverages for Energy
While I enjoy coffee daily, I also love getting my energy from other delicious beverages. Whether you want hot or cold, thick and creamy or thin and smooth, these delightful drinks have got you covered:
Don't forget to rate + review this recipe once you make it. I can't wait to hear how yours turns out!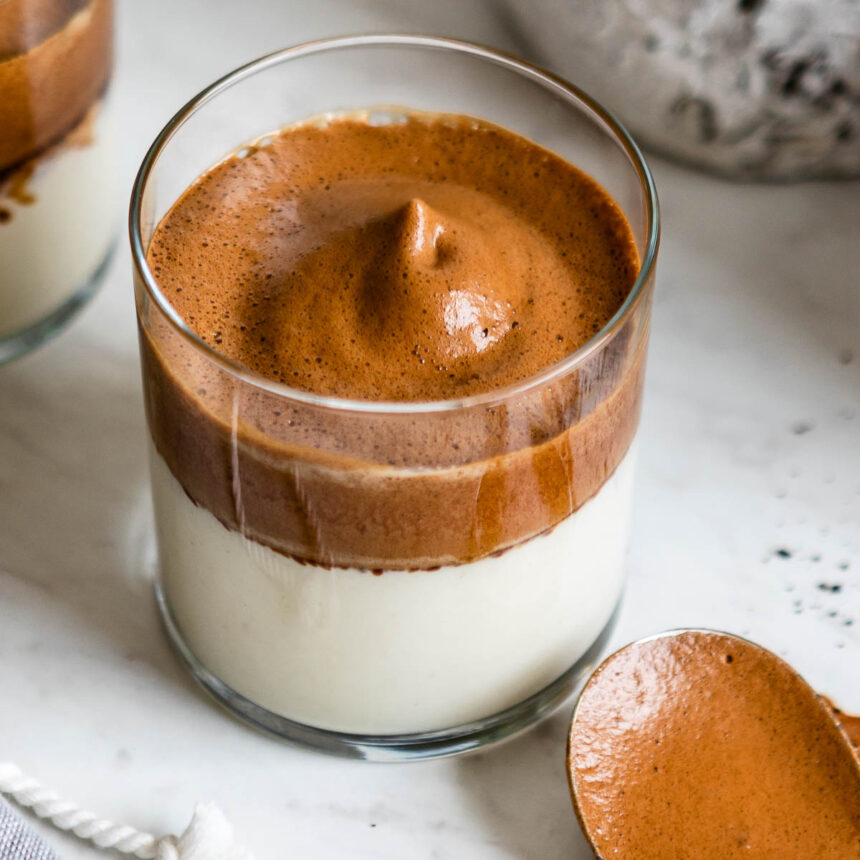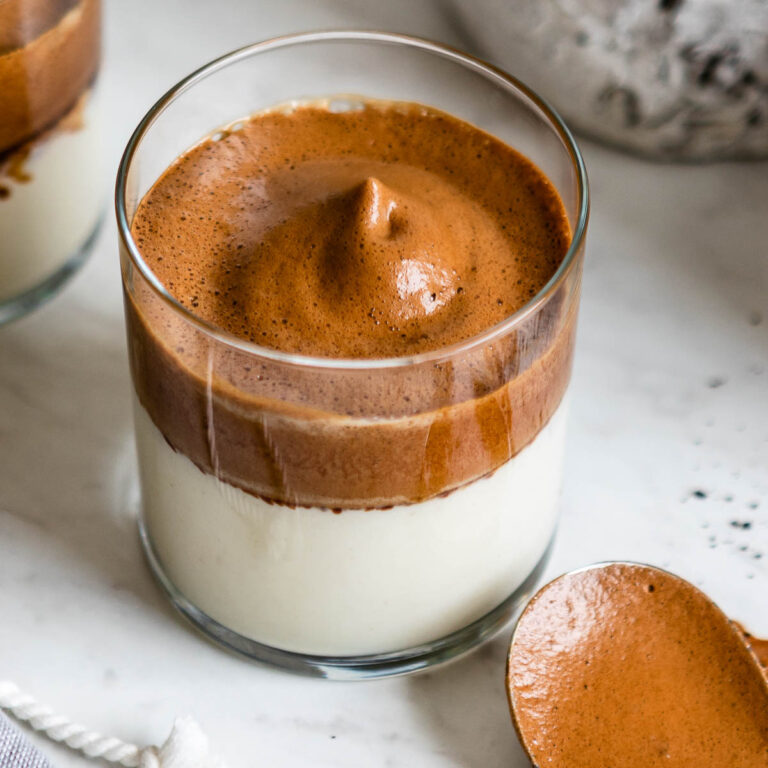 Easy Dalgona Coffee
The latest coffee trend now vegan and naturally sweetened with coconut sugar. Whip up a batch in less than 10 minutes and feel the energy! Can serve the Vegan Dalgona Coffee hot or cold.
Instructions
In a large bowl, whisk together instant coffee, coconut sugar and water until coffee and sugar are completely dissolved.

Vigorously whisk the mixture until thick and creamy looking. (The coffee mixture should hold peaks like whipped cream.) Alternatively, use a hand mixer or stick blender with whipping blade to whip the coffee mixture.

To serve, pour 1/2 cup plant milk into each glass. Divide the whipped coffee between the glasses. Serve immediately.
Notes
Do not use finely ground coffee instead of instant. It will not work.
The recipe will work with less or no sugar if you prefer your coffee less sweet or unsweetened.
The whipped coffee mixture will not keep well. It is best made and used right away.
Nutrition
Calories:
76
kcal
,
Carbohydrates:
15
g
,
Protein:
1
g
,
Fat:
2
g
,
Saturated Fat:
1
g
,
Polyunsaturated Fat:
1
g
,
Monounsaturated Fat:
1
g
,
Sodium:
190
mg
,
Potassium:
177
mg
,
Fiber:
1
g
,
Sugar:
8
g
,
Calcium:
158
mg
,
Iron:
1
mg