Keep those blood sugar levels steady and make the world's healthiest fast food with this Cherry Vanilla Diabetes Smoothie. Don't let its lovely, sweet flavor fool you. This smoothie is packed with protein and fiber to keep you full and happy all morning long.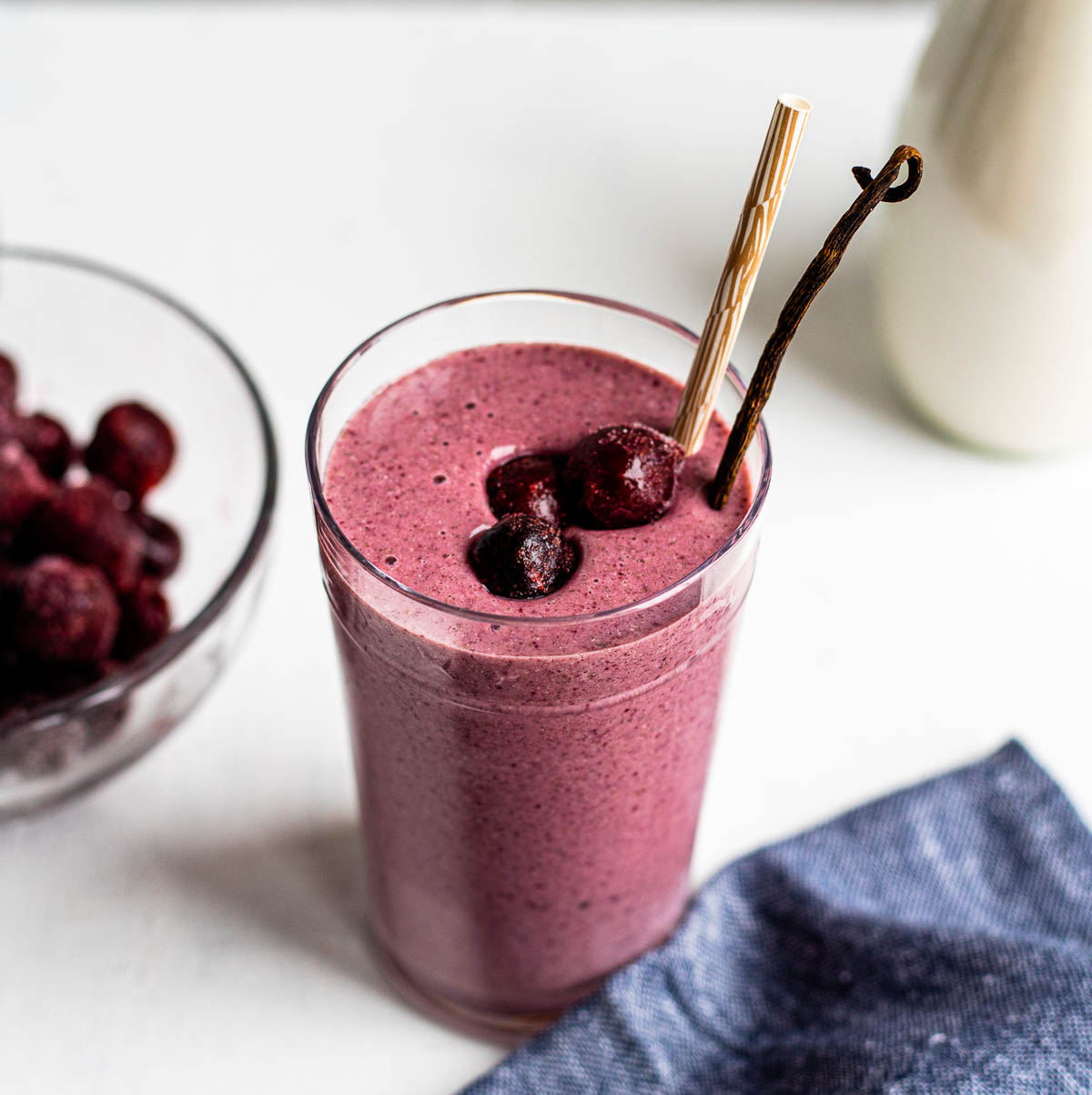 Table of Contents
One of the most asked questions I get is about diabetic-friendly recipes. I created this low-sugar smoothie along with a Diabetic Meal Plan that includes a whole week of recipes designed to fuel your body while keeping your glucose firmly in check.
Recipe Ingredients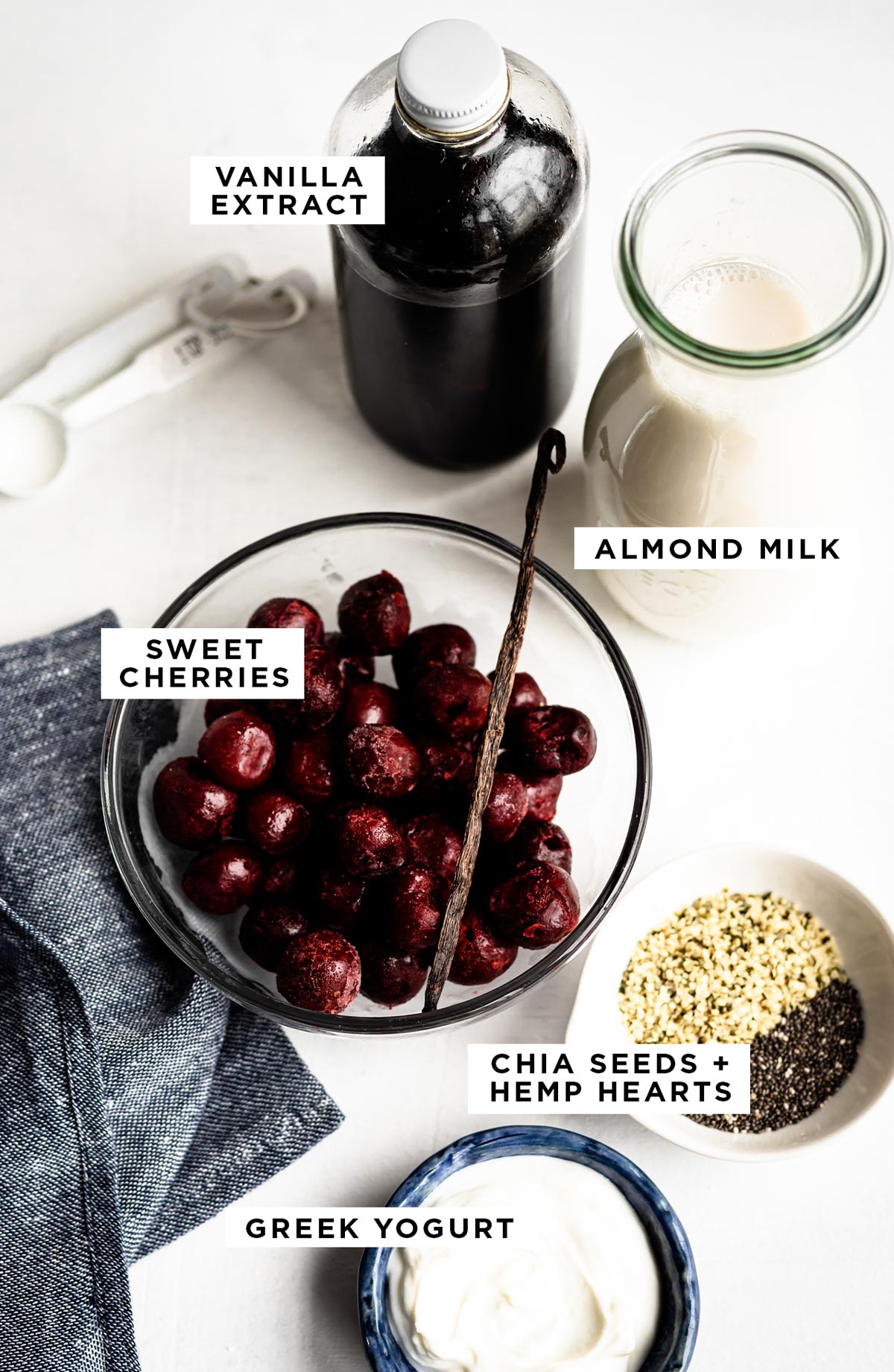 I definitely wanted a smoothie that was low in natural fruit sugar yet high in flavor and nutrients. This diabetes smoothie hits all the marks by providing 15 grams of protein, 14 grams of fat and 8 grams of fiber. Here's what I'm blending:
Unsweetened almond milk: This adds a slightly nutty flavor and some healthy fat to this low-sugar smoothie. If you are up for some fun, learn how to make your own almond milk!
Greek yogurt: Look for one that is full-fat and plain with no sugar added. It might not taste great on its own yet will add creaminess, fat and protein to this smoothie in a seamless way.
Sweet cherries: While cherries aren't the lowest in sugar, they are great when paired with healthy fat, protein and fiber. Plus, they carry antioxidants that help reduce inflammation.
Vanilla extract: This adds a touch of warmth to balance out the tart yogurt. Note: some imitation extracts add sugar, so check that ingredient list before adding this to your smoothie.
Chia seeds + hemp hearts: Seeds are superfood powerhouses when it comes to protein and healthy fat. They also include important nutrients like calcium and magnesium!
Easy Swaps
Smoothies are so easy to change up to make them fit what's in your pantry. And let's be honest, I hardly ever measure anything beyond a "handful" or a "dash," so keep that in mind when swapping ingredients.
Greek yogurt can be swapped with vegan yogurt. Use a plant-based protein powder instead of chia seeds and hemp seeds, or make this homemade protein powder for a boost of 10g of protein in my diabetes smoothie.
Any dairy-free milk can be used instead of almond milk, just make sure to use the unsweetened version. While I often use water as the liquid base, milk can work great and provide some extra nutritional benefits.
You can also increase the healthy fats in this smoothie by swapping in coconut milk or adding 1/4 avocado.
No cherries on hand? No problem! Strawberries make a great swap that can also lower the sugar spike and still add natural sweetness. Many berries are lower on the glycemic index, but they may not be as sweet-tasting, so remember that when making swaps with the fruit!
How to Make a Diabetes-Friendly Smoothie Recipe
One reason I love smoothies is how easy they are to make. While a high-powered blender can make them smoother, you can use any blender you have to create a delicious snack or meal in no time. One that is bursting with flavor and nutrition. Here's how I make my smoothies: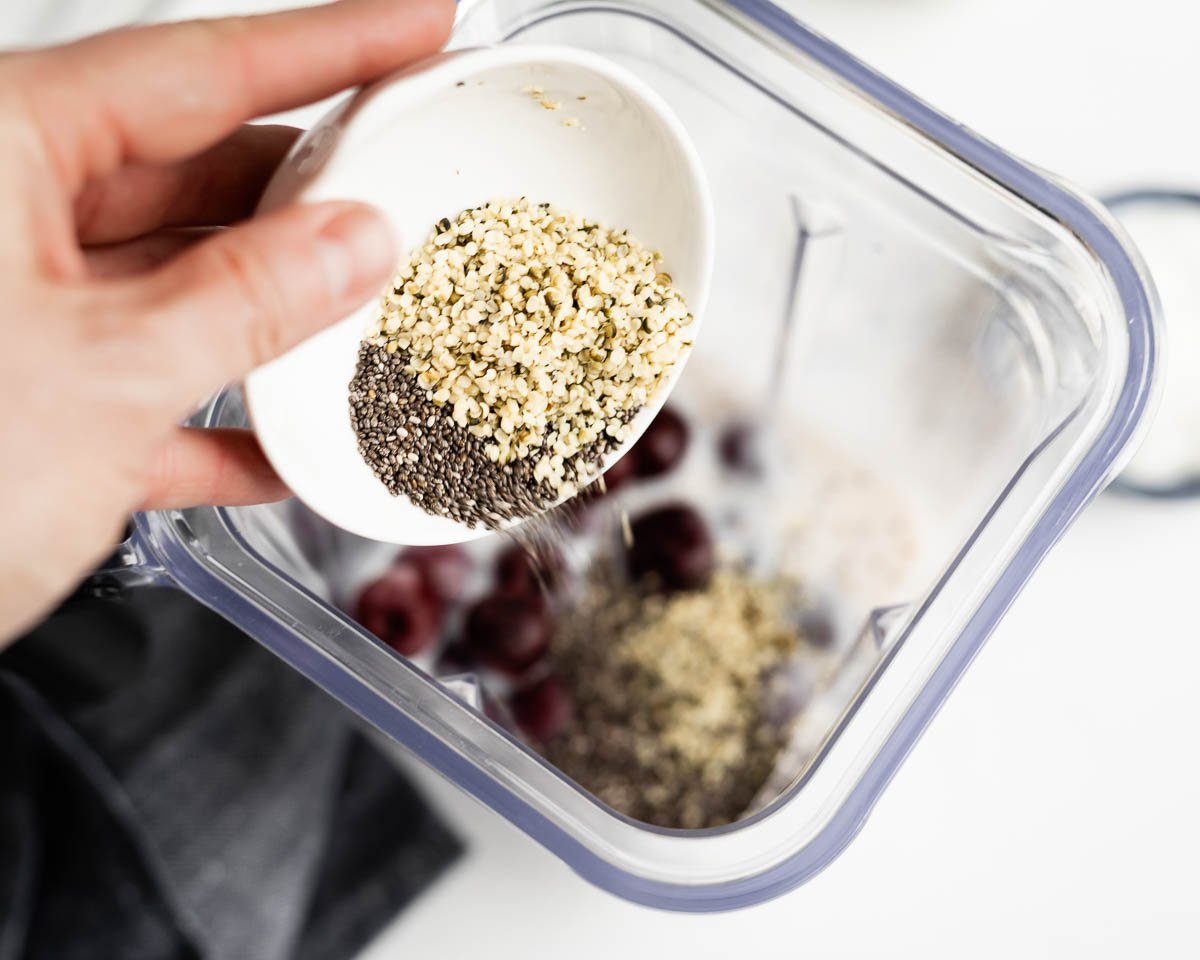 Step 1: Add all your ingredients to the blender and blend until smooth. Stop and scrape down the sides as needed to ensure all the bits get completely pureed.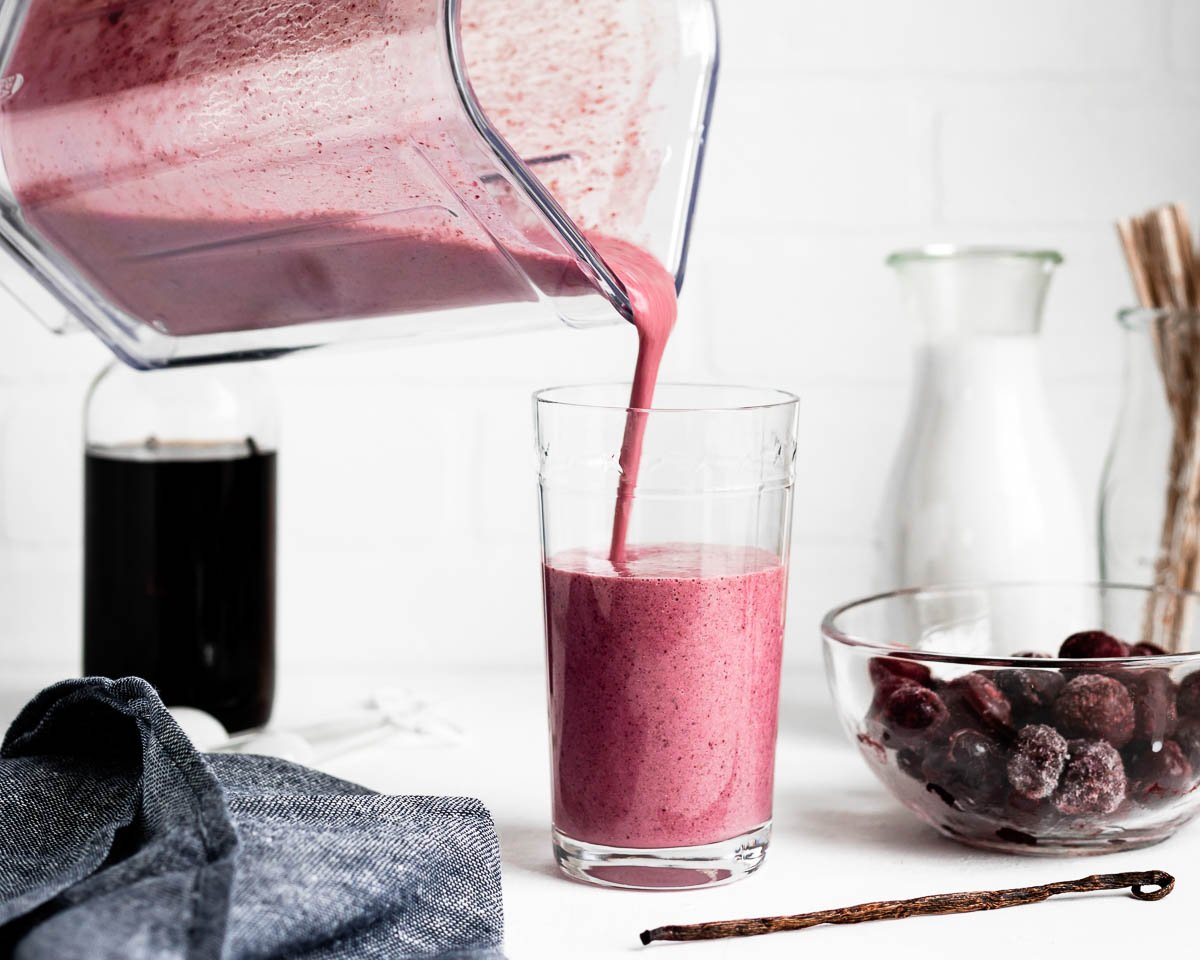 Step 2: Pour into the glass of your choice and enjoy!
I often like blending in two steps to ensure a creamy texture, yet since this smoothie doesn't have leafy greens there is no need for the second blend. Feel free to add kale or spinach if you want to enjoy extra fiber, vitamins and minerals in your smoothie.
Since this smoothie is high in protein, it works great as a meal replacement. With the high fiber content, it also turns into a low-carb option as well!
FAQs
Are smoothies good for diabetics?
They can be a great nutritional tool as a snack or meal. Look for smoothie recipes high in protein and fiber and low in natural fruit sugars. Avoid ones with fruit juice as the base and feel free to add leafy greens into any smoothie you consume.
What is a good diabetic shake?
Use whole foods, mostly fruits and vegetables. Focus on low-sugar fruits and try to add as much protein and fiber as you can to help your body easily process the natural sugar from the fruit. Consume a smoothie after eating something savory, and listen to your body! Smoothies are great ways to add nutrition, yet your body will tell you the best time of day to consume one to do the most good.
Are blueberry smoothies good for diabetics?
It all comes down to what is in the smoothie, and when you consume it, to determine if it is a good fit for you. Smoothies low in natural sugar and high in protein and fiber can be great options for people with diabetes. Blueberries are a great low-sugar fruit to include in a smoothie, along with several other kinds of berries.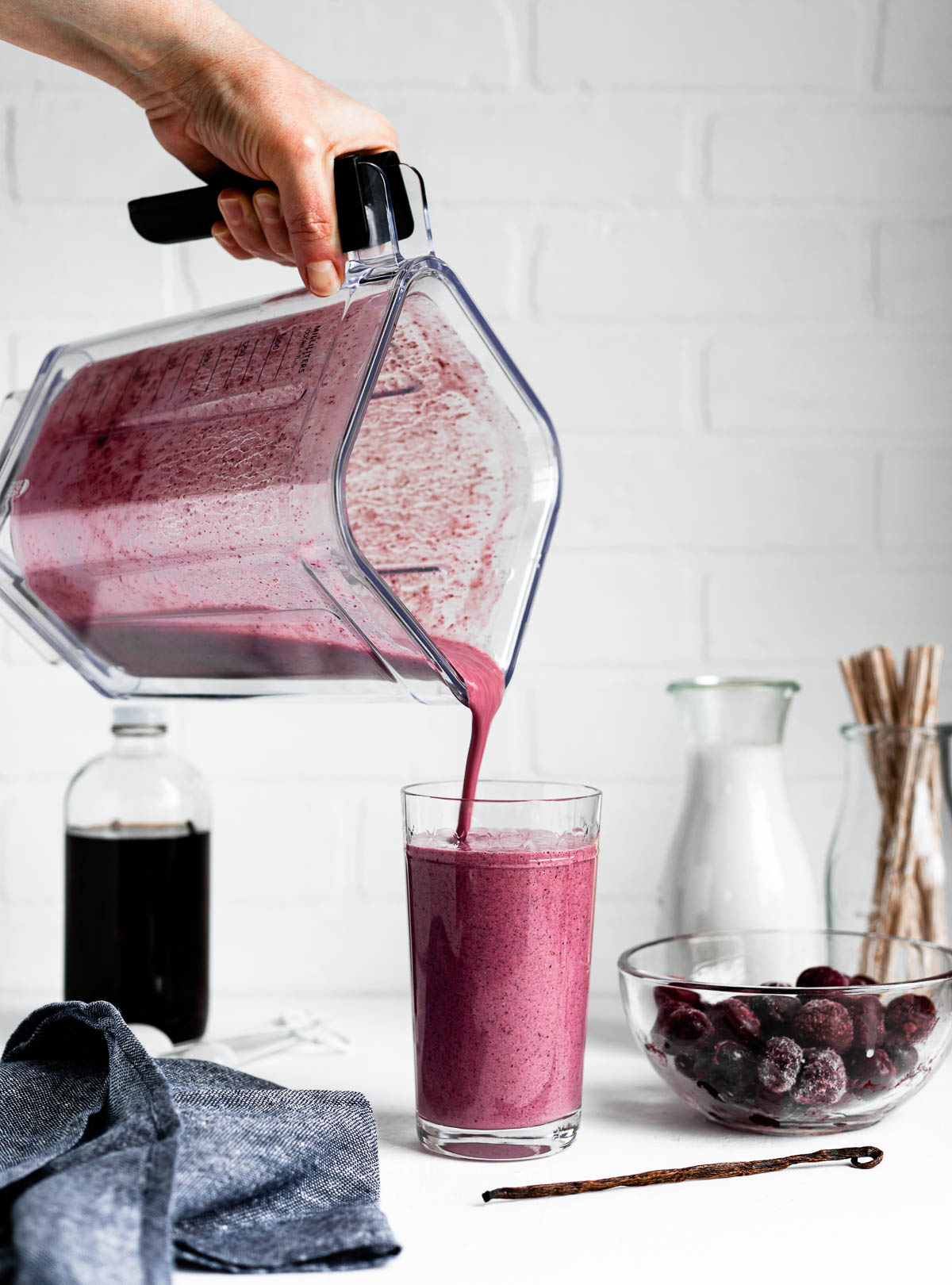 More Diabetic Smoothie Recipes
While the recipe below is a delicious option you'll want to make again and again, don't let it get you into a smoothie rut! Grab a few options to rotate through and keep the good vibes going all month. Here are my favorite low-sugar recipes:
Will you please rate + review this smoothie once you make it? Your feedback helps me so much! Also, what other smoothie recipes do you want to see?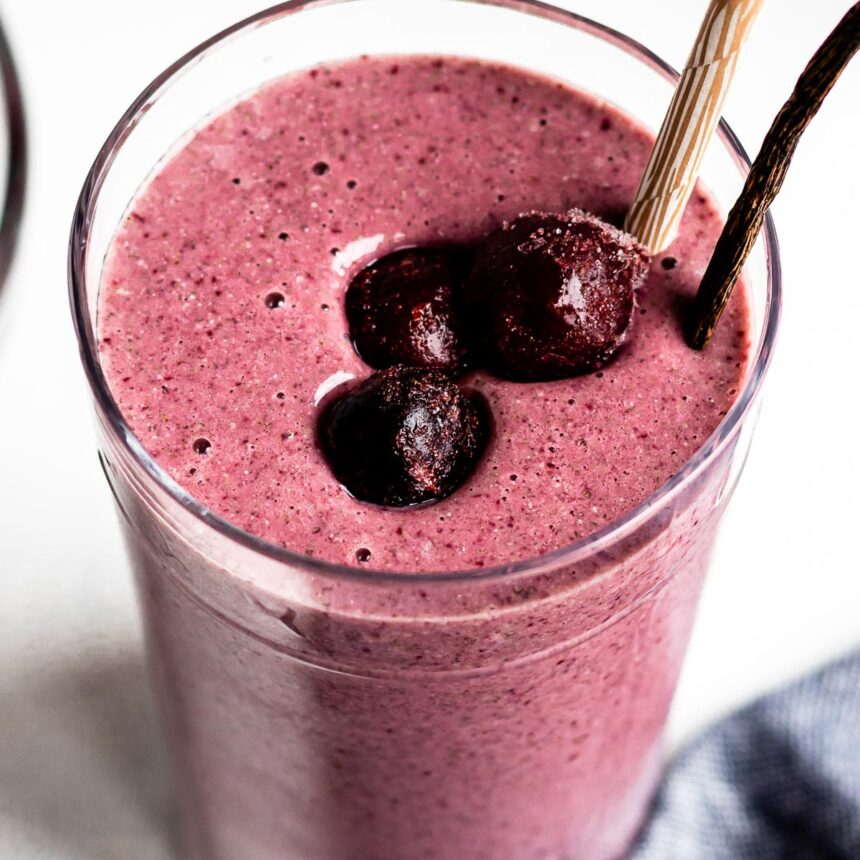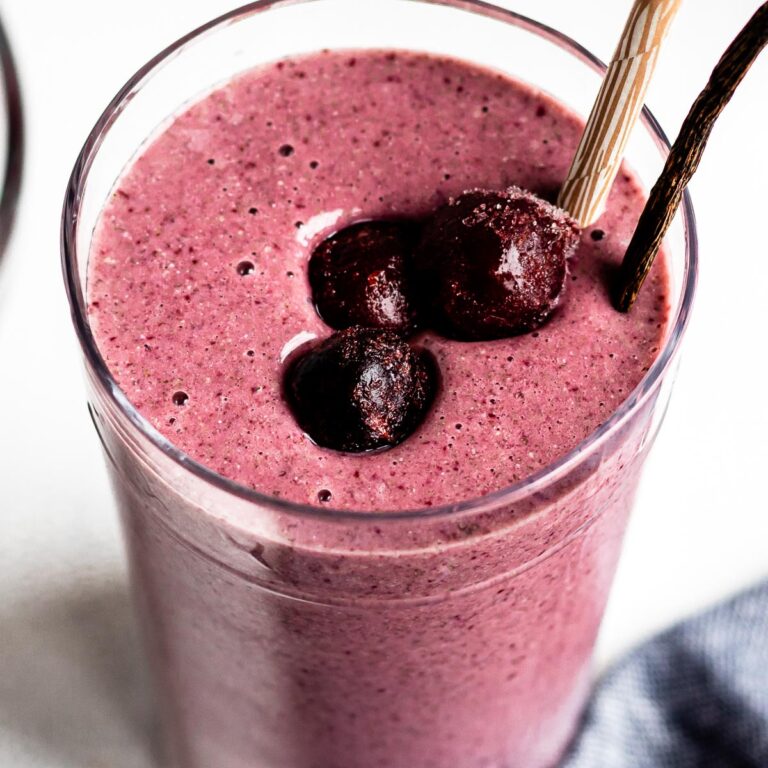 Cherry Vanilla Diabetes Smoothie
Get all the sweet with none of the spike while sipping on this cherry vanilla diabetes smoothie. It is low in sugar and high in flavor + omega-3s. Who wouldn't want a healthy smoothie recipe in this gorgeous color?!
Instructions
Blend all ingredients until smooth. Stop and scrape down sides of blender as needed.

Pour into a glass and enjoy!
Notes
To lower the natural sugar from the cherries, swap 1 cup of cherries for 1/2 cup of cherries + 1/2 cup of raspberries. This brings the total sugar per serving to 14g and the total carbs to 28g.
Add 1 cup of leafy greens like spinach or kale to boost fiber and protein in this smoothie recipe.
Swap unsweetened almond milk for the unsweetened nut/seed milk of your choice.
Use at least 1 frozen fruit for a refreshingly cool smoothie.
Make sure you use plain, unsweetened Greek Yogurt with no added sugar. You can also use the unsweetened, dairy-free yogurt of your choice.
Nutrition
Calories:
309
kcal
,
Carbohydrates:
32
g
,
Protein:
15
g
,
Fat:
14
g
,
Saturated Fat:
1
g
,
Polyunsaturated Fat:
10
g
,
Monounsaturated Fat:
3
g
,
Trans Fat:
0.02
g
,
Cholesterol:
3
mg
,
Sodium:
345
mg
,
Potassium:
432
mg
,
Fiber:
8
g
,
Sugar:
20
g
,
Vitamin A:
175
IU
,
Vitamin C:
10
mg
,
Calcium:
470
mg
,
Iron:
4
mg