Grab some fresh Fall ingredients and make this Fall Salad ASAP. A harvest salad of pears and apples sitting on a green salad bed and topped with candied pecans, this salad is what your next gathering needs.
Though this recipe isn't as simple as opening a bag and pouring it into a bowl, it isn't difficult to put together and is so worth it for each crunchy pecan, sweet and tart apple, and soft piece of lettuce.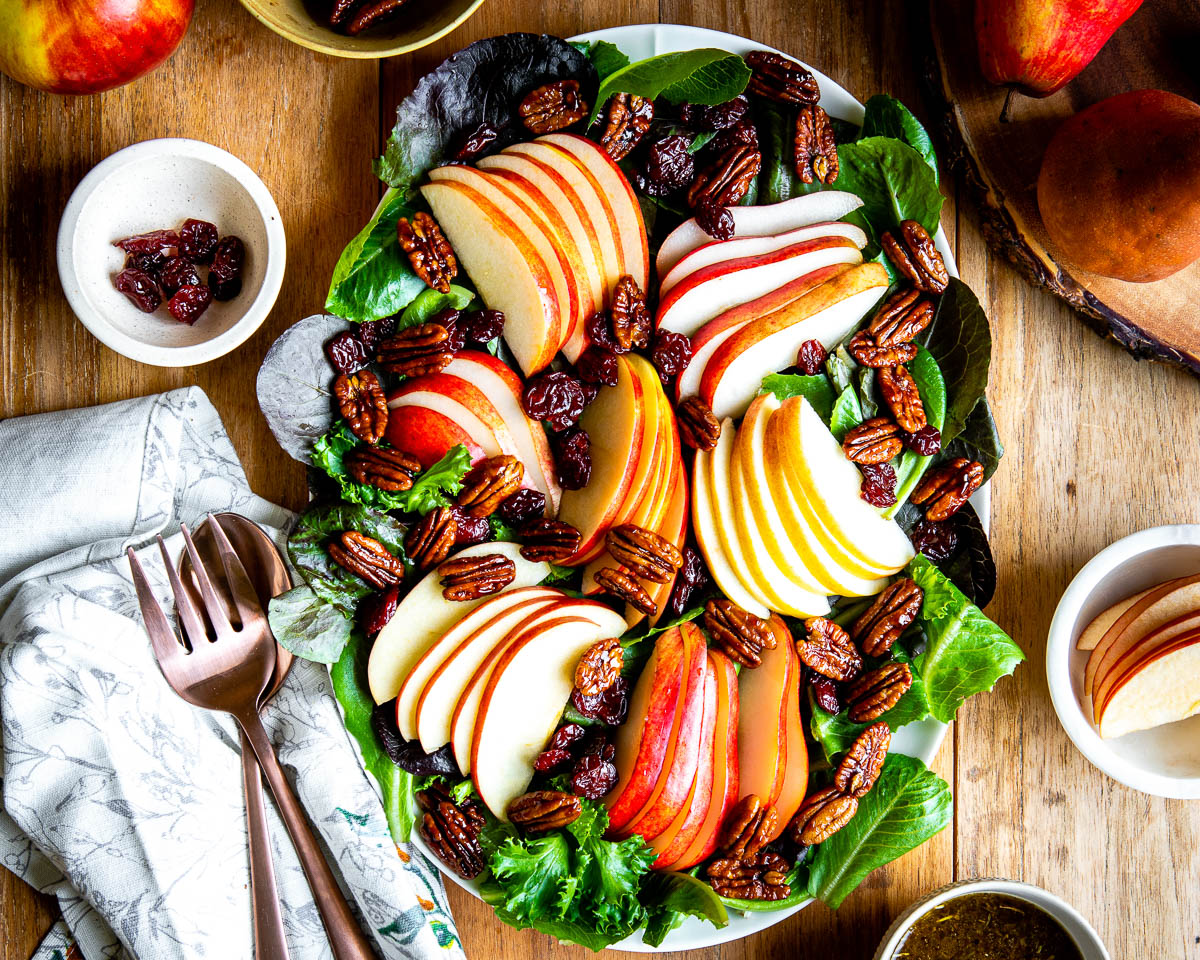 Treat yourself to this Fall salad recipe. It's a green salad your tastebuds can't afford not to enjoy. It can be savored over lunch, as well as used as an edible centerpiece at the next dinner party. I promise this decadent salad won't disappoint.
Table of Contents
Recipe Ingredients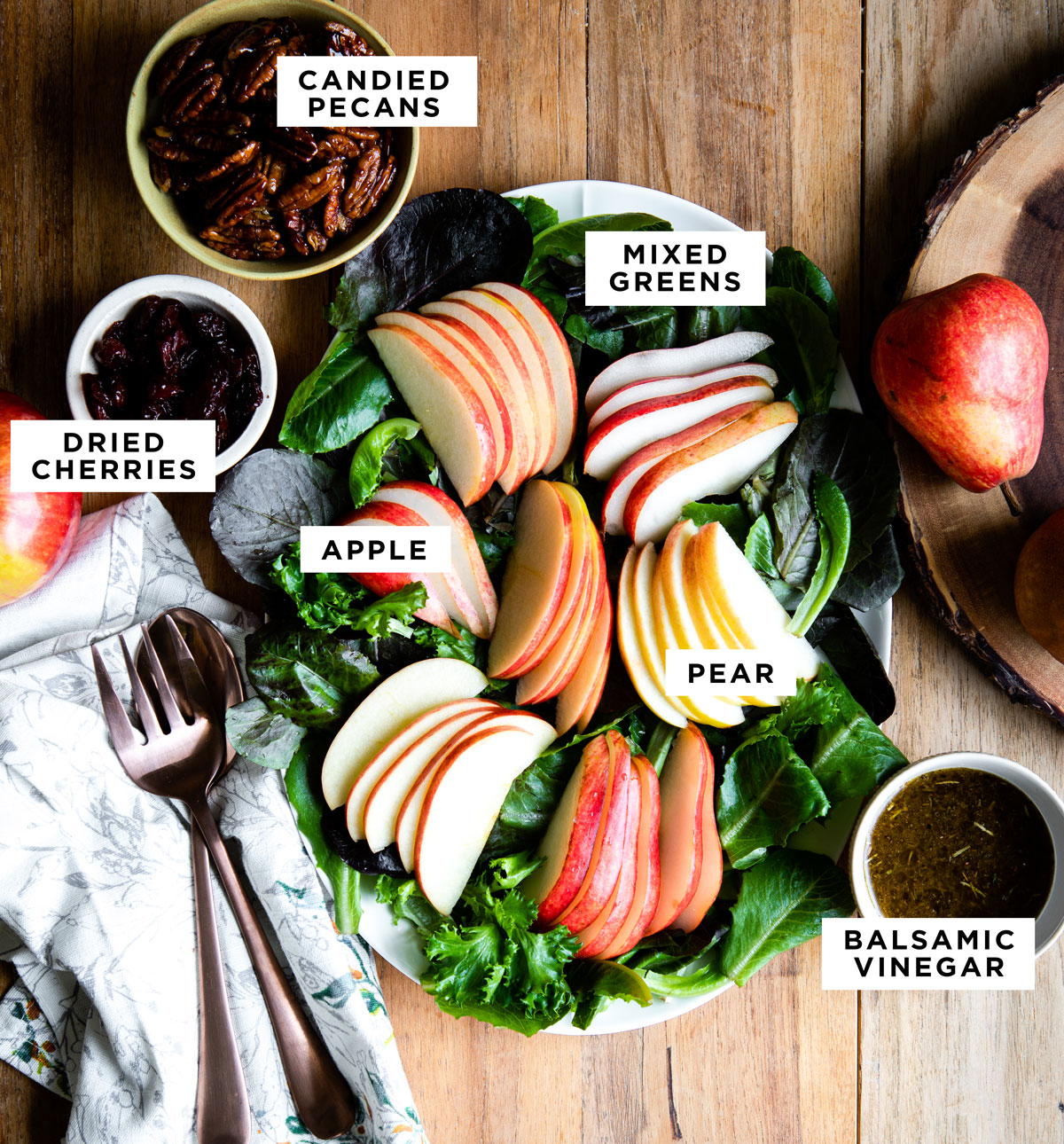 This green salad is made with six ingredients, yet the sixth is a homemade balsamic vinaigrette. Here's the low-down for what you need:
Mixed greens: Find a mix with bigger leaves if you want to plate your salad like mine, or find whatever you prefer.
Pear: Make sure the pear is ripe! Don't throw in a hard, bland one.
Apple: I use Honeycrisp in this recipe since it's super sweet and easy to cut up.
Dried cherries: I know cranberries are more common, yet I like the tartness that cherries bring and they pair so well with the dressing.
Candied pecans: You could swap this with just some roasted pecans yet, why would you deprive yourself of these delightful nuts? They are easy to make and really elevate this dish.
Balsamic vinegar: Find one with good flavor. If you can, find a local shop that sells oil and vinegar so you can sample before you buy.
Olive oil: When I use olive oil in a dressing I make sure it is higher quality than what I use for regular cooking. This is because the flavor is much more prominent in dressing and you can tell when the oil isn't great.
Shallot: This is a milder, smaller version of an onion.
Dijon mustard: Go for the flavorful mustard! There isn't much added to this dish so it won't be spicy, just a touch of flavor to offset the sweeter ingredients.
Spices: To season I'm using sea salt, ground black pepper and an Italian seasoning blend that has the perfect finish.
Easy Recipe Swaps
This salad can easily grace your Thanksgiving table as a centerpiece even though it's a side dish. Make the ingredients work for your meal! Swap the mixed greens with the leafy greens of your choice.
Use dried cranberries or dried blueberries in place of the dried cherries. Swap the shallot with a yellow or red onion.
Swap the balsamic vinegar with apple cider vinegar for a tangier dressing. Shaved Brussels sprouts can add to the greens while radishes can kick the crunch level and textures up a bit.
How to Make the Best Fall Salad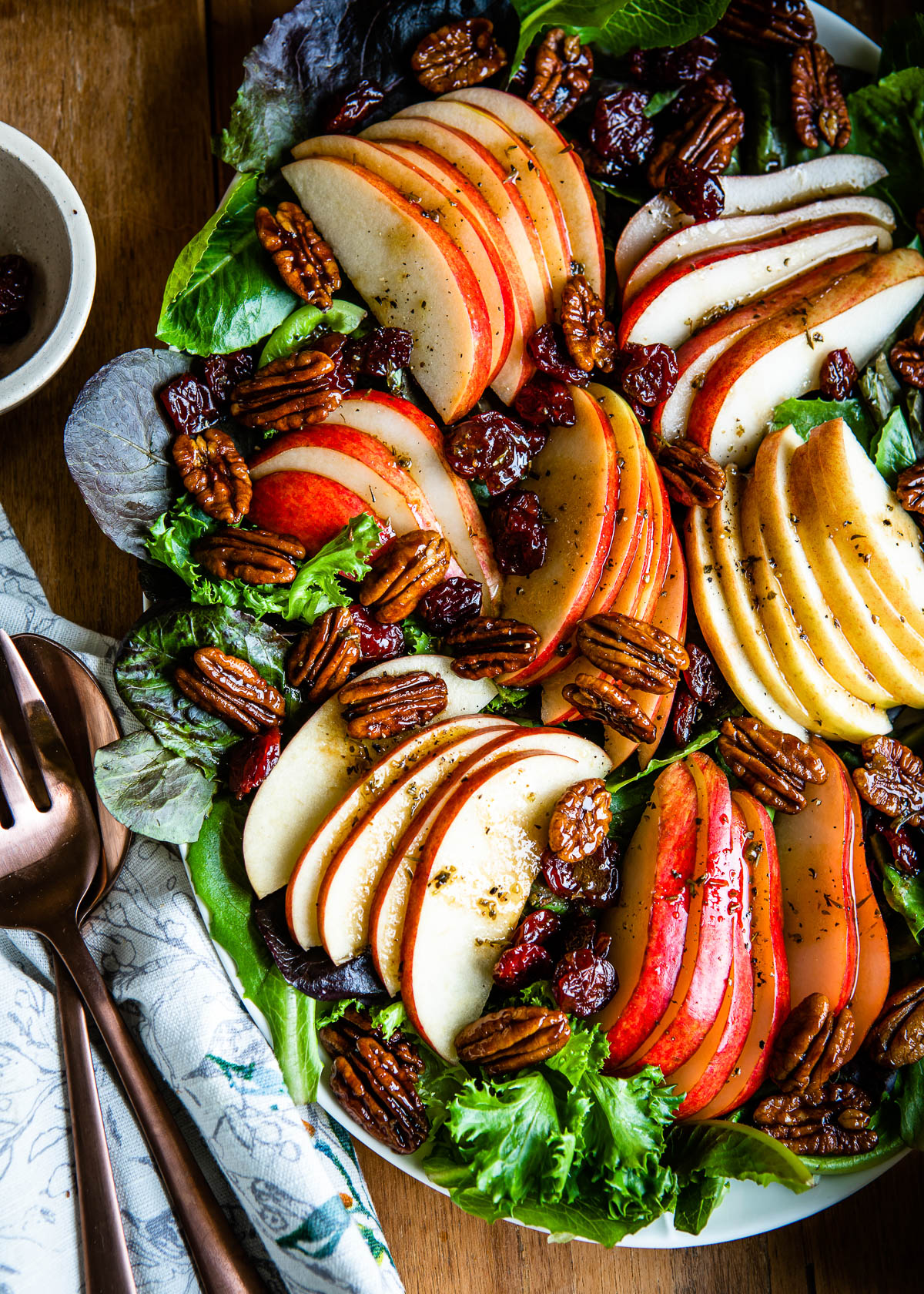 This salad really is simple to make, which is one of the reasons I love it! I recommend putting it together right before you serve it to keep everything super fresh.
Start by making the dressing. Add all the dressing ingredients to a jar with a tight-fitting lid and shake until well combined. Alternatively, whisk dressing ingredients in a jar. Refrigerate until ready to use.
Thinly slice the pear and apple to lay throughout the bed of mixed greens.
Combine all the greens with half the sliced pear and apple, all the dried cherries and half the candied pecans in a large bowl. Drizzle that mixture with a bit of the dressing then toss again.
Plate and layer the remaining fruit slices and pecans on top. Serve with the remaining dressing on the side so that people can use as much or as little as they want.
You can make the dressing ahead of time and store it in the refrigerator until you're ready to prepare the salad, just give it a good shake before using it.
FAQs
What ingredients can make my salad more filling?
If you want that salad to be a full meal then you need to make sure it has good protein and healthy fats in it. It's super easy to add healthy fats in the dressing (oil) or in the crunch (nuts/seeds). Protein can be sprinkled right on top of the salad in the form of pepitas, hemp hearts, chickpeas, cashews, almonds, tofu and more.
Can I make the dressing ahead of time?
Salad dressing can definitely be made ahead of time. I like ones where all the ingredients go into a jar and get shaken until combined, as that makes it easy to store. Just put on an air-tight lid and you're good to go.
How do I keep sliced apples from turning brown?
If you are plating a salad (or any recipe) and want those apples and pears to look fresh 30 minutes later then you need to add some lemon juice to them ahead of time. I recommend tossing the apple and pear slices in two tablespoons of lemon juice until they are well-coated. And also try to cut them as close to serving time as possible.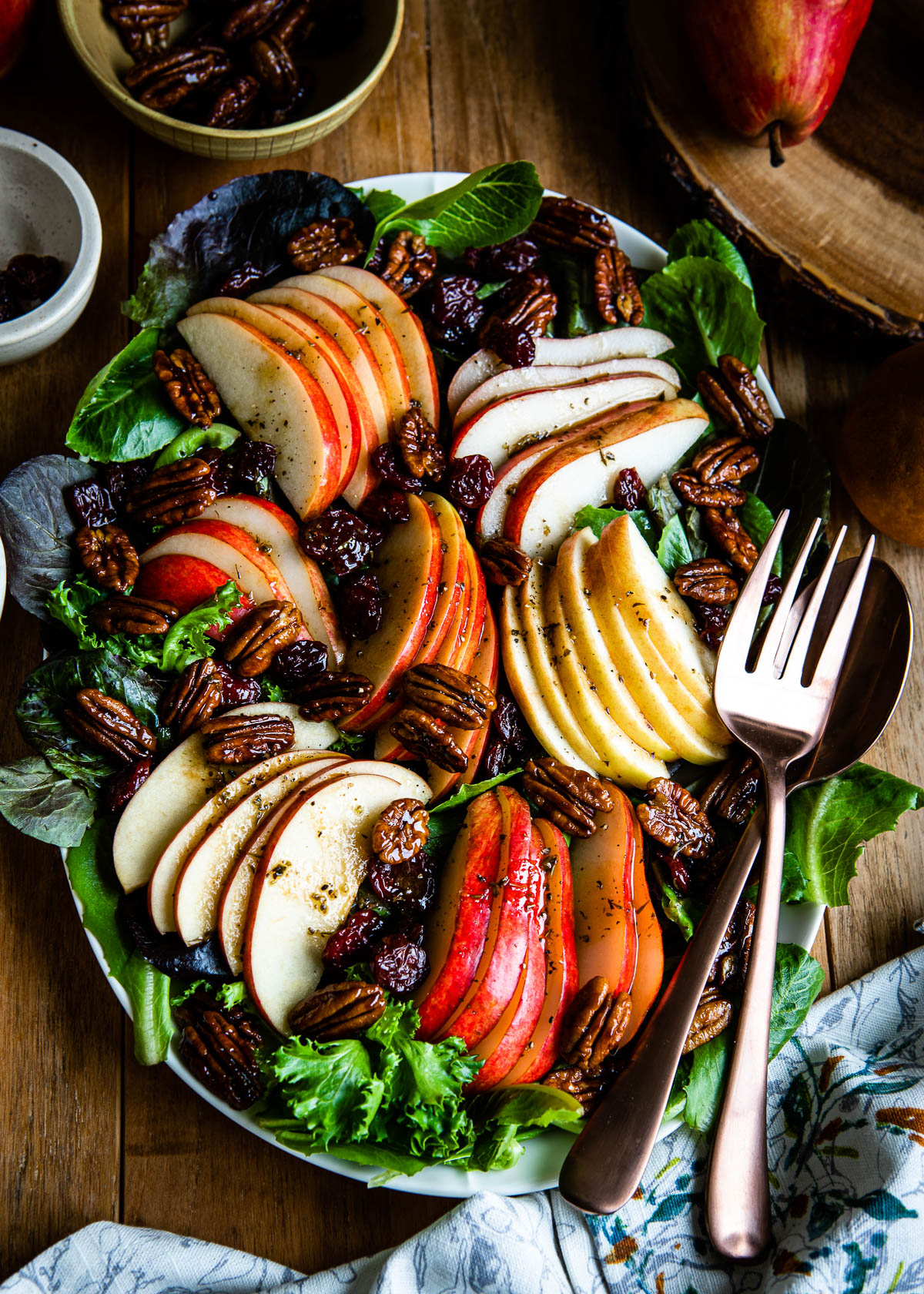 More Fall Recipes
This might just be my favorite season for fresh produce as there are unique things that come in the Autumn that are just so warm and vibrant. Here are a few recipes I've got on my weekly menu this season:
What ingredients and flavors are you most excited for this Fall? I'd love it if you left a comment with your top fall ingredients, as well as your favorite recipes.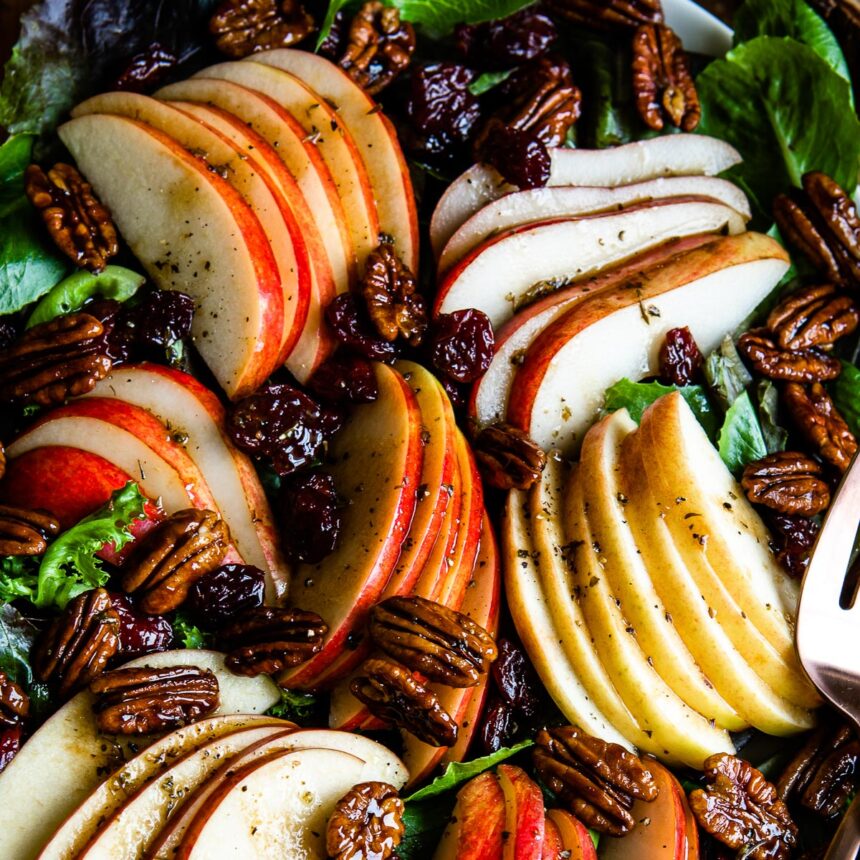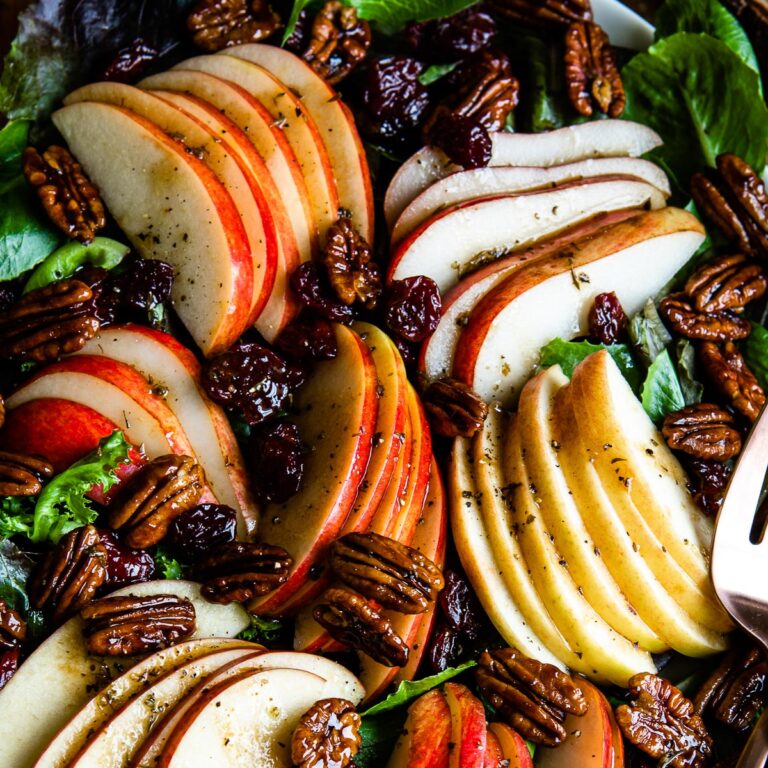 Festive Fall Salad
Spruce up your Autumn table with this colorful, healthy fall salad recipe with gorgeously candied pecans. Sliced apples and pears rest on a bed of fresh mixed greens and are gracefully dressed with a balsamic vinaigrette.
Ingredients
Dressing
¼

cup

balsamic vinegar

¼

cup

olive oil

extra virgin

1

shallot

minced

½

tsp

Dijon mustard

1

pinch

sea salt

black pepper

ground

½

tsp

Italian seasoning
Fall Salad
6

cups

mixed greens

1

pear

ripe, thinly sliced lengthwise, stem and seeds removed

1

apple

Honeycrisp, thinly sliced lengthwise, stem and seeds removed

¼

cup

dried cherries

1

cup

candied pecans

can use store-bought as well
Instructions
For Dressing:
Add all dressing ingredients to a jar (or mixing bowl) and shake vigorously (or whisk) to combine. Taste and adjust flavor as needed, adding more balsamic for acidity, salt or pepper for flavor balance, or olive oil for creaminess. Set aside.
To Serve:
Combine greens, half of the sliced apple and pear, dried cherries and half of the candied pecans to a large mixing/serving bowl. Drizzle with a bit of the dressing and toss to combine.

Plate and garnish with remaining pears, apples and pecans. Serve with remaining dressing on the side.
Notes
This salad is best enjoyed when fresh, though leftovers can be stored in the fridge up to 3 days.

Store pecans well-sealed at room temperature.

Swap shallot with yellow onion.
Use the leafy greens of your choice.
Add vegan feta cheese crumbles and coconut bacon to elevate. Add crispy tofu nuggets for a vegan protein option.
Nutrition
Calories:
372
kcal
,
Carbohydrates:
36
g
,
Protein:
3
g
,
Fat:
25
g
,
Saturated Fat:
3
g
,
Polyunsaturated Fat:
5
g
,
Monounsaturated Fat:
16
g
,
Sodium:
149
mg
,
Potassium:
246
mg
,
Fiber:
5
g
,
Sugar:
26
g
,
Vitamin A:
991
IU
,
Vitamin C:
18
mg
,
Calcium:
52
mg
,
Iron:
1
mg