When I need an easy energy boost, I turn to this flaxseed smoothie. It is protein-powered and healthy fat packed to fill me up and keep me full. It also helps kick my digestion in to gear, which is what I want first thing in the morning.
While this smoothie is a little higher in natural sugar (thank you, date!) it's also got a lot of fiber which helps break down that sugar. Blend a little longer to breakdown the flaxseed and enjoy this delicious recipe!
Table of Contents
How to Make a Flaxseed Smoothie
My flaxseed smoothie is easy to make, yet don't skimp on the blend time! If you want a non-gritty smoothie, then you'll have to blend extra long for this one.
Add all ingredients to the blender. Blend until smooth.
Pour over ice to serve, if you want a refreshingly cool smoothie.
You can use frozen bananas in this smoothie to help cool it down. If you need to watch the natural sugar content, then omit the date as well as make sure your almond butter is unsweetened (and the almond milk!).
Swap the almond butter with any other nut or seed butter you wish to use. You can replace the almond milk with a plant milk of your choice.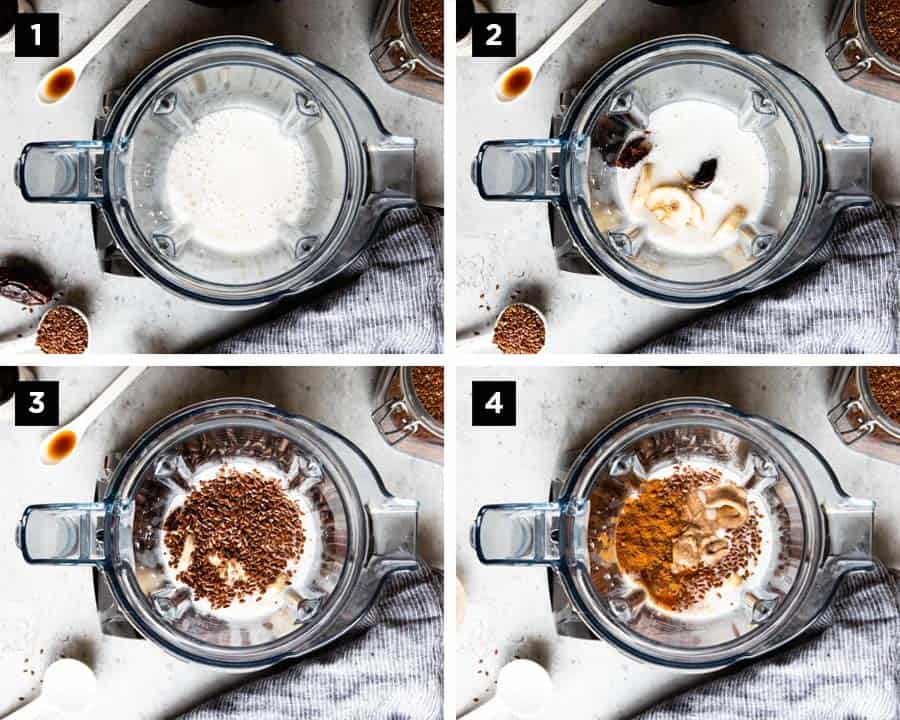 Tips on Using Flaxseeds
Start small! I know this recipe only has 1 tablespoon of flaxseed, yet if you don't normally use them as a smoothie booster, then your body may have an adjustment period. Fiber is great (and necessary!) yet loading your body up with fiber can cause some digestive discomfort.
Try 1 teaspoon and work your way up to using a whole tablespoon.
Flaxseed is also naturally gritty. Even with a high powered blender, it might be hard to completely blend in the flaxseed. One reason I recommend using homemade protein powder is that it is powdered.
The flaxseed is completely ground down along with the hemp and chia to a fine powder. That way it easily mixes into your smoothie with no grit.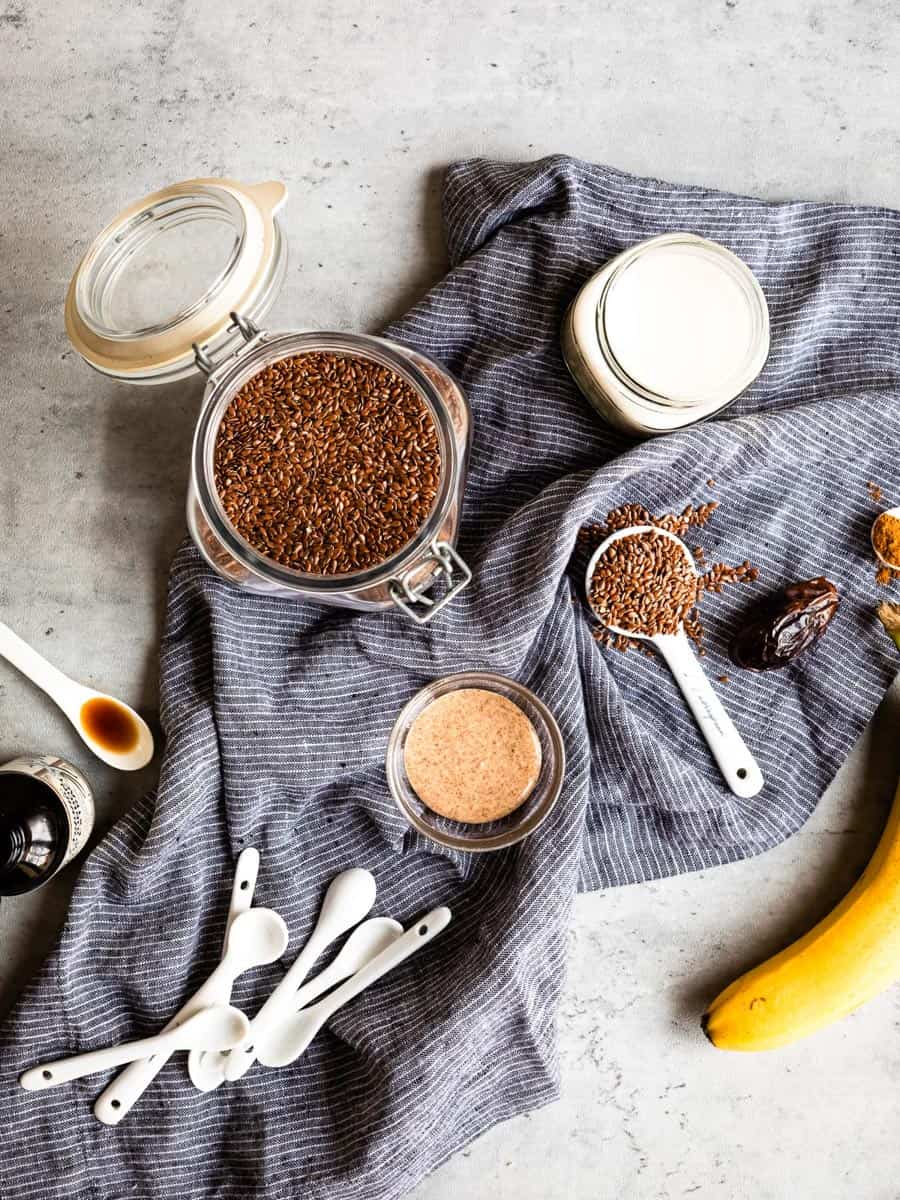 What is Flax?
Flaxseed is a crop that is packed with protein, fiber, and healthy fats via omega-3 fatty acids. 1 tablespoon of flaxseed contains 1.3 grams of protein and 1.9 grams of fiber along with 1,597 mg of omega-3 fatty acids.
Omega-3s help control cholesterol and lower inflammation in the arteries which lowers your risk for a heart attack. This lovely little seed may reduce the risk of cancer and help regulate blood sugar. You can find this in most grocery stores, either in the same isle as chia seeds or in the baking section.
Whole vs Ground
While you can use whole or ground flaxseed in smoothies, I use ground flaxseed… no reason to make my blender work harder than it has to! Different brands have different types of ground flaxseed, so choose the one that works best for you.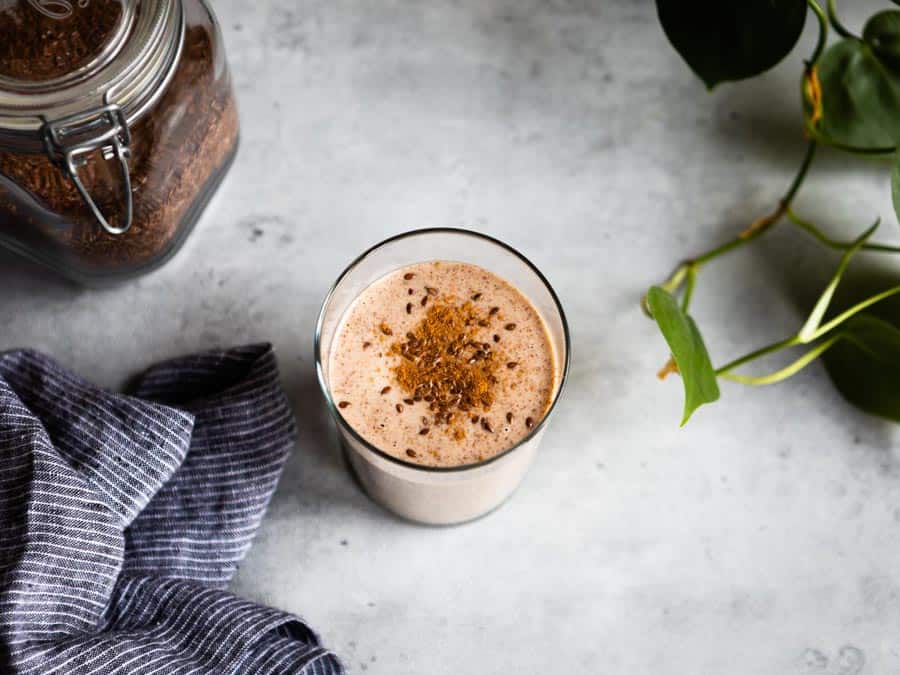 Flaxseed Smoothie FAQs
How much flaxseed should I put in a smoothie?
I recommend adding 1 tablespoon of flaxseed into a 16oz smoothie. Flaxseed may be a superfood, yet you can have too much of a good thing. If you're new to adding flaxseed to your smoothie, then start with less. You can gradually add more as you get used to it.
Can you put raw flaxseeds in a smoothie?
Yes, though ground flaxseed is easier to blend than whole. I recommend using ground flaxseed in smoothie recipes.
Do flaxseeds make you gain weight?
Many people shy away from ingredients called 'healthy fats' yet the body needs healthy fats to break down nutrients in the body. Eating healthy fat will actually be a more natural weight; no need to run from it!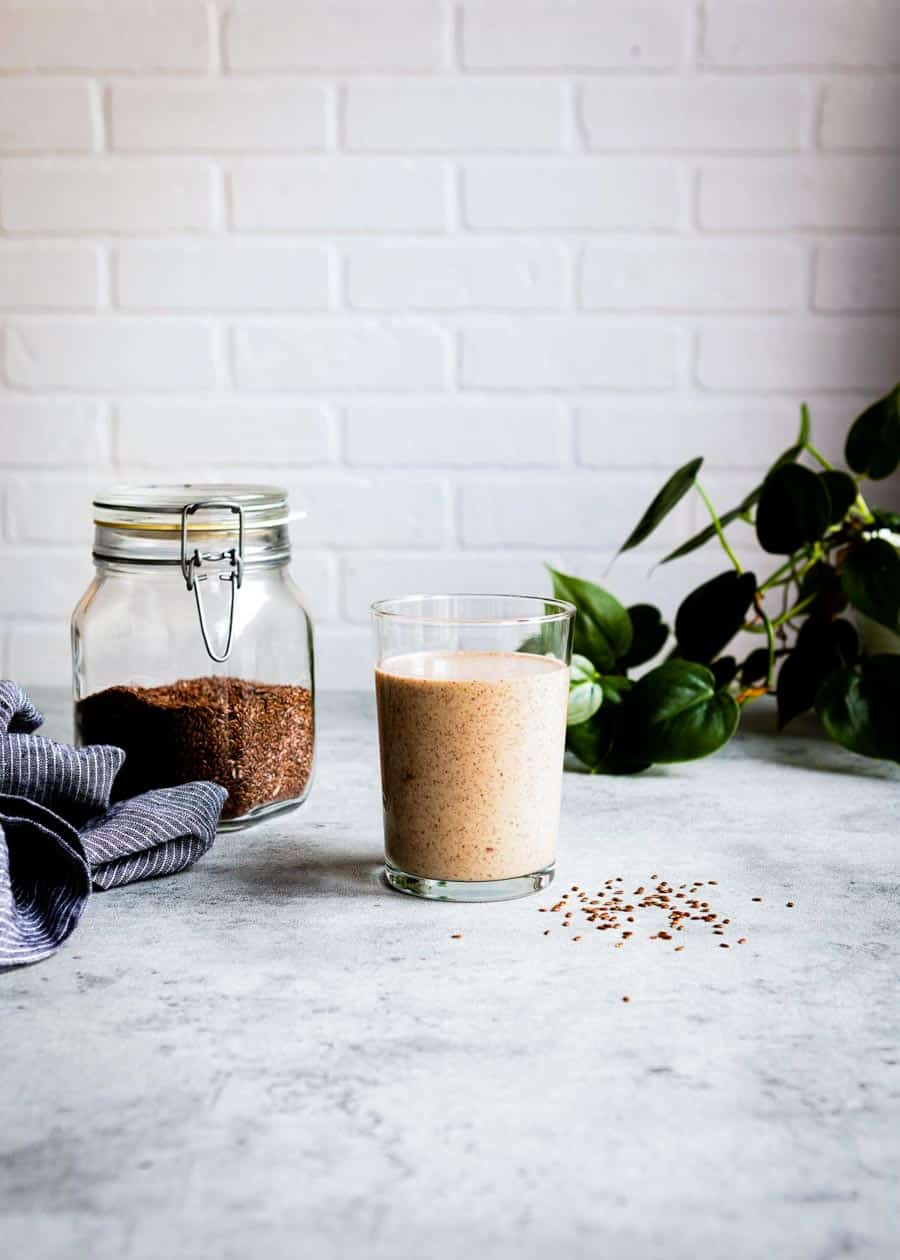 More Fiber-filled Smoothies
If you're ready to get serious about getting enough fiber each day, then add these smoothies to the menu:
Don't forget to let me know how you liked this flaxseed smoothie! Leave a rating + review below; ask any questions you need to make this smoothie a winner.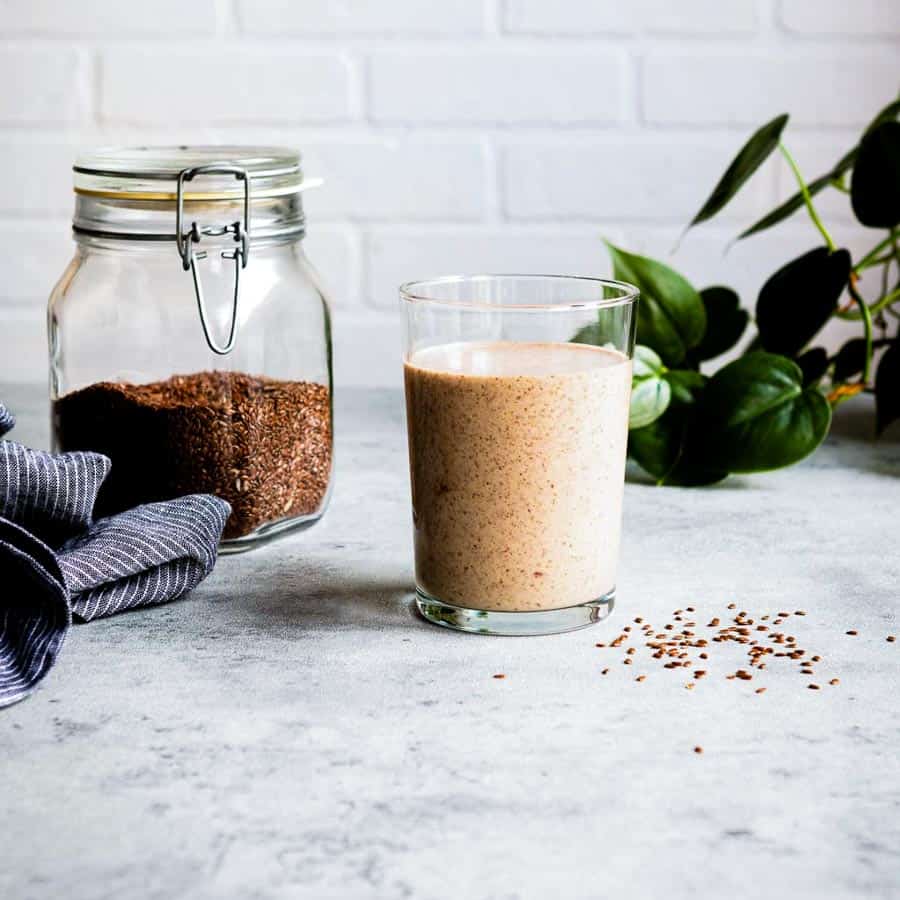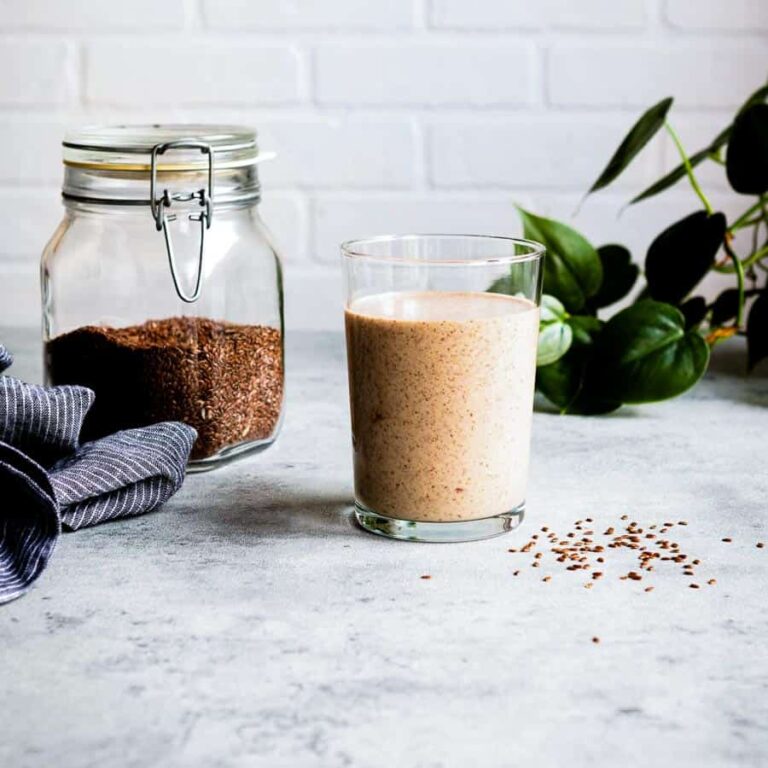 Easy Flaxseed Smoothie
This is a protein-packed, filling smoothie recipe that's perfect for a quick lunch or post workout pick-me-up. Easily omit the date if you wanna cut back on the natural sugar. Flaxseed is a superfood with fat, protein and fiber; basically a great way to start your day.
Instructions
Place ingredients into blender and puree until smooth. Add a little extra almond milk, if smoothie is too thick. 

Pour into glass and enjoy. Garnish with extra ground cinnamon, if desired.
Notes
To make extra cold, serve smoothie over ice. 
If you want to lower the sugar, omit the date.
homemade protein powder has flaxseed in it, so you can swap the flaxseed for 1 serving of Smoothie Boost.
Feel free to add 1 cup of spinach and turn this into a green smoothie.
Nutrition
Calories:
356
kcal
,
Carbohydrates:
52
g
,
Protein:
8
g
,
Fat:
15
g
,
Saturated Fat:
1
g
,
Polyunsaturated Fat:
6
g
,
Monounsaturated Fat:
7
g
,
Sodium:
330
mg
,
Potassium:
776
mg
,
Fiber:
10
g
,
Sugar:
32
g
,
Vitamin A:
114
IU
,
Vitamin C:
10
mg
,
Calcium:
405
mg
,
Iron:
2
mg