I've always been a bit of a foodie, and now that my kids are getting older, they definitely have the foodie bug too! When we moved to Florida I was so excited to see a wide variety of new cuisines to try and fell in love with Cuban, Puerto Rican and Mexican flavors found all over Tampa Bay. One thing Latin food seems to share is a love for fried plantains. I've had both sweet and savory versions, and can't wait to share my Latin-inspired fried sweet plantains recipe with you!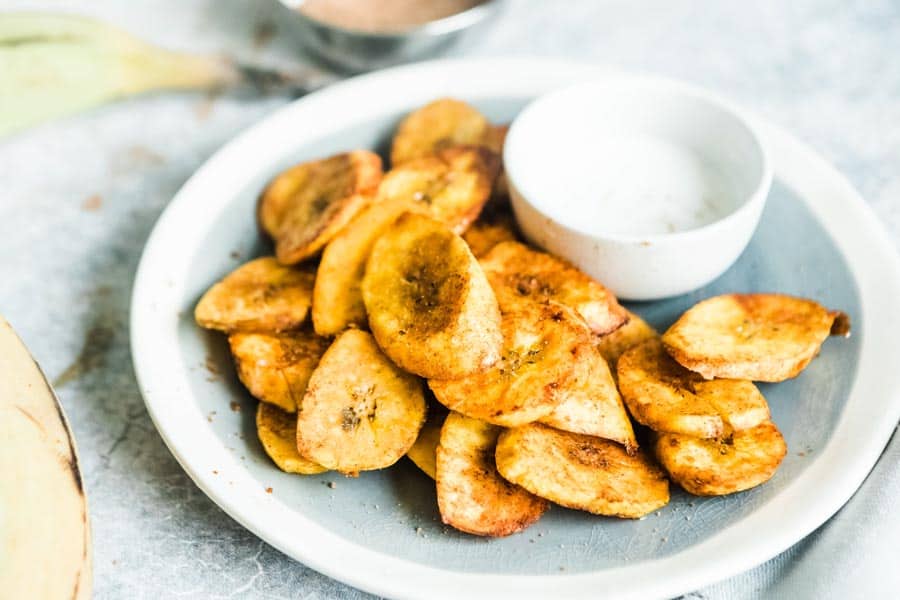 Table of Contents
How to Fry Plantains
You may not have cooked with this banana-like fruit before yet this recipe is super simple + quick! Get a decadent dessert in less than 15 minutes:
Heat a large skillet over medium-high heat.
Peel 2 ripe plantains by cutting off both ends, then cutting a slit down the side of each plantain to open the peel. I know these look like bananas, however they def don't peel like bananas!
Cut the peeled fruit into 1/4-inch thick diagonal slices. Cutting them diagonally may sound frivolous, yet it has a purpose! You want as wide a surface area as possible to caramelize, and the diagonal slices provide a bigger surface area to fry.
Add coconut sugar, cinnamon, and salt to a bowl and mix. Then toss the plantain slices in the mixture to coat thoroughly.
Add coconut oil to the heated pan and once the oil has melted (before it starts smoking!) add as many coated fruit slices as will fit in a single layer to the pan.
Cook 3-4 minutes per side, until each piece is caramelized and brown.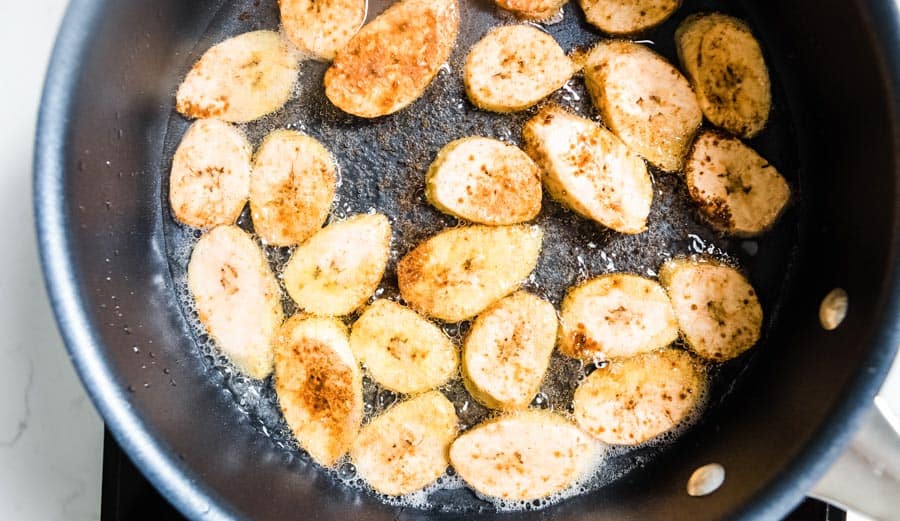 I like serving these fried sweet plantains with a dollop of coconut whipped cream or cashew cream mixed with maple syrup.
Tips to a Perfectly Caramelized Treat
First, choose ripe plantains! The sweetness is important, so don't make this recipe until your plantains have ripened properly. Then choose the right kind of oil. I love using coconut oil for this recipe because it is light, slightly sweet, and the hint of coconut flavor just adds to the dessert.
Make sure you add the plantain slices to the heated oil before the pan starts smoking. I recommend diagonally slicing the plantains to give them a wider surface area to fry/caramelize. You could cut them straight… but why sacrifice on taste?
Finally, I love using coconut sugar in this recipe as it really does have a similar texture to brown sugar. You can swap in maple sugar as well.
Choosing the Right Kind of Plantains
While plantains were historically grown in Southeastern Asia, they were introduced to the Caribbean centuries ago and have since become ingrained in many cultural dishes all over Latin America. My Latin-inspired fried plantains recipe comes from enjoying them with my Puerto-Rican friends and neighbors along with the Cuban restaurants found all over Tampa Bay.
Just like bananas, plantains start off with a green peel, then ripen to a yellow then black. Also like bananas, the more yellow/black on the peel, the sweeter the fruit inside. For these fried sweet plantains the peel needs to be a mottled yellow and black to ensure they're sweet enough.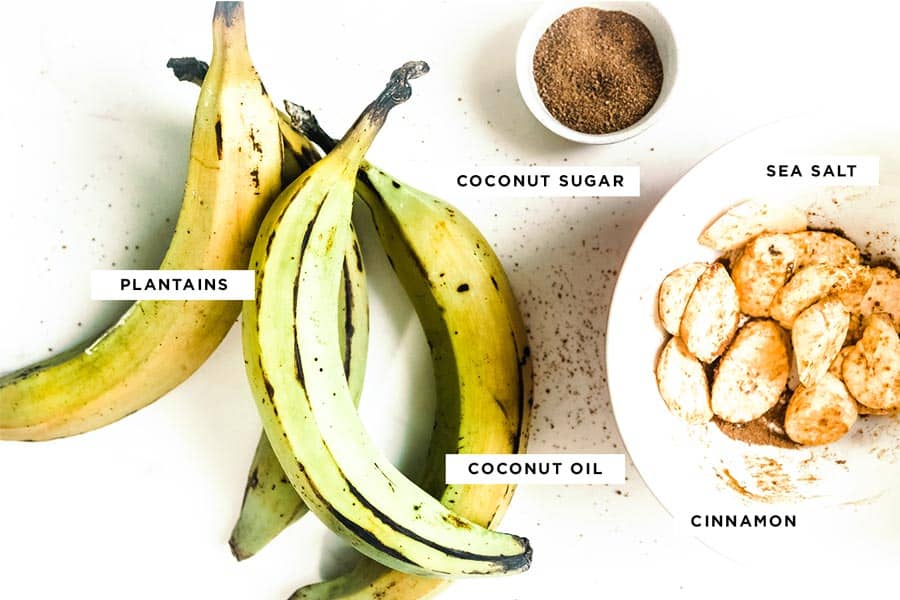 Fried Plantains FAQs
How ripe should plantains be for frying?
Make sure your plantains are completely yellow with mottled black on them before frying. If you fry green or slightly green plantains, they will taste starchy and not sweet.
Should you boil plantains before frying?
No need! Waiting until they are definitely ripe before cooking as well as diagonally cutting them will ensure they cook well in the skillet and taste perfectly sweet. This sweet fried plantains recipe is quick; no need to add in a step!
What do you eat with fried plantains?
I like to eat my sweet fried plantains under a dollop of coconut whipped cream. They are also great as an ice cream topping, or on top of toast. Feel free to drizzle caramel or chocolate sauce over them.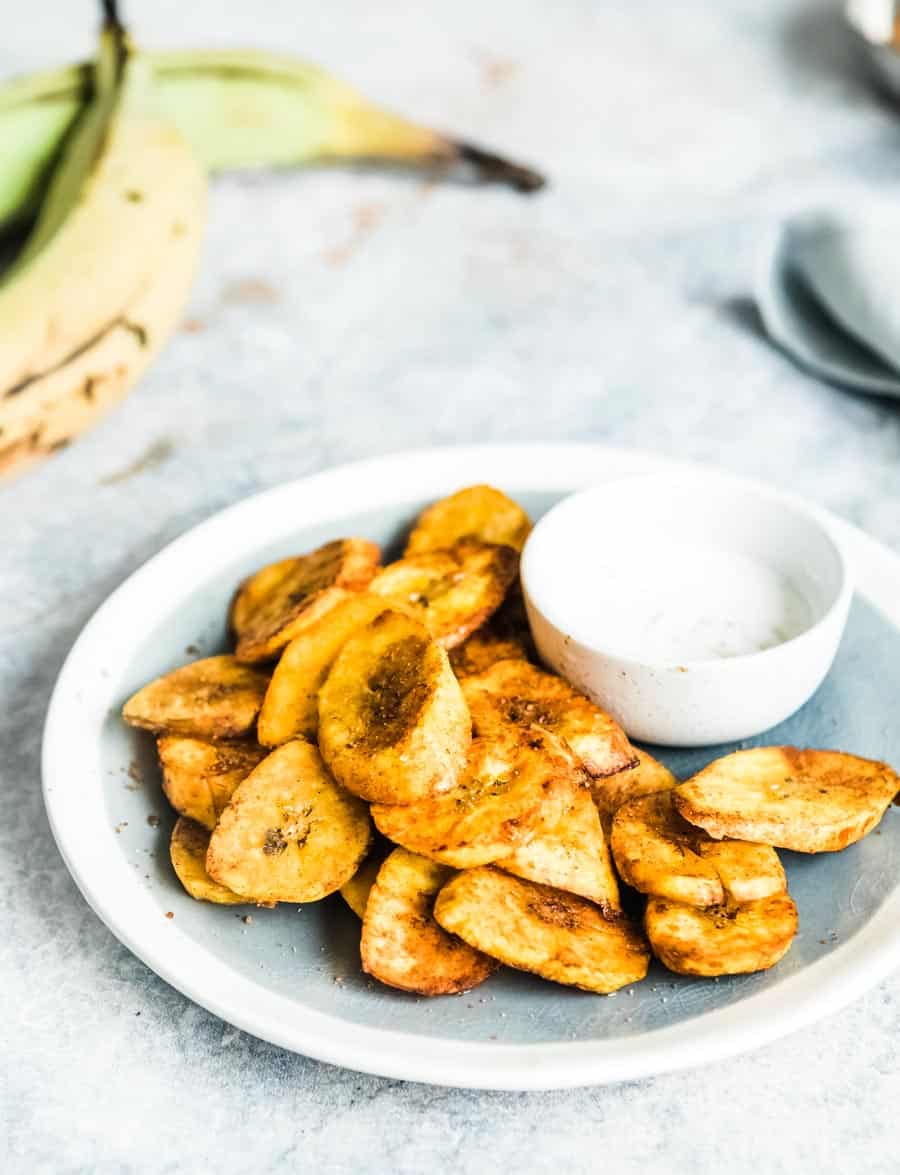 More Delicious Dessert Recipes
I'd love to get your feedback on this recipe. Will you rate + review once you've made them? Thanks!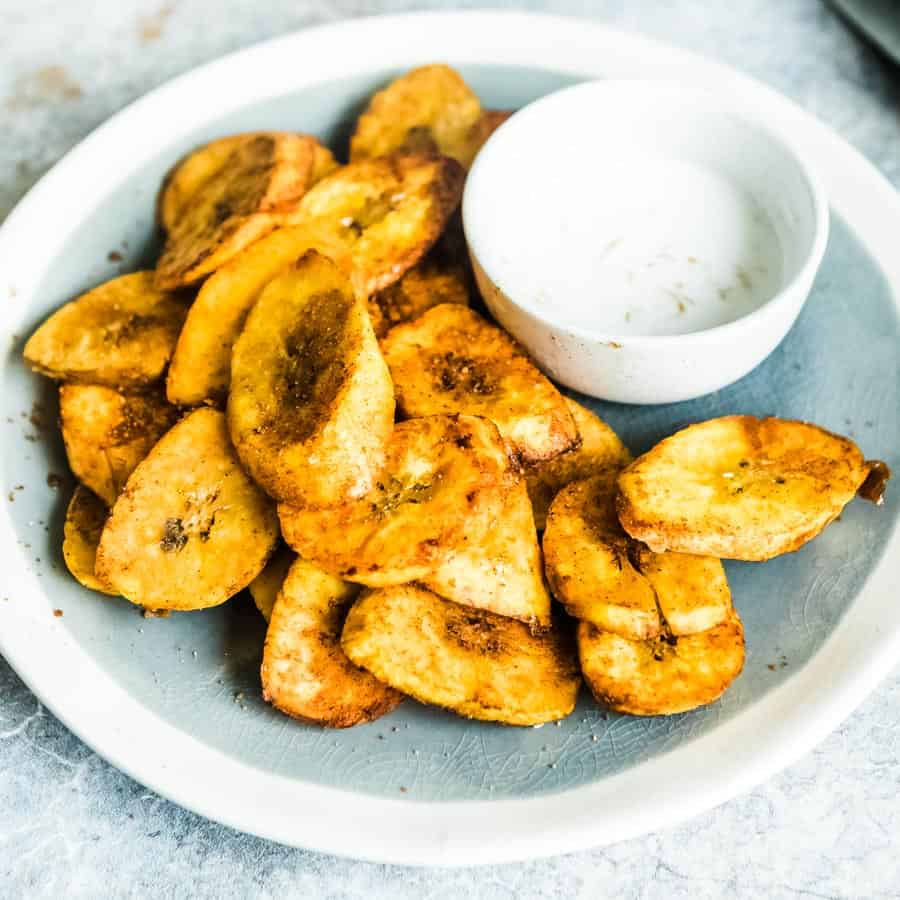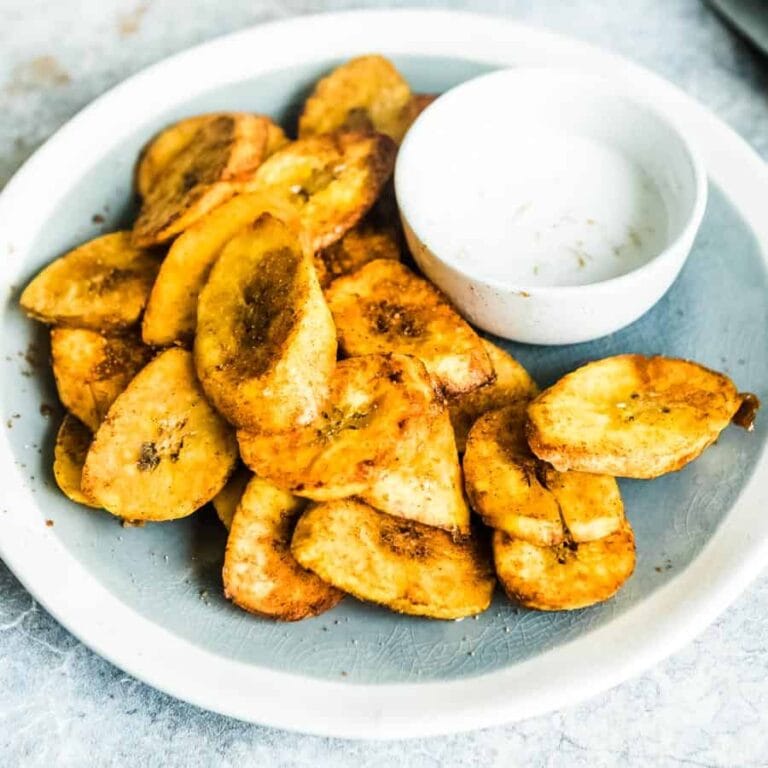 Sweet Fried Plantains
My move to Florida introduced me to a beautiful Latin American food culture. I instantly fell in love with the smells and flavors of Latin cuisine and especially with sweet fried plantains. They are super easy to make and SO enjoyable as a fun side dish or light dessert. Feel free to dress them up how you want and enjoy my Latin-inspired version.
Ingredients
2

ripe plantains

w/ peels mottled yellow and black

2

tbsp

coconut oil

1

tbsp

coconut sugar

½

tsp

cinnamon

⅛

tsp

sea salt

15

oz

coconut cream

1 can
Instructions
Heat a large skillet over medium-high heat.

Peel plantains by cutting off both ends, then cutting a slit down each plantain.

Cut the peeled plantains into 1/4-inch thick diagonal slices.

Toss the plantains in sugar, cinnamon, and salt in a bowl.

Add coconut oil to the heated pan then add as many plantains as will fit flat.

Cook 3-4 minutes per side (until caramelized and brown).

Serve with a dollop of coconut whipped cream.
Notes
To make coconut whipped cream, put a can of coconut cream into the fridge for 24 hours. Once chilled, open and scoop out the cream into a bowl. Add 1 tbsp maple syrup and whip until peaks form.
Make sure the peels are completely yellow/mottled yellow-black before using. If the peels are green, your plantains won't be sweet and will taste starchy.
Caramel sauce or chocolate sauce is also a great topping for fried plantains.
Nutrition
Calories:
531
kcal
,
Carbohydrates:
39
g
,
Protein:
5
g
,
Fat:
44
g
,
Saturated Fat:
39
g
,
Polyunsaturated Fat:
1
g
,
Monounsaturated Fat:
2
g
,
Sodium:
87
mg
,
Potassium:
793
mg
,
Fiber:
5
g
,
Sugar:
15
g
,
Vitamin A:
1009
IU
,
Vitamin C:
19
mg
,
Calcium:
17
mg
,
Iron:
3
mg