Rich fudgy brownies, coming right up! These may be gluten free brownies yet they are a fudgy, rich texture that is oh so enjoyable.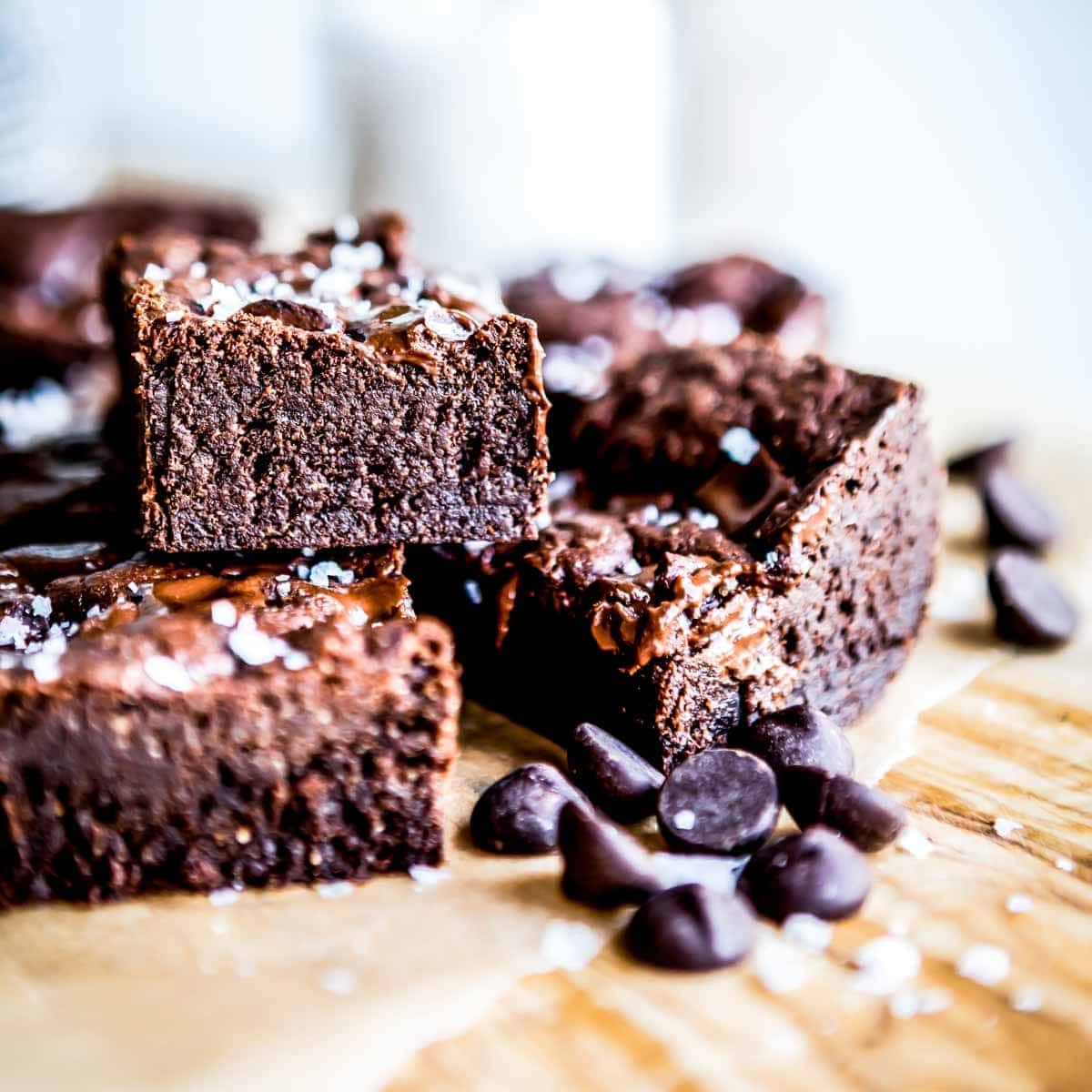 If you've been searching for a recipe for gluten free brownies, then I've got the perfect one for you! This gluten free brownie recipe is vegan as well, but that doesn't mean it skimps on flavor or texture. Lean in and I'll share the secret to these awesome, dairy free brownies.
What makes gluten free brownies fudgy?
You probably already know that there are numerous types of brownie recipes out there. They yield everything from decadent flourless brownies to cake-y brownies, as well as everything in between.
With this gluten free brownie recipe, I'm aiming for brownies that are both thick and fudgy.
Fudgy brownies contain a higher ratio of fat to flour, and conversely cakey brownies have less fat to flour. The amount of sugar and eggs don't make as much of a difference (in fact, my brownies have flax eggs in them!), though brownies made with a small amount of sugar have a tendency to be more dry and brittle.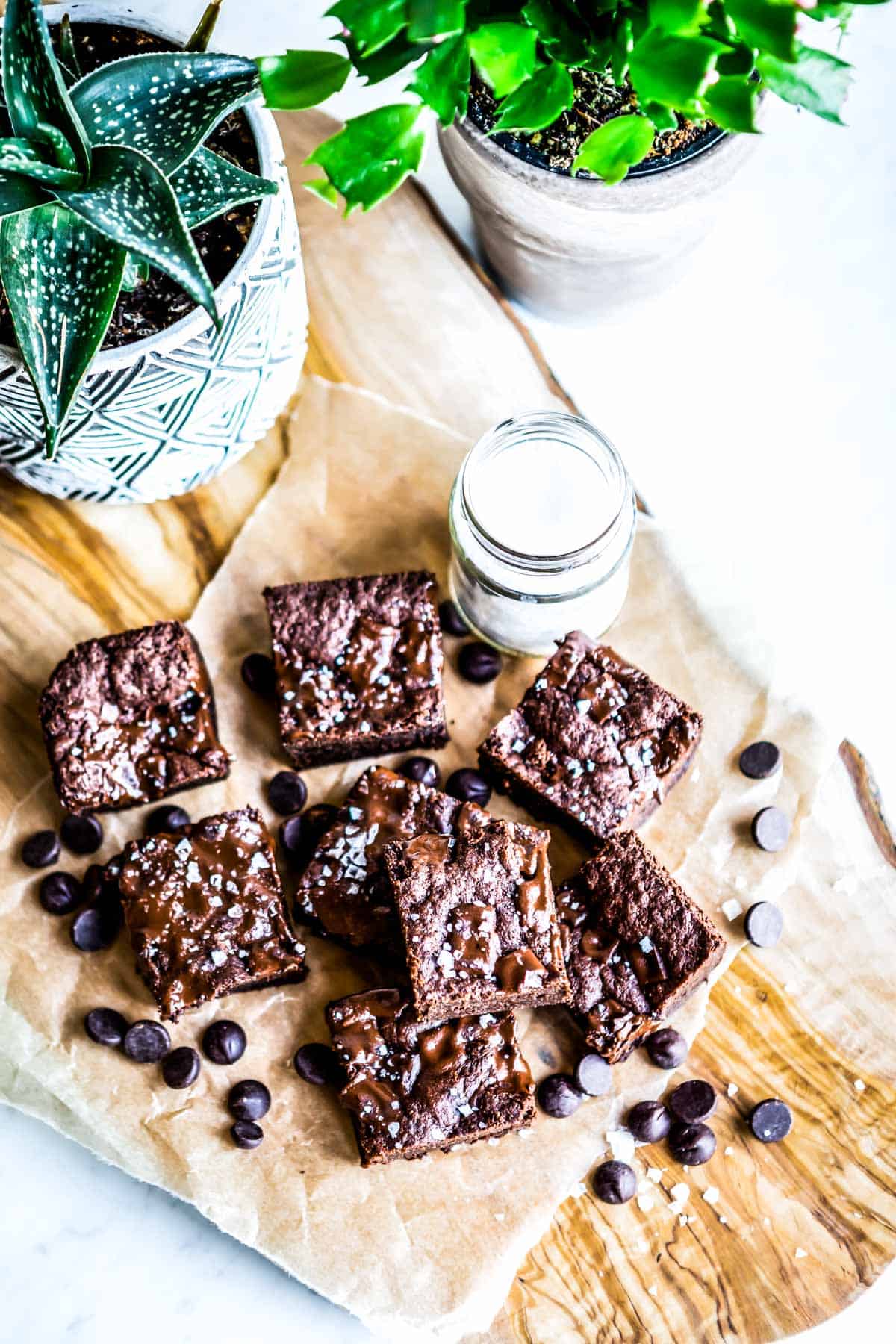 What makes gluten free brownies chewy?
Since we're discussing fudginess, I might as well tackle what makes brownies chewy! The answer to chewy, gluten free brownies is simple: oil.
If you've used boxed brownie mixes before, you'll know that the fat specified is usually vegetable oil. Now I don't care much for vegetable oil (more on what I like better in a second), but it's hard to deny that oil does in fact effect the chewiness of brownies. While butter tastes really good, it tends to yield brownies that are less chewy.
What's the best oil to use in a brownie recipe?
I've cooked + baked with several different oils, and I prefer using unrefined coconut oil in baking recipes. It doesn't give off too much of a coconut-y vibe, and also yields the best results in my baking tests for the perfect gluten free brownie. There's no denying that the extra rich flavor of coconut oil wins out. (Don't worry, the brownies don't actually taste like coconut, instead you only taste the chocolate!)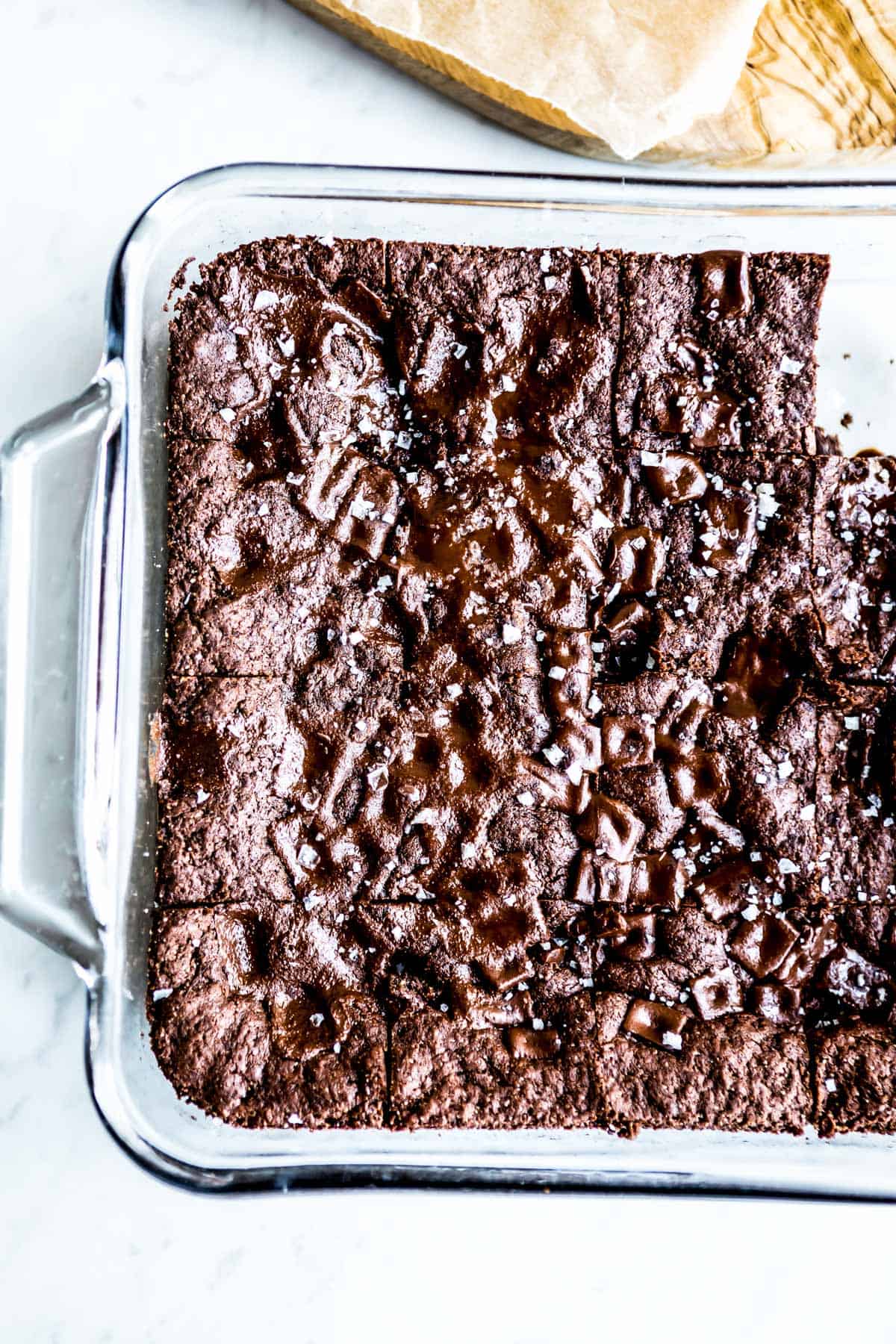 Oil options to use in a gluten free brownie
If you aren't able to use coconut oil in these gluten free brownies, I've got some options for you! Swap in either olive oil or avocado oil. While these oils didn't make the cut in my testing, they are both fine swaps for coconut oil in a pinch. I recommend staying away from vegetable or canola oil, as these are both highly processed. Canola oil typically comes from genetically modified plants. To keep these gluten free brownies dairy free too, stay away from butter or ghee. Not only does butter contain dairy, it honestly leads to less chewy brownies... and I'm all about the fudge factor with this recipe.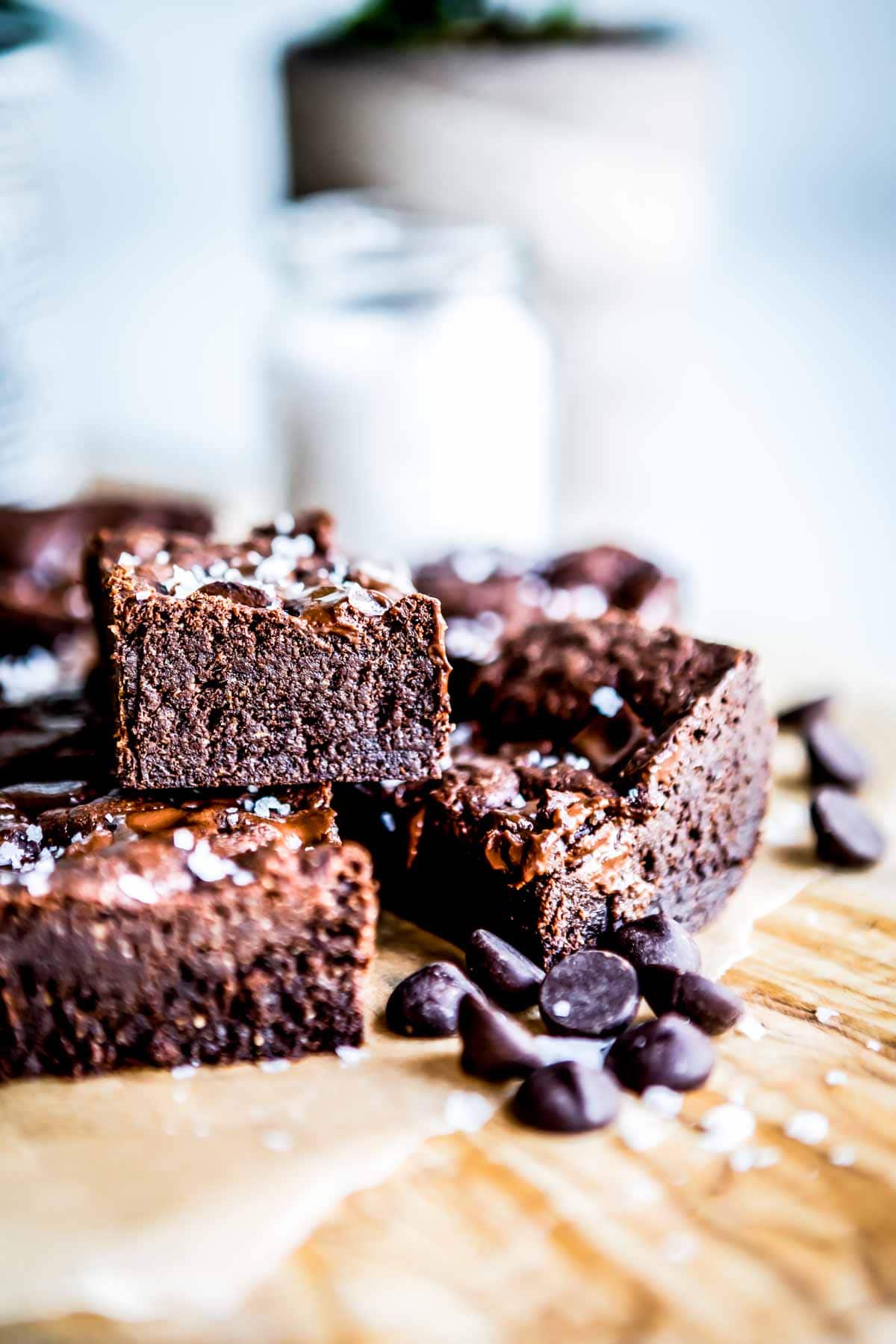 The best chocolate for fudgy brownies
Cacao powder on its own has plenty of chocolate flavor. Depending on the quality of the cacao or cocoa used, the flavor can be more mild or very deep, almost coffee-like. That part is up to you! I tend to go with the less processed cacao powder vs. cocoa powder. Cocoa powder can definitely be used if cacao powder is difficult to find, just know the flavor of the gluten free brownies will be slightly different. Make sure to check the ingredient list too, as some cocoa powders contain more ingredients other than just cocoa. No matter which option I choose, I always look for the one with the simplest ingredient list.
Melted chocolate not only adds extra chocolate-y flavor to the gluten-free brownie recipe, it also adds in a little extra fat that ups that chewiness factor. Yes, chocolate does contain sugar and I typically favor natural sweeteners over cane and beet sugars. In this brownie recipe I use coconut sugar and maple syrup because they bring more flavor + chewiness! Dairy free chocolate chips are super easy to find at your local grocery store, and are a great option in these brownies.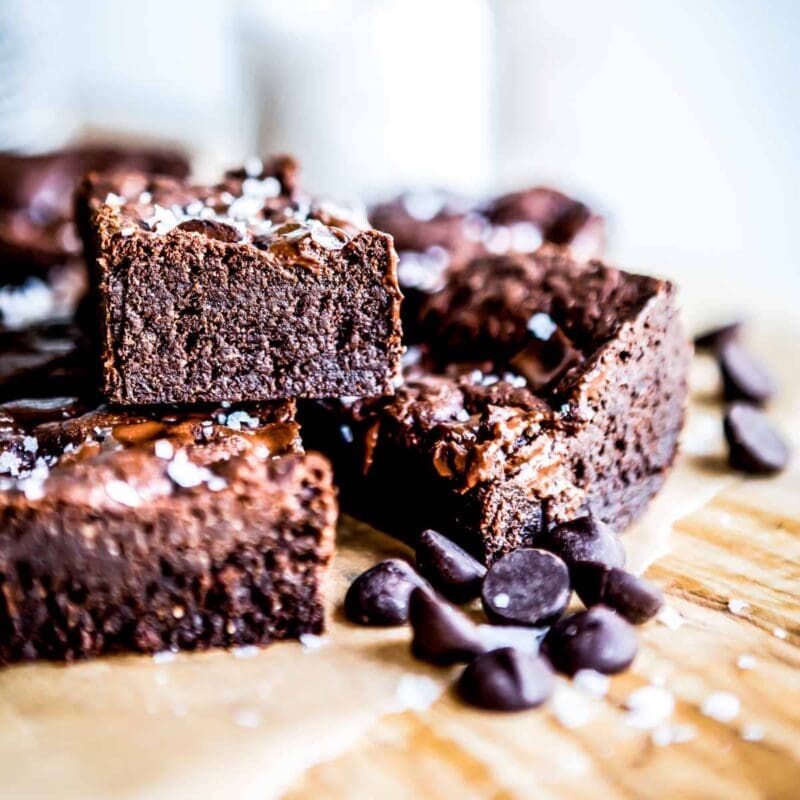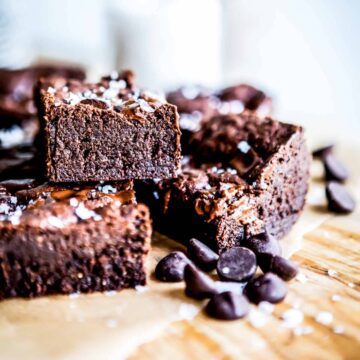 Fudgy Gluten Free Brownies
Rate this Recipe
Print Recipe
Thick, fudgy brownies that also happen to be vegan and gluten-free. (No one will be able to tell!) Loaded with delicious chocolate flavor and a great texture, this Fudgy Gluten Free Brownie Recipe really hit the spot.
Ingredients
1

cup

gluten free flour blend

½

cup

almond flour

½

teaspoon

sea salt

(plus more for sprinkling, if desired)

¼

teaspoon

baking powder

1.5

cup

semisweet chocolate chips

(vegan (save ½ cup for topping))

6

tablespoon

coconut oil

¼

cup

cacao powder

½

cup

coconut sugar

¼

cup

maple syrup

1

teaspoon

vanilla extract
Instructions
Preheat oven to 350° F. Lightly grease an 8- by 8-inch square pan. (A 9-inch square pan can also be used, if needed.)

Whisk the gluten-free flour and almond meal together. Whisk in sea salt and baking powder. Set aside.

In a medium saucepan set over medium-low heat, melt chocolate chips and coconut oil together, stirring constantly to avoid burning. Turn off heat and whisk in the cacao powder until smooth. Whisk in the flax egg, coconut sugar, maple syrup and vanilla. Add wet ingredients to dry and mix until just combined.

Spread the batter evenly in the prepared pan. Sprinkle the extra chocolate chips on top and gently press into the batter.

Bake 14-17 minutes or until center looks slightly 'raw' and edges look dry and set. The top should have a dry appearance and may even crack in places. Remove from oven and sprinkle with a small pinch of sea salt over the top. Let cool before cutting into bars.
Notes
For extra clean squares, chill brownies before cutting.
1 large egg can be used in place of the flaxseed + water, if you don't want them to be vegan.

Store covered at room temperature or in the refrigerator for up to one week. Can be frozen in an airtight container for up to several months.

Feel free to mix in chopped walnuts when adding the chocolate chips right before baking.
Nutrition (estimated)
Calories:
222
kcal
(11%)
Carbohydrates:
24
g
(8%)
Protein:
3
g
(6%)
Fat:
14
g
(22%)
Saturated Fat:
8
g
(50%)
Polyunsaturated Fat:
0.5
g
Monounsaturated Fat:
2
g
Trans Fat:
0.01
g
Cholesterol:
1
mg
Sodium:
92
mg
(4%)
Potassium:
131
mg
(4%)
Fiber:
3
g
(13%)
Sugar:
13
g
(14%)
Vitamin A:
8
IU
Vitamin C:
0.1
mg
Calcium:
35
mg
(4%)
Iron:
2
mg
(11%)
More plant based dessert recipes
If these gluten free brownies have turned you onto plant based desserts, then check out this list of more great dessert recipes:
Don't forget to leave a comment + rating to let me know what you think of this gluten free, dairy free brownie recipe!