Grab a slice of this warm, healthy zucchini bread and energize your afternoon. If I can't grab a slice fresh from the oven then I enjoy reheating it in the toaster oven to enjoy. My chocolate zucchini bread recipe is a fun snack for the family to make together.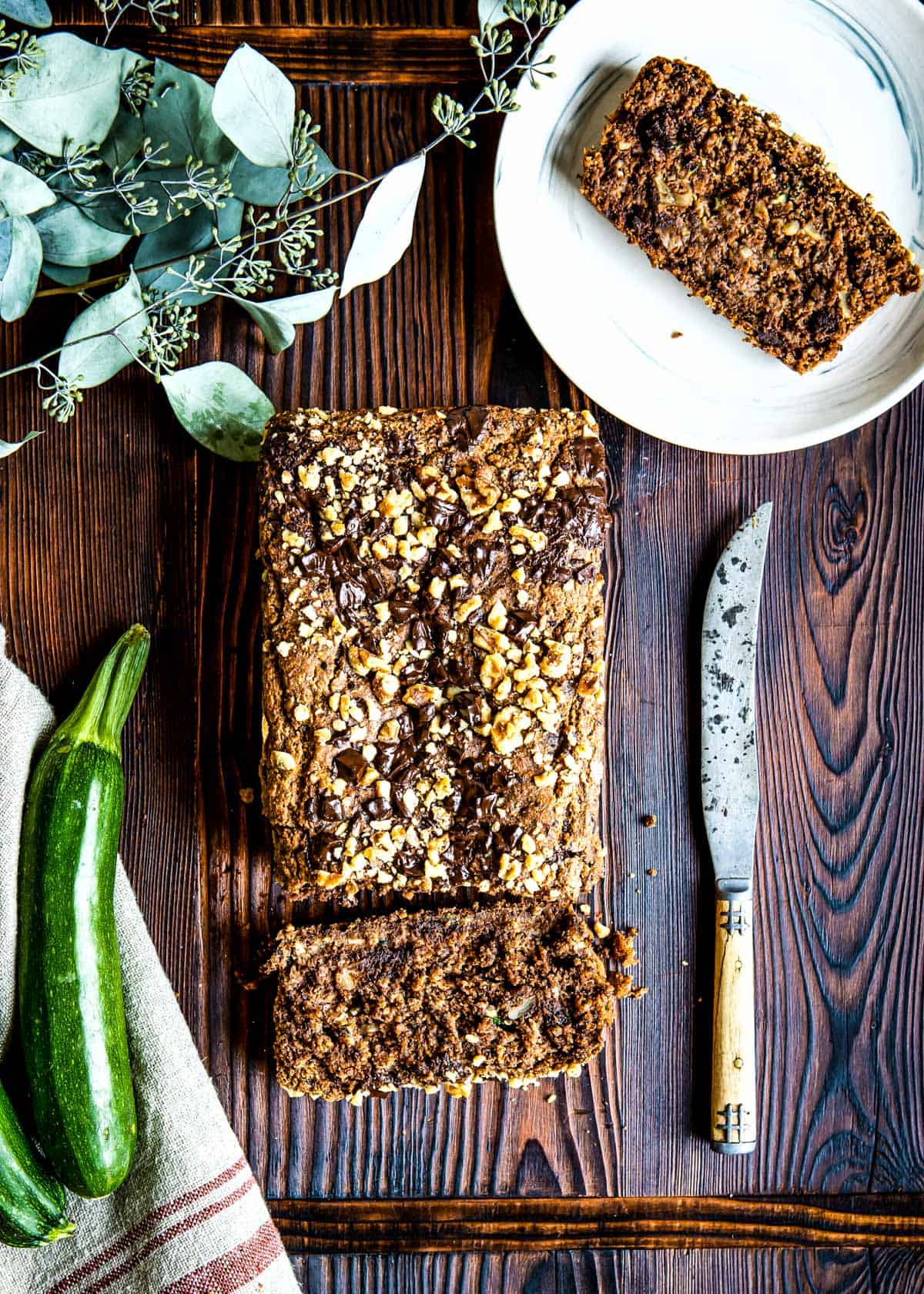 It doesn't get much better than some warm, healthy zucchini bread with gooey chocolate chips. This recipe makes a great compliment to a good cup of healthy coffee, or as an afternoon snack.
Zucchini bread is part of the quick bread family. It originated in America in the late 18th century. Bakers first used an ingredient called pearlash as the leavening agent, as baking powder wasn't commonly used until the next century.
Table of Contents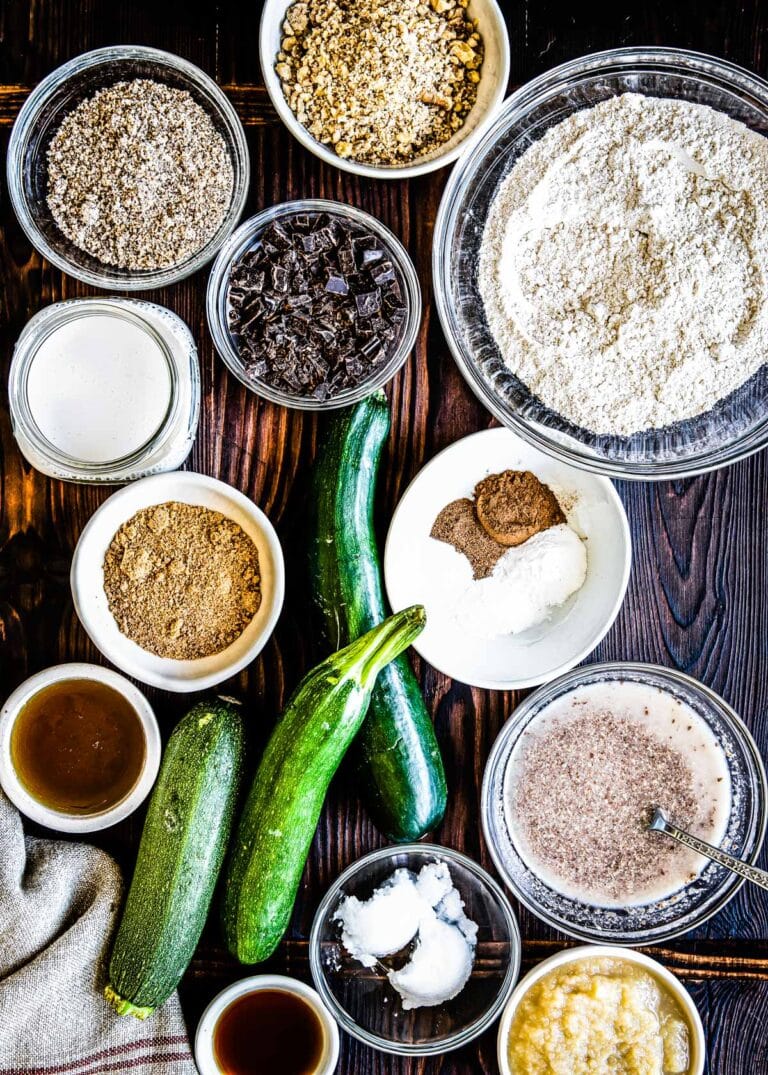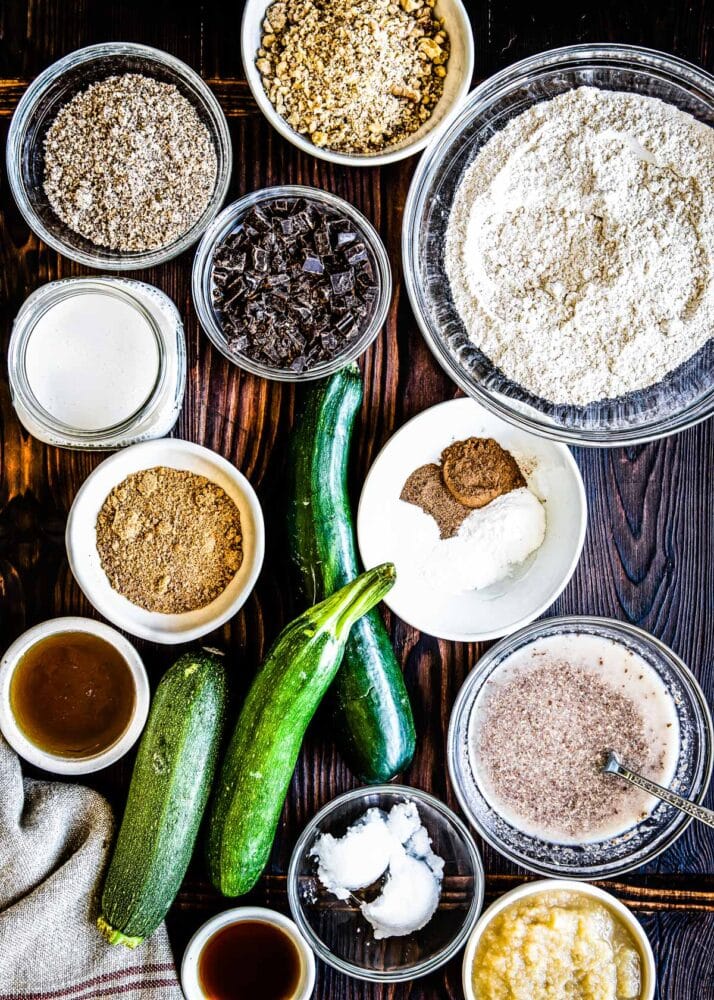 How to Make Zucchini Bread Healthy
I grew up eating zucchini bread that my mom would make. It made the entire house smell wonderful and we'd devour it in a day. This recipe is very similar to that one— yet we took it a step farther and added chocolate. It turns from a basic quick bread into a decadent dessert— yet still using clean, healthy ingredients.
Here are some of the highlights: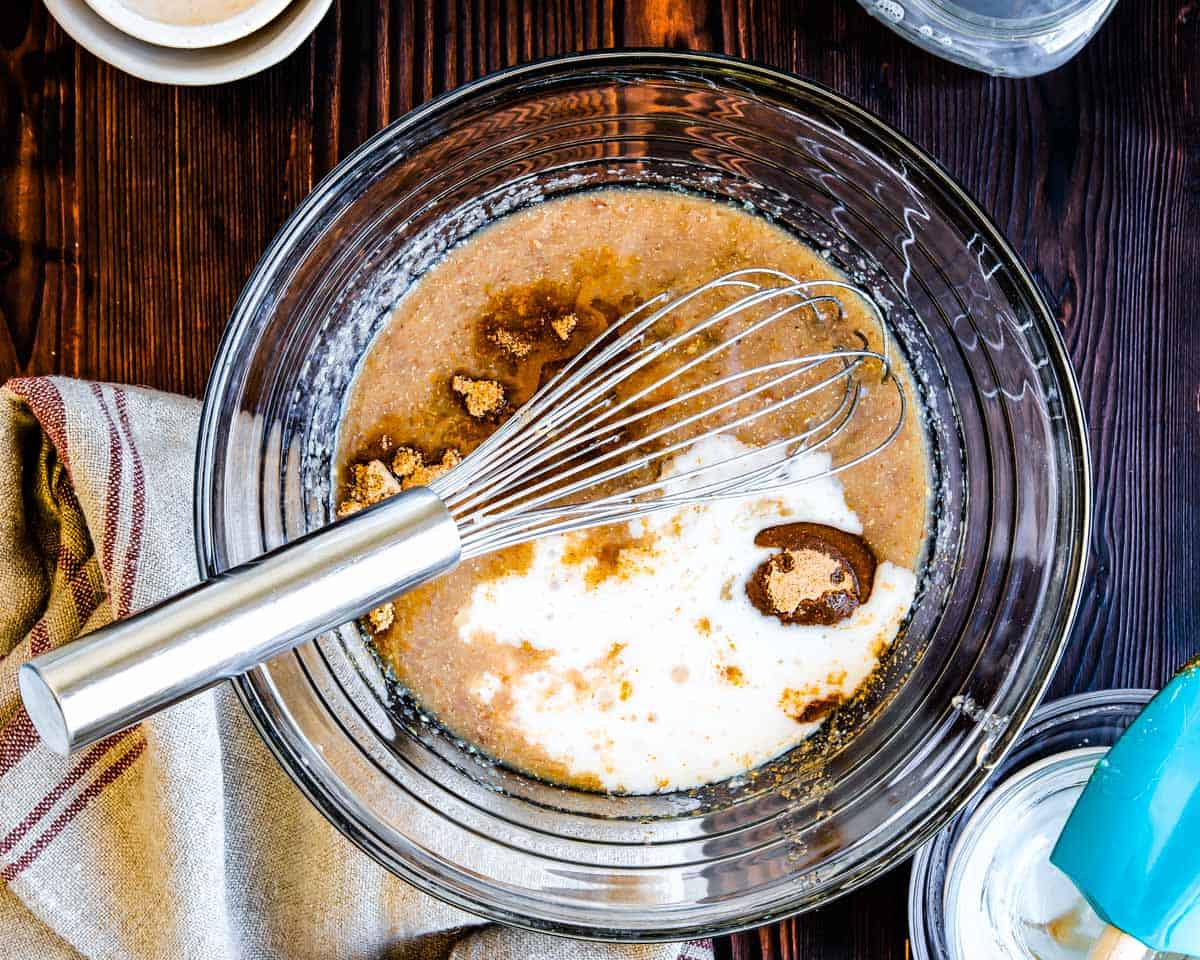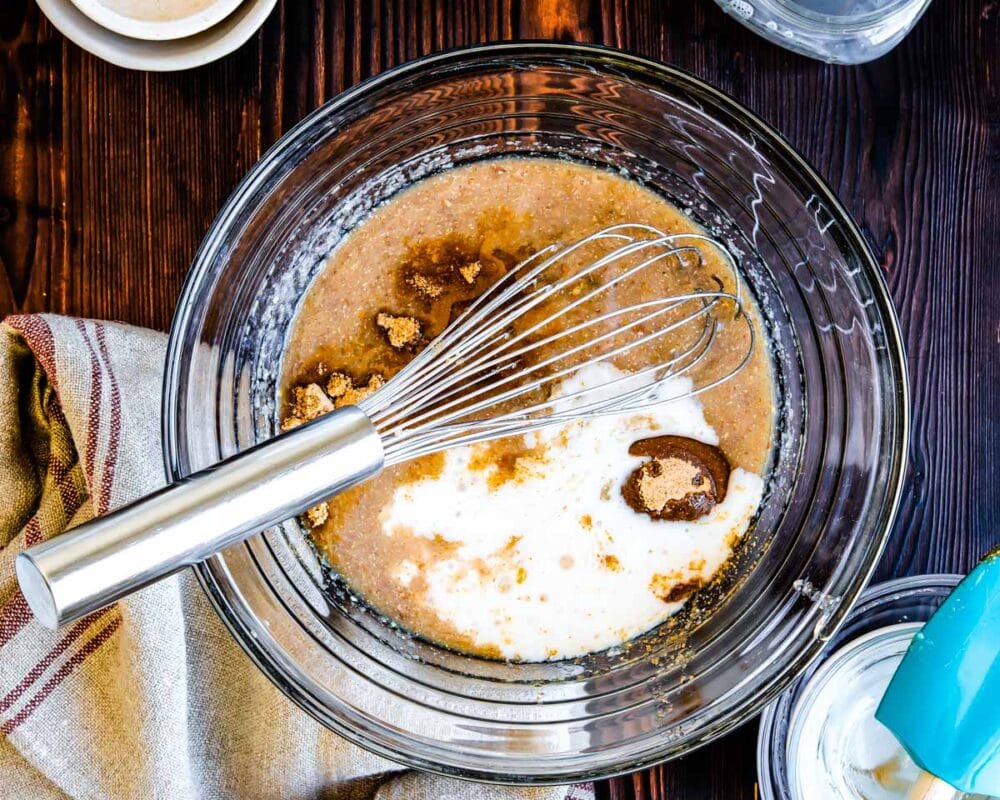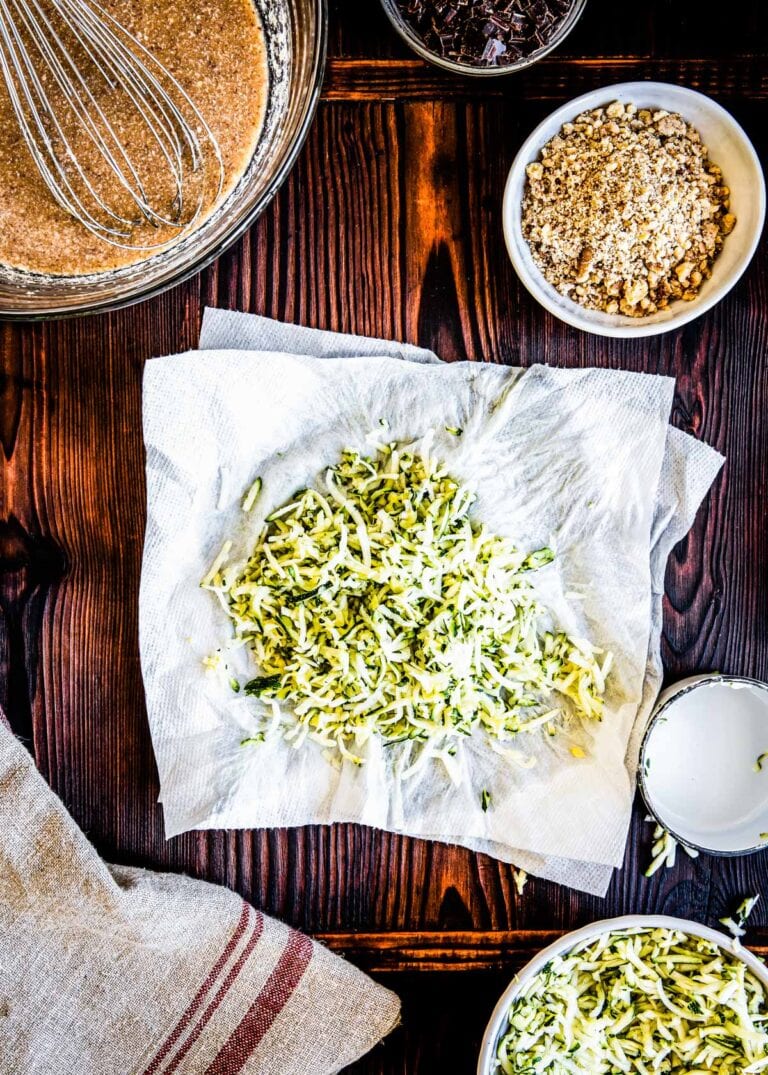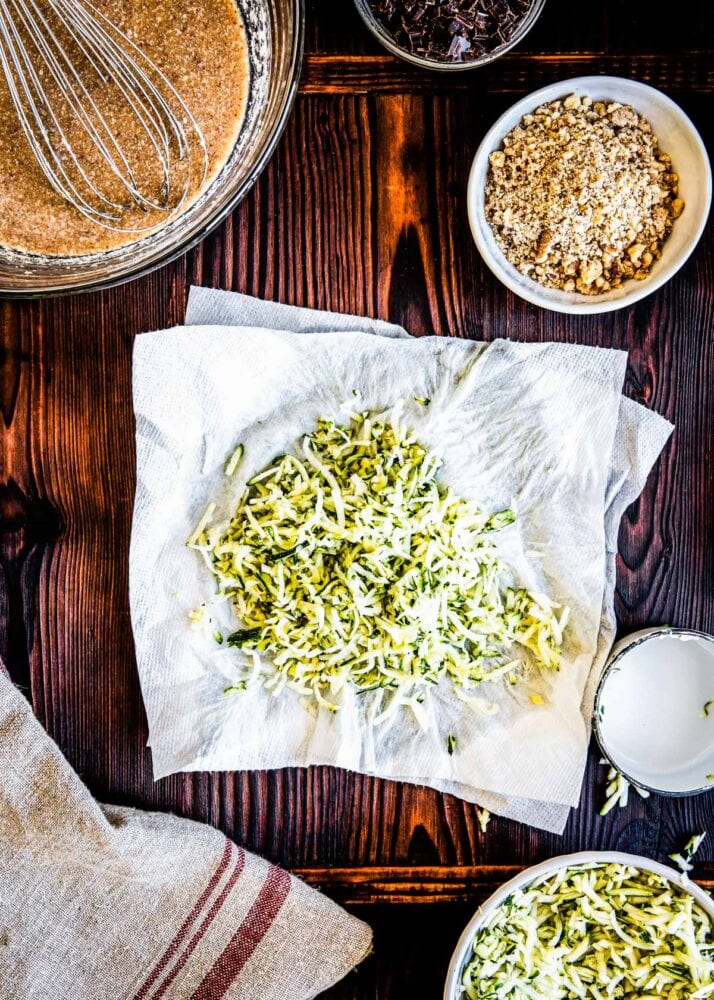 Flax eggs
This healthy zucchini bread uses a flax egg instead of regular eggs. This is a great way to make it vegan-friendly and also packed with omega 3-s, which are healthy fats that have been shown to lower blood pressure.
To make 1 flax egg, combine 1 tbsp of ground flaxseed with 2.5 tbsp of water. Stir together, then let sit for 5 minutes. The flaxseed + water should bond together, and help the bread mixture hold together as well. As an added bonus, the flaxseed will give this bread some extra fiber!
Natural Sweeteners
We've swapped out the traditional sugar with maple syrup, coconut sugar and apple sauce to create a vitamin-rich sweet bread. I am always trying to find ways to use natural sweeteners rather than processed sugars in my recipes. You can get the same result, yet add in more nutrients and health benefits.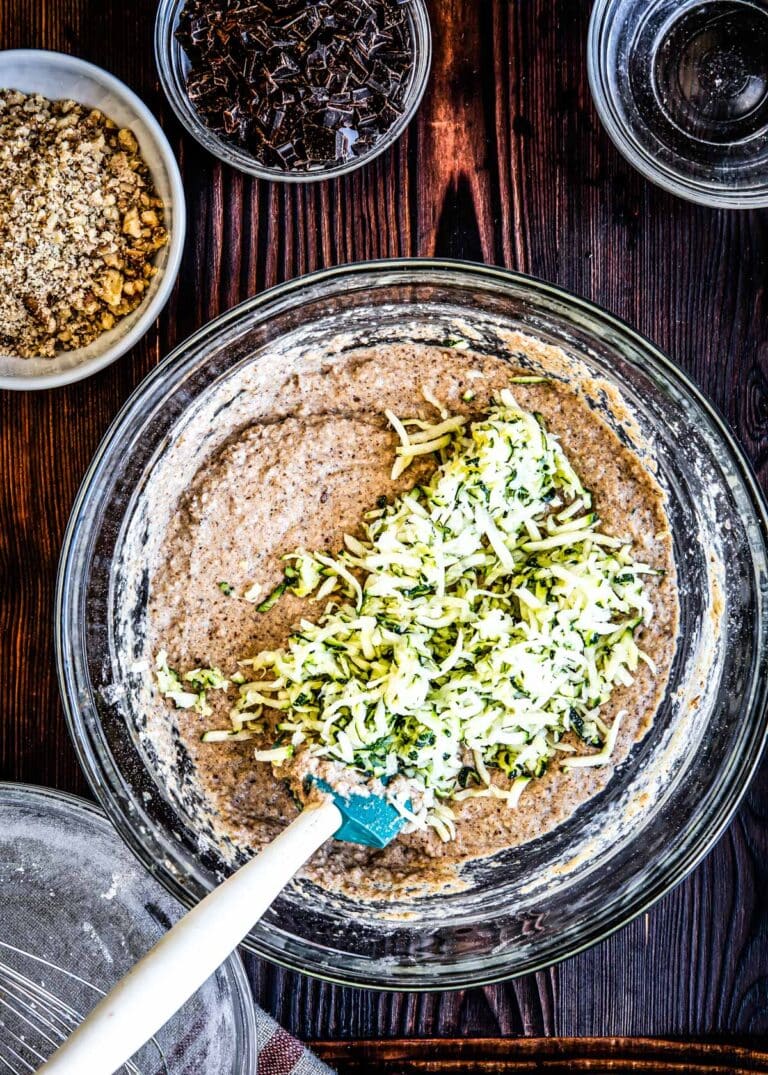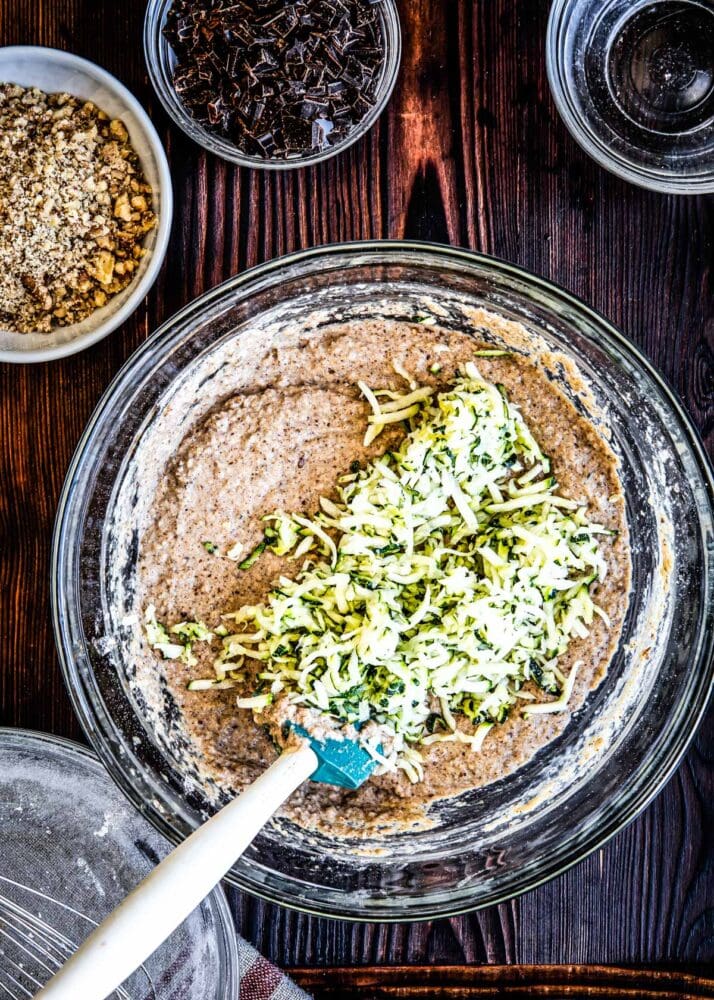 Whole Wheat Flour & Almond Flour
We're using whole wheat and almond flour to add additional fiber, protein and a denser, hearty result. I like my bread to have some weight to it— so I can spread it with butter, almond butter or even drizzle some honey on top.
Ingredient Swaps
Quick breads like this chocolate zucchini bread recipe are a great snack idea as they really are quick. All the ingredients for this bread can be combined in the same bowl, which makes for less mess. You can also change up the ingredients to fit what you have on hand, and it'll still taste great!
Flours: Instead of adding in almond flour, feel free to use all whole wheat flour. You can also swap the flour out for your fav gluten free all-purpose baking flour.
Oils: The coconut oil can be swapped out for avocado or olive oil.
Spices: If cinnamon and/or nutmeg aren't your jam, swap those out for your preferred spices.
Maple Syrup: Can swap with honey or cane sugar.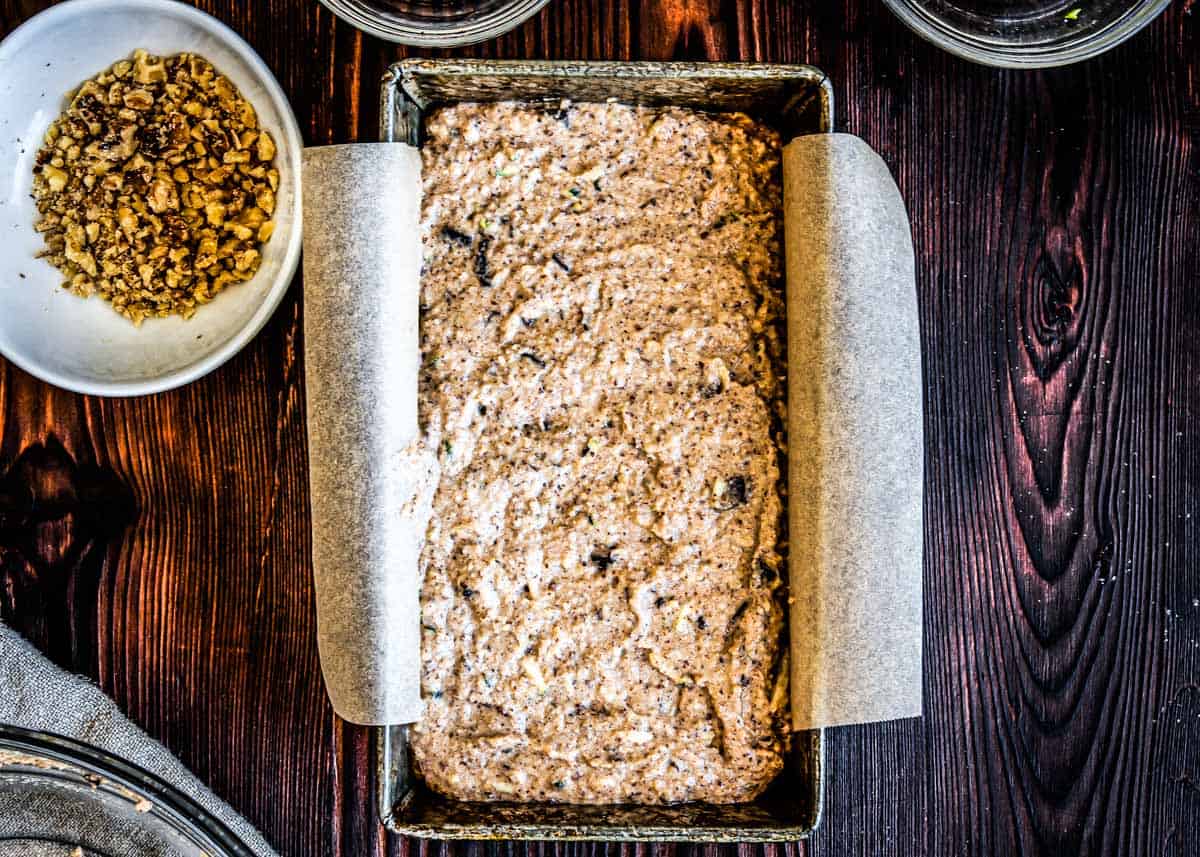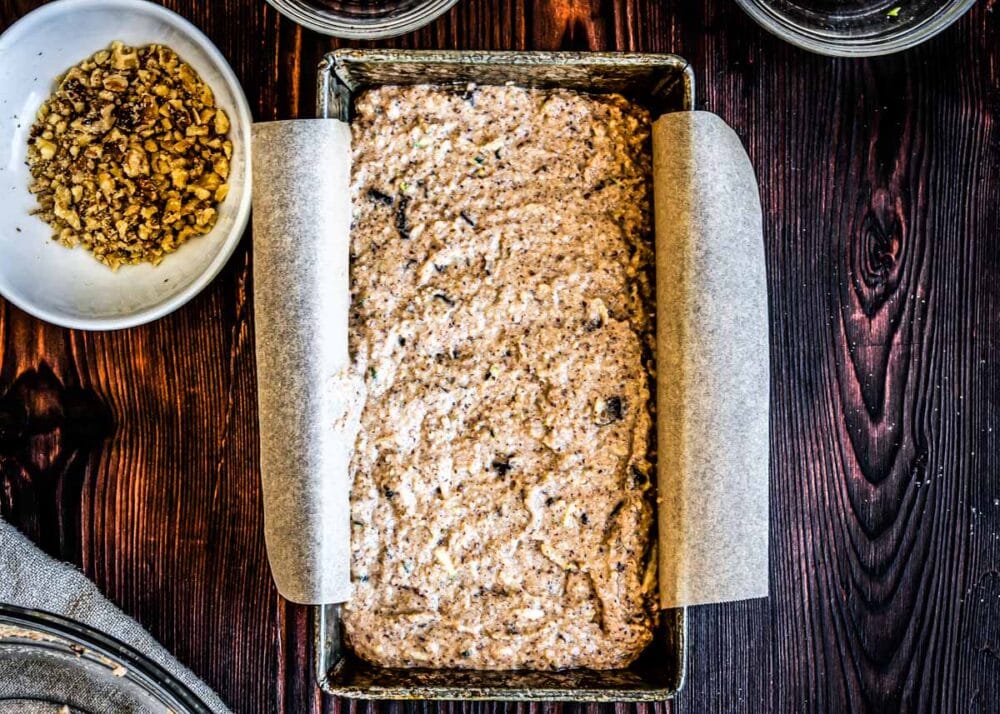 Bread add-ins
One reason I love zucchini bread is that you can make it different every time, depending on what you like/have on hand. I always treat the healthy zucchini bread recipe as my base, then add in fun toppings as I go. For this recipe, I chose the family fav of walnuts + chocolate chips.
Try dried fruit, or fun spices such as cardamom, or even pumpkin spice. The possibilities are almost endless with this easy recipe. Almost any nut can be swapped in for the walnuts, or a great seed like hemp hearts.
More Healthy Snack Recipes
Snacks make or break my healthy habits. If I've got good, nutritious + delicious snacks on hand, then I know I'll win the day where good food choices are concerned. So I'm always creating new snack options for myself and this awesome community. Keep reading for some great snack options I think you'll love just as much as this healthy zucchini bread:
What are some of your go-to snacks? I'd love to hear about them! Drop a comment so that you can share what fun recipes get you through the day.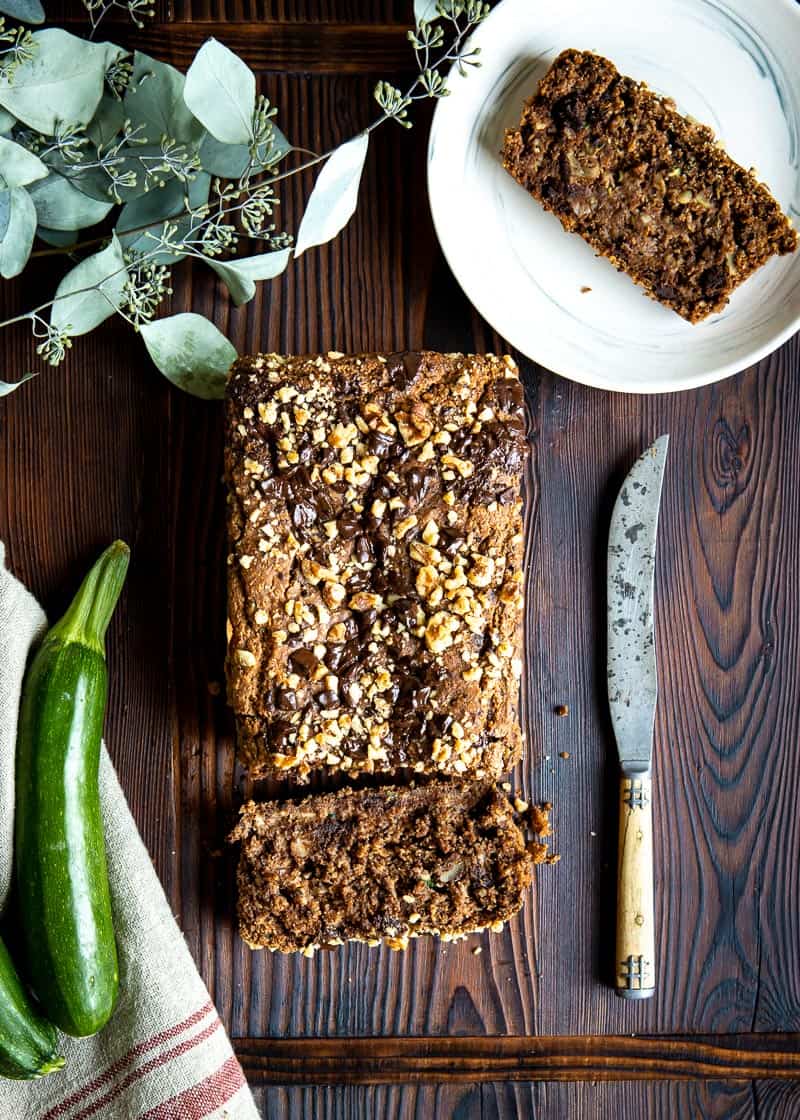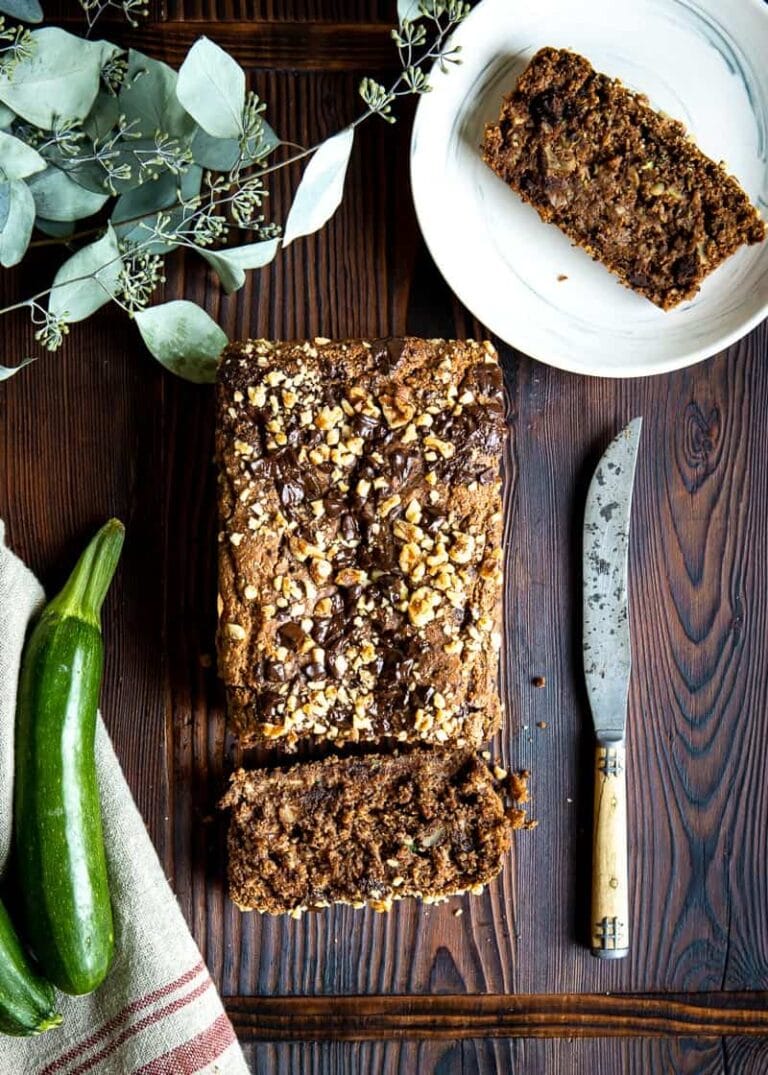 Healthy Zucchini Bread
A fun bread the whole family can enjoy (and help make!). I love that this bread contains a whole cup of veggies, and that it's vegan… though you can't even tell!
Ingredients
1

cup

grated zucchini

squeeze out ALL excess moisture with a paper towel

¾

cup

applesauce

unsweetened

¼

cup

maple syrup

¼

cup

coconut sugar

½

cup

almond milk

2

Tbsp

ground flaxseed

½

tbsp

vanilla extract

2

Tbsp

coconut oil

1 ½

cups

white whole wheat flour

½

cup

almond flour

1

tsp

ground cinnamon

¼

tsp

nutmeg

1

tsp

baking soda

1 ½

tsp

baking powder

¼

tsp

sea salt

½

cup

chocolate chips

½

cup

raw walnuts

chopped
Instructions
Preheat oven to 350℉ and line a 8×4 loaf pan with parchment paper or grease it with a little extra oil.

Make Flax eggs: Stir 2 Tbs flaxseeds in 5 Tbs water, and let set for 5 minutes.

Take the grated zucchini and place it in the middle of a clean dish towel or large paper towel. Wrap the zucchini in the towel and squeeze out as much of the moisture as you can. Set aside.

In a large bowl, combine coconut oil, flax eggs, vanilla extract, applesauce, maple syrup, and milk. Mix.

Add remaining ingredients except zucchini and chocolate chips to the bowl. Mix well until batter has an even consistency.

Add drained zucchini and chocolate chips to the batter. Fold them in.

Pour batter into prepared loaf pan and top with extra chocolate chips if desired.

Bake for 45 minutes, or until bread is golden on top and a toothpick inserted into the middle of the bread comes out clean. Allow bread to cool in pan for 20 minutes before slicing and enjoying.
Notes
Use all white whole wheat flour if you don't have almond flour on hand. 
Swap almond milk for the dairy-free milk of your choice and omit the walnuts to make this bread nut-free.
Nutrition
Calories:
200
kcal
,
Carbohydrates:
25
g
,
Protein:
4
g
,
Fat:
10
g
,
Saturated Fat:
3
g
,
Polyunsaturated Fat:
3
g
,
Monounsaturated Fat:
1
g
,
Cholesterol:
1
mg
,
Sodium:
217
mg
,
Potassium:
103
mg
,
Fiber:
3
g
,
Sugar:
11
g
,
Vitamin A:
27
IU
,
Vitamin C:
2
mg
,
Calcium:
81
mg
,
Iron:
1
mg