I heart, you heart, we all heart hemp hearts! This tiny Top Superfoods List packs a protein + nutrient punch that leaves us energized for the day while also impacting our health long term. What are hemp hearts you ask? I'm here to tell you all about hemp hearts benefits, as well as share a delicious sauce recipe that you'll want to put on everything.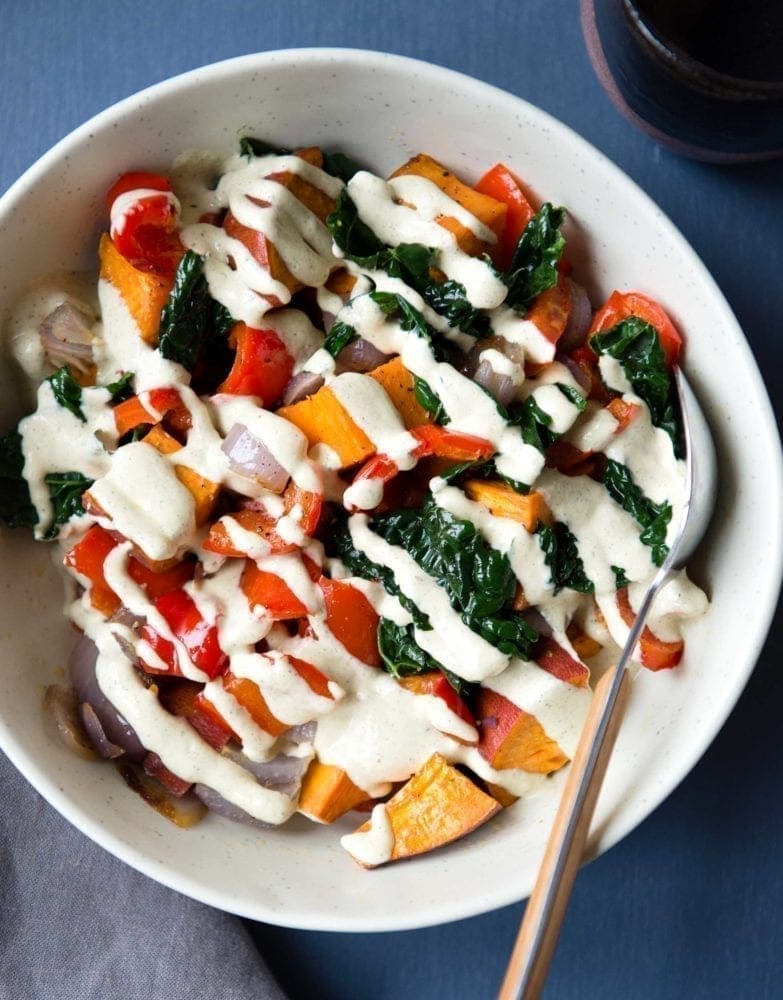 Table of Contents
What are hemp hearts?
Hemp hearts are raw, hulled hemp seeds. They are found in the produce section of most grocery stores, right next to the chia seeds. While they're commonly used as a salad or smoothie topper, I let them take center stage in a sauce for my Rawkstar Veggie Bowl originally created for the our Seasonal Cleanse Seasonal Cleanse. This nut (yes, a nut!) is considered a superfood because it's so nutrient-dense.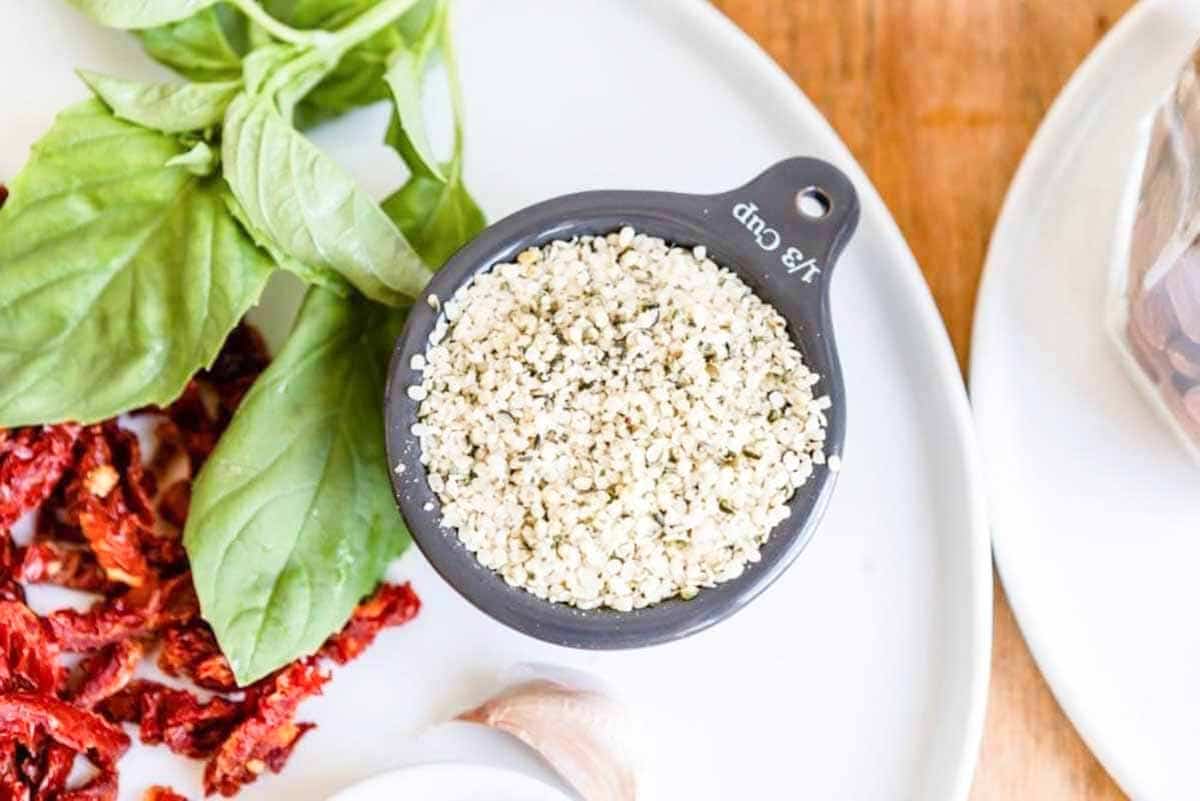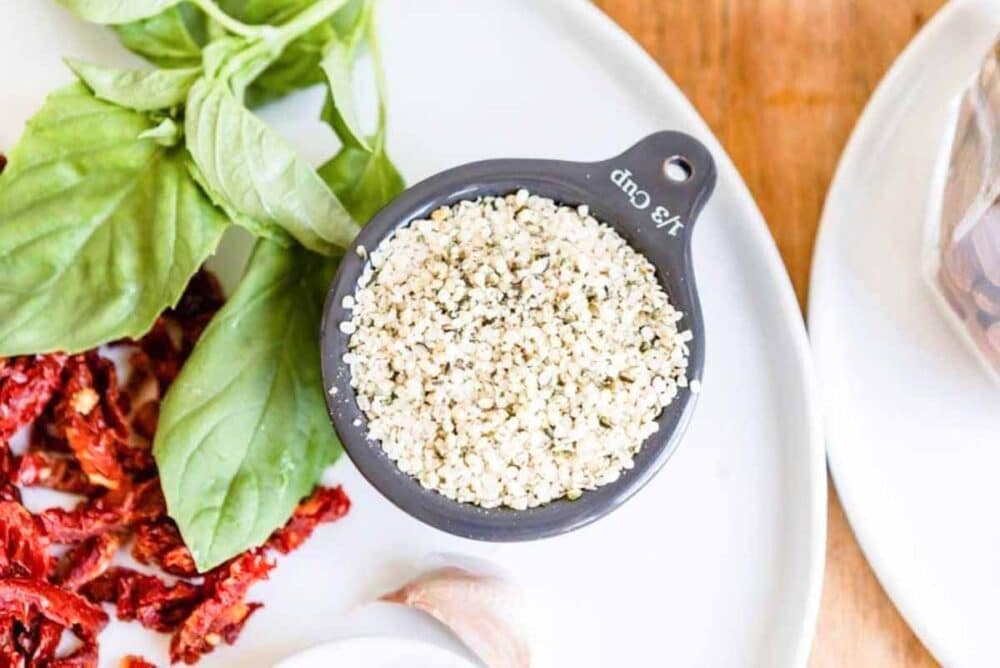 Hemp hearts benefits
I love adding this superfood to meal replacement smoothies as an easy protein source; 2-3 tablespoons is 11 grams of protein! The mild nutty flavor helps them blend well in a variety of dishes. These nuts also offer so many health benefits:
Rich in essential fatty acids omegas 3 and 6 which can lower blood pressure, as well as reduce the risk of heart disease.
Gamma-linolenic acid found in these seeds can help with symptoms of menopause and premenstrual syndrome.
A great source of vitamin E
25% protein calories, compared to chia seeds and flaxseeds which have 16-18% protein.
Hemp hearts can also help with maintaining a healthy weight. The amount of protein in just a few tablespoons can curb hunger and provide sustained energy throughout the day.
Cooking, baking, blending or sprinkling
I love adding all kinds of superfoods to my recipes to maximize the nutrients. Yet, I have a special love of this particular superfood because it is a delicious addition to lots of different recipes! Here are some of my fav recipes that use hemp hearts:
Plant based protein powder
My mom was actually the one who first introduced me to hemp protein powder. I'd been trying to create my own plant based protein powder for years, without success. She encouraged me to try it, and I was hooked! So I now use it as the main ingredient in my very own homemade protein powder. Along with organic chia seeds and organic flax seeds, this super clean formula boosts any smoothie by 10 grams of protein + 4 grams of healthy fat. I believe in the power of plant based protein, and am passionate about educating others about it too!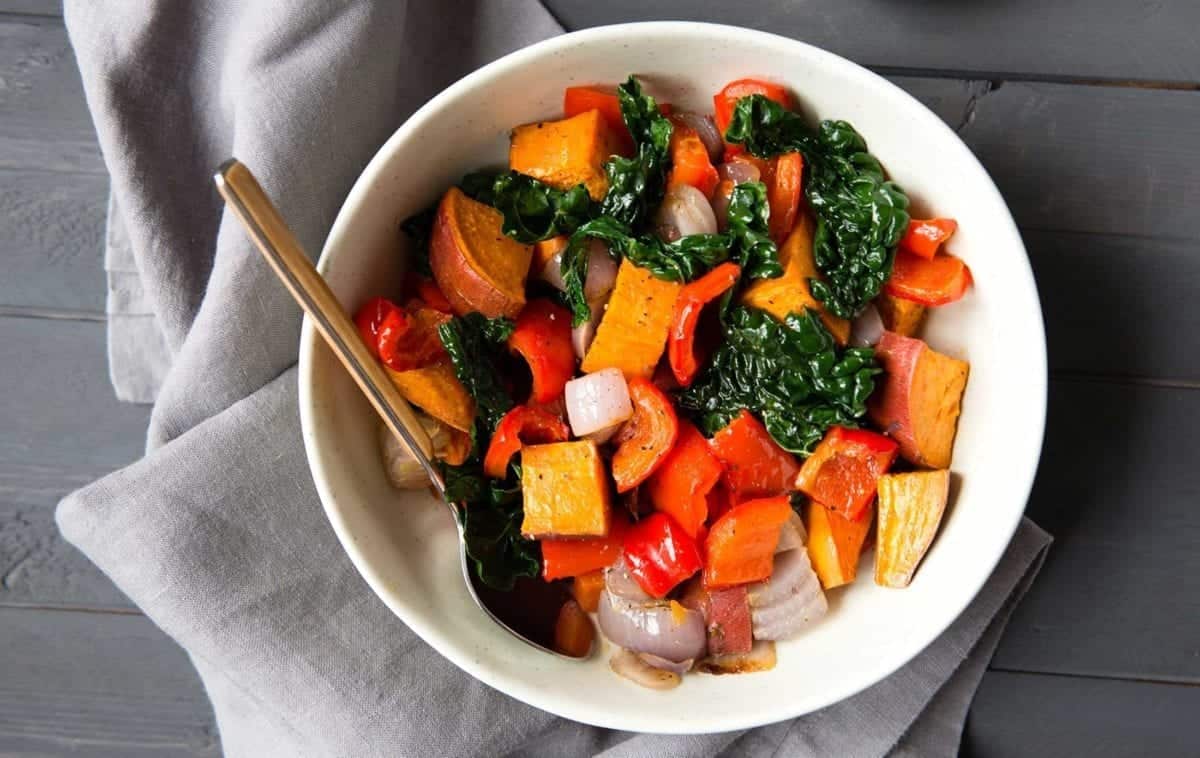 Hemp hearts sauce recipe
This creamy sauce is perfect for a bowl of roasted veggies, your next grilled kabab, a salad, or even as a dip for raw vegetables. It's super easy to make, as well as super delicious! Pro tip: don't forget to soak the cashews before making the sauce! This helps soften them up to easily blend, as well as makes them extra creamy. If you don't have time to soak them overnight, then soak them in hot water for at least 10 minutes before blending.
Please leave a rating + review after you make this recipe to let me know what you thought of it! Especially if you used this sauce on your own creation; I'm always looking for new ideas, and this incredible community is so creative!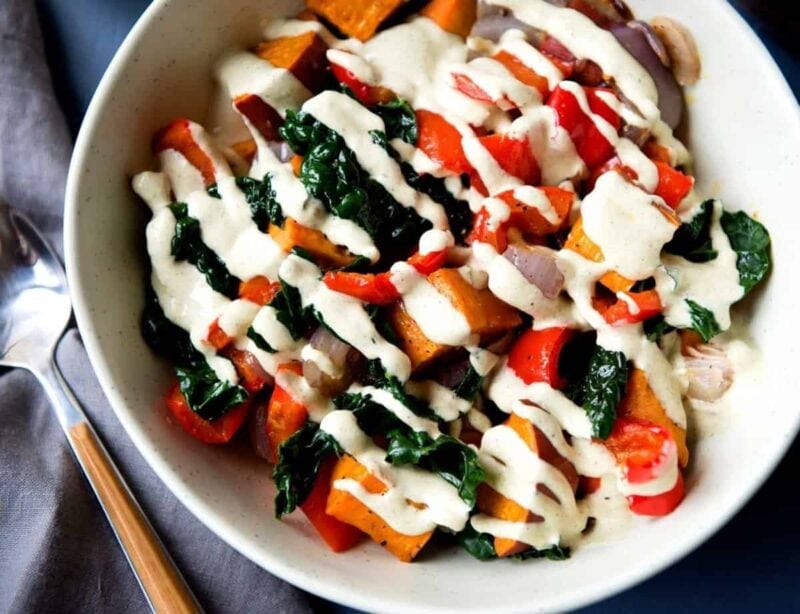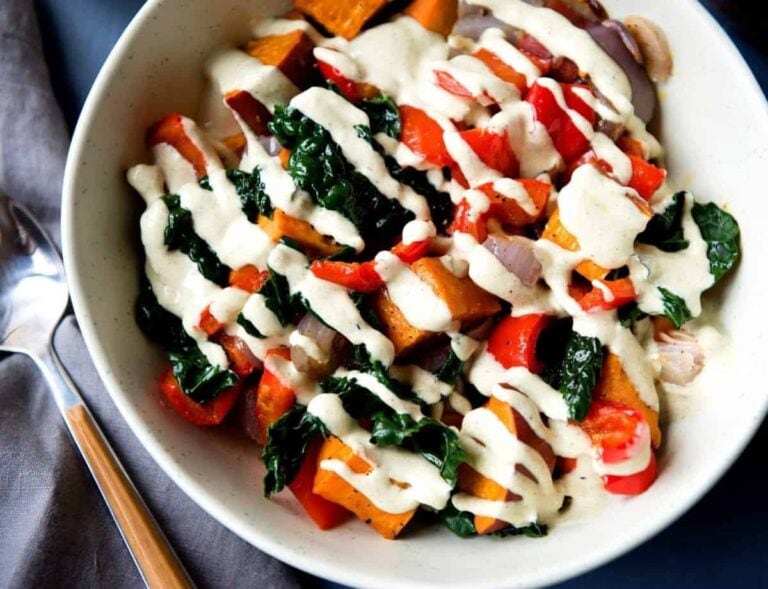 Hemp Hearts Veggie Bowl
The hemp sauce makes this dish and brings the roasted veggies to a whole other level! Feel free to swap in other veggies to match your preferences, but this combo of onions, bell peppers, sweet potatoes, and kale is a real winner.
Ingredients
For veggies:
1.25

tbsp

coconut oil

melted, plus more for pan

½

red onion

cut into 1-inch (2.5 cm) diced

2

sweet potatoes

cut into 1-inch (2.5 cm) diced

2

bell peppers

cut into 1-inch (2.5 cm) diced

2

cups

kale

stemmed and cut into large ribbons

Sea salt

black pepper 
For hemp sauce:
¼

cup

hemp hearts

2

tbsps

raw cashews

soaked overnight

¼

cup

water

1

tbsp

nutritional yeast

1

tbsp

lemon

juice

1

garlic cloves

minced

sea salt

black pepper
Instructions
Preheat oven to 400°F. Line a baking sheet with parchment (baking) paper. Lightly oil the paper.

In a medium bowl, toss diced red onion, sweet potato, and bell pepper with 1 tablespoon melted coconut oil. Season well with salt and pepper.

Place in an even layer on the prepared baking sheet. Roast in oven for 25-30 minutes, or until veggies are just tender and have started to turn golden on the edges.

While veggies are roasting, prepare the hemp sauce. Place all ingredients into a blender or food processor. Puree until smooth. Stop and scrape down as needed. The sauce should not be too thick or too thin. Add a little water, a few teaspoons at a time, if the blender is having trouble blending. Transfer to a bowl and refrigerate until ready to serve.

Meanwhile, toss the kale ribbons with remaining 1 teaspoon melted coconut oil and season with sea salt and pepper.

When other veggies have roasted for 25-30 minutes, remove from oven and add the kale to the baking pan. Place back in oven and roast for another 5-6 minutes, or until kale has wilted.

To serve, place half of the veggies into a bowl, saving the remainder for tomorrow's lunch. Drizzle with half of the hemp sauce. Eat while warm.
Nutrition
Calories:
569
kcal
,
Carbohydrates:
68
g
,
Protein:
21
g
,
Fat:
26
g
,
Saturated Fat:
9
g
,
Polyunsaturated Fat:
10
g
,
Monounsaturated Fat:
4
g
,
Sodium:
157
mg
,
Potassium:
1537
mg
,
Fiber:
12
g
,
Sugar:
16
g
,
Vitamin A:
42612
IU
,
Vitamin C:
243
mg
,
Calcium:
225
mg
,
Iron:
7
mg